Tim Tszyu's mum Natalia sits ringside and she feels the punches when he fights
The Tszyu men don't do emotion. The Tszyu matriarch is a different story. Natalia Tszyu was ringside as her son Tim fought 12 rounds against Takeshi Inoue and she spoke with ADAM PEACOCK.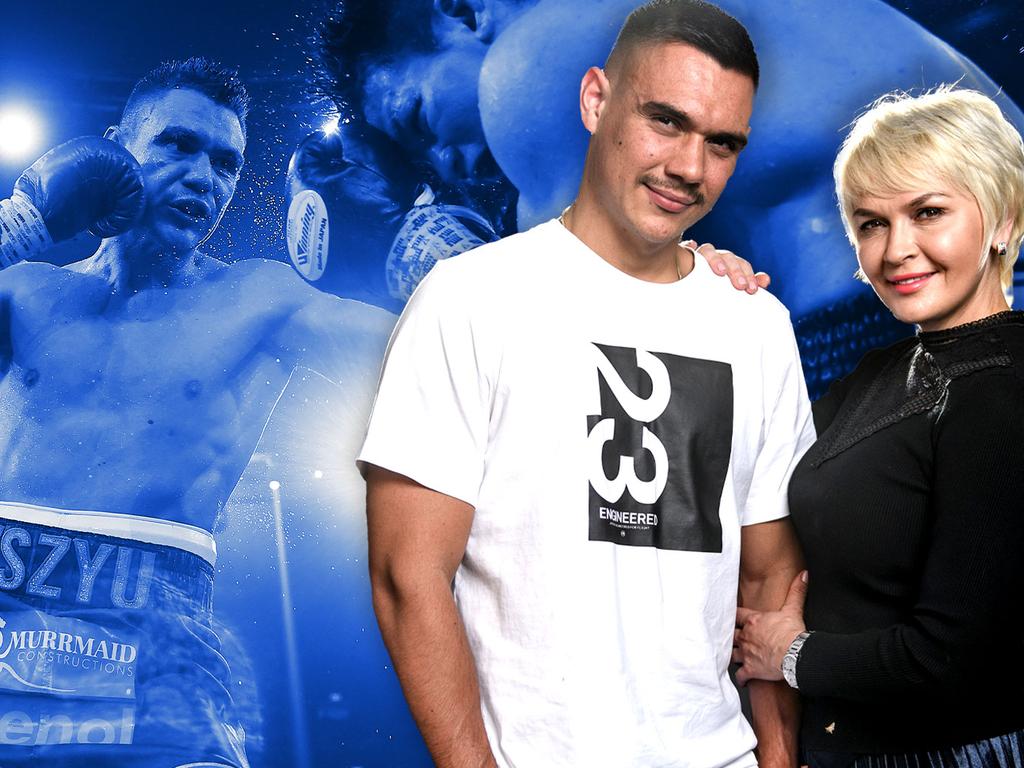 Tim Tszyu punches Takeshi Inoue during their Sydney fight (background) and the Australian superstar stands proudly with his mum, Natalia.
The Tszyu men don't do emotion.
Kostya gave nothing to his opponent. He had the stare, the blank look into the soul of a rival, forged by formative years at the foot of the Urals and hundreds of amateur fights.
Tim had neither the upbringing nor amateur career of Kostya but he, too, has the stare.
The Tszyu matriarch is a different story.
Natalia Tszyu kept the surname and the deep connection with her kids when Kostya decided to move back to Russia.
As Tim steps into the ring at Qudos Bank Arena on Wednesday night with plenty more to lose than gain against Takeshi Inoue, Natalia stands 10 feet away watching, hoping, her son will not be physically harmed or emotionally shattered in his pursuit of a world title belt early next year.
"Someone said to me don't come to watch the fight," she admits. "But I think it's always still going to be."
Natalia tries to blend into the pre-fight crowd at Qudos Bank Arena, taking videos and joining in the chorus of Sweet Caroline as the mob reacquaints itself with a funny phenomenon called live sport at a venue that, not so long ago, served as a vaccination centre. Tonight, however, we are trading in jabs of a different kind.
As Tim appears on a scissor crane to AC/DC to begin his walk out, his name in flames and illuminating the entire venue, the dormant, cold months of the pandemic feel forgotten.
Natalia moves seats – one she will barely sit in – just behind Tim's corner.
For 48 minutes, which includes 36 minutes of boxing, she is not a spectator.
She is Mum.
"I never want the kids to fight," she explains. "But when the kids were at a certain age – 16, 17 – and they decided, as a parent we can't control the kids future, we can only support them. Especially the boys, let them be what they want to be."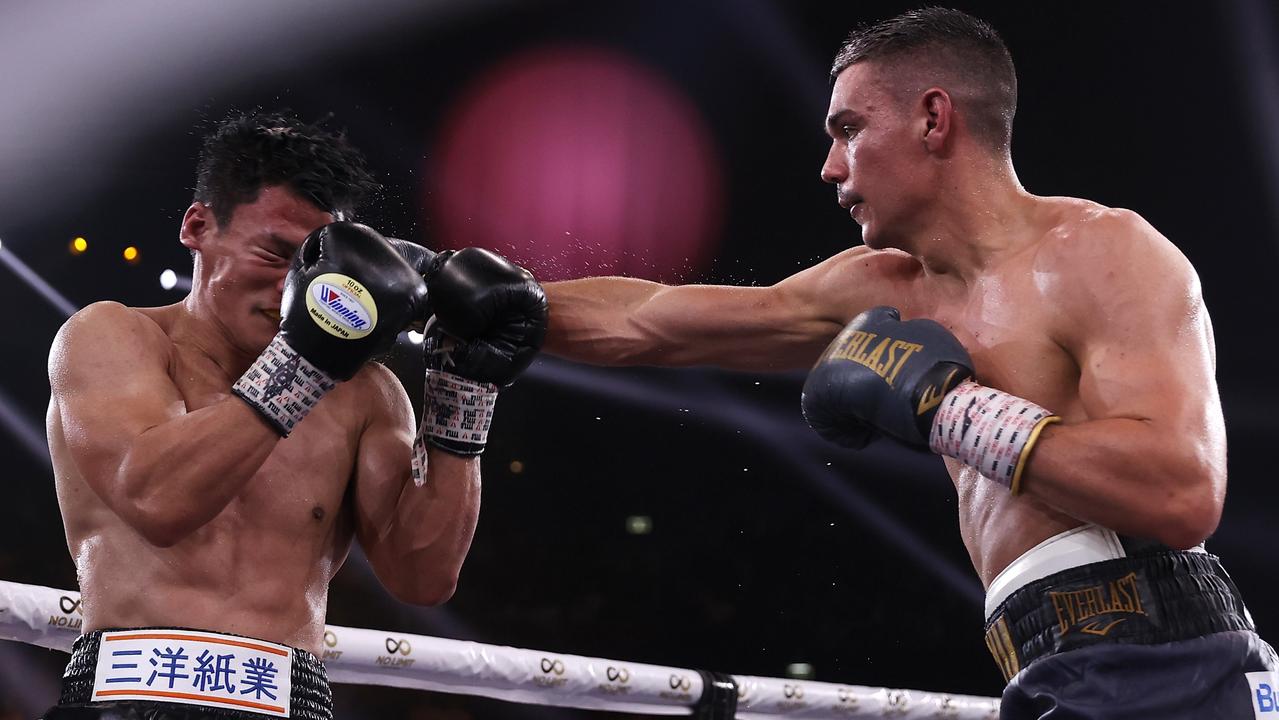 A view through the ropes as Tim Tszyu punches Takeshi Inoue during their fight in Sydney. Tszyu's mum Natalia was ringside for the bout, which went the scheduled 12 rounds and delivered her son a dominant win on points. Picture: Mark Kolbe/Getty Images
Now a young 27, still developing with every fight, Tim starts confidently, and exploits Inoue's inviting defensive stance, pulling punches as he works out which angle would be most effective, a range found by the end of the first round. It appears it could be a quick night, and Natalia shakes her head with a deep breath hoping for just that.
Tim asserts complete dominance in the next five rounds, targeting the body of his opponent with brutal shots designed to mash Inoue's midriff organs. They don't. Inoue still stands.
Natalia dives behind her hands. Twists in her seat sideways. Stands in-between rounds to go nowhere in particular. Tim is trying to take an opponent's soul. Natalia looks like hers is about to be possessed.
And then, from the halfway point of the fight, the pop goes out of the building. Quiet befalls the arena. Tim never adds to the acoustics in a fight. He operates silently, which adds to the mystique.
Only Inoue's explosion of air for every attempted punch can be heard as the seconds and minutes and rounds pass by.
Rounds nine, 10 and 11. Inoue will not go down. Perhaps it is why he employs a slightly open defensive stance and invites pressure. He knows an anvil could be dropped from heaven and his head would not crack. A warrior.
Tim Tszyu fires a right hand at Takeshi Inoue. He defeated the Japanese fighter but could not break him. Picture: No Limit Boxing / Brett Costello
Only in the last round does the arena spark to full life. A fight breaks out in the stands, and a gentleman in a light-blue shirt bolts down an aisle. Maybe he started it, but he sure as hell doesn't want to finish it, running from his adversary in pale green, and coming up with an extraordinary piece of athleticism to sprint across – yes, across – the backs of an entire row of chairs. To no avail. The cops get him.
The crowd is in raptures, but Natalia does not notice. Her eyes haven't left the ring.
Spectator attention eventually returns to Tim, sent to a 12th round for the first time in his career. He chips, then blasts, away into the slab of Japanese granite, forcing blood from a stone which trickles down Inoue's lip.
At the sound of the bell to finish the fight, Tszyu knows he has won. A night of enormous risk has been negotiated as experts pontificate if this is a good thing or a bad thing for his world title quest.
Natalia regains her composure, the pained stress on her face giving way to exhales and smiles. As Tim's hands are lifted as victor, Natalia finds her daughter, Anastasia, and they embrace for nearly a minute, thankful the event they couldn't miss is over.
"I grew up in boxing, breakfast, lunch and dinner was the boxing," Natalia says matter-of-factly. "I try to be calm and not to have all these emotions but I've been in the sport for so many years.
"I can feel the punches. I know the punches."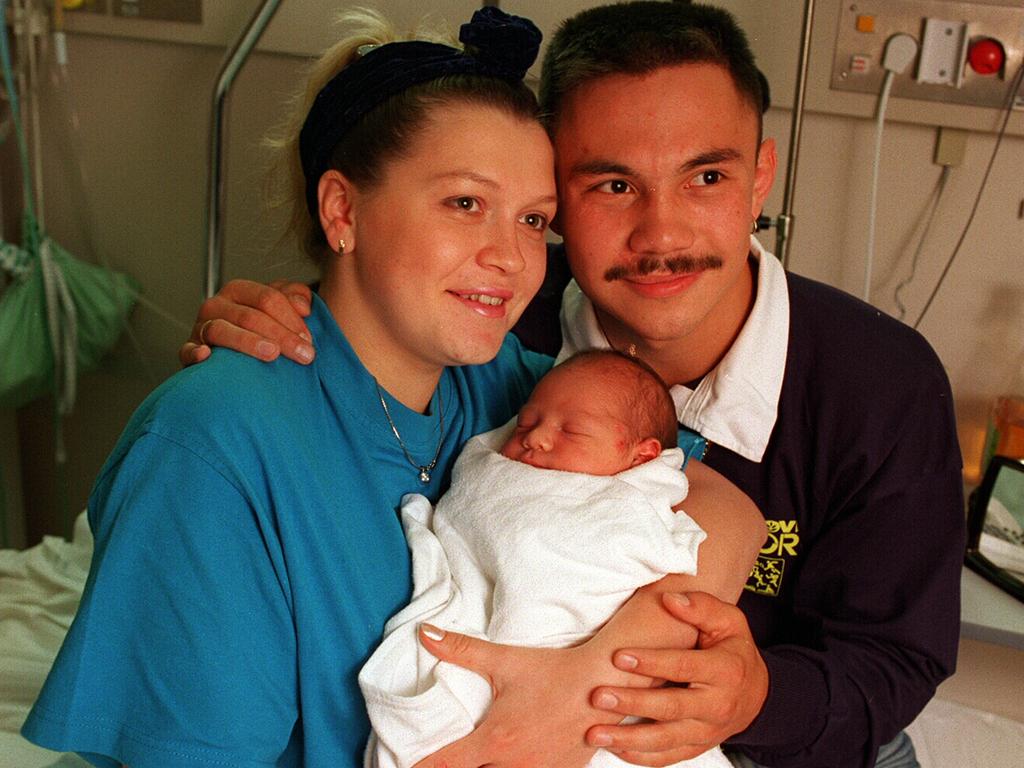 Kostya and Natalia Tszyu with baby Tim at St George Hospital in November 1994.
And once she moves past microphones and wellwishers, she knows what she will tell Tim. She will try to shield the ride she's just been sent on, and leave her feelings aside, for him.
"I am an emotional mother, but I'm still standing strong so I will say, 'Look son, you've done well, but next fight is going to be better," she continues.
"Because in boxing, you can't feel sorry [for yourself], even when the punches are thrown. I can't feel sorry, it's normal."
Forty-five minutes after the fight has ended, Natalia finally gets to Tim's dressing room.
They hug and take a family photo.
Natalia beams, elated for her son, elated for herself.
And Tim smiles.