Joe Goodall, a free spirit who fights in his sleep, is boxing's most un-heavyweight heavyweight
He once fell out of bed fighting in his sleep, often travels without clothes and left a written-off Mazda in front of a mansion. Justis Huni's opponent Joe Goodall is unique, writes BRENDAN BRADFORD.
"Big Bad" Joe Goodall is unlike any heavyweight boxer you've ever met, seen, or heard about.
For starters, he's only half as mean as his nickname suggests. At nearly two metres tall, he's exactly that big, though.
Goodall, who fights Justis Huni in Brisbane tonight, is a free-spirit who almost injured himself at an amateur tournament when he fell out of bed. He's a big softie who won't think twice about taking a last-minute trip away from home, even if he doesn't have any clothes or anywhere to stay for the journey.
Meet Big Bad Joe Goodall. The most un-heavyweight heavyweight boxer you'll ever come across.
*****
Everyone on the trip agreed. Joe Goodall: Great bloke, terrible roommate.
It was an unwritten rule for Queensland's best amateur boxers at the 2014 Australian Championships that you did what you could to not room with him.
Billy Limov, a bright-eyed welterweight on his first trip outside Queensland, drew the short straw.
He was in for an experience.
"Joe crashed out, but I was still awake on my bunk in the middle of the night," Limov tells CodeSports. "I don't know what he was doing – throwing punches in his sleep or something – but he ended up falling out of bed.
"He took the bedside table and the lamp with him and everything. It was loud, I jumped out of bed."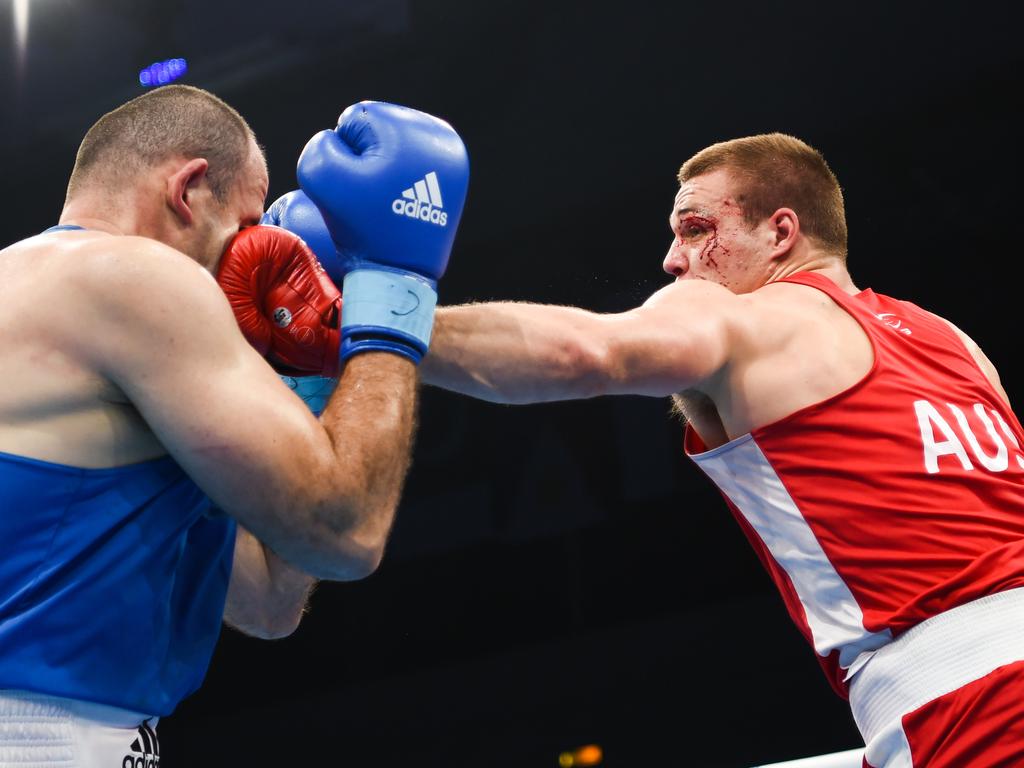 Joe Goodall (R) in his amateur days in 2017. Picture: Christophe Gateau/Getty Images
What do you mean, he fell out of bed?
"He just … fell out of his bunk. It made a huge ruckus," Limov continues. "I was worried, thinking he was injured and that he was going to have to pull out of the competition.
"But, I don't think he even woke up from it. I think he was unconscious the whole time, and just climbed back into bed."
It's true. Goodall climbed back into bed and kept sleeping, explaining that his sheets were all twisted.
Unbothered by the whole thing, Goodall went on to win the Australian heavyweight title that week, beating 2012 Olympian Johan Linde and the formidable Willis Meehan.
Four months later he claimed a silver medal for Australia at the Commonwealth Games in Glasgow.
"Those Aussie titles in 2014 put him on the map, especially with the guys he beat – big guys, and experienced – and Joe just went and took them out," says Limov.
"It's funny, because a few nights earlier I thought he was going to have to pull out because he was injured falling out of bed."
In his own way, Goodall was up and running, but the good times wouldn't last.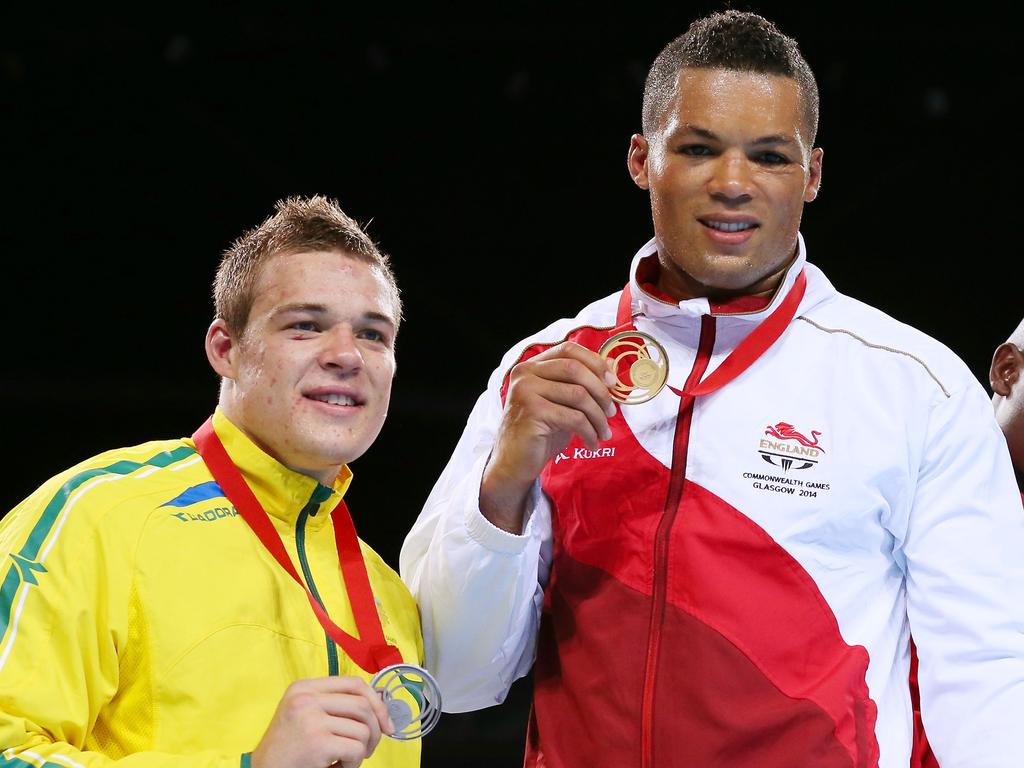 Goodall (L) won a Commonwealth Games silver medal in Glasgow in 2014, only losing to future heavyweight star Joe Joyce in the final. Picture: Alex Livesey/Getty Images
*****
It's May 2018, and Jeff Horn is deep in training for his welterweight world title defence against Terence Crawford.
Horn's gym is in a large converted garage in his trainer Glenn Rushton's mansion in the well-to-do suburb of Stretton, 20km south of Brisbane's CBD.
You enter a gate and walk past a garish water fountain featuring four life-size dolphins jumping into the air. The driveway leads to a spacious, tiled forecourt with a roof supported by four golden columns. Up another set of tiled stairs, there's a pair of heavy looking wooden doors leading into the main entrance of the house.
The flashy front yard has been used in a music video, with a couple of Ferraris parked out front, but on this day, as Horn gets to work inside, there's only one vehicle in the carport, and it sure ain't a Ferrari.
It's a banged up Mazda 6 and it's seen much better days. The front left panel is missing, the result of a crash, and you can see the body and the engine through the hole. There are dents and rust on the outside, and rubbish on the inside.
It's completely out of place.
"Who's left that here?"
"Oh, that's Joe's, he's written it off…"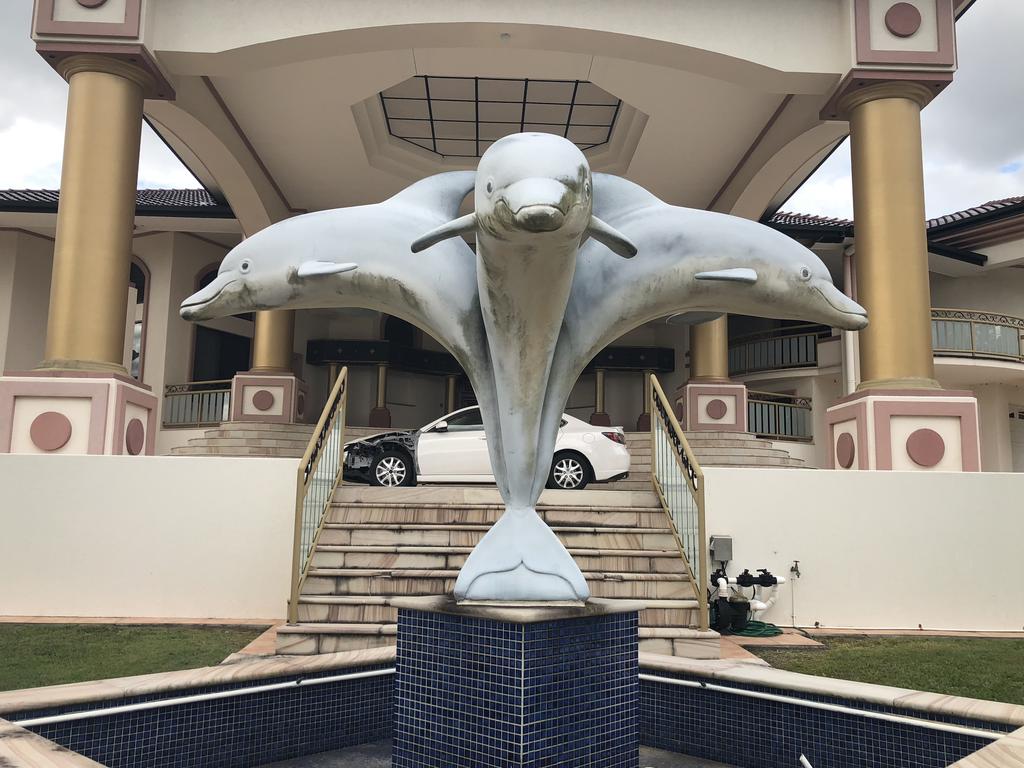 Spot Goodall's beaten up old car behind the water feature. Picture: Brendan Bradford
That broken down car parked outside the mansion is the perfect reflection of Goodall's career and prospects at the time.
He was a Commonwealth Games silver medallist, and a national amateur champion who was training alongside Australia's hottest boxing property.
But the bright lights and main events seemed as far away as they ever did. He'd had one professional fight, but desperately needed shoulder surgery and was seriously considering chucking the sport in.
Unsure where his career was heading, he was more written-off Mazda than hot red Ferrari.
"Joe used to come over to my house every weekend and sit there and complain about his life," Goodall's manager and close mate, Steve Scanlan tells CodeSports.
"I'd always ask him, 'Have you spoken to this person about this?' or, 'What are you doing about this?' But he never would because he's a big softie. He just rolls with the punches.
"Eventually I just said, 'Joe, you're not allowed over anymore, because you're just gonna talk about the same shit, and you're not gonna change anything'."
Dejected and in pain from his torn labrum, Goodall wanted to give up boxing.
"I'd fought five times in the pros with a torn labrum in my right shoulder," Goodall says. "Mentally, I'd had a busy amateur schedule and my body was very out of whack.
"I was just very burnt out."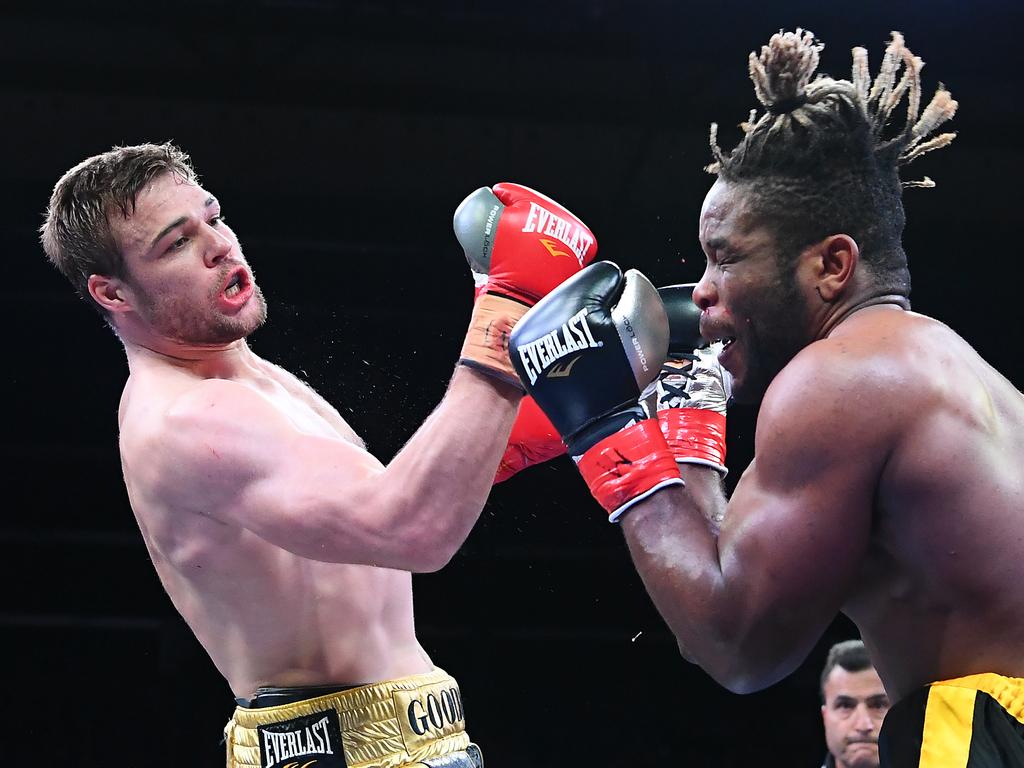 Goodall had five professional fights before finally getting surgery on his shoulder. Picture: Quinn Rooney/Getty Images
When Goodall finally had surgery on his shoulder, Scanlan and his wife, Nessy, were the only ones willing to pick him up from hospital.
He stayed with the Scanlans, and is now considered part of the family. The jury's still out on what sort of a roommate he is these days though.
"He's been like a mentor and a father figure to me," Goodall says. "He's just one of those gems of a human that you meet once in a lifetime.
"He's changed my life."
The real change in Goodall's fortunes came when Scanlan organised and paid for him to live and train in Las Vegas with Joseph Parker's former trainer, the 1984 Olympics boxing bronze medallist Kevin Barry.
The Vegas experience is just what he needed.
"Just being in a different environment, focusing on different things and switching up the training," he says.
"In Brisbane, I'd probably just hang out with the same social circle for too long. I was at Stretton for nine or 10 years and I just needed a change.
"I was kind of beating my head against the wall for a bit there and I just needed a change. It's revamped me."
The bright lights and souped-up cars of the Vegas strip couldn't be further away from that dinged up Mazda in suburban Brisbane.
"I bought him that Mazda, and he crashed it two weeks later," Scanlan laughs. "He wrote it off, ran into a parked car and he didn't have any insurance.
"That's just Joe. He's a unique individual."
There's another tale that sums up his freewheeling approach to life.
In March 2021, Goodall scored a second round knockout win over Herman Purcell in Toowoomba. Tim Tszyu was fighting four days later in Newcastle, so Scanlan – who sponsors Tszyu as well – invited Joe to spend the week in Steel City.
Goodall arrived in Newy the morning after his own fight with a backpack and no clothes.
The next day, Goodall and Scanlan were out to lunch with Tszyu, his grandad Boris, manager Glenn Jennings, trainer Igor Golubev and a few others.
"Joe was wearing my undies, my pants, my shoes and my shirt," Scanlan laughs.
"We were at the shopping centre with Tim, Glenn, Igor and Boris, and I looked down and I said, 'Are they your fight socks?
"And he pulled up his pants and he was still wearing the same socks he fought in two nights before.
"Glenn Jennings went and bought him a new pair of socks.
"On that particular day, there was not one piece of clothing that was his. But he loves it. That's who he is. He'll jump on a plane, to chase the fun and say, 'You've gotta live.'
"That's just Joe."
Justis Huni (R) and Goodall will finally meet in a long-awaited grudge match in Brisbane. Picture: Chris Hyde/Getty Images
That's just Joe.
Scanlan says that a lot about Goodall's quirks and idiosyncrasies, but here's another thing about Joe: When he's on, he's on.
"I've never seen anyone train harder," Scanlan says. "And I've seen them all – Jeff (Horn), Dennis Hogan, Tim – but Joe…when he's on, he's the hardest trainer in the world.
"When he's off though, you've never seen anyone as off before."
And for this fight with Huni, which is a grudge match years in the making, Scanlan says Goodall is as locked in as ever after a year spent with Barry in Vegas.
"I just can't see a way – not taking anything away from Justis, he's a freak and a superstar in the making – but I can't see how he beats Joe Goodall," Scanlan says.
"The only way is if we fight his fight, but that's just not an option.
"I just can't see it ending any other way than with Joe Goodall's hand in the air.
"He's just been living and thinking and breathing boxing."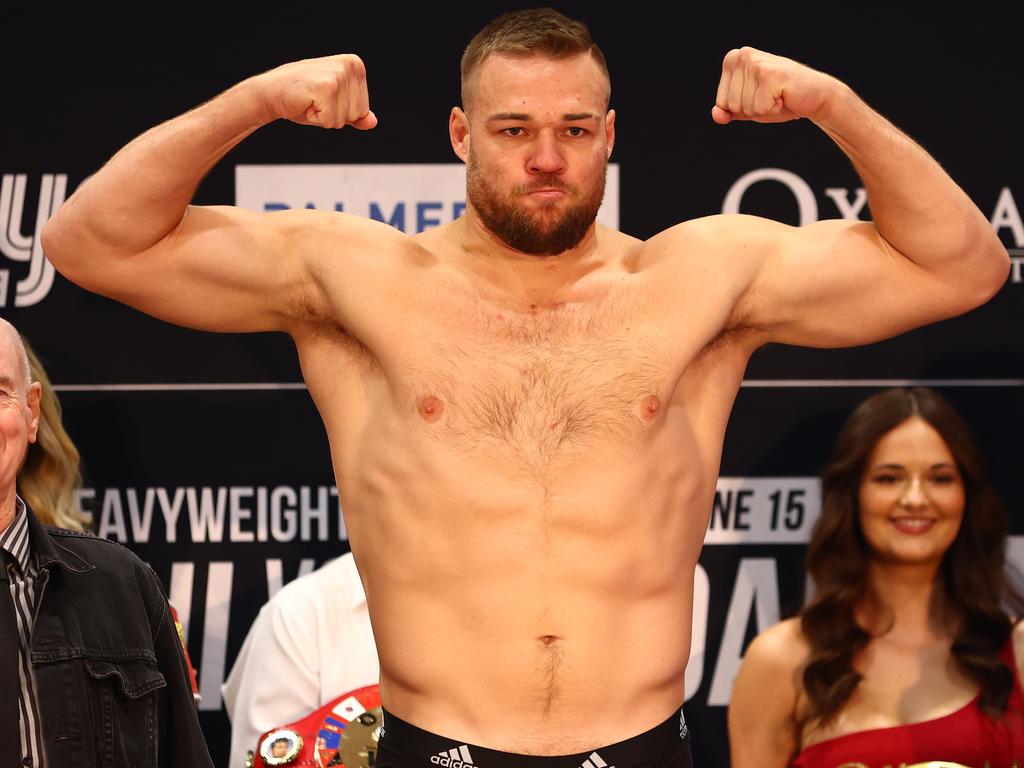 Goodall hits the scales ahead of his showdown with Huni. Picture: Chris Hyde/Getty Images
True to form, Goodall doesn't get too carried away with pre-fight hype and trash talk.
He's here to punch another person in the face as hard as he possibly can, but doesn't need to pretend to be someone he isn't to sell the fight.
He just wants to show Australia who he is.
"I just want to show that I'm an Aussie boy that's changed the culture or society in general in a better way," he says.
"How people think about me is out of my control, so I'm not trying to pretend to be someone I'm not.
"I'm just a very honest and very genuine person. I'm not about image, I'm just very genuine."