Australian diver Sam Fricker's world rankings rise ahead of Commonwealth Games mirrors his social media stardom
When Sam Fricker takes the platform in Birmingham, his 900,000 YouTube subscribers and 1.5 million TikTok followers will be watching, writes TILLY WERNER.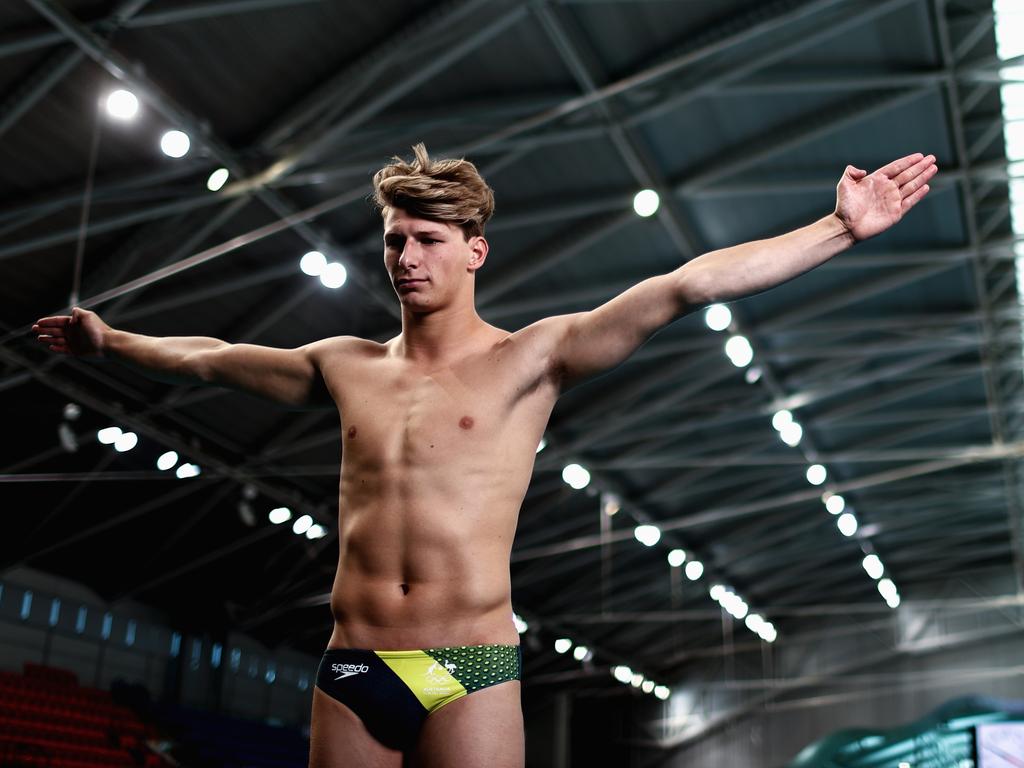 Sam Fricker's lessons for social media and diving success. Picture: Cameron Spencer/Getty Images
Sam Fricker's rapid rise in diving mirrors his ascent to social media stardom.
Despite breaking his ankle after placing 28th in the 10m Platform at Tokyo, his first Olympics, he just claimed a world championships top-10 less than a year later.
And, after getting just five views on his diving YouTube videos back in 2014, he's totalled more than one billion this year, thanks to a million subscribers and 1.5 million TikTok followers.
Fricker finds that lessons learned from each of his pursuits can be applied to the other.
Lessons sometimes painfully learned, yet proven to deliver success.
Sam Fricker will make his Commonwealth Games debut in Birmingham. Picture: Michael Klein/News Corp Australia
Lesson 1: Find your niche
"I love diving and I love making videos," says Fricker, equal parts workhorse and showman.
"I was making YouTube videos back in 2014 of my diving. I used to film my dives with a GoPro and I'd stick around for an extra hour or two just filming dives with my friends and then go home to make videos. It was just something I loved to do."
The camera loved him back.
"It's something I never, ever believed would get this big, so I find it very humbling because I used to get like five views on my YouTube videos but it wouldn't bother me, it was just something I did because I liked it" Fricker says.
His social media reach and diving ranking now rise in unison. He came 10th in the 10m Platform and ninth in both the Mixed 3m and 10m Team at the world championships in Hungary last month, bringing even more eyeballs to his channels.
But with content delivered to millions comes a warning: "The actions in this video are performed by a professional or supervised by professionals. Do not attempt."
"I remember the first time I went up to the 10m platform. I walked to the end and was like, 'There's just no way people actually dive off here!'," Fricker says.
"I hadn't seen too much diving and had never seen anyone dive off in person, so I was like, 'Oh my gosh. No, no, no way'."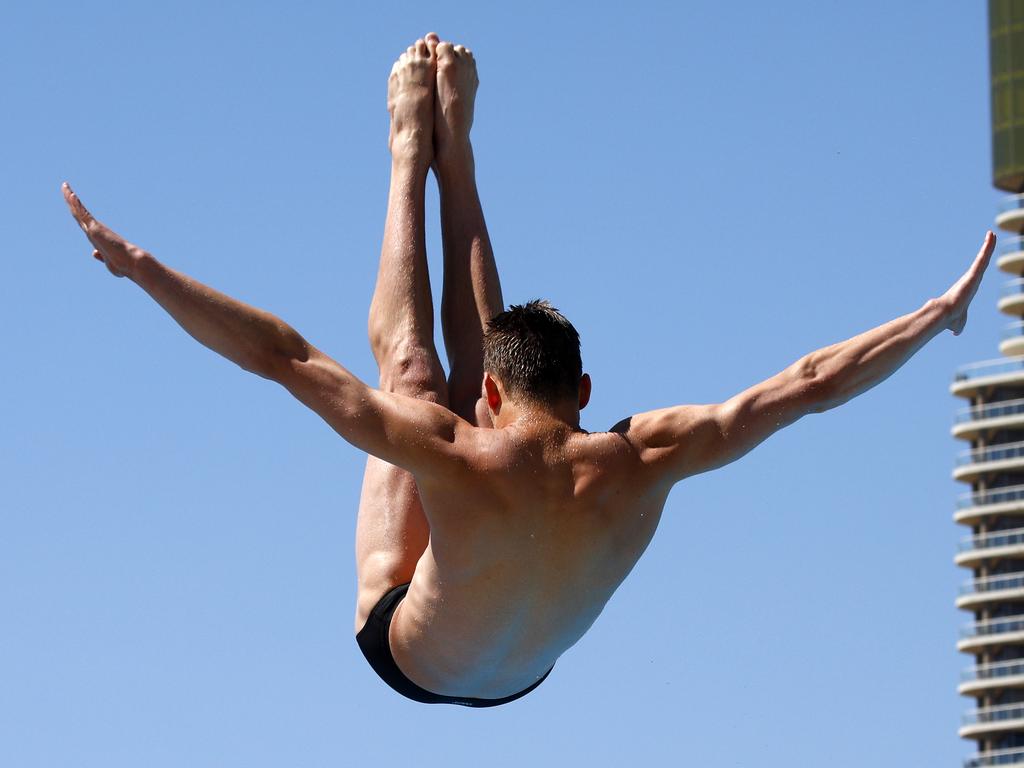 Fricker couldn't believe people dived from the 10m height his first time on the top platform. Picture: Tertius Pickard/NCA
Like many divers, Fricker honed his craft on the gymnastics mat and then the trampoline.
Yet, it wasn't the challenge or the adrenaline of the diving tower that lured him to the pool.
"A girl I liked was doing diving, so that pulled me over to the sport pretty quickly. Was only too happy to follow," he says.
"It was really funny, the first time I tried it. The pool was really cold and it was windy, which is not what you want when you're trying to impress someone. It was horrible but she was there, so I kept turning up.
"It was probably peer pressure as much as anything. My first 10m jump was after a training session and we all went and jumped off the platforms for fun. One of the older guys did it and then everyone else, so I didn't have a choice."
While it might not have worked out with the girl, a love affair with the pool and platform has been a fair consolation prize.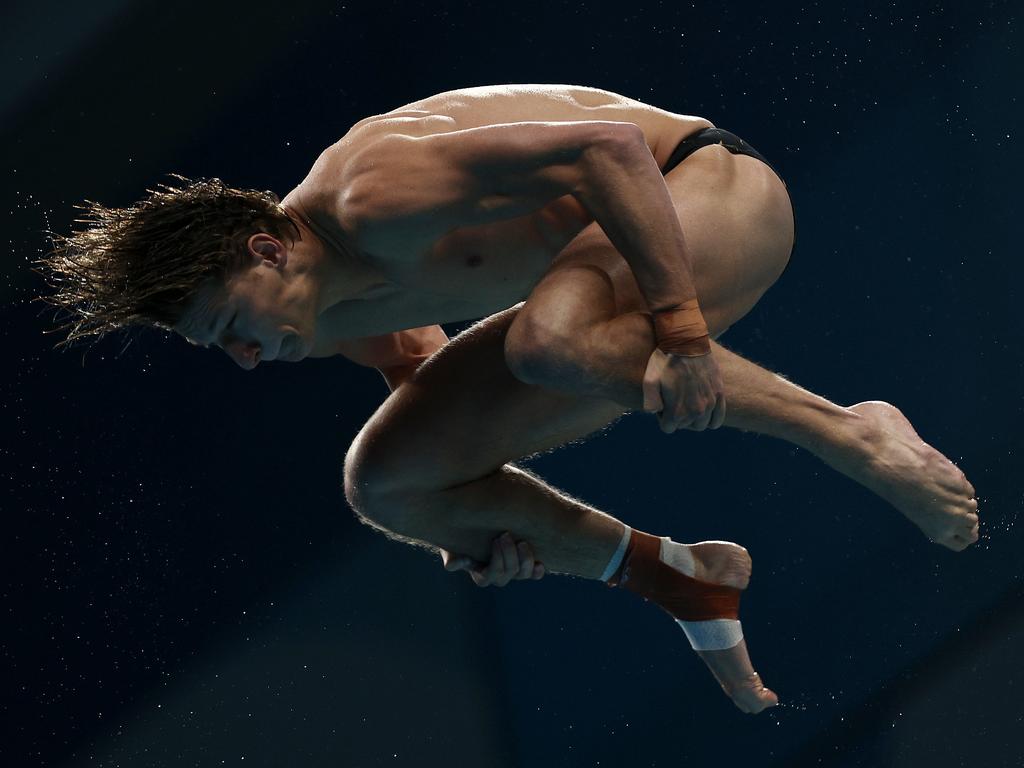 Fricker competing in the Men's 10m during July's FINA World Championships in Hungary. Picture: Tom Pennington/Getty Images
Lesson 2: Cover your bases
While TikTok might be the money-maker, Fricker learned early the importance of putting your eggs in as many baskets as you can.
"I will always share my videos across all social media platforms, that's so important," he says.
"I produce a lot of content and I share it on every platform. Through that, I have learned and slowly gauged what works, what doesn't and where to focus certain content which has helped things to grow."
Fricker takes the same approach with diving. The videos don't serve only as social content, but a means for the Australian and his coaches to improve technique.
"We have TVs at training on the screen and will play things back a couple times to see where things may not be perfect. Videos are also a really helpful tool for when I travel around," he says.
"I have a $10 tripod that I'll set up and I film my whole sessions when I am away from home, so I can both watch my session and create videos from that."
Yet spending so many hours analysing his sessions, Fricker has found it easy to get caught up inside his own head; especially given the sport demands perfection.
"When you're competing at the top level, I'd say diving is 90 per cent mental. When you've done the training and everyone's up there doing the same, if not similar dives, it's about who can do them when they need to the best. That's just a mental game."
Diving is a sport of millimetres. A toenail out of your streamline can mean the difference on the scoreboard.
"A dive goes so fast. You do months of training for a moment's work and it's just about whether or not you can hold it together," Fricker says.
"I've spoken to a few sports psychologists here and there but 90 per cent of what I have, I've had to learn myself. Through reading, through watching YouTube videos, talking to other athletes, all kinds of different strategies and covering all bases."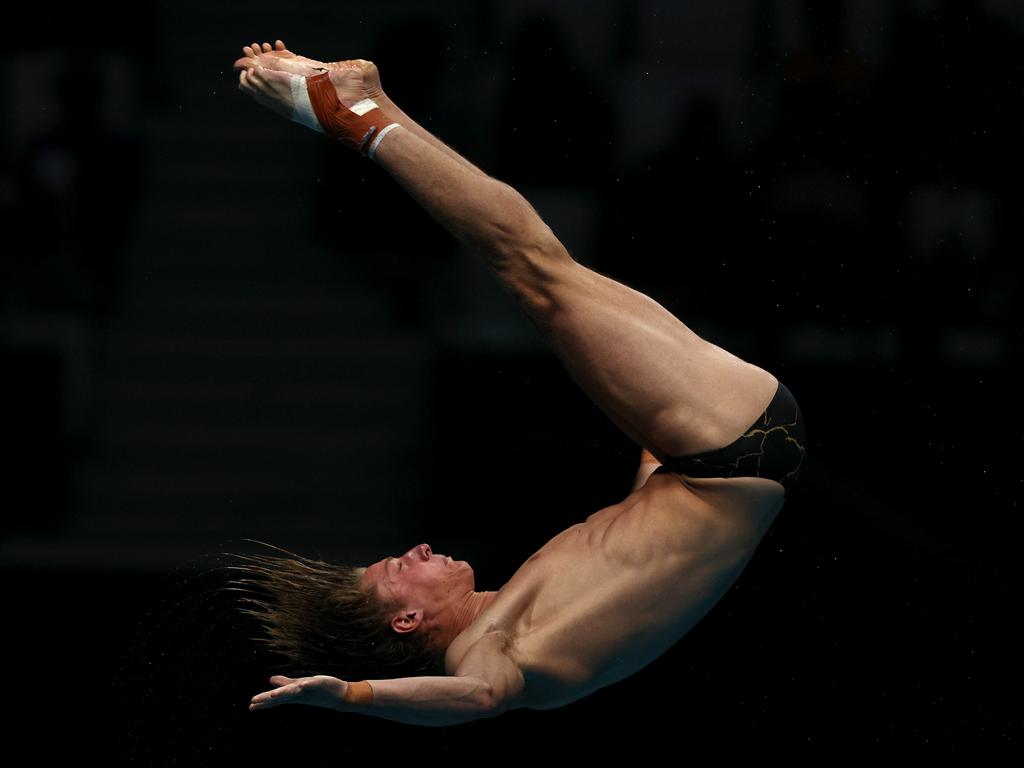 For Fricker, diving requires as much strength of mind and character as physical perfection. Picture: Tom Pennington/Getty Images
Moments where things go wrong often deliver the greatest lessons.
"It happens way too often, most often when you learn a new dive. My reverse three-and-a-half somersault, it's a really technical dive and quite challenging, but I had been competing it for a year and a bit, and went to Spain and had a fluke accident and landed flat on my back," Fricker recalls.
"I could barely breathe and it was just horrible. I remember getting out of the water and I had to get up and finish my list and that was so, so hard.
"But it's not until you have moments like that where you then have another demon to fight and overcome.
"That dive has gone on to help me make the world finals and come top 10. That dive helped me make the Olympics. That dive has served me so well since. Mistakes happen and you've got to overcome them."
That's diving. And sometimes the harshest of lessons come from unexpected places.
After his first Olympics last year, Covid-19 quarantine got the better of him.
"I was doing backflips out on the grass after quarantining and my bones must have been weak because I hadn't been training, but I landed one and just snapped my talus straight up," Fricker says.
Of course, the camera was rolling.
"You can hear it on the video, just like, 'Snap'. That was so painful and it sucked because I couldn't jump, let alone walk or train."
He bounced back - literally, by using the springboard to strengthen his ankles - and qualified for the 3m board both at the recent world championships and for his first Commonwealth Games.
Lesson 3: Consistency is key
Despite his accelerated rise to digital prominence, Fricker's philosophy remains unchanged: Dive every day, post every day.
"It's funny, I would spend hours and hours in the pool or on the computer and not even realise, like I just wouldn't consider it work," he says.
"From the last dive that secured my spot on the Olympic team, it's been a pretty big year.
"Doing that dive, coming out of the pool and giving my coach Thomas Rickards a hug, that was probably the biggest moment of the year for me.
"I remember telling my coach that I was going to make the Olympics, so there was a really special moment there when we were standing together on the pool deck."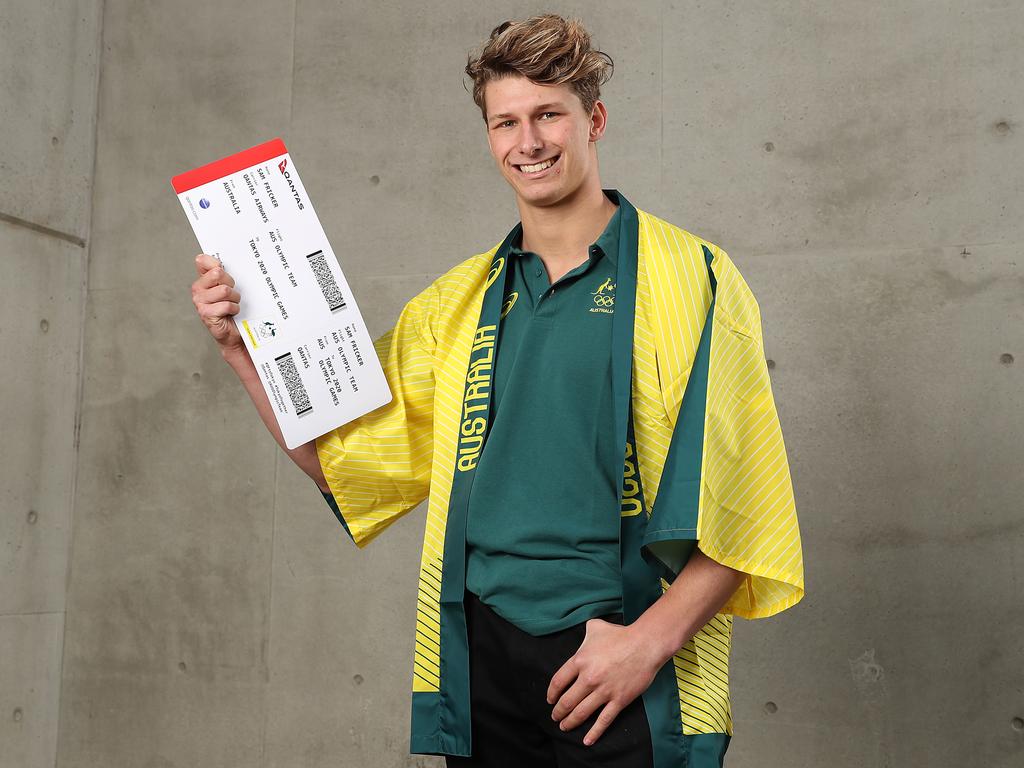 Realising his Olympic dream has been one of Fricker's career highlights. Picture: Mark Metcalfe/Getty Images
Many of the divers who finished ahead of him at the world championships are from non-Commonwealth countries, so Fricker knows that a similar rise up the scoreboard is a serious possibility at the Birmingham Games.
"Obviously I want to perform consistently but I want to see consistent improvements," he says.
"No.1, I just want to dive well. I want to go out and have a good comp, enjoy the time as I did at worlds. And I think I could have dived a little better in Hungary, I know I could have been top six; but now, I just want to get a medal."
Lofty aims. And enormous scrutiny of his own making.
"The weight of the audience definitely has dawned on me and there is a kind of pressure that comes with having so many eyes on you. And I appreciate it."
"So far this year I have over a billion views, which is crazy, but I am very grateful and appreciate both the pressure and the support.
"It also adds a layer of responsibility to make sure that you are doing the right thing consistently. It keeps me accountable and making sure you're doing the best you can in everything you do because people are watching."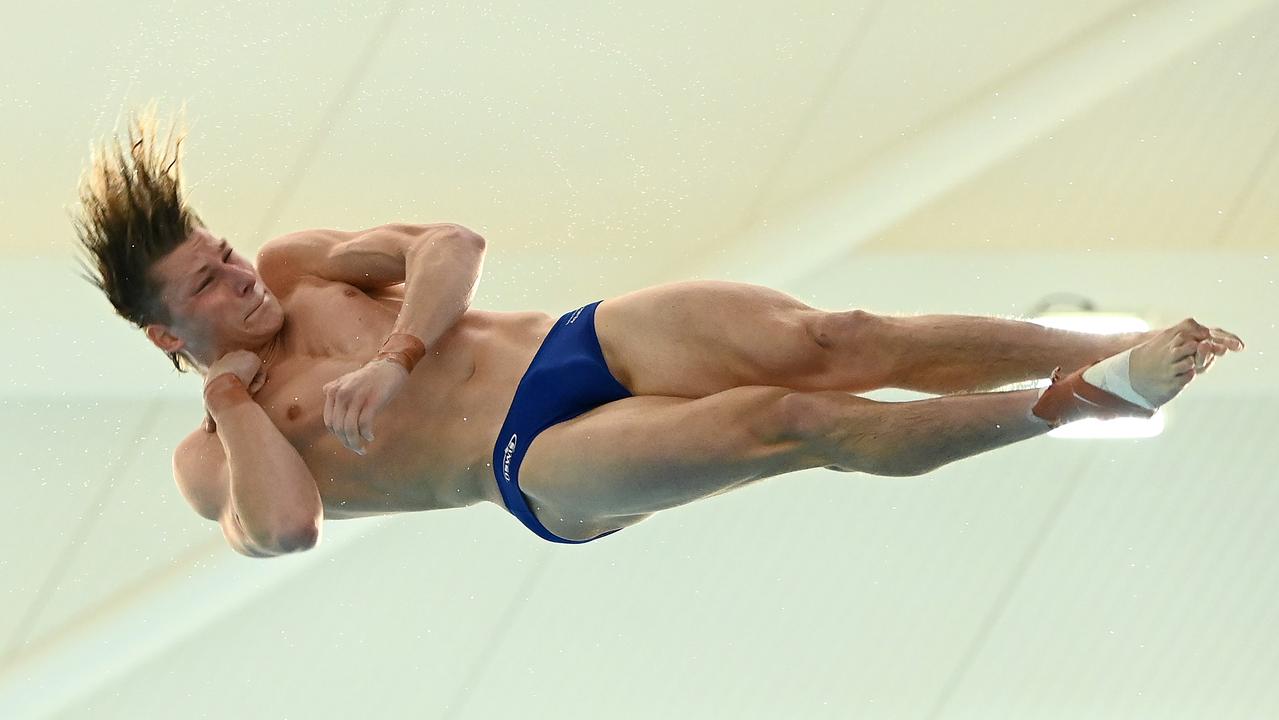 Fricker at the Australian Diving Championships, where he came in second in the 10m and third in the 3m. Picture: Quinn Rooney/Getty Images
Lesson 4: Stay in the moment
"I have two key words per dive. Chest in, water, go. Super simple, and super in the moment."
Fricker's final words of advice are exactly that: stay in the moment.
Despite a meteoric rise and bright future, Fricker actively focuses on the present.
While his videos may be high-energy, his diving is always cool, calm and collected. As he begins his Birmingham 2022 program on Saturday, Fricker's mind will be deep in the competition.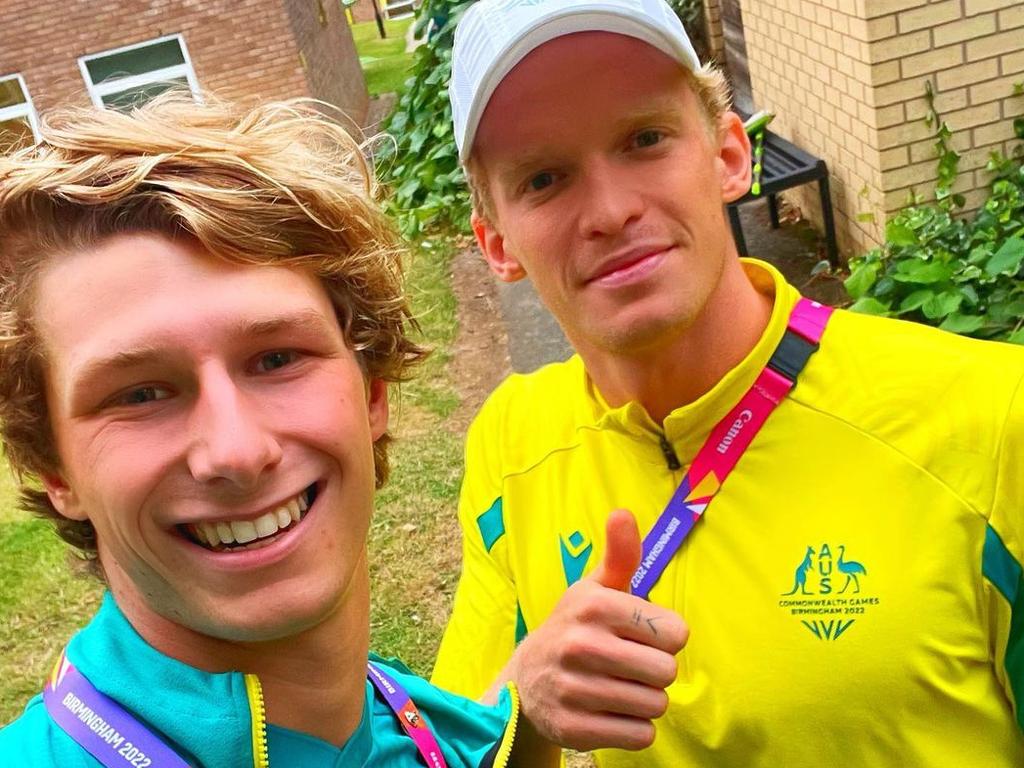 Fricker has been making the most of his 'moments' in the Commonwealth Games village. Picture: Sam Fricker/Instagram
And for any burgeoning social media stars wanting a final takeaway, Fricker says it's absolutely possible to achieve your digital goals.
"So long as you have good lighting, a solid idea and good music, you're good to go," he says.
"Don't give up.
"When people ask me, 'Is social media hard?' I say, 'Yeah, it's hard, but it's not as hard as diving'."