Australia's Commonwealth Games netball defeat of Wales wasn't always pretty but showed grit
Defensive grit, precision and an attacking X-factor were enough to guide the Diamonds to a win over Wales, and now the real test looms. NAT MEDHURST's report card.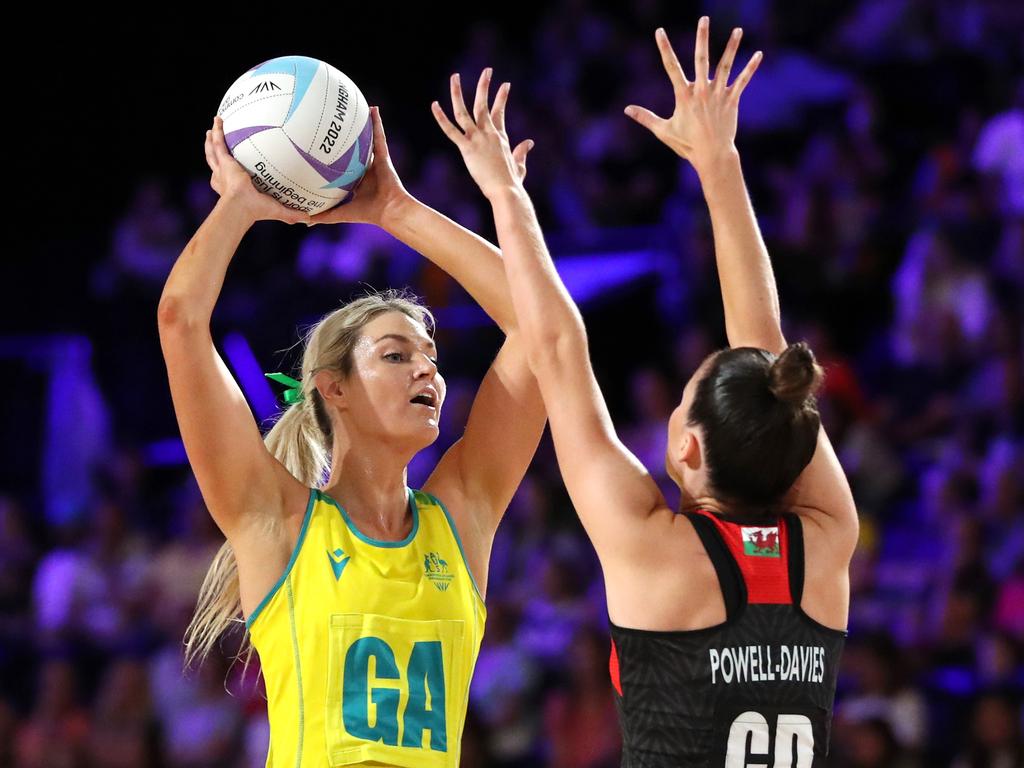 Gretel Bueta was strong again for Australia in a Commonwealth Games win over Wales. Picture: Alex Livesey/Getty Images
Where the match was decided
Full court defence! Across the first four games in Birmingham, Australia's defence has been exceptional. Led by the circle defenders, a big nod also must go to the defence pressure implemented across the whole court.
Circle defenders have been able to stay in play and attack balls. Mid-courters have been quick and first onto loose balls. Shooters have been prompt on their transition into defence. These elements have enabled the Australians to build huge margins as well as keep opposition to five, six and seven-goal quarters.
The Aussies need to continue this – and lift even higher – to contend for a gold medal.
Attack grade: B
The Australians' shooting continues to dominate, again above 90% for the match. The combinations and movement of players was impressive, however the final quarter did raise some concerns, including for the forward mid-court. I hope it was just a lack of concentration to execute properly, as this can easily be fixed with a few choice words.
However, Australia cannot afford those lulls for an extended period of time against Jamaica or in the finals, as they will be punished for them more so than they were by Wales.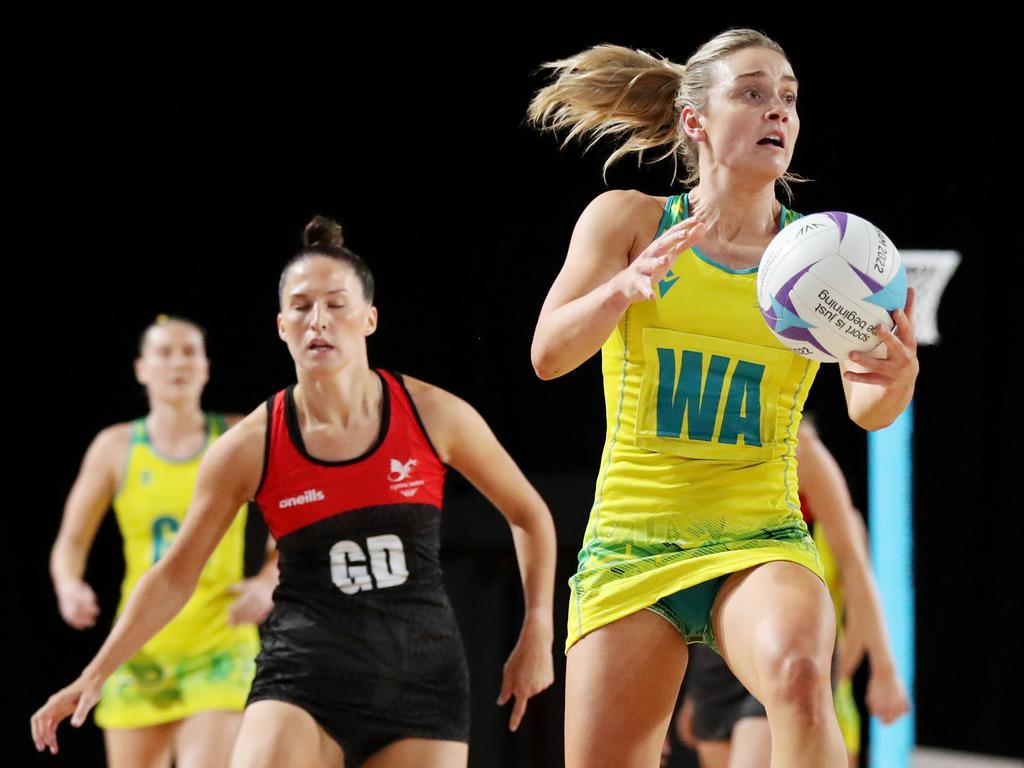 Diamonds captain Liz Watson receives the ball at wing attack during a Commonwealth Games win over Wales. Picture: Alex Livesey/Getty Images
Mid-court grade: A
A player down, and with a lot of minutes being run into players' legs, the Australian mid-court worked well through the changes. They also adapted to the different shooters placed in front of them and their defensive transition was a standout, often picking up the ball immediately after a turnover.
The mid-court will need to be wary of their separation at times around the edge of the circle, with both players often set wide and causing long swing balls, which will be inviting for the top nation defenders in the coming rounds. I would also like to see the use of fakes to draw the defenders and help open up space for the shooters, especially against opposition who are looking to hunt, as we know the Jamaicans will.
Defence grade: A
The sight of Australia's defenders coming out to take an intercept is beautiful to watch and daunting for the opposition to see. The timing and decision-making around when to go for a fly or when to lock down was again well made.
Defenders were challenged more with the hold of Wales shooter, Georgia Rowe, as well as the patience of the Wales mid-court in working it around. It was pleasing that this did not (at least on the surface) appear to frustrate the Australian defenders, who continued to remain disciplined on defence both inside and around the circle's edge.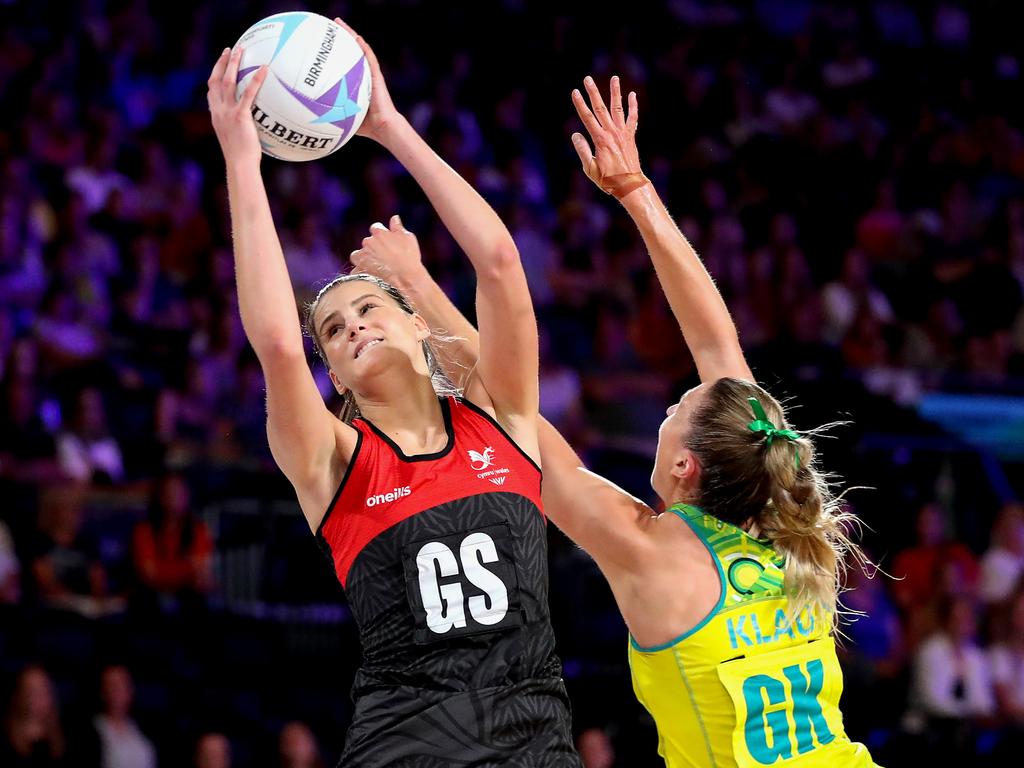 Georgia Rowe of Wales is closed down by Diamonds goal keeper Sarah Klau. Picture: Alex Livesey/Getty Images
Coach grade: A
With question marks over the fitness of Paige Hadley and what role she will play for the remainder of the Games, Stacey Marinkovich has needed to throw up more combinations to test her mid-court and particularly their connection with the shooting end.
Marinkovich wanted to challenge her players, particularly their front end, in the final quarter against Wales, which saw them score only 15 goals. At one stage late in the quarter, there was only a three-goal difference.
X-Factor
Kiera Austin has continued to impress at wing attack and is proving to be a genuine option for Marinkovich. While her movement to a "normal" mid-courter is different, it is her impeccable timing as well as her vision into the circle that makes her a real threat and a great impact player to give opposition defenders something else to think about.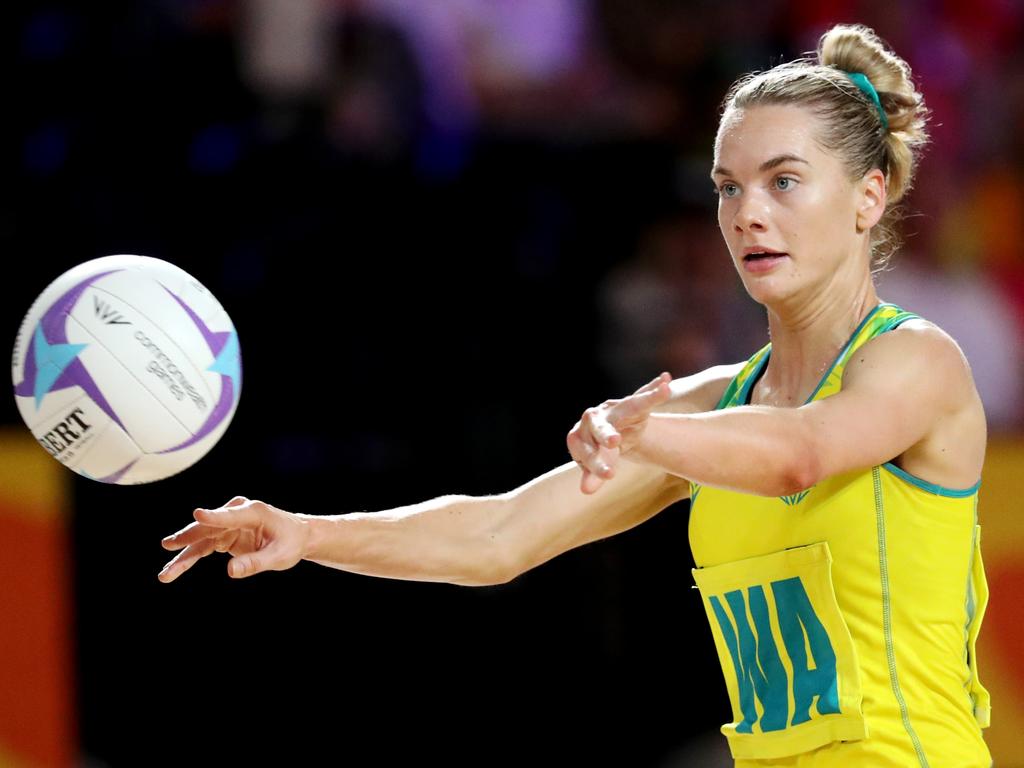 Kiera Austin has been excellent at wing attack for Australia, changing up her usual goal attack role. Picture: Alex Livesey/Getty Images
What needs to improve
In the first quarter, Wales were able to expose the Australian defence end with drives through the middle of the court. Whether it was the timing of Wales, or the lack of application by the Australians, they will need to tighten that up against Jamaica, particularly given the threat of Jhaniele Fowler at goal shooters. Attack lines that are able to control the middle of the court are given a far greater access to the goal circle and to the post.
What has yet to be determined is the Australians' shooting accuracy and decision-making under pressure. So far these Games, our Aussie shooters have not been tested in this area. They have been shooting at a remarkable percentage to date, but the addition of increased pressure over the shot, a higher work rate to get the ball, as well as being forced away from the post for shots have yet to really be seen.
How they will respond in this area against a formidable Jamaican backline will be watched with interest.