Australia's Commonwealth Games netball defeat to Jamaica could provide the blueprint to a gold medal – but only if lessons are heeded
Defeat to Jamaica could yet help Australia in its quest for Commonwealth Games gold. NAT MEDHURST explains why in her report card.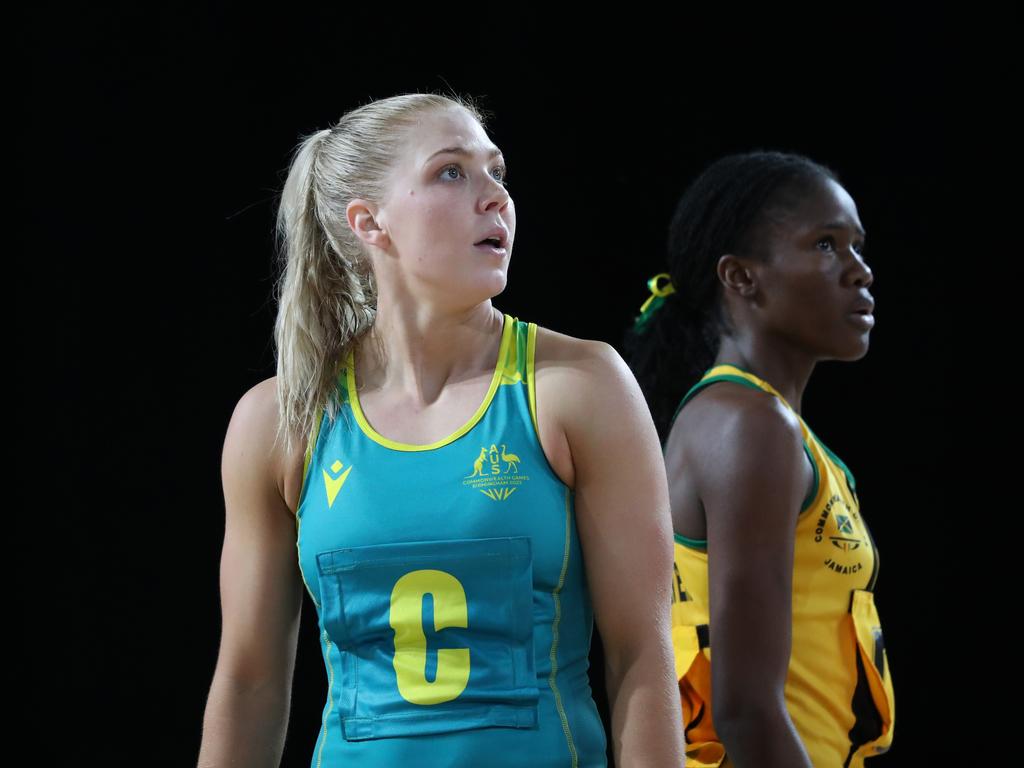 Jamaica has ended the unbeaten run for Australia at the Commonwealth Games. Picture: Morgan Harlow/Getty Images
The Australians had been in superb form at these Commonwealth Games, but the attack line, from centre through to goal shooter, faltered against Jamaica. They started off shakily in the opening seven minutes of the game and, while they played better for the majority of the match, they were not able to find the space and the shots to post when the pressure was on.
This is where the easier round games can provide a false sense of security, as the pressure never really exists. And when it finally does, its impact on individuals, combinations and units can go one of two ways. Frustratingly for the Australians, the attack line struggled to stand up. The Jamaican defenders had been kept relatively quiet and once they started to get a few touches, it caused hesitancy in the circle feeds, misplaced passes and errors on the shot.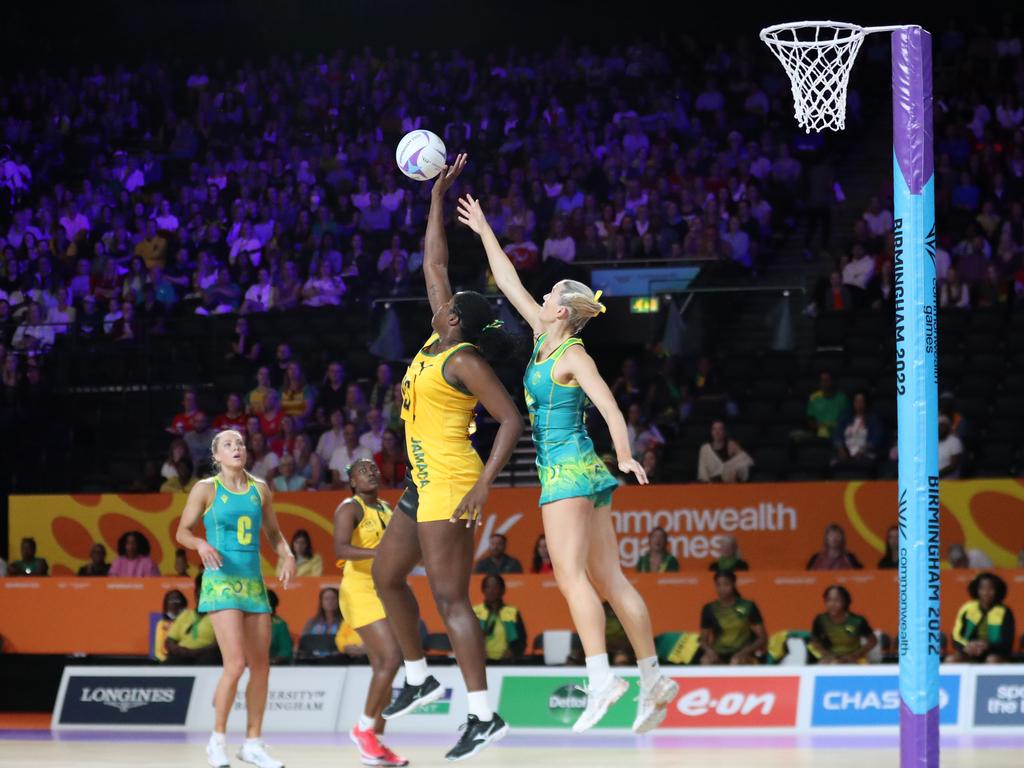 Jamaica applied pressure Australia had not yet experienced at these Commonwealth Games. Picture: Morgan Harlow/Getty Images
Attack grade: B
The Aussie shooters started on different pages. Gretel Bueta, as we have seen throughout these Commonwealth Games so far, was up and about early. But Steph Wood looked nervous, hesitant and not keen to go to the post early on. That did change and what we saw for two and half quarters of netball was beautiful timing, great connection with the mid-court, and confidence to the post.
Bueta's game certainly developed from previous matches. She showed more movement, especially along the baseline, to open up space and keep Shamera Sterling away from her playground of hunting down balls in the air. However, when the pressure came, the passages of play that had previously come quite easily for them were no longer. Wood stopped taking strong drives into the circle, often hanging out more, which made it harder to find open up space either for herself or Bueta.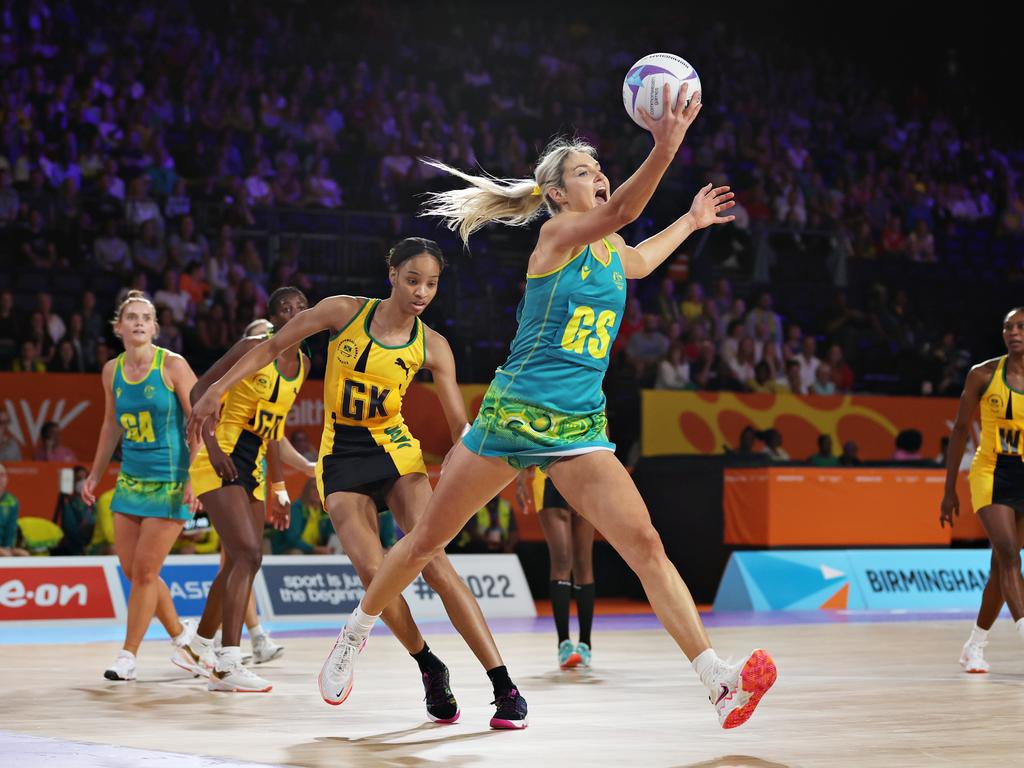 Bueta was up and about early against Jamaica, continuing to develop her game. Picture: Matthew Lewis/Getty Images
Mid-court grade: B
As with the shooters, the mid-court started slowly. There was hesitancy in their feeds before they built into the game and showed incredible discipline and patience to work the ball until they were on circle's edge or a clear option was available.
Their quick transition into defence enabled them to turn over balls that had been lost, which saw them reel in a six-goal deficit midway through the first quarter before the first break. Their timing at popping through the middle space enabled the quick and easy avenue into Bueta under the post.
Yet, as with the shooters, the errors came when the pressure was on. Players were often running on top of each other, crowding space or looking for someone else to take a drive which caused hesitancy to flow through the entire attack line.
Defence grade: B+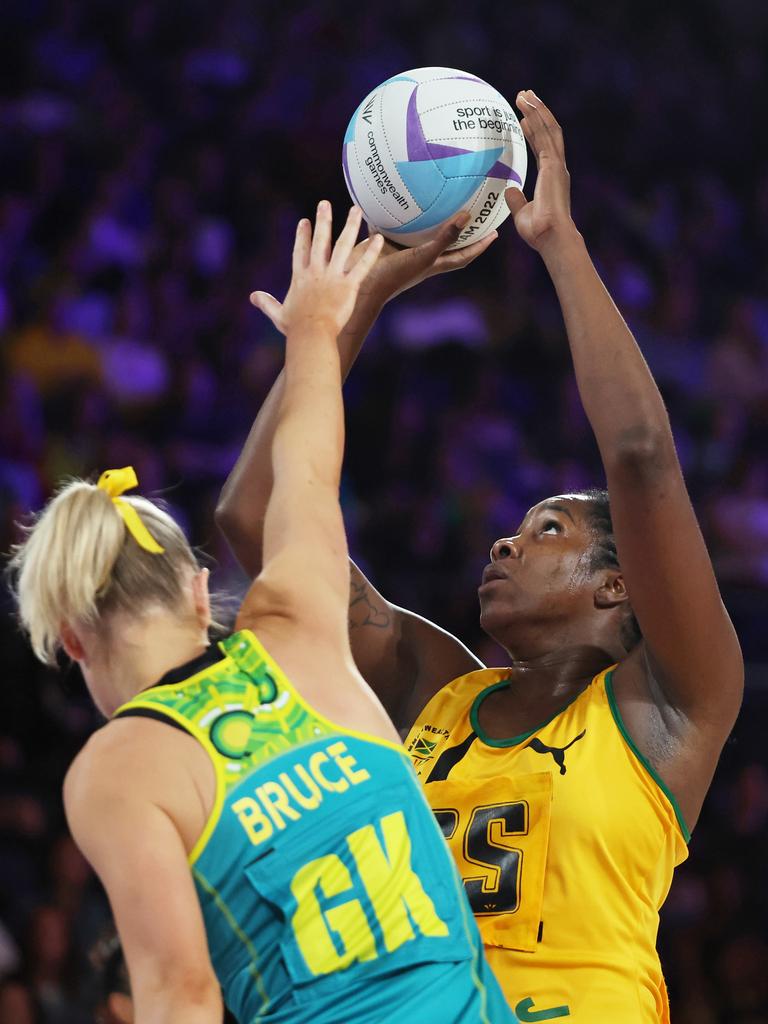 Fowler was made to earn her goals on Thursday despite the upset. Picture: Matthew Lewis/Getty Images
The Australian defenders were solid. Given the huge task of shutting down the world's best goal shooter in Jhaniele Fowler, they were dogged and frequently forced her high. They attacked strongly on the few rebounds that were on offer and their front positioning allowed them to be first to many loose ball gets. Their penalties crept up in the final quarter because of their efforts to turn over ball in those final minutes when they need to score goals.
The Jamaicans ultimately were patient and worked the ball with far better execution. Australia's defenders struggled with this, often getting caught on the back or stuck in no man's land – not applying pressure either with body or hands over. This will need to be looked at for finals. They need to find clarity as a unit to ensure they maximise whatever defensive strategy they are wanting to implement.
Coach grade: Hmmm …
I am torn between giving Stacey Marinkovich an A or a B … so let's land somewhere in between. While it would be easy to criticise for the very fact Australia didn't win this game, the true measure of her coaching will be what happens from here – and, ultimately, what happens in the gold medal match, (if they get there). Remember, at the 2015 Netball World Cup, Australia lost the round game against New Zealand but went on to win the gold medal a few days later.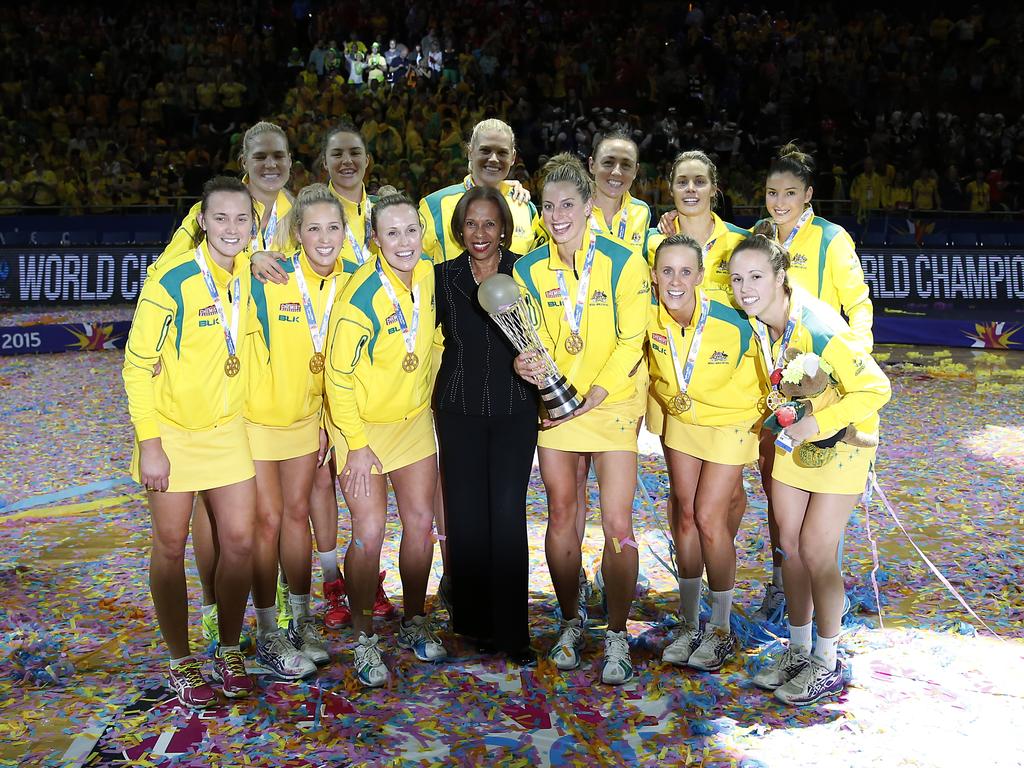 2015 World Cup winning team, can history repeat in Birmingham? Picture; Steve Christo/Corbis via Getty Images
So, why am I torn here? I was pleased that Marinkovich kept on pretty much the same team, especially the forward line, during that last quarter. In recent years, the Australians' Achilles heel has been their inability to perform under pressure and step up when challenged. And while that was unfortunately the case again tonight, they didn't just throw bibs up in the air, constantly chopping and changing players, as they have in recent years.
The players left out there against Jamaica are the ones Marinkovich obviously has enormous faith in. They will have learned a lot more playing out the game than had they been benched. That coaching move may serve her well in the coming days.
X-Factor
Somewhat surprisingly were the defensive changes made during the game. There was a quick two-minute cameo from Sunday Aryang and a few minutes in the final quarter for Sarah Klau – neither having had the impact Marinkovich would have hoped for – despite the breakdown being in the attack line.
The change of Klau in the final minutes, in particular, might have been to provide turnovers to keep offering opportunities to the shooters. Courtney Bruce at goal defence is a move I like. I believe her impact there in the coming games, if needed, would provide a positive outcome.
The move to goal defence for Bruce could prove fruitful in the future. Picture: Morgan Harlow/Getty Images
What needs to improve
Obviously, the biggest improvement required is to finish out a game and be able to ward off the challenge when it comes. It is largely a mental factor. Players obviously don't forget how to play netball in those pressurised moments, but where the mind takes them, it can seems like they do. In those moments it is critical that they remember the basics, especially when it comes to balancing out a court and taking on their leads to open up space – especially with the shooter connection.
Players also need to be prepared to get hit and have calls go against them. It happens at the best of times, but at these tournaments where there is a mixed bag of umpires, you need to expect the unexpected and be able to get on with it, or have strong hands and solid footing to take whatever may come at you. In the final quarter, the Australians seemed to play soft. They didn't take on the drives that they had previously done. They fumbled balls. They appealed to umpires.
Ultimately, with finals now the focus, the Australians need to prepare themselves for either New Zealand or England if they want to be in with a shot to win a gold medal. They have proven, even in this game, that they have the ability to turn it on and possess the game plan and discipline to win.
They can't forget that!