Commonwealth Games 2022: Alexandra Kiroi-Bogatyreva wins gold medal in clubs final
Aussie gymnast Alexandra Kiroi-Bogatyreva could not contain the tears after scoring an emotional gold medal victory in the rhythmic gymnastics.
At last, Australia's Alexandra Kiroi-Bogatyreva has come out on top — with a gold medal in the clubs final at the Commonwealth Games rhythmic gymnastics competition.
The self-confessed perfectionist took silver in the team final, and bronze in the all-around — but the top spot on the podium had remained elusive.
But when the Melbourne gymnast shot ahead of the competition with a score of 29.400, the usually stoic Kiroi-Bogatyreva could not contain tears of joy.
Kiroi-Bogatyreva missed out on a medal in the ball final, with a tidy performance placing her in equal fourth.
She will finish out her competition with the upcoming ribbon final.
Brisbane teen Lidiia Iakovleva came sixth in the hoop final, improving by one ranking on her qualification position with a score of 26.000.
Alexandra Kiroi-Bogatyreva was all smiles after her routine in the clubs final. Picture: Shaun Botterill/Getty Images
Gruelling routine behind gymnast's huge medal haul
-Eliza Barr
Gymnast Georgia Godwin is just here to have a good time — so her burgeoning medal haul after yet another top tier triumph of the vault and a solid silver performance on bars is just the icing on the cake.
No-one could have forgotten the 24-year-old Gold Coast gymnast was a force to be reckoned with – because the commentators kept introducing her as the all-round champion as she headed into her vault and uneven bars finals.
Godwin snatched the vault gold after performing the single highest scoring vault to break a tie with Canada's Laurie Denommee.
Minutes later, she went back out and took the uneven bars silver after coming in five hundredths behind the reigning Commonwealth bars champion Georgia-Mae Fenton.
"I'm over the moon," Godwin said after the back-to-back medals – her third and fourth of the Games after taking the all-round gold and team silver.
"I just wanted to enjoy this whole experience, so it's the icing on the cake."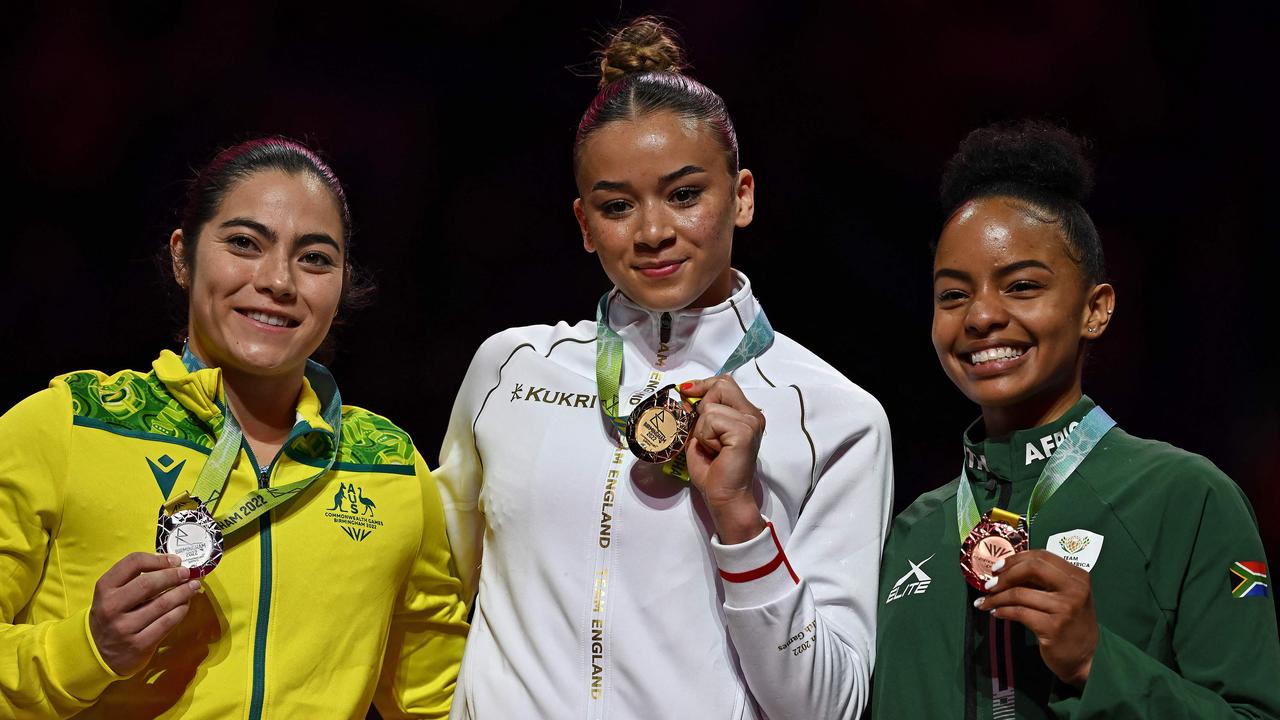 Silver medallist Australia's Georgia Godwin (L), gold medallist England's Georgia-Mae Fenton (C) and bronze medallist South Africa's Caitlin Rooskrantz.
Godwin and Denommee both landed on precisely 13.233 after two vaults apiece.
Under tie break rules, the gold medal goes to the gymnast with the highest individual vault score.
An all-out effort in her first vault to score 13.700 handed the victory to Godwin.
"Coming off two big days I was feeling it a little bit, so I put in 110 per cent of what I had left in the first vault and it happened to be enough," Godwin said.
"I just come to these competitions to have fun and do my best and the medal is a huge bonus."
What you don't see in the mere minutes it takes for an extraordinary athlete like Godwin to clinch gold is the hours, and hours, and hours required to reach such great heights.
"There's a lot behind the scenes," Godwin said.
"I train 26 to 30 hours a week, I work 20 hours a week, on top of recovery, rehab, physio, nutrition – everything else that needs to be done."
As the team captain, Godwin sees herself as a mother figure.
She had wisdom for Australia's Commonwealth Games debutantes Kate McDonald, Jesse Moore and Clay Stephens, who fell short of the medals in the uneven bars, pommel horse and floor finals respectively.
"It's not a failure if you learn from it," Godwin said.
"It's their first Commonwealth Games, they have so many more ahead of them – you just keep doing what you're doing, because they looked incredible."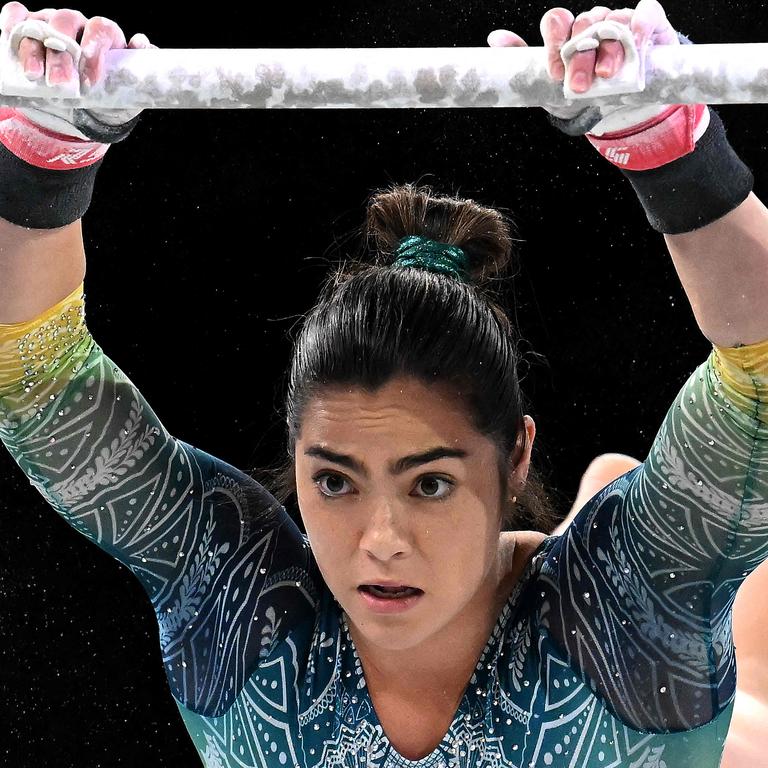 Georgia Godwin continues to build her medal collection in Birmingham.
Teen rising star Moore in particular suffered a massive blow after a hugely promising pommel horse routine ended with a fall which cost him a crucial point.
If he had not suffered the one mark penalty, Moore would have taken the silver medal.
"It's pretty devastating, I had a good chance of medalling, but that's the thing with sport," the quietly-spoken Moore said after the event.
"Coming off this, I'm going to try and get a good solid team result, that's a good stepping stone, and then it's looking forward to Paris and Melbourne."
Stephens was also disappointed after coming in seventh on the floor.
"It didn't go to plan, my legs were pretty gassed," Stephens said.
"This is the start rather than the finish when it comes to my international career – my goal is to make Paris in 2024 and maybe Melbourne in 2026 as well."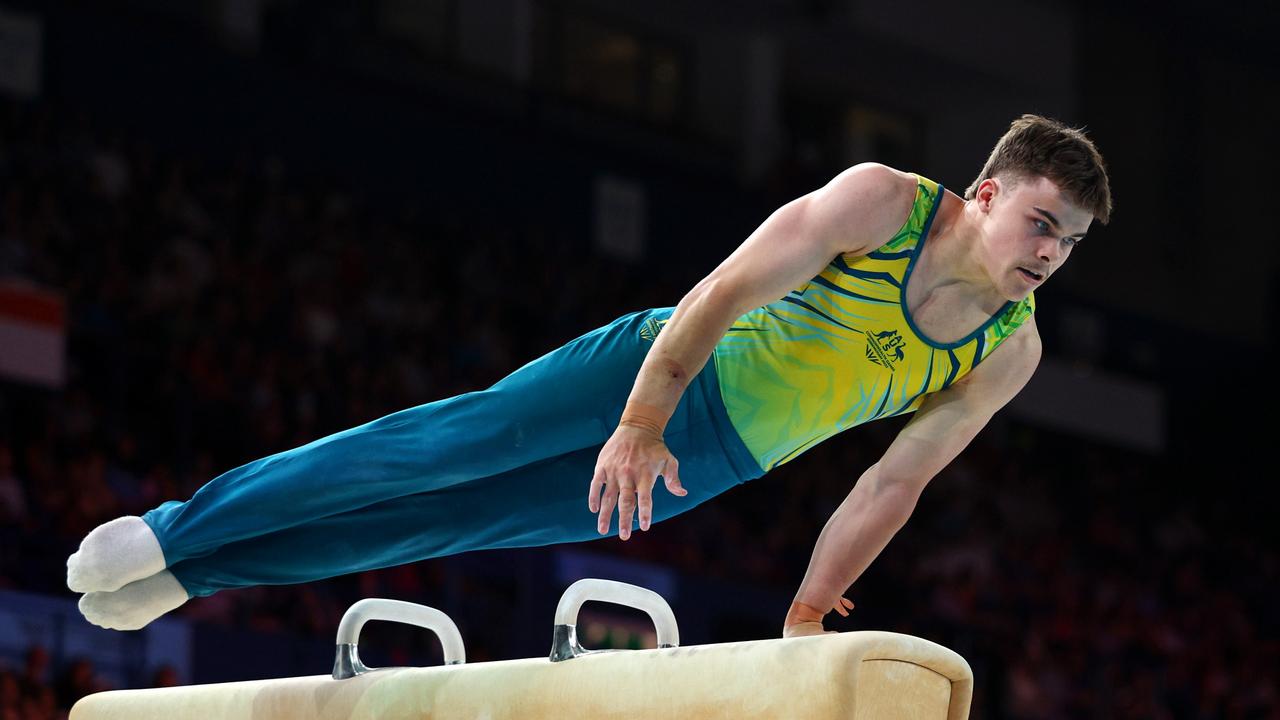 Jesse Moore competes during Men's Pommel Horse Final.
McDonald came in seventh in the uneven bars — but she said making the final was a good enough present on her 22nd birthday.
Reflecting on her team was the moment that brought Goodwin to tears for a second time after her overwhelming triumph in the all-round.
"The team medal means so much to me, to go through everything we have with the other four girls, and come away with silver – I'm so proud, and to come away with gold for myself is just … you've set me off again," Godwin said, momentarily lost for words.
"There's a lot of pride for my team. I'm proud of myself, for everything I've gone through to get here, and everyone that's helped me get here."
HOW CANADIAN CROONER DROVE AUSSIE TO GOLD
It's a new dawn, it's a new day, it's a new life – and Georgia Godwin is feeling good after clinching the gold medal in the women's artistic gymnastics' all-round final against the hot hometown competition.
Gold Coast athlete Godwin – the 2018 all-round silver medallist – entered the final rotation in the gold medal position, almost a full mark clear.
It was almost too close for comfort, and just one mistake could have changed everything.
But Godwin's unshakeable composure against serious competitors, who made crucial mistakes when it mattered, secured her victory.
It was a moment that brought her to tears.
"I'm very emotional. I can't put into words quite what this means yet," Godwin said when she emerged with her medal.
"There's been a lot to get through, I came in with no expectations, and I just wanted to do my best."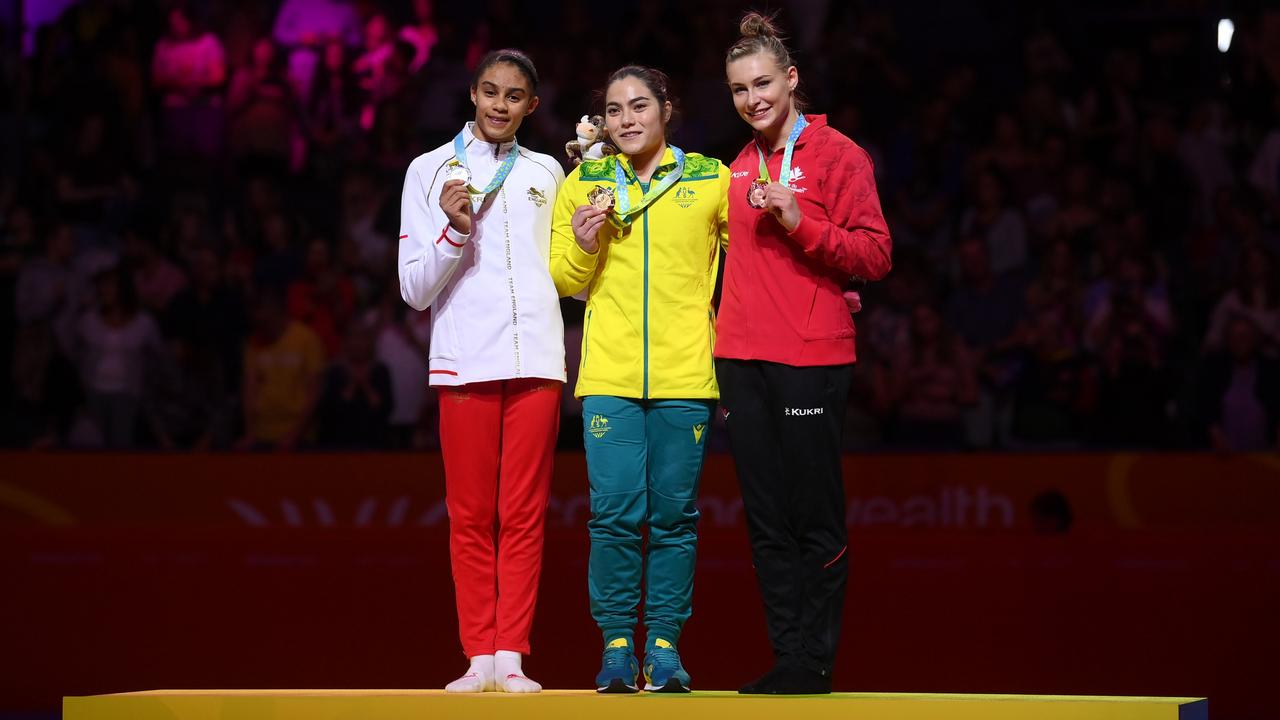 Georgia Godwin with her gold medal. Picture: Getty Images
The team final and all-round qualifiers set up England's gold medal-winning gymnasts Ondine Achampong and Alice Kinsella as formidable opponents, with the pair recording two of the three highest balance beam scores on Saturday night.
But it all came undone hours later in the all-round final, with both Kinsella and Achampong falling from the beam – enabling Godwin to cement her lead ahead of the final rotation after a solid performance.
"With my beam routine, I've never quite had that score I wanted to, so my coach back home will be very happy," Godwin said.
"I heard the crowd when Alice fell, but I tried to stay in my own bubble because I've learned not to look at the scores or the other competitors, and just focus on myself and keep the vibe good."
Over the loudspeaker, it was impossible not to hear she was in front ahead of her floor routine.
Australian supporters had their hearts in their mouths as Achampong performed a solid floor routine in her efforts to pull ahead – but Godwin was too good, with a routine fittingly performed to Feeling Good by Michael Buble.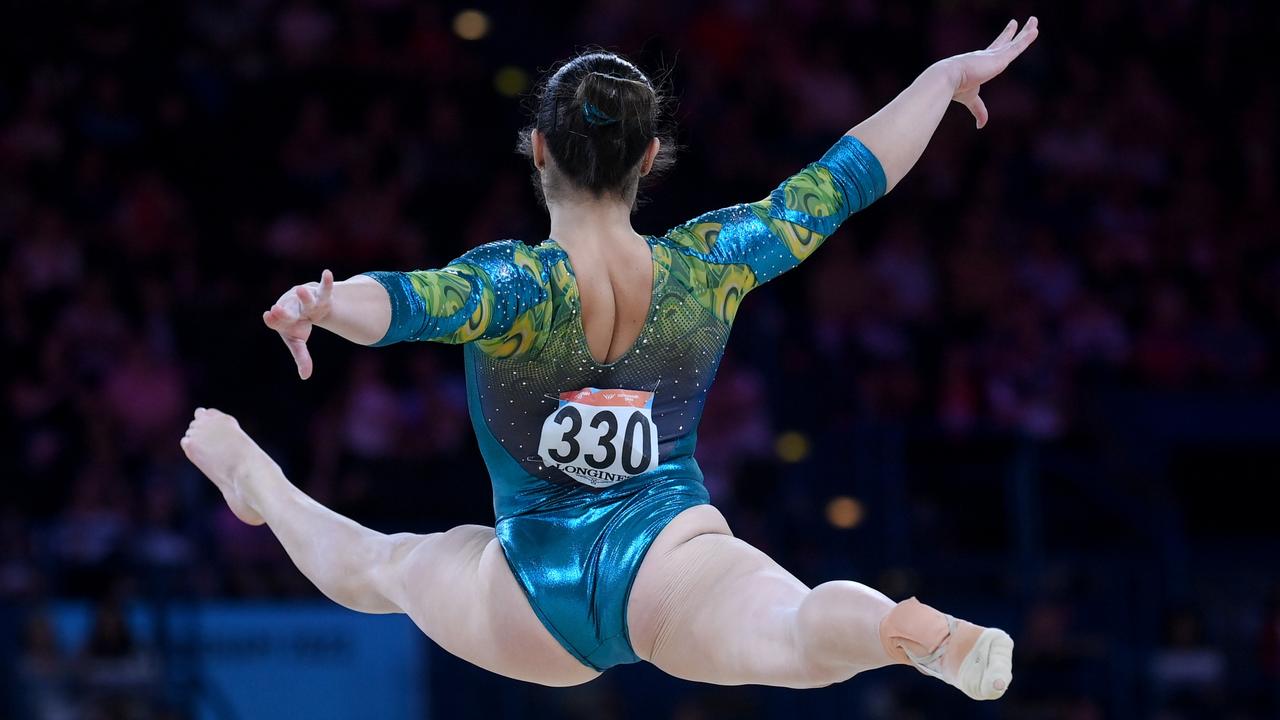 Georgia Godwin performed her final routine to Feeling Good by Michael Buble. Picture: Getty Images
"That song is something that has grown with me, when I'm down I play that song and Michael Buble always makes me happy," Godwin said.
"I wanted to go out with a bang and I was just relieved I got through it."
At the age of 24, Godwin feels she is at the peak of her career – but she is ready to take a holiday and reassess before entertaining thoughts of Paris 2024 or the October world championships.
She took an 11-week break during the height of the pandemic – the longest in her career since she began at four years old.
"My priorities have definitely changed, it's about quality routines and recovering well, because after the pandemic I realised I wasn't recovering as quickly," Godwin said.
"For me, I need to put my body and mental health as a priority – I'd love to make Paris but it's day by day and competition by competition."
Fellow Australian Emily Whitehead placed 11th in the final, as did teammate Clay Stephens in the morning's male all-round final.
Georgia Godwin was reduced to tears after her gold medal win. Picture: AFP Images
Rising teen star Jesse Moore pulled out after the third rotation due to a shoulder injury, in a bid to save himself for the apparatus finals. In a true testament to Godwin's resilience, the women had less than 24 hours between their team final and the all-round.
"I've never done two all-arounds in 12 hours. To have two apparatus finals and again on Tuesday – it's never been done," she said.
AGONISINGLY CLOSE: AUSSIES JUST MISS GOLDEN MOMENT
Scott Gullan
Australia have fallen agonisingly close to a gold medal in the women's artistic gymnastics team event with a late English surge spoiling the party.
In a thrilling climax only 0.050 separated the two teams coming to the final event of the competition.
Unfortunately England managed to produce on the vault while Australia's team came up slightly short on the floor.
In the end it was a brilliant vault by 18-year-old Ondine Achampony which scored 14.150 that sealed the deal with a capacity Birmingham Arena going nuts.
England finished on 161.100 points with Australia second on 158.000 and Canada third 152.700.
The silver medal is an improvement on four years ago on the Gold Coast for the Australians who finished second back in Glasgow in 2014.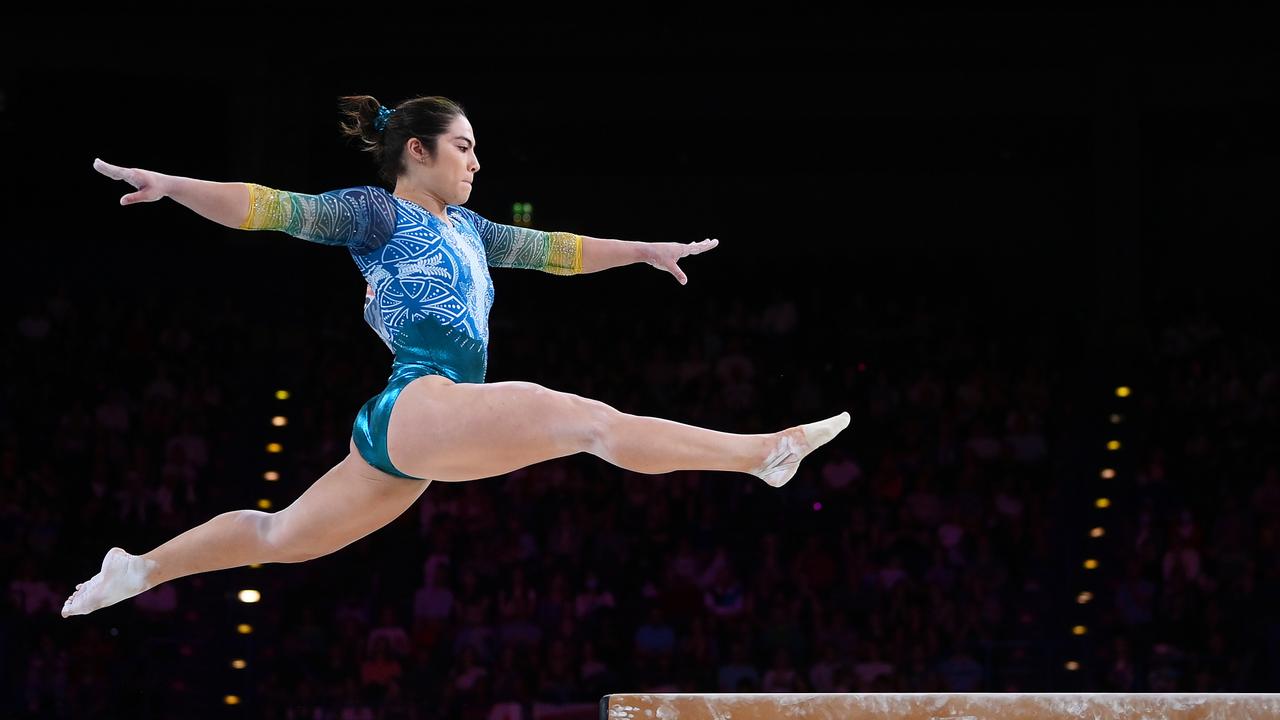 Georgia Godwin and the Australian team secured silver in the women's artistic gymnastics. Picture: Getty Images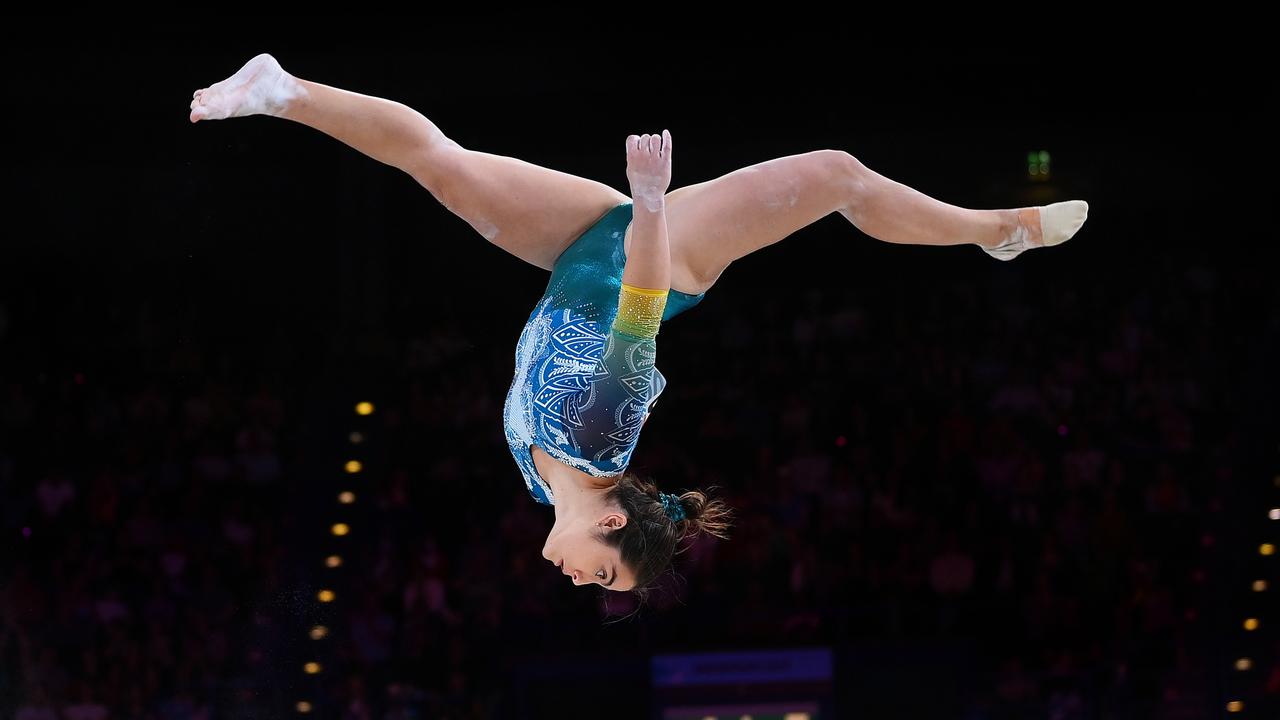 Georgia Godwin in mid-routine. Picture: Getty Images
Queensland's Georgia Godwin, the individual all-round silver medallist from the Gold Coast, had been the star of the show for the Aussies, leading the scoring on the opening three disciplines.
At the halfway mark of the final after the vault and uneven bars for the Australians they were on 80.850 points, just behind England on 81.450.
A brilliant beam by Godwin which was scored 13.600 saw the gap close and the suspense built ahead of the final event.
There were only two members of the bronze-medal winning team on the Gold Coast in Birmingham.
Godwin was again the leader of the team along with vault bronze medallist Emily Whitehead and debutants Romi Brown, Kate McDonald and Breanna Scott.
TOTAL DEVASTATION: HOW AUSSIE TEAM KILLED OWN MEDAL DREAM
Eliza Barr
Australia's male artistic gymnasts' team medal hopes were crushed by a wafer-thin margin after a series of triumphs were tempered by massive disappointments in the final.
Clay Stephens, Tyson Bull, Mitchell Morgans, Jesse Moore and James Bacueti were visibly dejected after missing out on bronze by just 0.650, with England, Canada and Cyprus clinching the three medals in the team final.
The team suffered some disappointments, with Bull stumbling heavily during his dismount from the horizontal bar, and Moore falling from the pommel horse after a strong start that had even the home crowd applauding in awe of his performance.
The frustration over their mistakes was palpable among the men on the floor, which later turned to devastation when they fell short of the podium.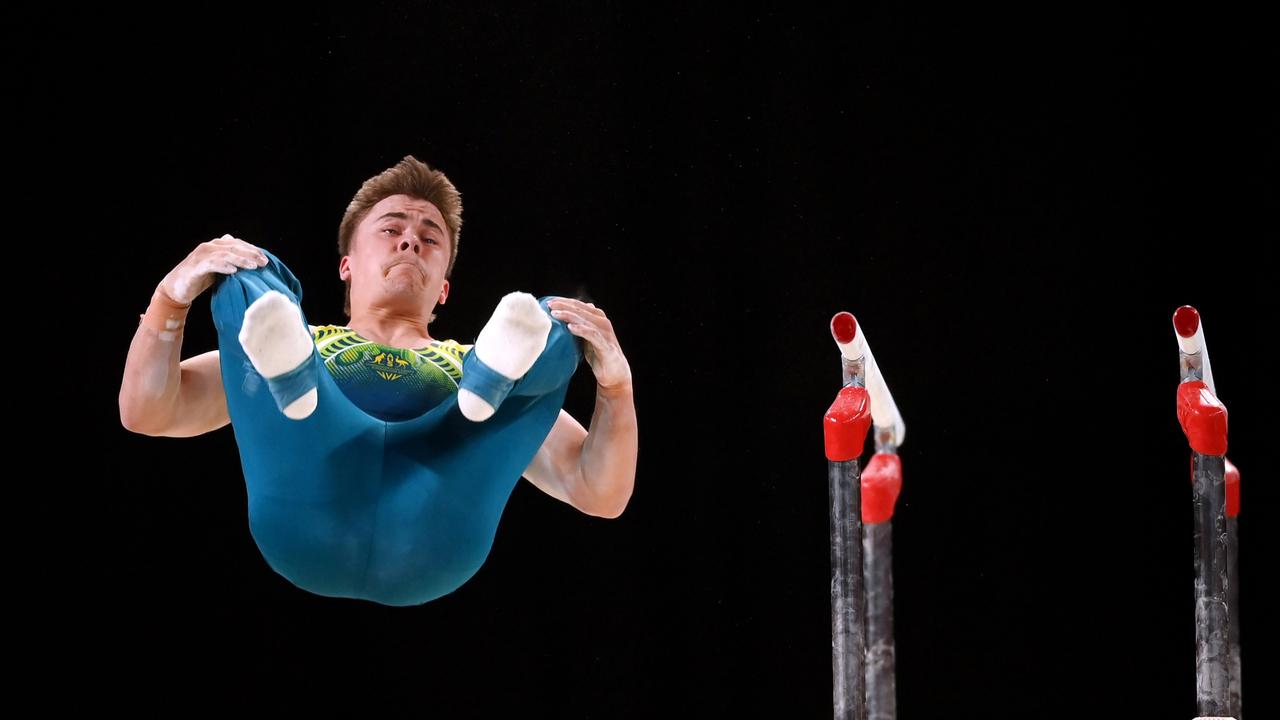 Jesse Moore on the parallel bars. Picture: Laurence Griffiths/Getty
"The preparation was looking really good, there were a few mistakes, but it's not for a lack of preparation," Stephens said afterwards.
"We just have to get back out there and back ourselves – I don't think anyone needs to change anything, it's about focus and trusting the process."
It wasn't all bad news for the Australians, with Moore and Stephens both qualifying for the all-round final after solid and exciting performances.
RE-LIVE EVERY AUSSIE GOLD MEDAL FROM DAY 1 OF THE COMM GAMES
The team's young rising star Moore also qualified for the pommel horse, rings and horizontal bar finals, while Bacueti will compete in the vault final after achieving fourth place in the qualifier, with a strong 14.350 score.
Morgans will take on the parallel bars final after qualifying in third place alongside the current team's only current Olympian Bull in the eighth position.
Stephens also made the floor final, which was his favoured discipline in the lead-up to the Games, and Morgans securing another spot in the horizontal bar final.
Moore's teammates deemed him the one to watch after the 19-year-old's impressive performance on the pommel horse had even the loyal English home crowd captivated — and then sympathetic when he came off.
"I look up to most of those guys out there and I'd love to get to their level," Moore said.
"I just gotta keep chugging away."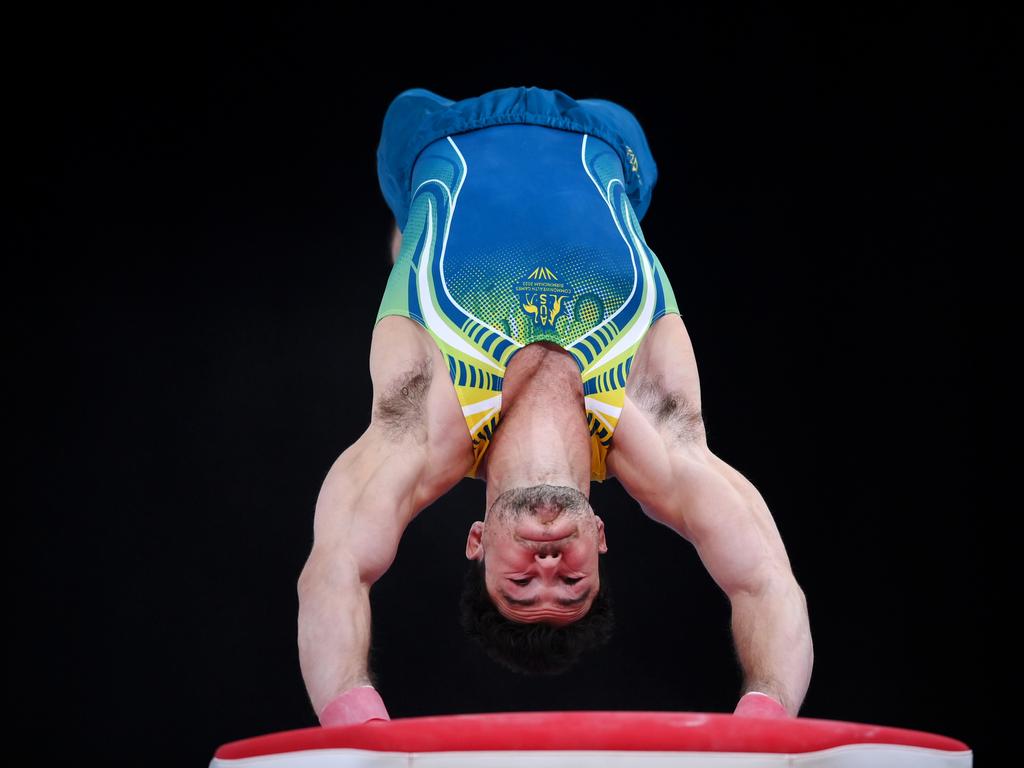 Clay Mason Stephens admitted the team made some costly mistakes. Picture: Laurence Griffiths/Getty
Morgans added: "It's them who should be watching out for him now."
Australia's devastating loss was Cyprus' gain, as they took home their first ever gymnastics team medal in Games' history.
As expected, England was dominant and came away with a clear victory as Cyprus, Canada and Australia battled closely for the remaining medals.
The home crowd was on their feet for England as the team rounded out their competition on the horizontal bar.
Aussie gymnast with one pec
Clay Stephens is no ordinary elite gymnast.
He's scaled the heights of Australian gymnastics and is set to compete on the world stage at the Commonwealth Games without a major muscle integral to the sport.
Amazingly, Stephens has only one pectoral muscle in his chest.
The 25-year-old athlete from Adelaide has Poland syndrome, in which the chest muscles are underdeveloped or entirely absent on one side of the body.
"The doctor who diagnosed me said it's not a big deal but you probably won't be able to compete in tennis, swimming or gymnastics, sports that require upper body strength up to a high level," Stephens recalled.
"I was doing all those sports at the time but he said don't expect too much."
Clay Stephens suffers from Poland syndrome which impacts the development of chest medals on one side of the body. Picture: Instagram
Despite his diagnosis, Stephens said his parents resolved not to hold him back.
"My parents were never going to stop me from giving things a crack," Stephens said.
"Gymnastics is very demanding on your upper body but Poland syndrome has never been an excuse and my parents never let me think of it as an excuse not to try."
As it happens, having one pec did not hold Stephens back, who recently finished second in the All-Around at the 2022 Australian Championships.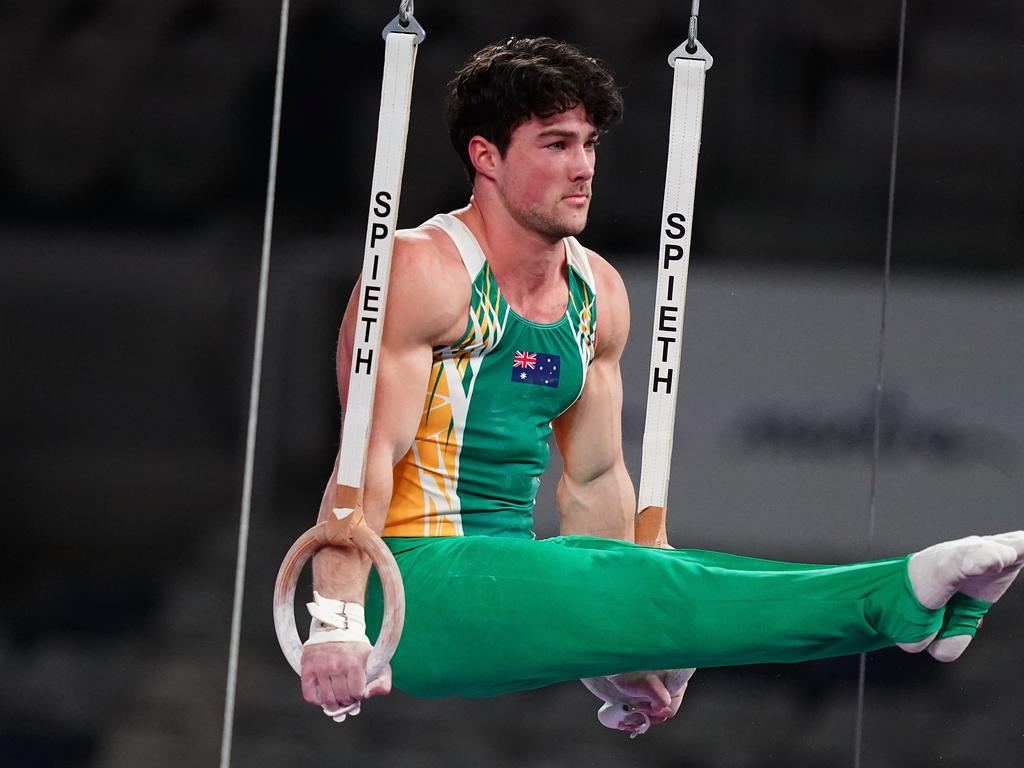 Despite the condition it has not impacted Stephens becoming an elite athlete. Picture: AAP Image/Scott Barbour)
"There are certain things that are harder but everyone, especially in elite sport, has strengths and weaknesses," Stephens said.
"It's not easy for me but it's not easy for anybody."
Despite having six surgeries in five years for a meniscus injury, three ACL blowouts, and one MCL, Stephens has his sights firmly set on team and individual medals.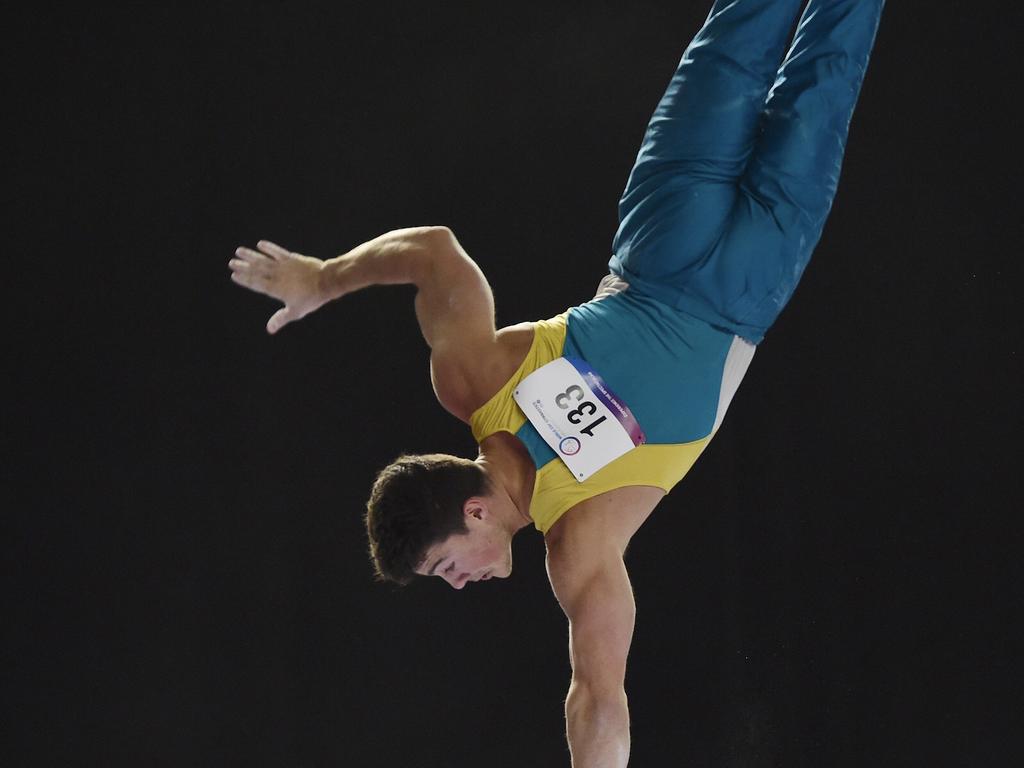 Floor and vault are Stephens' strength. Picture: Supplied
"Floor and vault have always been my strengths," Stephens said.
"To bring home a team medal would be amazing, and even considering what I've gone through with my knees and mental challenges, a medal on the floor is in my sights."
Stephens said proving to himself he could make the Commonwealth Games was one of the most exciting aspects of the upcoming competition.
"Any time you put on the green and gold is a really special moment and doing it next to guys I've known for a long time, and people in other sports alongside you, is pretty awesome," Stephens said.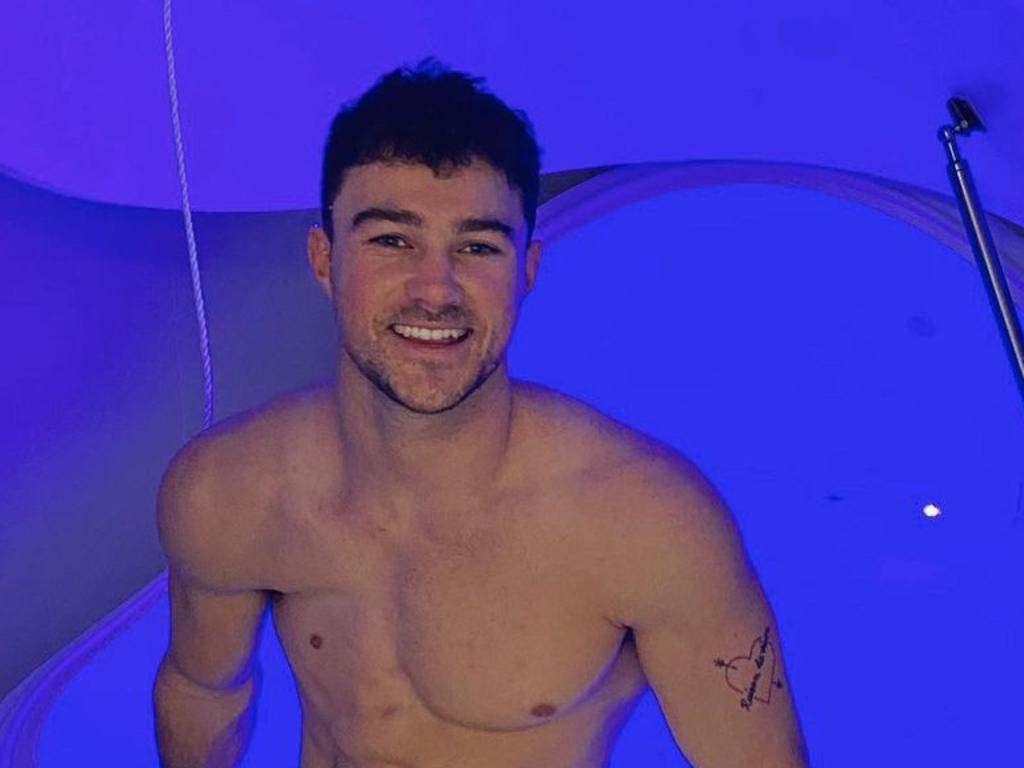 Stephens is going for gold in Birmingham. Picture: Instagram
"These events are important beyond your own individual performance and we're just trying to do everyone proud."
In achieving great heights in elite sport most average people could never even dream of despite his injuries and, of course, having a single pec – Stephens said he was grateful no-one had ever told him he couldn't.
"I've had so many messages from people about Poland syndrome, asking how do you have the confidence," Stephens said.
"It's a testament to the people in my life and I'm super thankful, because it's never been a conversation – it's just, why wouldn't I be able to do this?"
Originally published as Commonwealth Games 2022: Alexandra Kiroi-Bogatyreva wins gold medal in clubs final