Commonwealth Games 2022: Australian relay fiasco as Rohan Browning falls over
A distraught Rohan Browning has apologised to his teammates after a mortifying blunder in the men's 4x100m relay saw the Australian fall over. WATCH THE VIDEO
Australia's fastest man Rohan Browning stumbled and fell on the last leg of the 4 x100m relay heats, crashing the Australian team out of the final and any medal contention.
The mishap occurred when Browning began his acceleration to be near top pace for when he was to receive the baton from the third runner, but he inexplicably tripped before the exchange took place.
The moment was shattering for Browning who was immediately consoled by his team mate Jack Hale as he walked alongside the straight and to the finish line.
"I just tripped over," a devastated Browning said, adding"it has never happened before".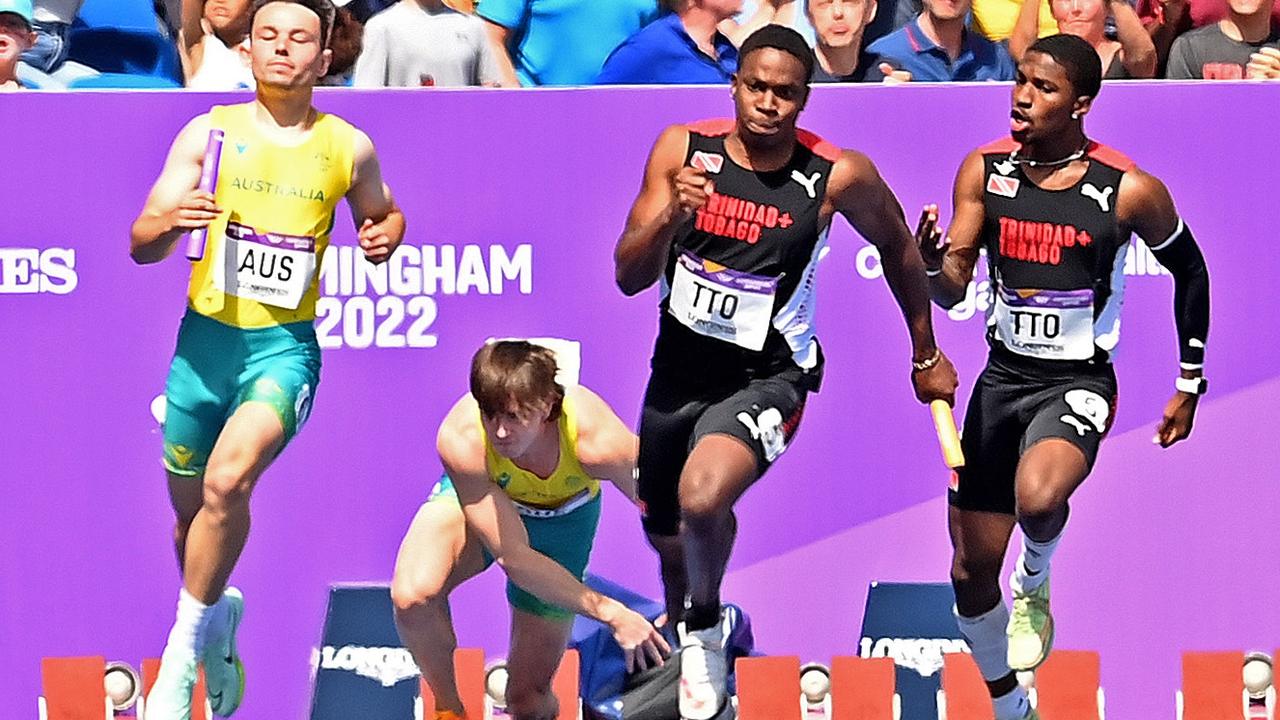 Rohan Browning goes down in the 4x100m relay. Picture: David Ramos/Getty Images
"These boys have put in so much work in this relay. I take so much responsibility for that (error).
"It was one of those freak things, I am just gutted, gutted."
Browning was wearing new spikes for the race and it appeared he may have got the front of the spike caught int he track, causing his tumble, but he discounted that suggested.
"These spikes are fantastic, they are great, it was just a chaotic environment, it is just gutting."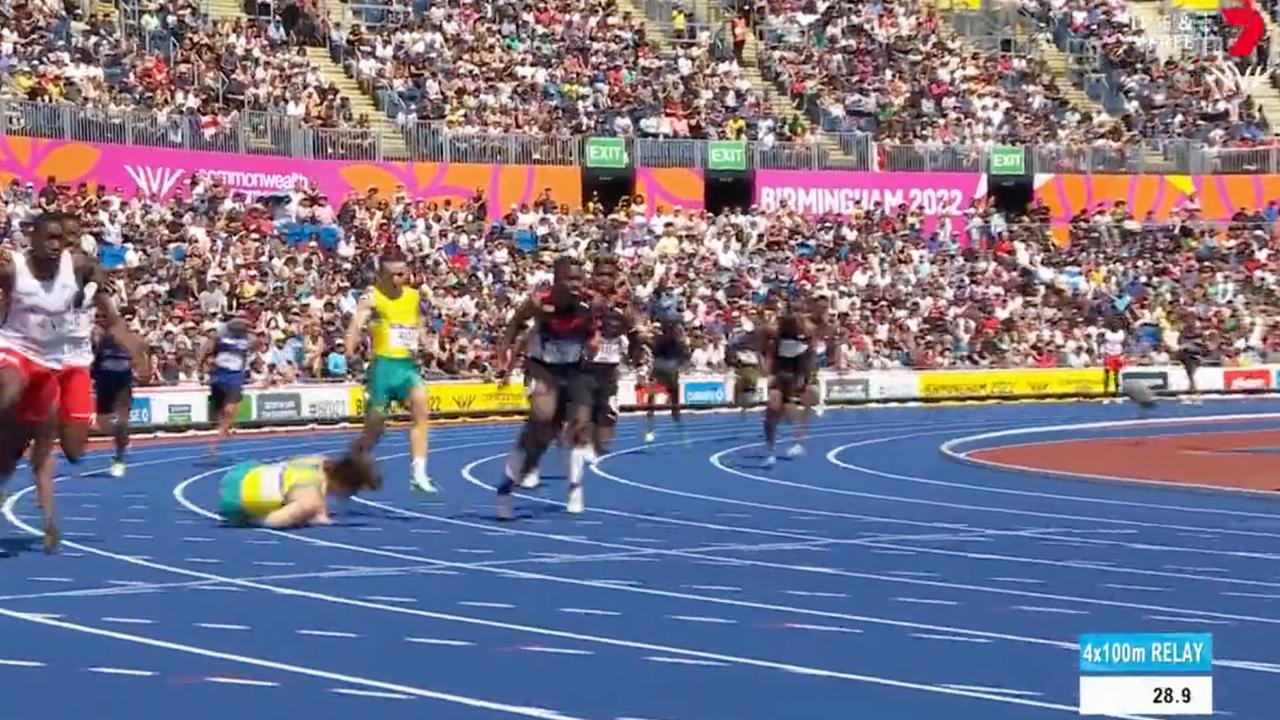 Rohan Browning fall in 4x100m relay.
Jacob Despard, the second runner said that it was an unfortunate accident and noted "we have to keep our heads high, you have to have a short memory as a sprinter. The boys will be heartbroken for weeks and months to come".
Hale was quick to console Browning both after the race and in the post-match interviews.
"It's a relay. There are so many variables and these things happen. It is what it is," Hale told Channel Seven.
England easily won the heat, ahead of Trinidad and Tobago and the home nation will go into the final as the favourite.
Jack Hale consoles Roan Browning. Picutre: (AAP Image/Dean Lewins)
The Australians were in the top three positions and set to make the final before Browning's fall.
"A disaster for the Australians," Bruce McAvaney said in Seven's commentary.
"I've never seen anything quite like it to be truthful."
"That was awful," Tamsyn Lewis-Manou added.
"He looks devastated. Rohan would not have been able to do a lot of this training, he would have been focusing on getting his body right. He just really stumbled when he took his acceleration phase."
Originally published as Commonwealth Games 2022: Australian relay fiasco as Rohan Browning falls over