Commonwealth Games 2022: Ellen Ryan and Kristina Krstic win gold in lawn bowls
They looked dead in the water but a couple of Aussie lawn bowl legends pulled off what seemed impossible with outrageous bowling to defeat England and claim gold.
Australia has a new lawn bowls hero, and her name is Ellen Ryan.
The 25-year-old spearheaded a stunning extra-time comeback on Saturday to seal her second gold of the Birmingham Games alongside teammate Kristina Krstic in the women's pairs, with a 19-18 win.
Ryan and Krstic looked dead in the water early doors, trailing 11-2 after six ends, before roaring back to prevail in an extra-time contest that had the normally sedate Leamington Spa crowd giving off football fan vibes.
But the Australians rattled off a 14-1 run to open up a four-point gap after 13, before England fought back over seesawing final five ends.
But on a morning of outrageous bowling, it was the clutch plays of 'Flash' Ryan on the final end that delivered Australia a heart-stopping victory – and added to her gold medal collection, having already won the women's singles.
Trailing by one point headed into the 18th, and final, end of play, Ryan capitalised on the elite lead-up play by Krstic to send the match into a one-end shootout – with Ryan holding the final ball.
And she came up with two incredible drives to blast England's hopes to smithereens and trigger raucous celebrations with Krstic.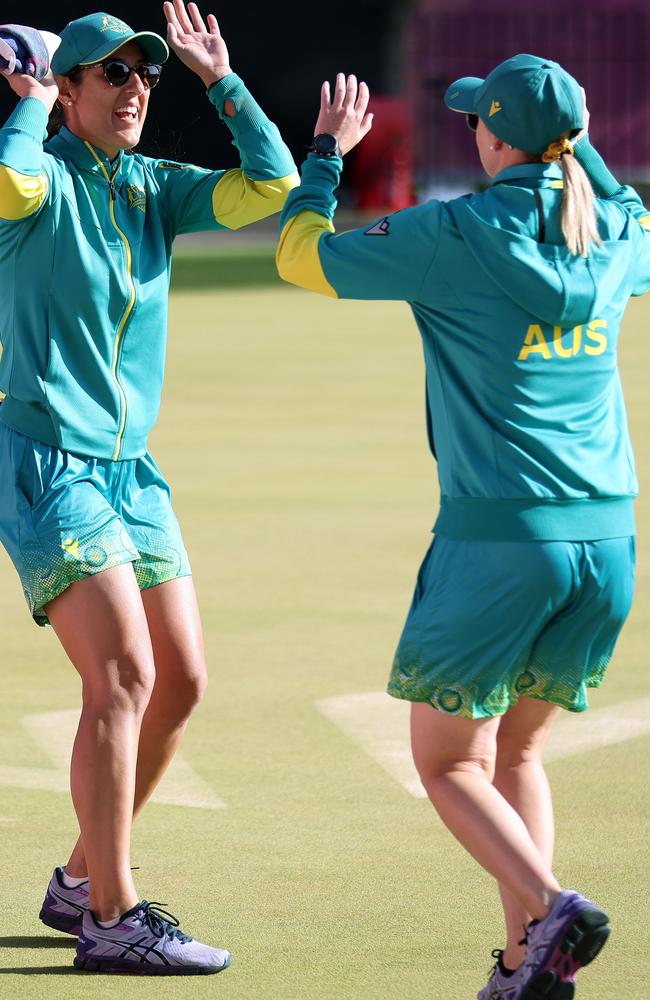 Ellen Ryan and Kristina Krstic of Team Australia react after winning gold
SILVER LINING: HOW GAMES HERO FOUND SALVATION IN LAWN BOWLS
Swimmer Emma McKeon may be Australia's greatest Commonwealth Games athlete of all time.
Rohan Browning is certainly the fastest in Birmingham. And Rachael Grinham and Eddie Ockenden were the flag-bearers.
But the real rock star of the Australian team is 63-year-old Cheryl Lindfield. Australia's oldest competitor at Birmingham, Lindfield claimed silver in the B6-B8 women's pairs para event along with Serena Bonnell on Wednesday, but her best work was done in the satellite Games village in Coventry.
In a village teeming with stars, including Australia's gold medal-winning women's rugby sevens team, Wallaby Samu Kerevi and the wrestling and judo teams, Lindfield emerged as the surprise celebrity.
Sevens star Maddi Levi sent Lindfield a pump-up message on the morning of their final – and handed the veteran a pair of Australian pants to wear on the medal podium.
"I didn't get pants that fit me … and she had two pairs. So tonight I'll be on the podium wearing Maddi Levi's podium pants," Lindfield said.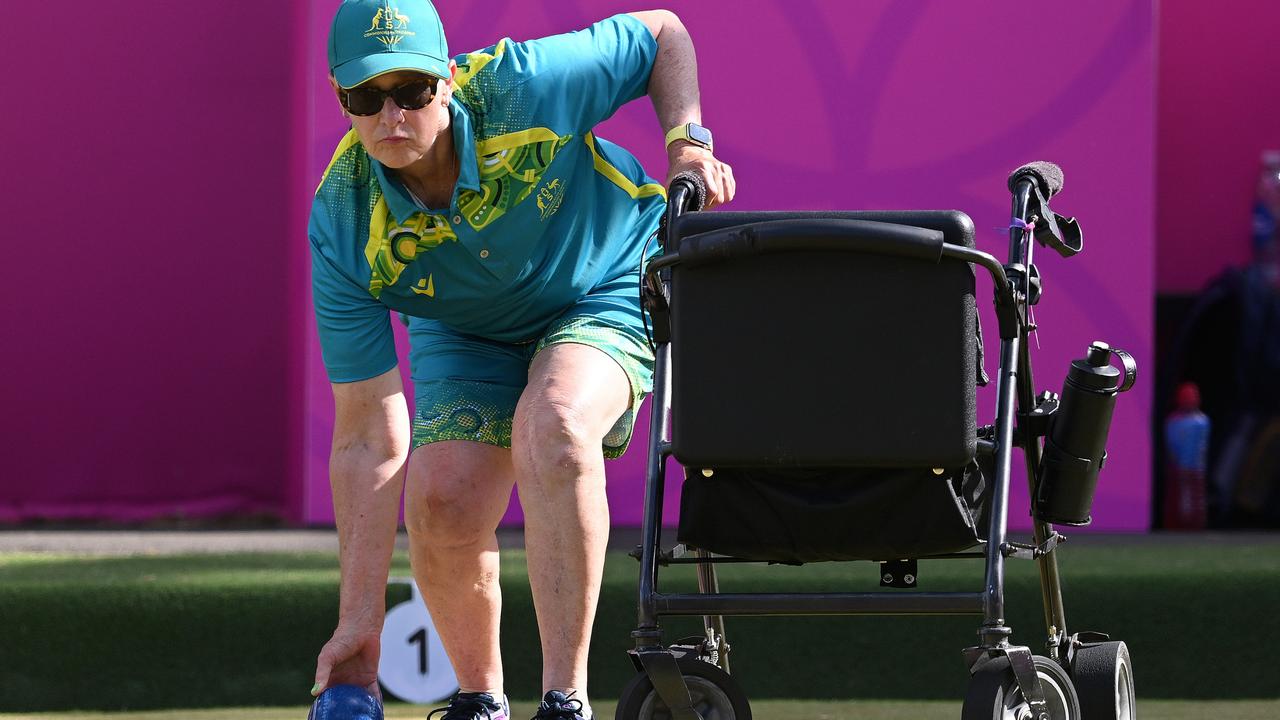 Cheryl Lindfield has emerged as the surprise celebrity of the Australian team. Picture: Nathan Stirk/Getty Images
"If that doesn't tell you they're willing to share, willing to go for it, she sent messages … how good is that?"
Lindfield carried a heavy heart into the final, having arrived in the UK to news that her elderly mother has not got long to live.
"I'm here today playing for her as well, she was a bowler and we played together," a tearful Lindfield explained.
"I think she'd be proud."
And if you think Lindfield's story is a heartbreaker, wait until you hear about her teammate.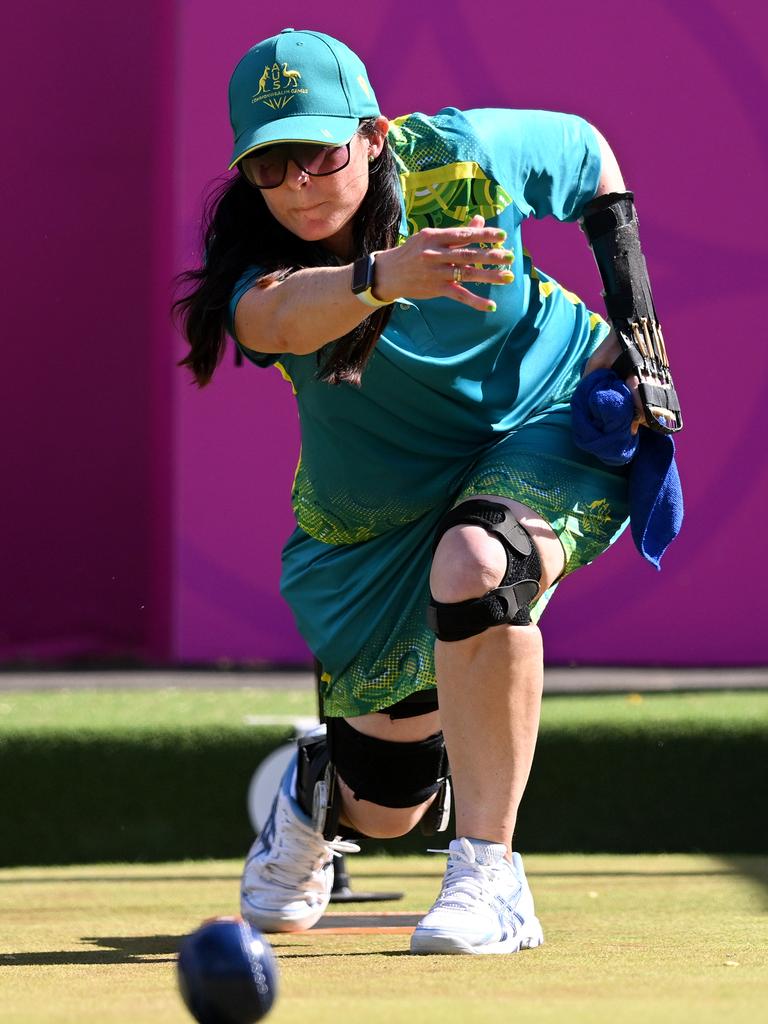 Serena Bonnell competes during the women's Pairs B6-B8. Picture: Nathan Stirk/Getty Images
Bonnell was a law student when her world came crashing down after eating some poisoned fish in China – which led to her losing strength in her left arm and right leg.
She was hospitalised for six months and never regained full use of either limb. But she found salvation in lawn bowls.
Bonnell was initially too distraught to speak after Australia lost to Scotland in the women's pairs (B6-B8) gold medal match but found the courage to speak of her love for the game.
"I was quite sporty before I got sick and then I didn't think there would be a sport that offered the inclusion, and opportunity for me to be competitive," she said.
"I saw it on TV and that is the positive of today, you can be what you see.
"Of course we're disappointed that we didn't walk away with gold … but we were the underdogs coming into it and we've walked away with silver."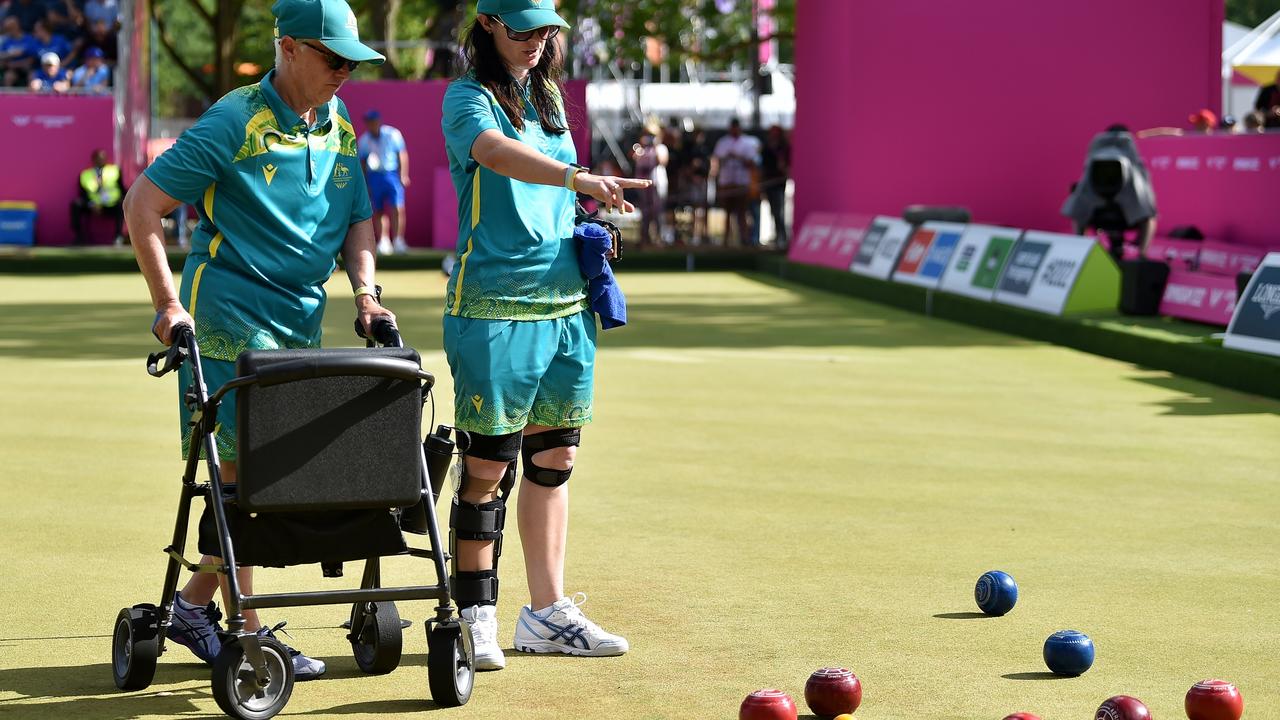 Cheryl Lindfield and Serena Bonnell react during the women's Pairs B6-B8. Picture: Nathan Stirk/Getty Images
With Prince Edward watching, Lindfield and Bonnell took an early lead but soon found the going tough before Lindfield set up a monster three-point end in the seventh which levelled the scores at 5-5.
It was the last time Australia would celebrate, as Scotland romped to a 17-5 victory, with a four-point end in the 12th the backbreaker for an Australian pair that hadn't anticipated featuring in the medals.
So Victoria 2026, will Lindfield be back to continue her legacy?
"Well, yes! Obviously," she said defiantly.
Originally published as Commonwealth Games 2022: Ellen Ryan and Kristina Krstic win gold in lawn bowls