Commonwealth Games 2022: Latest wrestling, weightlifting news from Birmingham
Aussie wrestler Jayden Lawrence revealed he fought with a knee injury to claim a long-awaited Commonwealth Games medal in one of the most heroic triumphs of Birmingham 2022.
He tore his ACL two fights prior but Jayden Lawrence won the medal Australian wrestling so desperately needed.
Not since Delhi 2010 had an Australian wrestler won a medal at the Commonwealth Games.
But this changed when the former cabinet maker from Camden Lawrence survived a late surge from South African Edward Lessing to claim the bronze medal in the men's 86kg freestyle match at Coventry Arena.
On one leg, he revealed that he got "a bit injured" when he tore his anterior cruciate ligament in his quarterfinal match against Pakistan's Muhammad Inam, Lawrence had to do it the hard way via a repechage and then by hanging on by the skin of his teeth against Lessing.
Despite coming out of the blocks early, racing to a 12-6 lead Lawrence was pegged back by the South African – with a controversial challenge going against him.
Jayden Lawrence celebrates after winning his first Commonwealth Games medal.
Lessing won five straight points after the break, and with no wrestler able to get 10 points in front it became a game of survival for the 27-year-old after he took just a one-point lead into the final 30 seconds.
Lawrence lost at this stage in Glasgow 2014 but he wouldn't be denied eight-years later as his defence held up strong and he claimed a drought breaking medal.
"Honestly I'm so stoked this is exactly what Australian wrestling needed," he said.
"The two last times we were at the Games we didn't medal at all but I guarantee you that we will get more, I guarantee it.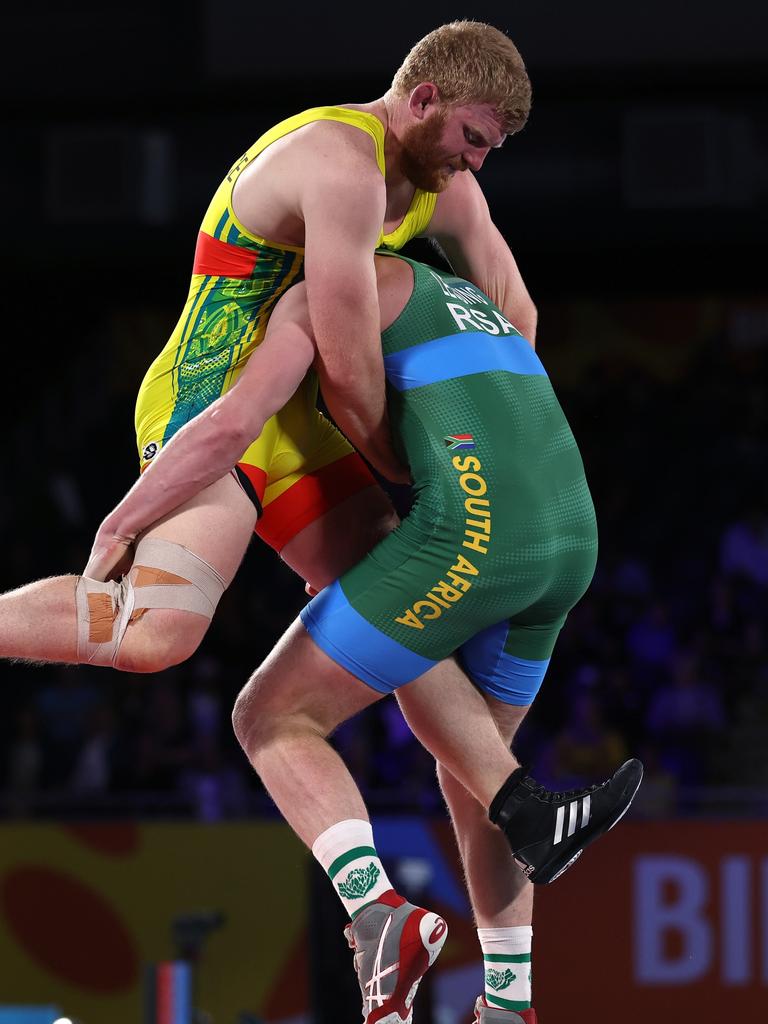 COVENTRY, ENGLAND – AUGUST 05: Jayden Lawrence (red) of Team Australia competes against Edward Lessing (blue) of Team South Africa.
"I guarantee Thomas Barns is going to medal (in the men's 97kg freestyle), I guarantee it. He has been coming to train with me and he has been working so hard."
As it stands wrestling will not be at the Commonwealth Games in regional Victoria in 2026.
Lawrence, now a wrestling coach in Camden, said he hoped this medal would help the sport a spot.
"I have given up a lot to do this sport but it is so worth it," he said.
"We get paid nothing but I would do it again.
"We are not in at the moment so hopefully this gets us over the line and we get wrestling there in Melbourne."
Jayden Lawrence (red) of Team Australia competes against Edward Lessing.
SUPER-HAN USES HER POWERS TO WIN RARE MEDAL
Will Swanton
Hani Watson's father used to tell his girl, "Focus on your superpower."
She was born with bilateral metaphyseal dysplasia, which curved her femurs and tibias, the bones above and below her kneecaps, to about 45 degrees. He was a bodybuilder who used to plonk himself at the dinner table and say, "We've got a barbecued chook and some multivitamins."
She'd follow him to the gym and lift a little tin herself. Her name was Hannah but he called her Hani.
She was 17 when he passed away. She kept up the gym work because that was the superpower and she felt closer to her dad and she ended up needing it for healing after failed surgeries.
Decades later, having changed her name to Hani, still remembering her old man, she started competing when Australia's para-powerlifting head coach Simon Bergner guided her to the Paralympic movement. She rocketed into the world's top ten at her first tournament last year and on Friday, her superpower raised 127kg to the sky for the para-heavyweight bronze medal at the Commonwealth Games. It is the first Australian para powerlifting medal since the Melbourne Commonwealth Games since 2006.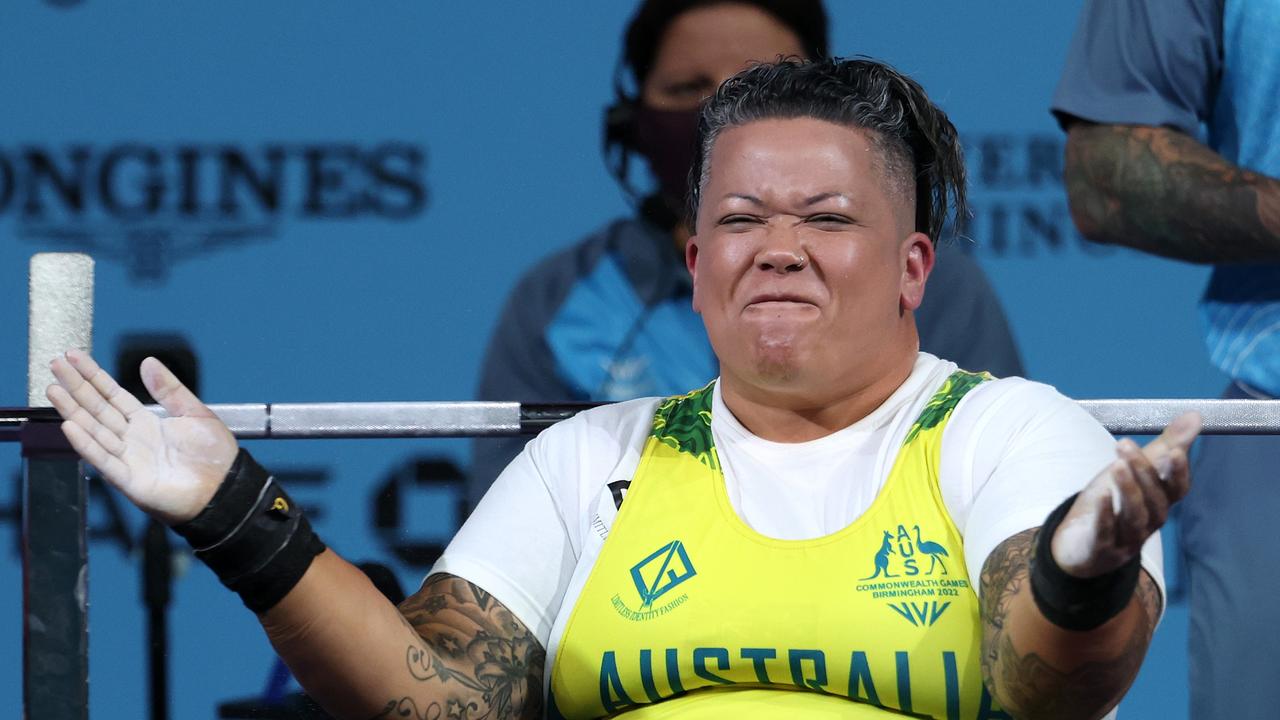 Hani Watson of Team Australia celebrates a lift during the Women's Para Powerlifting Heavyweight Final. Picture: Al Bello/Getty Images
Lifted the roof off the joint, she did, in a fantastically raucous atmosphere at the National Exhibition Centre.
"My Dad always told me, 'Focus on your superpower'," Watson said recently. "Bench pressing has always made me feel empowered, especially as a woman. I want more females to know about doing bench press. I want more people who have a disability to focus on what they can do. No matter what life throws at you, anything's possible. I just want people to be their best selves and find out what their superpower is. Whatever it may be – find it and be great at it."
She pushed herself onto the Birmingham stage in her wheelchair. She flopped onto her back, under the bar, as her coach strapped her in. She made 120kg at her first attempt to blow away half the field. She grinned like she was up to no good, missing at 125kg but clearing 127kg to finish third behind the Nigerian duo of Alice Oluwafemiayo (150kg) and Patricia Omolayo (142kg).
"I was about to lose my banana peel up there and start crying," Watson said after the presentation ceremony. It's just really overwhelming to be up there after going through so much this year. I've probably done five or six comps back to back to back. Having to work full-time and do everything I've needed to do and still be here today – it be exhausting but it's also very thrilling and very exciting."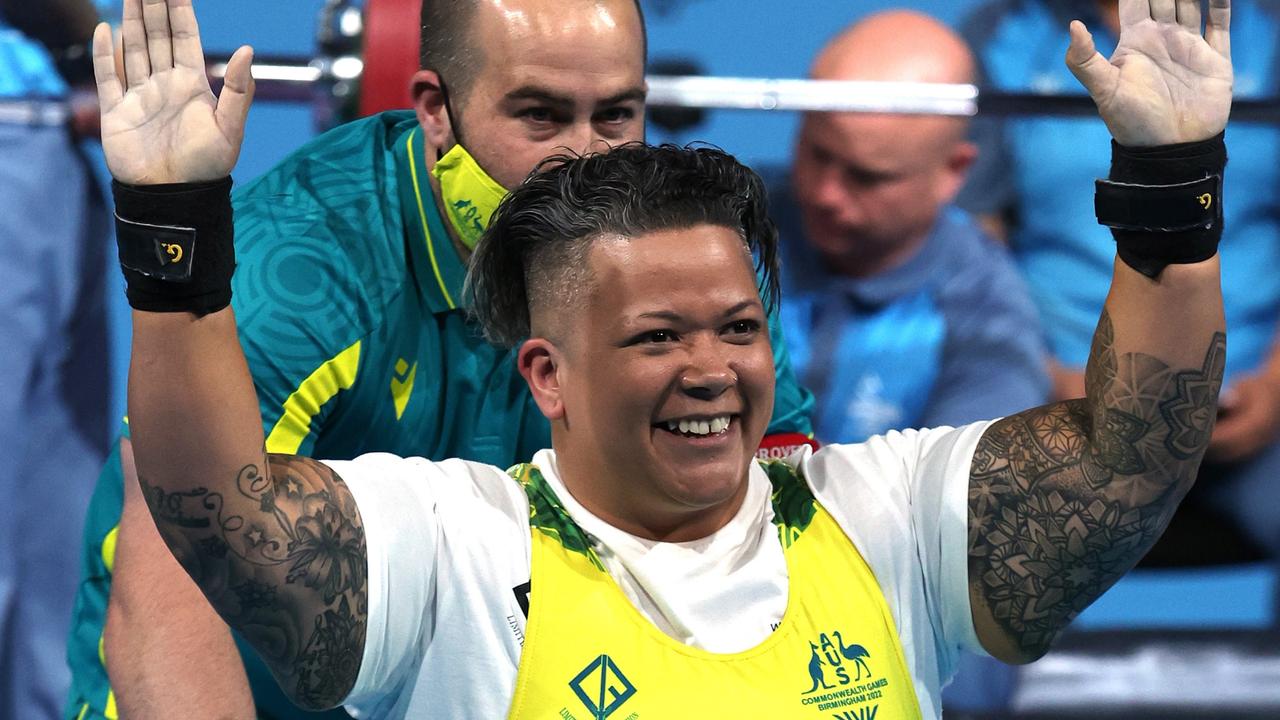 Hani raised 127 kgs to take the bronze. Picture: Al Bello/Getty Images
When she was asked what her dad would think, tears welled in her eyes and she was speechless for a sec before she said, "He would have been very proud. Very proud."
Kids don't have a monopoly on superpowers. Adults can have them, too. You just have to stay a kid.
"Each year for about six years the doctors broke a leg, put it back together, plated it all up, but eventually they had to remove all the metal," Watson said.
"When that all happened, I was doing powerlifting because it was a compound movement to try and get my bones to move and get stronger. I tried doing squats for a while but because the surgeries failed and my legs got worse, I had to stop."
She added: "Eventually, Simon (Bergner) said to me, 'Hang on, you've got a disability, can I help?' He pointed me in the direction of Paralympics Australia. I was able to get classified and I was blown away. I thought, 'This is awesome. I'm all in.' It's kicked me up the backside, saying, 'Here you go, kiddo, run with it'. It's like winning the Lotto for me, to compete for Australia. I always wanted it but didn't know I could do it."
Charisma's podium finish lifts everyone's spirits
By Simeon Thomas-Wilson
She had already triumphed once at the Commonwealth Games for Nauru – and now Charisma Amos-Tarrant has raised the bar for Australia too, snatching bronze in the women's 87kg weightlifting.
At the last Commonwealth Games, the 23-year-old lifter had competed for Nauru, where she was born and raised until being adopted by her grandparents and moving to Australia aged 12.
She switched allegiances to Australia ahead of the 2019 Pacific Games, and then competed in the green and gold at the Tokyo Olympics where she came sixth.
"I'm Australian, I'm proud to be Australian, no one can take that away from me," Amos-Tarrant said after her medal-winning turn.
"I started lifting in Nauru, it's always been a goal of mine and a childhood dream to lift for my country – when I had the opportunity to do it for Australia I went for it."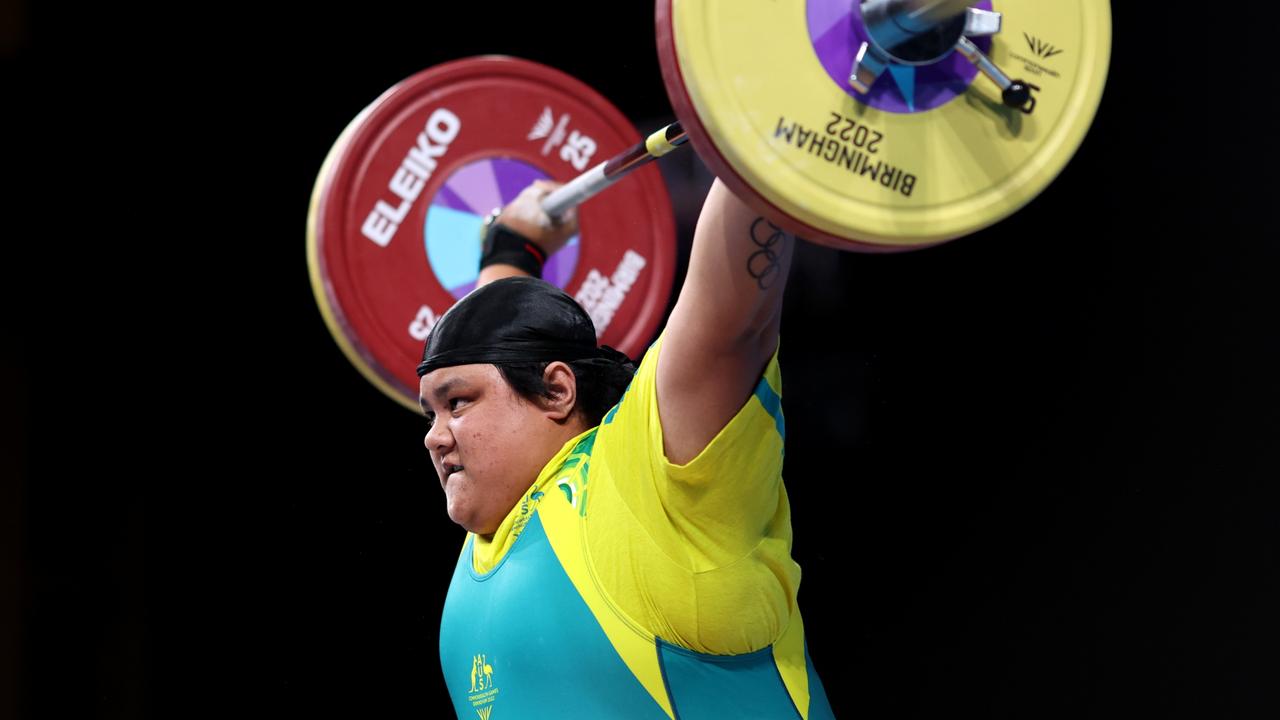 Charisma Amoe Tarrant has taken bronze for Australia in the weightlifting. Picture: Ryan Pierse/Getty Images
Amos-Tarrant fought through a knee injury, an elbow injury and a highly competitive field to claim third place behind England's Emily Campbell and Samoa's Feagaiga Stowers at the NEC in Birmingham.
She nailed 100kg in her third attempt at the snatch, with 139kg in the clean and jerk. A valiant attempt at 145kg didn't quite come off.
"My emotions are still a bit everywhere but I'm pretty happy, I've got the medal around my neck," Amos-Tarrant said.
"That was for my (late) mum and my uncle, who passed away from cancer – all the lifting is for them as well."
The lift was also for her grandparents, who she has lived with in Australia for many years, but who are visiting Nauru during Amos-Tarrant's Games campaign.
Amos-Tarrant said she drew strength from the electric atmosphere in the weightlifting hall, where the home crowd went berserk for superhuman gold medallist, Tokyo silver medallist and European champion Campbell.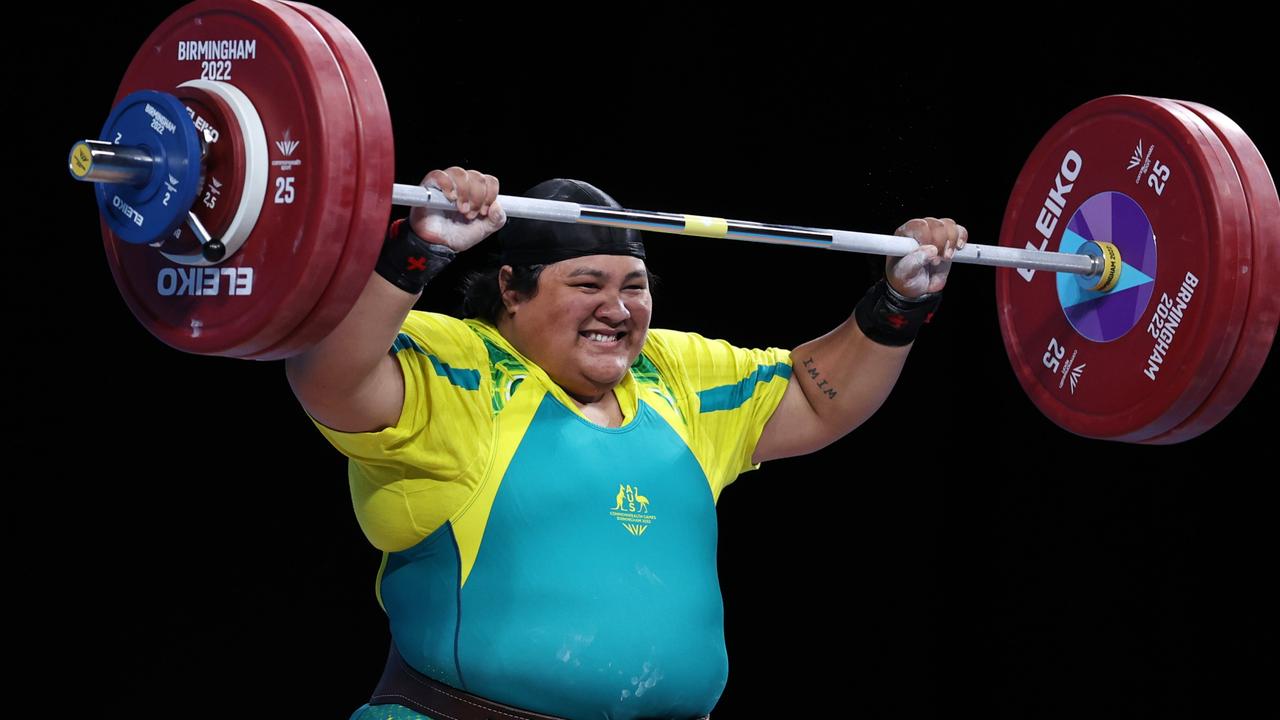 Charisma Amoe Tarrant has her sights set on the Paris Olympics. Picture: Ryan Pierse/Getty Images
Campbell, 28, nailed a new senior Commonwealth record with a 162kg clean and jerk – and she did it with a smile.
"The atmosphere here was so good, the crowd just hyped me up," Amos-Tarrant said.
"There was a lot of pressure going in, I was dealing with some injuries before the games and I hadn't lifted 145kg since before that."
After falling short of the podium in 2021, Amos-Tarrant has her sights firmly set on the Paris Olympics in two years.
"I'm going to take some time off to get my knee fixed first," Amos-Tarrant said.
"After that, if there's another competition I need to do for Paris, I will – I'll get ready."
Amos-Tarrant's victory was for both Australia and Nauru alike especially as Nauru mourns the recent death of the island nation's only ever Commonwealth Games gold medallist, weightlifter Reanna Solomon.
Silver medallist Feagaiga Stowers from Samoa, England's gold medallist Emily Campbell and Charisma Amoe Tarrant. Picture: Ryan Pierse/Getty Images
The mother-of-five and two-time gold medallist at the 2002 Manchester Commonwealth Games was the nation's first ever recorded death from Covid-19, at the start of July.
"I met her once in Nauru, I've heard so many stories about her, she was a good lifter," Amos-Tarrant said.
"People were disappointed when I started competing for Australia but I just had to tell them, I'm one of you as well – I've got Nauruan blood, I'm proud of Australia and my birth country."
AUSSIE SMASHES RECORD IN BRUTAL WEIGHTLIFTING DISPLAY
By Simeon Thomas-Wilson
Different weight class, representing a different country.
But it was the same result for Eileen Cikamatana as she showed her incredible strength by setting a new Commonwealth Games record and claiming gold for Australia in the women's 87kg weightlifting.
The 22-year-old won the 90kg gold medal competing for Fiji four-years-ago on the Gold Coast.
But after a huge dispute in Fijian weightlifting Cikamatana – who grew up helping her dad haul pig feed and 50kg gas cylinders just for good measure before moving to New Caledonia to further her career – transferred her allegiance to Australia in 2019.
Eileen Cikamatana competing for Fiji at the Commonwealth Games in 2018.
She was unable to represent her new country at the Tokyo Olympics but showed she will be one to watch at Paris in two-years time as she put in an impressive performance in Birmingham.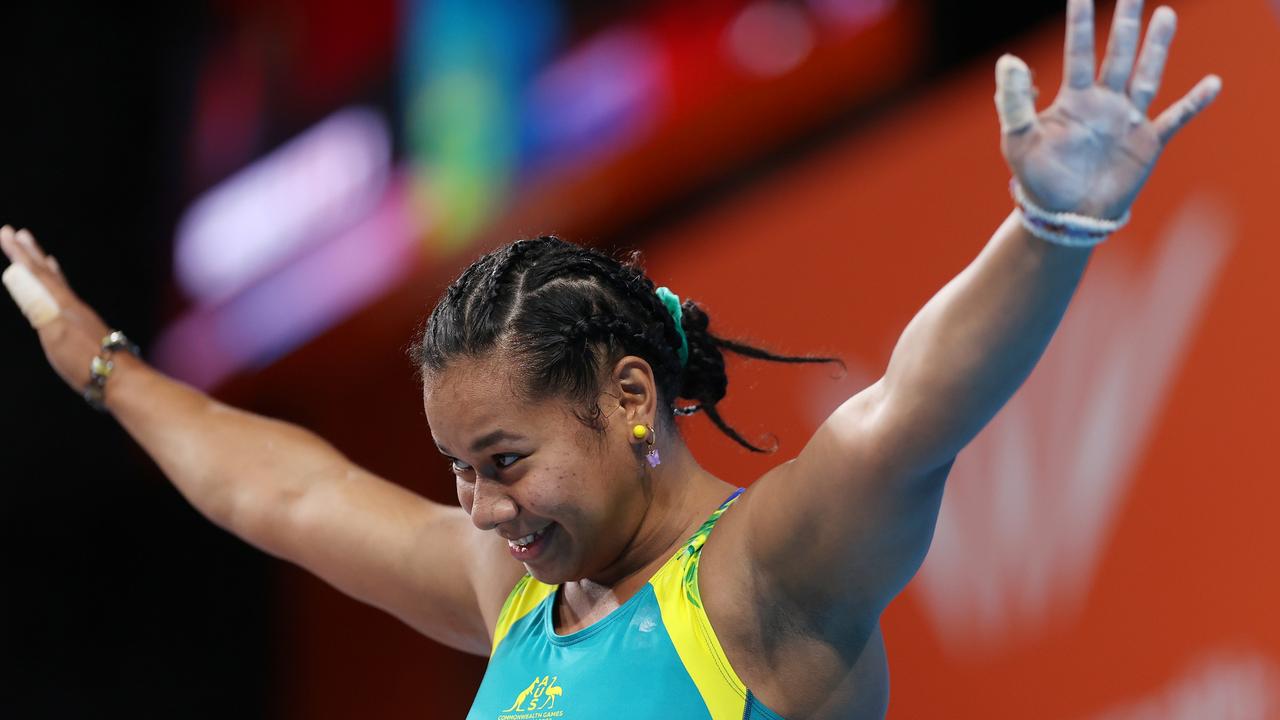 Eileen Cikamatana reacts after her gold medal performance.
Eileen Cikamatana lifts on her way to gold.
Cikamatana set a new Commonwealth Games record of 255kg across her lifts.
She went straight into the gold medal position with her 105kg lift in the snatch and her 129kg effort in the clean and jerk.
She added five more kilos to her snatch total, and in the clean and jerk produced lifts of 137kg and 145kg.
It was well clear of Canada's Kristel Ngarlem, who finished with 236kg across her lifts.
Originally published as Commonwealth Games 2022: Latest wrestling, weightlifting news from Birmingham