Commonwealth Games 2022: Mollie O'Callaghan storms to gold in 100m freestyle final
All hail a new Aussie superstar. Mollie O'Callaghan, at 18, a decade younger than her idol Emma McKeon, has burst on to the world stage in emphatic style.
All hail a new Aussie superstar. Mollie O'Callaghan, at 18, a decade younger than the prolific medal winner Emma McKeon, has burst on to the world stage, storming home to victory in the women's 100m freestyle on Wednesday.
O'Callaghan had won the world championships over this distance in Budapest, but McKeon was missing from that contest, and it was expected the Olympic champion would be able to hold off her Australian rivals.
But in a tight finish at the Sandwell Aquatics Centre, O'Callaghan surged to the front to overhaul 28-year-old McKeon. And then at the touch, O'Callaghan's training partner Shayna Jack edged ahead to snare silver.
O'Callaghan had signalled her hot form earlier in the week, very nearly pulling off a shock result against the middle-distance champion Ariane Titmus in the 200m freestyle.
O'Callaghan was nervous before the start, shaking on the blocks, but she channelled that energy into staying within touching distance of McKeon, who turned in front.
When she powered to the wall and then saw the result, O'Callaghan immediately turned to McKeon, her idol, in the next lane for support. Jack then joined the duo and the three Australians celebrated a clean sweep.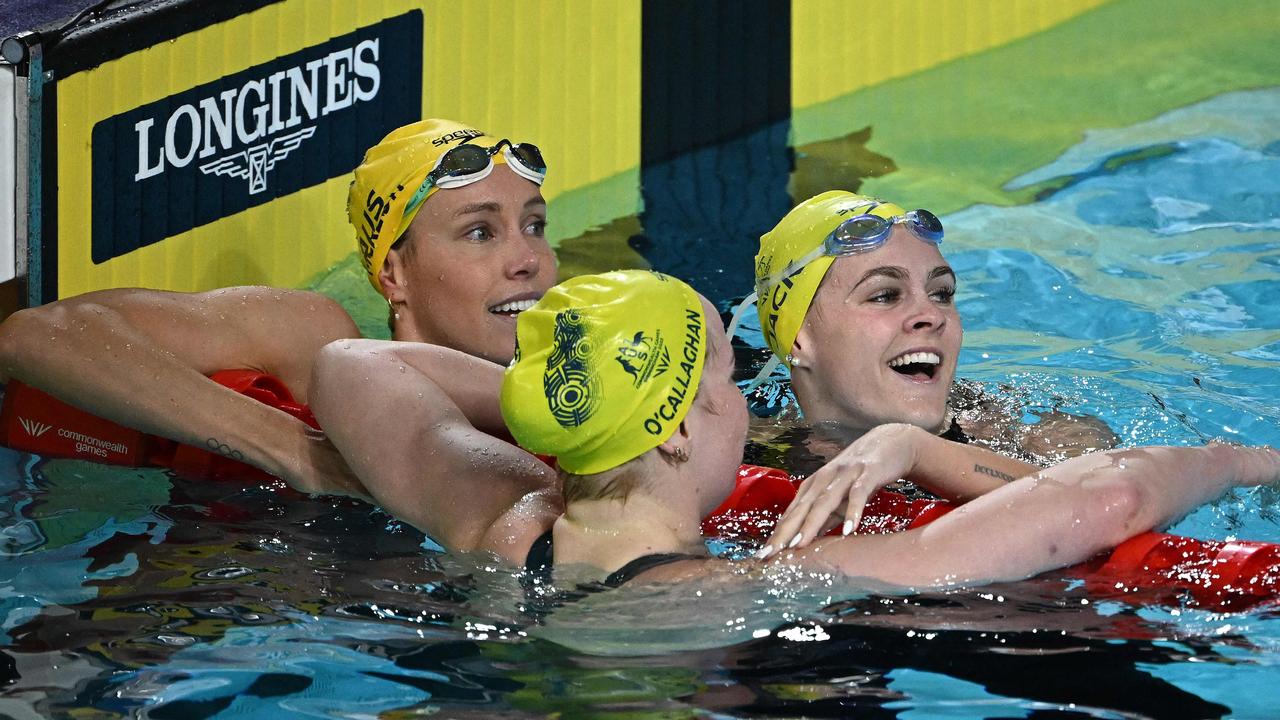 Silver medallist Australia's Shayna Jack (R) and Bronze medallist Australia's Emma McKeon (L) congratulate winner and gold medallist Australia's Mollie O'Callaghan
"I am really happy,'' O'Callaghan said. With that swim, she has forced her way into the medley relay team as the freestyle leg, with McKeon expected to now switch across to the butterfly.
O'Callaghan had been one of the youngest members of the Australian team at the Tokyo Olympics and she caused a selection drama because she had clocked times quicker than the selected members of the 4x200m relay, but coaches wouldn't change their predetermined line-up.
Jack, 23, has put to bed the dark days of the past few years where she was unable to train during a two-year drugs ban, winning her second individual medal at these Games.
"I did not dream it would be possible to be back here in general,'' she said. "So for me to be here with these girls and get on that podium again is an absolute honour."
McKeon said the intense competition among the Australian female freestylers helped her to ''keep pushing''. She has swum more than a dozen races on the Birmingham program to test herself and work out the best program to concentrate on for the Paris Olympics.
"I know all over the world there will be young ones coming through and I have these two back home to race all the time," she said. "And I'm still hungry as ever."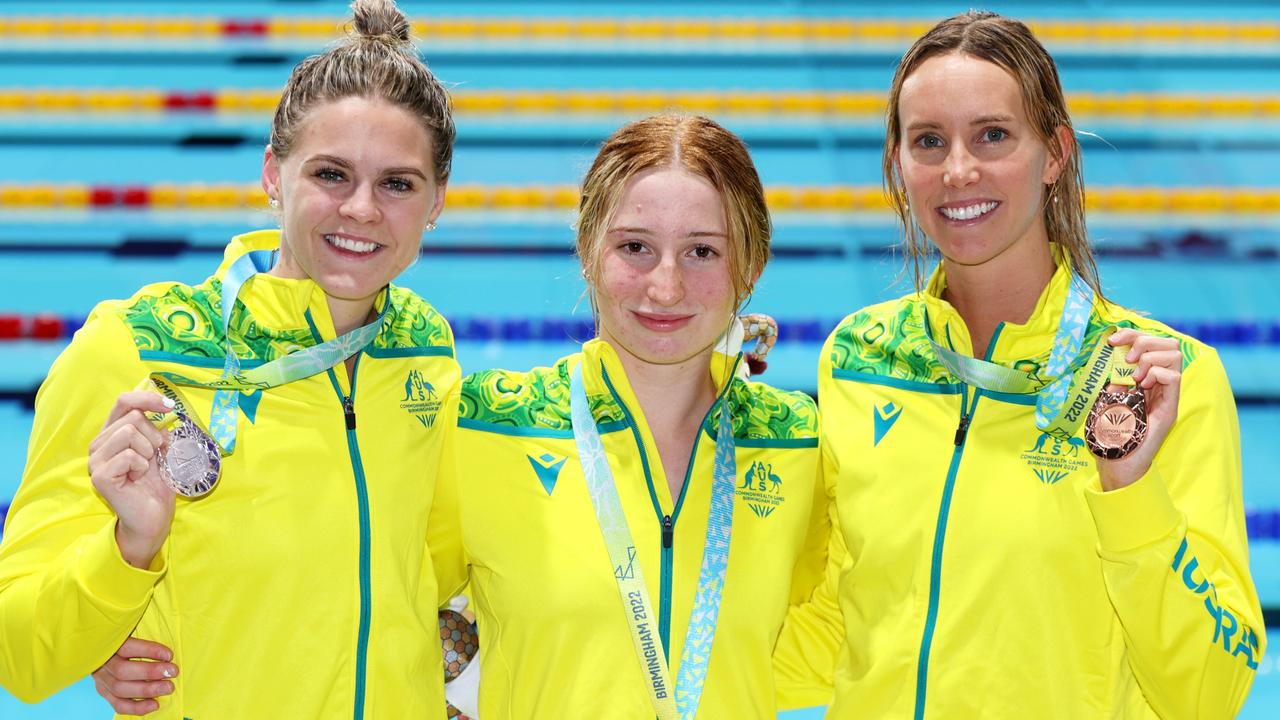 Silver medalist, Shayna Jack of Team Australia, Gold medalist, Mollie O'Callaghan of Team Australia and Bronze medalist, Emma McKeon
While McKeon has amassed 12 career Commonwealth Games gold medals, the 100m bronze brings her overall tally of medals of any colour to 18 to match Australian shooter Phillip Adams.
It was the fourth medal clean sweep in the pool at these Games, following on from the women's 50m freestyle, women's 200m freestyle and men's 400m freestyle.
Amazingly, O'Callaghan said her victory wasn't without its flaws.
"I messed up a few things. I could have planned a few things better if I'd done certain things differently … it is still sinking in. I have so much to improve, but there are so many positive things as well.''
McKeon hailed O'Callaghan's win as "incredible", adding: "I watched her win at worlds and to do that under that kind of pressure is amazing."
O'Callaghan then doubled up in the 50m backstroke semi-final and qualified in the fourth-fastest time, just behind Australia's double Olympic champion Kaylee McKeown for Thursday's final.
"That was something new, I've never done a double before," she said. "It felt pretty good. It hurt a lot because I didn't get much time to warm down.''
EMMA MORE EXCITED FOR CODY'S FINAL THAN OWN INSANE FEATS
Emma McKeon, quaintly described as the Silent Assassin by teammate Ariane Titmus, quietly snuck through the hustle and bustle of the 50m butterfly to collect her fourth gold medal in Birmingham to bring up a career tally of 12 Commonwealth Games gold medals.
But the superstar of the pool then admitted she was more excited to be watching her boyfriend, popstar Cody Simpson, who will race the final of the 100m butterfly in the early hours of Wednesday than what she sometimes feels for her own races.
"I am very excited for him,'' said McKeon.
"I get that (when) watching him and other people that are close to me, than I do for my own races. I am excited to watch him tomorrow night."
McKeon powered home in the final five strokes to draw clear of the rest of the field in the 50m butterfly final, but just behind her 34-year-old Holly Barratt from Western Australia drove to the wall and dead-heated with South African Erin Gallagher with both clocking 26.05s to collect silver.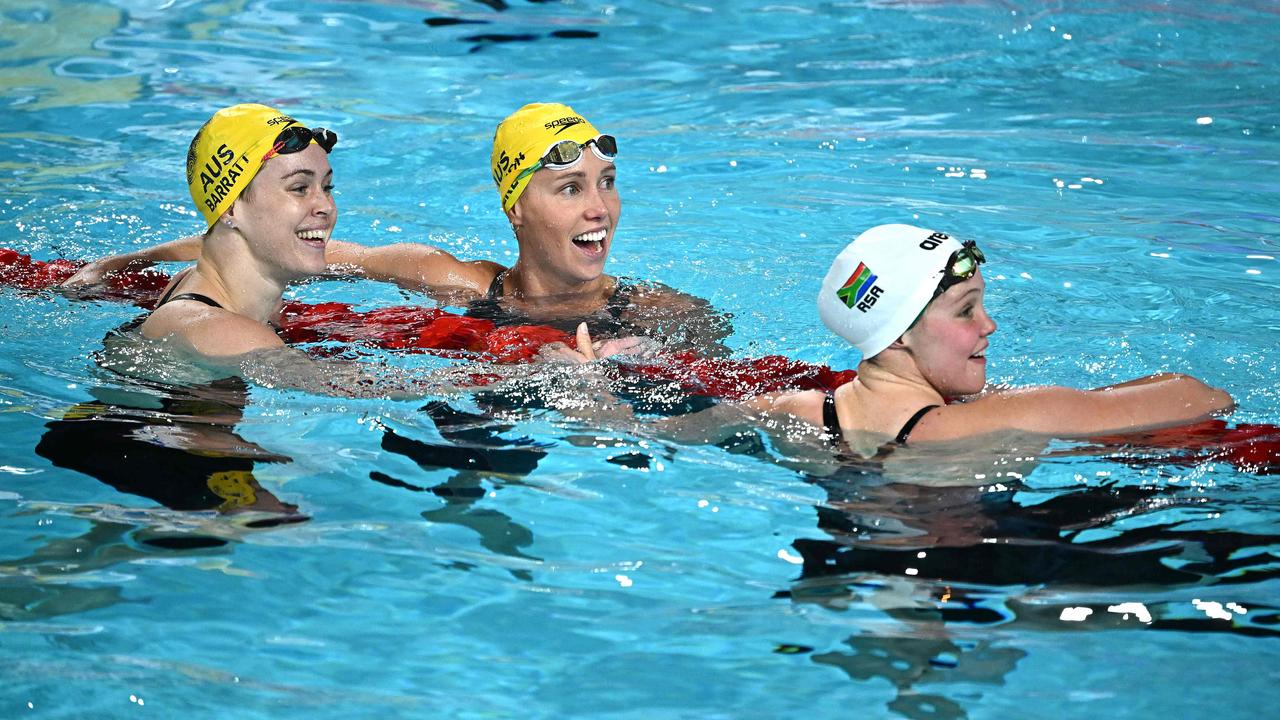 Emma McKeon backed up her 100m butterfly victory with a win in the 50m butterfly. Picture: Oli Scarff/AFP
While McKeon was understandably happy, it was Barratt who had only qualified for the Australian team a few years ago, aged 29 who was over the moon. She got out of the pool thrilled to have got a medal and the two Australians hugged."
I knew that that race was going to come down to the top four competitors, really, we're going to be really close and I was just thinking before the race do not come fourth place"
She added that it was a really fun event, trying to get that last stroke on the finish.
"This is no time to make mistakes in the 50,'' she said.
Mckeon told Channel 7: "I am pretty happy".
Cody Simpson applauds his girlfriend Emma McKeon as she receives her gold medal. Picture: Michael Klein
"I don't think I have ever won an international medal in the 50m butterfly, so it's good to get your hands on the wall,'' she said.
McKeon, 28, had backed up from swimming the semi finals of the 100m freestyle just an hour earlier, where she qualified fastest, to win the butterfly race in 25.90s.
McKeon is testing her endurance in a bit of an experiment for the Paris 2024 Olympics, having swum more than a dozen races so far.
"I'm going through to Paris for sure,'' she said, having reinvigorated her love of the sport with a three month post-Tokyo Olympic break.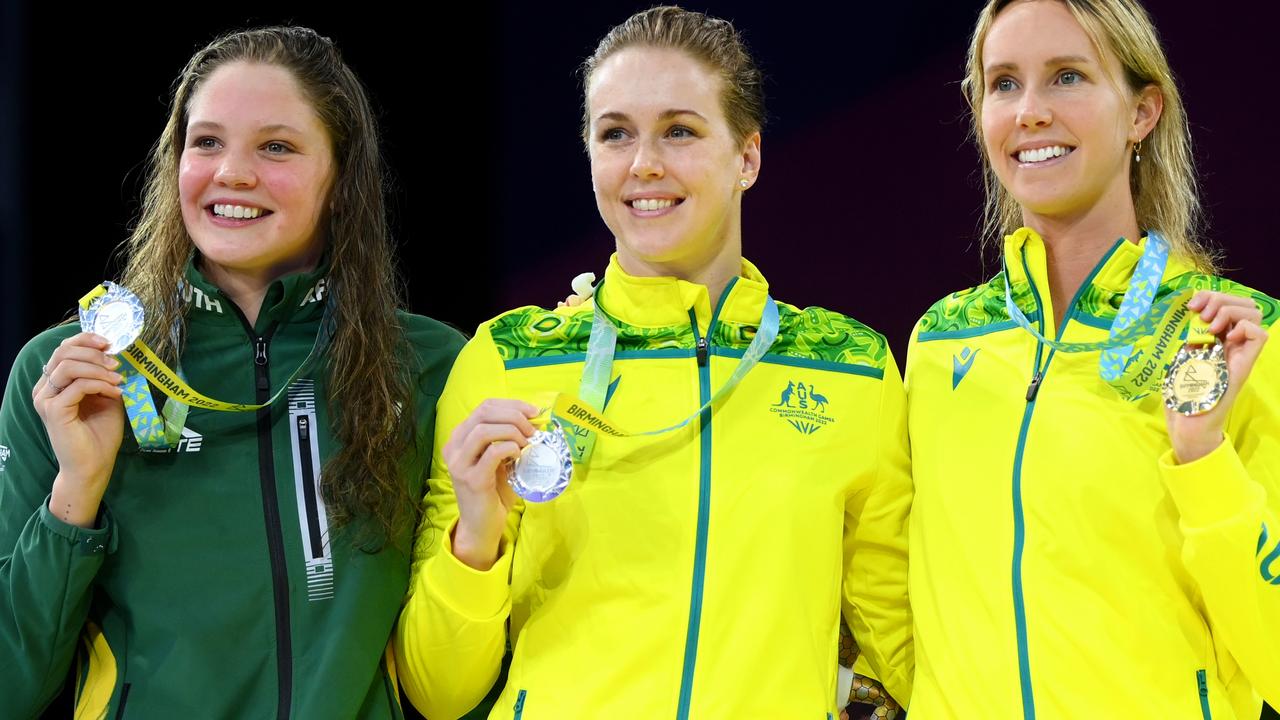 Emma McKeon flashes yet another gold medal alongside Australian teammate Holly Barratt and south Africa's Erin Gallagher. Picture: Shaun Botterill/Getty Images
"When I finished Tokyo I took three months or a bit more than three months of training and swimming and all of that, that was with Paris in mind,'' she said.
"I am in a much more mentally healthy and happy place doing that and I am motivated and excited to keep going, really."
Apart from Barratt's cracking race to equal her effort from four years ago at the Gold Coast Commonwealth Games in the same event, the other surprise in the race was Canadian 100m butterfly specialist Maggie MacNeil who was just out of the placings in fourth.
Debutant Alex Perkins from Southport, finished in fifth place in 26.19s.
Titmus described McKeon as the most humble athlete around.
"She is so understated and just goes about her business and I believe she deserves it more than anyone,'' said Titmus, who as a young 16 year old was on her first national team and looked after by McKeon.
GUTSY MCKEOWN JUST MISSES GOLDEN DOUBLE
By Julian Linden
IT took another superstar to beat her but Kaylee McKeown can hold her head high after delivering one of the gutsiest performances of her career.
Battling injuries and exhaustion, McKeown came agonisingly close to completing the hardest double in elite swimming - winning both the 200m backstroke and 200m individual medley - within a 40-minute span.
She did win the backstroke, adding the Commonwealth Games title to the Olympic and world crowns she already has - but had to settle for silver in the medley after giving it everything she had.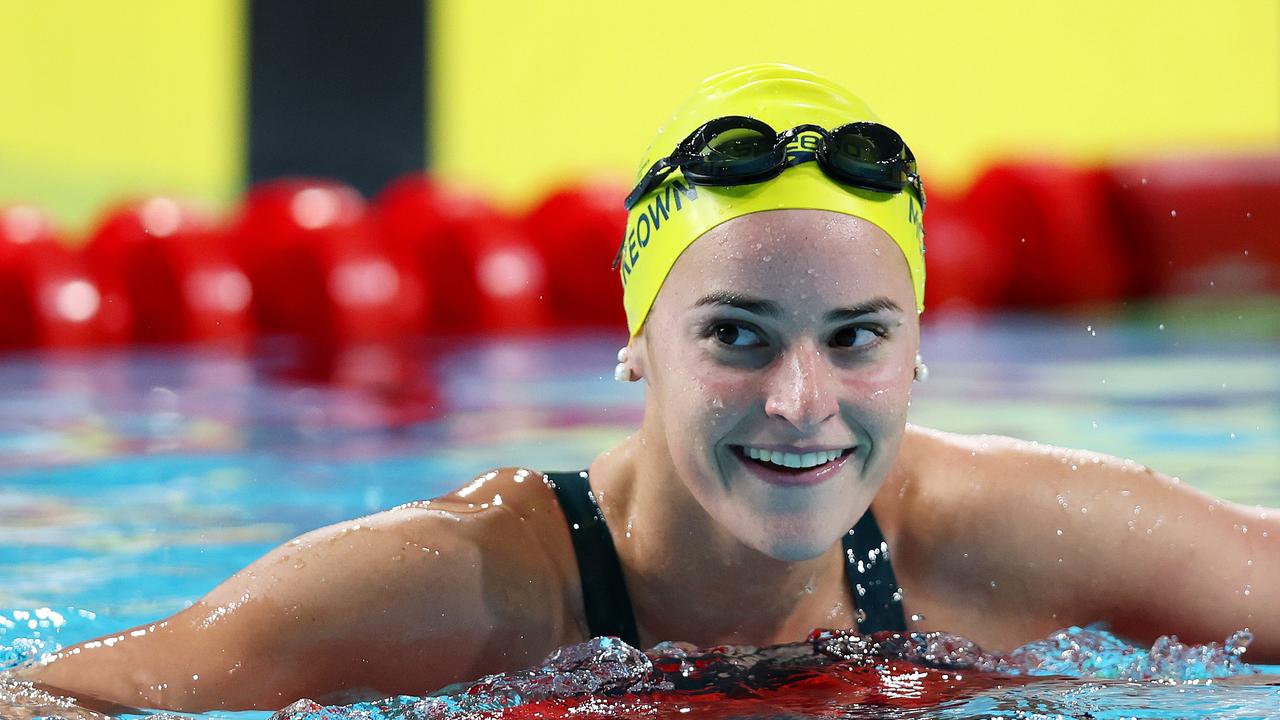 Kaylee McKeown beams after winning the 200m backstroke Picture: Clive Brunskill/Getty Images
Battling a nagging shoulder injury and fatigue after the short turnaround between races - which included a trip to the dais to collect another gold medal - she clawed her way into the lead at the final turn.
But she was overtaken on the last lap by Canada's Summer McIntosh, the rising star of women's swimming, who already has two world titles and now two Commonwealth Games gold medals to her name.
And she's just 15.
McIntosh won the 400m individual medley earlier in the week and is taking on Ariarne Titmus over 400m freestyle on Wednesday in what looms as the most anticipated race of the meet.
She was swimming the 200m medley just for fun but is just so good that she seems capable of doing anything and McKeown was full of praise for her.
"She had a great 400m as well at the start of the week. It's been a busy program for her," she said.
"I think both of us tonight were pretty, pretty tired. But she did what she had to do, and I did what I had to do.
"I usually breathe towards the stadium side and I just wanted to take a quick little peek and I couldn't stop breathing on that side.
"She was too quick for me but it was a good chase. If Summer wasn't in that race, I would not have gone as fast as I did."
McKeown beat another Canadian star to win the 200m backstroke, surging ahead of the field to win easily in 2:05.60, a Games record.
Canada's Kylie Masse won the silver, 2.21 seconds behind McKeown, while Scotland's Katie Shanahan pipped Australia's Minna Atherton for the bronze medal.
McKeown said she was delighted at the way she performed in both her races, knowing how taxing the double was. It is believed her sister gave her some gentle ribbing telling her to try harder to which she playfully responded by flipping the bird.
"I didn't know if I was gonna be able to do it. I'm pretty happy with myself to get up there in both those events," she said.
"It's challenging and I'm not gonna lie if I were to say I wasn't scared to do it, but I can be proud of myself.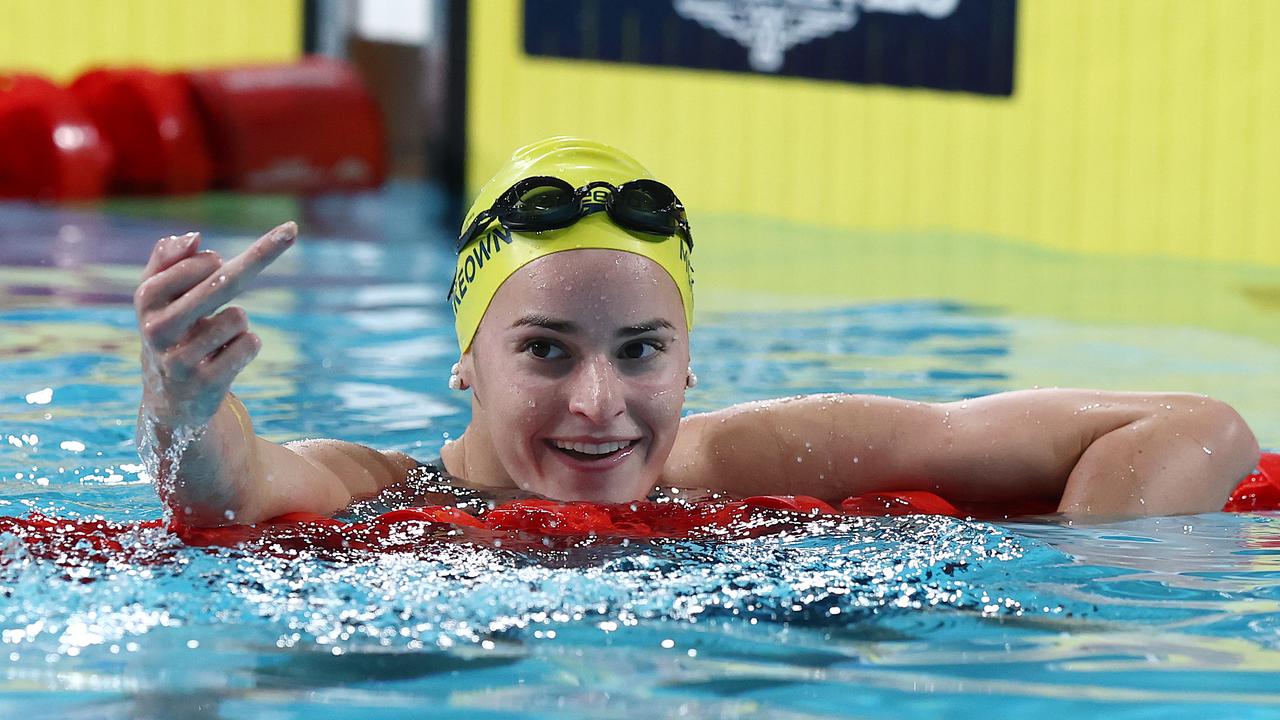 Kaylee McKeown flips the bird after some gentle teasing from a friend. Picture: Michael Klein
"I took a minute before the race before the 200m (medley) just to gather myself again but I just wanted to race tough and see what I could do and I'm happy with the results.
"They always say you have a lane, you have a chance. My coach (Michael Bohl) had all the faith in the world and that really took me along."
McKeown also won gold in the 100m backstroke in Birmingham so has two golds and a silver so far with three more events to come.
Her ultimate goal is the 2024 Paris Olympics where she will swim the same three events she won in Tokyo - 100m backstroke, 200m backstroke and medley relay.
She is also almost certain to add the 200m individual medley, and the good news is the finals for both races are a day apart.
She will still have to race the medley semi finals on the same night as the 200m backstroke final wbut will have another 24 hours to refresh for the medal race.
"The whole reason why I'm doing it here is in case it happens in Paris," she said.
"It's gonna be extremely tough to double up but like I said, I want to do as many races as I can. And these are little stepping stones."
Originally published as Commonwealth Games 2022: Mollie O'Callaghan storms to gold in 100m freestyle final