Six gold medals, a silver and a bronze. Australia's most successful Olympian has become the most prolific Commonwealth athlete. So why her ongoing battle with the mental toll of greatness? She opens up to Will Swanton.
Emma McKeon's warming up for her final night of competition at the Commonwealth Games. Floating through the most graceful of laps as if pushed by a current. It's a mesmerising sight and stroke: the gentlest of kicks as if all she's really doing is wriggling her toes; then the exaggerated pause and bend and thrust of the elbow; then the drive of the right arm as far down the pool as it can go.
She cups her hand like she's scooping a handful of water and throwing it down by her side.
You've gotta work awfully hard to make something look this natural and easy. You think for a second McKeon was born to swim, but it's not like that. Once, in Mumbai, when Indian cricket legend Sachin Tendulkar was asked about his God-given gift to bat, he suggested his success was probably more due to hitting hundreds of thousands of balls in the nets. Perfectionism is at the heart of McKeon's success, and the cause of her ongoing internal battles.
Now the meet has finished. She's powered through 16 races for eight Commonwealth medals, including six gold, breaking every record you can think of in a lovely cycle of pool, podium, repeat.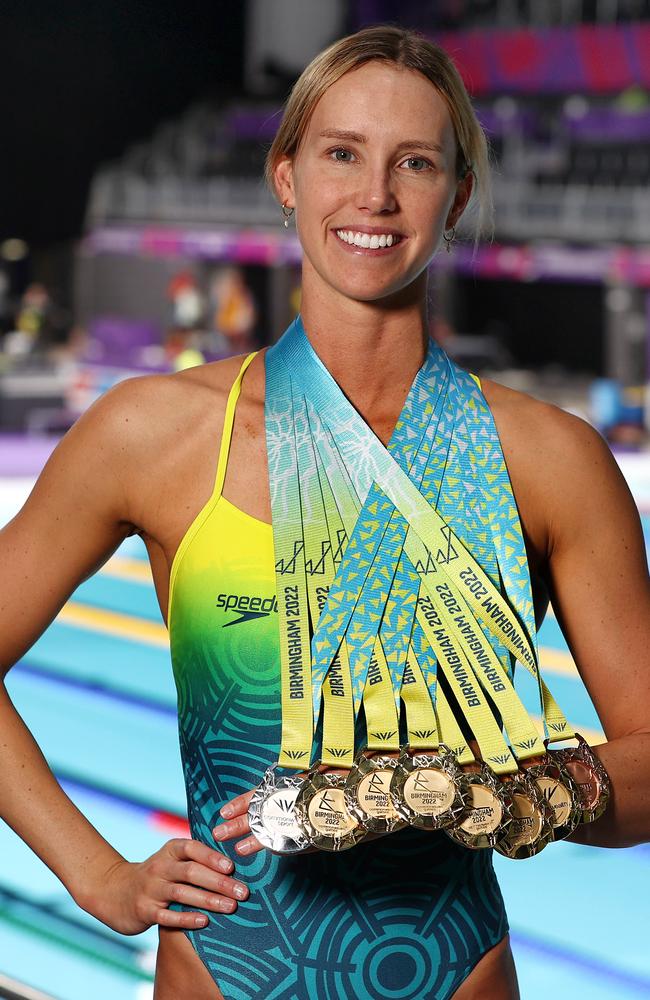 Australian swimmer Emma McKeon with her 8 medals from the Commonwealth Games. Picture: Michael Klein
Waiting for her final presentation ceremony, she sits on the concrete floor in a back corner of the Sandwell Aquatics Centre. Her back is to the wall and she's knackered. She takes her final bow, sings a song, and comes over for a chat in the grandstand of the arena she's held in the palm of her hand.
She's talking about the power of a good and proper cry. "That's helped me," she says, after completing a gruelling program compounded by a spotlight on her private life.
"It was obviously a pretty tough week. There were lots of good parts to it. Obviously sharing it with (partner) Cody (Simpson) and having both my parents in the stands every time I raced. That was special because they couldn't be in Tokyo.
"There were so many amazing parts of the week but yes, there were tough parts as well. I'll say it's been a rollercoaster of emotions."
She adds: "You try to stay stable through the course of a week as big as this one, but the emotions can build up and I do let them out.
"You can't try to be a robot. I'm not a robot. You try to keep yourself together as much as you can, but yeah, there's times when I just let it all go and have a decent cry."
Pool, podium, repeat. "Everyone sees me when I'm behind the blocks or when I'm doing my interview or when I'm at the pool," she says. "They see me when I'm switched on and ready to race. It's only when I get back to my room, or in the warm-down pool or something like that, when I'll allow myself to have my emotions."
She grins: "When I'm out here competing and being watched – like, I can't be crying in the pool. That'd be embarrassing for everyone."
CONTROLLED TO EXHAUSTED
McKeon's a classic introvert. She speaks softly, smiles often, has a thousand-yard stare when pausing to contemplate her answers. She's a quietly tough cookie who revealed mid-meet that she struggles to celebrate her triumphs. Doesn't quite know how to be proud of herself.
When she's asked if she feels like celebrating now, painting Birmingham red, she says: "Not really."
She laughs and shakes her head, looking embarrassed. "I hoped I'd be a bit better at that by now, but I'm actually not," she continues.
"I think it's because I try to keep this stable level of emotions all week, because it helps my racing — the other side to that is probably when it's over, I'm just so exhausted that it takes me a while to get out of that level mind frame. I just want to relax, more than anything.
"Obviously I'm proud and I'm happy but when I get to the end of a week like this one, all I really want to do is go and lie on a beach somewhere."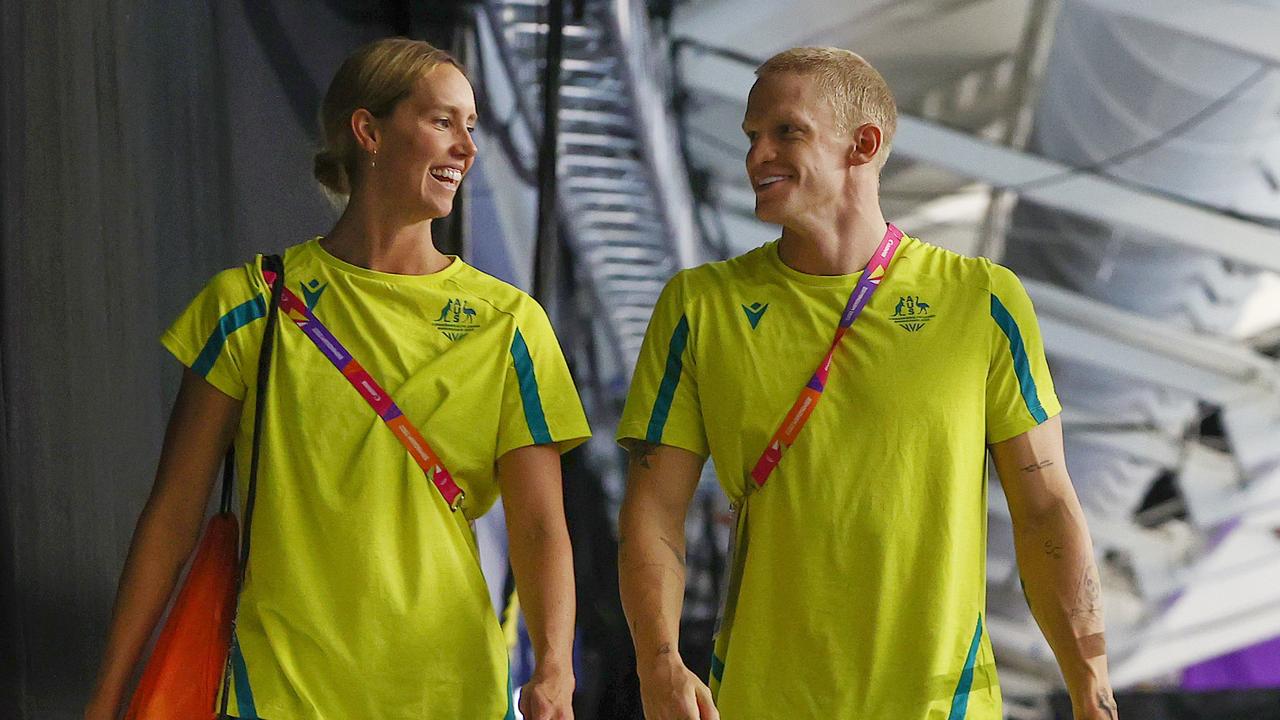 Australian swimmer Emma McKeon and Cosy Simpson after the last night of swimming. Picture: Michael Klein
A private person has become a public figure. "I'm not shying away from that," she says. "It takes some getting used to, but I think I'm good at separating my achievements from who I am as a person.
"The good results are everything I've worked for and so they're important to me. But it doesn't make me who I am. Or, it doesn't make me a happier person or a better human.
"What I've done here, or the times I've swum or the medals I've received, I don't think they're the kinds of things that I will remember later in life. I don't even think they're what anyone really gets remembered for.
"It's who you are as a person and the impact you might have on other people. The way you do things — the way you handle yourself in victory and defeat and the way you handle yourself in difficult situations that are thrown at you."
DON'T CALL ME THE GREATEST
I call her the G.O.A.T. The Greatest Of All Time. She screws up her face. Don't like the label?
"Hmm, I don't know. For a long time now and probably still to a degree, I get a bit embarrassed by things like that.
"Being humble has always been one of my main values and I think sometimes I probably try so hard for it that, like I say, I struggle to be proud of myself or take too many compliments.
"I don't know. It's something I really do need to get better at. I am proud of myself, but … I really don't know how to explain it.
"What I've done never feels like enough, sort of thing. I think that helps me be a good swimmer, but it's also a very big battle to have going on inside of you.
"It's about finding a way to tell myself that what I have done is enough and I can be proud of it. That kind of thing. I'd be stupid to think it's not enough but the other side of me is always saying, 'There's still more I want to do'."
WHY CRYING HELPS ME WIN
The power of a good and proper cry got her through Tokyo. "It can happen in some of my biggest moments," she says. "In Tokyo I had a massive cry before my 100m freestyle. I was just so emotional.
"I started stressing out a bit. I'd come point-one-three of a second off gold in the 100m fly and once I saw how close it was, I was really disappointed and thought it was a missed opportunity. It got to me because I just wasn't feeling how I wanted to feel."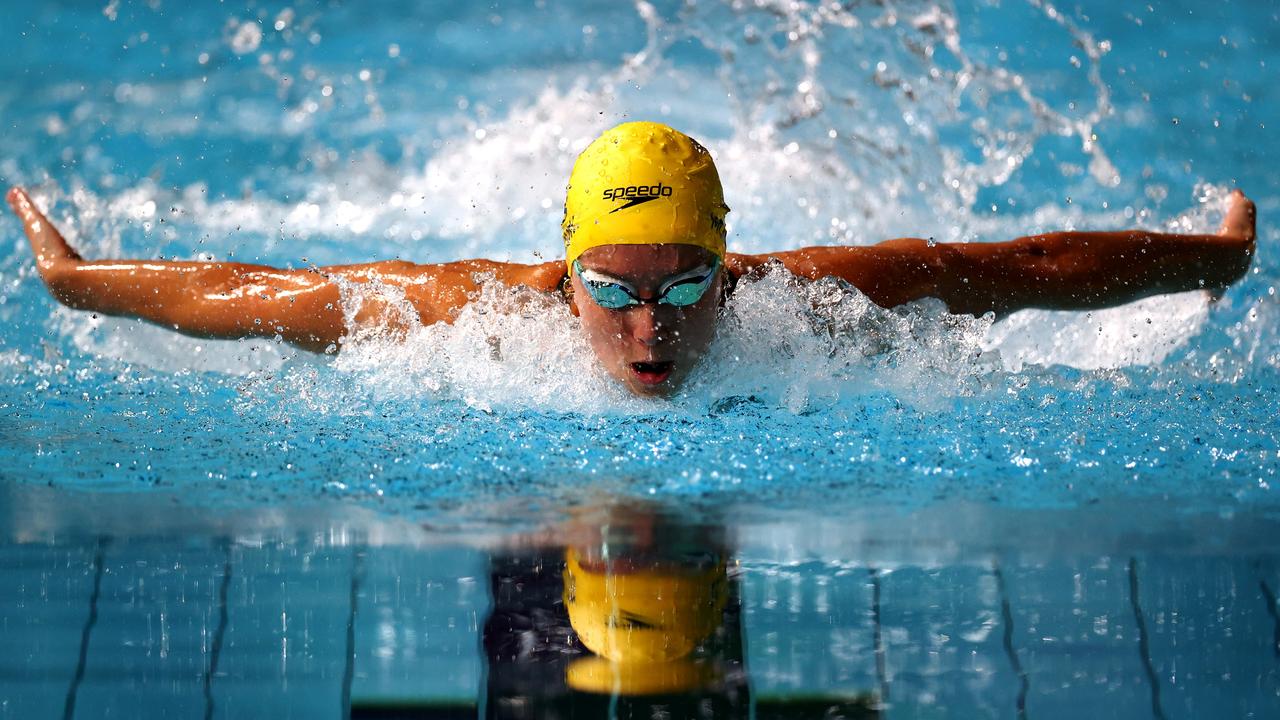 Emma McKeon of Team Australia competes
And it got her through Birmingham. "You're always learning as you go," she says. "This week I feel like I've learned that I've probably got a lot of control over my mind. Dealing with failure is huge and I've improved there.
"That's something you take into the rest of your life, right? Dealing with disappointments and just being able to handle yourself in difficult situations … I think I learned this week that I can do that pretty well. Not putting too much pressure on myself has been a challenge and that's not an easy thing for me to do.
"I have big expectations for myself and this week I needed to bring myself back to, this is kind of square one again on the way to Paris. Allowing myself not to overdo it with the pressure was a big deal."
McKeon's victories were electrifying. You couldn't have had a more streamlined performance if you chucked an eel in the pool. Every splash and dash was a quicker version of her entrancing warm-ups: the gentle kick and wriggling of her toes; the pause and bend and thrust of the elbows; the drive of the arms; the cupping of the hands before she scoops and throws the water by her sides. My favourite sight of the week.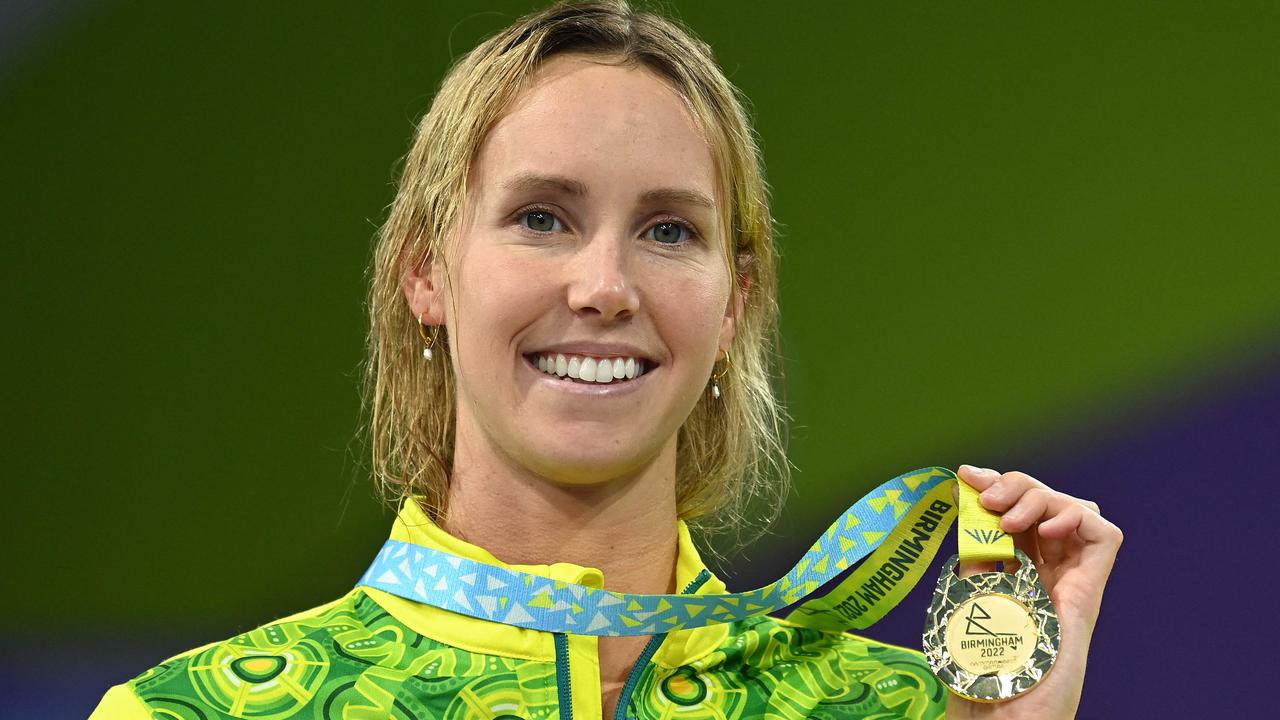 Gold medallist Australia's Emma McKeon poses during the medal presentation ceremony for the women's 50m butterfly
MENTAL TOLL OF GREATNESS
Six gold medals, a silver and a bronze. Australia's most successful Olympic athlete has become the most prolific Commonwealth athlete.
"The main thing was definitely the mental toll," she said. "It's been a big week. It was physically tough but I've trained for that. Mentally, you have to get up to race and then no matter what the result is, you have to come down to rest and recover.
"Then you have to get up again to race again. Then you have to come down again. Doing that 16 times in a week has been a lot. It can be exhausting but it's worth it. Part of the challenge you've decided to put yourself through."
She says: "I used to be really hard on myself when I wasn't happy with the time I'd done or I if hadn't swum a race the way I knew was capable of. Whereas now I get a bit annoyed but that's about it. It's more helpful.
"I think it's what makes me better for next time. I'm better at just picking the things I need to improve on and taking it from there instead of beating myself up for not doing something as well as I could have.
"I do see now that I'm probably doing pretty well."