Commonwealth Games 2022: Follow all the latest Aussie action as the Diamonds chase netball gold
As expected the Diamonds made light work of Wales, but the gold hopefuls will have to get on top of some uncharacteristic errors as the netball enters the business end of the competition.
It was far from a perfect game but despite missing key midcourter Paige Hadley, ruled out with an injury, the Diamonds claimed their fourth win of the Commonwealth Games over Wales 79-33.
Hadley, who hobbled off the court in the win against South Africa, watched the bench with a heavily strapped up right calf muscle. She did appear to be walking on it well.
Coach Stacey Marinkovich confirmed she would be out prior to the match starting.
"Paige is one of the toughest competitors in netball, and we will continue to work with our medical team on her return to the court," Marinkovich said.
"We have a versatile and dynamic team, and we are focused on improving performance as we progress towards the business end of the Birmingham 2022 Commonwealth Games."
Midcourter Ash Brazill said they knew Hadley would miss the clash after she came off injured but hoped she would be back on court later this tournament.
"Hopefully after a day or a couple of days off we will be able to see her back on the court," Brazill said.
Cara Koenen battles with Christina Shaw in Australia's triumph over Wales. Picture: Alex Livesey/Getty Images
"She is an important part of our team and she definitely hasn't been ruled out."
There were a few shaky moments, including some out of characteristic handling errors, which helped keep Wales in touch with Pool A leaders Australia in the first quarter, which ended 20-11.
Diamonds emerged for the second quarter with a bit of extra focus - stepping it up and keeping Wales to just seven goals.
Gretel Bueta started at GA and once again impressed under the post, missing just one of her 27 shots.
Wales did put up a fight, showing moments of brilliance with some great intercepts and impressive long range shooting but just weren't able to keep up with the fast-paced Diamonds attack - which had the Aussie ahead 42-18 at half time.
The dominance continued in the second half with Diamonds rounding out the game 79-33.
They will get a day off before playing Jamaica on Thursday night (AEST) - their toughest clash of the games so far that will determine who finishes on top of the Pool A ladder.
Six of the Jamaican team play in the Super Netball including Brazill's Magpies teammates Shimona Nelson and Jodi-Ann Ward.
Australia's Gretel Bueta was again in fine form. Photo by Darren Staples / AFP
"I think we know all of the Jamaicans pretty well, we obviously have to respect them otherwise they will eat us alive," Brazill said.
"They know how I play and I know how they play and at the same time we both want each other to do well.
Brazill, who gave up AFLW to increase her chances of starring for the Diamonds at a Commonwealth Games said she was lapping up every moment.
"I'm still pinching myself. From the Opening Ceremony to now, every moment has been amazing," Brazill said.
Playing in front of her wife Brooke, children Louis and Franka and 9000 other fans every game has only added to the experience.
"I didn't really understand it until I was off and I could sit down and look around and realised it was unbelievable," Brazill said.
"It is great being able to finish the game and see my little boy and girl at the end. I don't think they understand how big it is really but Brooke does and the fact that she has put everything aside to look after them so I can live out my dream makes me pretty lucky."
GAMES RULES COULD LEAVE WOUNDED DIAMONDS SHORT
The Diamonds' dominance continues bumping off South Africa, their first real test in the Games, but their smooth run could come to an end with key midcourter Paige Hadley limping off part way through the game.
Hadley was the only player to not take the court in the Diamonds' opening game and played just 14 minutes in the win over Scotland.
The centre started the match against South Africa last night strong, which Australia won 74-49, and appeared to be moving very well.
Early in the second quarter, with the Aussies securing a strong lead, Hadley limped off the court clutching her calf and was swiftly ushered over to the physio bench.
She didn't receive any treatment on court.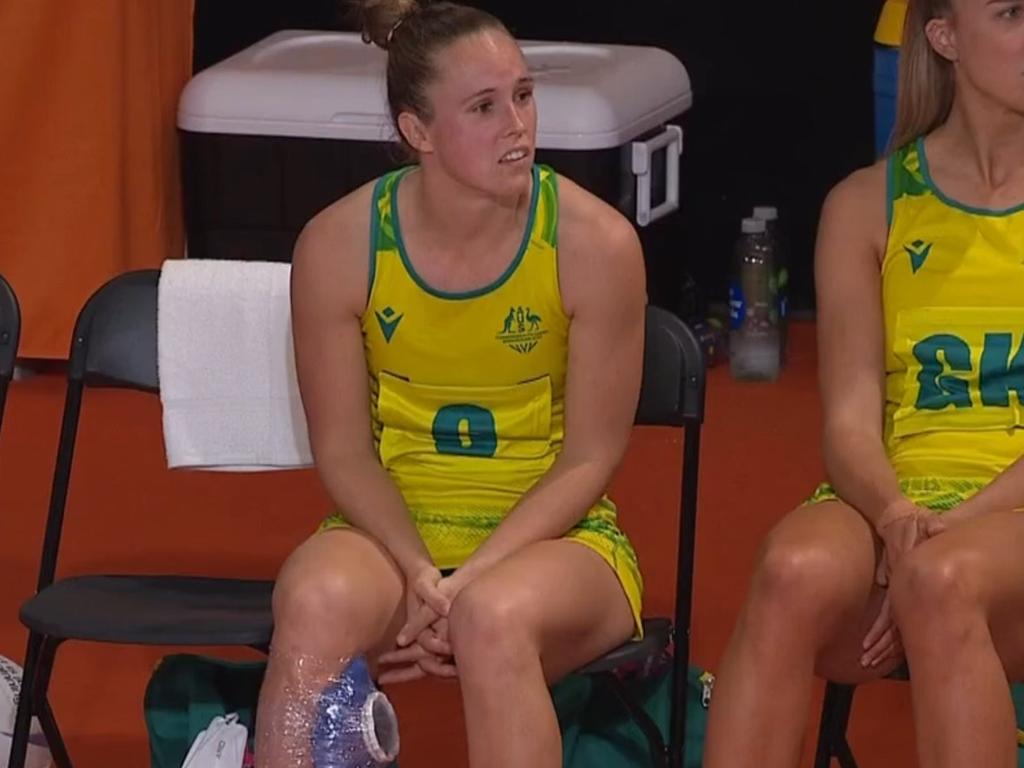 An injured Paige Hadley looks on from the Diamonds' bench.
With the travelling training partners, which included midcourter Jamie-Lee Price, sent home prior to the tournament starting, as per the rules, Diamonds could be down to just 11 players, including vice-captain Steph Wood who is also under management for a knee injury, for the remainder of the Games, severely impacting their midfield rotation ahead of the pointy end of the competition.
Questions remain over whether Hadley sustained the injury, prior to the training partners being sent home.
"She's tweaked her calf," coach Marinkovich said.
"We'll see what the result is medical staff will work through it. And then we'll just go through our plans to get their recovery.
"Once we get back to the hotel we will sort it.
"To put on many goals against South Africa, I think we're showing we've got some good versatility.
Marinkovich remained tight-lipped on when Hadley was injured, saying she picked it up during camp.
She wouldn't confirm if that was in Perth or Manchester or the week prior to the Games starting.
"It's been niggling in the background," she said.
"It's one that we've just got to progress.
"Everything was working really, really good. She felt good. You could tell she was moving really well. She's playing really well. So now we've just got to work out what that rehab program was.
"I think girls really understand the roles that they've got to play out there. And that was part of the selection process.
"You've got to make sure that, whether it was Covid, whether it's injury, whether it's sickness, that you could cover anyone at any time.
"I think we've got some good strength and depth."
Hadley emerged from the change rooms after the start of the second half, which Diamonds went into with a 40-24 lead, with ice strapped to her calf.
Kate Moloney came off the bench to play centre for the injured Hadley, Sunday Aryang replaced Jo Weston at GD and Steph Wood made way for Kiera Austin in the shooting circle.
The disruption led to the closest quarter of the match – proving how key Hadley is to the Diamonds line-up, with the Aussies scoring just 16 goals to South Africa's 13.
Marinkovich made more changes to the line up for the final quarter in a bid to manage players' game minutes.
Gretel Bueta did not miss a single one of her 34 attempts.
Gretel Bueta, who was rested for the final quarter, continued her accuracy under the post shooting at 100 per cent, netting 34 goals.
Wood also had a top game converting all 14 of her attempts to points during her limited time on court.
Australia finished the game strong with the midfield working hard to limit a tiring South Africa's ability to move the ball forward and create chances.
Diamonds remain undefeated in their pool, alongside Jamaica.
The Aussies will play Wales tomorrow.
Diamond demolition job: 178 goal warning to rivals
—Erin Smith
Diamonds midcourter Paige Hadley made her first 2022 Games appearance in a 83-30win against Scotland but doubts remain over her fitness.
Hadley, the only Aussie to not take the court against Barbados, was part of the starting seven tonight.
Coach Stacey Marinkovich confirmed after day one of competition Hadley was nursing a leg injury and her load was being managed.
Hadley lasted just shy of eight minutes in the first quarter, which the Diamonds won 17-10, before being called back to the bench.
She swapped into WA for the second quarter, once again lasting just eight minutes.
Despite the limited minutes Hadley provided 11 goal assists in the first half- the highest in the team.
The Thistles showed moments of brilliance in defence but struggled to capitalise on the chances- leaving them trailing at halftime 35-18.
Shooters Gretel Bueta and Kiera Austin proved a deadly force in the circle with Bueta shooting at 96 per cent in the first half.
Marinkovich made a number of changes at the half time break including moving Bueta to GA for the first time this tournament.
Scotland lifted their foot off the gas in the third quarter putting up little resistance for the Diamonds who netted another 23 points to Scotland's 9.
Super Netball Sunshine Coast shooting duo Cara Koenen and Steph Wood got a chance to flaunt their magic with Wood called on for the final quarter.
The duo put away another 22 goals to secure Australia a dominant win.
The Diamonds have a day off tomorrow before taking on South Africa on day four of competition.
Diamonds show no mercy as they set sights on gold
Australia 95-18 Barbados
Sharp shooting from Gretel Bueta has helped the Aussie Diamonds make the host nation aware they don't plan on leaving Birmingham with anything but gold.
The Diamonds put a strong seven out on court to start the game against underdogs Barbados and they went full tilt for the entire 60 minutes – finishing ahead 95 to 18.
Bueta netted 44 of the Diamonds 52 goals in the first half, with vice-captain and GA Steph Wood providing vital assists.
Bueta, who had her son Bobby in the crowd watching, said it was nice to play alongside Wood, rather than against her as they have during the Super Netball season.
"You don't play a perfect game and there are a lot of learnings we can take from that," Bueta said.
"Just tiny little things, like connections and our movement to keep some variety in the games so the other teams can't work us out.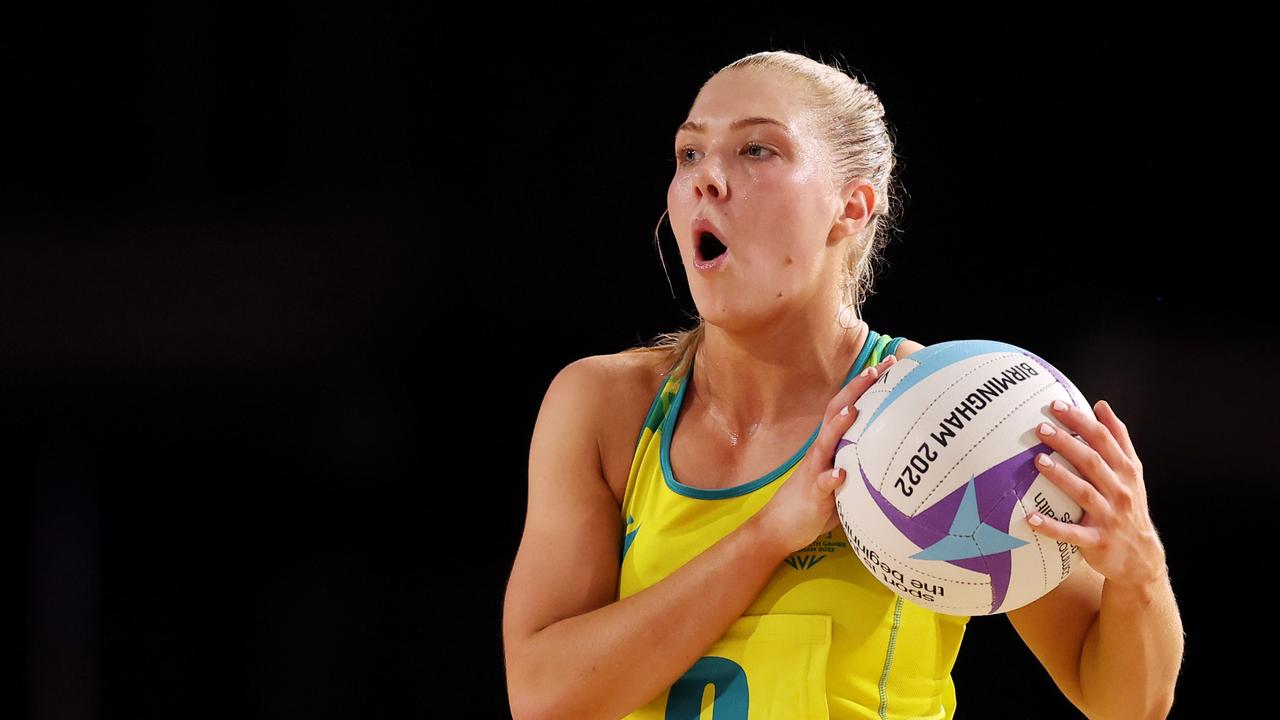 Kate Moloney in action against Barbados. (Photo by Mark Kolbe/Getty Images)
"We are just trying to improve every game."
Defender Courtney Bruce wasn't kept too busy in the circle but made it as difficult for Barbados as possible when the ball did make its way down the court, creating nine turnovers and snagging three intercepts in the first half – limiting Barbados to just nine goals.
Coach Stacey Marinkovich made a number of changes at the half time break with Sarah Klau, Cara Koenen, Kiera Austin and Sunday Aryang all being pulled in off the bench.
Paige Hadley was rested for the game due to a "niggling" leg injury.
Marinkovich was confident Hadley would be fit to take the court against Scotland on Saturday.
"We have to look at the bigger picture, we are just looking at some loading at the moment but you will see her out there very shortly," she said.
"We are just in the final stages of sharpening her up and we did some work (before the game today) and all signs are very good."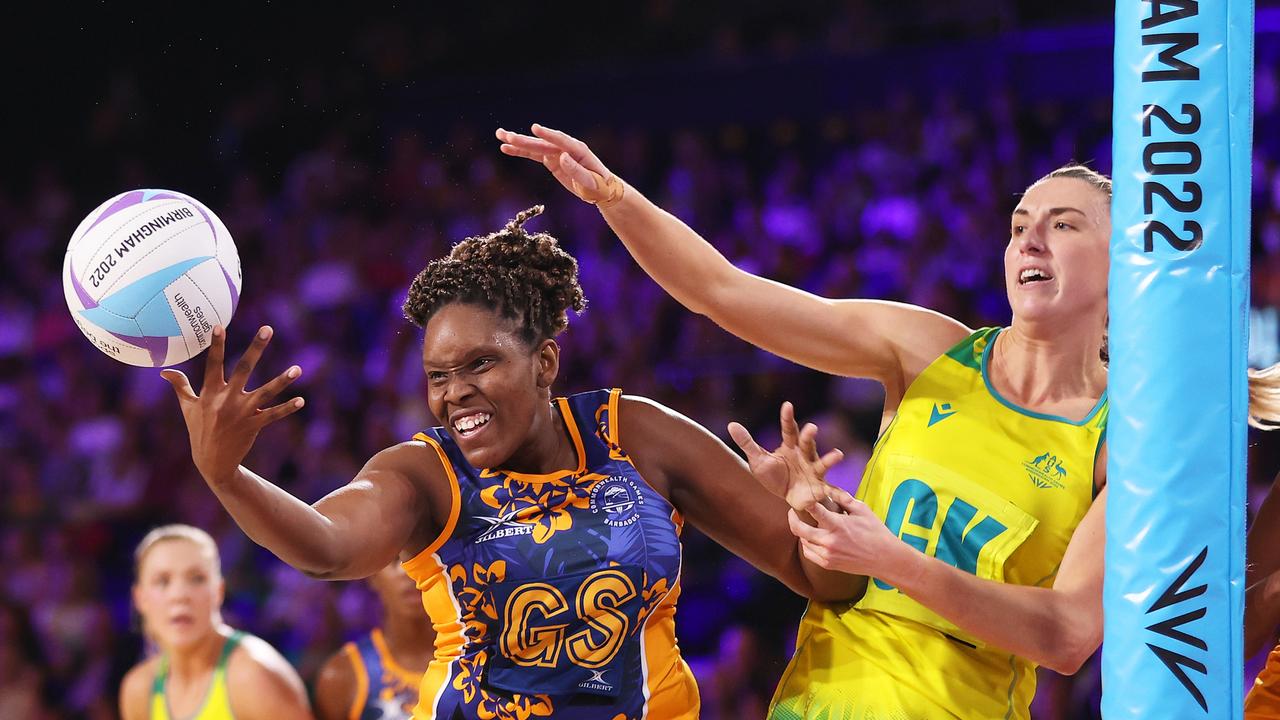 Sarah Klaubattles for the ball with Faye Agard during their clash on Day 1 of the Commonwealth Games. Picture: Mark Kolbe/Getty Images
The multiple changes, which included rotating players like Austin through GA and WA, gave Marinkovich a chance to test out a range of combinations.
"This group was selected because of its versatility, so if players need the rest or things like that we have a lot of depth to go through," she said.
Marinkovich said they would continue to build on their first performance in the Scotland clash.
"They have a high performance program that is going all year now and they are obviously coached very well," Marinkovich said.
"I think they are going to run really hard and I think they will contest and will be similar to the one-on-one style."
England's yips
England and NSW Swifts star shooter Helen Housby, who sank the gold medal winning shot against Australia at the 2018 Games, has brought her Super Netball yips to the Commonwealth Games.
Housby struggled to shine under the post in the Roses opening Games match playing 45 of the 60 minutes in England's 74-22 win over Trinidad and Tobago.
She didn't have a huge impact under the net shooting at 67 per cent, scoring just 16 of her 24 attempts.
England's Jo Harten, who plays for the Giants, proved much more dangerous shooting at 83 per cent with 25 of her 30 goals going through the net.
Housby's shooting struggles didn't stop the Roses, spurred on by almost 9000 fans, steamrolling their first opponents of the Games.
Roses defender Stacey Francis-Bayman described the atmosphere inside NEC Arena as "wild".
"I don't think we have ever been cheered so loudly before for a warm-up," Francis-Bayman said following the big win over Trinidad and Tobago.
The Roses were also treated to a standing ovation following their first win of the Games.
A Brummie, the defender said it was just "incredible" to run out and play for her country in the city she grew up in.
She was very impressed with the result of today's game.
"It was bloody fantastic. We have such strength and depth which is really important in a competition like this," Francis-Bayman said.
England will next face Malawi on Saturday, taking the court after the Diamonds and Scotland clash.
Netball's crippling debt puts Diamonds on notice
Cash-strapped Netball Australia are banking on a golden Games to help boost grassroots participation and in turn its bottom line.
Netball Australia revealed earlier this year that it had auditors breathing down their necks and a $4.5 million debt hanging over their heads.
Several options have been put in place in a bid to claw back some much needed cash including selling off the Super Netball grand final and potentially privatising the Super Netball competition – but a surge in participation numbers could be the biggest winner for the struggling organisation.
The latest AusPlay data analysing participation growth in Commonwealth sports found netball was the fourth most popular sport among Aussie children, behind swimming, gymnastics and basketball.
A total of 525,000 across the country, aged 15 or older, played the sport.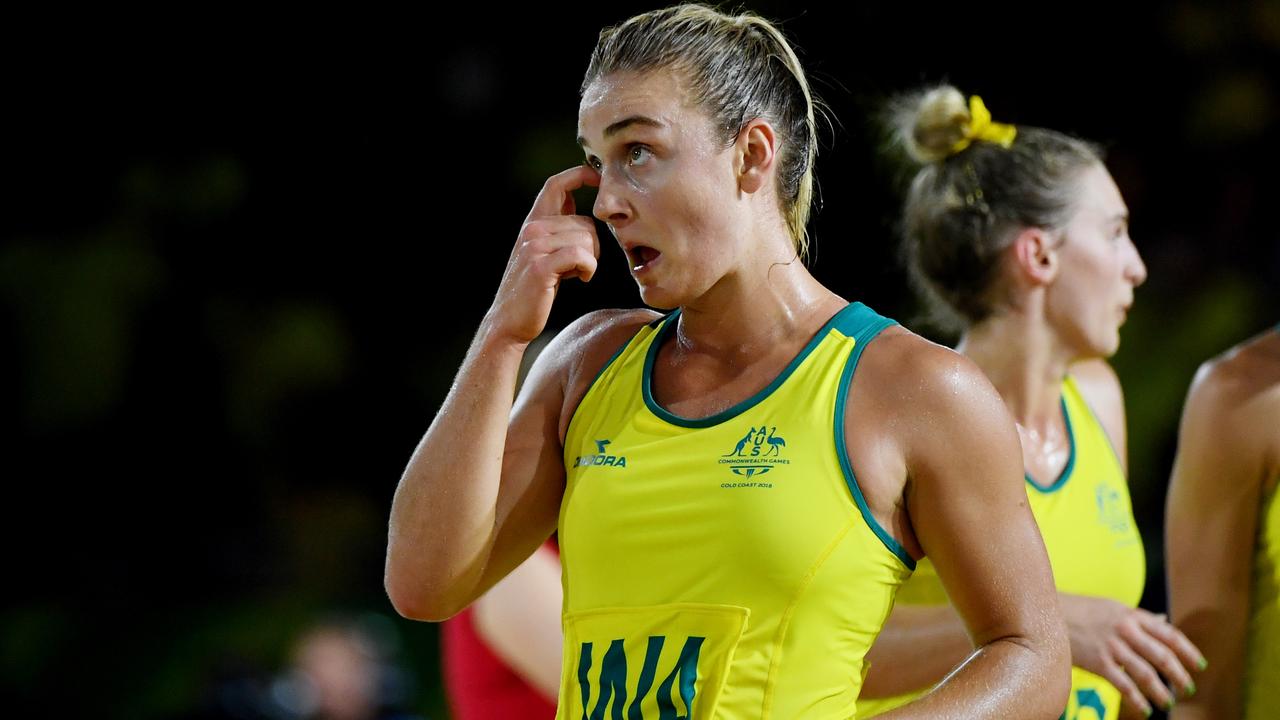 Liz Watson and the Diamonds are under pressure for a good result
Diamonds Coach Stacey Marinkovich said netball did have a strong following but events like the Commonwealth Games helped put it back in the spotlight.
"I think for the direction that we are going we have a job to do out on court," she said.
"Part of the way we play is to inspire players to want to play the sport and I think when you see the competition that is going to be out here this championships there will be a lot of people who look to netball.
"We haven't lost our support. The sport has gone through hard times during Covid, as has every sport.
"I think we are in a really good position. We've just got to get the international games going."
Originally published as Commonwealth Games 2022: Follow all the latest Aussie action as the Diamonds chase netball gold