Commonwealth Games 2022: Hockeyroos lose final to England
The Hockeyroos were left devastated for the second time in four years, repeating their Gold Coast anguish. This time it was England that stuck the knife in.
The Hockeyroos have had their hearts ripped out for the second time in four years, repeating their Gold Coast anguish with another gold medal match defeat – this time to England.
After New Zealand broke their hearts to consign Australia to silver in 2016, England twisted the knife a little more with a clinical 2-1 win in front of a parochial crowd at the University of Birmingham.
Undefeated through the tournament, Australia's players were left devastated after the match – but in truth they were thoroughly outplayed for 60 minutes in energy-sapping conditions.
Because whatever they tried, Australia were simply unable to create chances to pressure England's Madeleine Hinch in goals.
Not the classy stickwork and dribbling of Amy Lawton, searing runs from Steph Kershaw, nor the energetic efforts of Rosie Malone.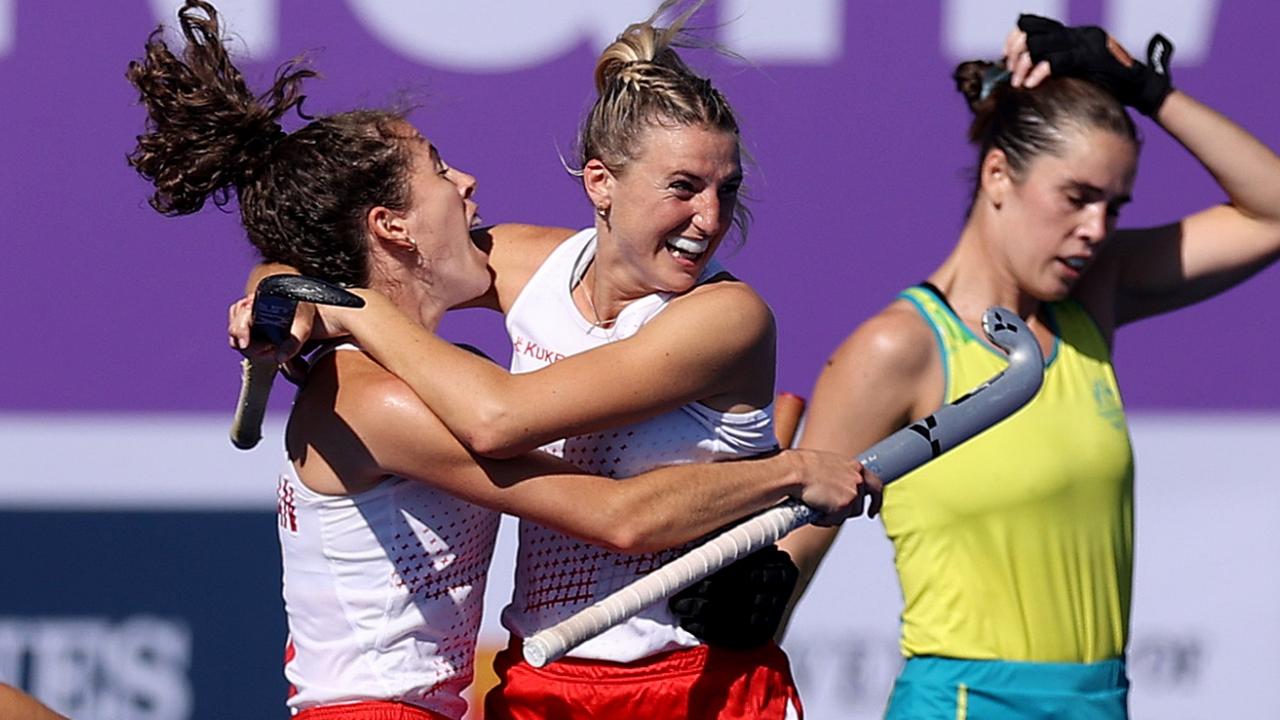 Anna Toman and Lily Owsley celebrate England's victory over Australia. Picture: Mark Kolbe/Getty Images
Australia tended to push one pass too many or be a half-step behind the play as every attacking raid fell to pieces at the last step.
Malone slapped home a tight chance with 19.4 seconds to go, giving Australia the slimmest of chances. But there was to be no miracle this time.
Even the normally watertight defence, that conceded no goals for the first 289 minutes of Australia's campaign, had holes for the first time all week.
Midfield star Kaitlin Nobbs fell to her knees as the full time whistle sounded around the University of Birmingham and England players raced past her to celebrate their clinical 2-1 win.
Nobbs took the loss hard as she had to be consoled by teammates in the middle of the pitch.
"That was a bit of a physical, emotional drain," said Nobbs of her final-whistle reaction.
"It was a really long game and I think it really hurt. It sucked a little bit."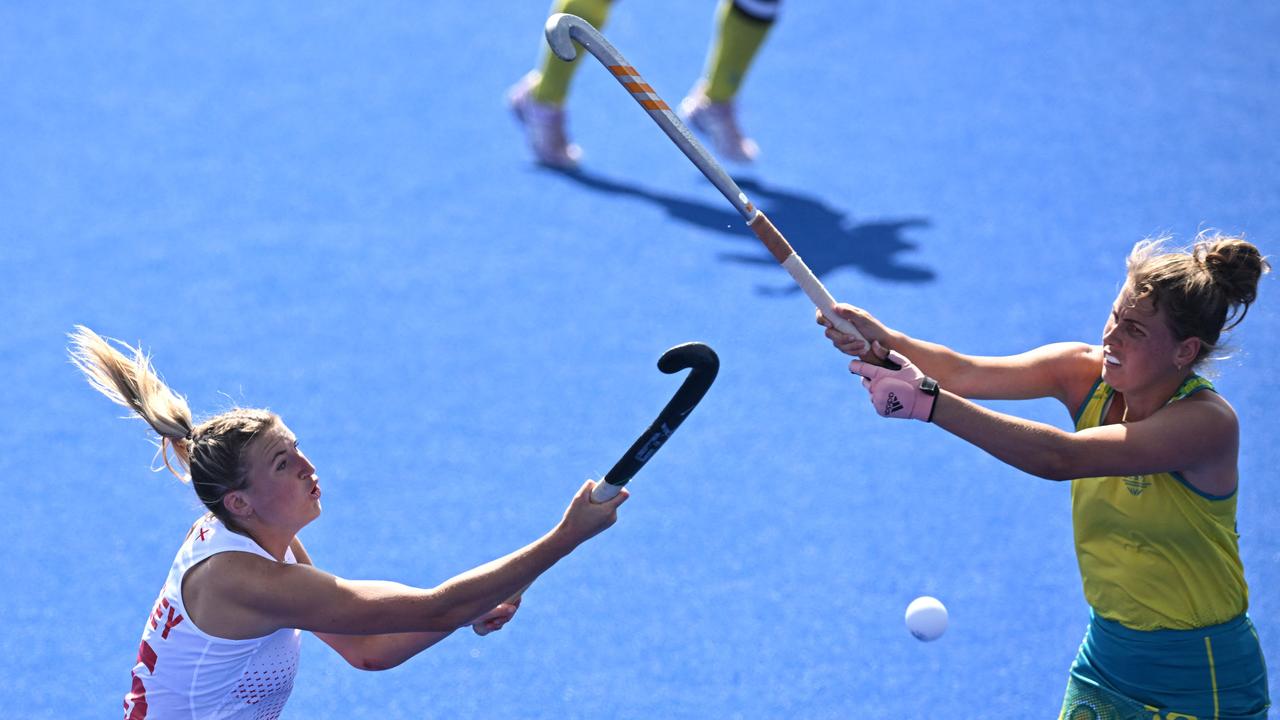 England's Lily Owsley (L) vies with Australia's Maddy Fitzpatrick for the ball. Picture: Paul Ellis / AFP)
Some Hockeyroos tears flowed shortly after the match, but within half an hour the emotions of the team were considerably more upbeat.
To go with a bronze medal at the World Cup last month, coach Katrina Powell felt silver in Birmingham was further proof the women's hockey program was tracking in the right direction following the pre-Tokyo Games reset that followed the toxic bullying scandal which rocked the sport two years ago.
"It's a bigger picture there that it isn't just about the athletes that have been rejuvenated," Powell said when asked about the bounce back from the sport's dramas.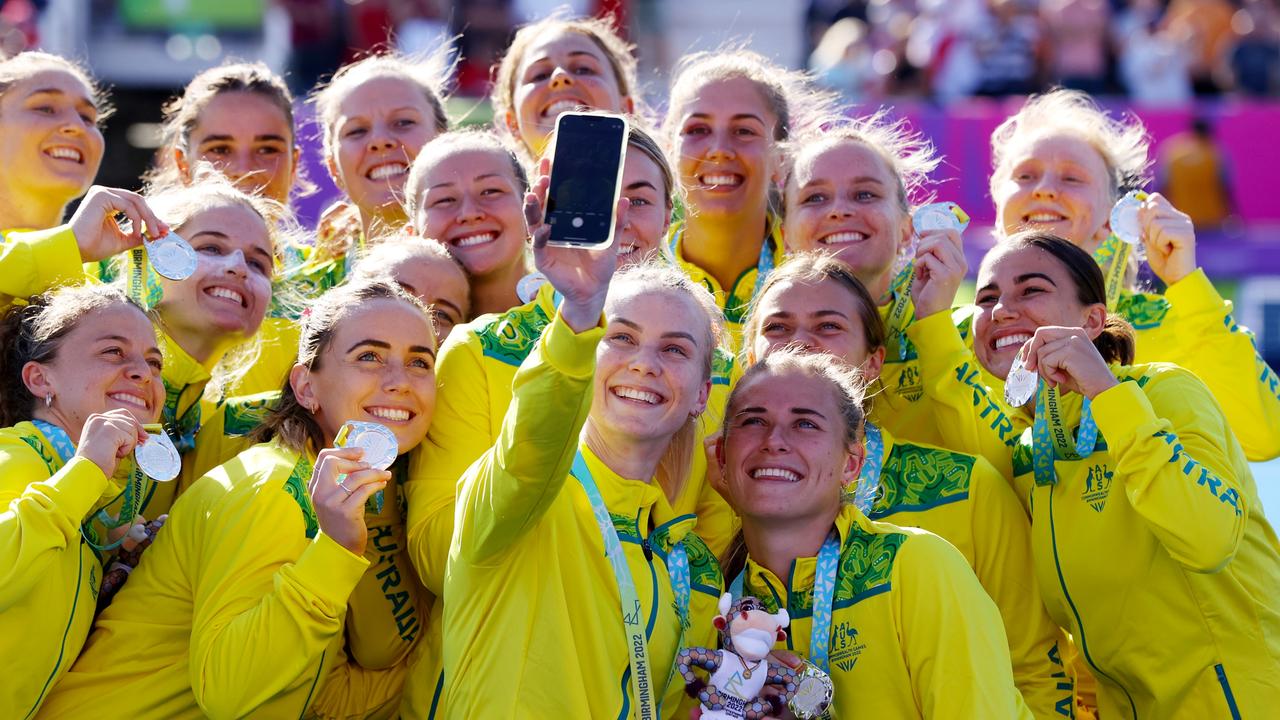 Australia with their silver medals. Picture: Mark Kolbe/Getty Images
"It's the organisation, the way we go about things, the wellbeing of athletes. It's all taken into consideration because they impact performance.
"Getting all of those core things right, continually, will see better performance.
"We've got a good base to step from. We're progressed but learned we're not quite there yet.
"We've got a lot of work to do, some of that's technical, some tactical and some under the pressure of a home team in a Commonwealth Games that's up for the fight.
"How do we make sure that next time all of those are in place cause that's the only way you'll win an event like this."
England opened the scoring through Holly Hunt midway through the second quarter when the midfield star was left all alone at the top of the circle with enough time to trap the ball and thunder home a goal low and hard past Aleisha Power.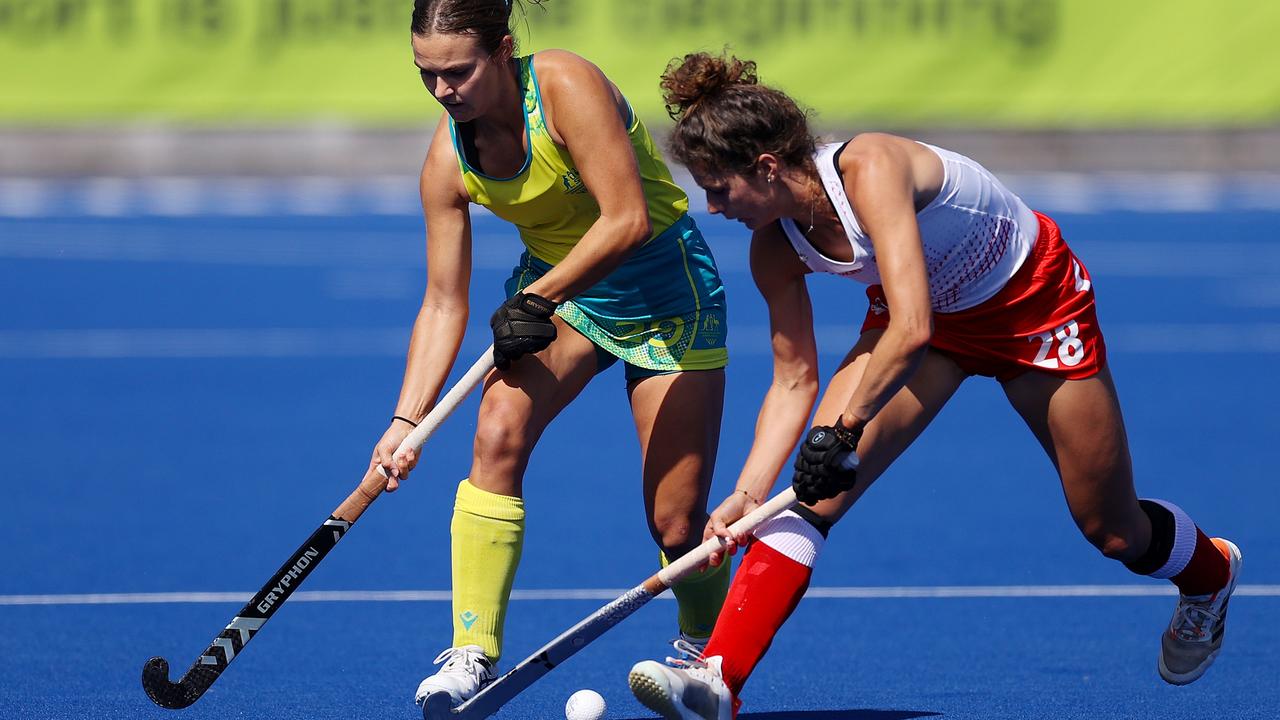 Rebecca Greiner from Australia ompetes for the ball with Flora Peel. Picture: Mark Kolbe/Getty Images
Within five minutes, England had gone 2-0 up after another Australia error.
This time a loose back pass was intercepted by England, triggered an attacking raid that finished with a classy deflected touch from Tess Howard into the roof of the goal.
At 2-0 down at the break Australia faced a mountain to climb, having not scored three goals in a match – let alone a half – since their 5-0 win over South Africa in their second pool game.
And England came within a whisker of securing an insurmountable lead when Anna Toman thundered a penalty corner goalwards shortly before the three-quarter break, only for it to clatter into the post and zip across the goalface to safety.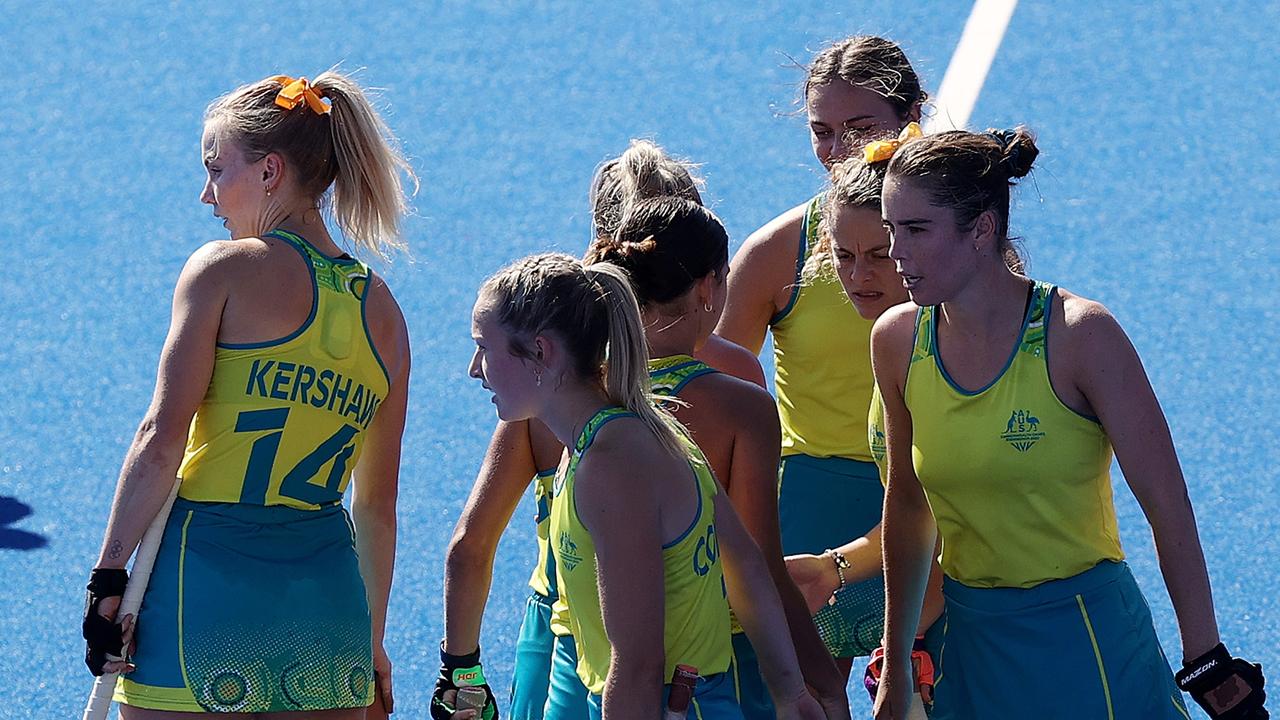 A disconsolate Australian team after their loss to England. Picture: Dean Mouhtaropoulos/Getty Images
With 90 seconds to go the crowd broke out into a chant of "hockey's coming home", to borrow from the tune that met the England women's football team's throughout their success at the Euros last month.
ABSURD STATS HAVE KOOKAS ON TRACK FOR MORE HISTORY
Joe Barton
Even on a night of upsets, the Kookaburras refuse to follow the narrative.
Australia kept their perfect record intact with a fourth-straight win to complete a Pool A clean sweep after their 7-0 victory over Pakistan.
It immediately followed South Africa's shock win over New Zealand – which breathed life into the semi-finals, and made Australia's match very much a live one.
Victory for Pakistan by two or more goals would've secured a spot in the medal rounds.
But Colin Batch's group showed they have little time for sentiment, and only eyes for a ridiculous seventh straight gold medal.
The only hurdle in front of Australia and the gold medal match now is local hopes England, who set up Saturday's semi-final clash by finishing second behind India in Pool B.
Australia finished the pool stages with an absurd goal difference of 27 – having scored a tournament-high 29 goals, and conceding just two through four untroubled performances.
But the atmosphere in Birmingham reflected the high-stakes scenario facing Pakistan, with the crowd uproarious whenever the underdog came close to scoring.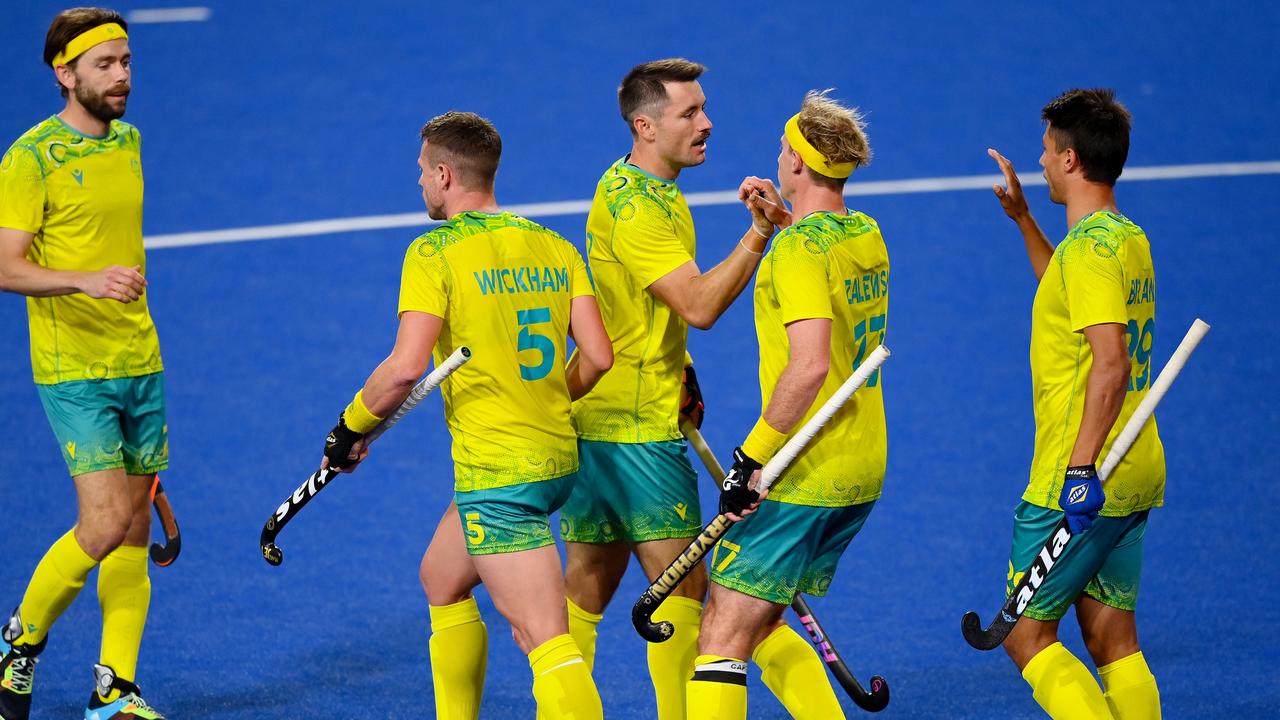 Jeremy Hayward celebrates scoring for Australia.
The largest cheer of the night came from a disallowed Pakistan goal – but only before the punters were informed of the decision over the loudspeaker.
Unsurprisingly it was Australia's goalscorer extraordinaire, Blake Govers, who broke the deadlock when he tapped home from close range to finish off a nice dribble and pass from Jake Whetton in the first quarter.
Jeremy Hayward extended the lead to two goals when he drilled home off Australia's first penalty corner – and that would take them to halftime.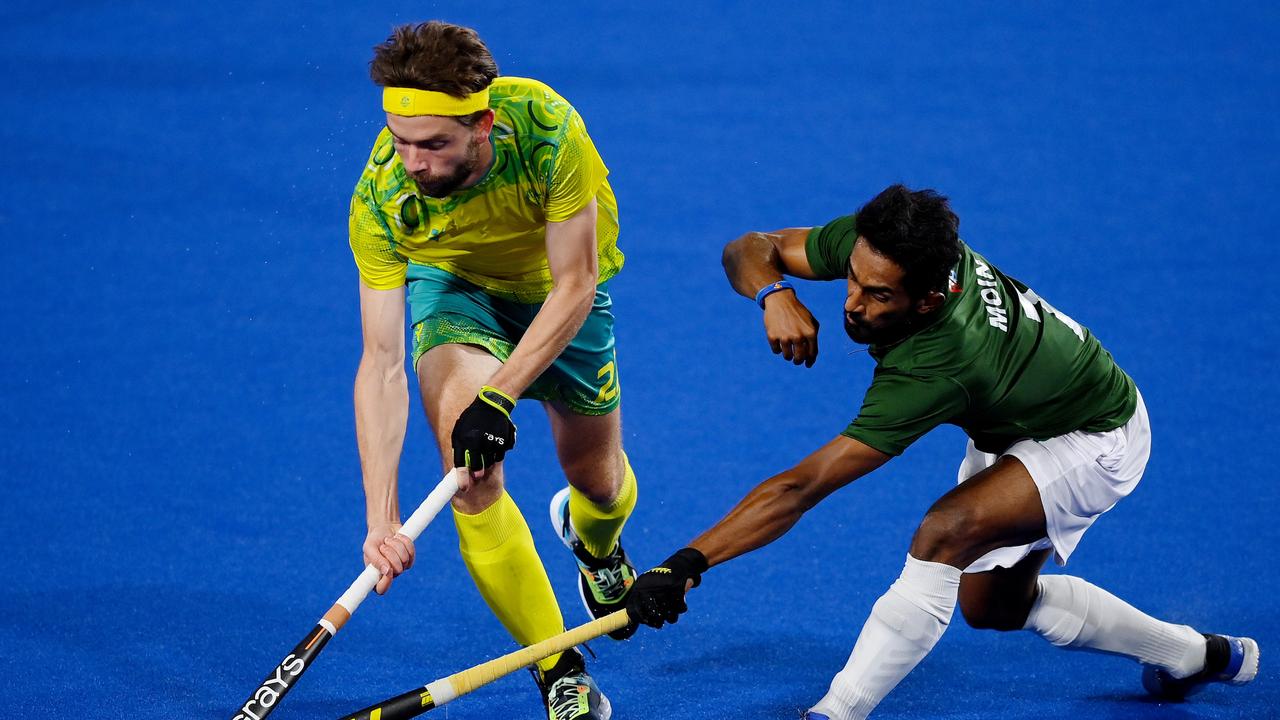 Flynn Ogilvie of Team Australia competes with Moin Shakeel of Team Pakistan.
Hayward redoubled his efforts with a similar penalty corner strike after halftime in a blow that sapped the spirit of Pakistan, who had proved a more-than-tricky opponent in the first contest between the two countries in four years.
Two minutes later Tom Wickham drilled home a bullet-like snapshot after some fancy lead-up work from Daniel Beale and, not for the first time this week, the Kookaburras were all-but home and hosed before the three-quarter break.
Wickham made it game, set and match three minutes into the final quarter when he finished off a tricky run with a delightful backstick finish on the near post to extend the lead to five goals.
Jacob Anderson added a sixth before as back-up keeper Johan Durst repelled three consecutive penalty corners to maintain a third clean sheet for Australia this week – and Nathan Ephraums completed the rout a minute before full time.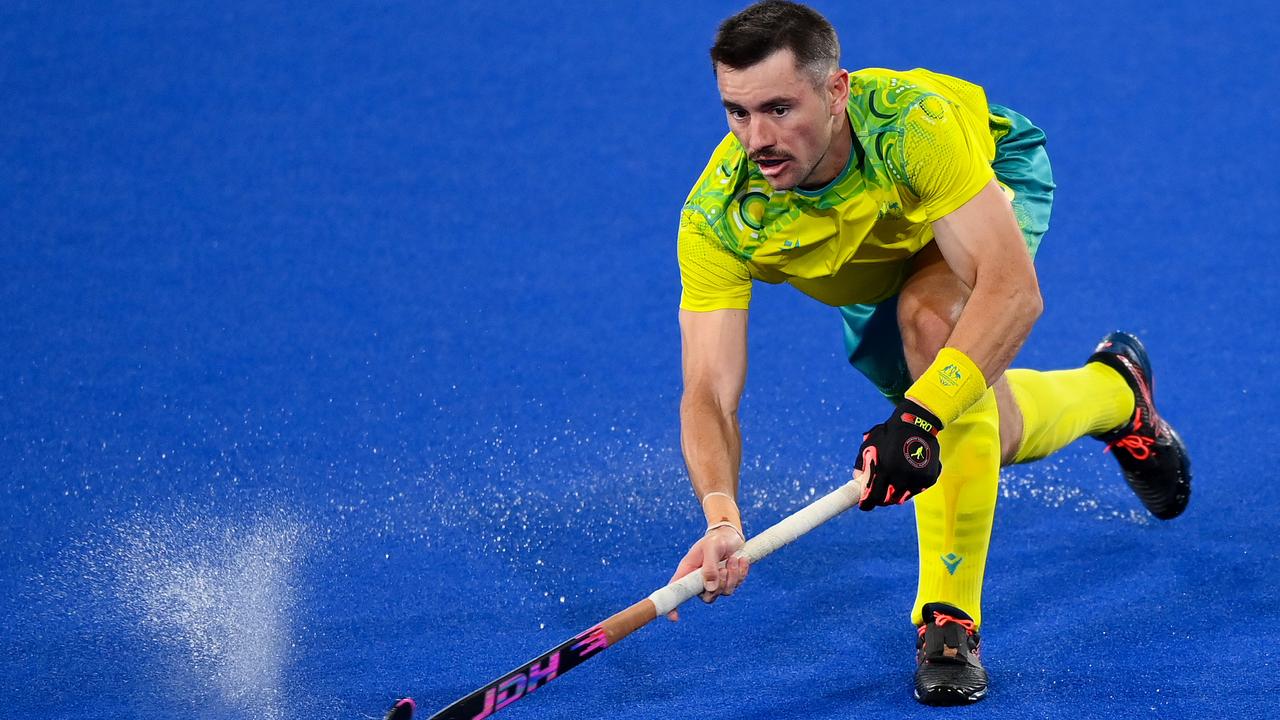 Jeremy Hayward sends water flying as he drives Australia forward.
HOCKEYROOS TO 'RIP APART' ANYONE IN GOLD PURSUIT
Last year, India broke Australia's hearts. Now the Hockeyroos are ready to rip them apart.
Australia's dual-gold ambitions in the hockey are firmly on track, after the Hockeyroos kept a perfect pool record to top Pool B with a 2-0 win over Scotland.
It sets up a redemption battle against India, who produced a stunning upset to eliminate Australia from the Tokyo Games quarter-finals 12 months ago.
"At the Olympics, broke our hearts a little bit," veteran keeper Jocelyn Bartram said of India, who advanced with a late 3-2 win over Canada to snatch second spot in Pool A.
"They've got some very skilful players and deliverers of the ball."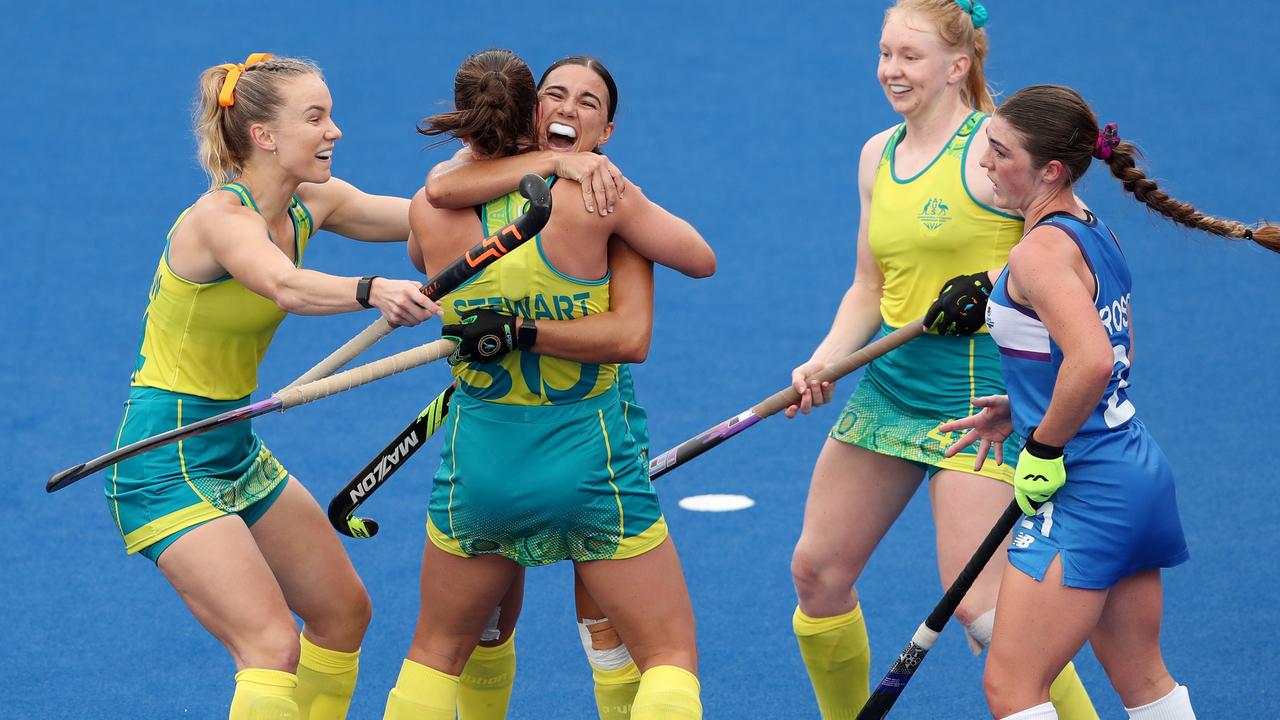 Shanea Tonkin celebrates her goal with teammates as Australia continued their unbeaten run at the Commonwealth Games. Picture: Getty Images
And while the Kookaburras have rocketed through their pool, banging in goals left, right and centre, the women have had to scrap and fight for every win – and on the back of a defence that is yet to concede through four games.
Now they're vowing to 'rip apart' anyone who stands between them and a gold medal.
On Wednesday, the Hockeyroos dominated possession but without the goal rush to show for it.
Yet, when Shanea Tonkin finished off a classy team goal early in the fourth quarter, Australia was on their way to a fourth straight win and building towards banishing the cruel memories of their Gold Coast gold medal defeat to New Zealand four years ago.
"We know if we play our way that we will be able to rip apart anyone," said defender Karri Sommerville.
"So that's the plan."
Scotland's Amy Gibson was immense in goal, making four saves as she repeatedly repelled everything Australia threw at her.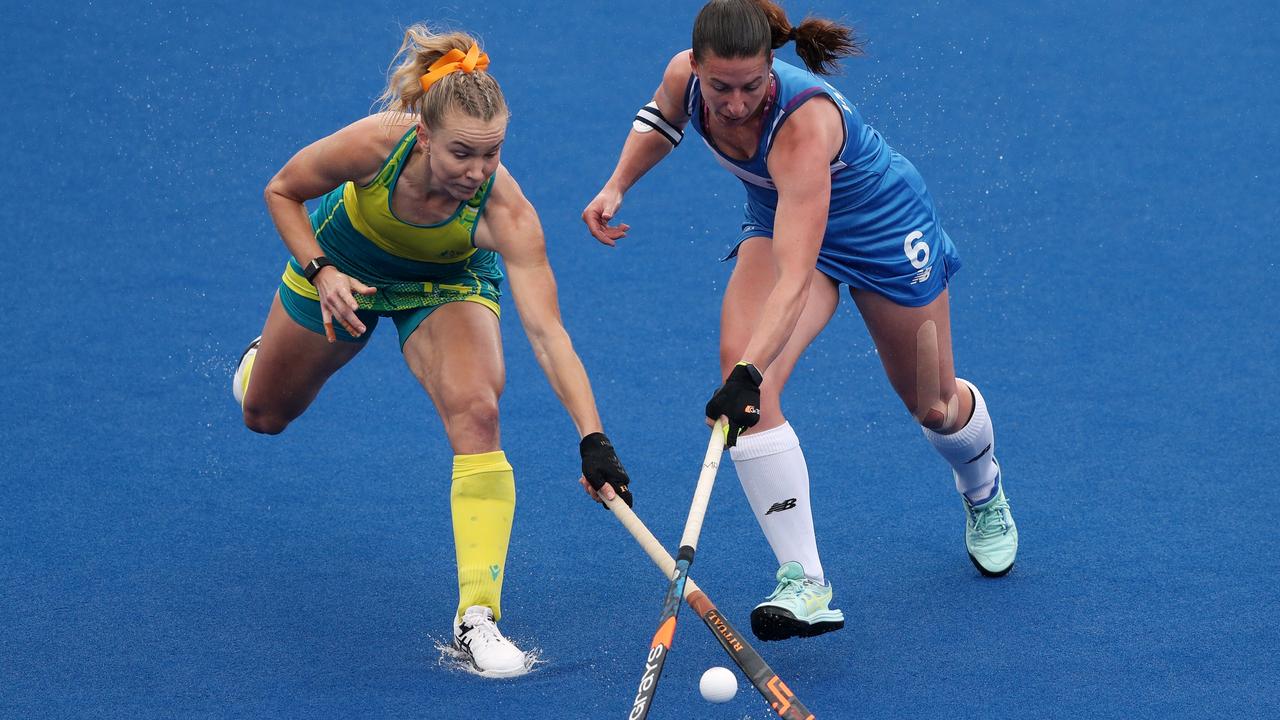 Australia's Stephanie Kershaw battles for possession with Scotland's Becky Ward in the Pool B match in Birmingham. Picture: Getty Images
In the first half alone Australia had eight shots on target, including one penalty corner, but couldn't break the deadlock until three minutes before the break when Grace Stewart fired hard and low to find the bottom left corner.
Stewart's killer blow had come after she'd made a clutch referral to earn a penalty corner, which was saved but from the resultant long corner Australia found their
In a grinding first half, Stewart's goal was the only thing to separate the two sides on the scoreboard.
Coach Katrina Powell was able to breathe easier when Tonkin smashed home from close range to start the fourth quarter, following a crisp passing movement by Greta Hayes.
Bartram said the experience garnered during their recent bronze-medal run at the World Cup will serve Australia well as they enter the knockout stages in Birmingham.
"The pressure of must-win games doesn't come around very often, and particularly at major tournaments like the World Cup and Comm Games," Bartram said.
"For us to have that so recent in our history and be able to draw on what things we did well, and what we need to improve on from those experiences is a really good asset for our team."
Australia's chief rivals for gold, England, will face New Zealand in the other semi-final.
HOCKEYROOS' REVENGE MISSION AFTER GOLD MEDAL HEARTBREAK
The Hockeyroos are on a revenge mission in Birmingham, with the burning pain of being denied Commonwealth Games gold at home four years ago fuelling a win-at-all-costs campaign.
And that spells bad news for trans-Tasman rivals New Zealand, ­Australia's chief enemy in Pool B.
It was the Black Sticks who ended Australia's Games stranglehold, and denied the Hockeyroos a fourth-straight gold medal triumph, with a shock 4-1 victory in the final on the Gold Coast. And the agony of that defeat is seared into the memories of the current squad, who boast five survivors from the failed 2018 campaign.
"100 per cent I still think about it. The losses that really hurt, you don't really ever let them go," star striker Steph Kershaw said. "I guess they're like the thing that does motivate you to train a bit harder or to do something when you don't feel like doing it.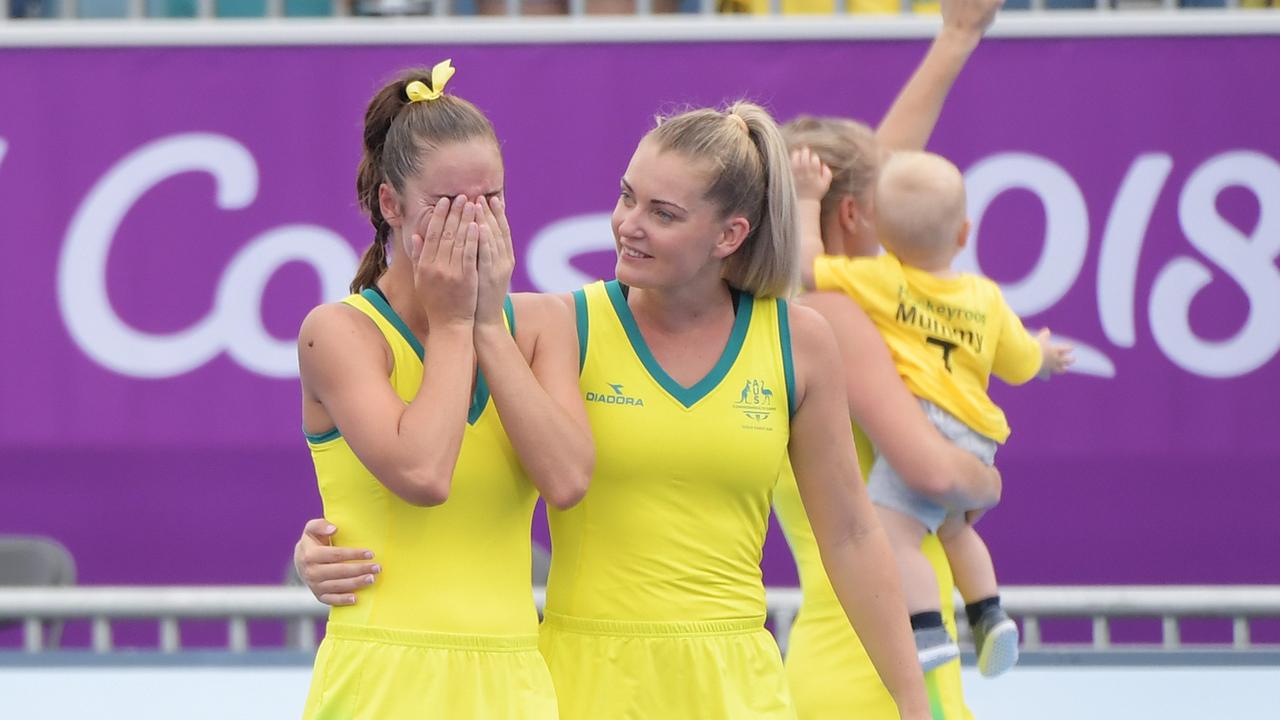 Australia are on a revenge mission in Birmingham after losing to the Kiwis in the final at the 2018 Commonwealth Games. Picture: AAP Image/Tracey Nearmy
"For me personally, they're definitely always in the back of my mind.
"I think over the past four years, the team and me especially, we've had a lot of learning opportunities with some not so positive performances when it mattered. We've had those leanings and I think a lot of us understand more of what is required to ­perform in the big matches.
"That's what I'm most excited to see in this tournament, to see how we go when it gets to the semi-finals and the finals"
Kershaw, along with 2022 squad members Kaitlin Nobbs, Renee Taylor, Jane Claxton and goalkeeper Jocelyn Bartram, have been forced to stew on that defeat for four years – with last year's quarter-final Tokyo Games exit only throwing more ­petrol on their revenge fire.
"It's definitely fuelling the fire for all the girls in the team," Nobbs said.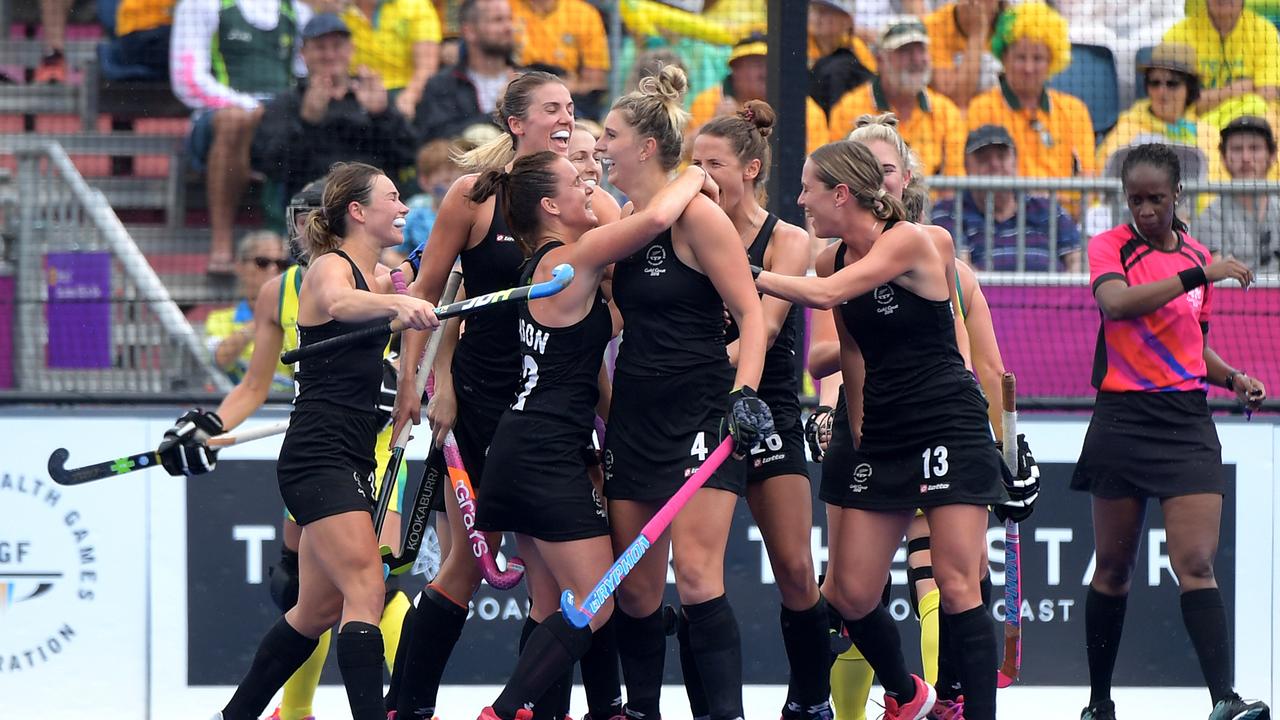 The Kiwis celebrate after scoring a goal on their way to defeating the Australian team at the 2018 Commonwealth Games. Picture: AAP Image/Tracey Nearmy
"I look back at the Commonwealth Games and it definitely hurts knowing that we were so close and so capable of getting that gold medal and just falling short.
"The lesson is we have to keep building and making sure we keep going right to the very end which we weren't able to do last ­Commonwealth Games."
The Hockeyroos redemption tale is off to a dream start after securing bronze at the World Cup in Spain a fortnight ago – making amends for finishing fourth in 2018.
And coach Katrina Powell can sense the drive to exact payback that is in her young group, who face New Zealand in their third pool game next Tuesday in a match that will likely ­decide the Pool B winners.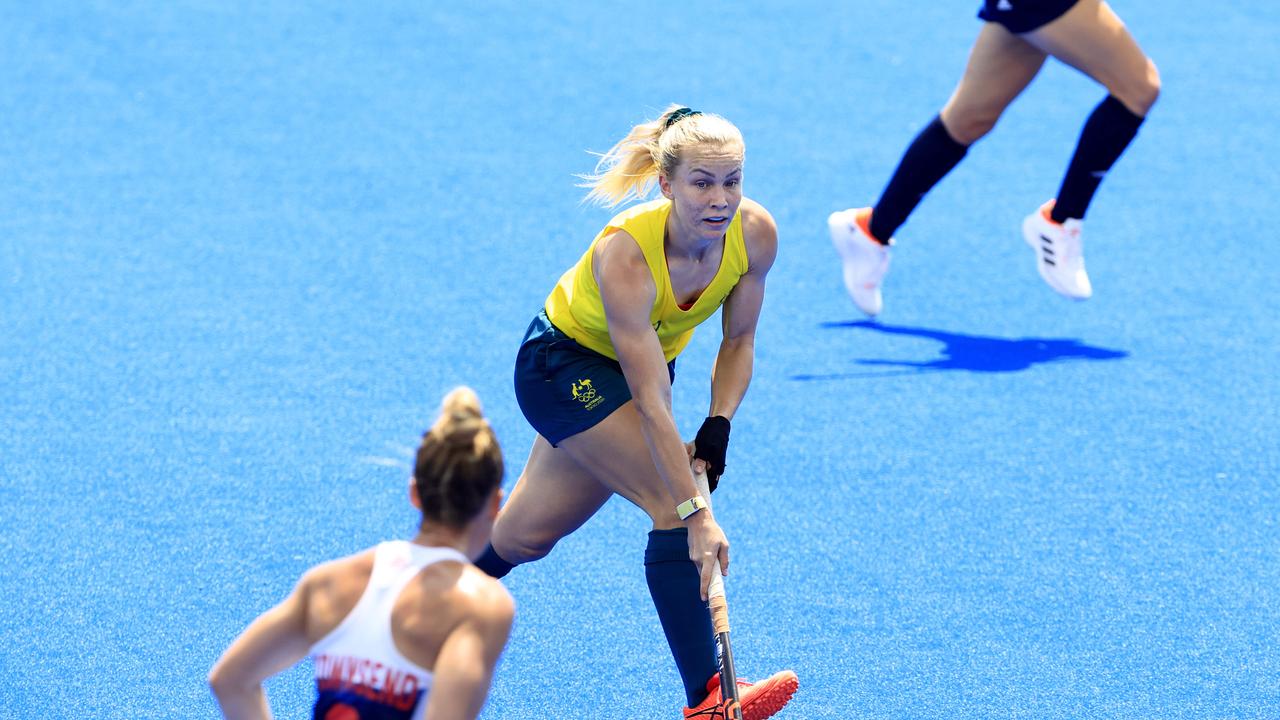 Steph Kershaw in action for Australia at the Tokyo Olympics. Picture: Adam Head
"I would have thought that they are still hurting from the Gold Coast and definitely keen to make amends and finally get it over New Zealand in that level of game," Powell said. "Certainly we've got a good recent history against New Zealand but I would have thought the players that were in the Gold Coast are still smarting a little bit and looking for a little bit of payback."
THE 100 CAP VETERAN CHASING DEBUT GOLD
By Erin Smith
She is a veteran of the Hockeyroos, a dual Olympian, with 103 caps to her name, but this will be Mariah Williams' first Commonwealth Games.
The forward has spent almost as much time battling injury, including one that left her in a wheelchair, in the past decade as she has playing hockey.
And her horrifying injury run has robbed her of any chance to compete at the Commonwealth Games. But this time she is fit and her hunt for an elusive Commonwealth gold on debut is fuelled by being bundled out in the quarter-finals at the Tokyo Olympics.
And when she sets her mind on something, she usually gets it.
Williams, 27, made her Hockeyroos debut as a 17-year-old, being named the most promising new talent in sport at the Deadly Awards.
But by the time she was 21, she had undergone four knee surgeries.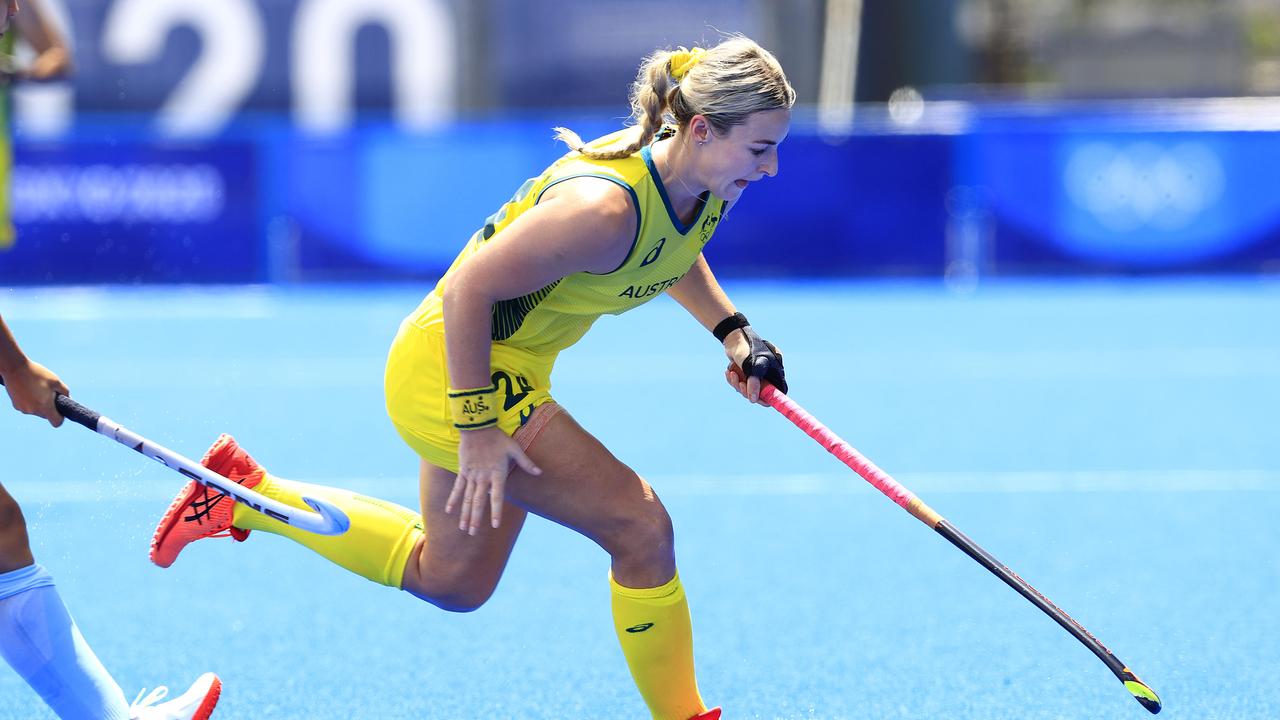 Mariah Williams is set to play in her first Commonwealth Games. Picture: Adam Head
The first, to repair the meniscus in her right knee, came not long after her national debut. She rejoined the team, only to injure her other knee six months later.
Williams worked hard to be match fit for the 2014 Commonwealth Games and World Cup, but a month out she re-injured her right knee and she had to go back under the knife. In 2015, Williams was back on track and counting down to an Olympic debut at the Rio Games.
Three months out from the Games she injured her left knee again, once again requiring surgery. An expert at rehab, she was match fit five weeks before the Olympics.
Williams even scored a goal in the game against Japan.
Following Rio, Williams once again found herself in pain, but it wasn't her knee.
It took eight months for doctors to diagnose her adductor and pubic synthesis joint injury.
The surgery was brutal, involving having her abdominal muscles cut and her adductor tendon extended.
Williams had to spend two weeks in a wheelchair and another three on an exercise ban.
It took her two years to recover.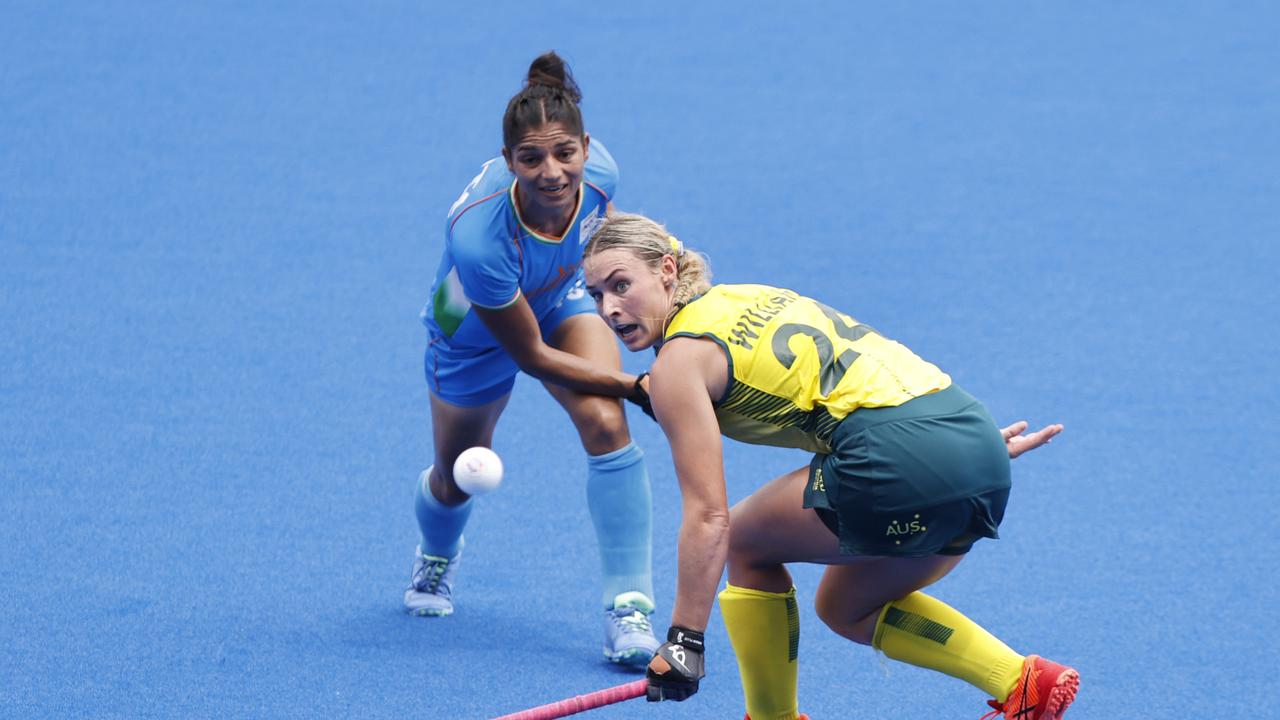 Mariah Williams says the pan of being knocked out at the Tokyo Olympics still hurts. Picture: Alex Coppel.
"After the pubic bone surgery I really had to dig deep," Williams said. "It was really hard mentally to kind of come back and physically to come back from the injury, but I had to rehab to get my body right.
"In that process I was like, 'There is no way that a part of me wants to give up now'. I knew I had to get back on the right rack and keep going forward to get back on the international stage. Through the hard work it happened."
Williams, a proud Wiradjuri woman, was in the team knocked out in the quarter-finals in Tokyo in a 0-1 loss to India. The same point in the competition they were bundled out at the 2016 Games.
But the game, which the women came so close to winning, still haunts Williams.
"Tokyo is still in the back of everyone's throat," she said. "It is something that fuels me to keep pushing hard, day in and day out. I most certainly do not want to be brought down at a quarter-final in a major tournament."
The defeat followed the tough 4-1 gold-medal match loss to New Zealand at the Gold Coast Games in 2018.
Originally published as Commonwealth Games 2022: Hockeyroos lose final to England