Commonwealth Games 2022 quirky stories: Weird and wonderful moments from Birmingham
Missing athletes, unlikely cult heroes and athletes searching for love on social media — Birmingham had no shortage of strange storylines. Recap the moments the caught our eye.
Twerking fans caught on camera, massive belly flops in the pool, missing athletes, Tiktok love hunts and more — Birmingham 2022 really did have it all.
Our reporters recap all the weird and wonderful moments from the Commonwealth Games where Australia sealed a historic 1000th gold medal.
Recap all the moments that raised eyebrows from a massive few weeks of sport.
OLD ENEMY STRIPPED OF GOLD IN DRAMATIC END
Jacquelin Magnay
In the last event of the Commownealth Games track and field program, England lost the women's 4x400m relay, despite an extraordinary final lap by their hurdle specialist Jessie Knight who dug in and refused to relinquish her lead.
Knight was deemed to have crossed the line first, by thrusting her arm and her rotating shoulder ahead of Canada's final runner to win by one-thousand of a second after earlier fighting hard to fend off the fast finishing Canadians and Jamaicans.
But the ecstasy of the home crowd was soon dashed when Canada lodged an appeal because their runner had been impeded due to a lane infringement on the third baton handover.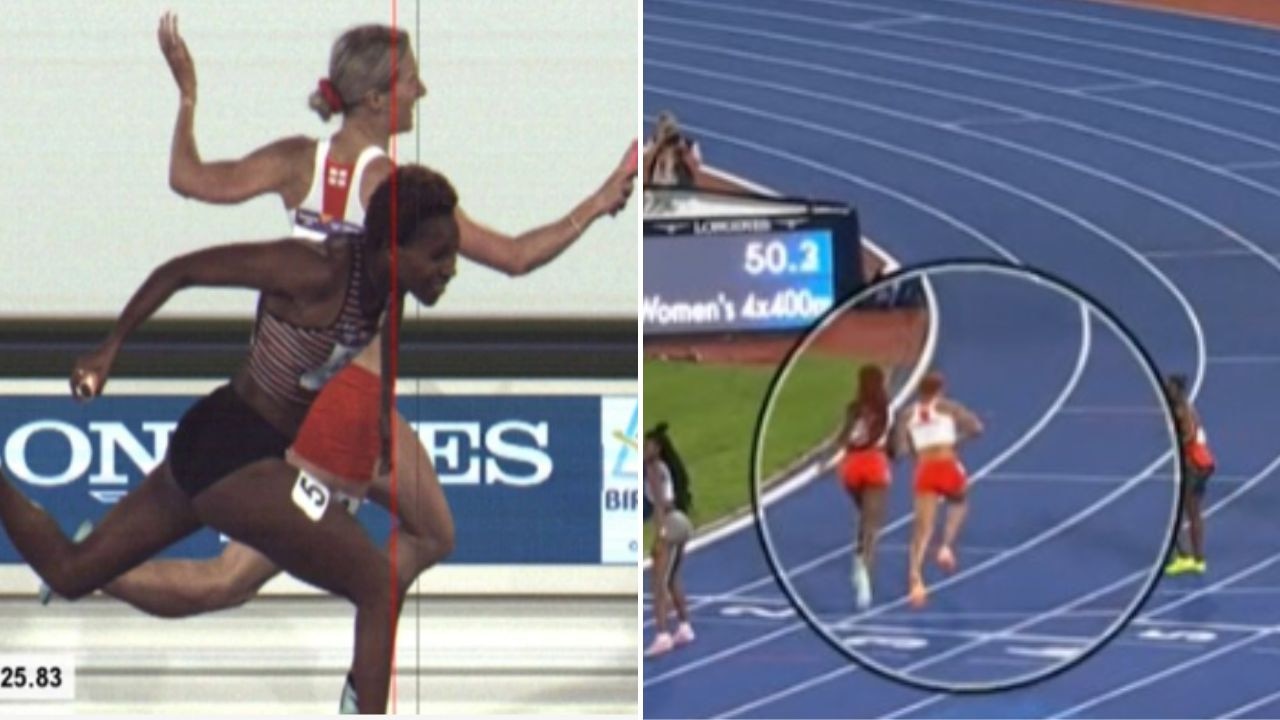 The tight win by England was soon overturned after Canada lodged an appeal for a lane infringement.
There was a counter appeal, leaving the medal ceremony and fireworks finale to be delayed, but that was rejected.
In the end Australia topped the Birmingham 2022 athletics and Para-athletics medal table with 10 golds and a total of 24.
England won seven golds but had a higher tally of 34 medals, while Kenya, with six golds and a total of 20, finished ahead of Jamaica, with six golds and a tally of 13.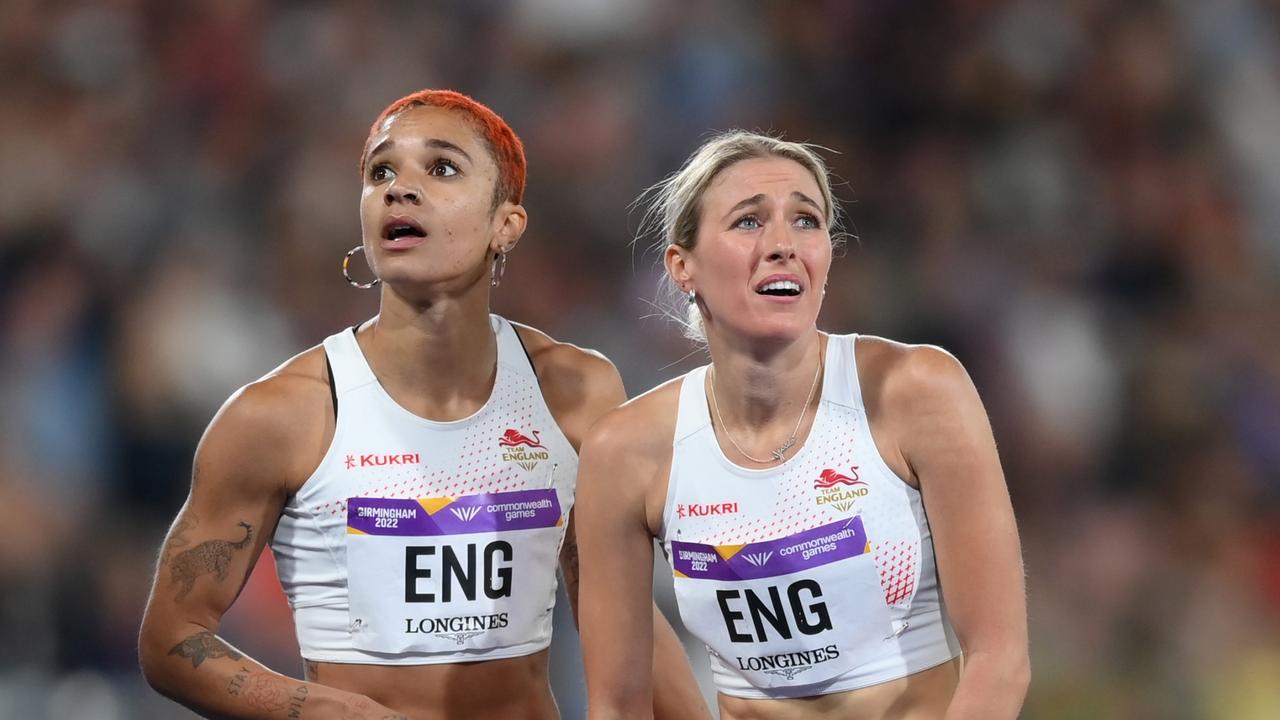 Jessie Knight and Jodie Williams of Team England were left to wait as Canada appealed and England conterappealed. Picture: Shaun Botterill/Getty Images
GAMES CRISIS AS ATHLETES GO MISSING
Ten members of crisis-hit Sri Lanka's Commonwealth Games contingent in Birmingham have disappeared in a suspected attempt to remain in Britain, a top sports official from the island nation has said.
The nine athletes and a manager vanished after completing their events, the official said, requesting anonymity.
Three of them -- judoka Chamila Dilani, her manager Asela de Silva, and wrestler Shanith Chathuranga -- had disappeared last week.
That prompted a police complaint by the Sri Lankan officials. "Since then, another seven have vanished," the official said, without identifying them.
"We suspect they want to remain in the UK, possibly to get employment."
The 160-strong Sri Lankan contingent's management possessed the passports of all members to ensure they returned home.
That failed to deter some from leaving.
British police located the first three that disappeared, but as they had not violated local laws and held visas valid for six months, no action was taken, the Sri Lankan official told AFP.
"In fact, the police got us to return the passports that we were holding as a deterrent against defections," the official said.
"The police have not told us about their whereabouts."
Sri Lankan athletes have been reported missing from international events in the past.
In October last year, Sri Lanka's wrestling manager abandoned his team and disappeared in Oslo during a world championship tournament.
During the 2014 Asian Games in South Korea, two Sri Lankan athletes made a run for it and were not found.
And in 2004, when Sri Lanka did not even have a national handball team, a 23-member group pretending to represent the country conned their way to a tournament in Germany and disappeared.
Athletes for Team Sri Lanka take part in the opening ceremony for the Commonwealth Games
X-RATED: CAMERAS CATCH TWERKING FAN AT RUGBY SEVENS
A rugby fan caught the BBC cameras by surprise by twerking as she was filmed in the crowd during the Commonwealth Games.
The Rugby Sevens action was hilariously interrupted as one fan showed off her dancing — and her bum.
Cameras picked up three women enjoying their day out in Coventry at the Commonwealth Games.
But as the fan in the middle spotted herself on the big screen, she seized her moment with both hands.
After taking a swig of her drink, the supporter stood up and turned her bum to the camera before starting to twerk.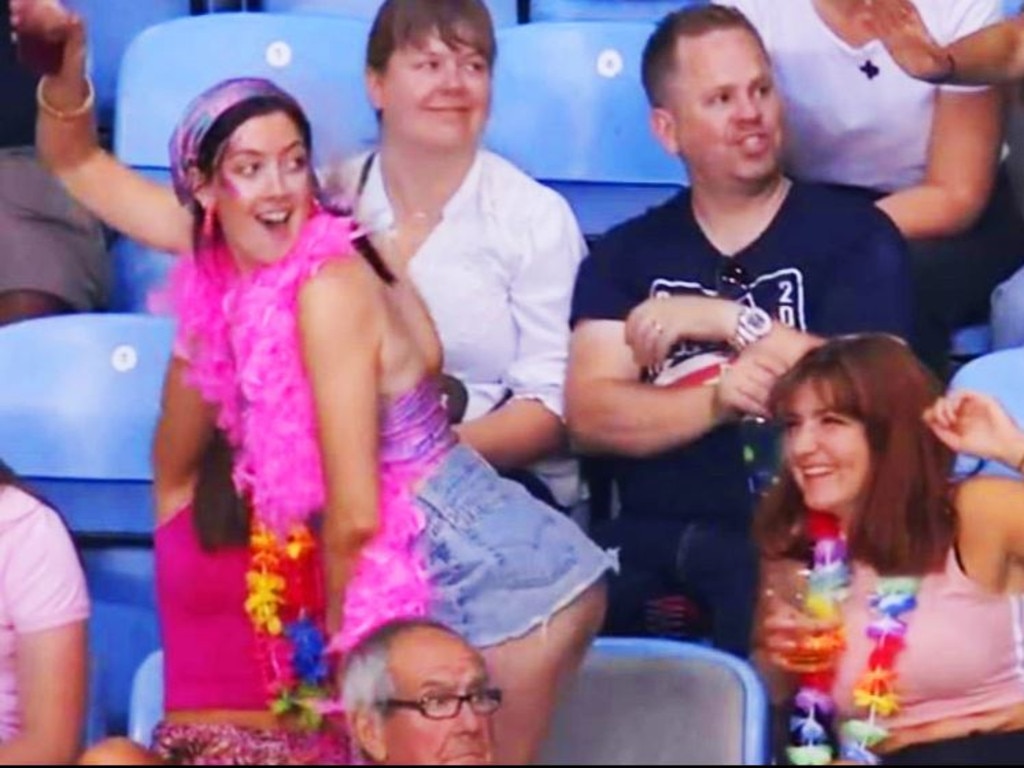 One fan seemed to be enjoying the refreshments at the Rugby Sevens.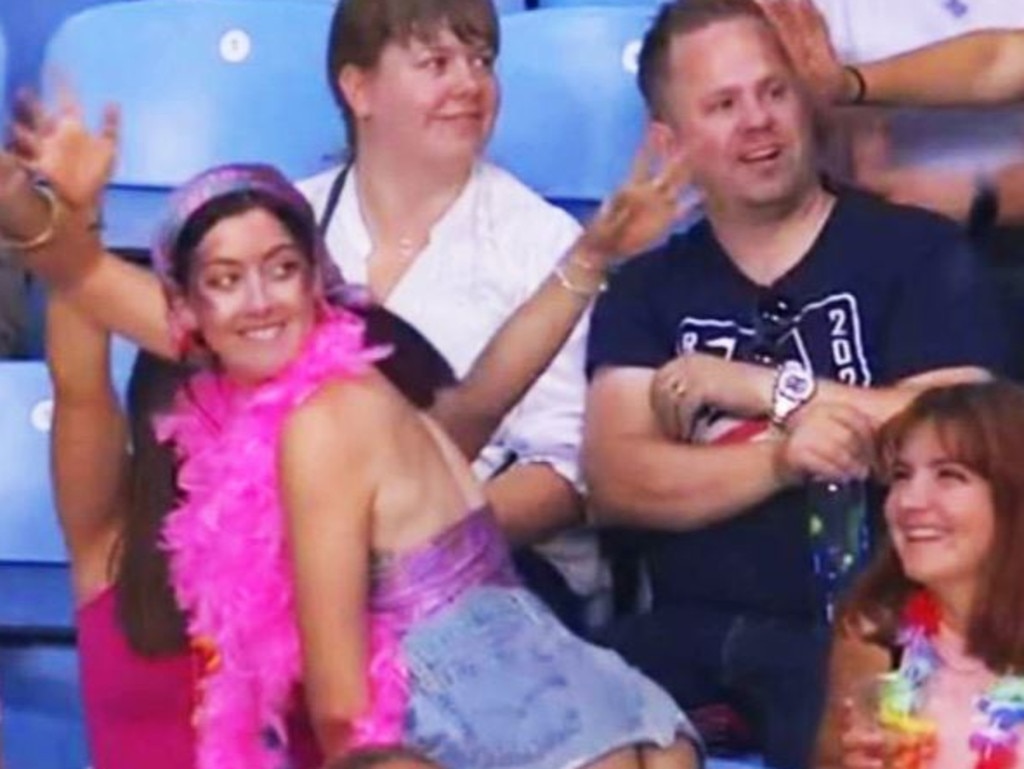 Fans got more than they bargained for.
While her friends were left in hysterics by the X-rated performance, the BBC team was caught completely off guard.
She even lifted her skirt to flash her bottom, much to the surprise of those watching.
The stunned BBC commentator said there was "plenty of dancing" going on in the crowd, before the cameras quickly cut away and back to the match action.
On the pitch South Africa stunned hot favourites Fiji 31-7 to take the gold medal in the men's final.
And Australia scooped the gold in the women's event with a 22-12 win, also against Fiji.
RAPPER AXED FOR LINKS TO MURDER
A rapper scheduled to play the Commonwealth Games closing ceremony has been sensationally axed at the last minute for failing to pass a security check.
Pa Salieu was convicted of possessing a bottle as an offensive weapon in March this year during an incident that resulted in his friend being stabbed to death.
He is awaiting sentence on that charge and will no longer be part of the festivities in Birmingham.
The artist took to Instagram to share the news with his followers.
"Yesterday I received a call to say that I'm being removed from the show because I 'failed a background check'," he wrote. "I can't keep being silent about this stuff.
"I've already had to cancel 90 per cent of my shows this year because the Home Office won't process the paperwork I need to travel abroad until my court case is finished.
"I've consistently been trying to use my career to show people where I'm from there is another life for us.
"But what can you do if the police, justice system and Home Office don't care about you and put everything possible in your way to stop you trying to get on with your life?"
Birmingham 2022 organisers said: "Everyone involved in the Games goes through the same accreditation process; including our volunteers, performers, athletes, contractors, and workforce.
"We cannot comment on individual accreditation applications. This process facilitates the delivery of the Games."
JUDGES BOOED AFTER BELLY-FLOP FOR THE AGES
Competing in the 1m springboard qualifying rounds, Sri Lankan Dulanjan Kaushalya Fernando completely misjudged his dive and entered the water completely horizontal.
Gasps greeted his belly-flop and the crowd were less than impressed with the judges after the awarded Fernando just one point.
Not the perfect dive but Fernando won over the fans.
The Games are a redemption mission for Fernando, 23, who missed out on qualifying for the Gold Coast Games in 2018.
Visa issues have prevented him from competing at any international diving event since – making Birmingham his first major competing in four years.
Fernando moved to Australia to study in 2021 and qualified for Birmingham after pulling off personal best performances in the 1m and 3m springboard events at the Australian Age National Diving Championships held across Melbourne and Brisbane.
Fernando didn't have a great start to his Games campaign but with 12 divers able to qualify for the final and only 11 lining up to compete he will get another chance in the final.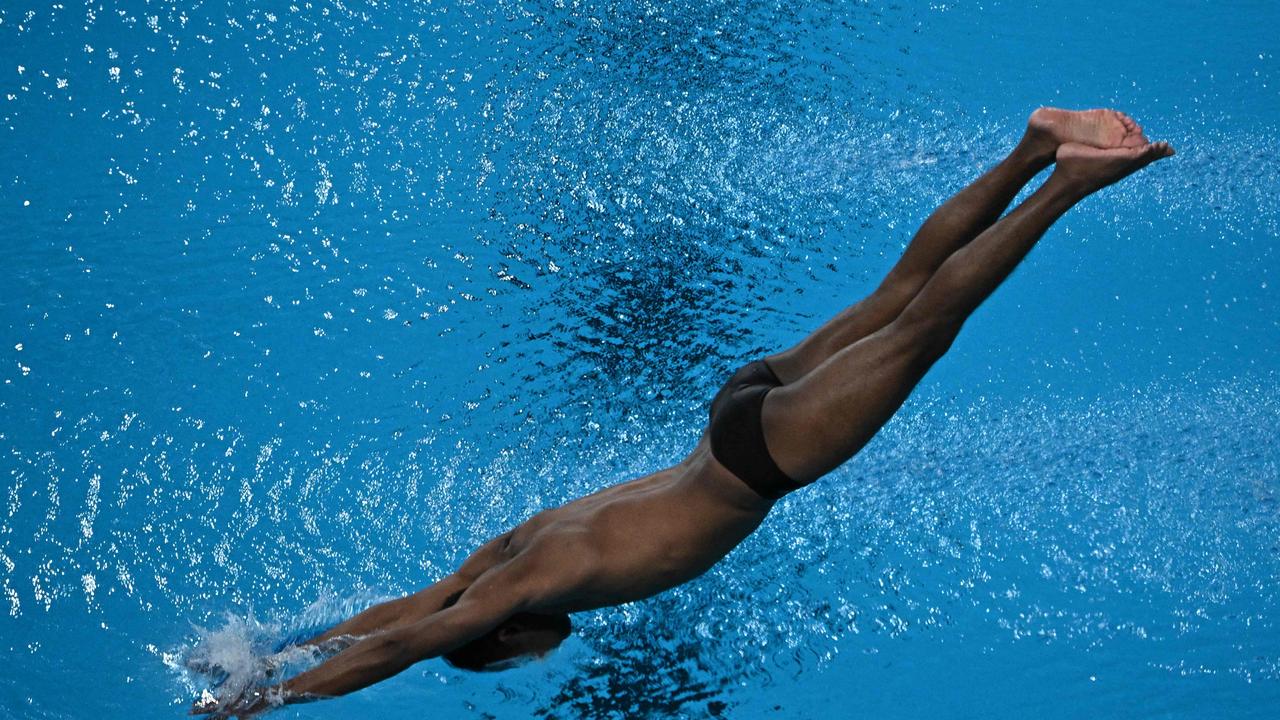 Sri Lanka's Fernando Dulanjan Kaushalya belly flops into the water.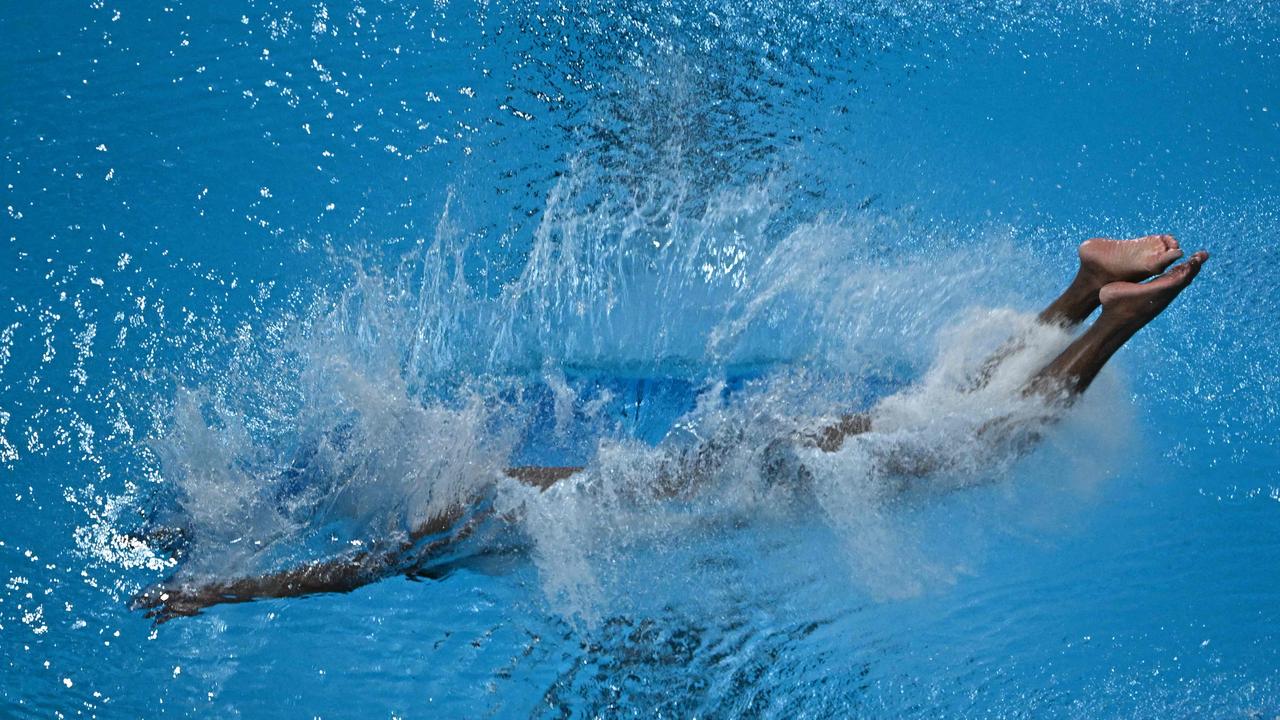 Fernando Dulanjan Kaushalya's score was booed by the crowd.
TRACK STAR MOCKED FOR HUGE RACE BLUNDER
Eliza Barr
A valuable lesson to all sprinters – run until the very end.
It's a lesson Nigel Ellis will never forget after the Jamaican eased off, even leaning backwards as he crossed the line in the men's 100m heats. A costly error and a rookie mistake which cost him spot in the semis.
Social media had a field day with the blunder saying he'd "pulled a Shericka" referring to Ellis's compatriot Shericka Jackson who jogged over the line in the Olympic heats last year – a move which ended her campaign.
While a costly for Jamaican, it was terrific for Australia with our man Jake Doran leaning into his finish and securing his spot in the next round with a time of 10.30 just two one-hundredths of a second faster than his third-placed rival.
Doran is one of two Aussies to make it to the semi-finals with Rohan 'The Flying Mullet' Browning putting his world championships debacle behind him by cruising through to the Commonwealth Games semi-finals.
Browning didn't get out of the heats in Eugene last month but the Flying Mullet was back in town, finishing 10.10sec.
CRUEL TWIST SEES AUSSIE ROBBED OF GOLD
Australia had a weightlifting gold and a new Commonwealth Games record in their grip before a jury decision agonisingly snatched it away.
Western Sydney weightlifter Kyle Bruce would have ascended to the top of the podium if he had secured his final lift of 183kg in the men's 81kg event on Monday.
He had the gold and the Games record physically in his hands – but in a cruel twist, the jury did not clear his clean and jerk, and the dream was over by the narrowest of margins.
Instead, England's Chris Murray claimed the gold and the record by pulling off a lift of 2kg less.
Canada's Nicolas Vachon made a valiant and aspirational attempt to overcome them both with his final lift of 187kg, but he could not secure it before the final buzzer and took out the bronze instead.
Athletes of every nation were quick to congratulate a jubilant Murray, unable to contain his tears as he took to the podium, while a crushed Bruce was consoled by his team.
In an emotional interview with Channel 7 after the event, Bruce said he drew quite literally from his late father's strength in his efforts for golden glory.
"My dad actually passed away in 2015, and I just wear his compression shirt so he's always there with me," Bruce said, clearly overcome.
"He's always with me and this one's for him."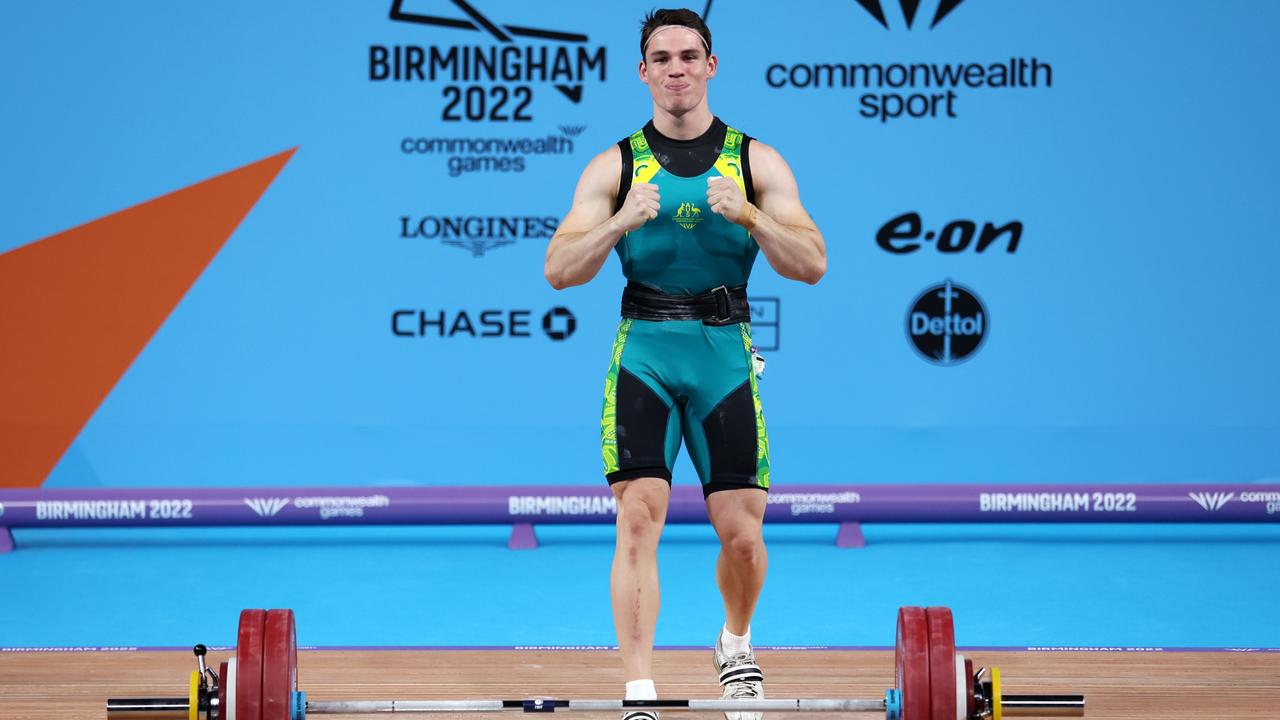 Kyle Bruce of Team Australia was robbed of gold
'DAYLIGHT ROBBERY': $17 COMM GAMES MEAL LEAVES FANS FUMING
Sizzling-mad fans claim food served at the Commonwealth Games swimming was banger out of order.
Fired up patrons went barmy on social media after a spectator posted a picture of ONE sausage and "uncooked" chips – costing £9.80 ($17AUD).
Although there are plenty of medals at stake for competitors, fans don't expect medallions of steak for themselves – but they do want organisers to not just talk the talk, but pork the pork.
So caterers were skewered on Twitter when "Matthew (The Pieman) Williams" revealed his pale and paltry offering.
He tweeted a snap of a mini cardboard plate fitting in one hand – containing a single sausage and some ghastly, ghostly-looking chips.
The Pieman lamented: "This is the sausage and chips I had at the Sandwell Leisure Centre ahead of tonight's swimming events at @birminghamcg22. This cost £9.80!"
Many replies panned the pricing – especially as the food contrasted sharply with the feast of quality on offer from world-class swimmers in the pool.
And despite a diving board being close at hand, the food providers were more for the high jump.
One observer said: "How much!! Even in the local chip shops that would cost £5. Daylight robbery."
And another queried: "Is it extra to get the chips cooked?"
A more medical verdict was: "If the sausage is as undercooked as the fries, this meal ends up in gastroenteritis …"
And one fan shocked by the side-dish commented: "Jesus, think I've got a better tan than those chips."
LOVESTRUCK HOCKEYROO'S SEARCH FOR MYSTERY MAN
Several love-struck Hockeyroos have issued an appeal to identify a sexy, shirtless mystery man in the Birmingham athletes village via TikTok.
Australian hockey player Rosie Malone was among five female athletes in the village eyeing off a shirtless man – who appears to be moisturising – in the Maple Bank Villa in a video uploaded to her TikTok.
"TikTok help me find this boy in the athlete village," Malone captioned the video uploaded on Wednesday, accompanied by a laughing emoji.
The clip shows Malone's teammates in the green and gold gazing through their window at the man in the village opposite with his blinds open.
The video is soundtracked with a viral sound clip ripped from British reality TV show Love Island, in which the host says "this week, a hot new bombshell enters the villa".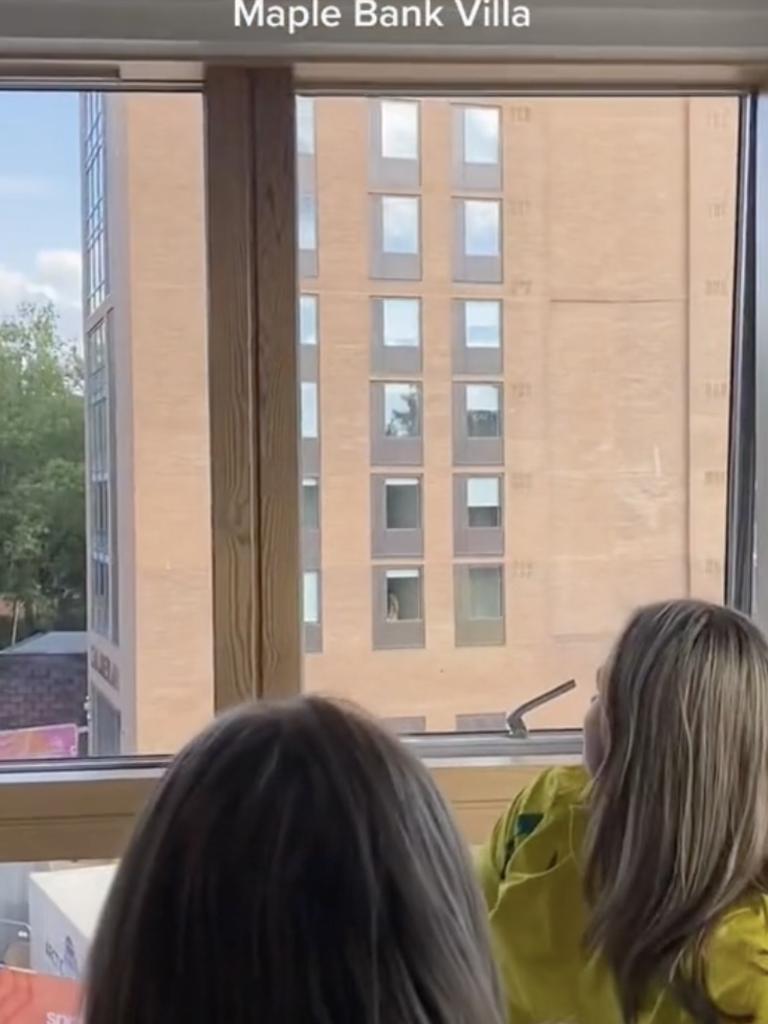 Stills from the video posted by Rosie Malone.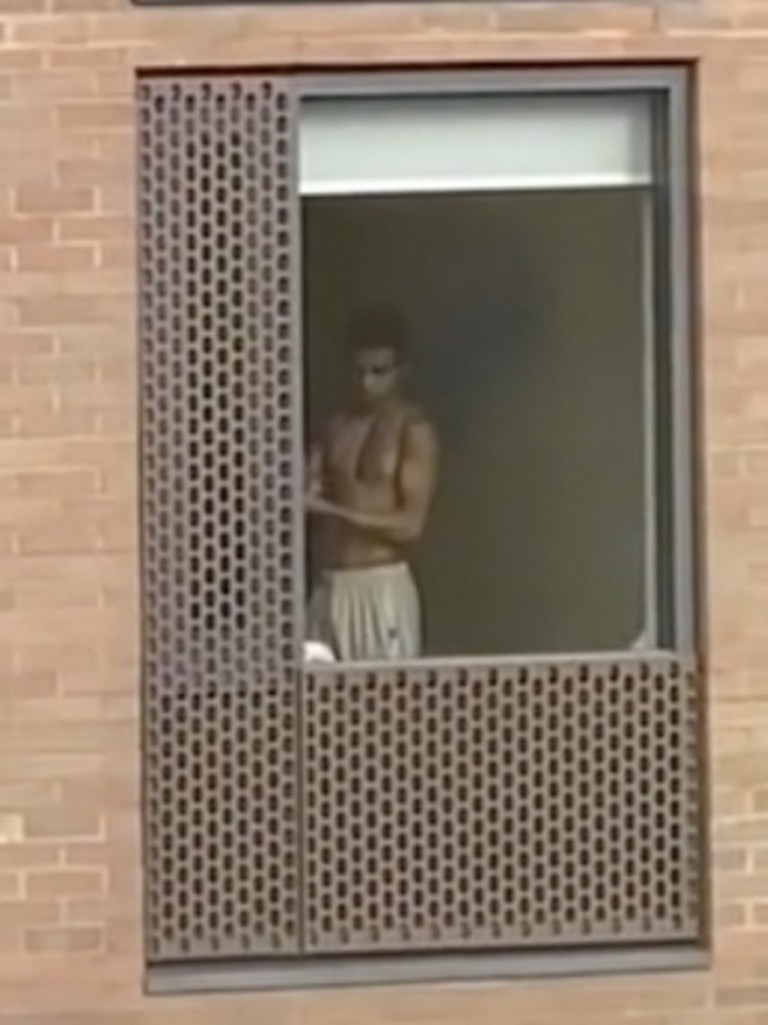 The mystery man.
So far, it seems the Hockeyroos have been unable to identify the mystery male athlete despite their appeal to Malone's 14,500 followers.
Some users had questioned how appropriate the video would be if it was male athletes ogling a female counterpart – but Malone was quick to allay those concerns.
"Don't worry everyone, he was looking at us smiling," Malone commented.
"He could see us and was loving it (crying laughing emoji."
Other users had practical suggestions for the Hockeyroos, with one writing "just go and knock on his door".
Another said: "if it's full of athletes surely every single room is filled with hot men".
University of Birmingham students who normally reside in the rooms being used as the athletes village during their summer break also got a kick out of the Hockeyroos' quest to identify the mystery man.
"So many memories of parties in Maple," one user reminisced.
BEDROOM WOES: AUSSIES TOO BIG FOR GAMES ACCOM
It seems Games' organisers forgot to accommodate for the taller athletes staying in the village with the Aussie netballers revealing the beds are tad short for their tall frames.
Some of the netballers stand just shy of 2m, like shooter Cara Koenen.
Diamonds captain Liz Watson said her and roommate Gretel Bueta had rearranged their rooms slightly to make it a bit more comfortable and that aside from the beds being slightly short the accommodation was great.
They are living in the NEC village, a short walk from their Games venue.
"We did a bit of rearranging, separated the beds a little but it is great," Watson said.
"We are all in the same corridor so we are just a knock away if we want to annoy each other. It is fun and exciting."
The whole Diamonds team planned to march in the opening ceremony, despite their first match being the following morning.
"It is a once in a lifetime opportunity for most of us so it will be pretty special," Watson said.
The team had just three weeks to bond, following the conclusion of the Super Netball competition – first at a training camp in Perth and then at Manchester.
"Everyone is really sharp and really excited," Watson said.
BECKHAM, RONALDO BECOME INDIAN COMM GAMES HEROES
David Beckham and Ronaldo will be competing in the track cycling at the Commonwealth Games.
No, it's not some strange publicity stunt involving the two soccer stars, but rather two Indian cyclists named after them competing in the velodrome.
The two cyclists, Ronaldo Laitonjam Singh and David Beckham, will lead the Indian team at the Velodrome in London.
After dominating the cycling scene in India in recent years, the two loom as the country's best hopes for a first medal in the sport at a Commonwealth Games.
Beckham, 19, is named after the former England captain and Manchester United and Real Madrid star.
The young cyclist's family, from the Andaman and Nicobar Islands, were huge Manchester United fans.
He lost his father in the Boxing Day tsunami in 2004 and 10 years later his mother passed away from an infection.
He lived with his grandfather from the age of 11 and took up track cycling at his insistence, giving up his dreams of emulating his namesake on the soccer field.
Singh, 20, isn't named after Portuguese megastar Cristiano Ronaldo or the Brazilian "OG" Ronaldo — who dazzled in the 1990s and 2000s.
Rather he is named after icon and two-time world player of the year Ronaldinho.
Ronaldinho's full name is Ronaldo de Assis Moreira.
One of his most iconic moments took place on June 21, 2002, when England took on Brazil in the quarter-finals of the 2002 World Cup in Japan. Ronaldinho scored an iconic free-kick that looped over England's David Seaman and won Brazil the match.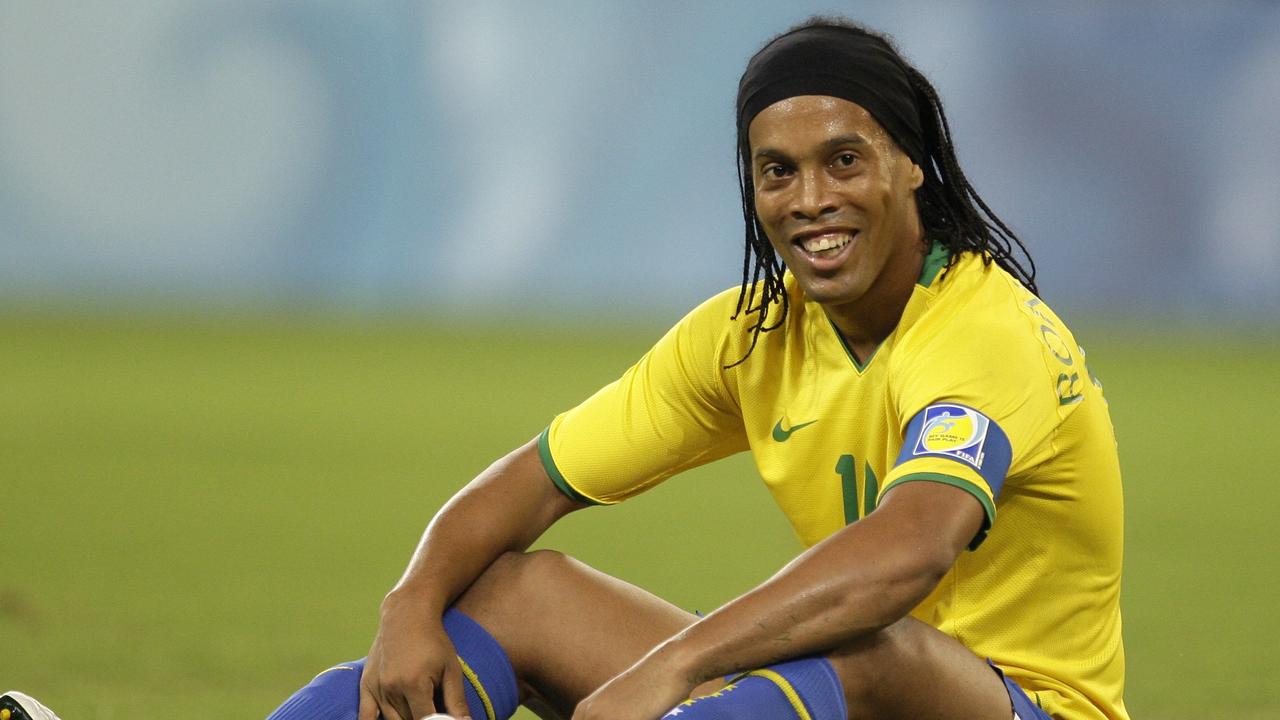 Brazilian star Ronaldinho. (AP Photo/Armando Franca)
At the time, Singh's father Roben, working for the Central Reserve Police Force, was posted to Srinagar in Kashmir and was watching the match with his colleagues. As Ronaldinho teed up his free kick, Roben made a wager that it would go in.
As the story goes, exactly at the moment the ball rippled the net, the telephone rang and Roben Singh found out that his wife was going into labour in his hometown of Imphal, almost 2000kms away.
"Just as the ball went in the goal, I must have started making an appearance," Singh told the Hindu.
"I think my Dad won some money that day. That's probably why I got that name. He felt I was very lucky for him."
At 17 Singh teamed up with Y Rojit Singh, Jemsh Singh and Esow Alban to win a gold medal in the men's team sprint at the 2019 world junior cycling championships in Germany.
It was India's first-ever gold medal at the cycling worlds, at junior or senior level.
Originally published as Commonwealth Games 2022 quirky stories: Weird and wonderful moments from Birmingham