Commonwealth Games 2022: Every member of the Australian men's swimming team rated
Polarising star Kyle Chalmers defied a red-hot blowtorch but his feats were overshadowed by the story of the Commonwealth Games. We rate every member of the men's team.
The travelling Kyle Chalmers circus threatened to derail the sprint star and the entire men's swim team in Birmingham.
But far from being distracted by the noise, the team, led by Chalmers, delivered a memorable meet that garnered a bag of gold medals.
King Kyle cemented his status as a true leader with three gold medals and a silver but it was popstar turned Commonwealth Games medallist Cody Simpson who stole the show on pool deck.
We rate every member of the men's team. See how we scored and have your say.
PAIN WILL MAKE CHALMERS EVEN BETTER
- James Magnussen
Kyle Chalmers is such a vital member of the Dolphins team that Swimming Australia must do everything they can to protect him and make sure he swims on to the Paris 2024 Olympics.
You take Kyle out of any of our men's relay teams in Birmingham and they don't medal.
You take him out of either of those mixed relay teams and they don't win gold.
That is the importance of Kyle to this team and why Swimming Australia must protect and support him moving forward.
After the week he has endured with the media backlash and supposed love triangle, for him to come out and perform the way he did is the sign of a world class champion.
I know he has said he's thinking about his future in the sport, but I don't think he will walk away.
If I was him I would certainly be having a bit of time off. But it's only two years until Paris and Kyle is still a real gold medal threat.
But Swimming Australia must put measures in place to prevent anything like this happening again.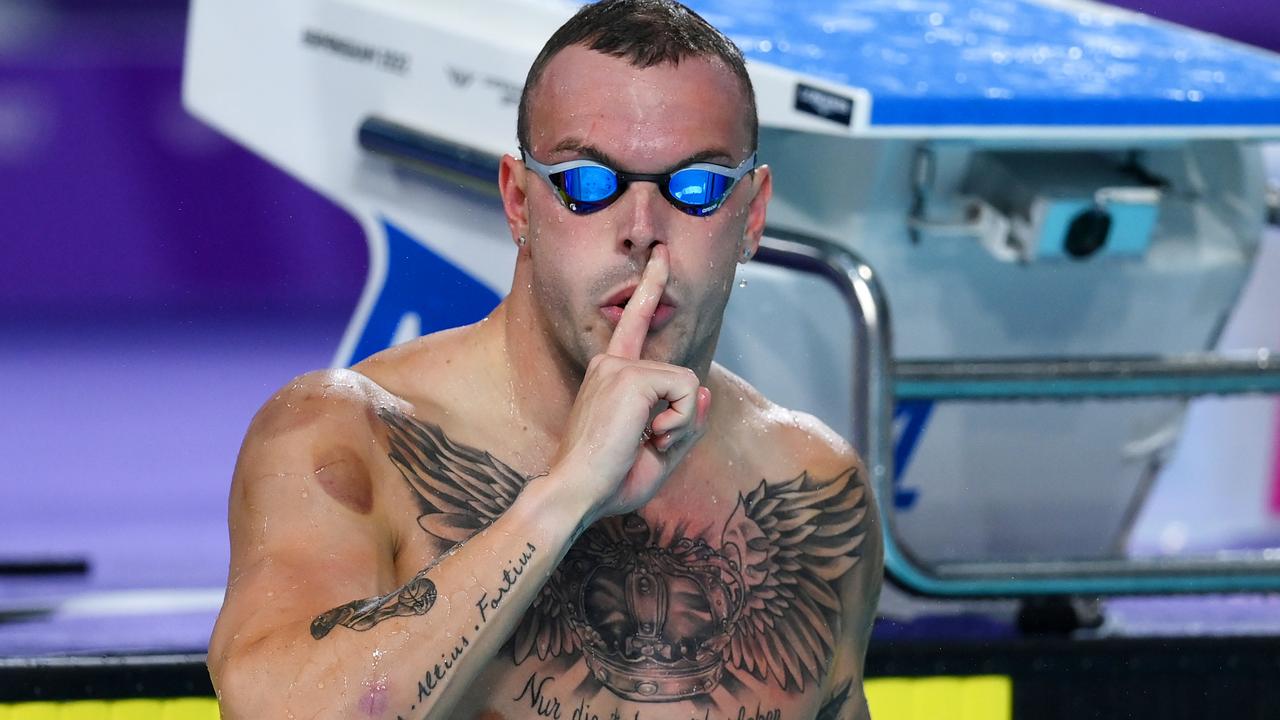 Swimming Australia must do everything it can to get Kyle Chalmers to Paris. Picture: Getty Images
You can see how much Kyle is respected within the team just by the messages of support he has been getting on his Instagram page from teammates.
They've all come out and stuck up for him which is a great sign of how he is viewed within the team.
Despite all the negativity, when all he wanted to do was fly home, Kyle kept plugging away and kept winning gold medals.
So now it's time to switch our focus from the love triangle and honour the world class athlete.
In my mind he has always been a team player, swimming every relay he can and doing his best for others.
I think that really hurt him when he was accused of not having the team's best interests in mind.
As a big name in any sport, you are going to get positive and negative feedback and opinions. He copped his negative feedback, he struggled with it a bit, but he has bounced back from it and proven he is a genuine star athlete.
He did that in the best way possible with not only a gold medal but with a fast performance under duress. That is a true sign of a world class athlete.
If he can get the right support around him and move past this little bump in the road, it will strengthen him for Paris.
Essentially, he won that gold medal in the semi-final. Nobody was going into that final thinking they could beat Kyle after he dropped that 47.3s semi. As far as 100 freestyle goes that race was over.
Everybody else in that final knew they were lining up for silver.
Kyle Chalmers with his gold medal. Picture: AFP Images
That was a strong message to send, and I think it shows he has evolved a lot as an athlete.
He wouldn't have been able to do that four years ago.
He is evolving as an athlete; he is becoming mentally stronger and now he is more prepared than ever for Paris.
He knows he can handle setbacks, have a tough week, and still perform on the biggest stage.
Whilst this week proved to be a very difficult experience for him given what has gone on, the public sentiment back here in Australia has been resoundingly positive and in his favour.
He might not realise it now, but the brighter spotlight I said Cody would bring to the sport has been thrust upon Kyle from day one and it has actually enhanced his reputation.
More people have seen Kyle for who he really is … and they love him for it.
Originally published as Commonwealth Games 2022: Every member of the Australian men's swimming team rated