Commonwealth Games 2022: Daniel Golubovic takes decathlon silver with incredible 1500m
In one of the most dramatic ever finishes to a Commonwealth Games decathlon, Daniel Golubovic almost snatched gold with one of the great 1500m runs.
Just four seconds has cost Australian decathlete Daniel Golubovic an unlikely gold medal.
In an extraordinary finish to the two-day event, Golubovic came from the clouds in the final event, the 1500m, to pass his teammate Cedric Dubler and come within a whisker of stealing the Commonwealth title off Grenada's Lindon Victor.
Queensland's Golubovic was in third position when he stepped onto the start line of the 1500m, trailing Victor by 165 points which was the equivalent to around 24 seconds.
The 28-year-old went straight to the front from the gun and kept getting further and further ahead. It was obvious from the first lap that he now had the silver medal as Dubler was struggling.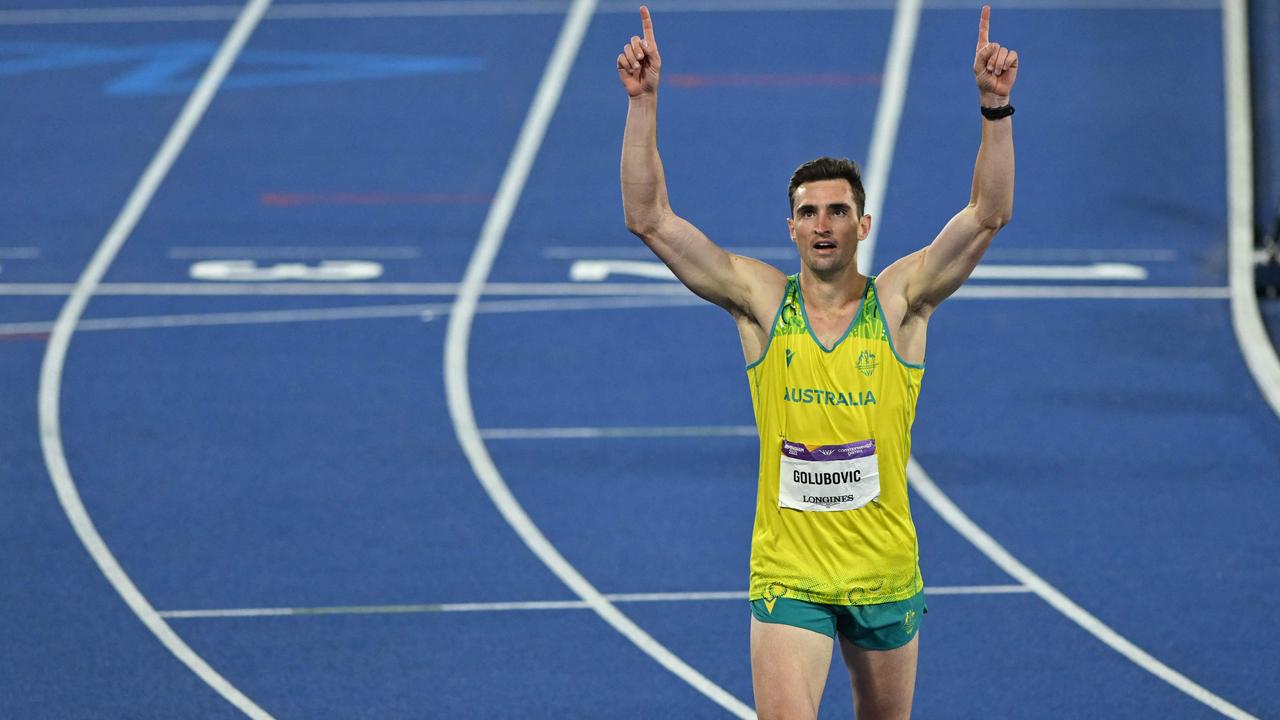 Daniel Golubovic after taking silver in the decathlon. Picture: Glyn Kirk / AFP
He then turned his attention to trying to snatch away the gold. In an inspired performance Golubovic stopped the clock at 4min30.95sec and then waited at the finish line to see what happened to Victor.
The Grenadian realised the danger and lifted over the final lap although he was almost out on his feet when he crossed the line in a time of 4:50.22sec - leaving himself just four seconds spare.
In the end Victor claimed his second Commonwealth decathlon title with 8233 points with Golubovic on 8197 and Dubler 8030.
Adding to Golubovic's heroics is the fact he competed at the world championships in Eugene, Oregon, less than two weeks ago.
"I had to dig for that," Golubovic said. "It is cold out here. Two decathlons in 12 days - I don't recommend it.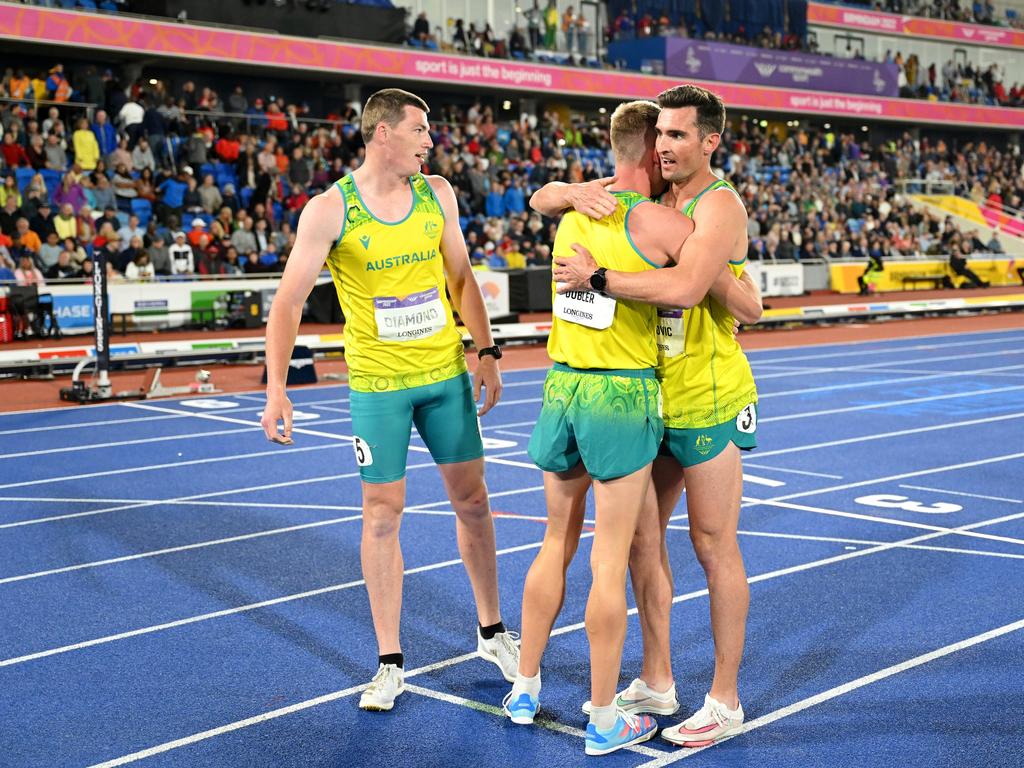 Alec Diamond with Daniel Golubovic and Cedric Dubler. Picture: David Ramos/Getty Images
"It's been an incredible experience, coming down and moving back to Australia and back to Brisbane during COVID, it's been a wild few years and it's been a long process to get here. It feels so good to be on this stage right now."
Golubovic finished strongly winning four events - shot put, discus, javelin throw and the 1500m - while Dubler was the complete opposite.
He had held a 39-point lead with two events remaining but had a horror javelin throw competition and then completely melted down in the 1500m, clocking 4:58.81sec.
It was a disappointing result for the man known as the Mr Nice Guy of athletics after his much-heralded act of sportsmanship at last year's Tokyo Olympics.
Dubler was lauded for screaming his support on the track to colleague Ash Moloney in the decathlon final event, the 1500m, to ensure his teammate won the bronze medal.
But with Moloney out of the Commonwealth Games because of a knee injury suffered mid event at last month's world championships the door was open for Dubler to win the first gold medal of his career.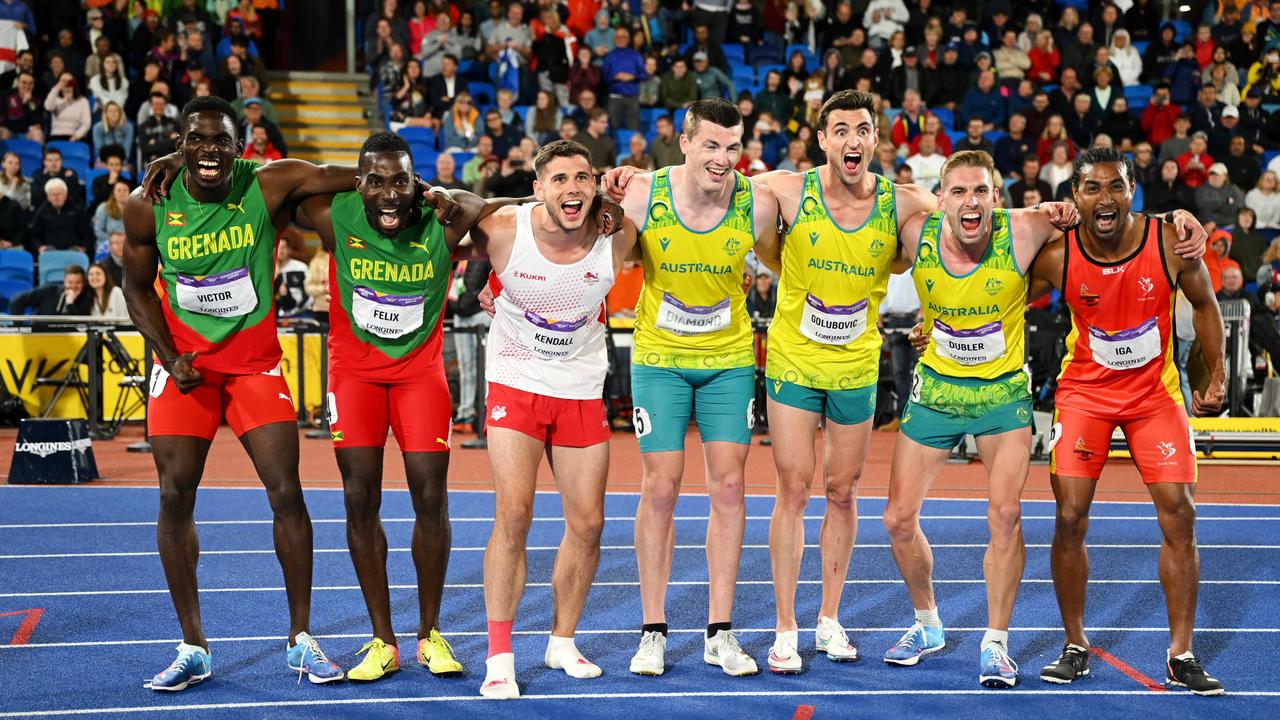 B Lindon Victor and Kurt Felix of Team Grenada, Harry Kendall of Team England, Alec Diamond, Daniel Golubovic and Cedric Dubler of Team Australia and Karo Iga of Team Papua New Guinea celebrate after the finish of the decathlon. Picture: David Ramos/Getty Images
Instead it was Golubovic who stepped up. He is a newcomer to the green and gold, having lived most of his life in the United States and only became eligible to represent Australia in 2020.
He then won the 2021 Oceania championship in Brisbane, taking the gold with 8336 points - a mark that placed him fourth on the Australian all-time list behind Moloney.
Australia's third representative, Alec Diamond, who was a late call-up after Moloney's withdrawal, finished fifth on 7689 points.
SOLOMON SNAGS FINALS SPOT
Brave catch-me-if-you-can tactics from Steve Solomon has earned him a spot in the men's 400m final.
The Australian drew lane six in the first of three semi-finals and ran brilliantly over the first 300m to have a commanding lead at the top of the straight.
He started to fade over the final 40m but managed to hold on for fourth, clocking 46.30sec.
The first two in each semi-final plus the next two fastest advance to the final and luckily for the Australian, the next two semi-finals were significantly slower which meant he got through in the last qualifying spot in Sunday's final.
Solomon, a finalist at the 2012 London Olympics, has had an injury-interrupted season and he failed to get out of the heats at last month's world championships.
OLYSLAGERS WITHDRAWS WITH TORN CALF
Australia has suffered a major blow with Tokyo Olympic silver medallist Nicola Olyslagers out of the women's high-jump final.
Olyslagers injured her calf during Thursday's qualifying round and has decided to withdraw as a precautionary measure.
Australia was looking at an almost certain gold-silver double in the high-jump given we also have new world champion Eleanor Patterson in Saturday's final.
Olyslagers (nee McDermott) and Patterson were only required to make one jump over 1.81m in the qualifying round to book a spot in the final.
However, Olyslagers reported tightness afterwards with scans revealing a small tear of her calf.
"It's both disappointing and devastating not to be able to compete in the women's high jump final," Olyslagers said via a statement from Athletics Australia.
"What was thought to be a tight calf after my qualifying round turned out to be a torn muscle in my jumping leg.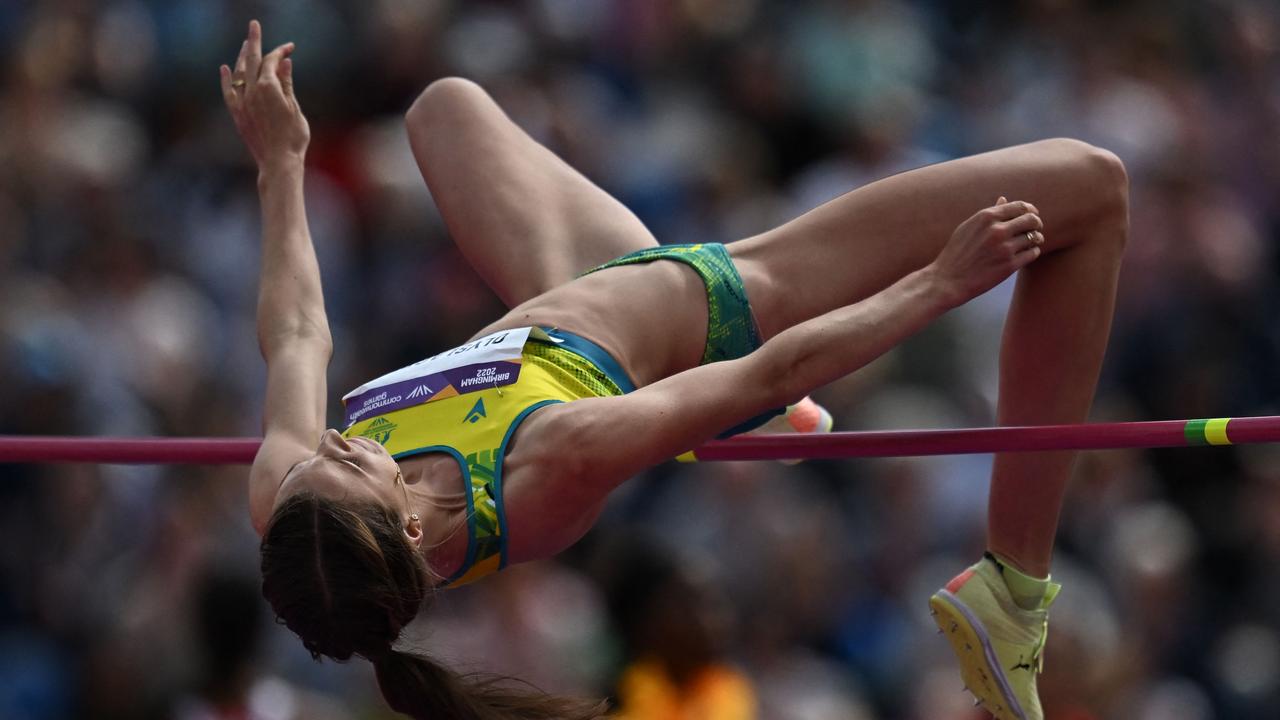 Australia's Nicola Olyslagers competes in the women's high jump qualifying rounds at Birmingham.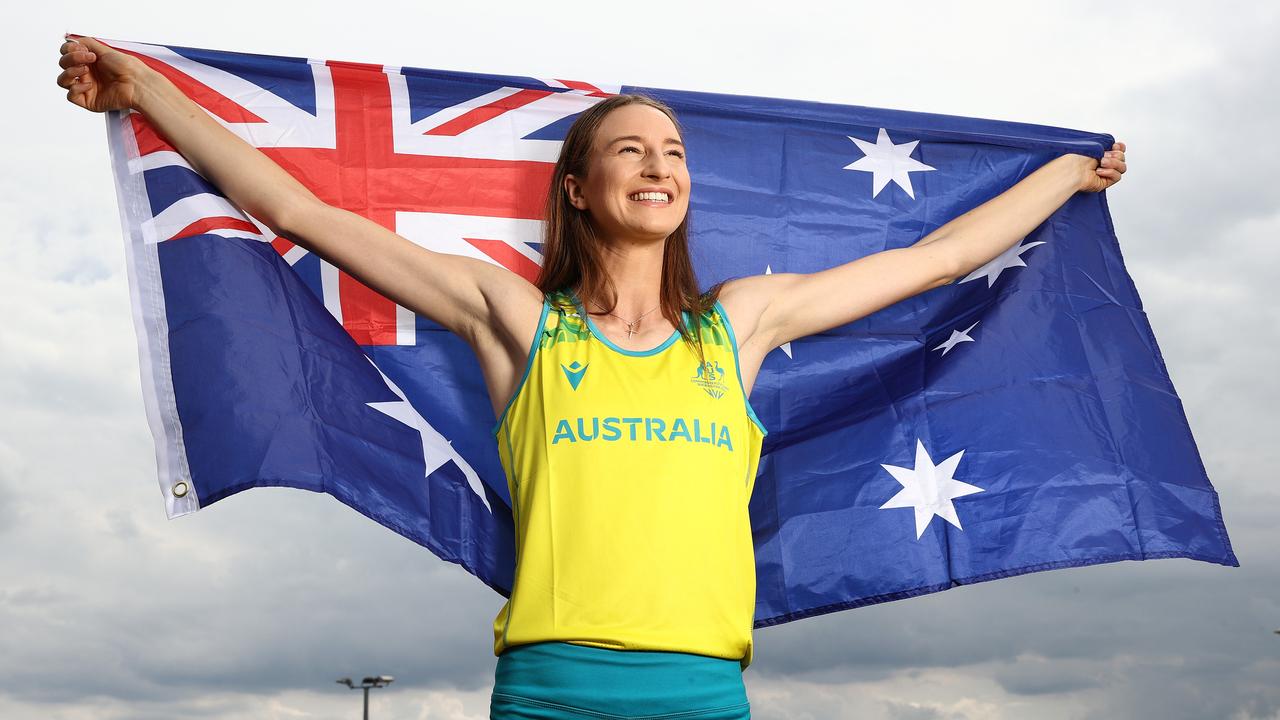 Nicola Olyslagers was considered a top medal hope after her performance in Tokyo. Picture: Michael Klein
"Of all the emotions and shock I could feel in the moment, I still have peace.
"Winning bronze at the Commonwealth Games four years ago allowed my professional career as a high jumper to begin, it was a competition that changed the trajectory of my life.
"My prayer is that someone else's dream comes alive tomorrow as I cheer them on from the sidelines. Let's go cheer Eleanor on as she jumps for Australia so well out there."
Patterson, who won the world title in Eugene last month, is chasing her second Commonwealth title after winning it as an 18-year-old in Glasgow in 2014.
Originally published as Commonwealth Games 2022: Daniel Golubovic takes decathlon silver with incredible 1500m