Commonwealth Games 2022: Lisa Alexander previews Australia v England netball semi-final
A do-or-die semi final against greatest rivals England calls for Australia to roll the dice and take a chance on an injured star who could be the difference, even for a quarter.
Australia just needs to settle down. Now is not the time to throw the toys out of the cot.
Teams have won tournaments despite having a loss. It is possible, as it is for the Diamonds, but I think the Australian netball audience needs to realise the top four teams in the world are all deadset even.
Any team can still win this. And it was only a two-goal loss to Jamaica. We can recover, we can turn it around against England in the semi-final on Saturday.
It is going to be mentally and physically demanding to match England and the passionate crowd that supports them.
The Diamonds need to set themselves for the game of their life knowing this game will be much tougher than the last.
The stakes are much higher, it is win or finish third or fourth.
Their opponent is undefeated for a reason.
Now is not the time for negativity.
Australia has been through tough times before and we can climb up and still win the gold medal, but it's going to take a mighty effort.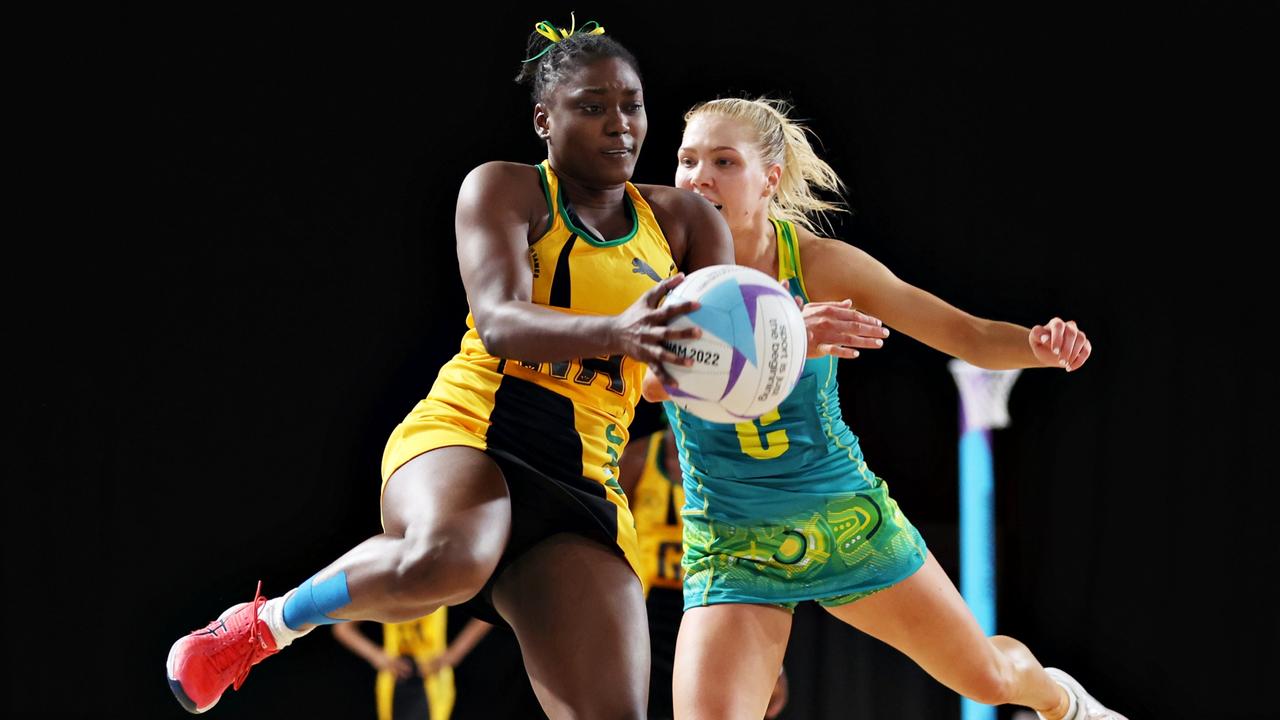 Adean Thomas of Team Jamaica (L) wins the ball ahead of Kate Moloney of Team Australia.
STARTING LINE UP
I thought against Jamaica we were too predictable in the starting seven. The Jamaicans knew who we were going to put out so the Diamonds didn't do their reverse scouting well enough, they also may have been forced into that structure due to the number of injuries and niggles they are carrying, although Stacey Marinkovich says this is not the case.
In fact, the Jamaicans were brilliantly coached all game.
Connie Francis did a wonderful job.
Stacey Marinkovich and her team need to get it right today, let's hope they have learned the lessons of the defeat.
My starting seven would be Gretel Bueta at GS, Steph Wood at GA, Liz Watson at WA, Paige Hadley at C (providing she can play if not Ash Brazill at C) Brazill at WD, Jo Weston GD and Courtney Bruce at GK (if Brazill in C then Weston WD, Bruce GD and Sarah Klau GK).
Notice there are some ifs and buts, however, Australia needs a change up and to not to go in with the same level of predictability.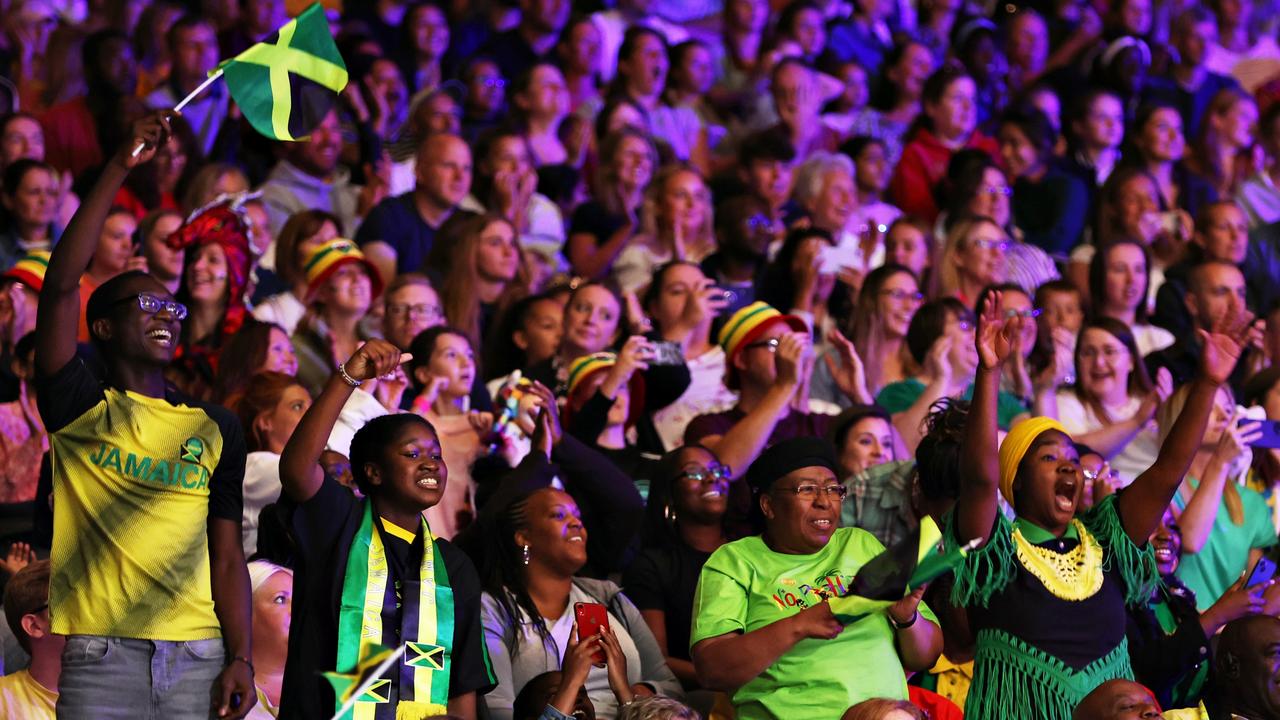 Jamaican fans revel in their victory over Australia.
England will be the toughest of opponents, you can call it redemption against them for 2018, however, that would ignore that this game is going to be like a prize fight for supremacy in the world order of netball.
England are tough, mean and have a great shooter in Ellie Cardwell who is leading by shooting magnificently, she will need to be stopped but that will be mightily difficult because she has so many tricks up her sleeve; let alone the defence end of Geva Mentor, Layla Guscoth and Stacey Francis-Bayman with cameos from Laura Malcolm and Imogen Allison.
NO REGRETS
Stacey has got to roll the dice with her changes.
Be proactive, Australia were far too reactive against Jamaica.
If you look back at Bueta's goaling stats in the fourth quarter, she was very well covered by Shamera Sterling and this forced her shooting partner Wood into some uncomfortable shooting positions.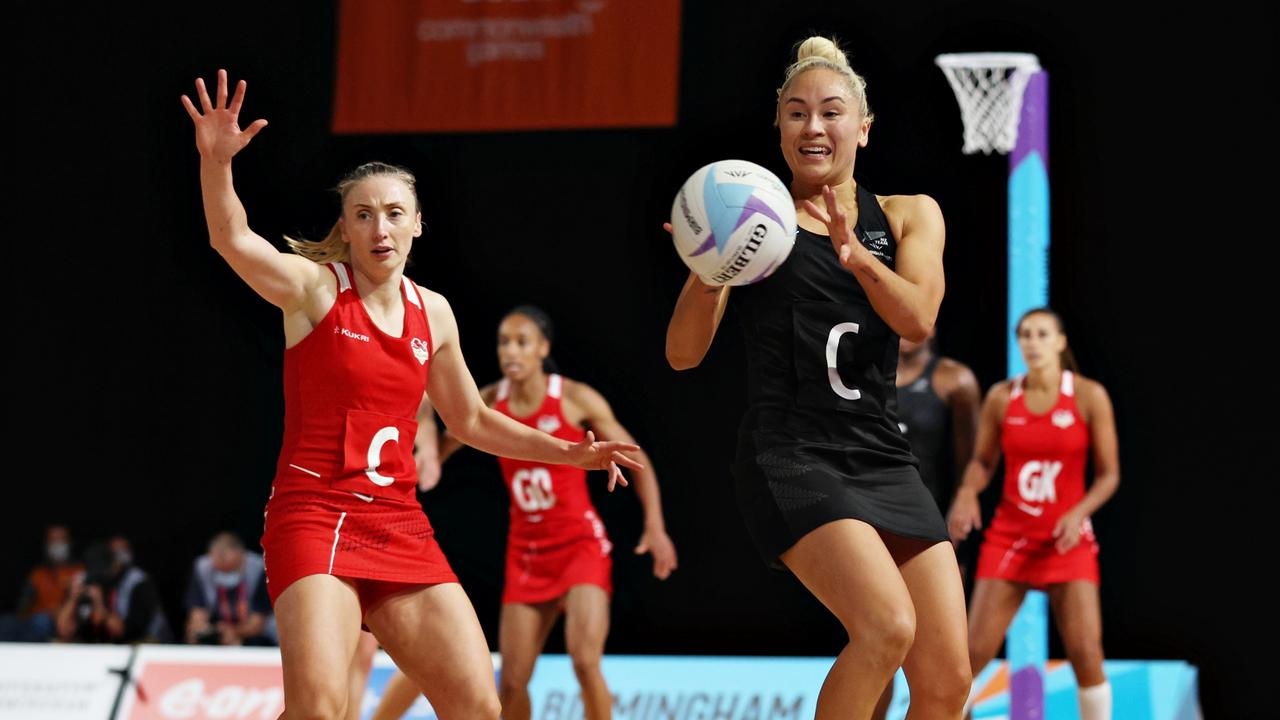 Jade Clarke of Team England (L) and Whitney Souness of Team New Zealand.
At the last Commonwealth Games Sterling was immature and threw a "tantrum" when Caitlin Bassett got on top of her in that match.
Now she's mature, super skilful and the best goalkeeper in the world.
Australia needed to change it up. Bueta is unpredictable but leaving her against Sterling allowed her to be smothered and proved to be less effective for the team – especially as
Bueta is not as experienced at the international level as a shooter.
Bueta has really grown as an athlete and as a person so she will bounce back for this next game. Of that I am certain. She loves the contest.
She might be our best player, but we need to be prepared to move her out of the circle if it's not working. Give her a chance to make an impact elsewhere on the court.
Steph Wood and Cara Koenen have a partnership, don't be afraid to use it. Kiera Austin also provides calmness and silky moves when needed in or out of the circle.
PROACTIVE MOVES
I think they need to have a change up at wing defence. I think Ash Brazill is terrific in the wing defence bib, however, against certain opponents she becomes less effective.
I'd maybe push Brazill into centre for a bit, to provide more drive and cuts into attack. You also need to keep the opposition guessing.
I don't feel Australia are getting enough impact from the bench when they make changes, it's like they're going through the motions whereas the coaching staff need to send players out with a real impact plan in their minds. Take the first intercept on the next centre pass mentality and the like.
If Paige Hadley is available and can play after her calf injury, even for a quarter, that
injection of something different into the attack might help because Liz Watson did a lot of the attacking load against Jamaica and she can't be the main feeder all the time. It must be balanced to keep the opposition guessing.
They will also need to get off to a superior start and silence the crowd.
If Australia simply do what they did against Jamaica, it won't be enough. They must be better, stronger and smarter, and contend with a crowd of 8000 cheering against them.
Originally published as Commonwealth Games 2022: Lisa Alexander previews Australia v England netball semi-final