Every Australian swimmer rated from Commonwealth Games 2022
After dominating the pool in Birmingham, Australia's swimmers will be out to emulate their success at Paris. Which stars are primed for Olympic glory? See our full swim team ratings.
Australia's female swimmers were front and centre of one of the most dominate displays in Commonwealth Games history, lighting up the pool with world records and gold medals.
Emma McKeon became the greatest winner in Games history after collecting eight medals in Birmingham, while Ariarne Titmus backed up her heroics in Tokyo.
But it was the emergence of a teenage phenom who stole the show from her more fancied teammates.
We rate every Australian swimmer from the Commonwealth Games. See how we rated our stars and have your say.
AUSSIE GIANT SLAYER'S INSANE DOUBLE SCALP
Mollie O'Callaghan, the big-name slayer in the pool, collected yet another Olympic star's scalp in her final individual swim at the Commonwealth Games on Thursday.
This time O'Callaghan muscled in on Australia's double Olympic champion backstroke guru Kaylee McKeown who had been in form having won the Games 100m-200m double here.
O'Callaghan, the 18-year-old Queenslander, stormed home in the 50m backstroke final just finishing 11 hundredths behind the Commonwealth record holder Kylie Masse, of Canada, but out-touching the more fancied McKeown by 11 hundredths of a second.
This silver medal in the one lap dash was a bonus for O'Callaghan, who had her pick of events having qualified at the national titles across the board in all three backstroke events, but choosing only to race the 50m distance.
Instead her focus was on the freestyle, where she shocked the more credentialed Emma McKeon and her training partner Shayna Jack to win the 100m freestyle on Wednesday.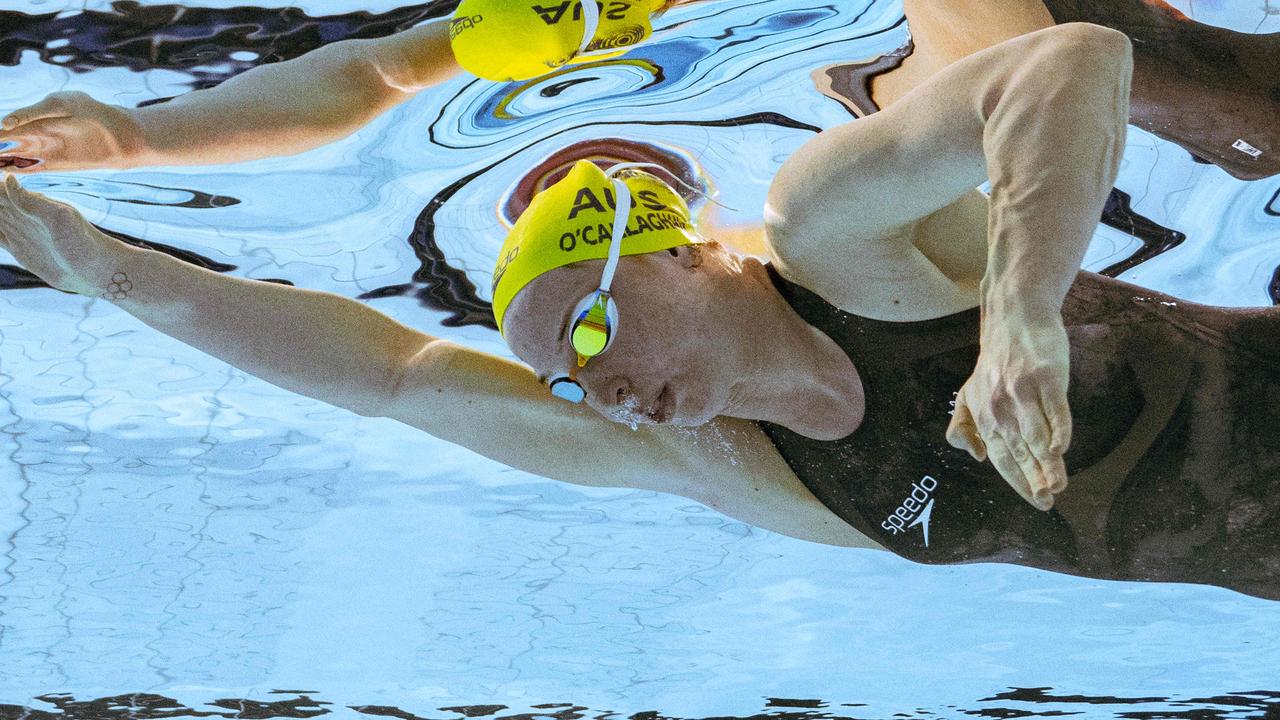 Mollie O'Callaghan has starred in the pool at the Commonwealth Games in Birmingham. Picture: AFP
In the 50m backstroke O'Callaghan burst off the start wall and was ahead halfway down the pool, but she was slowly gathered in by Masse, 26, the current world champion. But it was so close. Masse had to break her own Commonwealth record, clocking 27.31s to beat the two Australians.
Bronte Job, 19, finished sixth in 27.85s.
Such is her precocious talent O'Callaghan will have a quandary as to which events to focus upon for the Paris 2024 Olympic Games.
But for Australian team relay success, O'Callaghan's versatility will give selectors various options to experiment.
Mollie O'Callaghan shows off her gold medal after winning the 100m freestyle. Picture: Michael Klein
At these Games she has managed to scare the Olympic champion Ariane Titmus, finishing a finger nail length behind her in the 200m freestyle, beaten the headline acts of McKeon, Jack and McKeown and will take home five gold and two silver medals.
She was a member of the world record breaking gold medal winning 4x200m relay team, and also won gold in the 4x100m mixed freestyle relay, the 4x100m women's freestyle relay and 4x100m women's medley relay.
Originally published as Every Australian swimmer rated from Commonwealth Games 2022