Commonwealth Games 2022: Olli Hoare becomes first middle distance winner since Herb Elliott
Olli Hoare grew up with his pop Fred timing every race with a trusty stopwatch. This is the special tribute the new star of Australian athletics had for one of the men who helped inspire him to history in the 1500m.
Olli Hoare ran a personal best time in winning the Commonwealth Games 1500m title, but it's not official. It hasn't been ticked off by his grandfather.
Fred Hoare was Olli's biggest fan and the reason he got into running. He was a life member of the Sutherland District Athletic Club in Sydney and his calling card was his antique stopwatch.
"He always had the same stopwatch, it was about 100 years old and he wouldn't trust the timer, he would only go off the stopwatch," Hoare explains. "All my PBs were on his stopwatch."
Sadly, his greatest 1500m time isn't on that stopwatch as Fred, a sergeant in World War II, passed away aged 96 a week ago.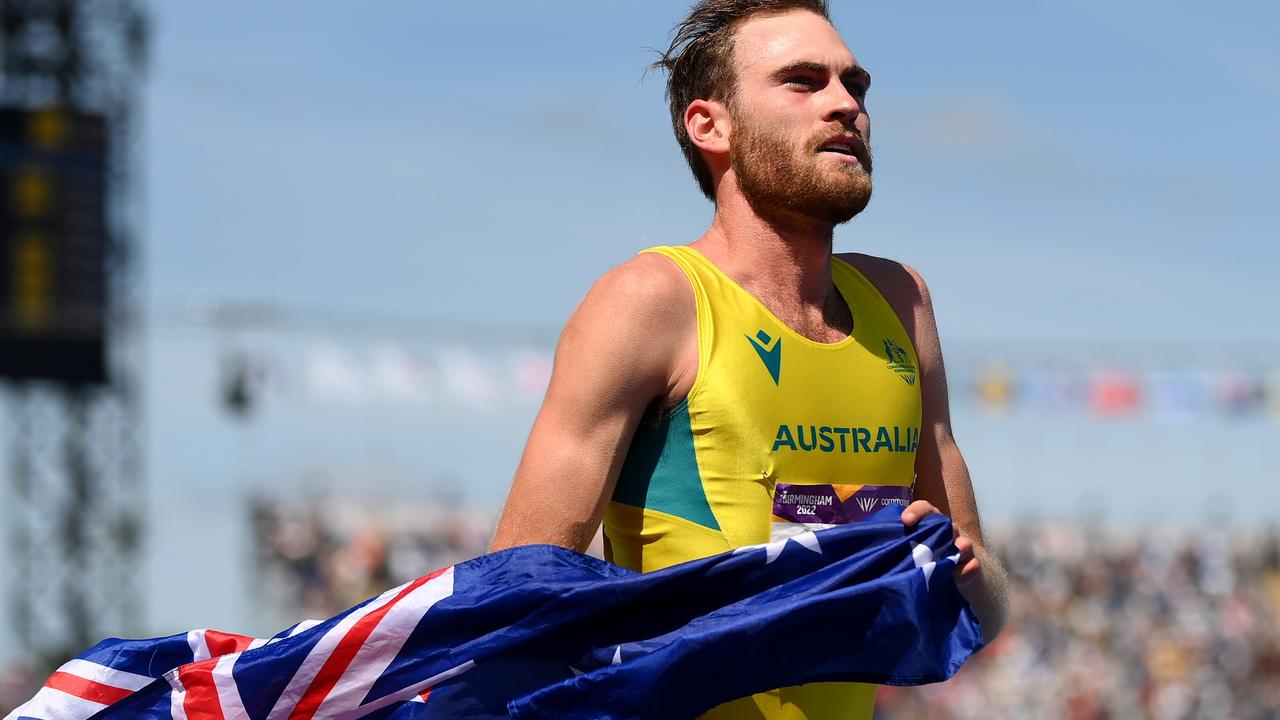 Oliver Hoare celebrates after winning the gold medal in the men's 1500m final. Picture: David Ramos/Getty Images
"He is up there having a glass of red wine laughing his arse off," Hoare said. "He would be saying, 'I knew you could do it mate, but I unfortunately wasn't around to see it'. He was a great lover of the sport, a lover of Herb Elliott, (Steve) Moneghetti, (Rob) de Castella, he was the reason my Dad loves the sport, the reason why I love the sport."
The funeral was two days before Hoare ran the race of his life in Birmingham, which is why his family, including his athletics-mad father Greg, a former world beach running champion, didn't make the trip. "I'm sure my Mum made my Dad deaf and my Dad is probably calling everyone he knows," Hoare said.
"My brother is very excited because I think he made a pretty good gamble on Sportsbet, so it's happy days for the family.
"They are hoping to make it to Budapest (2023 world championships) or go to Paris (Olympics). I told them to save their pennies because we are just getting started."
It was only after Fred's urging that young Olli got involved with athletics after initially heading down the swimming route.
"My Mum thought swimming was the way to go as most Australians do," he said.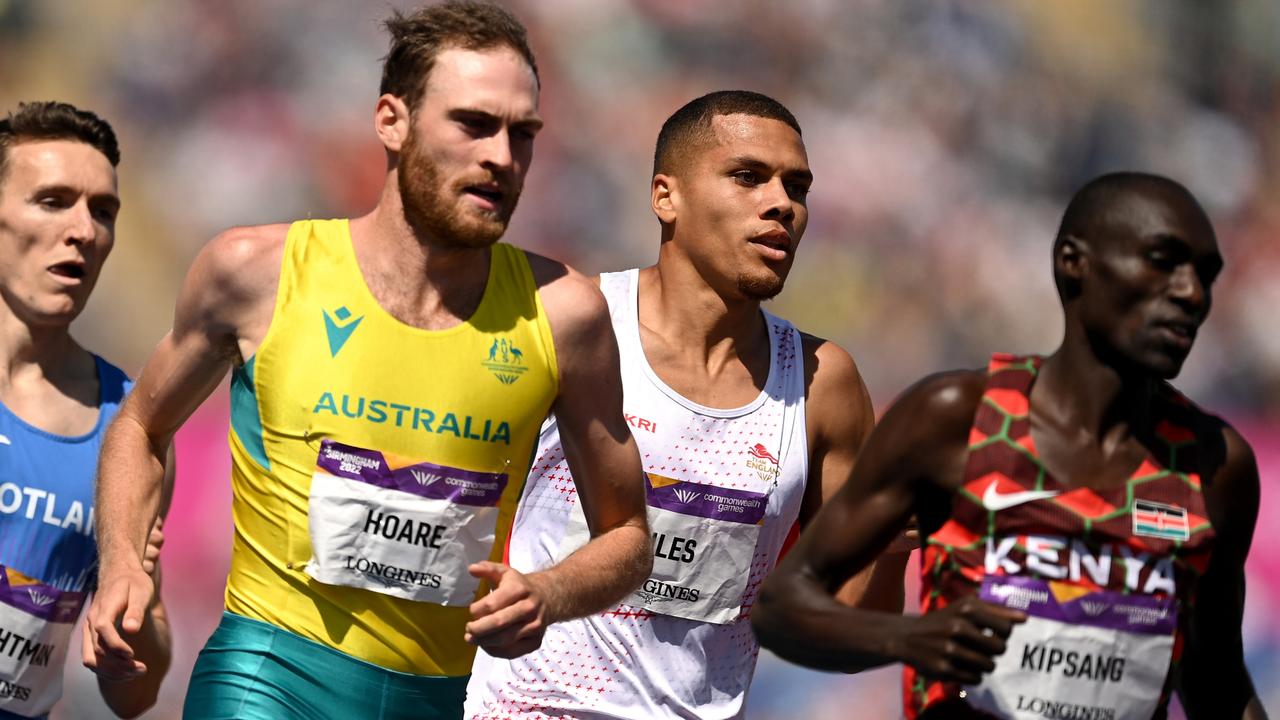 Hoare has joined rarefied company by winning the 1500m. The last to do so was Herb Elliott. Picture: David Ramos/Getty Images
"Then I found out I was better on the track and was fortunate enough to keep going on it. My grandfather didn't run because after the war his knees were a bit bung, but he ran with my Dad a lot. He trained me when I was young. I did a lot of 2k beach runs with the North Cronulla Surf Life Saving club, that was my first Australian title along with surf swimming.
"My Dad still tries to keep up (on runs) but then it's about a minute or two in and he's like 'Mate, just go'."
It was at high school where his running career took off, although it wasn't without issues that forced him to change schools.
"I got bullied for being a skinny boy that runs," he said. "I wasn't a rugby league player or anything like that, so I got it a bit tough especially in the area I was in, but then I was fortunate enough to go to Trinity Grammar." A scholarship put him under the guidance of the school's athletics coach, Olympic triple jumper Andrew Murphy, who is the coach of Australia's fastest man Rohan Browning, who went to the same school.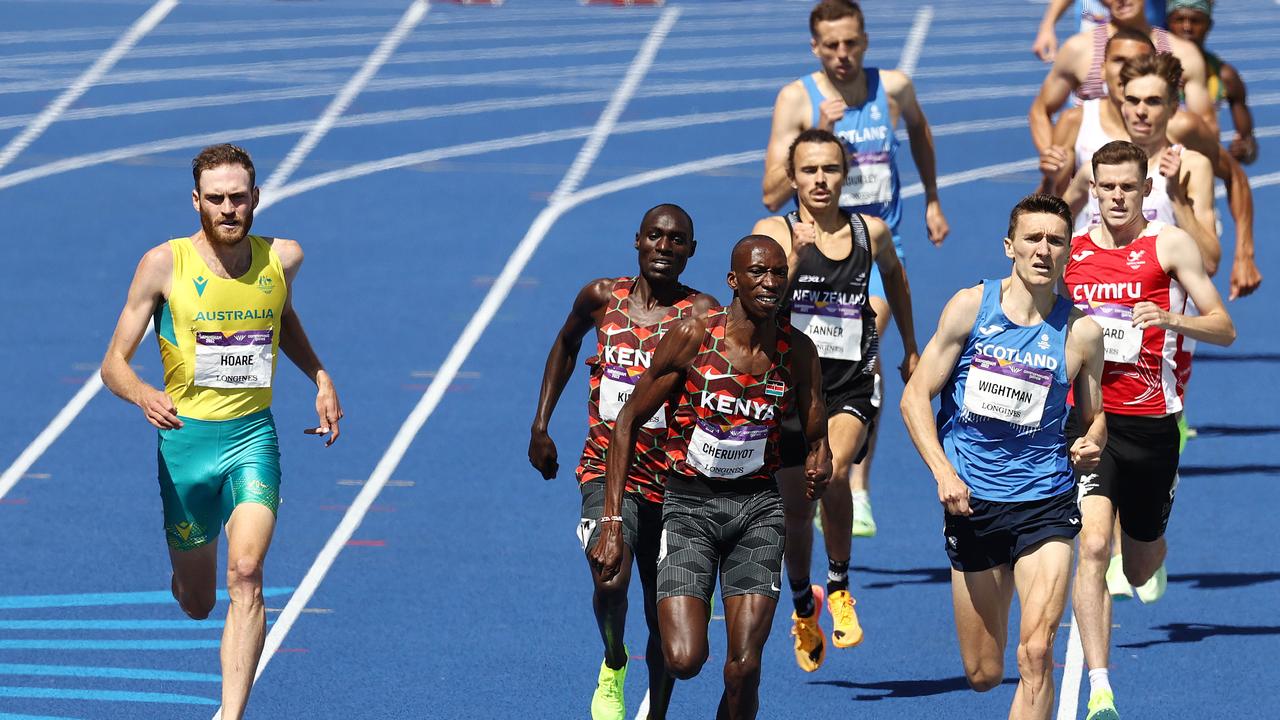 Hoare begins to surge down the home straight. Picture: Michael Klein
At 17, he won the 2015 Australian under-20 cross-country and got to know another handy runner, Morgan McDonald, who went to the neighbouring school. McDonald was a year older and he blazed the trail to the US, where he became a four-time NCAA champion. Hoare followed him to the University of Wisconsin.
In 2018 he replicated his friend's achievement by winning the NCAA 1500m title and in 2019 dramatically reduced his personal bests across the board.
After graduating with a degree in economics in 2020, Hoare decided to stay in the US, moving to Colorado to the newly formed On Athletics Club formed by three-time Olympian Dathan Ritzenhein.
He didn't come on to the radar of Australia teams until the lead-in to the Tokyo Olympics. "I had never made an Australian team until Tokyo (in 2021), I was pretty unknown being in the States — not unknown but not a representative in Australia," he said. People soon knew who he was when he made the Olympic 1500m final alongside Australian record holder Stewart McSweyn.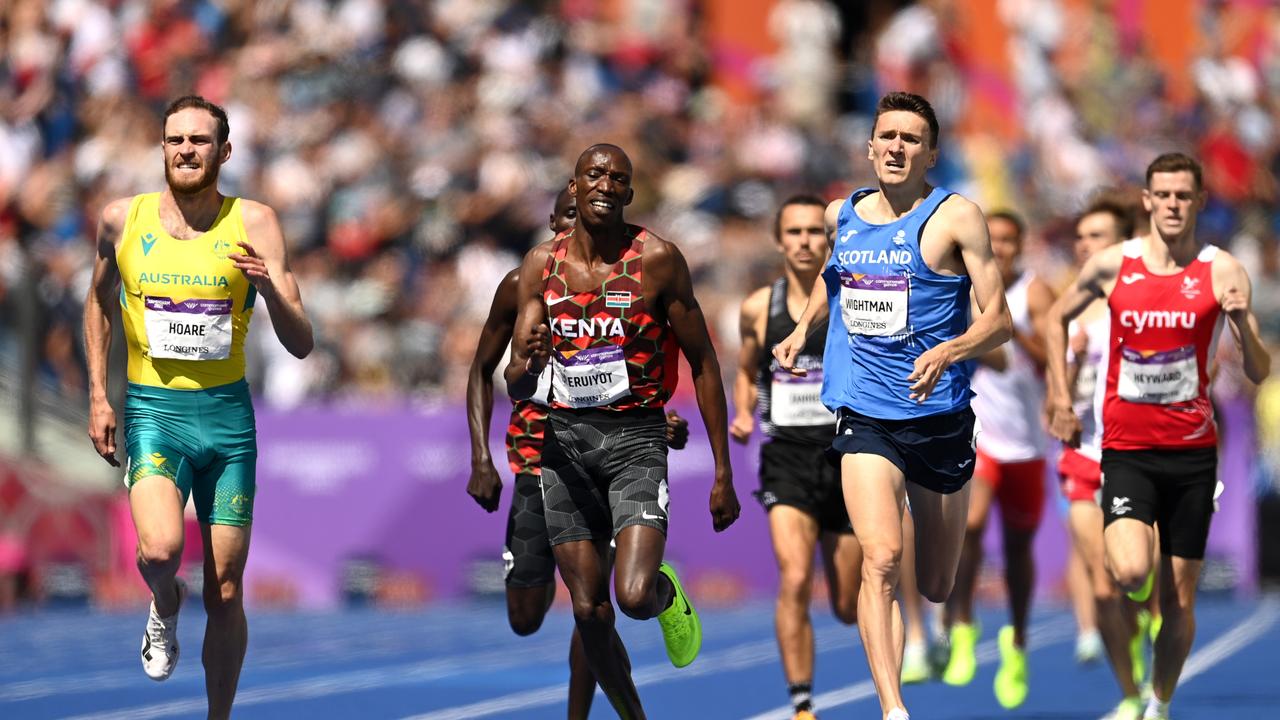 Hoare with the look of determination has the finish line in sight. Picture: David Ramos/Getty Images
And they certainly were aware of him in June this year when he pushed Norway's Olympic champion Jacob Ingebrigtsen, finishing second in Oslo's Dream Mile and breaking the Australian record. That's why Hoare was bullish about his chances at last month's world championships in Eugene, Oregon. However, he melted down in the semi-final, running what he later described as his "worst race for years". He left with his tail between his legs, saying he'd mentally cooked himself in the race. Sadly, his greatest fan died a week later, with Hoare deciding to dedicate his Commonwealth Games campaign to his grandfather.
The result was one of the greatest races ever seen at a Commonwealth Games with the Australian lunging on the line to defeat the past two world champions and claim a gold medal, which put him on a pedestal next to Herb Elliott. Only Hoare, 25, and Elliott have won the middle-distance race at the Commonwealth Games. (Elliott won the mile at the 1958 Games in Cardiff).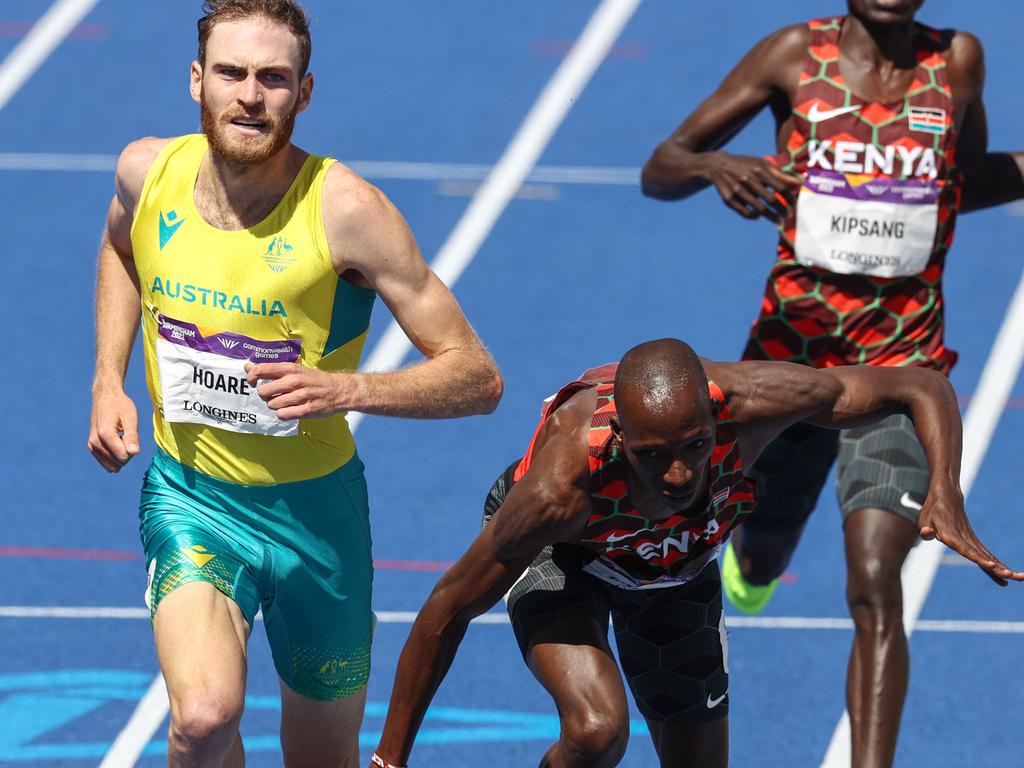 Timothy Cheruiyot of Kenya stumbles as Hoare crosses the line first. Picture: Michael Klein
"I've heard all about him (Elliott), my Dad won't shut up about him. You look up to them and you'd love to meet them. Steve Cram and Seb Coe, you look around and they're my heroes, they're my Michael Jordan."
He then added with a smile: "Herb, I'd love to meet you for a beer if you're around."
HOW HOARE PULLED OFF HIS MIRACLE
WITH a lap to go Olli Hoare started to panic.
Until then he'd been happy with the fast pace of the Commonwealth Games 1500m final, with Kenyan pair Abel Kipsang and 2019 world champion Timothy Cheruiyot pushing it from the front.
The Australian had settled in fourth for most of the race, but when he saw new world champion Jake Wightman of Scotland cruise up on his outside he started to worry. "It was a matter of pulling the kick at the right time," Hoare explains. "I went through on the inside with a lap to go and I saw Jake next to me and started to panic because he's the world champion.
"You can hear the Scottish roar in the stadium, so I tried to hold my composure."
Wightman had made a surge around the outside and by the time the field was entering the straight, Hoare had to make a crucial decision. "I made sure I covered my spot on the bend, to not let anyone else pass me," he said.
Hoare screams with delight after his win. Picture: Michael Klein
That allowed him to make what will go down as the greatest race move of his career, because as soon as he eased out into lane three the Australian knew he was going to win the gold medal.
"When I got out to lane three it was all about holding form and just running like bloody hell," Hoare explained.
"When I made the move to lane three, I could tell I had him (Cheruiyot) because he can't gauge where anyone else is.
"You're in a very vulnerable position, even if you're of the calibre that he is, and I saw he was starting to lock up. I had more juice in the tank and I wanted it."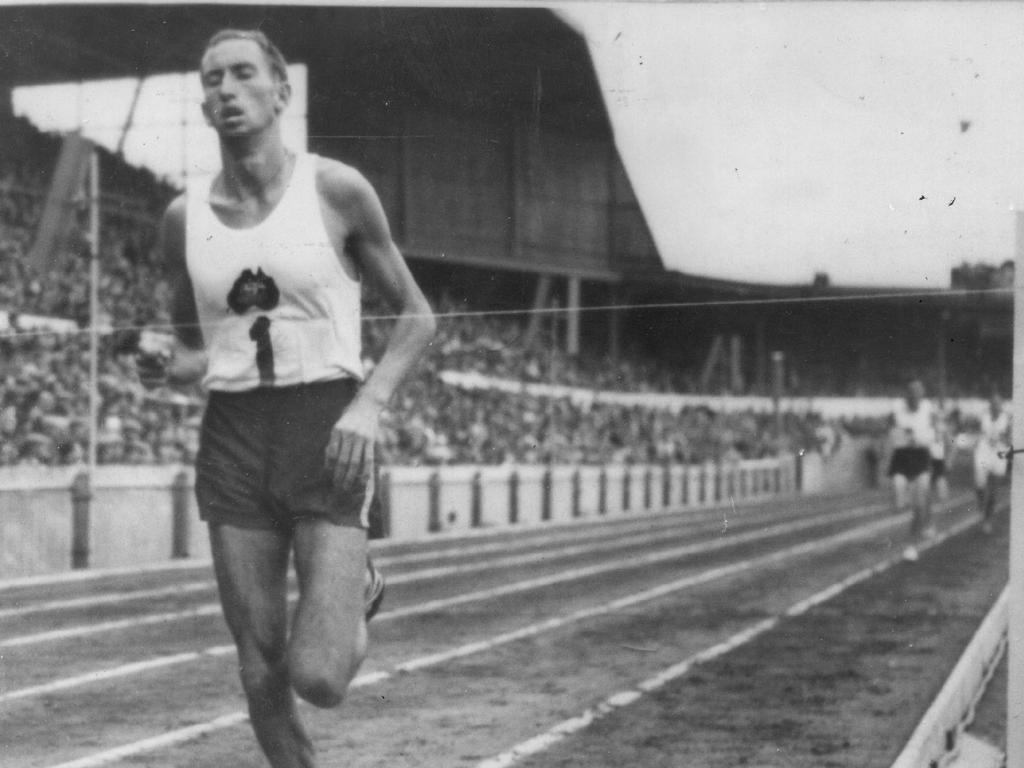 Herb Elliott wins the mile event in Cardiff.
Cheruiyot could sense someone looming large, but Hoare had played it smart, stayed a lane away so the Kenyan couldn't react and over the last five metres he began staggering.
By this stage the Australian was motoring and he breasted the line in a Commonwealth Games record time of 3min30.12sec to defeat Cheruiyot (3min30.21), with Wightman third (3:30.53sec).
Hoare immediately slumped to the track with his hands on his head as the enormity of what he'd just achieved started to sink in — he'd become just the second Australian to win the historic middle-distance event at a Commonwealth Games, joining the great Herb Elliott.
Elliott won the mile at the 1958 Cardiff Games.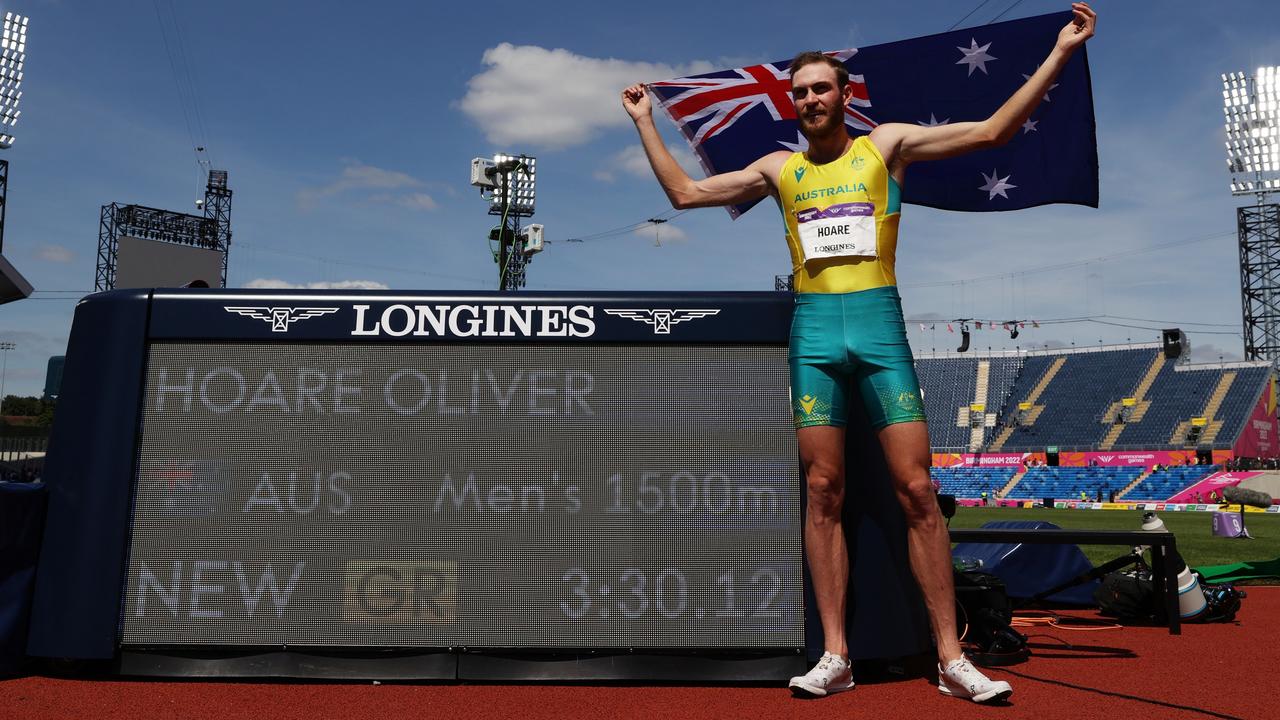 Hoare celebrates his new Games record time in the 1500m. Picture: Michael Steele/Getty Images
Adding to the significance of Hoare's performance was the calibre of the field. While some events at the Commonwealth Games might lack quality, the men's 1500m was stacked. This fact didn't go unnoticed by one of the greatest 1500m runners in history, World Athletics boss Seb Coe, who was trackside in Birmingham.
"It was a sensational run," Coe said. "The golden rule is to stay in contact (with the leaders) and then you are in a position to capitalise when things start to go wrong for others He stayed calm over the last lap and he absolutely capitalised." Given that just two weeks earlier he'd blown up in the world championships semi-final in Eugene and run what he would later describe as his worst race in years, the turnaround was as incredible as the race he'd just run.
"For me to be able to have a low like that at a major championship and come back here and win it, shows me that I'm not just about one race as an athlete," he said.
Hoare, hopes his achievement opens the doors for young kids back home in Australia.
"That's what I want to portray, believe in yourself, back yourself," he said.
NANA'S BRACELET SAVED FOR SPECIAL VICTORY
By Jacquelin Magnay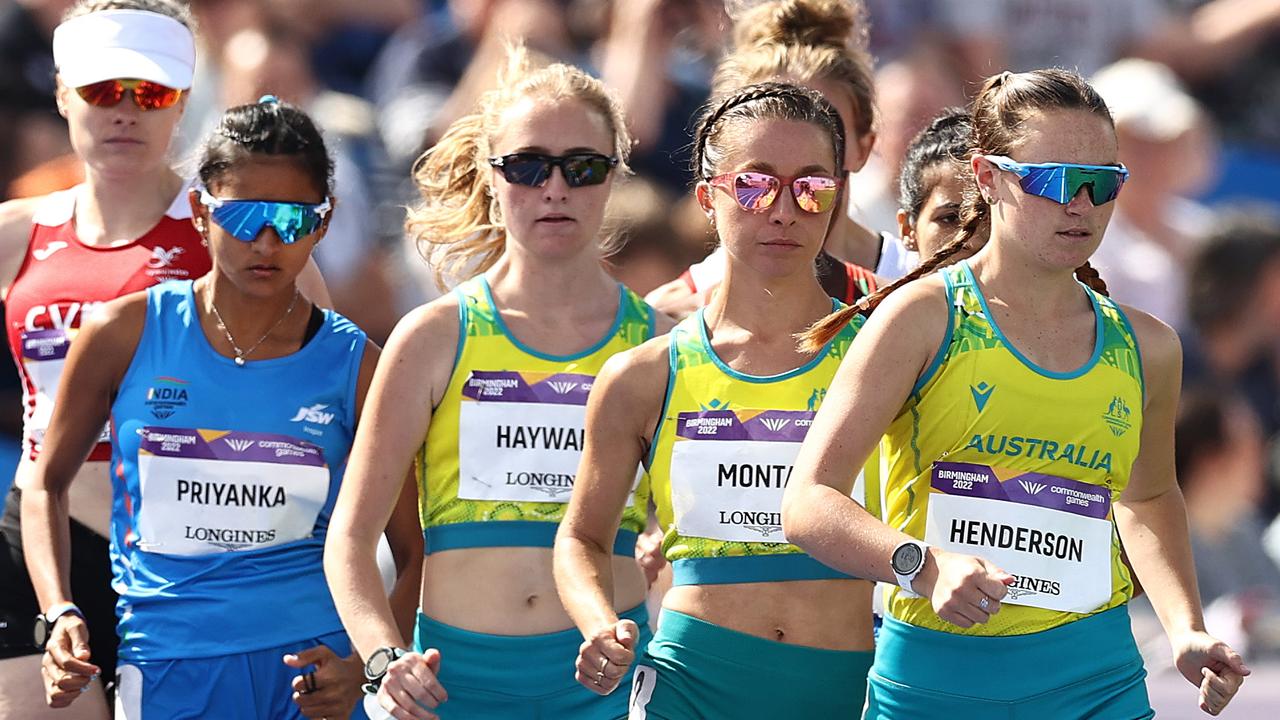 Jemima Montag sits between teammates Rebecca Henderson and Katie Hayward early in the race. Picture by Michael Klein
Australia's premier race walker Jemima Montag has successfully defended her Commonwealth Games title, winning the Birmingham edition with a superb record breaking time of 42min34.30 and she crossed the line and kissed her bracelet.
Montage was streets ahead of the Indian champion Priyanka and Emily Wamusyi Ngii from Kenya who won the minor medals. Other Australians walkers, Rebecca Henderson was fourth and Katie Hayward was seventh.
Whenever the going gets tough for Montag, a 24 year old from Brighton, Victoria she glances down at her wrist. For her bracelet is an extra special charm from her beloved late grandmother, Judith a holocaust survivor from Auschwitz.
Montag's nana died just before the Tokyo Olympic Games and it is only since her death that the family has uncovered the traumatic holocaust experience.
Her nana's special gold necklace was gifted to Montag and she and her two sisters decided to make bracelets for each other as important keepsakes.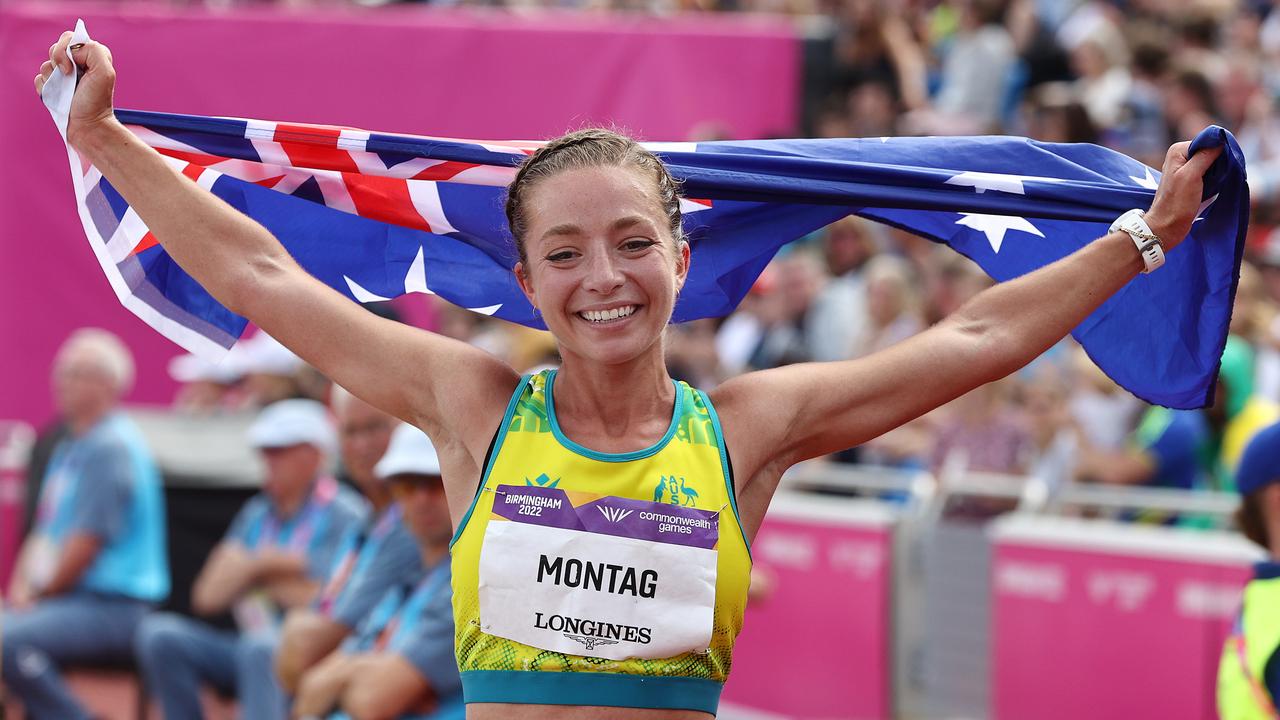 Jemima Montag celebrates victory. Picture by Michael Klein
Montag's sunny nature is born of that resilience. She finished fourth at the recent world championships and in defending her victory on Saturday backing up her win at the Gold Coast 2018 Games, she even improved her best time by several seconds and set a new Games record.
"Similar to last Commonwealth Games, I was pulled along by the crowd, it was amazing,'' she said.
" I wanted to enjoy that opportunity and enjoy the crowds, you don't often hear 20,000 people, so I was enjoying it.
"It is a different beast on the track, it is an added challenge going ten seconds faster per kilometre."
Montag said the judges had warned her "not to absolutely burst off at the start" as it draws their attention.
"They wonder if you are breaking the rules,'' she said, explaining a conservative start for the first couple of laps.
Originally published as Commonwealth Games 2022: Olli Hoare becomes first middle distance winner since Herb Elliott