Commonwealth Games 2022: Rising boxing star Tina Rahimi fights her way into medal bout
She broke barriers just by making the Australian team and now Muslim boxer Tina Rahimi will come home with a bronze medal at the very least.
Australian boxing pioneer Tina Rahimi has made a spectacular debut at the Commonwealth Games, pummelling English featherweight Sameenah Toussaint to guarantee herself a medal.
The first female Muslim boxer to represent Australia at the Commonwealth Games, Rahini stormed into the semi-finals in devastating fashion after a unanimous decision over the local favourite.
"She is a terrific fighter and I knew what I was up against. I'm a bit overwhelmed as this has all come so fast. It was a bit of a scrappy fight but I am very excited to be in the semis," Rahimi said
"I am 100 per cent confident I can go all the way to the final and win."
Tina Rahimi on her way to victory over Sameenah Toussaint. Picture: Robert Cianflone/Getty Images
A former makeup artist from Sydney who started in the fight game just four years ago, Rahini prays five times a day and wears a hijab in all her bouts and says she wants her performances in the ring to motivate other Australian Muslim girls to pursue their sporting dreams.
"I hope I can prove to everyone that you can come from any background of any religion or colour and do whatever it takes in sport," she said.
"I really hope I can be an inspiration to others."
Guaranteed at least a bronze medal after winning her quarter-final, Rahini's next opponent on Sunday morning is Nigeria's Elizabeth Oshoba.
Rahini is one of three Aussie female boxers through to the semi-finals in Birmingham, joining middleweight Kaye Scott and lightweight Caitlin Parker.
Australia also have two men though after heavyweight Edgardo Coumi joined middleweight Callum Peters in the last four of his weight division.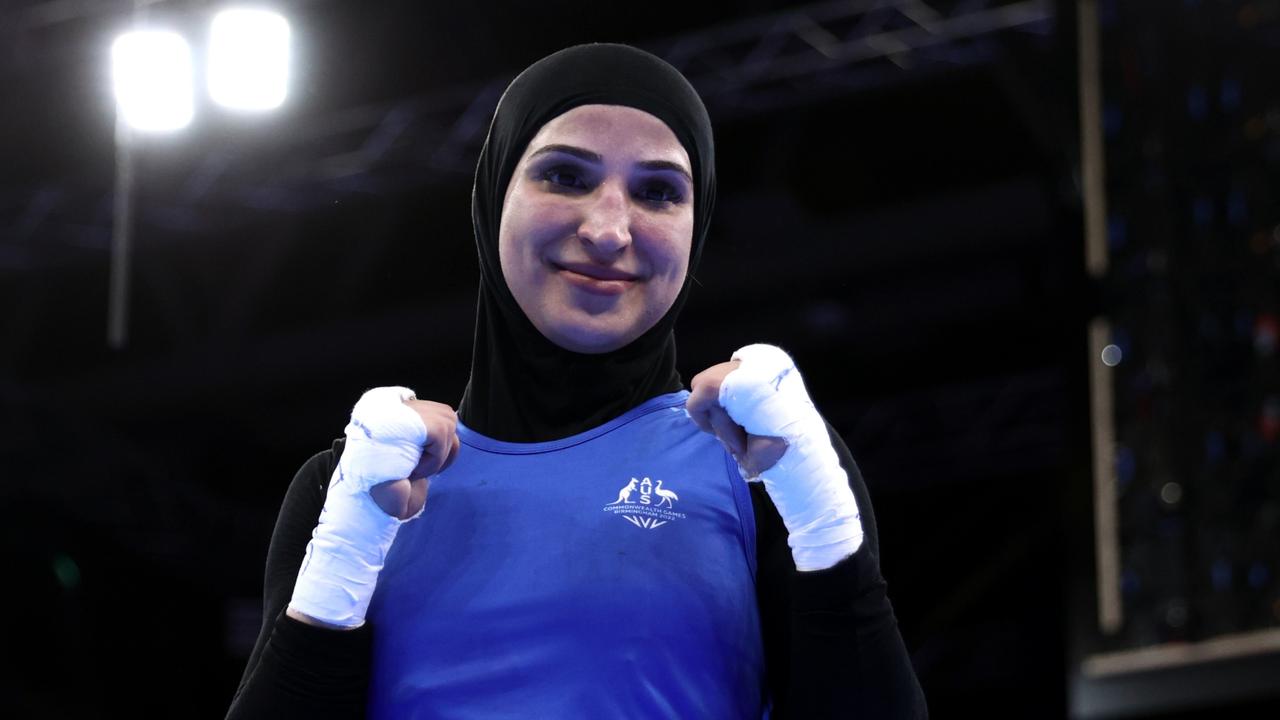 Rahimi celebrates after her victory. Picture: Robert Cianflone/Getty Images
Coumi almost went through without throwing a punch when his quarter-final opponent, Anguila's Japheth Olton, turned up with a red mouth guard, which is against the rules.
The officials agreed to let him fight anyway but Olton didn't make it past the second round after being belted by the clinical Coumi.
Kaye Frances Scott celebrates her win over Zainab Keita of Sierra Leone. Picture: Eddie Keogh/Getty Images
"I just wanted to use my boxing ability, use my jab, I didn't want to get into a rough fight," Coumi said.
"I saw his big shots coming, was rolling under them, I felt good and fast. I'm just getting started.
"I'm here to fight. I have a medal now but I want gold. I came here for the big job." Coumi next meets England's Lewis Williams.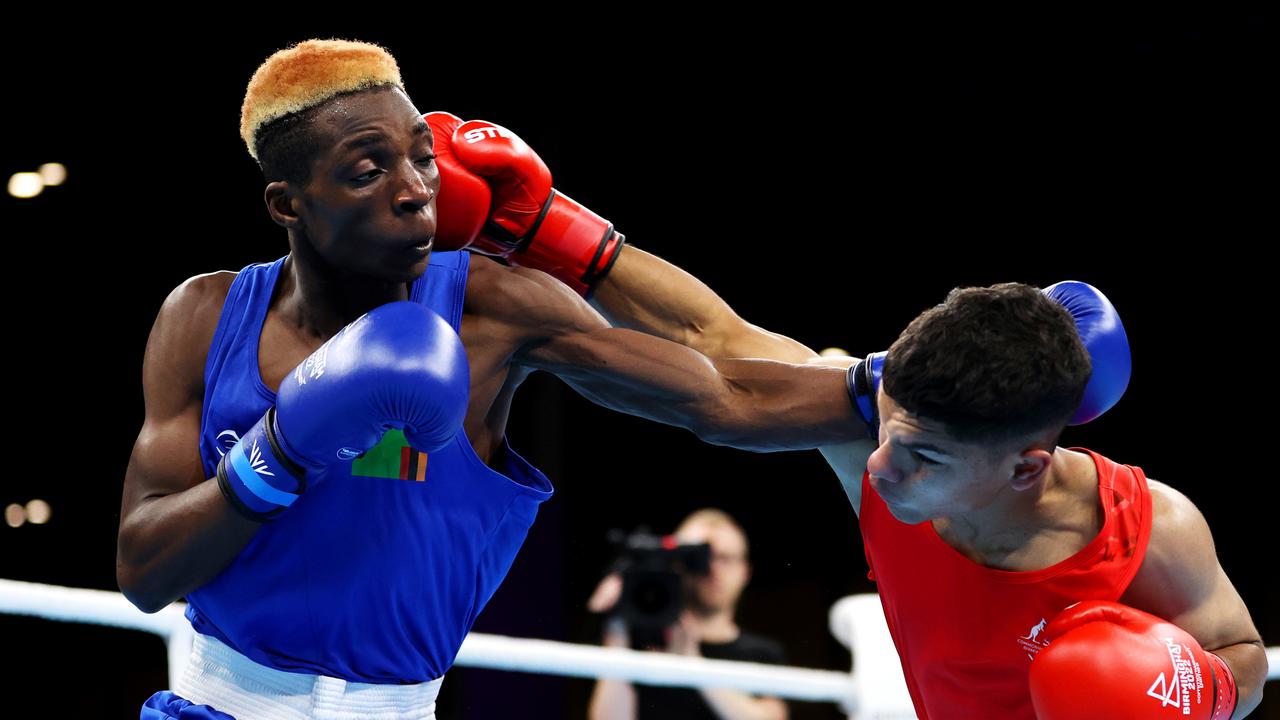 Zambia's Patrick Chinyemba and Alex Winwood exchange punches. Picture: Robert Cianflone/Getty Images
Australia's Alex Winwood was distraught after his bout with Zambia's Patrick Chinyemba was immediately waved off when he was knocked down in the second round and not given a standing count, believing he could have continued.
"I feel like I've been robbed a little bit of an opportunity to prove myself," Winwood said.
"I felt like I was fine, the call was a bit quick. I went down and just felt like it was the chance to show them what I'm made of, that I can come back from adversity.
"It's a tough sport but she (the referee) made up her mind and the referees are there to protect us. It is what it is."
Australian boxers through to Commonwealth Games semi-finals
Women's middleweight
Kaye Scott (Australia) v Alcinda Panguana (Mozambique)
Men's middleweight
Callum Peters (Australia) v Simnikwe Bongco (South Africa)
Men's heavyweight
Edgardo Coumi (Australia) v Lewis Hamilton (England)
Women's featherweight
Tina Rahini (Australia) v Elizabeth Oshoba (Nigeria)
Women's lightweight
Caitlin Parker (Australia) v Tammara Thibeault (Canada)
Originally published as Commonwealth Games 2022: Rising boxing star Tina Rahimi fights her way into medal bout