Commonwealth Games 2022: Ariarne Titmus on Cody Simpson, Emma McKeon love triangle
Australia's swim team have wrapped up their Comm Games duties and now we're starting to hear more about how the love triangle really impacted the squad.
Australian swimming superstar Ariarne Titmus has opened up on how the 'love triangle' had impacted the Australian team's performance at the Commonwealth Games.
Despite leaving every other nation in their wake scooping up 65 medals – 25 of which were gold – the additional focus had been a distraction.
Fresh from her four-gold-haul, Titmus shed light on what had been happening behind the scenes.
"We all certainly hear about it and it's affecting our teammates so it affects us emotionally," she said on The Project.
"But I think we try to block it out. We're such a close unit and we want to have each other's backs and I think we did that this week.
"We want everyone to be happy and not going through those things so it did affect us but we certainly got through it."
With the swimming part of the Games now over it is finally time to relax after a gruelling nine weeks on the road, concluding with a packed program at the Games.
For Titmus it's three weeks out of the pool and time to travel around Europe.
"My best friend Ellie is meeting me in London this week which I'm excited for. I hardly get to see her but we are about a month away, and we are London, Paris, French riviera, Rome, Barcelona, Majorca, very much looking forward to switching off.
"I haven't had a holiday in a long time, so it's going to be good. Not sure how much mischief the two of us are going to get up to."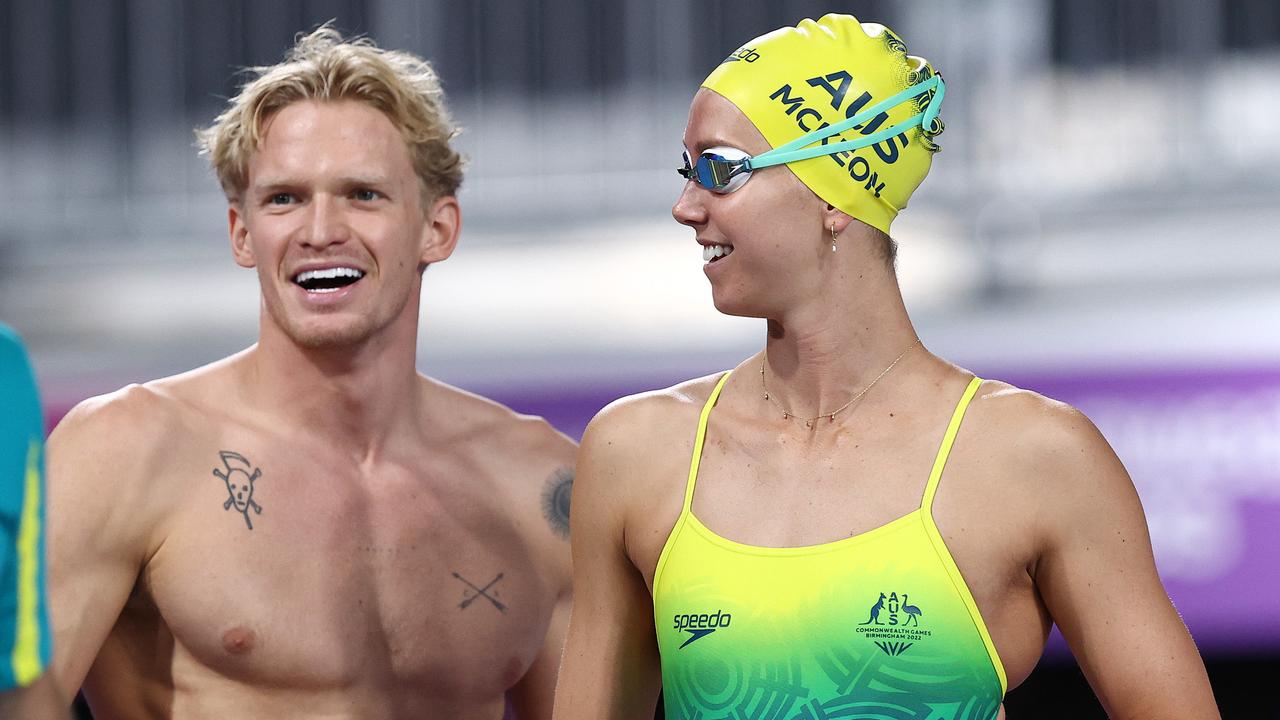 Cody Simpson and Emma McKeon. Picture: Michael Klein
CANCER SCARE 'SPEED HUMP' FOR AUSSIE STAR
Julian Linden and Eliza Barr
Just after the swimming world championships in June, doctors examined a skin cancer on Sam Short's lower back and decided it was "pretty bad".
At least that's the way Short himself describes it. But whatever the official medical term, the newly minted 1500m Commonwealth Games champion had to undergo surgery.
The timing wasn't ideal, given the fast-approaching Games, but the young swimmer treated it like he does everything else — just a speed hump on his way to success in the pool.
Skin cancer is a significant issue for swimmers because of the time they spend outdoors and in the water and Short said it had always been a consideration for him.
"I'm prone to it," he said. "I'm pale and I have a lot of moles."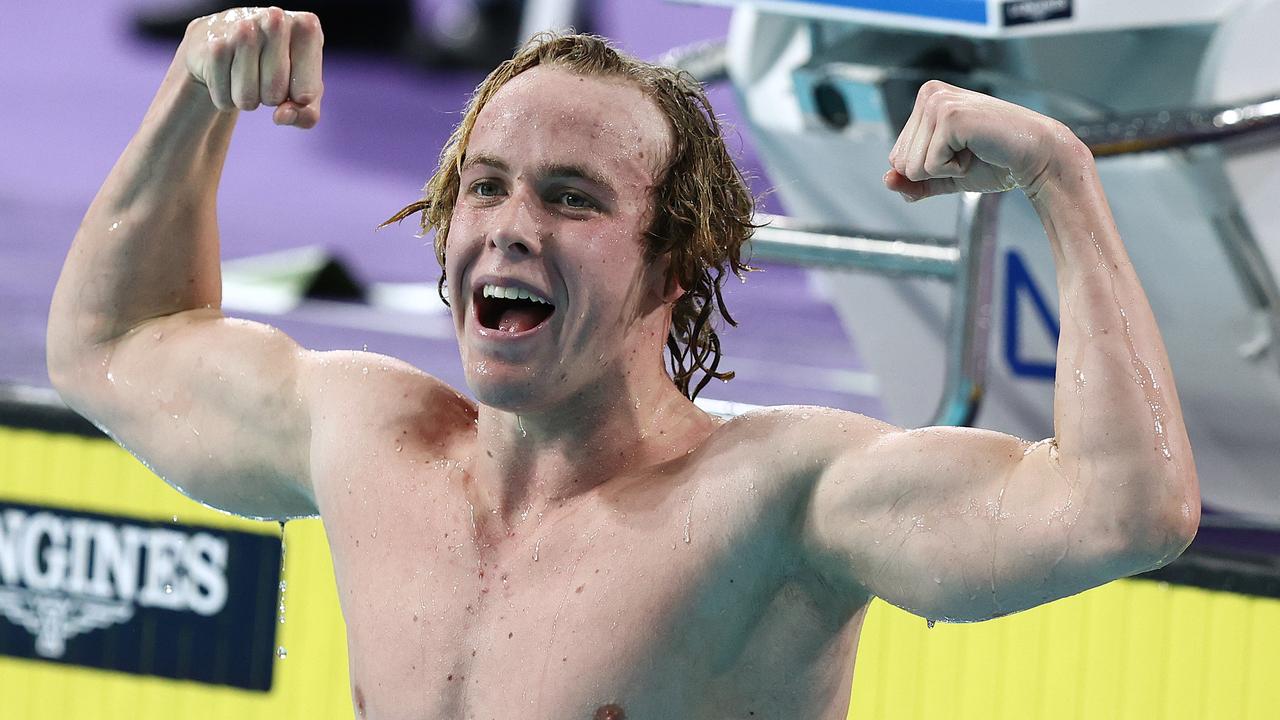 Sam Short had a pre-Games cancer scare. Picture: Michael Klein
But the 18-year-old is pragmatic when it comes to the treatment and the impact it would have on his training for the Games in Birmingham.
"I had 20 stitches in my back, so I couldn't do tumble turns for a while," Short said. "In my training I really had to trust the process."
The brush with cancer was just one setback in a tough year for the teenager.
His much-publicised miscounting of laps, which saw him stop 100m short in his 1500m swim at the Australian national trials in May, made him take stock of his career.
The mistake cost him five seconds and threatened his chances of swimming the event at the Commonwealth Games at all.
Luckily, his 800m time secured his spot on the team – and he made the most of the opportunity by snatching the 1500m gold and clinching a new personal best.
"That was a very big bump in the road, but it was a learning experience and that probably won't ever happen again," Short said. "I'm proud of myself for overcoming it."
But none of it was a match for Short, who triumphed in the pool over a valiant effort by Northern Irish Olympian Daniel Wiffen.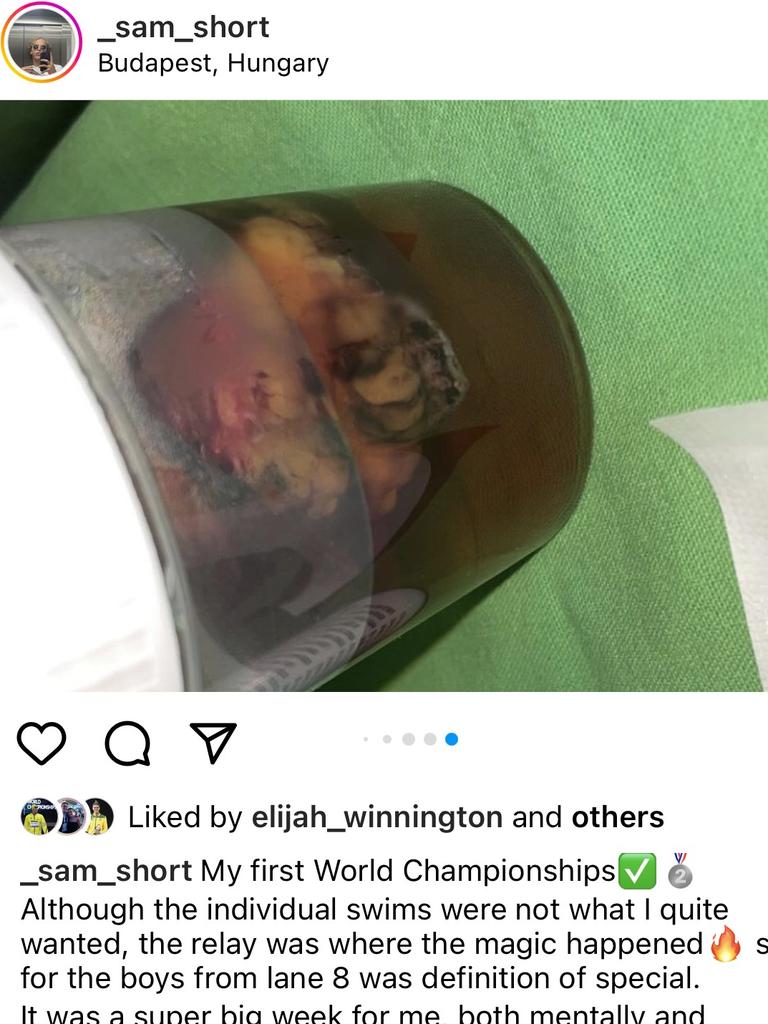 Image from Sam Short's Instagram page.
"It's amazing, I felt great in the water, I had an easy speed," Short reflected. "I knew if he was there I had the speed – I had a couple of plans depending on how the race panned out, and built a good lead in the last 400m."
With a new PB of 14:48.54, Short now has his eye on the 14-minute mark – and the standard set by his long-distance heroes Grant Hackett, Mack Horton and Kieran Perkins.
"I've watched all of their races and quickest times, I've studied them," Short said. "Every time I do 1500m I learn more about the race – it's almost addictive."
Mentally, Short feels prepared for the next challenge in the pool, but physically he wants to get back to work after a holiday in Europe.
"Mentally I'm good, physically it's working on skills," Short said. "I'm still a rookie when it comes to turning, and in long distance even the smallest margins add up."
After the tumult of the 2022 season, Short is convinced he has what it takes to compete with the world's best in Paris.
"I'm on a high right now and with more time I'll be more competitive," he said. "The more I race, and gain more experience, it's just a matter of time."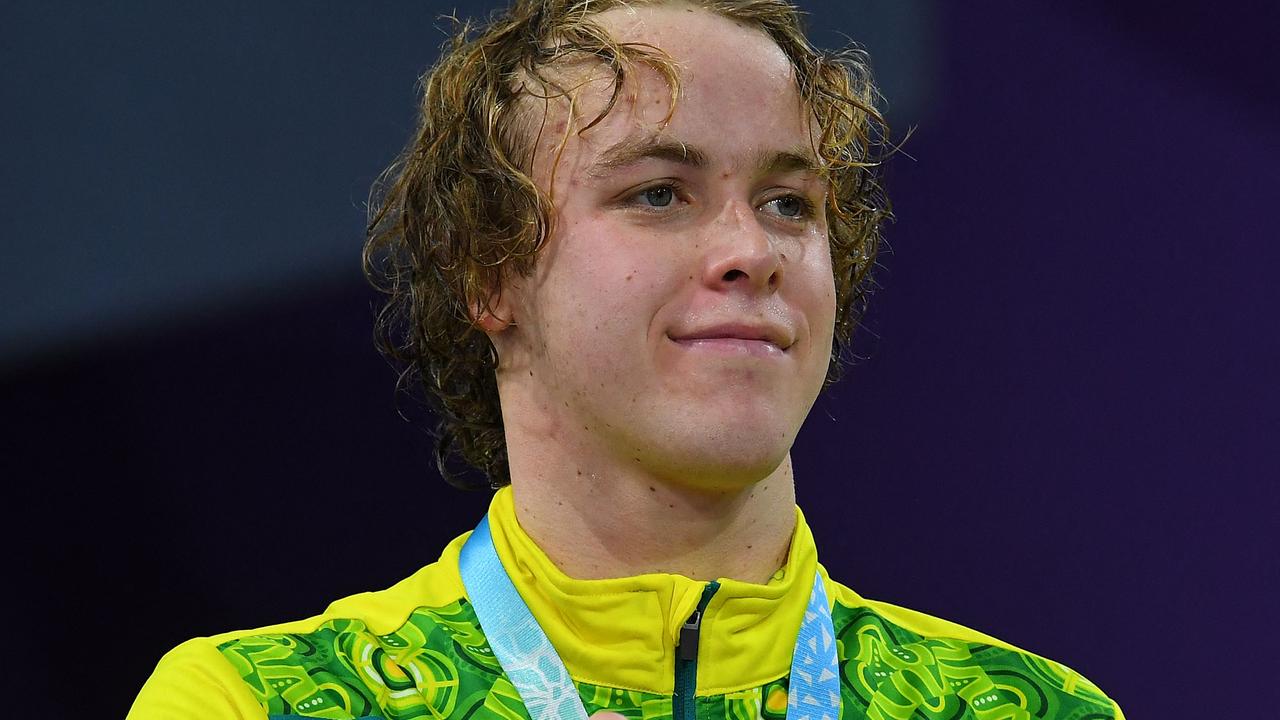 Sam Short during the medal presentation ceremony for the men's 1500m freestyle
SHORT MAKES LONG RACE HIS OWN
By Julian Linden
Sam Short blitzed the field to win gold in the 1500m metres freestyle at the Commonwealth Games on Thursday morning, surging up the rankings of Australia's all-time long-distance greats.
The 18-year-old Short turned the longest race in the pool into a procession after he regained the lead from Northern Ireland's Daniel Wiffen at the 900m mark, then surged clear to win in 14:48.54.
That slashed almost nine seconds off his previous best time – set at last year's Olympic trials when he was controversially left off the team for Tokyo – and moved him to fifth place on the Australian rankings, behind Grant Hackett, Mack Horton, Kieren Perkins and Jack McLoughlin.
"Amazing, it feels very good," Short said.
"It's what I've been training for, for a long time and then I finally put the race together properly and ticked the box.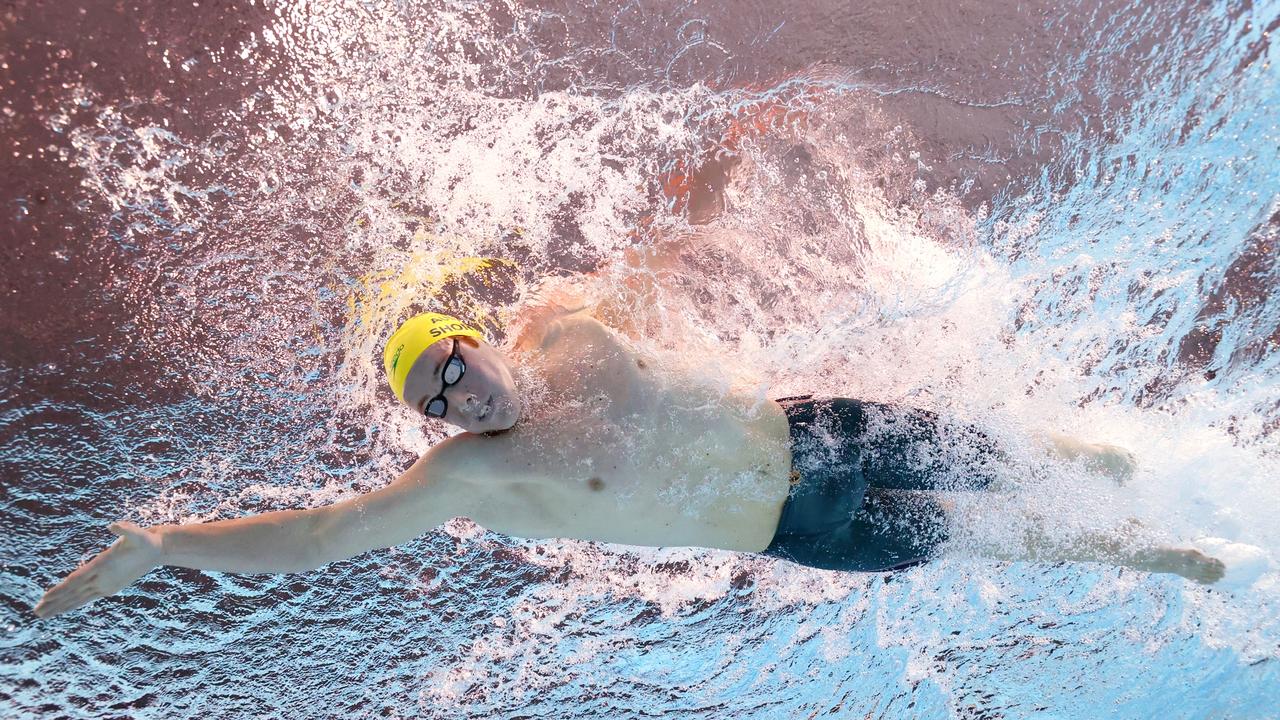 Sam Short says to get both a good time and gold is amazing. Picture: Dean Mouhtaropoulos/Getty Images
"I would have preferred a good time over the gold but to get both is amazing.
"When I was younger, I had a tendency to gas myself early and now I try to build the race and be smarter.
"I mean, it's tricky. I think the trick is count once and get it right. My race plan was like building the hundreds. Mentally I was focused. I had someone with me the whole time so I didn't have room to switch off and I just focused."
Wiffen held on to take the silver medal while the bronze went to England's Luke Turley and Australia's Kieren Pollard was fifth.
One of Australia's brightest prospects in freestyle distance swimming, Short also won a silver in the 400m behind his world champion teammate Elijah Winnington and ahead of Horton but said he preferred the new colour.
"It is better than the silverware I got earlier in the week," Short said.
"Hopefully it looks good on me. I tried to not just myself too early, and I got a personal best which worked.
"I have gone from barely competing out of Queensland to the big stage, and to come and win gold in my first national experience is a lot to handle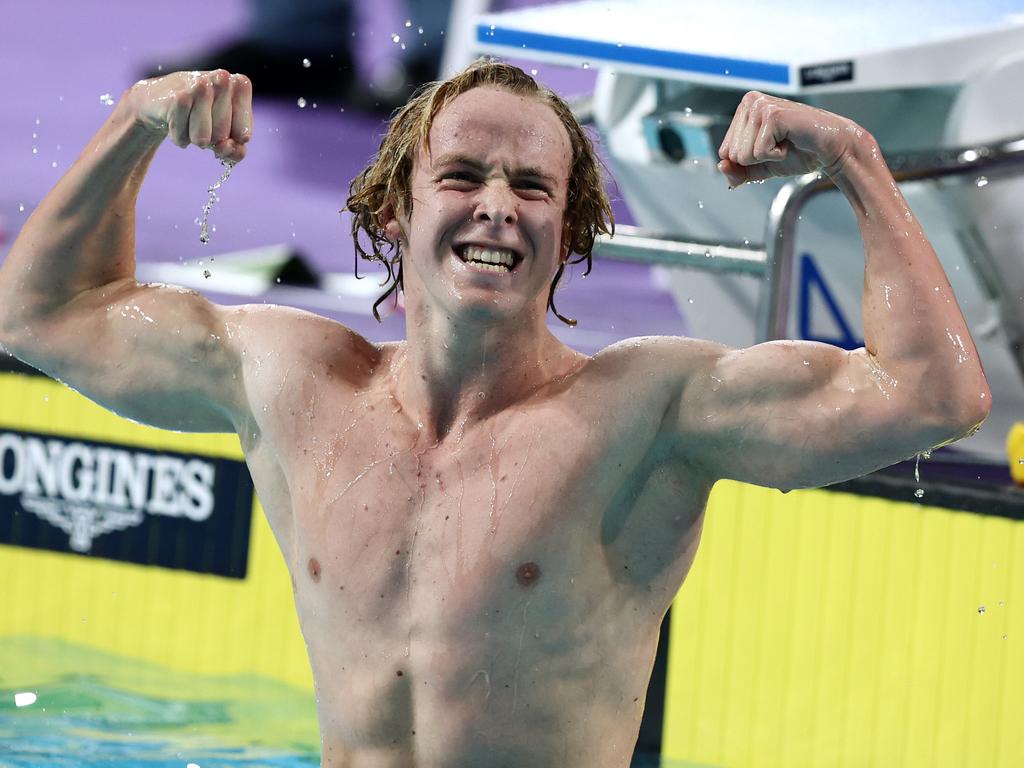 Sam Short celebrates winning the 1500m freestyle. Picture: Michael Klein
.
Short finished second behind McLoughlin at last year's Olympics well under the official qualifying time but under Swimming Australia's cruel rules in place at the time, he had to meet a much higher standard.
Shattered by his omission, he struggled to regain his motivation but eventually did and has been in scintillating form this year.
Swimming Australia has since changed its policy and now uses the official qualifying standards and Short has his sights set on the 2024 Paris Olympics, though he knows he'll have to go quicker to get on the podium.
"Well, obviously, to be competitive for the medal I need to swim sub 14.40," he said.
"I think the more you do the 1500m the better you get at it. It's all about experience and tactics and race plan. And I'm getting better with age with that."
The men's 1,500m is one of Australia's favourite races. At the Commonwealth Games, Aussies won the gold the first nine times it was held following the introduction of the metric system.
The streak ended suddenly two decades ago until McLoughlin broke the drought when he won at the Gold Coast four years ago but Short has now made it two in a row.
Ariarne Titmus has captured her fourth gold medal at the Commonwealth Games in Birmingham after successfully defending her 400m freestyle crown in a tight battle.
Racing against Canadian teenage sensation Summer McIntosh, Titmus got the win in 3:58.06, well outside the world record she set at the Australian trials in May.
Just 15, McIntosh took the silver, only about a body length behind, in 3:59.32, more than 10 seconds quicker than what Titmus, now 21, was swimming when she was 15.
Australia's Kiah Melverton won the bronze.
Titmus entered four events in Birmingham and won the lot — 200m freestyle, 400m freestyle, 800m freestyle and 4x200m freestyle.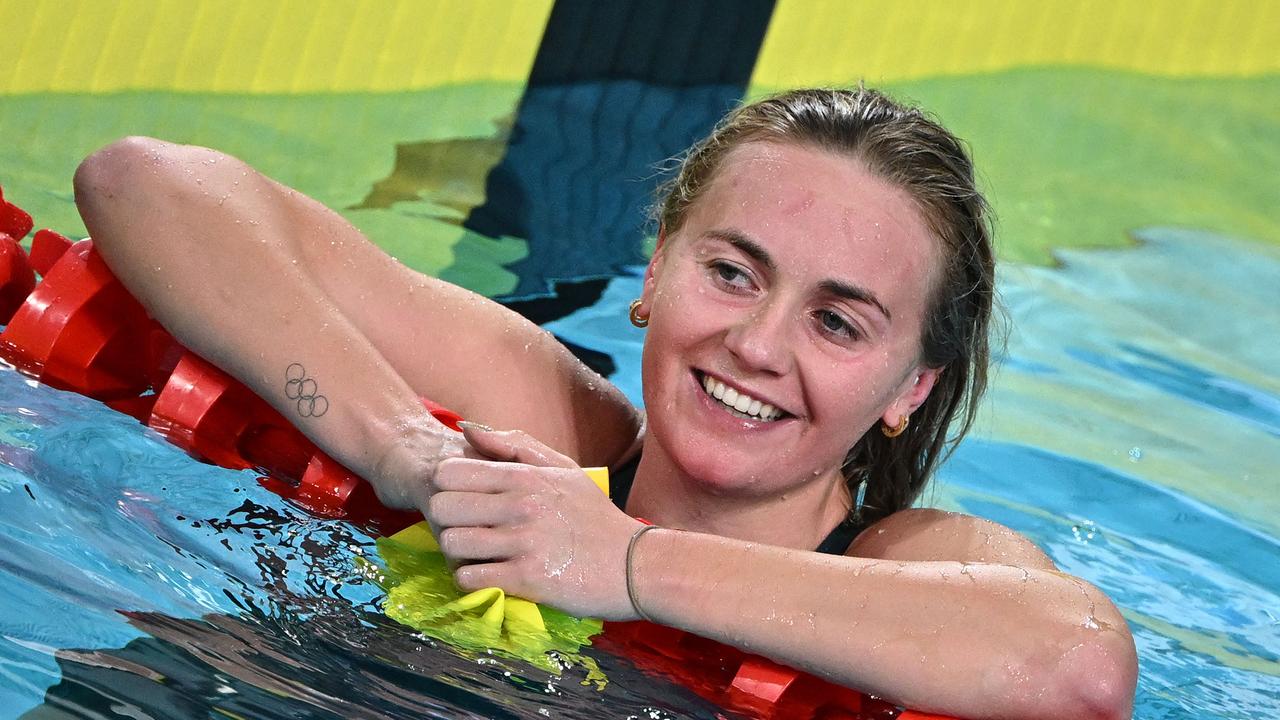 Ariarne Titmus after winning the 400m freestyle. Picture: Oli Scarff/ AFP
McIntosh won golds in the 200m and 400m individual medleys but is expected to be a serious challenge to Titmus in the 400m at the 2024 Paris Olympics.
"(Summer) pushed me the whole way. I didn't have any expectations, I just wanted to do my best and mentally be there," Titmus said after the race.
"I came here with the goal to win all four. I'm happy to have done it. The fact I got pushed means the sport's moving forward and it keeps me motivated. Australia really prides itself on its success in the pool so there's almost more pressure to win here than in the Olympics sometimes, so performing under that pressure is tough.
"I felt the expectation especially after last year, I think people were expecting me to win, so I'm excited to get the job done for myself personally and for the country. My family love coming away and having a great time, I think the swimming is almost secondary on their schedule, social activities are the first priority, but I had a great time and it's great to see them up there in the stands."
Kiah Melverton, Ariarne Titmus and Summer McIntosh with their medals after the 400m freestyle. Picture: Mark Kolbe/Getty Images
Australia's Lani Pallister came fifth while Melverton completed her full set of medals after winning a gold in the triumphant 4x200m freestyle relay that broke the world record, plus she won a silver in the 800m freestyle.
"I'm happy to end the week with that. It's been a super big week so it's nice to come away with another medal," Melverton said.
"I'm racing two of the best 400m freestyle swimmers in the world, Summer's only 15 but she's coming through quickly.
"Arnie's the world record holder, so when I go out there I just concentrate on doing my own race.
"I'm going to London for a few days with one of my close friends and then I'm going to go home, relax and refocus before next season.
"It's been a big nine week season. After that I will focus on next season, get myself prepared because 2024 is the long term goal, but first I want to rest and refocus.
"It's a super tough challenge, going from the 800m to the 400m the next day. I'll try and get some good sleep in between but at the end of the day this is what we train for."
'WE ALL CRUSHED IT THIS WEEK' – AUSSIE WOMEN REIGN SUPREME
By Julian Linden
Australia's new superstar swimmer Mollie O'Callaghan has combined with her incredible teammates to win the last gold medal in the pool at the Commonwealth Games as the Dolphins signed off with a warning to the world that the best is to come at the 2024 Paris Olympics.
Swimming the freestyle leg, O'Callaghan joined forces with Kaylee McKeown (backstroke), Chelsea Hodges (breaststroke) and Emma McKeon (butterfly) to win the women's 4x100 metres medley relay in devastating fashion.
"It's pretty epic. I'm so excited to finally finish up this week. We are such an amazing team. We all crushed it this week," O'Callaghan said.
"Just in general, the atmosphere, the support, and just like everyone's energy throughout the week has just been amazing. It's been nice to have such an amazing team."
"I would love to get home. I think that's something that's been on my mind for a while. It will be nice to see all of the (family)."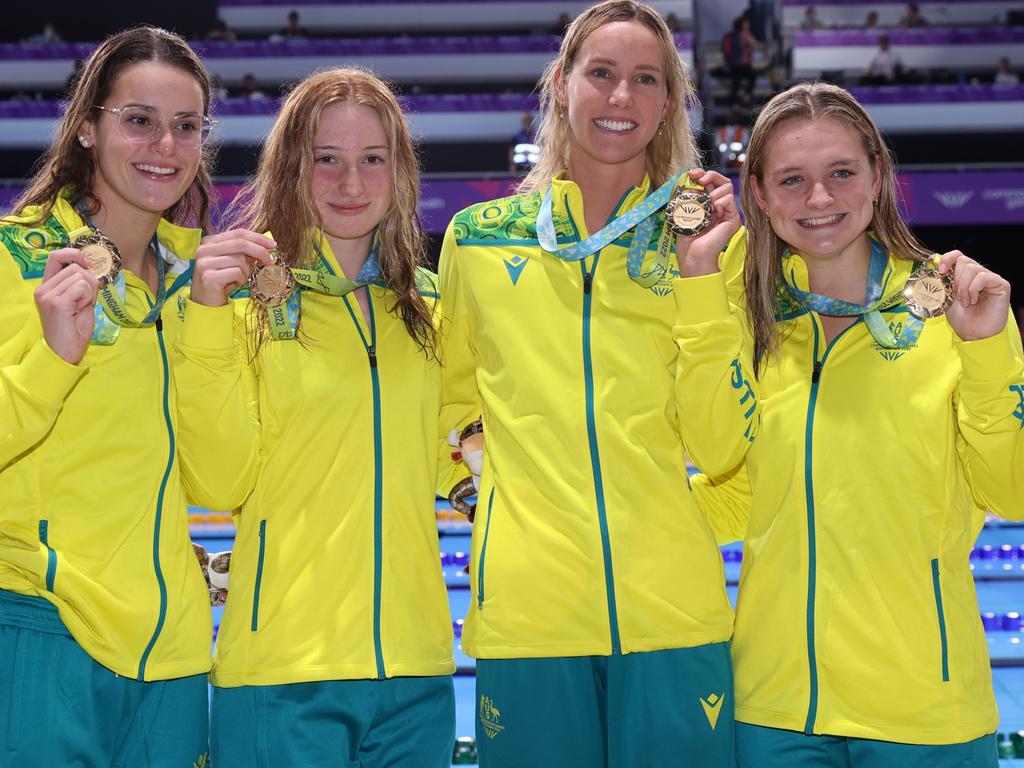 Australia's victorious 4x100m medley relay team – Kaylee McKeown, Chelsea Hodges, Emma McKeon and Mollie O'Callaghan Picture: Mark Kolbe/Getty Images
The Australian foursome was three-quarters of the line-up that won the gold medal at last year's Tokyo Olympics ahead of the United States, with the exception of O'Callaghan, who replaced sprint Queen Cate Campbell, who is taking a year off but working in Birmingham as a television pundit.
The Aussies won Thursday morning's race comfortably – stopping the clock at 3:54.36 – just outside the Commonwealth Games record – while Canada took the silver and England the bronze.
Australia finished top of the overall medal table with 25 golds with Callaghan finishing with five golds, a silver and a bronze.
She is just 18 and already building an impressive trophy collection, winning two golds a bronze in Tokyo, three golds and three silvers at the recent world championships in Budapest and now seven medals in England's West Midlands.
She has some way to go to catch Australia's most prolific medallist, McKeon, who collected her sixth gold in Birmingham and her eighth medal overall, from 16 races over six days.
"I'm obviously really happy to be on top of the podium for medley relay," McKeon said.
"It's always fun to do, we like to be a bit silly in the marshalling area because it's the last one.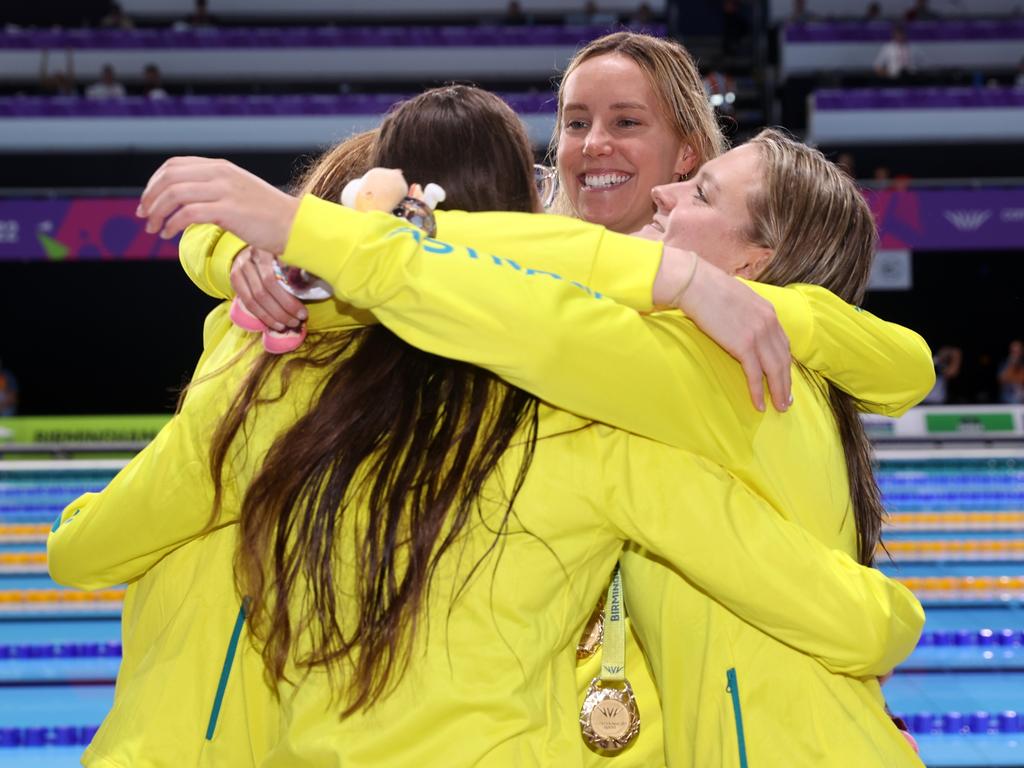 A group hug for the Australian women's relay team. Picture: Mark Kolbe/Getty Images
"I'm happy with how the week went. I don't even know (how I'm going to wind down),
"I haven't thought that far ahead, Tomorrow I'm going to Italy so that will be my celebration."
McKeown is another prolific winner and she bagged her fourth gold medal in Birmingham, as well as silver (200m individual medley) and bronze (50m backstroke).
"It's a great way to end the competition," McKeown said.
"We've all had a tough week, we're all really proud of ourselves.
"It's a cool experience."
For Hodges, it was her first gold in Birmingham after she won two bronze medals in her individual breaststroke race, but she has her sights on winning another Olympic gold in France in 2024 after getting to the top of the podium in the Japanese capital 12 months ago.
"This is a stepping tool to Paris and getting used to the kind of pain like these two girls do all the time is an experience," she said.
"It's great because obviously these are great girls and some of my closest friends as well so it's great to be able to get in altogether and rise and have some fun.
"I got two individual medals so to top it off at the end of the week with gold is great, I love these girls so much."
Originally published as Commonwealth Games 2022: Ariarne Titmus on Cody Simpson, Emma McKeon love triangle