Commonwealth Games 2022: Peter Bol reveals off-track injury mishap
Peter Bol had more trouble off the track than he did in winning his 800m heat which had an arrogant Usain Bolt-like shutdown near the line.
Peter Bol had more trouble off the track than he did in winning his 800m heat which had an arrogant Usain Bolt-like shutdown near the line.
The Australian star revealed he'd rolled his ankle in the lead-up but there was no sign of the injury as he stamped his authority on the event ahead of Sunday's final.
Bol made it clear to his rivals that he was the man to beat in Birmingham after cruising through in 1min47.01sec, easily the fastest time in the qualifying round.
The injury scare required constant medical attention on Tuesday but thankfully it wasn't an issue in the race.
"I feel good, it's crazy because I rolled my ankle yesterday so I want to shout out to my medical team," he said.
"Yesterday I was limping and today I am running perfectly fine so that's a massive thank you to the medical team at Athletics Australia.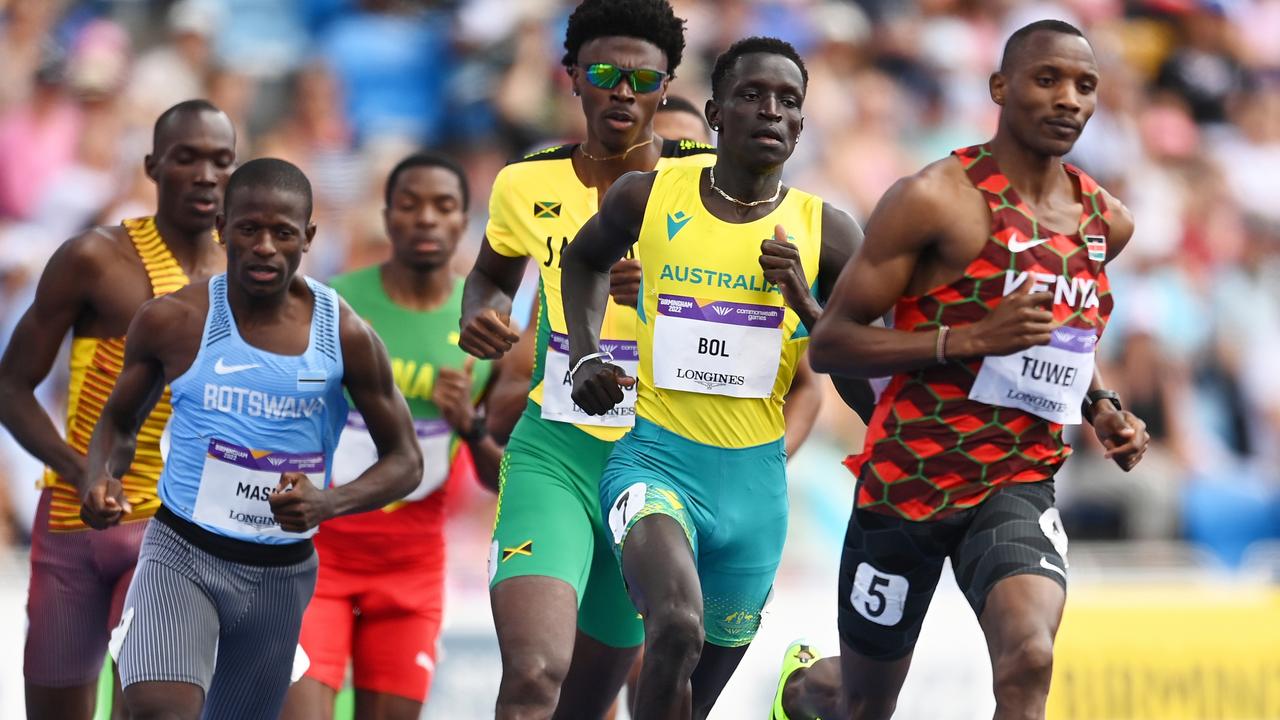 Peter Bol of Team Australia competes during the Men's 800m Round 1 heats
"I wasn't playing basketball I promise, I just rolled it on a curb on the track it was the first time ever. I don't really overthink so I thought just go back, get some medical, ice it and see what happens
"It was getting better by the night and then in the morning I was like, 'Bam I'm ready to go'.
"The race speaks for itself, it was comfortable, it was nice and there was an unbelievable crowd and atmosphere."
The Tokyo Olympic finalist said there was a sense of relief in producing such an impressive run after the disappointment of finishing seventh in the world championships final two weeks ago.
"To be honest I did feel at ease and I enjoyed that a lot," he said. "It was awesome to come back from worlds because it was a disappointing final so to come back here and be in amazing shape and just switch off like that at the end is amazing."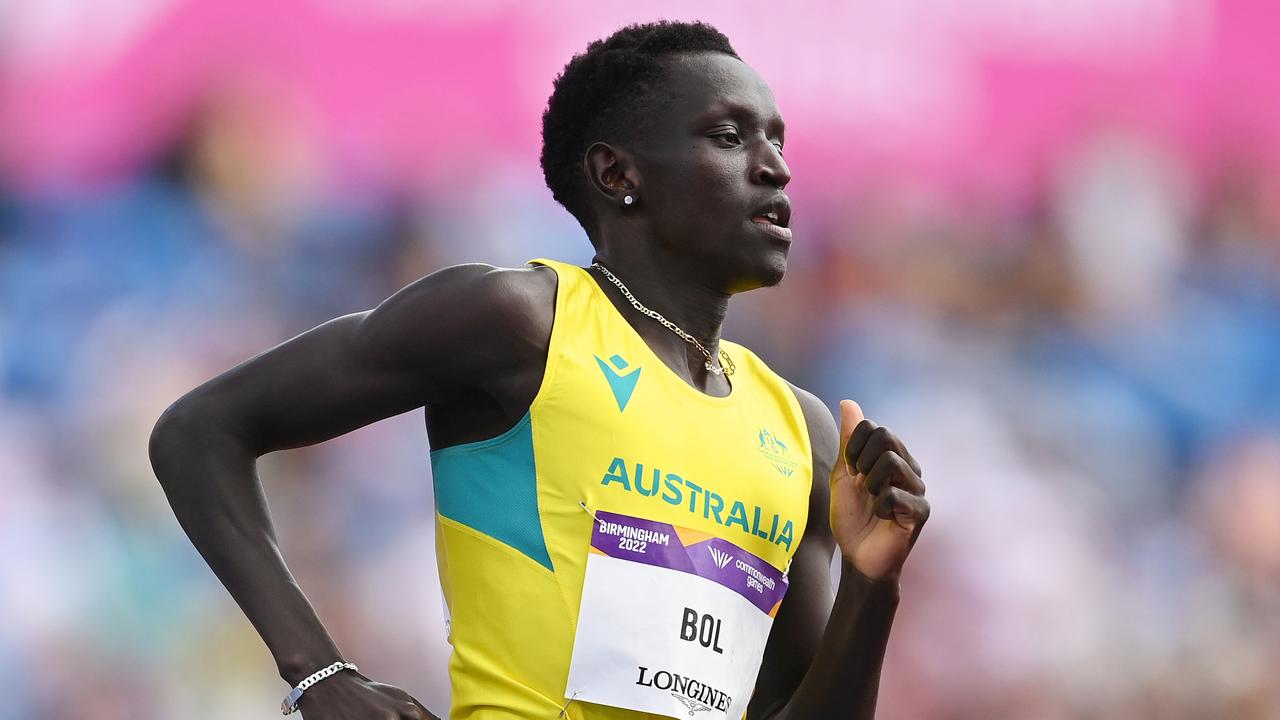 Peter Bol of Team Australia c
Kenya's Cornelius Tuwei - who has a faster personal best of 1:43.76sec compared to Bol's 1:44.00sec - took up the running but with 250m to go the Australian cruised past him and then let down around the home bend.
He was never in danger over the final 100m, dropping down gears dramatically over the final 20m to claim the easiest of wins ahead of Botswana's Boitumelo Masilo (1:47.30sec).
Tuwei faded badly and didn't qualify for the final while his Kenyan teammate and defending champion Wycliffe Kinyamal (1:48.15sec) finished second in the final heat behind England's Ben Pattison (1:48.00sec).
Bol said he was confident he had the tactical nous to make all the right moves in the final.
"Everyone who is here has got a fast time, it is who can race tactically the best and who is confident," he said. "My confidence is ahead of some of these guys that are faster than me and that's what pulls me through but on paper they are a lot faster.
"In a Diamond League race Tuwei would be very strong, these athletes just follow pace and not have to think they can go 1:44s or 1:42s but when it comes to a race like this which is tactical and unpredictable I have a little bit of an advantage.
"I have worked on my mental game, it is strong and I back it."
Given the long break between heat and final, Bol will have a training session, more to keep himself ticking over and from drinking too much coffee.
"I'll have a session in between which has never happened before, just nice and easy and it's more about something to do instead of sitting around and drinking coffees," he said.
In the opening heat Australia's Charlie Hunter went out strong but faded over the final 50m, finishing fifth in 1:49.94sec behind England's Jamie Webb (1:48.86sec).
PETER BOL SHOULD BE HAPPY, RIGHT?
He is one of Australia's most recognisable athletes, and recently broke his own national 800m record by racing two laps of the track in a flat 1 minute 44 seconds.
But with his quest for a Commonwealth Games medal starting Wednesday in Birmingham, Bol has revealed a ruthless mentality that will not be quenched until he stands atop the podium.
"A couple of years ago I raced in Monaco, I ran 1.44 (1.44.96 in 2020), and people are like, 'Wow, you ran 1.44'. But I came ninth," Bol told News Corp Australia.
"Well, just because everyone is happy, I can't hide that I wasn't happy. I was still ninth in the race and I knew I could do better.
"I'm not here to come ninth, I'm not here to even chase time, I'm here to do whatever it takes to be on the podium. I'm competitive, I accept that is who I am, I don't have to fake it and say 'Yeah I ran 1.44, I'm so happy to be here, it's a great experience'. No, I served all my time doing experiences in Rio, getting knocked out in the heats, in London.
"I've served that time. That's not what I'm here for, I'm here to be competitive.
"If I just wanted experience, I could stay in Australia and save myself some time.
"Even right now, running 1.44 flat, Australian record (in Paris last month), they say 'Why don't you seem happy?' Well, the rest of the world is running 1.43, 1.42. We believe we are among the best in the world so 1.44 flat, although I'm grateful for it, I think we can do better.
"That thought of thinking you can do better robs you of a little bit of your joy because you still didn't exceed your own expectations. And I want to do that."
And while he finished fourth at the Tokyo Games and beat his own record this year, Bol's preparation was shaken when he finished a disappointing seventh at the Athletics World Championship in Oregon last month.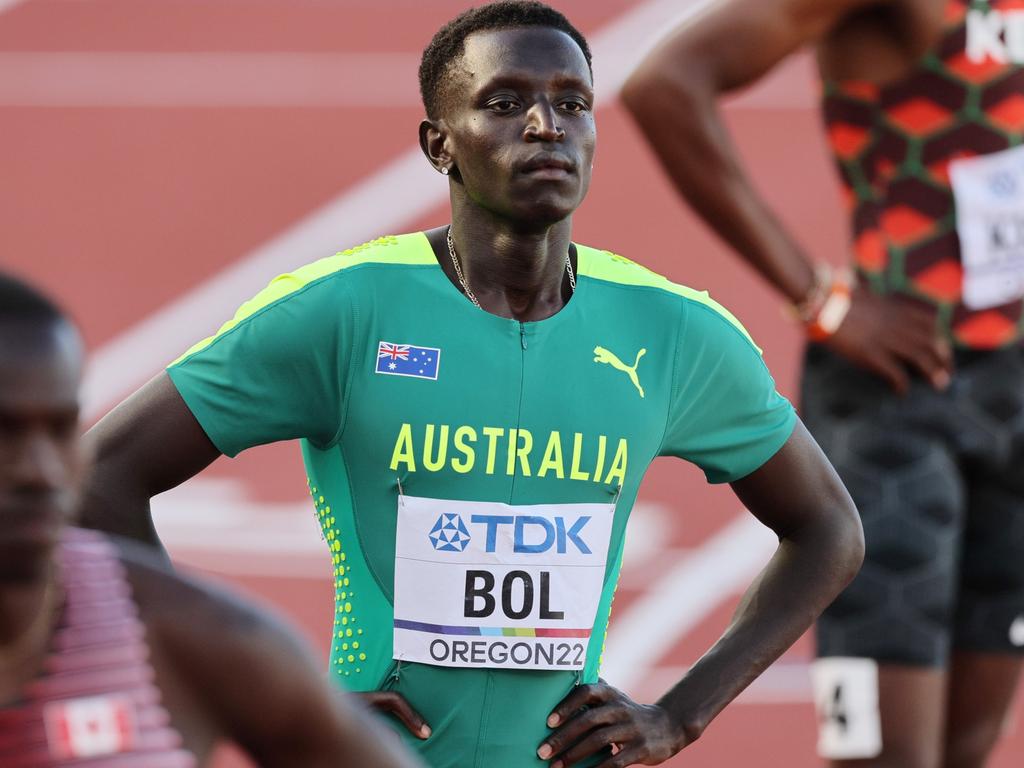 Peter Bol won't be satisfied until he's on the podium. Picture: Andy Lyons/Getty
"I didn't want to process it because it was so close to the Commonwealth Games," Bol said.
"But I briefly had a chat to my coach. The 800m is a tough event. Take Tokyo last year, there were only three people in that final that made it to a final again.
"We came with expectations to be on the podium, we're in better shape than last year, but the 800m is not predictable. But we've just got to do better.
"You can never get it perfect. During the race, it was just tactical errors really, you make one move too late or too early and it's all over.
"It doesn't help getting pushed around either, I got checked a few times in that race.
"In Birmingham I've just got to run my own race, everyone in that final has to earn their place to be there, I've got to stay focused all the way to the line."
On the subject of in-race checking, there are fears the dominant Kenyans may work together to make it hard for Bol to execute his plan by blocking his momentum.
"I never thought about it this way but my agent was talking to me and they were wondering if the Kenyans were going to work together," Bol said. "I mean, it's pretty special for them to work together, it means they got enough people in the final. There's only eight in the final, so to have guys working together means they're from the same team.
Peter Bol in Birmingham. Picture: Michael Klein
"But you can't be worried about that. Because if you're worried about that you're thinking about something else. You've just got to worry about your own race plan."
While World Championship gold medallist Emmanuel Korir is not competing in the 800m in Birmingham, focusing instead on the 400m, his Kenyan compatriots Wycliffe Kinyamal, Emmanuel Wanyoni and Elias Ngeny will stand in Bol's way.
But the 28-year-old Sudanese-born Australian remains confident, because of the story he has already written.
"Where I am right now is not individual effort, it's the effort of so many people over so many different timelines," Bol said. "If I did not go to St Norbett College (in Perth), and this teacher (Helen Leahy) was bugging me for two years to do athletics, so if she didn't do that, my path would be so different.
"If it wasn't for my family migrating to Australia, things would be so different.
"If I never migrated to Australia, I'd never be doing athletics. That is the last sport I'd be doing. I didn't even know it was a sport, like 'Why are people running for fun. It's not really a thing'.
"There's different coaches, my coach right now Justin Rinaldi. There's my agent James Templeton who's managed David Rudisha, the greatest 800m runner ever, and Bernard Lagat, one of the fastest 1500m runners in the world.
"And he tells me their stories. If I didn't have that mentorship, it would be different, I wouldn't be so confident. I've met Rudisha a few times, he's incredible. Imagine being the fastest person to run 800m ever in the world, on the whole planet, that's an unreal thing.
"But learning about his story, you understand that people don't just come out of nowhere. There's been a lot of guidance, opportunities presented.
"A lot of people work hard and don't get to the top; there can only be one winner, only three on that podium. But everyone's story is so unique.
"Rudisha is top of the food chain as far as the 800m, but someone who couldn't get through the heats can inspire you just as much through their story."
It's why Bol has learned to be true to his own values.
"You look at athletes that are performing, and you almost want to follow their personality, but then you realise every country, their cultures have different personalities and the people that excel the most are those who just embrace their culture and who they are," Bol said.
"It's that simple? Yeah, you don't have to follow anyone or copy anyone, that's pretty powerful.
"Once you realise that you relax, because there's not too much pressure to be yourself, it's the easiest thing to be yourself. It's a lot harder trying to be someone else."
Having been forced to flee war-torn Sudan for Egypt, the Bol family settled in Australia and Peter is now determined to inspire a new generation of African Australians.
"The potential for anyone in Australia is huge," he said.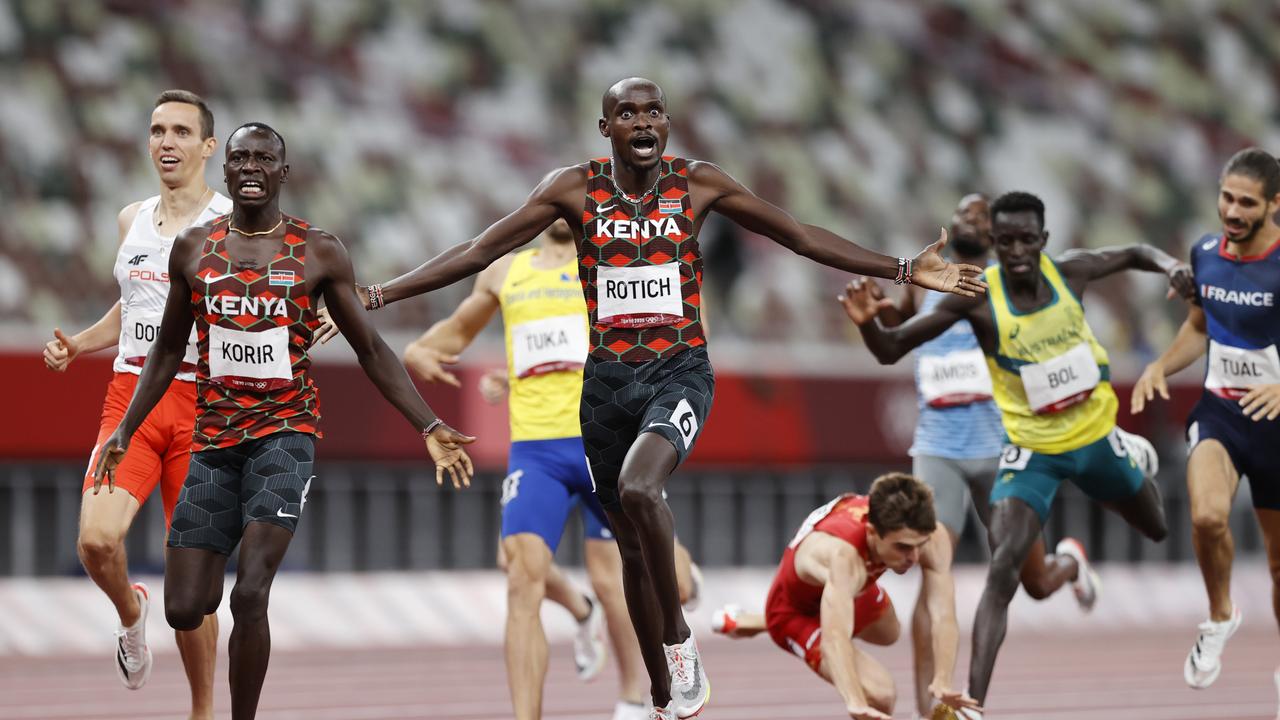 Peter Bol finished just outside the medals in Tokyo. Picture: Alex Coppel
"The goal for us is to make others see those opportunities through our stories.
"Like my story, 'Wow, you only started 10 years ago and now you're here'.
"But it has to go beyond sport. There's some great artists, lawyers, I've got friends doing amazing things, it's working out how to promote where they've got to, but more importantly their story.
"It's the journey that makes it realistic. If I tell someone I came fourth at the Olympics, they'll be like 'It's too hard'. But wait, 'How old are you, 16? Well, you're running faster than I was at that age, because I didn't start running until I was 17'.
"You've got to find a way to share the timeline of the whole story, not just the destination where he's at No.1."
Bol was recently unveiled as an ambassador for luxury watch brand Longines, who has designed a $2900 Games inspired Hydroconquest watch, of which only 2022 pieces have been manufactured and Bol received the first one.
"It's felt like the Olympics again, I opened my social media (after the announcement) and I was like, 'Shit, that's a lot of messages'. Everyone is so proud, and I'm super excited to be part of the team," he said.
"The watch is beautiful, there's 2022 made and I've got No.1."
Why Bol is prepared for stranger things
- Scott Gullan
Peter Bol calls the 800m a strange race where in a couple of strides it can get stranger.
That's what happened in the final at the world championships for the Australian. He likes to push to the front early, but after slightly missing the kick he was in no-man's land.
With Plan A out, he switched to Plan B and C, but in the changing nature of his event Bol was never able to get into the race.
He says the 800m is now more like two 400m races. More speed than endurance, more emphasis on the one-lap expertise than the 1500m, which has traditionally been the close relation.
"It was a strange final and in the 800m you never know what is going to happen," Bol said after his seventh-placed finish in Eugene, Oregon.
"The 800m is a strange race, you never really know what to expect and you only have one move to make. You go out with a plan, but the plan never goes accordingly so you have got to be able to adjust to different plans through different sections of the race.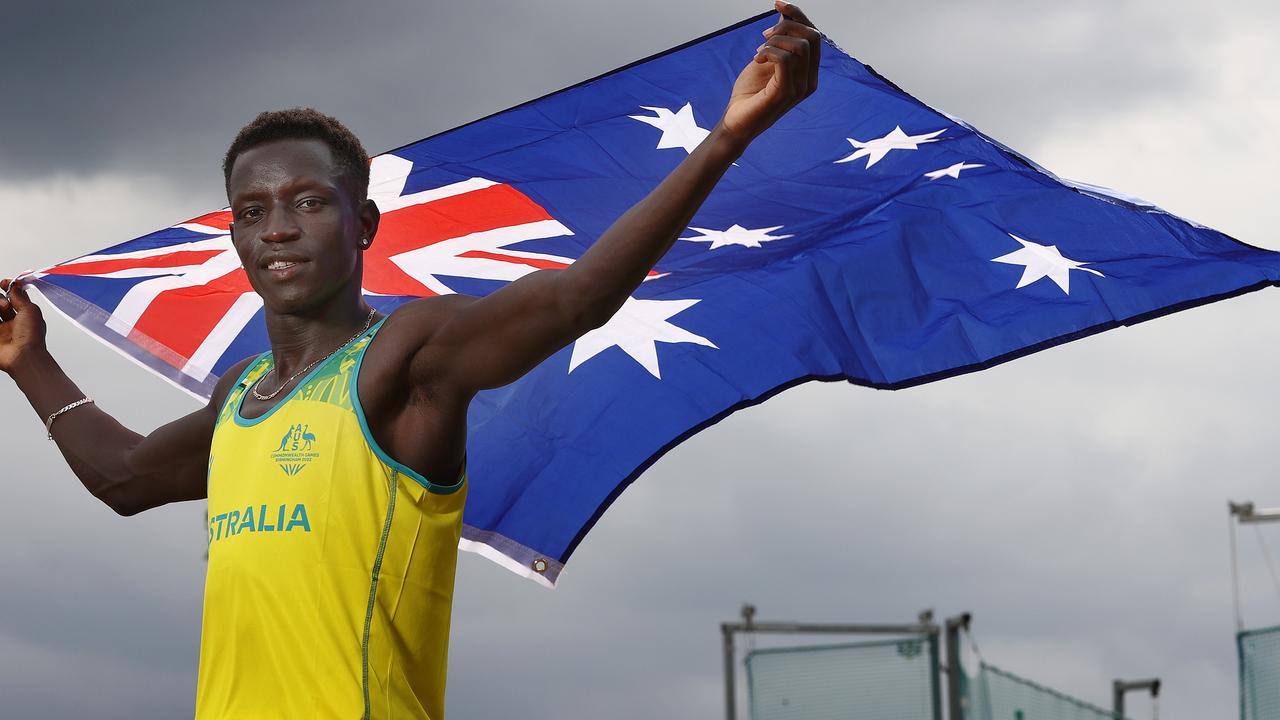 Peter Bol is ready for his Commonwealth Games campaign to begin. Picture: Michael Klein
"I usually go out and try to push, but other people do the same thing, you get pushed around a bit and it takes it a little bit out of you."
Bol's natural style is to lead from the front, which he did successfully at the Tokyo Olympics last year when he won his semi-final and then finished a gusty fourth in the final.
He calls it the "safest" place to avoid trouble with falls, a common occurrence in championship races, as evidenced by his Australian teammate Catriona Bisset, who took a tumble in the women's 800m semi-finals in Eugene.
But he also knows he can't be a one-trick pony and has spent the earlier part of the season sitting in different positions during races.
"During the season I tried different strategies, I sat at the back and came home stronger, sat in the middle and it was all pretty consistent, finishing top two, top three," he said.
"The difference is with the championships in the 800m, you've got 48 people in the world and it gets knocked down to eight people. Everyone else in that final has a kick, everyone has been working on the same things, if not better, so I'm not disappointed in any way of how we performed (in Eugene) or anything like that I just think those guys were better."
Bol, who lowered his Australian record to 1min44.00sec in June, points out that the world champion, Kenya's Emmanuel Korir, can run 44 seconds for the 400m, which is clearly better than anyone else in the 800m game at the moment.
"He (Korir) is the fastest guy in the field, so it is hard to beat in a kick-down, which means I guess the answer to getting better is speed," Bol says.
"Endurance I've improved on, I ran a seven-second PB in the 1500m, but I think the 800m is a raw speed event these days — it's two 400m races.
"To be better you have to be better at the speed more so than the endurance, so next year you'll see me doing more 400m races."
So does he have the speed to win the Commonwealth title?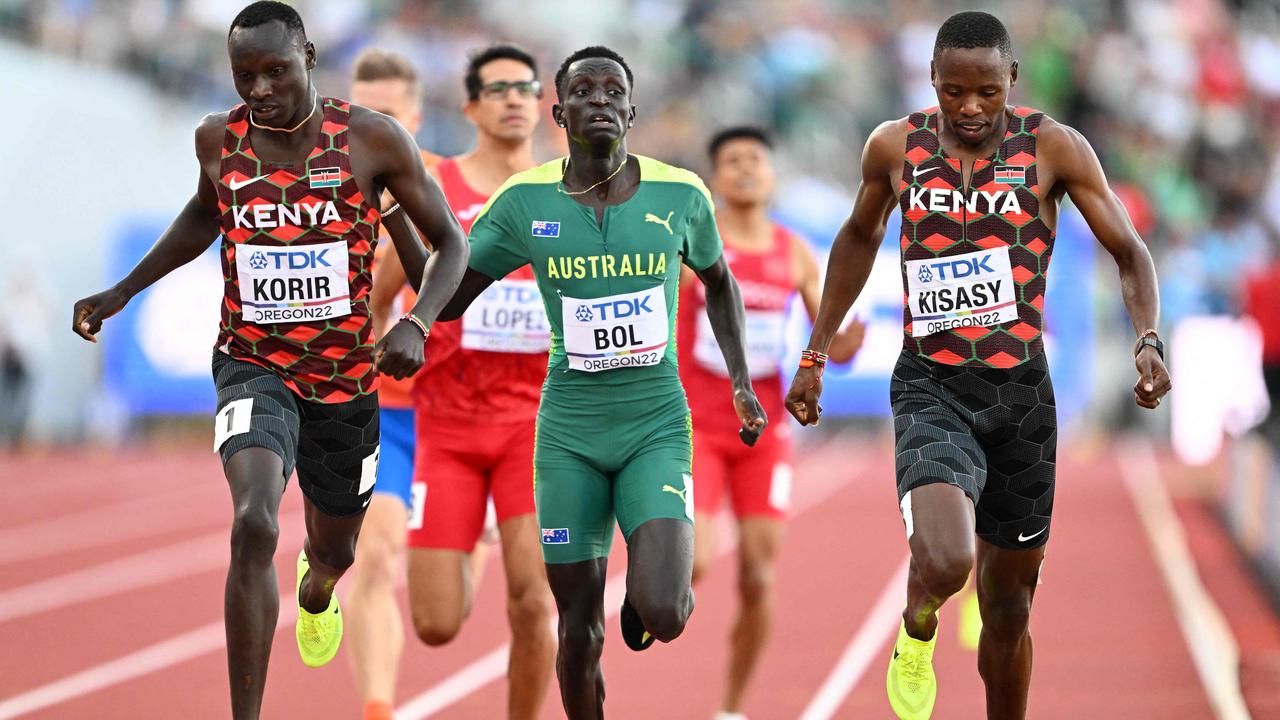 Peter Bol had a tough run at the world championships. Picture: Getty Images
Korir won't be there as he's only entered in the 400m in Birmingham, while Canada's bronze medallist from the world championships, Marco Arop, isn't attending.
Kenya's two other finalists from Eugene will be there, fourth-placegetter Emmanuel Wanyonyi and defending Commonwealth champion Wycliffe Kinyamal, who finished behind Bol.
There is also a chance world 1500m champion Jake Wightman comes back to the 800m where he was fourth on the Gold Coast four years ago.
"While the top couple aren't running at the Commonwealth Games it doesn't make it any easier," Bol says.
"That's what makes the 800m super competitive and interesting. Put it this way, if I ever had to bet in any event it wouldn't be the 800m. It would be the last event I would bet on.
"It's so strange, I mean I'm in better shape than last year, but I finished better (in Tokyo) last year."
Originally published as Commonwealth Games 2022: Peter Bol reveals off-track injury mishap