Commonwealth Games 2022: Swimming Australia's cowardly $13million snub of taxpayers and its stars
It's the $13million kick in the guts to Australian taxpayers and swimming's golden stars - and the boot has come from directly from highly paid Swimming Australia officials and coaches.
Forget the King Kyle dramas, the real soap opera is happening behind the stands at the Sandwell Aquatics Centre.
Which is where the cowering coaches of Swimming Australia send out their swimmers to not only swim fast, but then leave them to deal with the myriad of questions about the team.
It has been three days into the Birmingham Commonwealth Games competition before a coach has fronted the media, and then it was for hand-picked journalists only. Rohan Taylor, the head coach, avoided questions from certain sections of the media.
It seems this is the official policy of the sport: throw the swimmers out front and centre while highly paid officials and coaches remain unaccountable.
For all of the triumph in the pool, this is a sport reeling.
It has undergone two recent major internal investigations, both of which have not been made public despite recommendations for one of them to do so; an upcoming court case involving allegations of sexual assault; a struggle for sponsorship and not having a major free to air television deal.
The taxpaying public, which funds the organisation over more than $13million a year deserve better. By Monday night Mr Taylor decided he would talk to a handful of people but sidelined those who had reported on the incredibly awkward body language of two of the mixed relay team members on the opening night of competition.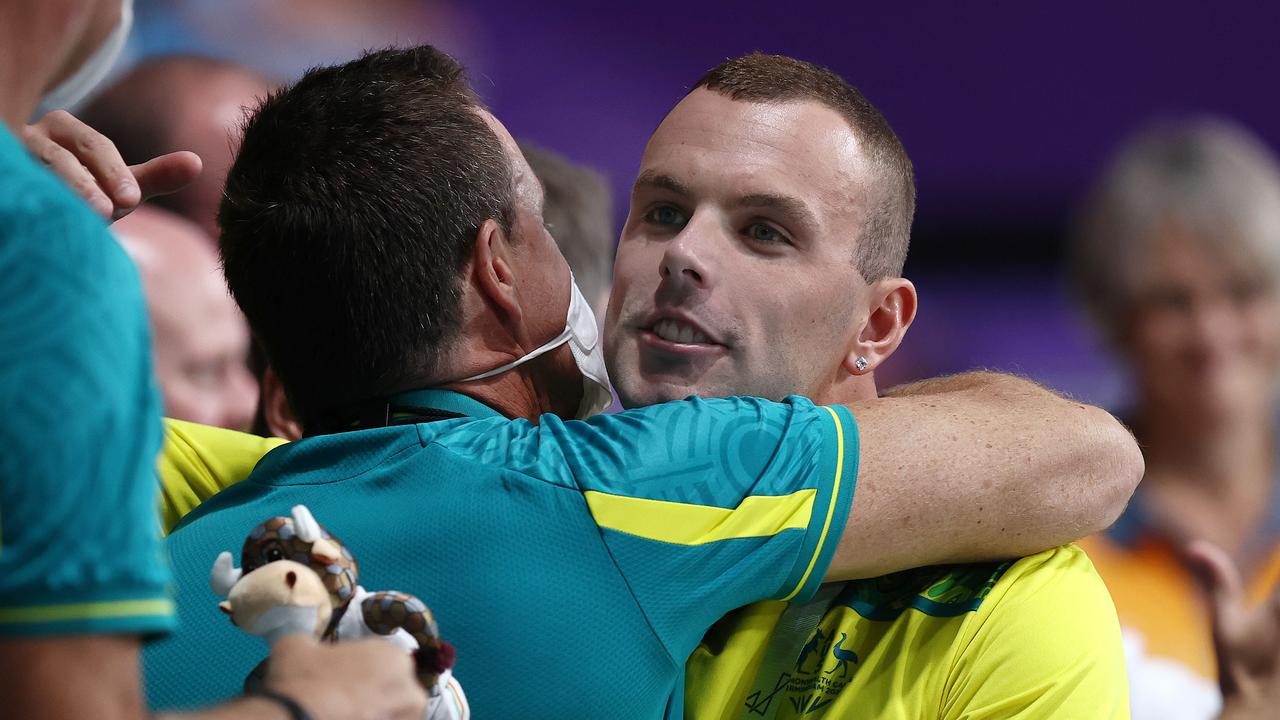 Kyle Chalmers and others have not had public support from Swimming Australia
Officials have even threatened to muzzle the swimmers entirely.
But it is the officials, that through their absence, have thrown the swimmers front and centre of the questioning, at a time the swimmers are dealing with the post-race highs and sometimes lows.
Back in the day when Don Talbot was in charge – and boy did he have a tight reign on what went on – he would front up twice a day, once after the morning heats and then after the evening finals to take any question, good bad or ugly. In many situations he was able to clear up misunderstandings, impart the official line, and pick up on a swimmers superb split time that in the frenzy of filing some journalists might have missed.
But now with a lack of direction from the top, is it is no surprise that the swimmers, who undergo intense media training, weren't aware of the interest in the mixed relay event.
The story started when Chalmers elected to swim in Cody Simpson's event back at the trials in April , (and which he has now pulled out of here in Birmingham), and fuelled by McKeon and Simpson recently going on national television to chat about their blossoming relationship.
Every photographer had their lens pointed on McKeon to see the interaction: there was none, certainly not the handshake Chalmers now claims. For if that happened, it would have been the front page picture.
Swimming Australia took three days to come out and talk and then banned journalists from attending
It would have been prescient for one of the swim officials to advise Chalmers to acknowledge McKeon with a gesture, a well done or a lean into the pool like the others did and offer a handshake.
Instead it was a frigid atmosphere and it was reported as such.
When Chalmers snubbed McKeon, it was 24 hours later that the first opportunity arose to ask them about what went on – and 12 hours after Chalmers had provocatively posted a picture of himself on social media with his hand on his crotch.
One of his teammate, Elijah Winnington, even suggested that Chalmers hadn't gone anywhere near McKeon out of ''respect'' for Simpson.
Swimming Australia officials were then incandescent when a colleague asked McKeon about her mindset with all the focus on her personal life. McKeon handled it gracefully: "I just focus on what I have to do, I'm here to race, that's just all I focus on, I've got a huge program here, my mind is on the job and I'm good doing that.''
And despite the claims from Chalmers and Swimming Australia that he is being hounded by the media, he was questioned at just two opportunities — one on the pool deck, one in a press conference — about the impact of his attitude on others in the team.
And before Chalmers was questioned, there were a series of questions to other swimmers about their swims.
Since then, the rest of the swimming world has moved on to focus on gold medal triumphs in the pool — the only one constantly returning to debate over what happened at the end of the mixed relay is Chalmers.
Officials could take a note from McKeon, the most successful swimmer in Games history to do their jobs professionally.
For even at the very top, the officials are ducking for cover.
A request to Swimming Australia president Tracy Stockwell and the chief executive Eugenie Buckley to discuss the future direction of swimming, Paris 2024, and Victoria 2026, commercial opportunities and the various challenges swimming faces in a post-covid world has been just knocked back.
Originally published as Commonwealth Games 2022: Swimming Australia's cowardly $13million snub of taxpayers and its stars