Commonwealth Games 2022: Birmingham Batman returns with a warning for Australian cricketers
He famously "saved" Nick Kyrgios at Wimbledon in 2015 but 'Birmingham Batman' has turned villain when assessing Australia's T20 medal hopes.
A joyful volunteer in the media centre at Edgbaston strikes up a conversation. I tell him I'm an Australian sports writer. He recalls meeting Shane Warne and Glenn McGrath during Ashes Tests at this Birmingham ground before we shake hands and identify ourselves properly. "I'm Batman," he says.
Come again? He's a wonderful bloke. While we're waiting for a barefoot Tahlia McGrath to talk us through her meteoric rise and Australia's finals weekend at the Commonwealth Games, which you would assume guarantees a medal for this all-time great side if T20 wasn't so damn fluky, he says it again.
He's Batman. As in, remember the Wimbledon spectator in 2015 whom Nick Kyrgios singled out as helping him win a match? The London tabloids splashed "the guy in the Batman T-shirt" all over their daft yet entertaining pages after Kyrgios had said with no perceptible attempt at humour: "I thought he was key in the match. He was actually saying some really good things at crucial moments. I think he helped."
My new Brummy mate says with no small amount of pride: "That was me!" His real name is Himansu Tanna. I prefer Batman. When I ask Batman who he thinks will win the T20 gold medal at the Commonwealth Games, I'm sure he's going to say Australia. Who wouldn't? "New Zealand looks dangerous to me," he replies.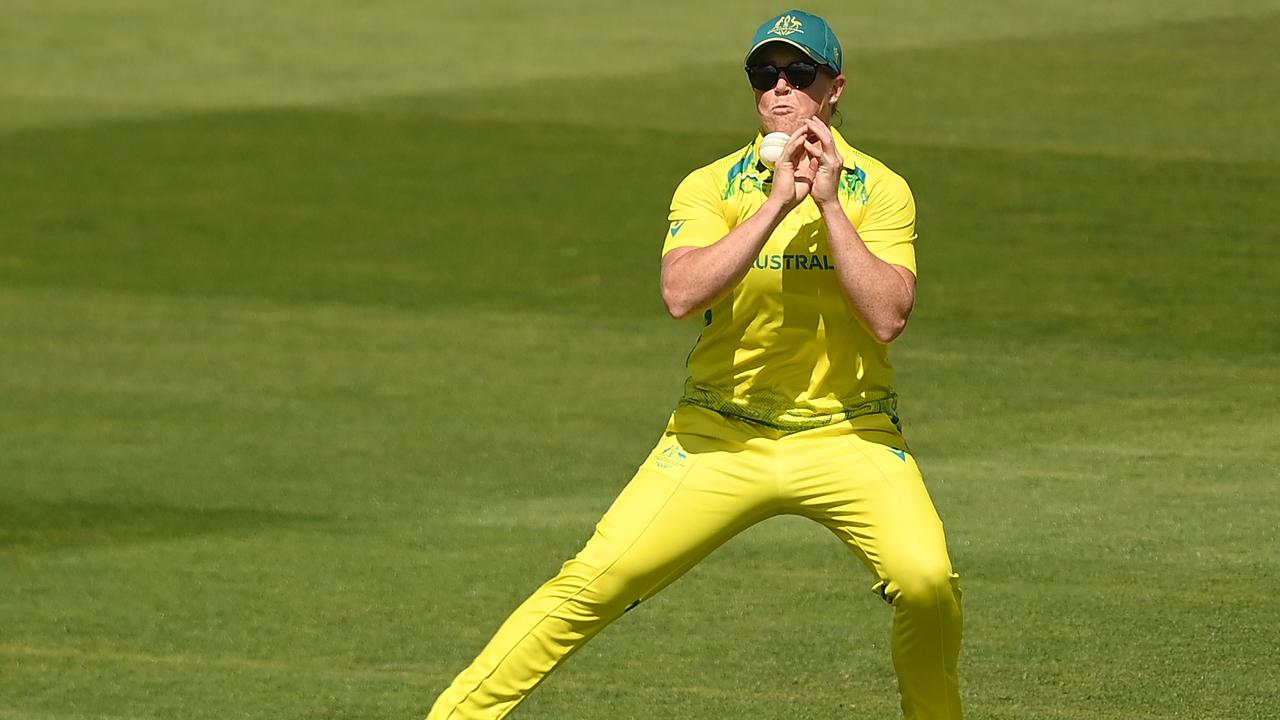 Grace Harris drops a catch against Pakistan. Picture: Alex Davidson/Getty
The point here is that Batman may be right, he may be wrong, who really knows in T20? Because even if Australia are an aggressive, confident, entertaining and skilful side so used to winning they've seemingly forgotten how to lose, any of these whistlestop matches can go either way. They can swing on a slog over cow(girl) corner or a three-wicket maiden. Ahead of Australia's semi-final against either England or Batman's smokeys on Saturday, the Commonwealth podium remains a tantalising possibility but nothing more than that.
Says McGrath: "T20 cricket, anything can happen."
Says Alana King: "Anyone can beat anyone on any given day. It's T20 cricket."
Says Beth Mooney: "We know how fickle T20 cricket is."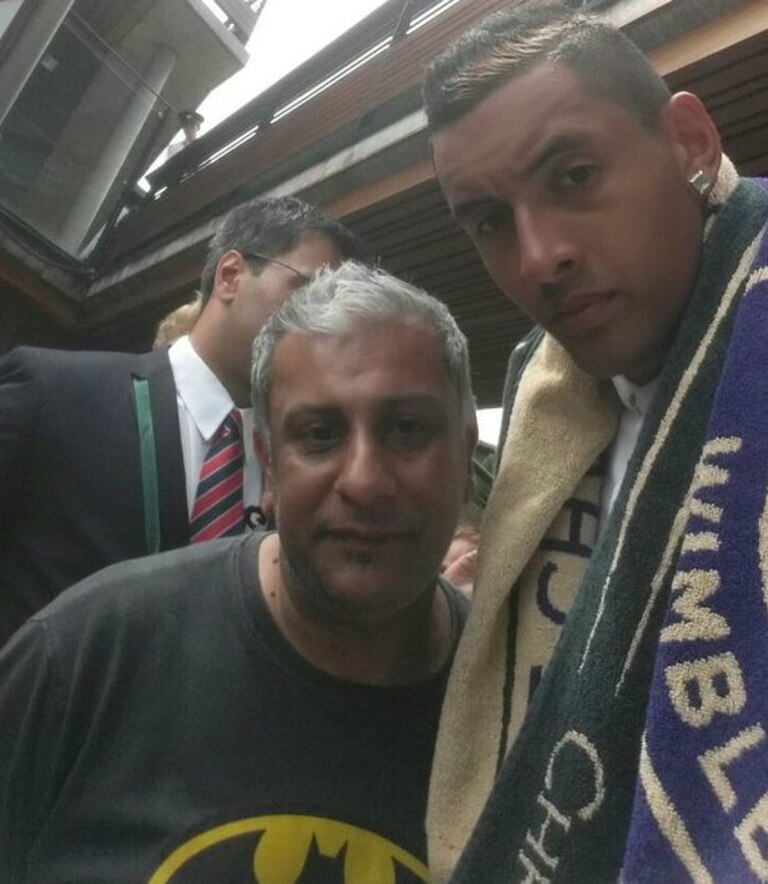 Nick Kyrgios and Birmingham Batman.
McGrath's going all right, averaging 169.5 at a strike rate of 156.22 in international T20s. This side enjoys a piss-take and McGrath's been hearing all about the sort of numbers that put Bradman and his humdrum double-digit average in the shade. Her first three T20 innings for Australia were 42no, 44no, 91no and 70, for an average of 247.
"When I got out the first time I did joke that I was going to retire and keep that average for my career," she says. "There's always banter in this team. Everyone's always paying each other out all the time and yeah, there's been a few comments about it."
The same Australian XI has played the first three matches of the Games. Barring injury, the same XI will play both finals, meaning four members of the squad are unlikely to get a hit. Those squad members – the injury compromised superstar Ellyse Perry, Nicola Carey, Annabel Sutherland and Amanda-Jade Wellington – will receive medals if Australia doesn't make the podium. Unlike swimming, where you have to contest a heat to be part of the presentation ceremony, all 15 Australian players in Birmingham will get a gong.
King reckons bravo. "I'm sure it's hard for the girls who aren't playing," she says. "Everyone would want to be playing, especially at the Commonwealth Games and the first time the sport is in it. But no matter who's on the field, it's taken the whole 15-strong squad to get us to where we are.
"We'd love to have all 15 on the field but that's not the way it is. We're blessed with so much depth. If someone goes down to an injury, we know someone can step in and pick up their slack. We're one squad and it's a big squad and we rely on each other a lot. They're just as much a part of it as the players who are on the field."
You don't have to be Einstein, or Batman, to know Australia's looking good for a medal at Birmingham. Lanning and company probably deserve gold as the best side in the world, but as Cold Chisel points out in Flame Trees, who needs that sentimental bullshit?
Batman says it can go either way and Batman knows his stuff. What was he telling Kyrgios? "Bullet from the gun," he grins. It was an encouragement for Kyrgios to lock and load and let rip when it counted.
The Australians are the big guns at Edgbaston, but they need to keep firing for a couple more matches yet.
Australia edges closer to gold
Australia has topped its group and geared up for the finals by thrashing Pakistan in an emphatic Commonwealth Games' T20 victory at Edgbaston.
The same XI keeps playing but the reserves won't leave Birmingham empty-handed. All members of Australia's 15-strong squad will receive medals if they're secured on the weekend.
Meg Lanning's side completed a sweep of the regulation phase of the tournament with a 44-run triumph ahead of Saturday's semi-final against either England or New Zealand. Not everything went according to plan – Alyssa Healy and Meg Lanning made single-figure contributions – but that's T20 and they could just as easily turn around and provide triple-figure input when medals are for grabs on the weekend. It'll be a quick turnaround.
The semi-finals are on Saturday before the playoff for bronze and gold-medal fixtures are staged on Sunday.
Tahlia McGrath on her way to 78 not out. Picture: Alex Davidson/Getty Images
Australia has picked the same XI for all three matches, the same XI that will feature in the playoffs, barring injuries, but unlike swimming, where you have to at least swim a heat to get your mitts on a medal, Australia's reserves, including superstar Ellyse Perry, will be on the podium.
Healy nudged an inside edge onto her off stump before walking off for four. Lanning came and went for the same score before the ever-reliable duo of Tahlia McGrath (78*) and Beth Mooney (70*) dug Australia from its predicament, pushing the total to 2-160.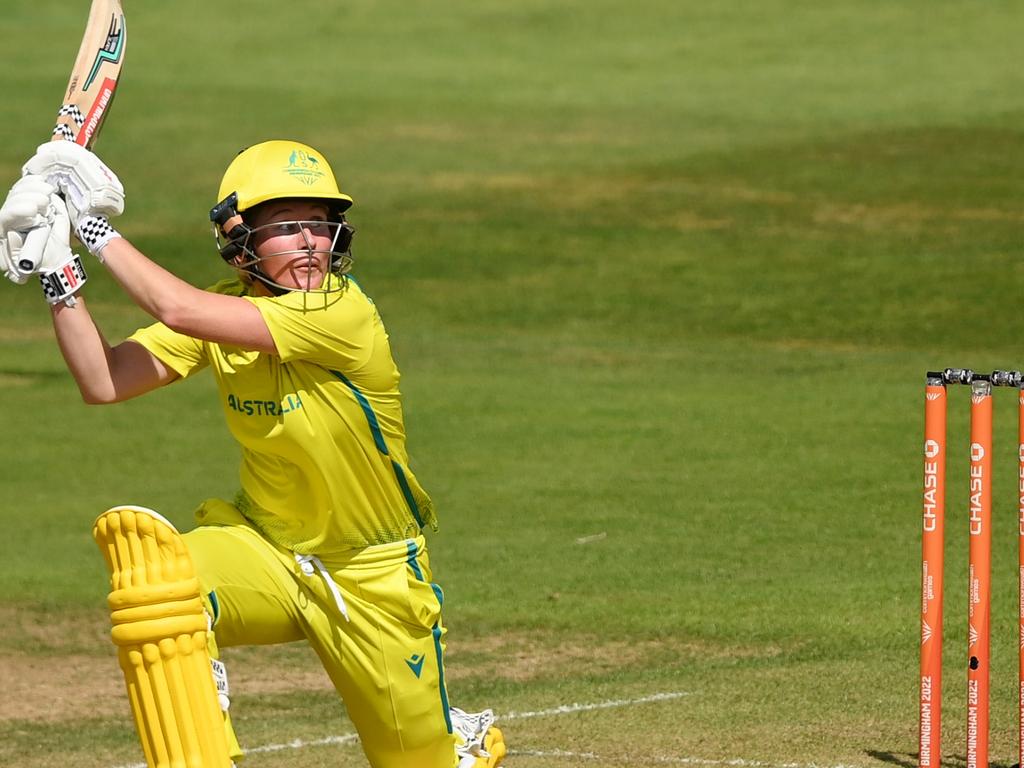 Beth Mooney hit eight fours and a six in her 70 not out. Picture: Alex Davidson/Getty Images
The Australians benefitted from the struggle. A cakewalk on finals' eve wouldn't have done them much good. Their moderate score ensured the bowlers would have their game faces on. Darcie Brown and Megan Schutt were locked and loaded with the new ball. Schutt struck in her first over, Brown grabbed a wicket almost immediately and took 1-23 as the Pakistanis came were restricted to 8-116.
The Australians' depth is unparalleled.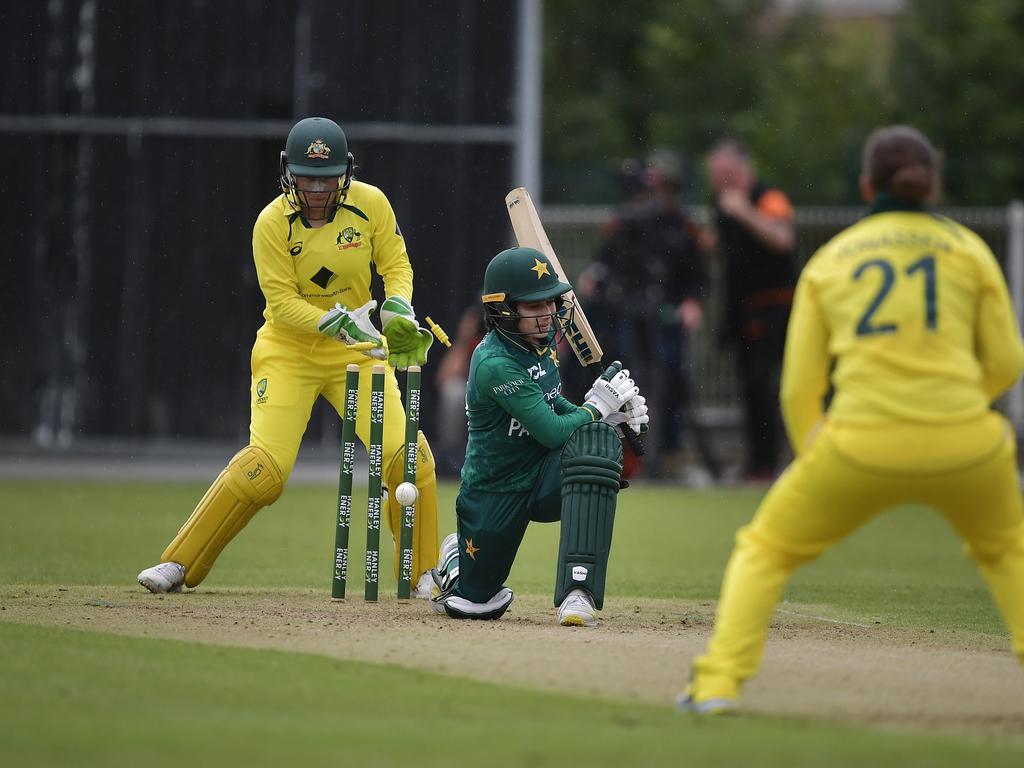 Australia were too strong for Pakistan. Picture: Charles McQuillan/Getty Images
They were in deep strife at 5-49 in the tournament opener against India before Grace Harris and Ash Gardner conjured the win. Healy and Lanning made runs against Barbados and then on Wednesday it was the turn of Mooney and McGrath to fill their boots. In the way Australian swimmers on the podium at Sandwell Aquatics Centre has become the norm, a regular occurrence at the cricket is a couple of Australians knocking up half-centuries when needed. It could be any of them on any given day.
"Coming into what's going to be a pretty hectic finals weekend with the semi-finals and medal matches back-to-back, it's extremely important to have momentum," said McGrath.
"Once we hit those finals, the round games are irrelevant and it's just whoever shows up on the day. There are quality sides. Anyone can beat anyone on the day, with some sides having some extremely dangerous players. We have to be ready and we're still fine tuning a bit. Every game we play, we're striving for a little bit of improvement. We seem to be getting better and better every game."
BIRMINGHAM A TEST CASE FOR T20 AT THE OLYMPICS
By Elizabeth Ammon - The Times
The ICC are hopeful that cricket could be part of the Los Angeles 2028 Olympic Games and this eight-team women's T20 tournament taking place as part of Birmingham 2022 will be a demonstration of how it can work in a multi-sport event.
This is the first time women's cricket will feature in a Commonwealth Games – the last time the sport was played at a Games was in Kuala Luampa in 1998 which featured a men's 50-over tournament but it is T20 that is the biggest growing format and the one that the ICC believe would fit best in an Olympics.
"Being in a multi-sport games, whether it is the Commonwealth Games or the Asian Games or the African games – putting cricket into these multisport events is good for the growth of our game" Geoff Allardice, chief executive of the ICC, said.
"It gives a lot of our members a seat at the top table and the coverage of these games reaches new audiences that may not be traditional cricket audiences."
Eight teams will take part in what is a short, sharp tournament with two groups of four playing three group matches at Edgbaston with the top two in each group going through to the semi-finals with the Gold medal match and a bronze medal play-off the following day.
It will feature the seven highest ranked women's teams plus Barbados playing as their national team rather than as West Indies because of the entry rules of the Commonwealth Games.
As cricket is, essentially a Commonwealth based sport, this will be the best of the best in the World in the women's game and whilst it probably isn't as prestigious to the players as a World Cup or T20 World Cup, the chance of a gold medal is something they are all savouring.
One of the big draws of cricket featuring in both the Commonwealths and the Olympics is the potentially huge viewing audience for any clash between India and Pakistan. The two countries do not play each other bilaterally in any cricket because of the political situation and so only meet in global tournaments when they are, usually by design, drawn in the same groups.
Women's cricket continues to develop at a furious pace.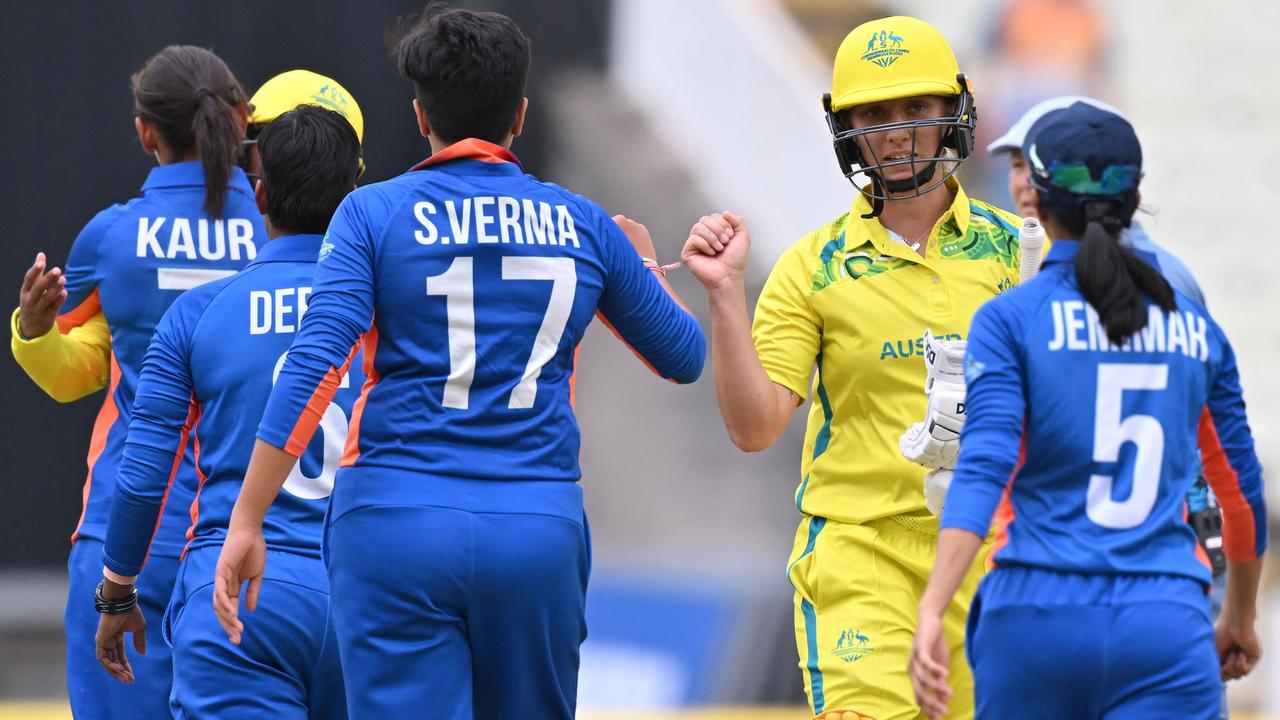 Cricket is eyeing a place at the Olympics. Picture: AFP Images
HORROR COLLAPSE TO HEROES: GARDNER SAVES AUSTRALIA
Will Swanton
Australia has survived a horror batting collapse to pinch victory in its opening T20 match at the Commonwealth Games.
Alyssa Healy became the first wicketkeeper, male or female, to pass 100 dismissals in the abbreviated format before a blockbuster innings from Ash Gardner steered the gold medal favourites to a tense three-wicket triumph over India at Edgbaston.
Healy took two catches in India's respectable knock of 8-154 to reach 101 for her international career. India gloveman MS Dhoni's 91 finished his marathon career on 91. When Healy went for a second-ball duck to trigger a procession of departures from the vaunted top order, leaving Australia on the ropes at 5-49, a shockingly emphatic defeat was on the cards. But Grace Harris plundered 37 from 20 deliveries and Gardner belted 52 from 35 balls to post a crucial win in the round-robin event.
It was all going south when Lanning was sent packing for eight, Beth Mooney had her woodwork disturbed for 10, Tahlia McGrath said goodbye for 14 and Rachael Haynes trudged off for nine. All the big guns were gone and so was Australia, it seemed, but Gardner came to the rescue via nine fours that sounded like cannon blasts from her bat.
Australia was 5-49 when Harris strode out and threatened to take the match by the scruff of the neck herself, or at least spark a revival. Her 37 from 20 balls included two towering sixes in front of a chirpy Edgbaston crowd that nonetheless fell short of the forecast sell-out. You kept expecting an Australian revival but it took so long to eventuate that you'd nearly given up the ghost. You weren't alone there. When Haynes was caught at point by Radha Tadav, the Indian fielder kissed the ball, grinned from ear to ear and put her palms up as if to say, "What's going on?"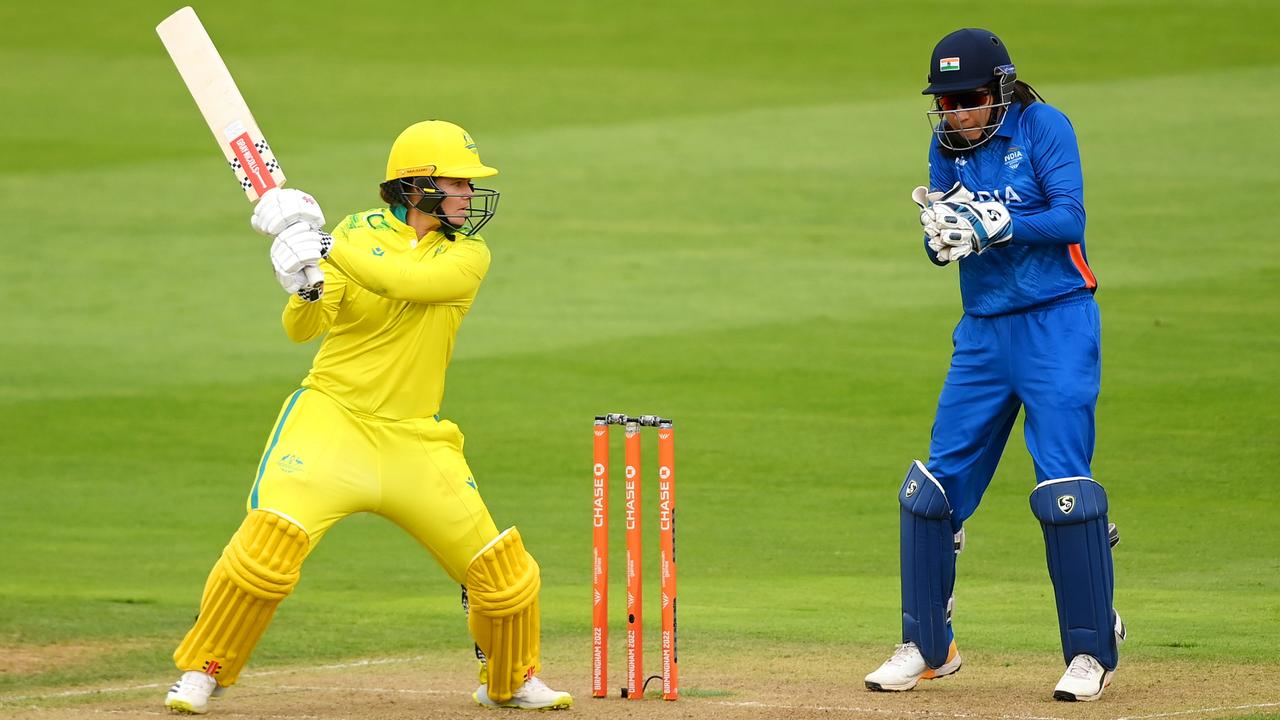 Jess Jonassen of Team Australia hits runs
Healy has called herself a "fangirl" at the Commonwealth Games, especially around her junior club hockey teammates who have gone on to represent Australia at Birmingham. She has a few admirers herself as the most damaging opening batter in the history of women's cricket. She's a genuine crowd-pleaser whose mission is plain and simple at the top of the order. Rip in.
She walked quickly to the middle to get Australia's innings up and running. Little did she know it was about to splutter and nearly come to a complete halt. She can win matches off her own bat as a couple of World Cup finals have proved. Opening partner Beth Mooney slapped Healy on the back and went to the non-striker's end to see what might unfold.
She blocked the first ball and Mooney nearly collapsed from the shock. She tried to nudge her second delivery from Renuka Singh to third man – third woman? Third person? - but succeeded only in giving a catch to Deepti Sharma in the cordon. A second-ball duck wasn't part of the script and Healy looked to the heavens in disbelief. The Indians were cock-a-hoop. If Healy batted for half an hour, it would have been game over.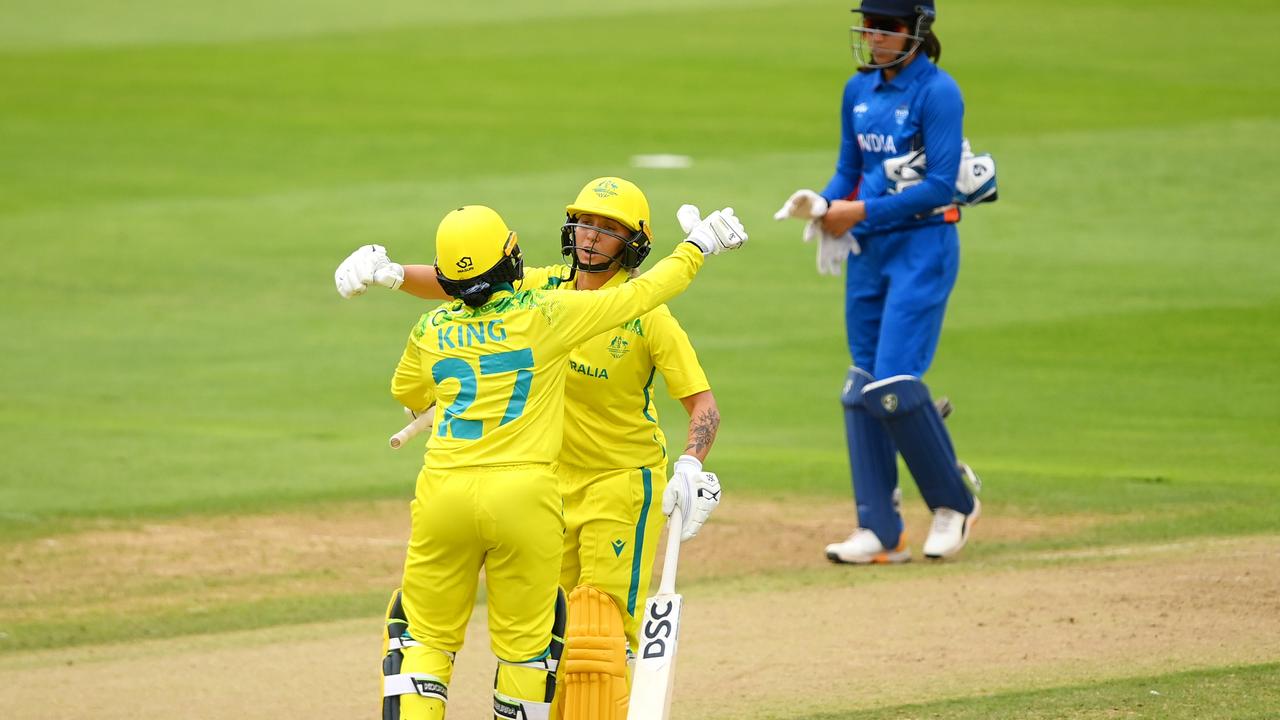 Alana King and Ash Gardner of Team Australia celebrate their side's victory
The depth in the Australian side is remarkable and the top order is no one-woman band. The much-hyped Full House sign at Edgbaston was nowhere to be seen. Only half the 25,000 seats were taken. Lanning looked in scintillating early touch but she slashed a cut straight to point to be on her way for eight from five deliveries. Australia was 2-20 in the third over.
Smriti raised eyebrows before the clash by saying, "I wouldn't term Australia as a big team and make them feel good about that."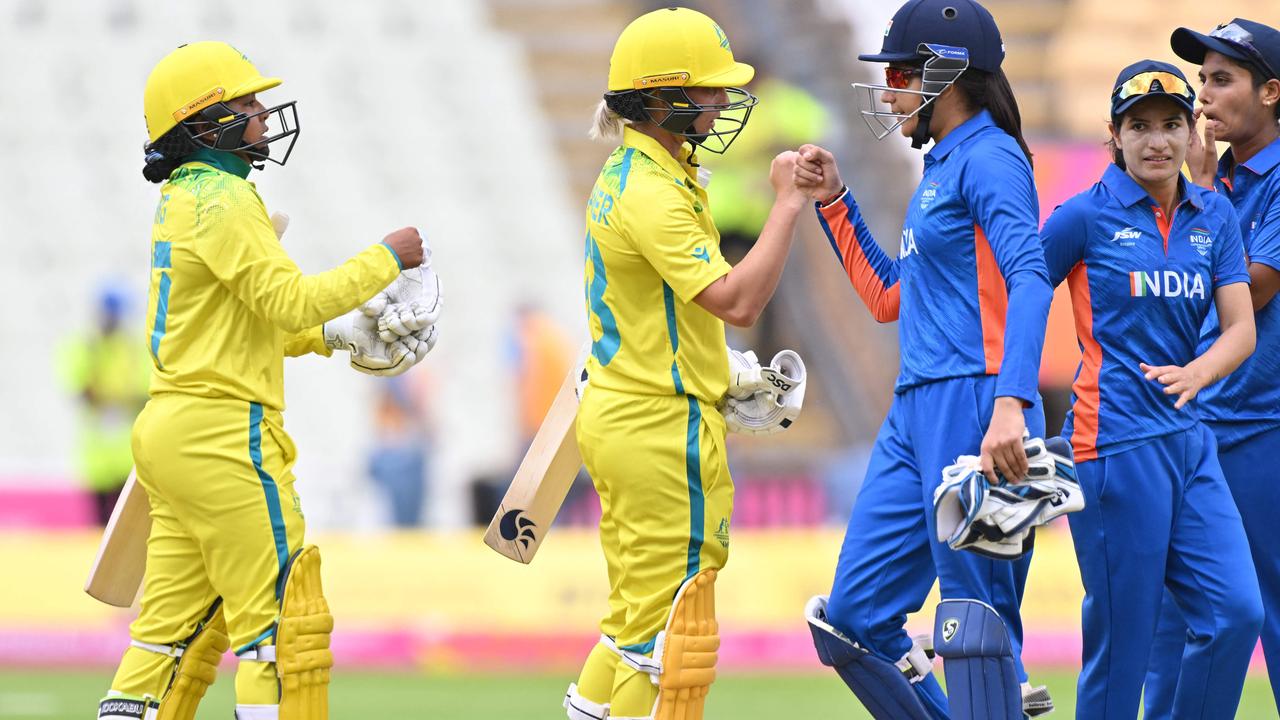 Australia's Alana King (L) and Australia's Ash Gardner fist bump India's Yastika Bhatia
It was an odd comment because Australia is a big team, everyone knows they're a big team, these sides play against each a lot, so why not give respect where it was due? India hadn't posted an especially big total but it was more nearly enough. The damage was done by swing bowler Renuka Singh Thakur, who finished her opening spell with 4-18. She bowled 16 dot balls and there wasn't much wrong with the rest of them.
Both Healy's dismissals with the gloves were crucial. Smriti had talked the talk in a curiously antagonistic build-up began the fixture as if she was still looking for a stink. A blaze of boundaries had the Indians off to a flyer - India was rattling along at ten runs an over – before Smriti nicked Darcie Brown to Healy for 24 from 17 deliveries. Shafali Verma was the dangerwoman for the Australians. On 48, she swept down leg side. Healy appealed for a catch, the umpire had no interest in it. Healy pushed for a review and it was successful. She breathed a sigh of relief and not for the last time on a day that could have gone either way.
Originally published as Commonwealth Games 2022: Birmingham Batman returns with a warning for Australian cricketers