Commonwealth Games Day 5: Emma McKeon becomes the most successful athlete of all time
Australian selectors pulled a bit of a surprise when Kyle Chalmers was left off the relay team with Emma McKeon backed instead. And she made history. Here's why it happened.
Australia's champion swimmers have turned the Birmingham Aquatic Centre into their own golden pond.
Just when you thought the Dolphins couldn't do any better than their five gold-medal haul from Tuesday morning - they went one better and picked up six more on Wednesday morning - capped by a stunning win in the mixed medley relay.
With Emma McKeon picked ahead of Kyle Chalmers to swim the freestyle leg, the Aussie blew their opposition apart to win the gold and remain undefeated in the relays with one day of swimming to go.
Teaming up with Kaylee McKeown (backstroke), Zac Stubblety-Cook (breaststroke) and Matt Temple (butterfly), the Australians smashed their rivals to win in a combined time of 3:41.30
Canada finished second to grab the silver with the bronze going to England..
The Australian selectors pulled a bit of a surprise when Kyle Chalmers was left off the team, despite being in great form in Birmingham, winning three gold medals, including his individual 100m freestyle final.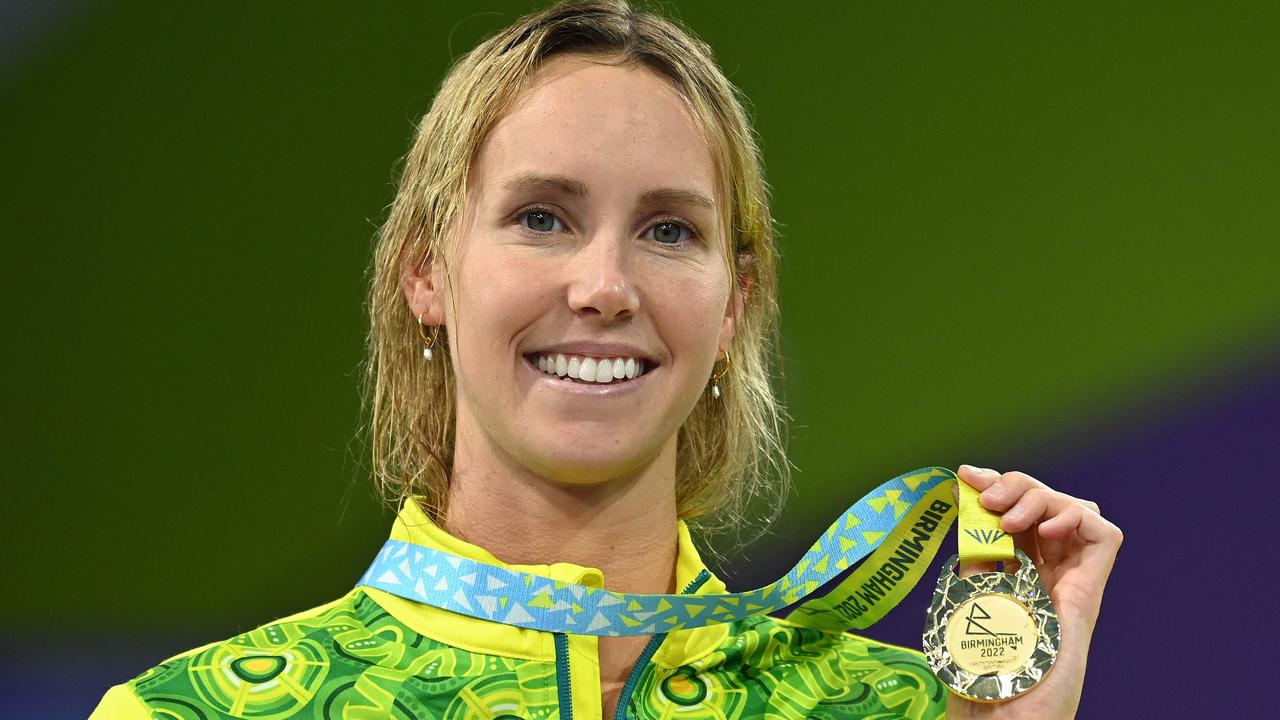 Emma McKeon got the nod ahead of Kyle Chalmers for the relay freestyle
But the coaches decided to retain the same combination that performed so well in Tokyo last year, winning a bronze medal and it paid off
For McKeon, it was yet another milestone win. She picked up her fifth gold medal in Birmingham lifting her career total to 13, a record.
The 28-year-old has also won a silver (50m 100m butterfly) and bronze (100m freestyle to take her total number to 19 medals - another record for any competitor, from any country and from any sport at the Commonwealth Games.
And she still has the women's medley relay to go where the Aussies will be odds on to win another gold.
"I'm proud, especially to be a part of the relay, getting another gold for Australia. The mixed relay is always a lot of fun," McKeon said.
"Probably the most rewarding thing - the medals and the swimming and everything is always rewarding, it's what we train for but the most rewarding thing is keeping myself together for the week.
"Getting up behind the block every day, you take a risk, you put your heart on the line, the hard work you put on the line whether you succeed or you fail.
"Just being able to get up every day and do that - I'm proud of myself for that. To wind down I have a nap, watch Netflix, pretty much just lay down until I have to get up again."
McKeown captured her third gold in Birmingham after winning the 100m-200m backstroke double. She also has the 50m backstroke and medley relay to come.
Stubblety-Cook and Temple each collected their second golds.
"I think that's one of my favourite races," Temple said. "Anything can happen. boys versus girls, girls versus boys. Makes it really interesting."
Temple also won a silver in the individual 100m butterfly after dead-heating with England's James Guy.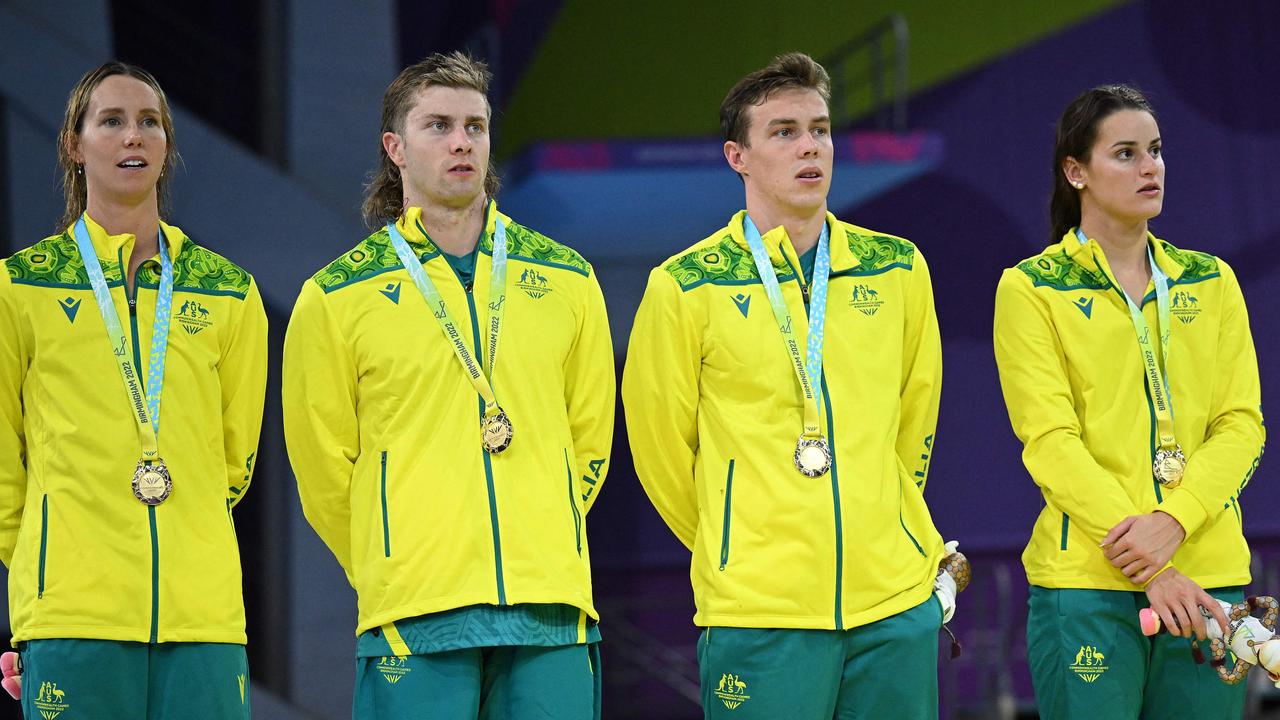 Gold medallists Australia's Emma McKeon, Australia's Matthew Temple, Australia's Zac Stubblety-Cook and Australia's Kaylee McKeown
He and Stubblety-Cook will get their chance to pocket a third gold in the men's medley relay, where they will be rejoined by Chalmers for the final.
"I'm really happy to come away with my first international individual medal. It's been a goal of mine for a while," Temple said.
"And then to back it up and have an awesome swim alongside the team is very special.
After five days of competition completed, the Australian swimmers have won 22 gold medals from 43 events. There are nine races on the sixth and final day. The Dolphins need to win six to tie and seven to beat their all-time records of 28 at a single Commonwealth Games.
Ian Thorpe, commentating for 7, was gushing with praise for McKeon's latest achievement, saying she was a bona fide legend.
"So many events, so many great performances, so many great memories for Emma McKeon and for all of us," he said.
"Some people approach these competitions for one event, some people approach these competitions to be able to be successful across the entire program.
"What Emma McKeon is now changing from, is the off chance that she might win a couple of gold medals here and there, now she consistently wins gold medals.
"And it's not just at the Commonwealth Games, it's also at other events that she swims at. That is what's creating the legend"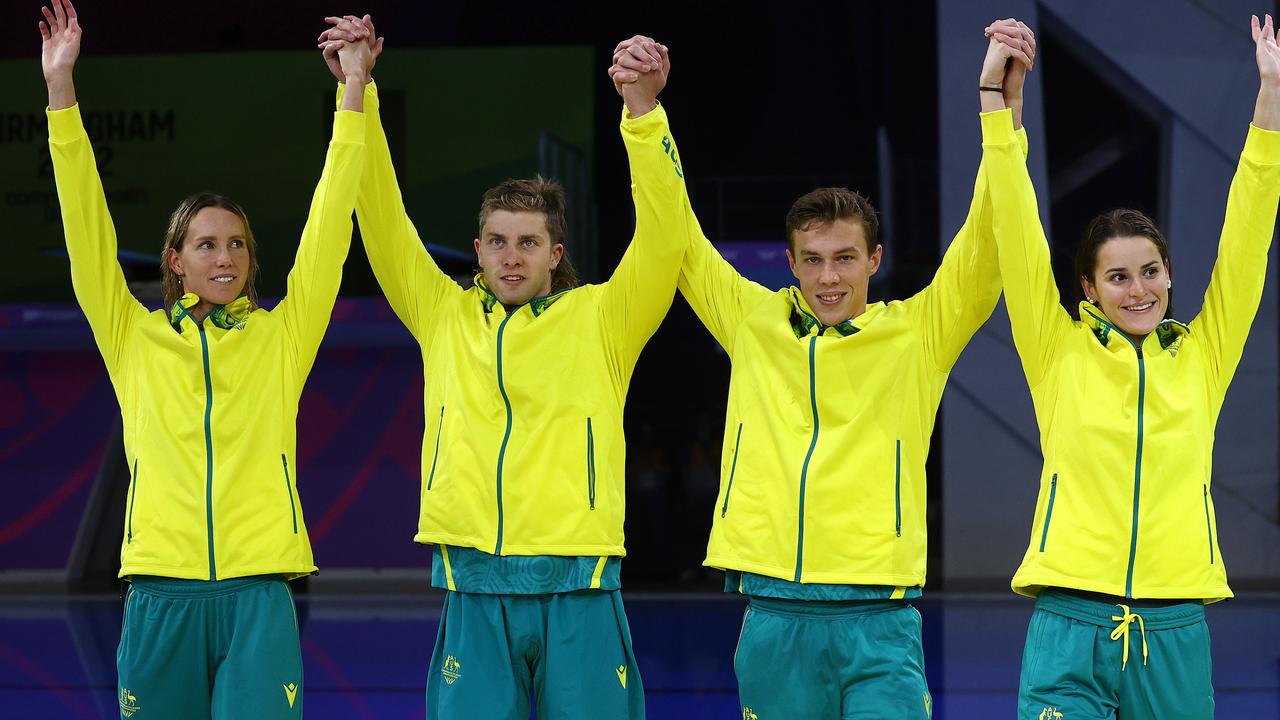 Emma McKeon, Zac Stubblety-Cook, Emma McKeon. and Matthew Temple win the gold medal. ... Picture: Michael Klein
FOLLOW THE LATEST NEWS BELOW
MASSIVE UPSET IN THE 100m FREE
It was an Australian clean sweep in the women's 100m freestyle final but the order was a huge shock with the greatest female swimmer on the planet beaten by a rising star.
Emma McKeon finished with bronze behind Shayna Jack in second and an incredible swim won Mollie O'Callaghan the gold.
"I'm really happy. And I'm happy for these amazing girls," O'Callaghan said afterwards. "Especially Emma. She is an absolute idol so it is really nice to race alongside her at this time. And especially Shayna Jack too. Coming back from stuff, so I'm very happy."
Despite missing out on gold, McKeon, who will swim 16 races in six days at the Games, was equally thrilled to be challenged by the best in the world.
"It is incredible. We get to push each other, year in and year out and it ups the standard every time," McKeon said.
"I know all over the world there will be young ones coming through and I have these two back home to race all the time. And I'm still hungry as ever. I think that I put into perspective, I've probably done better than I should have here as well.
"So, I'm just so stoked to be here and be in the hundred with those girls."
By Julien Linden
Three down, one to go for Ariarne Titmus, but you don't want to miss her next race.
The unstoppable Australian swimming star won the 800 metres freestyle final at the Commonwealth Games in Birmingham, giving her a third gold medal after her earlier victories in the 200m and 4x200m.
Leading almost all the way, Titmus dashed away to win in 8:13.59, ahead of Kiah Melverton (8:16.79) and Lani Pallister (8:19.16) for another Aussie medal sweep.
Australia's.women have won every medal in women's freestyle so far in Birmingham - in 50m 100m 200m and 800m.
Only the 400m freestyle is left - Titmus' favourite event - which she's expected to win easily after breaking the world record at the Australian trials in May.
5:45AM GOLD FOR AUSTRALIA
Eileen Cikamatana has claimed gold for Australia in the women's 87kg weightlifting.
The Fiji-born Australian citizen set a new Commonwealth Games record of 255kg as she claimed a seriously impressive gold.
She went straight into the gold medal with her first lift at the NEC Arena and shattered the previous record.
She lifted 110kg in the snatch and then in the clean and jerk ended up with a 145kg effort.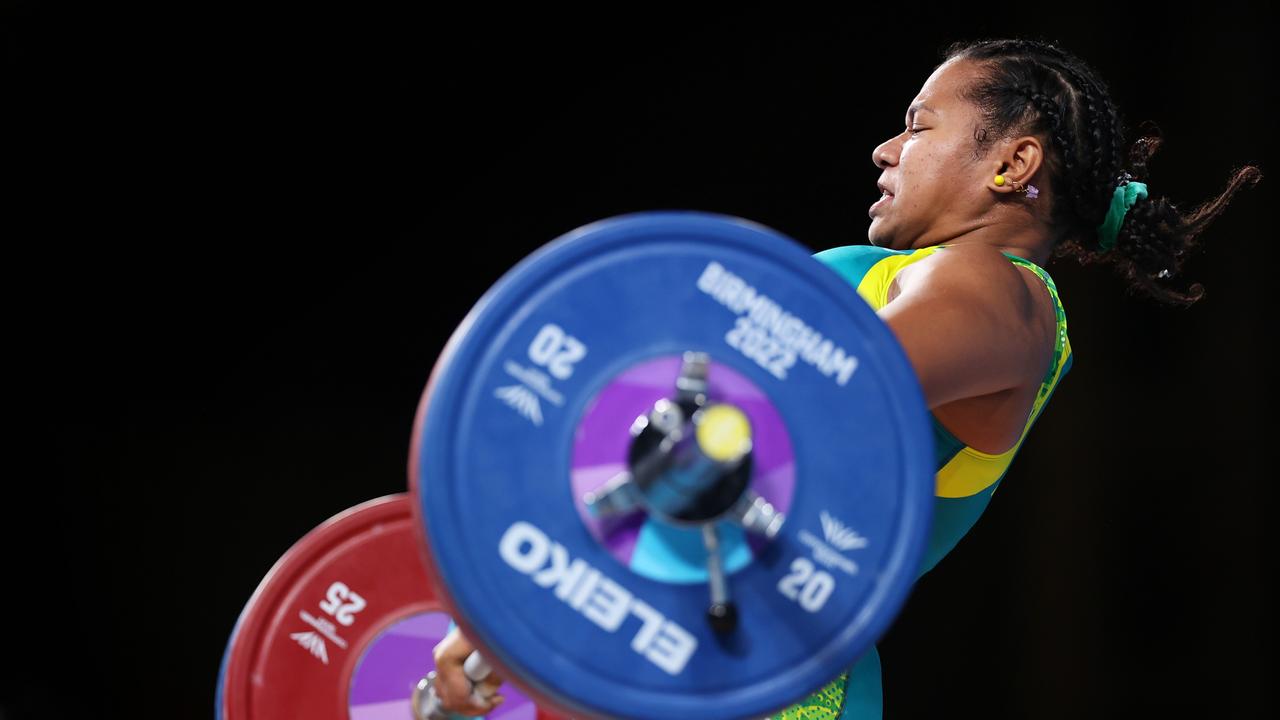 Eileen Cikamatana of Team Australia has won gold
5:43AM GOLD FOR AUSTRALIA
Nina Kennedy has won gold in the women's pole vault but right now I can't tell you how she feels because she's decided that she wants to go for the Games record and stay out there...which she is allowed to do.
But it's gold nontheless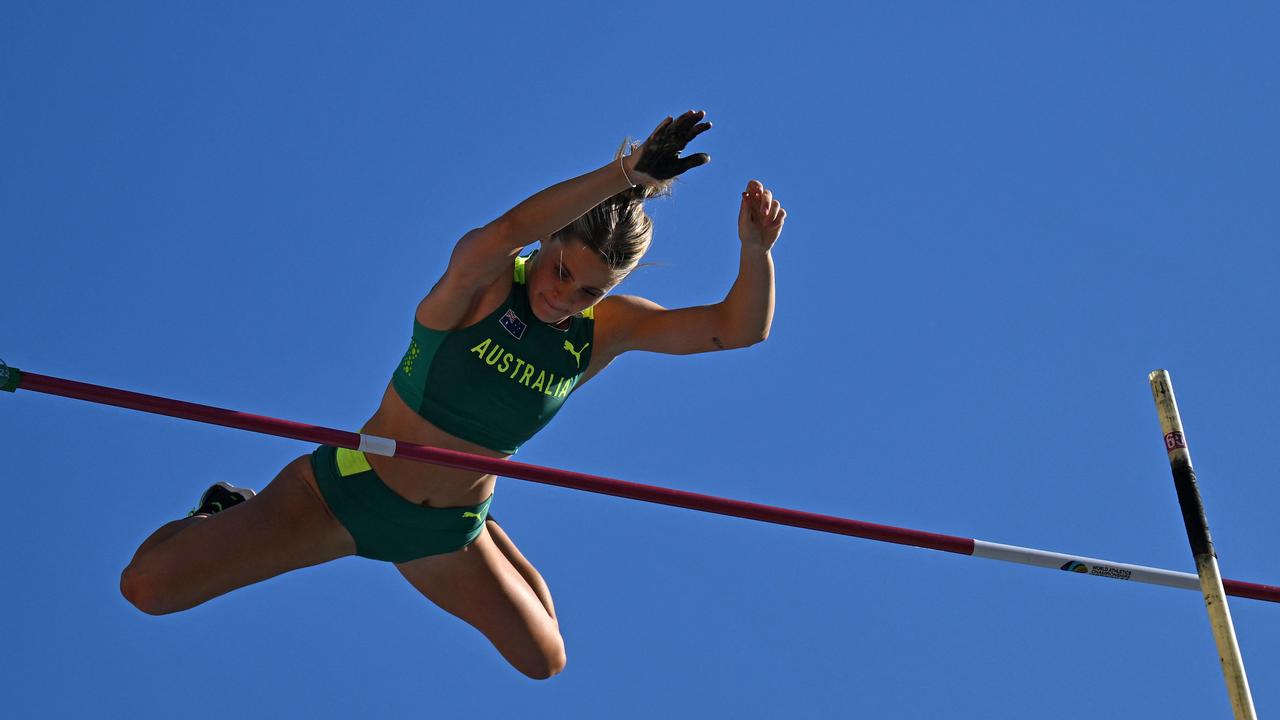 Australia's Nina Kennedy won gold in the women's pole vault
5:30AM WILLIAMSON SHINES IN SILVER BEHIND WORLD CHAMPION
Sam Williamson may just be Australia's most improved swimmer at the Commonwealth Games but he was very nearly public No. 1 in England.
The Aussie won the silver medal in the men's 50 metres breaststroke final to add to the bronze he collected in the 100m.
In the one-lap dash, he was up against English superstar Adam Peaty - which had the support of almost everyone in the crowd.
The pair went stroke for stroke down the entire length of the pool with Peaty just getting his palms on the wall in the nic of time, stopping the clock at 26.76, just 0.21 in front of the rapidly improving Aussie, as Australia's sticks in men's breaststroke continue to rise.
"It's been a dream of mine to step up and be able to race next to Adam Peaty. I've grown up watching him. This opportunity is something I'm never going to forget," Williamson said.
"Ten weeks ago he broke his foot so the courage it took to get out and do that is incredible. I don't think anyone else would have had the strength to pull themselves together and do that. Without a doubt he's the best breaststroke swimmer the world's ever seen."
Zac Stubblety-Cook is the Olympic, world and Commonwealth Games champion in 200m breaststroke while Australia's Grayson Bell also made the final, finishing eighth.
5:15AM: CODY SIMPSON TAKE A BOW
Cody Simpson has finished fifth in his first Commonwealth Games final.
Canada's Joshua Liendo Edwards stormed home to capture the gold in 51.24 seconds ahead of James Guy of England and Australia's Matthew Temple.
Eyes were on Simpson. though, given his profile in the world of pop music.
"It was an amazing experience. I told my coach before the race and he said whatever happens, it is gathering intel, gaining experience. And I'm glad I went out there and put together the best race I could tonight. Just off my PB, so, I cannot ask for much more, aside from learning how to deal with the experience and pressure bit. It is very exciting," he told Channel 7.
Asked what was more nerve-wracking, a Commonwealth Games final or performing in front of 10,000 screaming girls, Simpson reckoned it was the former.
"Right now, I think it is this. I think with experience comes confidence. And I'm still gathering the experience, so still gathering the experience, so still gaining confidence, I am happy to be here. And I think, win or lose today, I'm going to go back to the drawing board and make sure I come back stronger. I've already way ahead where I thought I would be at this stage.
"People are swimming later into their 20s, it leaves so much room to be able to come into it later if you want to. And I want to inspire young people to know that they can do whatever it is they want to do. Even if they feel like it is too late they are too old to pick something up, it is never too late."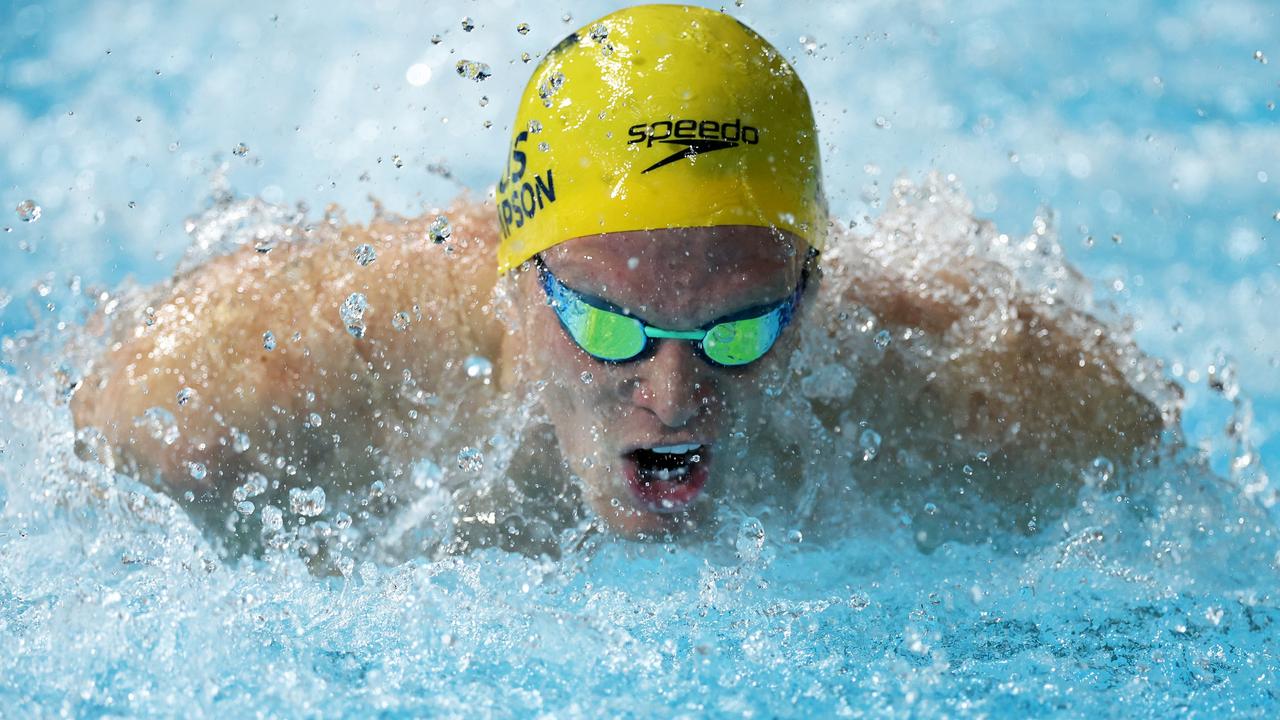 Cody Simpson finished fifth in his first competition back
DEKKERS SHOWS HER CLASS TO TAKE GOLD
Australian teenager Lizzie Dekkers has won gold in the women's 200 metres butterfly at the Commonwealth Games.
The 18-year-old flashed home over the last lap after being second at the final turn to win in 2:07.26, just ahead of England's Laura Stephens.
Brianna Throssell won the bronze for Australia, edging out her team mate Abbey Connor.
One of Australia's brightest talents, Dekkers was unlucky to miss the Dolphins team for last year's Tokyo Olympics when she finished second at the trials but missed the qualifying time.
BRONZE AND SILVER START THE NIGHT IN THE POOL
Chelsea Hodges began the fifth night of finals at the Commonwealth Games by claiming bronze in the 100m breaststroke for Australia. The South African pair of Lara Van Niekerk and Tatjana Schoenmaker taking the top two spots.
After the race all finalists gathered together in a group hug in a touching moment and then exited the pool together.
"We actually planned in marshalling that all eight of us are going to come together and show everyone how close we all are and how much we love each other. It is the friendly games and I think we showed that to everyone tonight."
Crucially for Hodges, who turned 21 last month, the bronze medal also assures her of a start in the Australian women's medley relay team on Thursday, where Australia will start as the gold medal favourites.
Bradley Woodward then finished like a train down the last 50m of the 200m backstroke to take silver in one of the races of the Games. Brodie Williams of England touching in 1:56.40, only one hundredth of a second in front of Woodward.
CHALMERS NOT NAMED IN RELAY
By Julian Linden
Kyle Chalmers has been left off the Australian team for the mixed medley relay final at the Commonwealth Games after the Dolphins selectors stuck with the same lineup used in last year's Tokyo Olympics.
Chalmers has been in great form in Birmingham, winning three gold medals, but the coaches decided to retain the same combination that performed so well in Tokyo last year, winning a bronze medal.
That means Emma McKeon - Australia's greatest swimmer - will swim the concluding freestyle leg.
World record holder Kaylee McKeown will swim the backstroke leg while Zac Stubblety-Cook will do breaststroke and Matt Temple butterfly.
The team is at unbackable odds to win the gold.
A new event on the Commonwealth Games program, the makeup of mixed relays is always one of the trickiest for selectors to make because of the different options available.
Many team use male swimmers for the first two legs then females for the last two.
Australia's preference is to start and finish with females. Australia's biggest rivals for the gold medal - England - have also opted for the same combination.
Although he missed out on the mixed medley relay, Chalmers is expected to be an automatic pick for the men's medley relay on the final day of competition.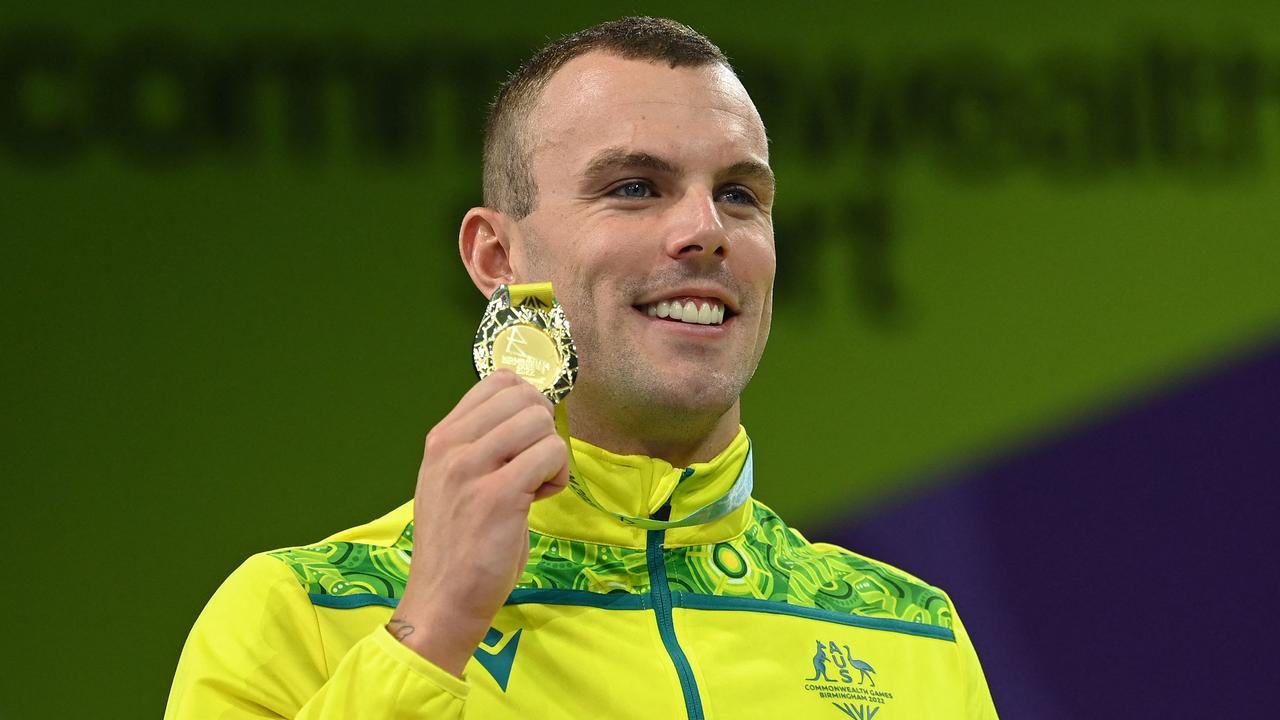 Kyle Chalmers will not race the relay
AGONY IN THE 100m HEATS
There was drama during the 100m heats with Swaziland's Ayanda Malaza spectacularly crashing to the track after just 20m.
Malaza had pinged his hamstring and lay motionless for several minutes before officials rushed to his aid.
The 19-year-old broke down in tears and was eventually taken off the track in a wheelchair with the capacity crowd at Alexander Stadium giving him a rousing reception.
It was a dramatic race whihc had already suffered a false start after Nigeria's Godson Oke Oghenebrume began too early.
Malaza could be seen clutching his hamstring as he waved his arm for attention.
And medics quickly rushed to the scene as Malaza began crying.
There was no chance of the star being able to walk off the track.
Meanwhile, Australia's fastest man Rohan Browning has put his world championships debacle behind him by cruising through to the semi-finals.
Browning didn't get out of the heats in Eugene last month but the Flying Mullet was back in town, finishing in 10.10sec.
"I've been wondering where that's been all year. It's been a real season of ups and downs.
The losses started to pile up," Browning said.
"But I heard a great quote over on the PGA Tour earlier this week, a winner is just a loser who kept on trying. I tried to channel a bit of that in this Commonwealth Games. Always good to win the heat."
COUGHLAN TAKES JUDO GOLD
Australia's Aofie Coughlan has won gold in the under 70kg women's judo match after outlasting Jamaica's Ebony Drysdale Daley.
The two couldn't be separated after allotted time and had to go into a golden score.
Coughlan was the aggressor throughout, nearly getting an ippon with a minute to go, but Drysdale Daley, the first Jamaican to compete for gold, held on throughout.
But she received three shidos, with Coughlan winning via disqualification.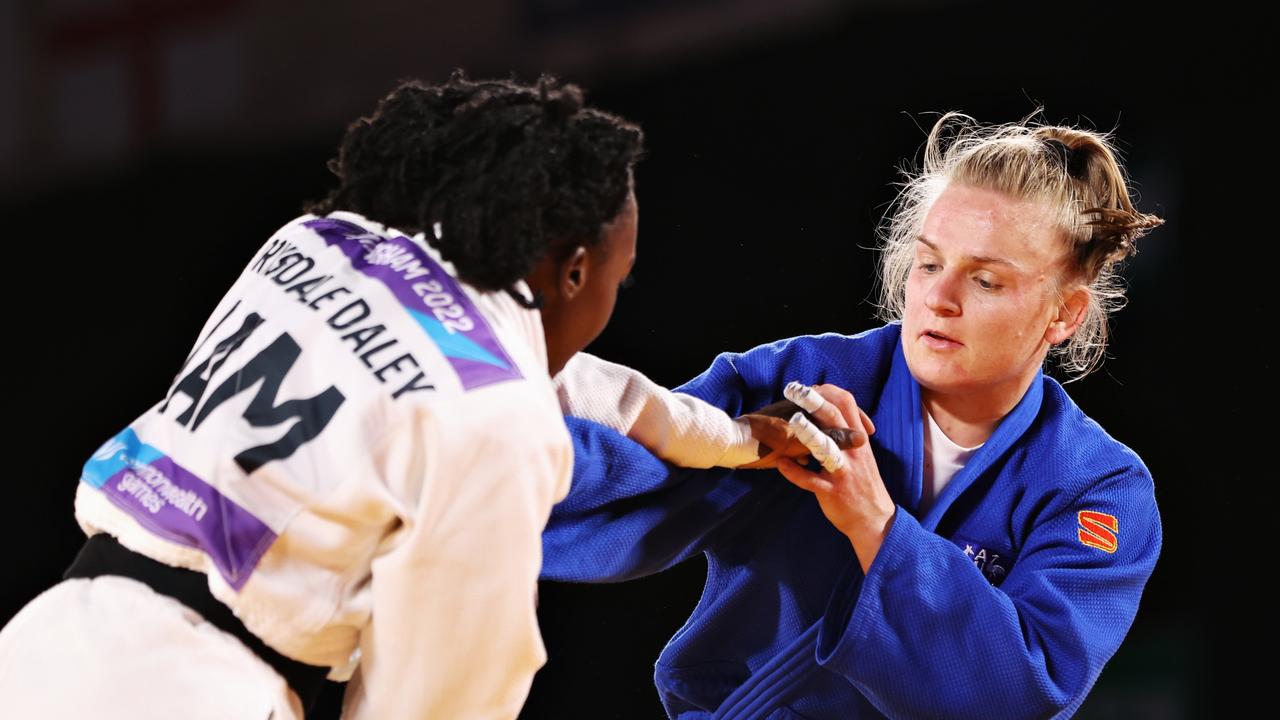 Aoife Coughlan takes down Ebony Drysdale Daley in the Judo. Picture: Mark Kolbe/Getty Images
It's the third medal for Australia from the Coventry Arena this evening.
Jake Benstead won via ippon over Northern Ireland's Josuha Green in the bronze medal match in the men's under 73kg.
Katharina Haecker won via ippon over Jamaica's Lauren Semple in the under 63kg women's event.
ULTIMATE SACRIFICE
By Eliza Barr
A team-mate's selfless sacrifice has proved worth it after Australia's Tyson Bull took out the horizontal bar silver silver medal in the Commonwealth Games artistic gymnastics - after fellow Australian Clay Stephens sacrificed his reserve spot to give Bull the opportunity.
Bull had crashed out in his qualifier on the apparatus and failing to make the final.
When team-mate Jesse Moore pulled out due to injury, Stephens would have qualified as the first reserve - but he gave up his spot to give Bull his chance as the second reserve.
He held the gold medal position the entire final, until he was pipped at the post by Cyprus' Ilia's Georgiou with just 0.233 between them.
Mitchell Morgans was also denied the bronze by a narrow margin, coming in fourth to Cyprus' Marios Georgiou when Ilias took the top position on the leaderboard.
After falling short in Monday's finals, there were tears from Australia's Emily Whitehead when she clinched the bronze medal on floor.
It is the only medal for the reigning Oceania all-round champion at this year's games.
GOLDEN BEAM
By Eliza Barr
It's double the fun and double the glory for Australia's female gymnasts, with debutante Kate McDonald claiming gold in the balance beam and Georgia Godwin taking out silver in her fourth medal of the Commonwealth Games.
Melbourne's McDonald had fallen just short of her own expectations in the uneven bars on Monday - but the moment she knew she had secured a spot on the podium, and overcome her senior team-mate Godwin, prompted instant tears on the sidelines.
Godwin had come in strong with a solid gold medal performance in the all-around and another on the vault, followed by a silver in the uneven bars.
Kate McDonald on her way to Commonwealth gold. Picture: Laurence Griffiths/Getty Images
James Bacueti has changed the cruel fortunes of Australia's male artistic gymnasts by landing a bronze medal in the vault.
The Australian men's team just missed out on bronze and teen star Jesse Moore pulled out of the all-around, the horizontal bar and the rings finals
Bacueti broke the duck to finish on the podium behind England's Jake Jarman and Gianni Regini-Moran.
Tyson Bull and Mitchell Morgans were out of luck in the men's parallel bars, placing outside the medal positions.
WALES NO MATCH FOR DIAMONDS
By Erin Barr
It was far from a perfect game but despite missing key midcourter Paige Hadley, ruled out with an injury, the Diamonds claimed their fourth win of the Commonwealth Games.
Hadley, who hobbled off the court in the win against South Africa, watched the bench with a heavily strapped up right calf muscle.
A few shaky moments, including some out of character handling errors, helped keep Wales in touch with the table leaders Australia in the first quarter, which ended 20-11.
Diamonds emerged for the second quarter with a bit of extra focus - stepping it up and keeping Wales to just seven goals.
Gretel Bueta started at GA tonight and is yet to drop a shot, netting 18 goals.
Diamonds go into the second half up 42-18.
The dominance continued in the second half with Diamonds rounding out the game 79-33.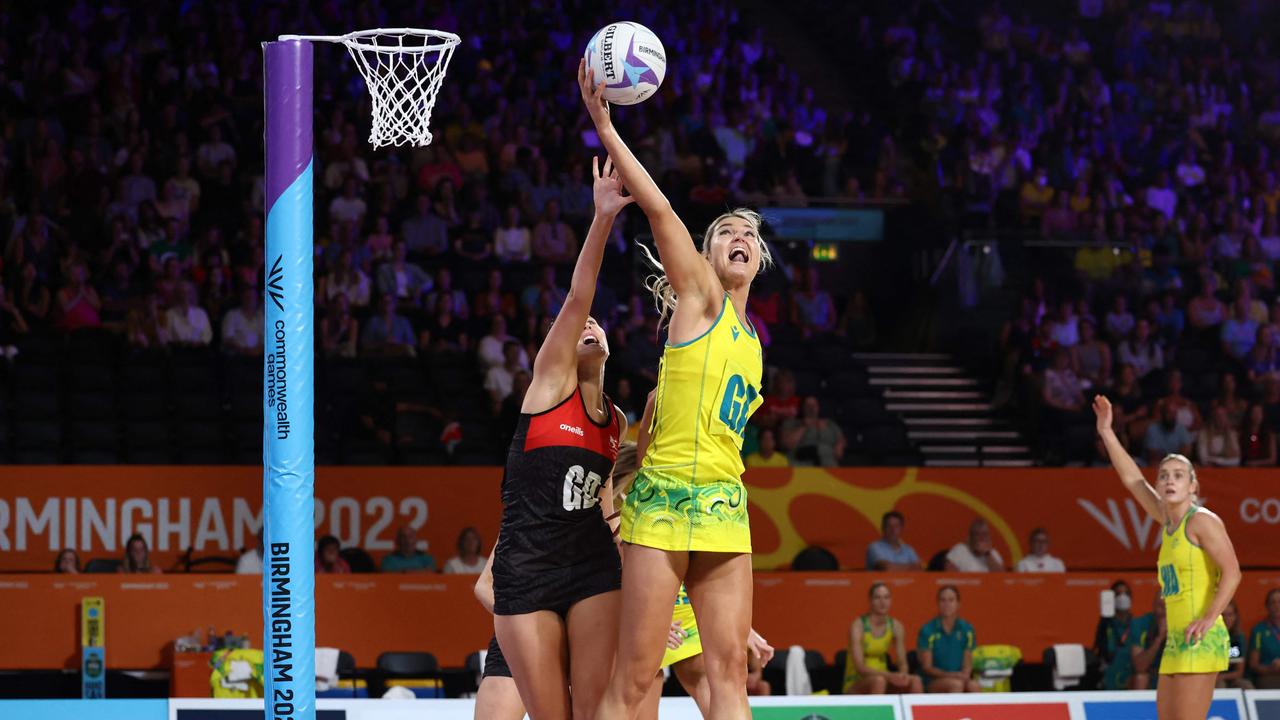 Gretel Bueta and Ella Powell-Davies compete for the ball in their Commonwealth Games clash.Picture: Darren Staples / AFP
CHALMERS ON TRACK FOR NO.4
Kyle Chalmers is on track to win his fourth gold medal at the Commonwealth Games after Australia smashed the opposition to qualify fastest for the final of the mixed medley relay.
Chalmers did not swim in Tuesday night's heats but is a certainty to be selected for the anchor leg in Wednesday morning's final after blowing his rivals away 24 hours earlier to win the individual 100m freestyle final.
King Kyle has also won two gold medals in freestyle relays in Birmingham and it would take a major upset for Australia not to win the mixed medley because of the incredible talent they have at their disposal.
The lineup for the final won't be announced until the start of the finals season but is likely to include Kaylee McKeown (backstroke), Zac Stubblety-Cook (breaststroke), Emma McKeon (butterfly) and Chalmers.
With Prince William and the Duchess of Cambridge Kate Middleton watching from the stands, Australia was represented by Mitch Larkin, Sam Williamson, Alex Perkins and Madi Wilson, who combined to post the fastest overall time of 3:45.34 - almost six seconds clear of the next best.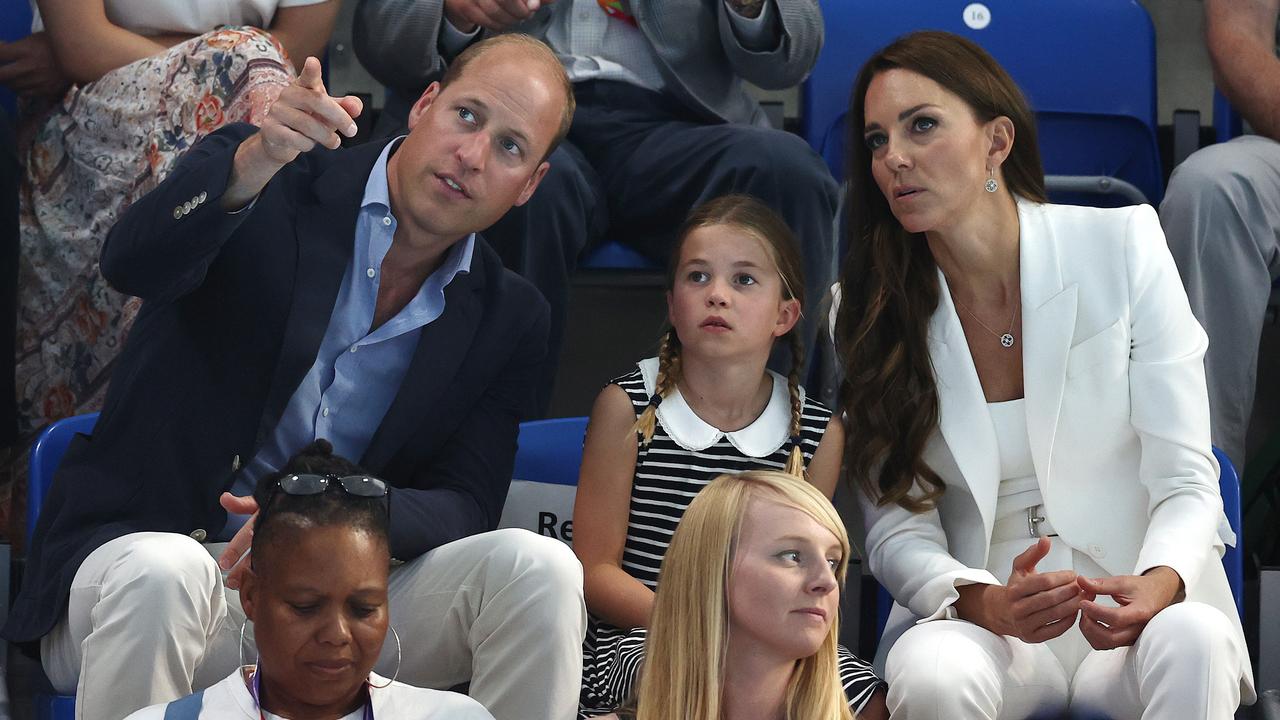 Prince William, and Catherine, Duchess of Cambridge with thier daughter Princess Charlotte Picture: Michael Klein
Swimming wrap -
Men's 50m freestyle
The Aussie teenage star who's been beating Chalmers' national age group records has stormed into the semifinals of his first individual race at the Commonwealth Games in Birmingham.
Flynn Southam, 17, has already won two gold medals in relays in his maiden appearance at a senior international event.
And now the gun youngster has made it through to the semis of the men's one-lap sprint, even though it's not his strongest event.
He only got the call up when Isaac Cooper was sent home for 'wellbeing' issues but safely made it through the heats, posting the 12th fastest time overall.
Australia's Tom Nowakowski, the national champion, was second quickest overall for Wednesday morning's semis while Grayson Bell advanced with the ninth best time.
Women's 50m backstroke
Aussie ironwoman Kaylee McKeown eased into the semi finals of the 50m backstroke with a controlled heat swim.
McKeown has already won gold medals in the 100m and 200m backstroke and a silver in the 200m individual medley but is still firing with three more events to go, including two relays.
She finished second in her heat in a time of 28.09 to qualify fourth quickest overall behind her Canadian rival Kyle Masse.
Australia's Bronte Job, swimming in the lane next to Masse, was second overall while teenage star Mollie O'Callaghan - won her heat and was fifth overall. She already has three golds and a silver and is also through to the 100m freestyle final.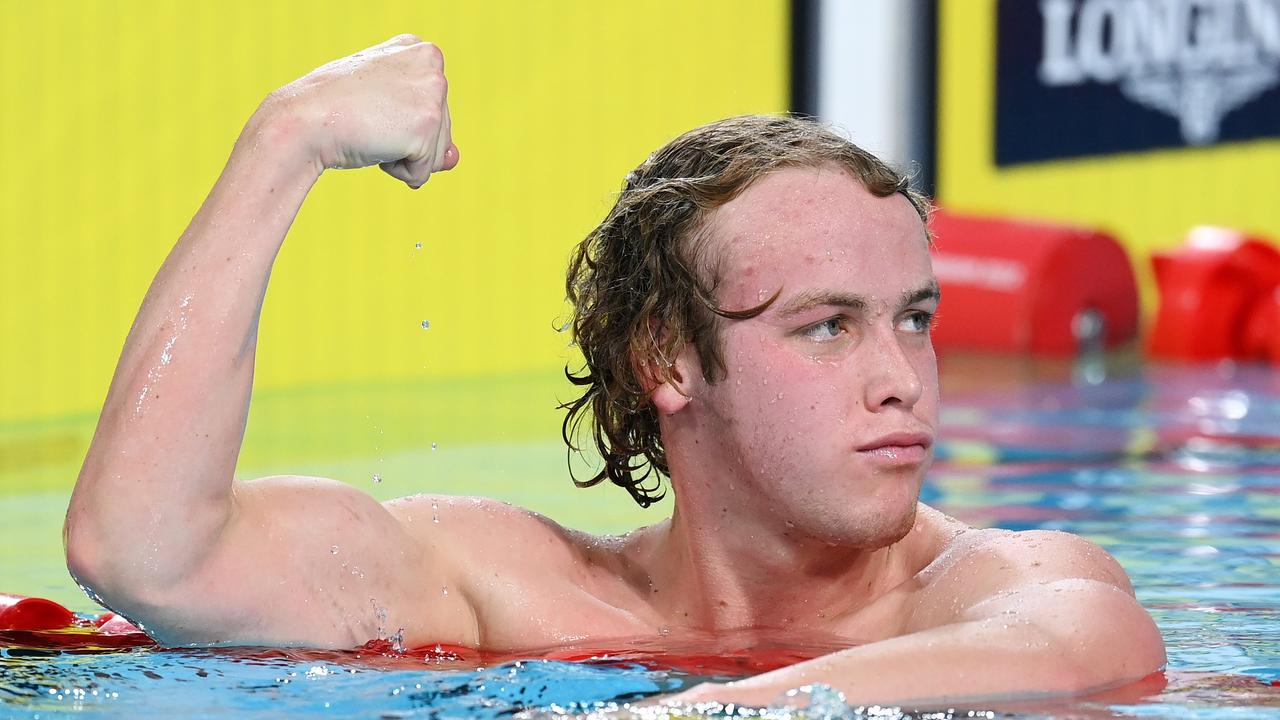 Sam Short after his 1500m freestyle heat. Picture: Quinn Rooney/Getty Images
Men's 1500m freestyle
Rising teenage distance swimmer Sam Short put himself in position to win gold in the best event on the program after setting the fastest time for Thursday morning's final.
A silver medallist in the 400m, Short won his heat in 15:02.66 - more than 20 second clear of the next best, his Aussie team mate Kieren Pollard (15:23.46).
Short's prospects of winning gold were given a massive lift following the withdrawal of Welshman Dan Jervis, who was the likely favourite.
Jervis contracted Covid after making the final at last month's world championships and issued a heartfelt statement explaining that he had been unable to properly train in the weeks between.
Men's 200m backstroke
Australia's three entrants all qualified directly for the final.
Brad Woodward was the fastest Aussie, finishing second in his heat to qualify third overall.
Josh Edwards-Smith won his heat to be sixth while Mitch Larkin was second in the same heat and seventh.
England's Luke Greenback, the bronze medallist in the event at last year's Tokyo Olympics, posted the top time to go into the final as the gold medal favourite.
Women's 200m butterfly
Australian teenager Lizzie Dekkers was nearly two seconds faster than her nearest rival as she topped the charts in a time of 2:07.62.
With world champion Summer McIntosh skipped the race, Dekkers has a great shot at winning her first gold medal at senior international level.
Her team mate Abbey Connor was third while another Aussie, Brianna Throssell also made the final as the fifth best qualifier.
9:15PM FLYING MULLET INTO FINAL
ROHAN Browning has declared there will be no repeat of Tokyo as he eyes a berth in the Commonwealth Games 100m final.
Australia's fastest man bounced back from his world championships disappointment with a stunning 10.10sec heat victory.
The Flying Mullet became a household name after winning his heat at the Olympic Games last year but then failed to get out of the semi-finals.
Browning, 24, was brimming with confidence after his first look at Alexander Stadium, stating he had plenty left for Wednesday night's finals.
"It is by far my best run for the year," he said. "Now I don't want a repeat of Tokyo where I was out in the semis, I want to keep a little bit of powder dry for the final."
Browning was the equal fourth fastest through to the semi-finals with Sri Lanka's Yupun Abeykoon clocking the fastest time of 10.06sec in the qualifying round.
He will be joined in the semi-finals by his Australian teammate Jake Doran who finished second (10.39sec) in an earlier heat.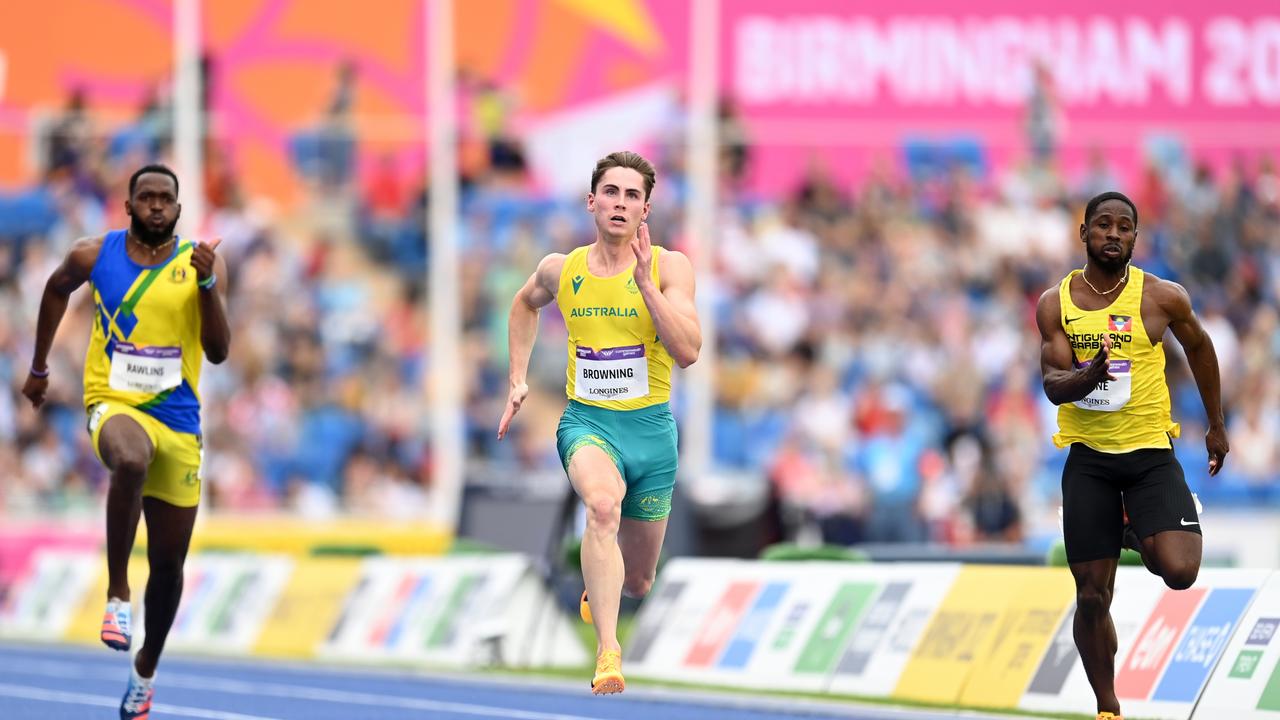 Rohan Browning of Team Australia
It has been an interrupted year for Browning through illness and injury and it found him out at the world championships in Eugene, Oregon, where he ran 10.22sec to be eliminated.
"I tried not to take it to heart, there is always that humiliation element of when you get run out in the heats," he said.
"I tried to bounce back from it, not take it to heart and just trust that the form is there, it's just in the execution. I think I have tapped into a good vein of form for these championships.
"This year I have struggled a bit on the circuit, the losses really started to pile up and I've been wondering where that's been all year.
"It's been a real season of ups and downs but I heard a great quote over on the PGA Tour earlier this week, a winner is just a loser who keeps on trying. I tried to channel a bit of that in this Commonwealth Games.
"I knew I had a run like that in me, I stumbled a bit out of the blocks, it was far from the perfect race. The conditions out here are pretty average and I just want to keep progressing."
9:05PM AUSSIE INJURY ISSUES
Australian midcourter Paige Hadley will miss today's match against Wales with a calf injury.
Hadley, 29, injured her right calf in the Diamonds' 25-goal win over South Africa yesterday.
"Paige is one of the toughest competitors in netball, and we will continue to work with our medical team on her return to the court," said Australian Diamonds head coach Stacey Marinkovich.
"We have a versatile and dynamic team, and we are focused on improving performance as we progress towards the business end of the Birmingham 2022 Commonwealth Games."
freak accident at the world championships last month has made Australian runner Catriona Bisset hungrier than ever as she hunts for gold at Commonwealth Games.
The 800m athlete was left with 11 stitches in her thigh after being knocked over on the home straight and accidentally stamped on by a rival's spikes on the home straight in Oregon.
Incredibly, Bisset picked herself up, finished the race and qualified for the semi-finals.
While the injury has not impacted her running, Bisset gave a stomach-turning description of the recovery.
"It's all closed and scabbed over now, so there's none of that gnarly, pussy, gross stuff," the 28-year-old said.
"All the bruising's disappeared now, as well, so it's finally a normal skin colour, rather than bright purple.
"It gives me a lot of motivation to run in this next one.
"I feel like I didn't really get a good crack at worlds and I'm in really good shape. It's been a pretty flawless build-up to these majors, which is why it's definitely really heartbreaking to have this freak accident."
Catriona Bisset leg injury athletics
AUSSIE GETS THORUGH ON THE LINE
By Scott Gullan
Australia's second fastest man Jake Doran has qualified for the 100m semi-finals.
The national champion finished second in his heat in 10.39sec which got him an automatic passage through to Wednesday's finals.
Gold medal favourite South Africa's Akani Simbine won the heat in 10.09sec.
Australia's fastest man Rohan Browning is set to go in the ninth heat.
It is a cut-throat qualifying in the 100m with only the first two in each heat guaranteed a spot in the semi-finals with the next seven fastest also advancing.
Australia enjoyed an excellent start to the athletics program with heptathlete Taneille Crase winning the opening event on the track, the 100 hurdles in a personal best 13.42sec.
And moments later Henry Frayne confirmed his place in the long jump final by leaping 7.85m with his first qualifying jump.
He will be joined in the final by teammate Chris Mitrevski who recorded 7.76m with his second jump.
HOCKEYROOS IN TENSE WIN
By Joe Barton
For the second time in 24 hours, Australian hockey reigned supreme over arch rivals New Zealand – this time with the Hockeyroos doing the damage.
12 hours after the Kookaburras destroyed their rivals 7-2 to move atop Pool A in the men's tournament, Australia's women repeated the dose with a tense 1-0 victory on Tuesday morning.
The win keeps Australia's perfect record at Birmingham intact and puts them in the box seat to finish on top of Pool B with just a match against Scotland to come on Wednesday.
This was a match the Hockeyroos had circled since the draw was made public, with a chance for some retribution for the gold medal defeat on the Gold Coast four years ago.
Now comes one final pool game, against Scotland on Wednesday, and potentially two more victories to secure the ultimate redemption of Commonwealth Games gold.
In a cagey match, in which Australia was frequently saved by last-ditch defensive efforts from the likes of Renee Taylor and Claire Colwill, it was the first-quarter goal to Kaitlin Nobbs that split the teams at the break.
Nobbs converted from the penalty spot after New Zealand's defence denied a certain goal with a foot – leading to a penalty stroke being awarded.
It continues a dream tournament for Nobbs, who has five goals for the tournament, hammered home a hat-trick in the opener against Kenya and also brought up her 100th game in green and gold this week.
6:57AM SPLIT LOYALTIES FOR AUSSIE
Cricket star Mitchell Starc will arrive in Birmingham this week – but his eyes may be focused away from Edgbaston Stadium, where wife Alyssa Healy is leading Australia's women's cricket charge.
Australia have started with consecutive wins, following a scare against India in their opener, but Starc hasn't been in the stands.
Instead, he was back home to attend some weddings — including that of Test captain Pat Cummins to Becky Boston in Byron on Friday.
Starc is sure to be in the stands watching the women's bid to win the maiden Commonwealth Games T20 gold, but Healy believes the major drawcard that lured the left-arm quick to the UK was brother Brandon, who is competing in the high jump.
"I think he's coming over for Brandon more than me," she said.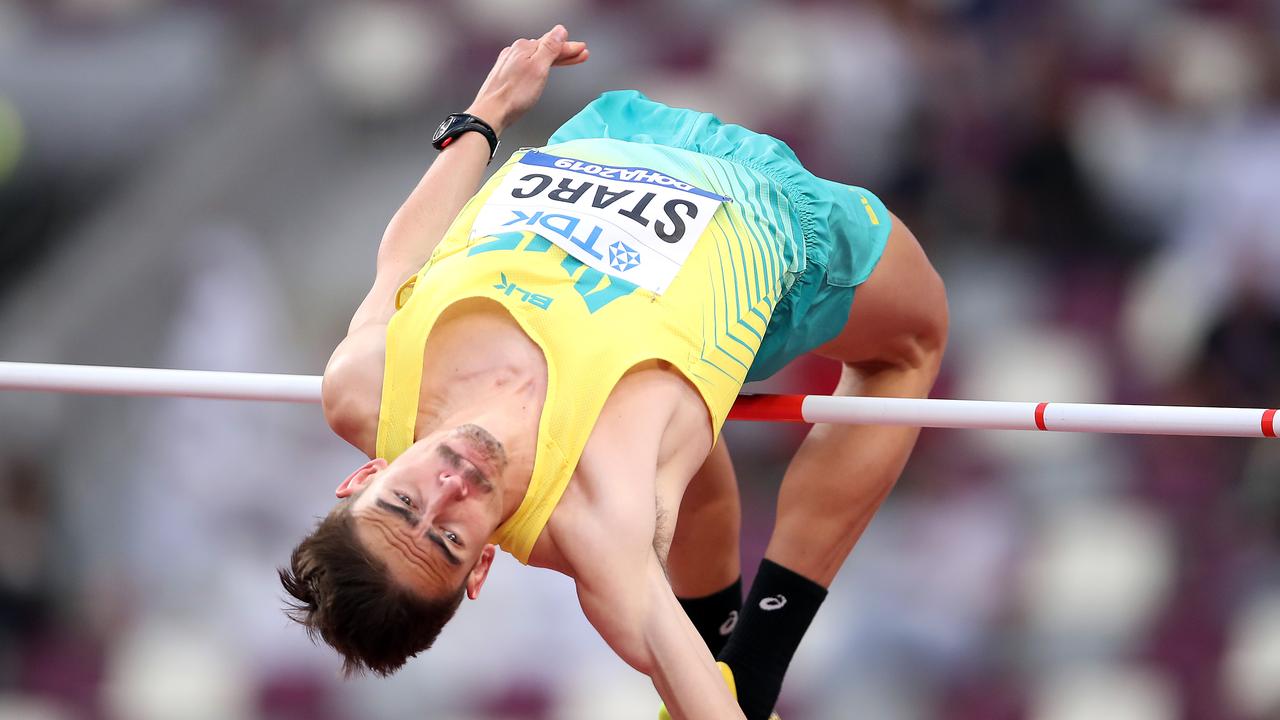 Brandon Starc is one of Australia's top athletics medal hopes.
SWIM STAR WOULD HAVE 'CUT FINGER OFF' TO WIN
Making history at the Commonwealth Games was not enough for South Africa's swimming hero Chad Le Clos with the 18-time medallist denied gold in the men's 200 metres butterfly.
The medal saw Le Clos join shooters Michael Gault and Phil Adams as the most decorated Commonwealth Games athletes of all time and also came 10 years to the day since he beat Michael Phelps in the same event at the 2012 London Olympics.
But the 30-year-old could not hide his frustrations.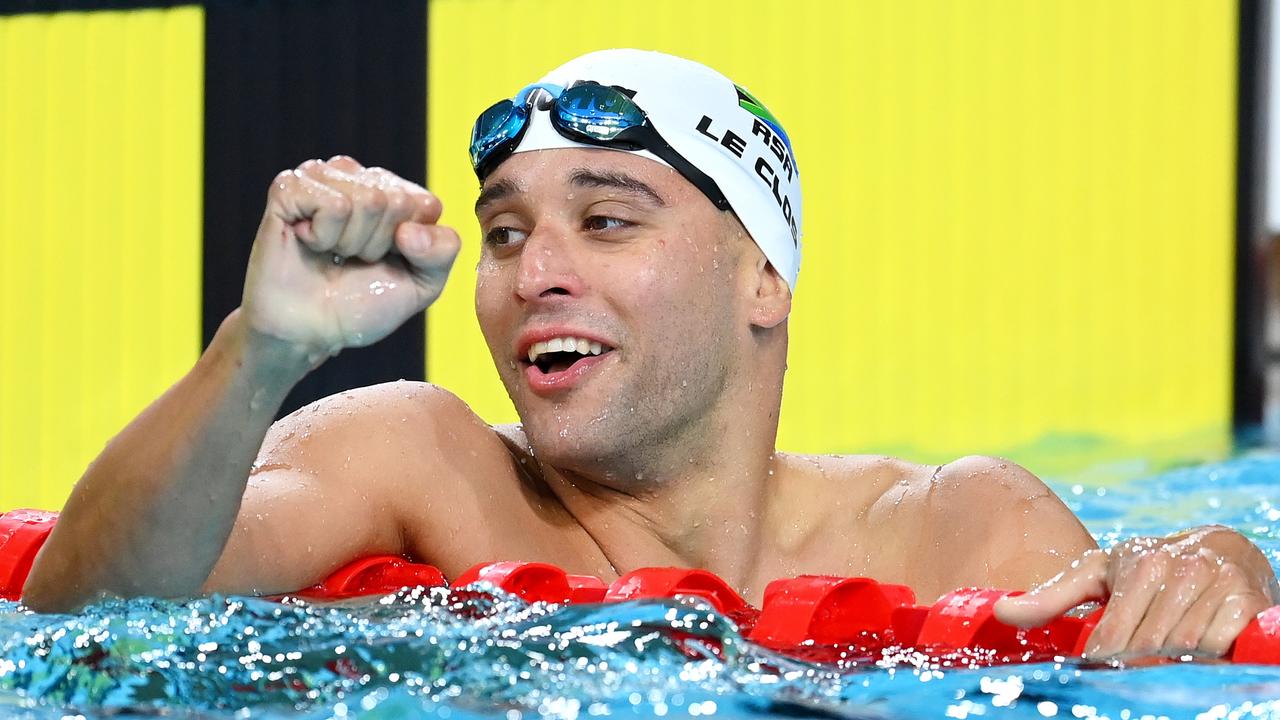 Chad Le Clos said he was gutted to miss out on gold.
"I'm gutted not to have won, I'll be honest," he said afterwards.
"I would've cut my finger off to win tonight. It meant everything to me and my family – everyone's in the stands, my friends flew out for this race."
Le Clos was beaten to the wall by New Zealand's Lewis Clareburt with a winning time of 1:55.60 seconds.
"Fair play to Lewis, he had a great race," he added. "He said he watched me growing up and I said, 'man, did you have to do it on my day? Could you not have given me one more time?"
Le Clos's medal haul from four Commonwealth Games includes seven gold, four silver and seven bronze.
FANS ANGRY OVER BIZARRE COMM GAMES INCIDENTS
Eliza Barr
A bus crash involving an allegedly intoxicated driver, illegal parking and snaking queues for major events are among the dramas that have been overcome by organisers since the Commonwealth Games kicked off last week.
Several people were injured when a bus carrying spectators from the Rugby Sevens in Coventry back to the Birmingham city centre collided with three cars on July 30.
There were no serious injuries and a 27-year-old man was subsequently arrested over allegations of drug driving and causing injury to a minor, West Midlands police said.
Meanwhile, hordes of cars in Birmingham were plastered with $85 tickets after motorists fell foul of temporary Games parking restrictions designed to ease parking access for residents with so many visitors expected near Games venues.
Other spectators took to social media to complain about "shambolic" planning as queues for the men's artistic gymnastics team final snaked for hundreds of metres outside Arena Birmingham on Day 1 of the Games, causing some punters to miss 45 minutes of the event.
The access issues appeared to be resolved by Day 3, with queues moving into the venue much more smoothly.
Originally published as Commonwealth Games Day 5: Emma McKeon becomes the most successful athlete of all time