Commonwealth Games: Jemima Montag defends walking gold medal
A haunting family discovery helped inspire race walker Jemima Montag to defend her gold medal and confirm herself as one of the premier athletes in the Commonwealth.
Australia's premier race walker Jemima Montag has successfully defended her Commonwealth Games title, winning the Birmingham edition with a superb record breaking time of 42min34.30 and she crossed the line and kissed her bracelet.
Montage was streets ahead of the Indian champion Priyanka and Emily Wamusyi Ngii from Kenya who won the minor medals. Other Australians walkers, Rebecca Henderson was fourth and Katie Hayward was seventh.
Whenever the going gets tough for Montag, a 24 year old from Brighton, Victoria she glances down at her wrist. For her bracelet is an extra special charm from her beloved late grandmother, Judith a holocaust survivor from Auschwitz.
Australian Jemima Montag crosses the line to win gold. Picture: Michael Klein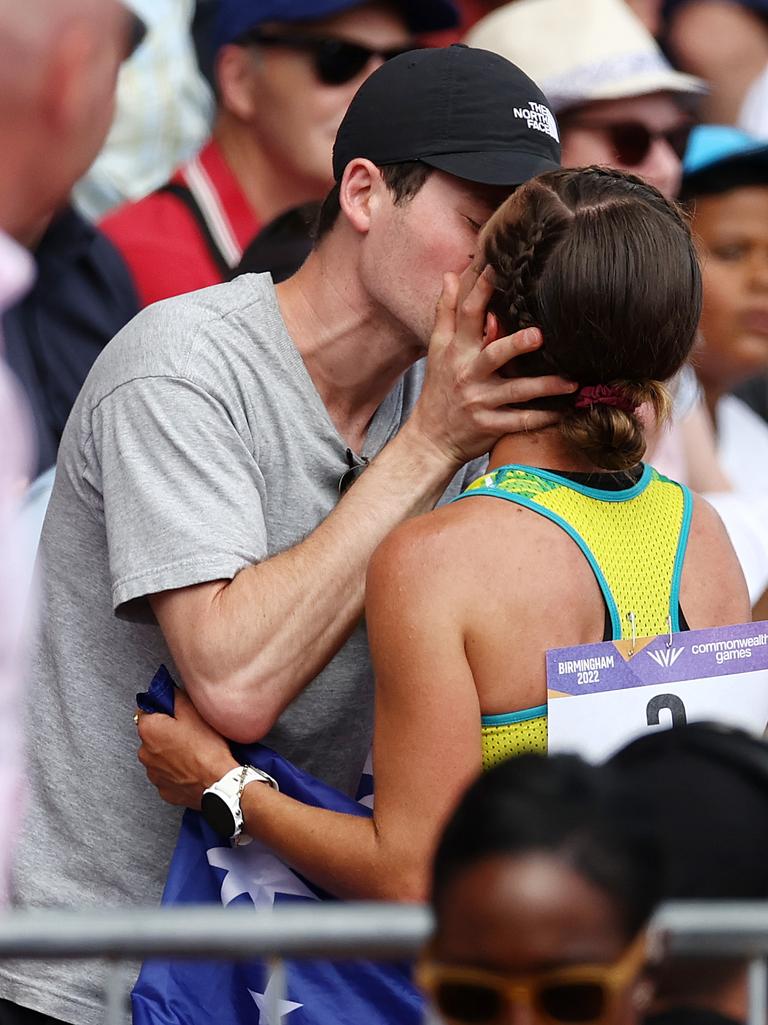 Australian Jemima Montag is congratulated by her partner after winning gold. Picture by Michael Klein
Montag's nana died just before the Tokyo Olympic Games and it is only since her death that the family has uncovered the traumatic holocaust experience.
Her nana's special gold necklace was gifted to Montag and she and her two sisters decided to make bracelets for each other as important keepsakes.
Montag's sunny nature is born of that resilience.
She finished fourth at the recent world championships and in defending her victory on Saturday backing up her win at the Gold Coast 2018 Games, she even improved her best time by several seconds and set a new Games record.
"Similar to last Commonwealth Games, I was pulled along by the crowd, it was amazing,'' she said.
"I wanted to enjoy that opportunity and enjoy the crowds, you don't often hear 20,000 people, so I was enjoying it.
"It is a different beast on the track, it is an added challenge going ten seconds faster per kilometre."
Montag said the judges had warned her "not to absolutely burst off at the start" as it draws their attention.
"They wonder if you are breaking the rules,'' she said, explaining a conservative start for the first couple of laps.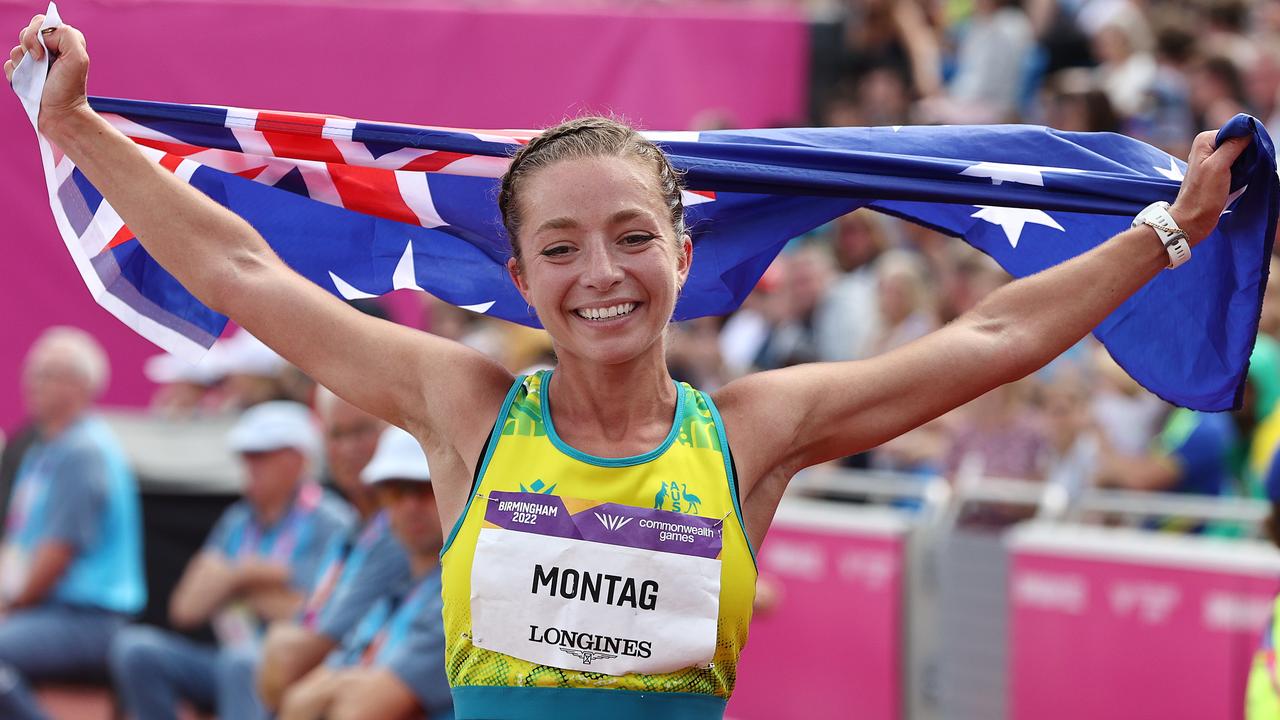 Jemima Montag with the Australian flag after winning gold. Picture: Michael Klein
USAIN BOLT 'ANOINTS' TEEN 100M SUPERSTAR
Scott Gullan
Threelightning bolts constitute the best seal of approval you can get as a teenage sprinter. Letsile Tebogo has been drawing comparisons with Usain Bolt for some time, but breaking a junior 100m record while conjuring memories of the Olympic titan's showboating prime was even noted from on high.
Bolt, the 100m world record-holder and eight-times Olympic champion, posted three lightning emojis next to an Instagram video of Tebogo clocking 9.91sec at the World Under-20 Championships in Colombia. The time was enough to raise eyebrows and break the Botswana flyer's own under-20 world record, but it was the style as well as the substance that caught Bolt's attention.
The 19-year-old seemed to be running within himself from half distance in Cali and then, with about 30m left, turned to his right and started wagging a finger at Bouwahjgie Nkrumie. The Jamaican smiled back and may have seen something familiar in the gestures.
It was the 2008 Olympics in Beijing when Bolt, then 21, truly burst into the mainstream as he broke the world record in the 100m final. That race was jaw-dropping for the time and also for Bolt easing up, dropping his hands and then beating his chest before he made the line.
It was the showboat seen around the world, although it did not meet with the approval of all. Jacques Rogge, the IOC president at the time, said that it was not the way "we perceive being a champion", failing to realise he had just witnessed the bells-and-whistles arrival of arguably the Olympics' greatest champion.
USAIN IS MY IDOL
Tebogo, who is this year's 200m African champion as well as a now double world under-20 winner, explained his unorthodox method. "The statement was to come and enjoy the race," he said. "If somebody took it as disrespect, I'm really sorry. I saw the fans and everybody watching at home can enjoy the race — to remind them a little bit about what Usain Bolt did back in the days. He's my idol, the person I look up to."
Immediately, as in 2008, people speculated how fast Tebogo could have gone had he maintained maximum speed and focus until the line.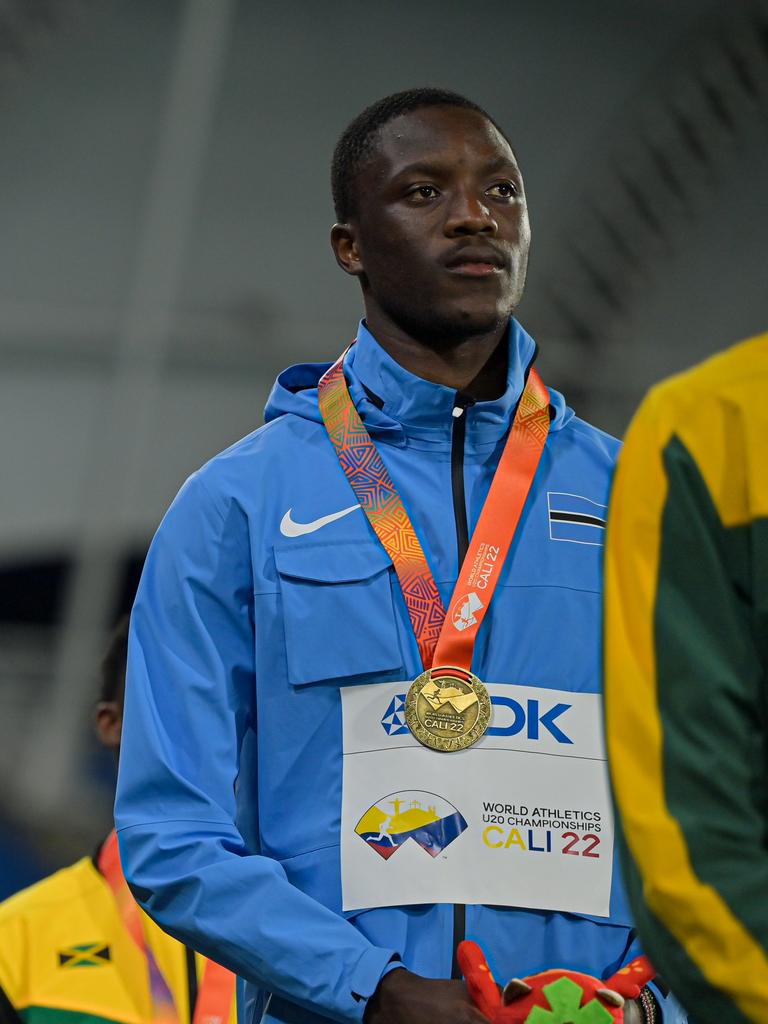 Gold medallist Letsile Tebogo
Tebogo, himself, suggested that 9.91 could have been 9.80, although that seems wildly optimistic. He will hope his trajectory mirrors that of Bolt, who clocked 9.69 in Beijing. A year later, he reduced that to the present record of 9.58.
Tebogo hails from Kanye, a village 80km from Gaborone, the capital of Botswana. He has said he wants to pursue a track career to provide for his mother and younger brother.
Initially, he favoured becoming a footballer, but added: "I used to run past people and won medals. I also played football. Every time, though, I went to play football I was being benched."
A relative latecomer to his sport, Tebogo is now bound for the University of Oregon. The move will plunge him into the heart of US track and field and he will team up with Jerry Schumacher, recently named as the university track and field head coach.
HOW HE FARES
Tebogo first set the under-20 world record when he was only 18 and broke it again at the senior World Championships last month when he was timed at 9.94 in the heats. He failed to make it out of the semi-finals, though, and Fred Kerley, the 27-year-old American, won the gold in 9.86.
His time in Cali makes him the 11th-fastest man in the world this year. There are other prodigies ahead of him in that list. Micah Williams, of the US, is only 20 and has run 9.86 this summer, as has Jamaica's Oblique Seville, 21.
Nevertheless, Tebogo is clearly a new name in an event that has lost its lustre since Bolt's retirement.
"I didn't plan (the celebration)," he said. "But as soon as my first step, I knew the title was mine. It was the best start of my life."
He may not be the new Bolt, but at least he has got the attention of the old one and he is undoubtedly worth watching — for lots of reasons.
Originally published as Commonwealth Games: Jemima Montag defends walking gold medal