Extraordinary confusion: The untold story of the 2002 Commonwealth Games gold medal classic
In six netball Comm Games gold medal matches played, two were decided in double-extra time and remembered as two of the best matches ever. In the first of a two-part series, LINDA PEARCE revisits Manchester 2002.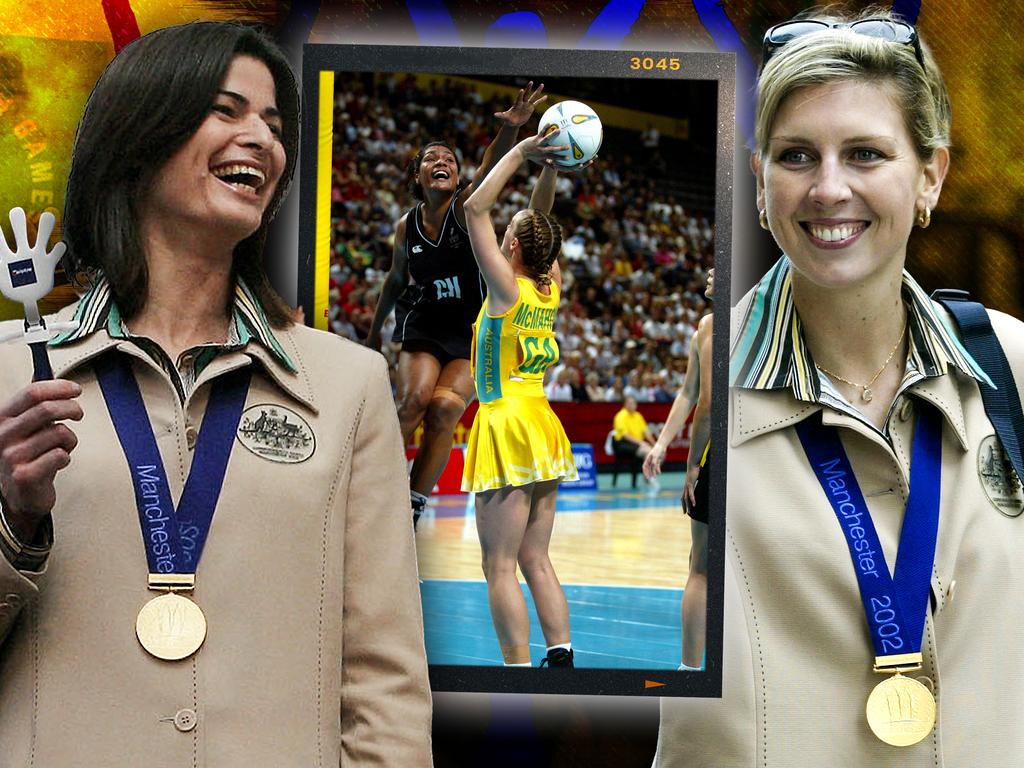 The 2002 Commonwealth Games netball gold medal match remains one of the greatest ever played.
It was never missing. Not this shot.
Despite mass confusion in the first major final decided in double extra-time, amid deafening noise generated by what was then a world record netball crowd of 9300, Sharelle McMahon prepared for the goal that could – and would – win Australia 2002 Commonwealth Games gold in Manchester.
The painkilling injection in McMahon's injured ankle, the one that would later require a reconstruction, had worn off during regular time, meaning she was struggling to walk, yet somehow willed herself to continue to run.
The utter bewilderment in the commentary box reflected the lack of information in the stadium about the unprecedented situation, although the word had eventually filtered out onto the court that the final had rolled over into a sudden-death second overtime period, in which a two-goal advantage would decide this latest trans-Tasman classic.
So to the moment.
The Diamonds led 56-55.
It was a tense gold medal match between Australia and New Zealand. Picture: Leon Mead
What started with a Liz Ellis interception in the back third, whizzed down court to where McMahon drew a contact from New Zealand defender Vilimaina Davu that delivered a mid-range penalty.
After a pause while the sweat was wiped from the floor, fellow Aussie shooter Cath Cox tried, half-heartedly, to look like she was available for an off-load under the post. In truth? Good grief, that was the last thing she wanted.
McMahon, who was still relatively early in her brilliant 118-Test career, takes up the story from there.
"I was standing with the ball in my hands, knowing that the next shot I was going to take was for the gold medal, and the crowd was going mad, and the bench was going mad, and Coxy's under the post pretending to offer me a pass, so all that was going on," she tells CODE Sports.
"There was a lot. There was a lot on that.''
The 24-year-old, who had been the hero at the death in the 1999 world championship thriller in Christchurch, tried to focus. Resolved to narrow her mind and block out the distractions. Concentrated on her technique, and called upon her usual trigger words: Steady and lift.
It was never missing. Not this one.
"No. No,'' she recalls. "It was just a nice shot.''
McMahon, who retired a decade later as the second most-capped Diamond and one of the sport's all-time greats, has never seen the full replay of the second of her four Commonwealth Games finals, but glimpsed a few snippets not long ago. She was reminded of Cox's string of fearless long bombs after coming off the bench at half-time.
"Oh my God, to be able to nail those shots in those moments was unbelievable,'' McMahon says.
"They kept us in the contest, and then that final one that I took, it felt really good off the hand.
"And as I've watched it back there was no hesitation, and that certainly was when I was shooting at my best: When I just put it straight up and went for it.''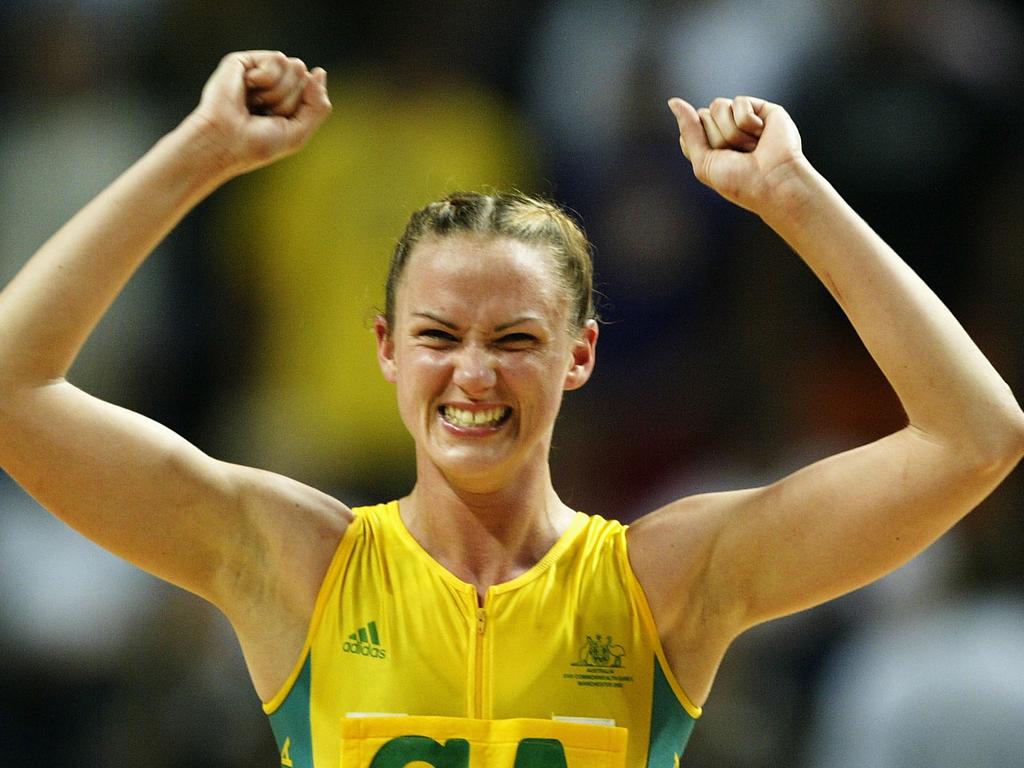 McMahon celebrates after hitting the shot that delivered gold to the Diamonds. Picture: Stuart Hannagan/Getty Images
*****
If McMahon had remarkable clarity in that clutch moment, the common theme in the preceding minutes was utter, extraordinary confusion.
It's odd how minds recall the same events differently, though, and 2002 captain Kathryn Harby-Williams still chuckles when she recalls coach Jill McIntosh stating that the team was clear in advance about the procedures around drawn finals.
Which, apparently, included what would happen if the scores were still tied after an additional seven minutes at each end.
"I'm laughing because years later Jill was doing a talk and they asked about that and Jill was like, 'Oh, we were so well-prepared, the girls knew exactly what was going on','' says Harby-Williams, almost cackling in the recollection.
"Uh, uh!''
Certainly, the Diamonds had practised potential scenarios. Perhaps the team bus breaking down, or a power failure in the stadium, and even what would follow the regulation 60 minutes.
But multiple players told CODE Sports that they were clueless about what would happen if the tie could not be broken. Or at least they assumed they would be told the last phase had begun, and thus wondered why the clock suddenly started counting upwards after it had finished ticking down.
Harby-Williams watches on as McMahon celebrates the winning shot. Picture: Michael Bradley/Getty Images
There was no official signal or announcement that the two-goal-advantage period had begun, and certainly not the break in play that several had expected.
"We were all looking at the bench going, 'What the hell's happening?'" says Cox.
"We just kind of kept playing while they were working it out, which was just a bit mental, really. When we finally did work it out, we'd already played about five minutes of extra netball."
Eloise Southby-Boyle, who had been subbed off for Cox, confirms that while McIntosh knew the rules, and therefore so did those sitting near the coach, none of the pre-game 'What ifs' included the circumstances around additional extra time.
By then, Southby-Boyle was trying to get the word to McMahon, her friend and Melbourne Phoenix teammate. "Shaz was cramping and the injection she'd had in her ankle was wearing off so she was in all sorts, and she kept running over going, 'What do we need to do? What do we need to do?'
"So I've got my two-finger sign up, like, 'You've gotta be up by two', but it was the biggest crowd ever in netball at that point in time, and she couldn't even hear and she thought we had two minutes to go.
"So she runs off and they're shooting goals and whatever, and then she comes running back and in the end I think I did it about two or three times and I'm like 'YOU HAVE TO BE UP BY TWO!'
"And she finally went, 'Oh my God', and then obviously got the message through to the others, although the defenders probably had no idea what was happening.
"Then she gets taken out by Vilimaina Davu and all I could see was Coxy — and I'm on the bench having a bit of a giggle – kinda slinking behind the post going, 'I hope Shaz is gonna take this one. I'm here but I'm not here'.
"And I probably would have done that myself!
"So poor Sharelle goes and retrieves her own ball, comes back, wipes herself off, gets herself ready, and I could just see her take this big deep breath and shoot it, and then obviously mayhem, we all ran from everywhere."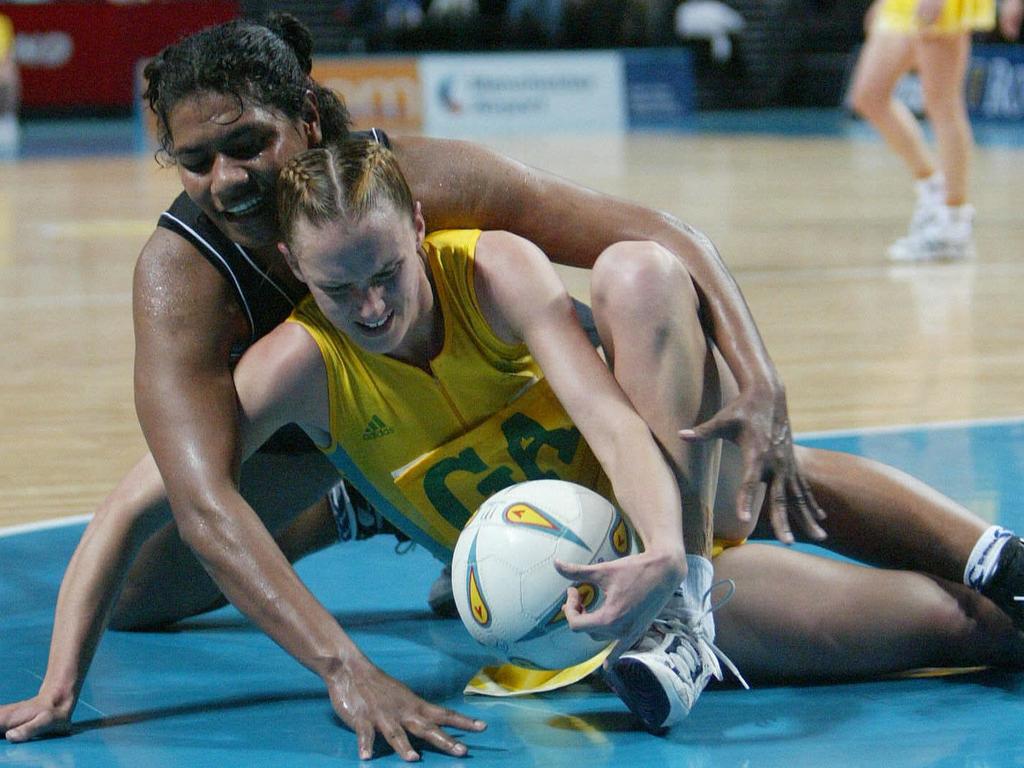 McMahon left everything on the court in that gold medal match. Picture: Leon Mead
Cox was closest, having converted the strong defensive work of Ellis, wing Peta Squire and Harby-Williams to help extend a game that was the first big final in the latter's grand career, one that she was convinced was probably lost.
"You just think, 'Oh, yeah, I can shoot that. I can get that in'," recalls Cox, who scored Australia's three goals before McMahon's sealer.
"Probably these days you'd get screamed at by your coach for not trying to work it in closer to the post, but fortunately they were sinking.
"It was my shot, I think, that got us into the extra time to start with and then I remember that Sharelle penalty so clearly, because she had to dust herself off after a contact penalty on Vilimaina Davu, who was one of the sweatiest people in the game.
"So Sharelle was drying her hands and walking back on court to take the penalty and I was just thinking, 'Please God, don't pass it to me, just shoot it yourself!'.
"And fortunately she did just that and it went in.''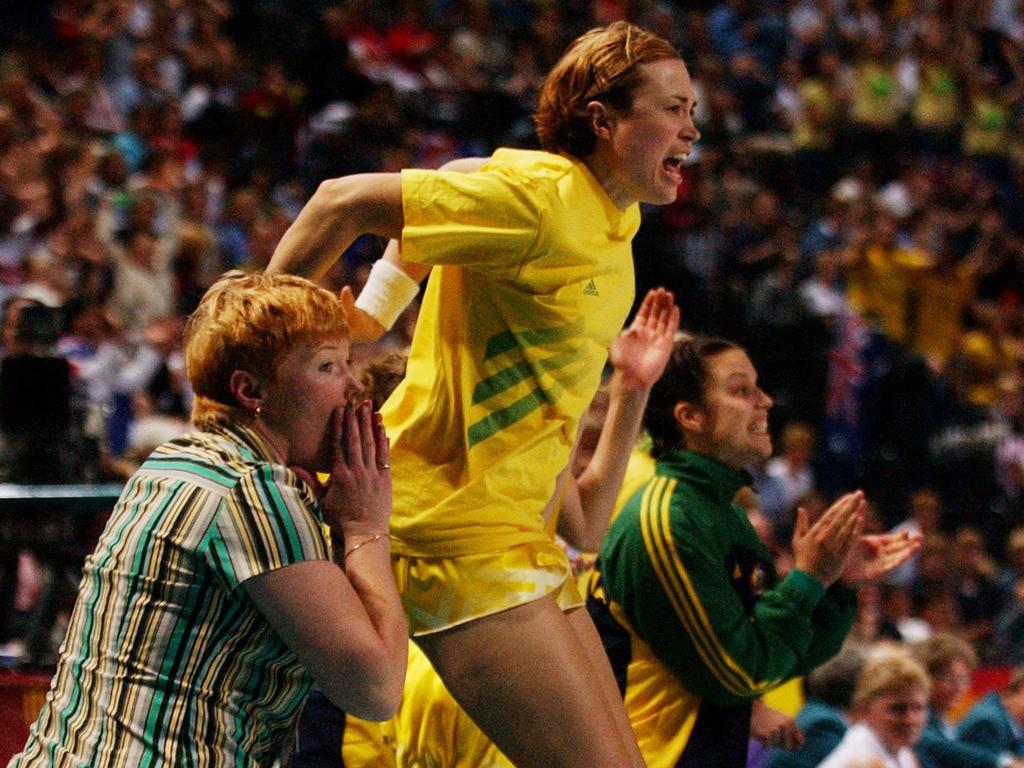 The bench went crazy after the gold medal was confirmed. Picture: Dean Lewins/AAP Images
*****
From the catalogue of great international netball finals, the second Commonwealth Games decider ranks among the very best.
"Definitely the most dramatic game I played in, and probably one of the most dramatic I've watched, as well," says Southby-Boyle, who retired in 2005 with 34 caps.
"And certainly lots of people back home who had tuned in thought it was just an unbelievable game because of the way it see-sawed.
"It could have gone either way, really. We were up by six, down by six, and it just ebbed and flowed, the whole contest, but no-one wanted to surrender. And winning it in the end was amazing."
It was the confusion that made this one unique. Eight years later in Delhi, and 12 months after that at the Singapore world titles, the rules were known and the players were prepared for the same scenario.
"We'd never had a contest like that before," says Southby-Boyle. "So that was the first time in netball where we've had to have rules to go into overtime and get a result, basically.''
Even, ahem, if hardly anyone knew what they were.
Harby-Williams, who played in five finals for four wins at pinnacle events among her 95 Tests, rates it as "right up there for so many reasons", while recalling the scramble for tickets in the athletes' village for Manchester's closing event that in many ways introduced netball to the broader sporting world.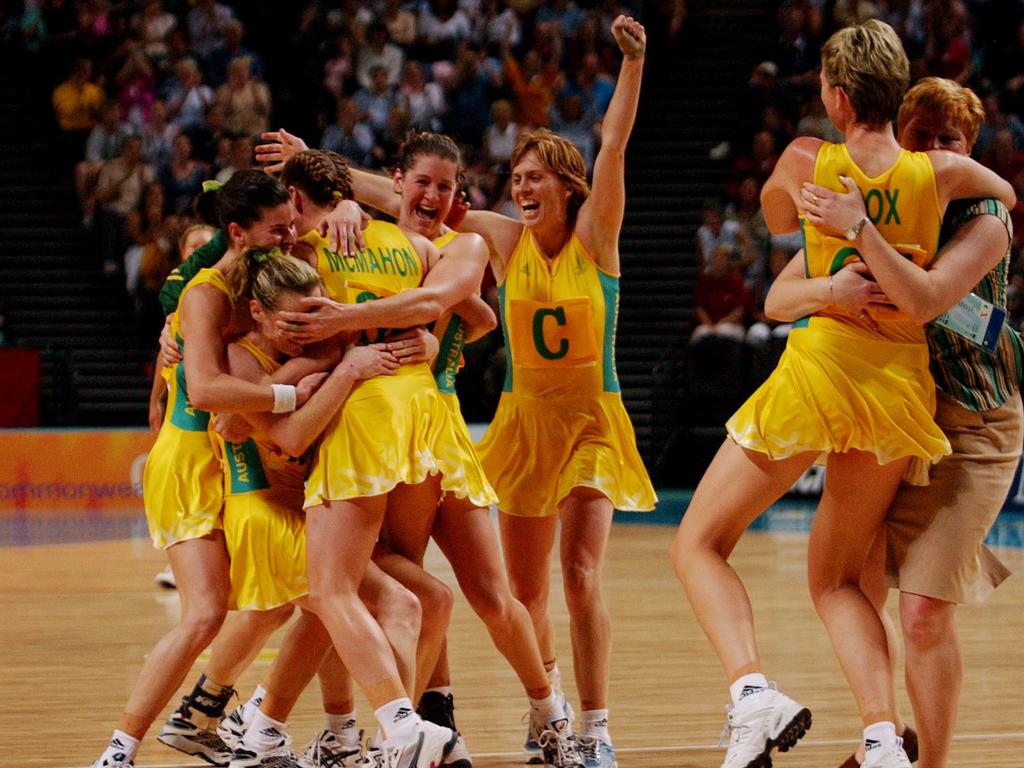 Harby-Williams counts the game as one of her favourites for the Diamonds. Picture: Dean Lewins/AAP Image
"It was either normal time or extra time where I thought, 'We can't win it here' and I've never felt that before, so that tells me that it was an escape," she says.
"But I got the feeling during double extra-time that we were away, and sometimes it's just a feeling, you can't explain why."
Now the CEO of the Australian Netball Players' Association, Harby-Williams admits her perspective is coloured by the personal significance, but ranks it "just" ahead of the 1999 World Championships final in Christchurch, where McMahon also nervelessly nailed the sealer.
"For me personally, [Manchester] was probably the ultimate," she says.
"I look back on that thinking that was just the culmination of my whole career; coming back from the dead, winning in double extra-time, captain, you don't get much better than that."
The now 53-year-old also thinks back to the McMahon injury, and the effort it took to enable the future skipper — and possible GOAT — to play at all. Extraordinary lengths, in several respects, led to a pay-off in every way.
"I remember standing on the dais and I almost passed out," says Harby-Williams. "It was probably the most physically demanding game I've ever played in because of what was at stake, and also the length of it and the intensity was pretty brutal."
Harby-Williams doesn't remember a game with an intensity on the same level. Picture: Leon Mead
Cox, meanwhile, had been isolated from the team after suffering a bout of gastro in the lead-up, but the 108-Test dual world champion believes in hindsight that starting on the bench might have been a good thing in terms of stamina, even if most of the match remains a blur.
"It was such a mess of confusion and pressure and just everything," she says.
"It was a world record crowd at that point, as well, so there was just so much going on, and I'd been pretty sick and stuck by myself and hadn't been at training and all that sort of stuff as well in the lead-up, so it was pretty nuts."
Among McMahon's recollections is being grabbed by her great friend Southby-Boyle at the end of the 46-46 regular time, when the effect of the ankle jab had worn off, and she was struggling just to move.
The message: You can do it. You will do it. Go on. You'll be fine.
"It's a silly thing, but sometimes you can just push yourself in those moments to get out there and do the best you can," McMahon says.
"So that was the situation I was in, and I ended up having that ankle reconstructed, because it certainly had some challenges after that, but I wouldn't change it for the world.''
Despite all the crazy chaos, McMahon believes that being able to manage the noise and execute in the moment was a hallmark of what the Diamonds have been able to achieve during her career, before it, and afterwards.
Yet if that last shot in Manchester was one that was never missing, there have been last-gasp losses, too.
None more extraordinary than eight years later. More to come on that one.
TOMORROW: Delhi, 2010. The greatest netball final ever played?