Swimming has made headlines around the world this week and not because of the action at the world championships in Budapest but for the historic decision handed down on Monday which banned transgender athletes from competing against women. Julian Linden sat down with FINA's chief executive director Brent Nowicki for the full story.
Of all the misconceptions about FINA's game-changing policy for transgender athletes, the most deceitful is why swimming's leaders took the plunge while other sports were content to sit back and wait for someone else.
The popular narrative is that FINA panicked because of the storm that erupted when University of Pennsylvania trans swimmer Lia Thomas won a national title at the American College championships.
Because that happened just three months ago, and FINA's bombshell new policy was only made public when delegates were asked to vote on it at the Congress in Budapest last weekend, the simple but wrong assumption was that it was a hit job aimed squarely at Thomas.
FINA congress in Budapest
The critics – and there's plenty of them – accused FINA of rushing through with a half-baked policy just to block Thomas from competing at the next Olympics, taking place in Paris in 2024.
But the FINA executive who engineered and helped draft and oversee the development of the entire policy from start to finish, says that notion is a total fallacy.
"It's easy to say Lia Thomas was the lightning rod but that's not the case," FINA's chief executive director Brent Nowicki told News Corp.
"These issues, health and safety, welfare issues, competition, fairness issues, these are issues that have been in international sport for years now."
In his one and only tell-all interview on the policy that has rocked the sporting world, Nowicki has lifted the lid on the true inside story on exactly how the policy that has divided the world came to fruition.
Critically, he reveals that it started much earlier than people think – in 2021, not 2022 – and, contrary to popular belief, there was never any intention to exclude anyone.
Rather, the starting point for the project was to find a way to include everyone in a fair way.
It was only after FINA received the detailed report it commissioned from independent scientists and medical experts that it felt compelled to come up with a policy that effectively banned transgender women from competing in elite female competitions.
"We didn't start with the goal posts in front of us. We weren't trying to kick that ball through those goalposts," Nowicki said.
"We were trying to move the ball down the field methodically, correctly, and that was the approach we had always taken."
The starting point for the policy actually stems from FINA's dark past, and the current push to finally clean it all up.
For much of its 114 years, FINA has been run primarily by men, who spent millions of the sport's fortune on their own lavish lifestyles instead of competitors struggling to make ends meet.
But that all changed last year after FINA elected a new president – Husain Al-Musallam – on a platform to reform the organisation after its dirty secrets were exposed by a two-year investigation by News Corp.
Nowicki, a top American lawyer who had worked for years at the Court of Arbitration for Sport (CAS) and has a reputation for meticulous planning, got straight to work the first day he sat down at his new desk – June 8, 2021.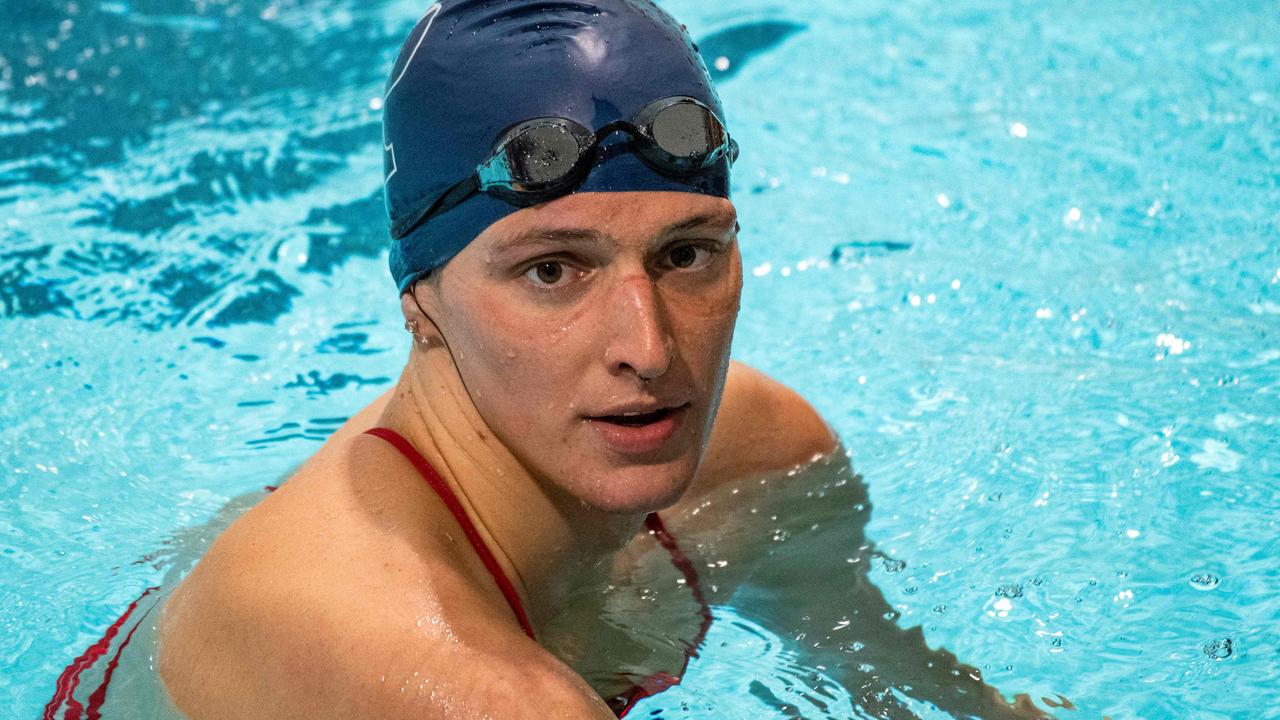 FINA insists that Lia Thomas was not the catalyst to the policy
Overseeing the reforms – which promised to put the interests of athletes first – he soon discovered a whole range of issues that were not properly covered by the existing policies, including inclusion and fairness.
So he decided to take a deeper look, especially into the transgender debate, which had come up in other sports, so began assembling top international experts with no ties to the sport's murky past.
"There was no preconceived notion. If anything, there was a desire to learn as much as we possibly could and figure out what does science say, what does it mean?" he said.
"I wanted an all star team where everybody's a free agent.
"I wanted to know what it was. What is being transgender mean? What does it mean scientifically? What does it mean, chromosomally? What does it mean socially? What does it mean mentally?
"It's not just being transgender that makes you transgender. There's more to it than just the label you put on somebody. It was our duty to figure that out, educate ourselves."
By November last year, the first group had already been chosen.
Comprising medical and science experts, it included Dr Sandra Hunter, an Australian-born professor at the Department of Athletic and Human Performance at Marquette University.
In early 2022, the science group had finished its report and handed it to Nowicki.
The full report has not been published but the architects addressed the Congress before the vote, explaining how competitions between male and female athletes are no longer fair once puberty kicks in because of the differences in testosterone values.
What's more, the scientists showed how biological and physical changes can't be undone, which was one of the decisive factors that convinced FINA to prevent transgender women from competing in elite women's events if they had gone through puberty – essential rejecting the idea that level playing fields can be created through testosterone reduction.
"In a very simplistic look on the street approach…where we drew the line was where the impact of testosterone meets between girls and boys," Nowicki said.
"At that point, it's arguable that the legacy effects of testosterone start to develop and you can't undo that or you can't undo all of that."
Once it became clear what the science was saying, Nowicki set up a second working group, comprising legal and human rights experts, to look at how to frame the policy.
The five members included former Federal Court of Australia judge Annabelle Bennett and James Drake, an Australian barrister and CAS Arbitrator, now based in London.
Nowicki also began talking to athletes, sending out questionnaires to over 300 athletes around the world, to find out what they wanted.
The response was overwhelming.
More than 83% said eligibility for events should be decided by birth sex. And over 63% said they wanted to see an additional 'open' category created to ensure everyone can compete.
A separate taskforce, yet to be decided, will begin work on that soon, and is expected to report back at the end of the year.
Nowicki also held one-on-one interviews with a smaller number of elite athletes, whose identities remain confidential, other than Australia's Cate Campbell and American Summer Sanders.
Presented with the scientific report, they both agreed to speak at the Congress before the vote was taken, and urged delegates to support what the science was saying.
"Women, who have fought long and hard to be included and seen as equals in sport can only do so because of the gender category distinction," Campbell said.
"To remove that distinction would be to the detriment of female athletes everywhere."
A COVERT MISSION
Almost a year in the making, the policy draft was completed in time for the Congress, but was kept secret to all but a handful of people, because of the high sensitivity around the issue.
"Obviously as we went on, it was very important for me to protect the conversations I was having," Nowicki said.
"I didn't want anyone to have pressure put on them because it was leaked."
The covert operation largely succeeded. It was only on the eve of the vote that the news of what was coming was leaked to an unsuspecting sports world.
When the Congress voted 71% in favour of adopting the new policy, it lit a fuse that exploded all around the world.
FINA's decision – the most comprehensive of any major sporting body on the planet – has been widely applauded but also criticised.
Other sporting bodies are now scrambling to play catch up, facing increasing pressure to follow FINA although Nowicki said that was never the intention.
"The media has said it was a very aggressive policy," Nowicki said.
"But we went as far as we needed to go to meet the legitimate objectives we felt were necessary for competitive balance, for fairness in our sport.
"We had such a sound body of evidence, we had a sound body of voice, we felt comfortable in our legal skin and we were prepared to go forward.
"We weren't worried or concerned about what impact it would have on other federations.
"We're taking the best decision we can take based on the evidence that's presented by us, by our chosen people.
"It's probably safe to say the policy's never going to be complete. It's a living document, it's going to evolve with scientists and evolve with time.
"I can't sit here and tell you that we got it 100% right. I can (just) say we got 100% right based on the science today."