Nat Medhurst: Swimming's 'love triangle' furore exposes why athletes fib about teammate relationships
NAT MEDHURST's reaction to swimming's 'love triangle' furore? Who bloody cares. However, it has exposed why athletes so often tell one particular fib about their teammates.
Emma McKeon (L) and Kyle Chalmers (2R) share the podium after a relay win at the Commonwealth Games. The apparent awkwardness only added to the furore around a 'love triangle' with swimming teammate Cody Simpson. Picture: Michael Klein
A love triangle. A rock star. And relations between some of this country's most decorated athletes frayed and apparently playing out publicly at an international sporting event.
How much of this is true, of course, is a matter of much debate.
But, for the sake of this column, let's assume there's something to it. Let's believe the headlines and conclude that not everyone within that Australian swim team is on each other's Christmas card lists.
My opinion as a (mostly) retired athlete?
Who bloody cares.
As athletes, we can be guilty of perpetuating the myth that, just because we are teammates, we are also best mates. The PR machines behind our sports don't mind pushing this narrative, either. Sponsors and agents, too.
The truth, of course, is that this is bullshit.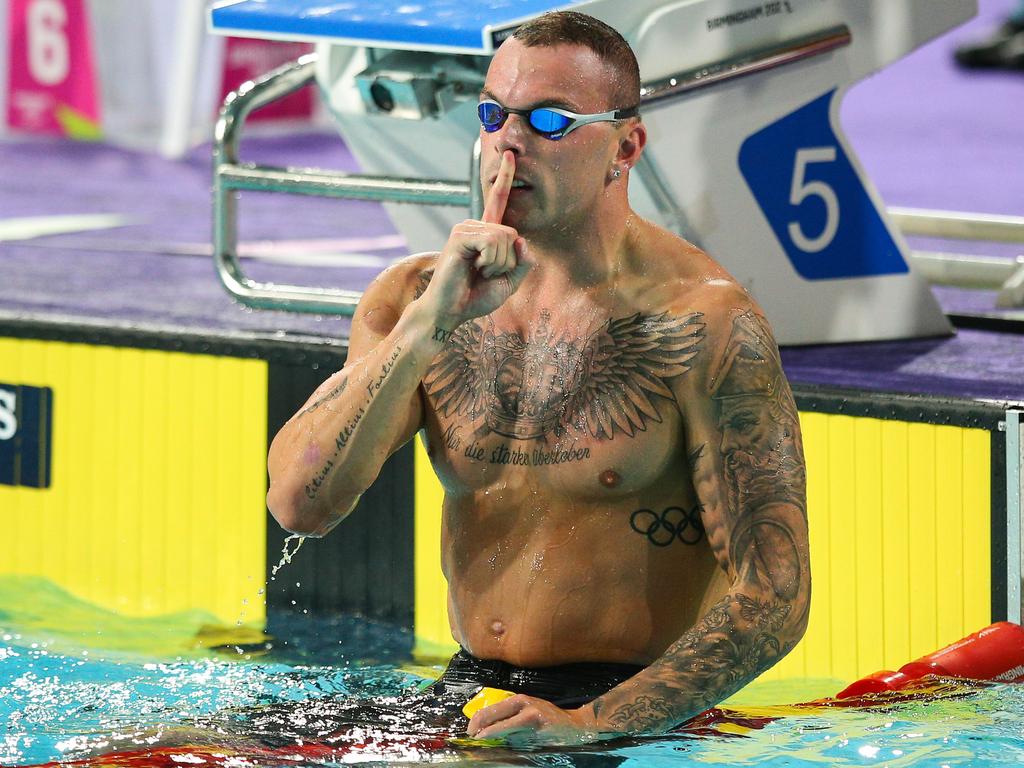 Sick of the media storm, Kyle Chalmers makes a shushing gesture after winning gold in the 100m freestyle at the Commonwealth Games. Picture: Craig Mercer/MB Media/Getty Images
Titles are often won by people who share little in common other than prowess in a certain sporting discipline. Indeed, the Australian swim team – headlined by McKeon, Chalmers and, to a lesser extent, Simpson – could fill an Olympic-sized pool with all their gold medals from these Commonwealth Games in Birmingham.
I have felt empathy for Chalmers as he has confronted a barrage of personal questions that, frankly, anyone would find uncomfortable in a private setting, much less the bright lights of an international media conference.
As he posted to social media, he has gone from the media's "poster boy from 2016 [to] … your villain in 2022." The relentless coverage, he added, "breaks [athletes] down, little by little" until it becomes unbearable.
Every human has shit that goes on in their lives. Relationships break down. Illness happens. Employment is lost. Families grieve. The ability to swim fast or, in my case, throw a ball around a court, doesn't make you immune from the hardships that everyone else experiences.
When these real-life setbacks do take place, and the news of them becomes public, the spotlight on athletes can be extreme. I still find it amazing and, quite honestly, ridiculous what we put on our sportsmen and women. They are supposed to be spotless. They have to be role models for children. They are meant to cop criticism from every direction and, if they have a problem with it, they are expected to toughen up or walk away from their vocation.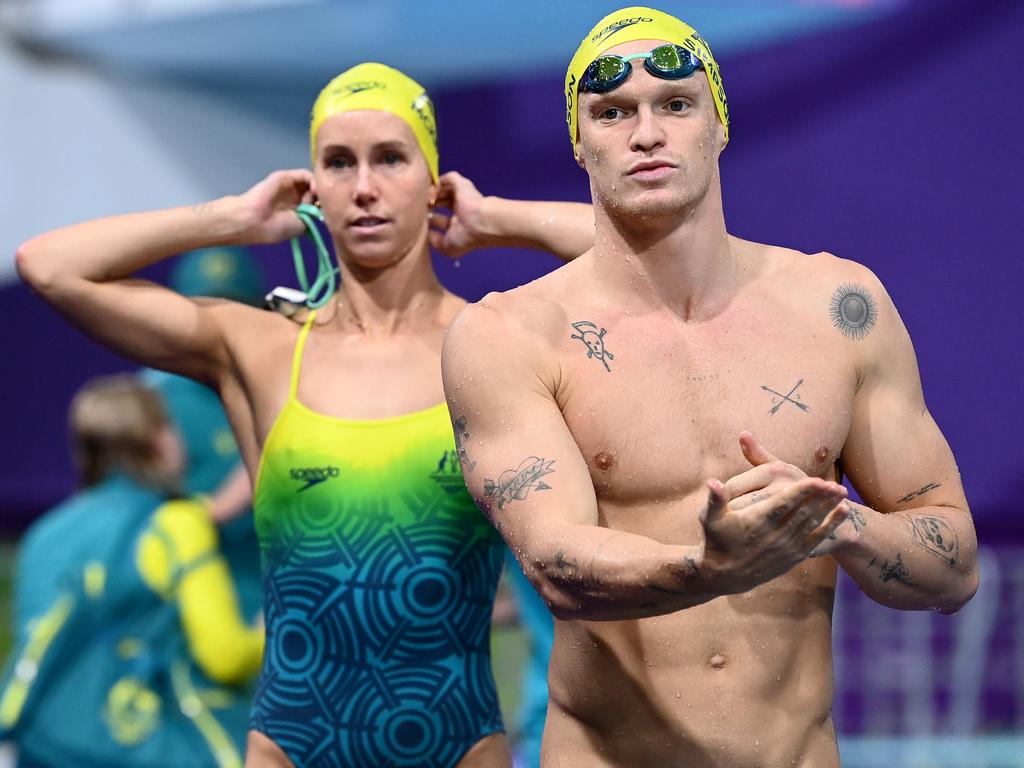 Emma McKeon and Cody Simpson's relationship has been under enormous scrutiny at the Commonwealth Games, fuelled by alleged awkwardness with McKeon's ex-partner Kyle Chalmers. Picture: Quinn Rooney/Getty Images
Quite often, they feel compelled to present a false face to the world. They say what they believe they're supposed to say, instead of what they really feel. They hide their sexuality for fear of being ridiculed or ostracised for "coming out" and dealing with a barrage of abhorrent and often sexualised abuse from people hiding behind social media aliases. And, yes, they pretend they're friends with teammates when, truth be told, they can't stand them.
This is why fibs get told and myths invented.
To avoid media firestorms and the prying eyes of the world.
Can you blame them for wanting to avoid all this?
Imagine placing this level of pressure and scrutiny on the general population within their workplaces. Sirens would be sounding across every HR department! Strikes!
In the case of Chalmers, he has said he has no issues with McKeon and Simpson, despite media reports to the contrary. No matter who you believe … so what? Just as you aren't friends with all your work colleagues, just as family members don't talk to each other, athletes are not always pals.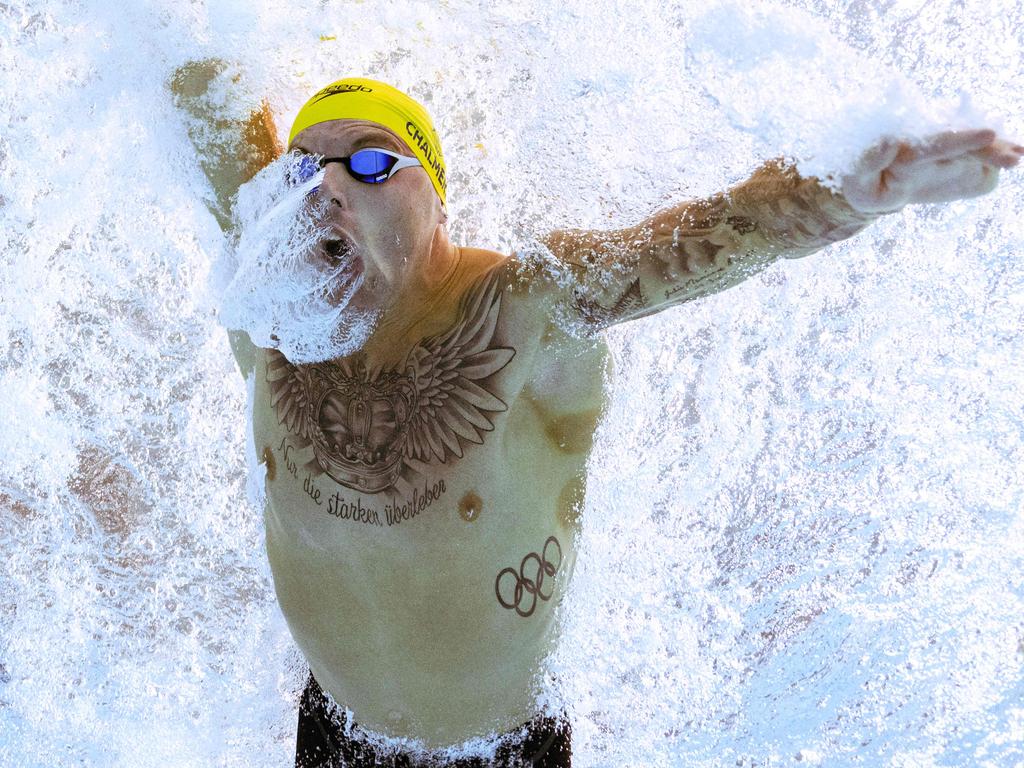 Swimming superstar Kyle Chalmers has said that his career may be cut short by relentless media scrutiny over his personal life. Picture: Oli Scarff/AFP
Teams are formed based on performance and selection made by others. You are put together to create a team and to win. If you get along, terrific. But this is not a prerequisite for success. Some of the greatest sporting dynasties of all time have been made with teammates who don't particularly like each other. This Australian swim team might well be one of those.
Don't get me wrong: there is a point where team disharmony can be destructive. Look no further than the North Melbourne FC and what took place with Wayne Carey and Anthony Stevens and its impact on the team and specific individuals.
But not everything, including personal relationships, are so scandalous despite how much people want them to be. The team dynamics of swimming, and also athletics, is something have always fascinated me.
They compete as individuals, yet also as part of a team.
They have different coaches, yet represent the same country.
They are rivals in the pool and on the track, yet are roommates off it.
My experience of 12 players, one head coach and a few support staff thrown in seems like a far easier group to keep unified and connected.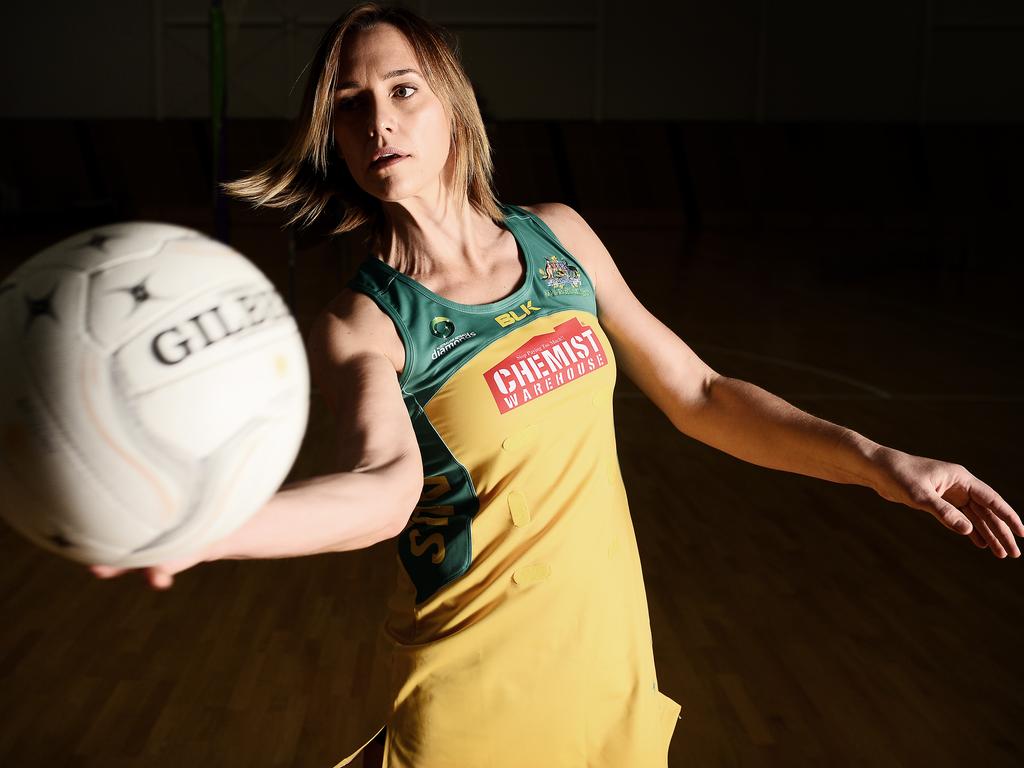 Diamonds great Nat Medhurst knows from experience that even teammates in champion sides often aren't best mates. Picture: Richard Hatherly
In retirement, and trying to find my feet in my "new life" – and particularly when putting a CV together – I have reflected on the skills and traits competing at the elite level for 17 years provided me. One of those is tolerance.
The reality is, that within a team environment, you need to learn to tolerate each other. You're not always going to be besties and that's OK. An ability to tolerate, put aside differences and see the bigger picture for the sake of the team, is what being an elite athlete is all about.
I know that I wasn't everyone's cup of tea and they weren't always mine. Interestingly, of those I wasn't all that close to, some of those relationships have now developed for the better in this "new life" as a Mum and mostly retired athlete.
So, without commenting specifically on the Chalmers-McKeon-Simpson saga, perhaps athletes would be better positioned to avoid gossip and headlines if they bit the bullet and admitted, "Yep, we aren't great mates, but that doesn't prevent us from doing what we need to do." And the media, in turn, would view this as normal behaviour, rather than beat it up.
Heaven forbid anyone else in society isn't BFFs with their workmates.