Netball Commonwealth Games: Diamonds lose to Jamaica for the first time in netball history
Diamonds coach Stacey Marinkovich has come underfire for some questionable decisions she made in the late stages of the side's showdown with Jamaica which ended in a stunning defeat.
Diamonds coach Stacey Marinkovich has admitted her own performance will be reviewed after Australia suffered their first loss to rising stars Jamaica.
Marinkovich's coach tactics have come under fire following her decision to not make a single substitution until the final five minutes left in the match sparking a shock fourth quarter collapsed from the world's No.1 side.
"It's something that I'll go back and have a look at," said Marinkovich.
Former Diamond Cath Cox hailed the courage and persistence of the Caribbean force but said Australia "shut up shop" in the final quarter in their 57-55 loss.
"Australia couldn't win the ball back," Cox said. "It was some brilliant defensive work from Jamaica. They really just lifted another level in the fourth quarter."
The Diamonds will now face their 2018 Commonwealth Games conqueror England in a semi-final, a match many predicted would decide the gold medal in Birmingham.
Marinkovich's postmortem will focus on several areas including her substitutions after after Australian's went into the final quarter with a six goal lead only to allow Jamaica back in the game.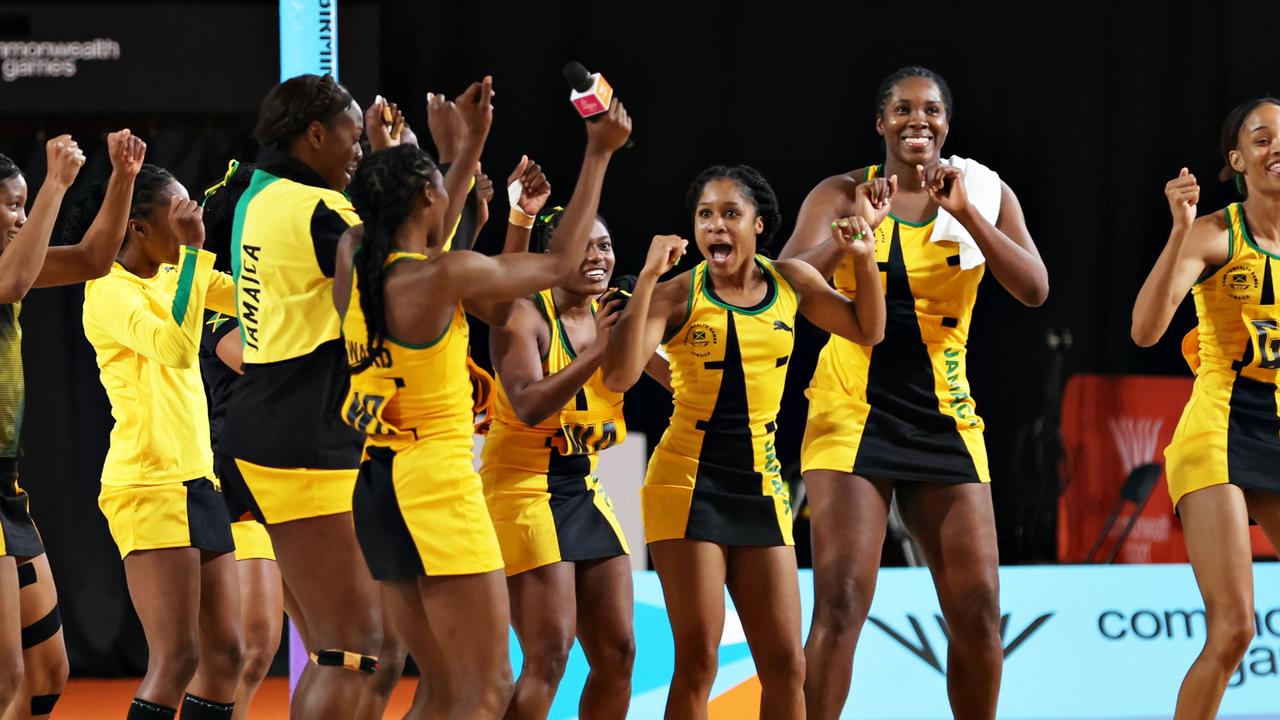 Team Jamaica celebrate winning the match
"From our attacking end we were up until the last quarter by six so you know, you got to look at those things," said Marinkovich. "I'll certainly go back and look at what we could have shifted and changed. But, in terms of how we were moving, I thought we were balanced and connecting well."
Despite the setback Marinkovich says the girls' mission to win gold is far from over.
"I think it's a mindset you've got to keep pushing through and understand that the opposition is now matching that intensity," she said.
As for how it all unravelled Marinkovich said it came down to a few things — all of which can be fixed before the semi-final clash.
"We didn't use our court space and we became a bit stagnant," she said.
"We need to understand why we went to that. I don't think Jamaica changed too much, but I thought we brought the ball to them.
"So we've just got to get that core balance back and, continue to let the ball go and continue to drive on when we were getting spacing and speed."
Jamaica's superstar Jhaniele Fowler ran riot in the circle notching up an impressive 47 goals in total exposing so worrying defensive problems.
Expected to go top their group undefeated at these Games, Australia were stunned by a Jamaican side that has established itself as a powerhouse not to be underestimated and one which will pose a significant threat to the nations' bidding for gold.
West Coast Fever general manager Sue Gaudion echoed Cox's sentiments on social media.
"The Diamonds are stunned here," she said. "They exposed the Diamonds' defence again," Gaudion said.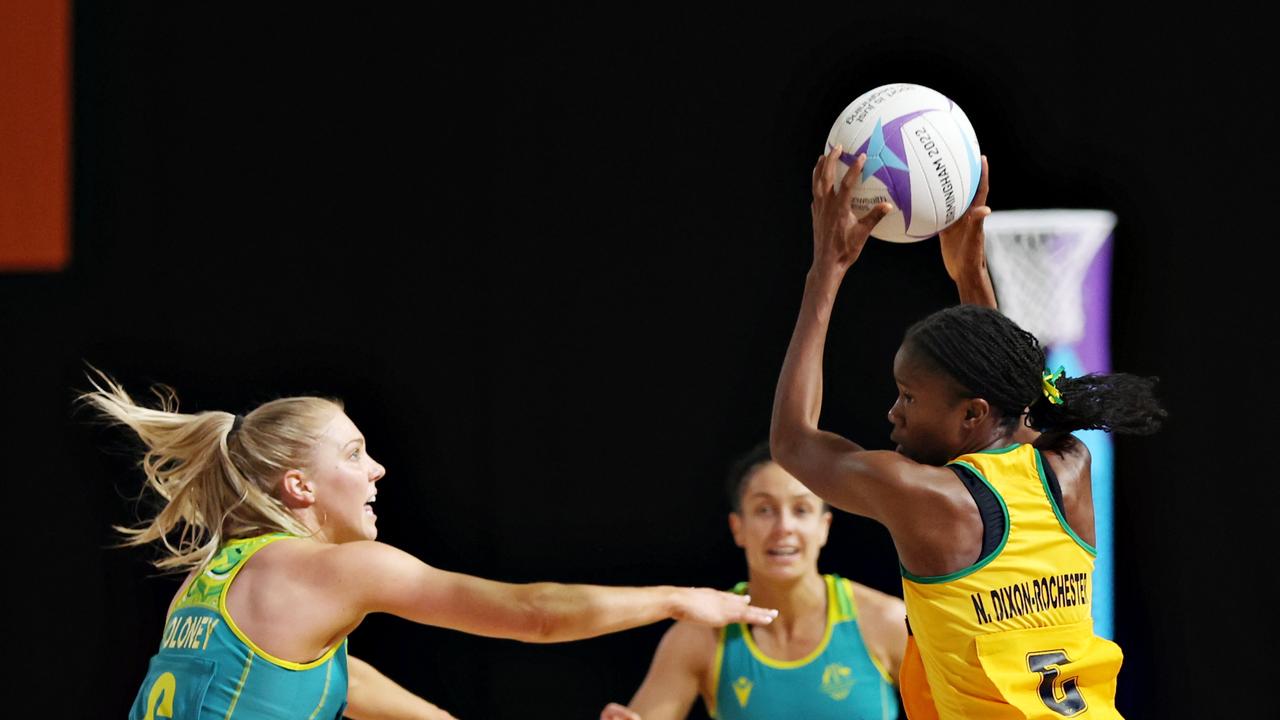 Nicole Dixon-Rochester of Team Jamaica (R) holds the ball away from Kate Moloney
It was a different story at the other end where, despite a rocky opening term, Shamera Sterling did well to nullify the threat posed by Gretel Bueta who converted 36 goals from 39 attempts.
Questions will be asked of Marinkovich's strategy Marinkovichwith Australia's first switch up of the game coming with five minutes to play.
Jo Weston, in her 50th Test Cap, came onfor Sarah Klau while Courtney Bruce shuffled into GD.
With Jamaica three goals ahead with two minutes to go however, it was too little too late leaving the Diamonds with no time to make an impact and claw back the deficit.
In the absence of Paige Hadley who remains under an injury cloud, Kate Moloney starred at centre and was at the heart of every play, offensive and defensive.
Disappointed with the result, Maloney said Australia wasted their chances.
"We knew that they were going to come out hard and we are disappointed with the result," she said.
"We'll take some positives from it and look at some things we need to work on.
"I knew we were going to have to be patient with the ball, they have a great defensive team. I think we let ourselves down with some execution stuff in that last quarter.
"We were up by six goals. We probably should have been able to run that one out but when they have weapons like they do in their defensive end and their attacking end you never really have it - it can change so quickly."
Originally published as Netball Commonwealth Games: Diamonds lose to Jamaica for the first time in netball history