Rohan Browning's search for two-hundredths of a second ahead of World Champs and Commonwealth Games
Rohan Browning will stop at nothing to get that sub-10 second time that has until now eluded him.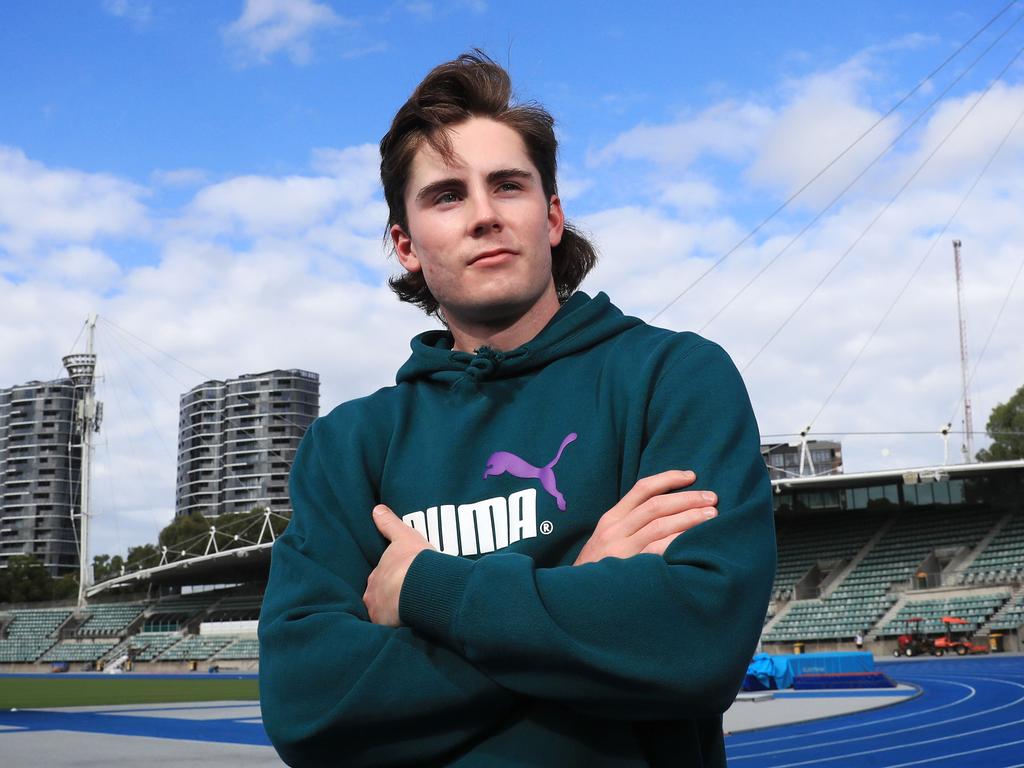 More than 3 million Australians watched Rohan Browning's Tokyo semi-final. Picture: John Feder/The Australian.
The thinking man's sprinter doesn't rev himself up with AC/DC or vintage Cold Chisel. In those adrenalised moments before a 100m race, when he's pacing the waiting room in his tracky dacks and headphones, he used to bombard his brain with aggressive music. As Rohan Browning studies more deeply the art and science of his sport, he's taking to a softer sort of track.
"Now it's more likely to be jazz," he says. "Some relaxing stuff. I really like low-fi house beats or jazz — coffee shop music, you know? That sort of thing. Elevator music, as my coach calls it. A lot of the best guys probably go for Jay-Z, Kanye West, and I like that stuff, too. But for competition, I'm trying to be as level-headed and relaxed as possible."
Jazz? You fair dinkum? "A few years ago, I thought I had to really dial up the aggression," he says. "I thought I had to get amped. I've come to realise my strength is more in an ability to stay relaxed. To have a more steady emotional state instead of a super-emotional one.
"I need and want to stay as calm and controlled as possible so I have the capacity to execute the race exactly as I need to. Rather than relying on heightened emotions and aggression to force a good race out, if that makes sense?"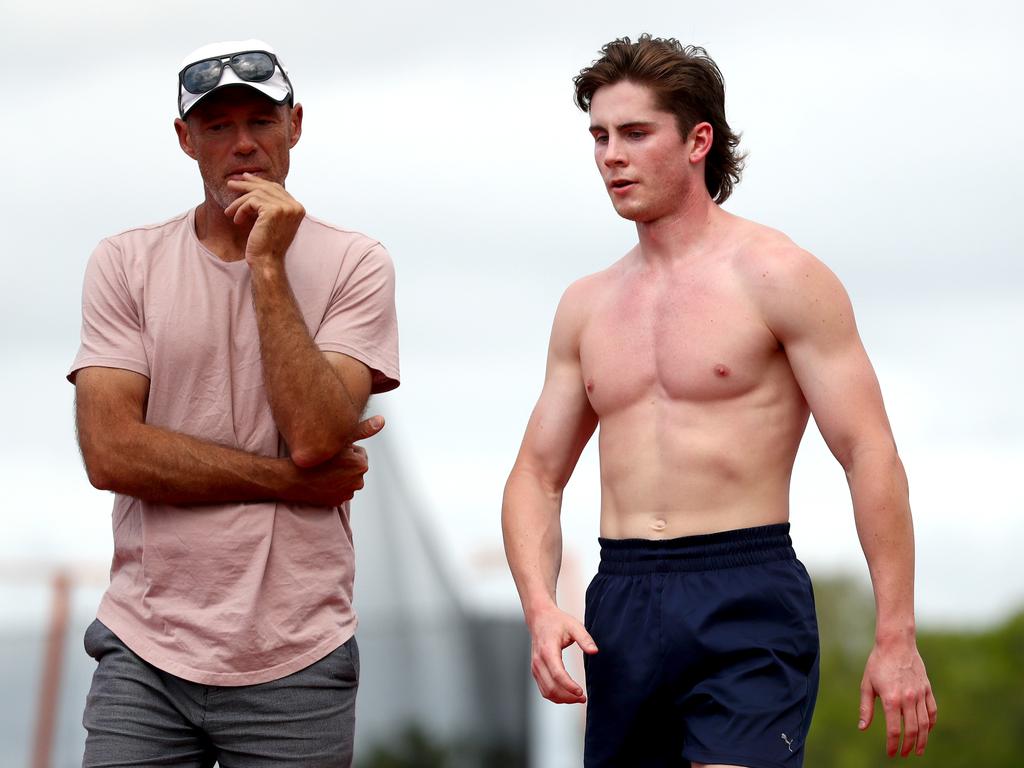 Staying calm has become Browning's focus. Picture: Kelly Defina/Getty Images
*****
Everything Browning says makes sense. He's talkative and intelligent. He's only just jumped off a plane but seems as fascinated by the 100m as the rest of us are. Only one question receives a short answer.
After his announcement in Tokyo that no Asahi was safe following his bittersweet Olympics campaign, exactly how many did he get stuck into? "No comment," he laughs before the discussion gets properly up and running.
We know the backstory. Browning won his heat at the Games. Got a weird look from Yohan Blake. Clocked a PB of 10.01sec to become the most famous bloke in Australia for a few days.
Had a mullet fit for The Castle. Triggered bumper TV ratings and hopes of Australia having a starter in the greatest race on Earth — the Olympic 100m final — after a 65-year drought.
Then he recorded a bludger of a time in his semi-final, a 10.09sec, to disappear from the reckoning as quickly as he arrived.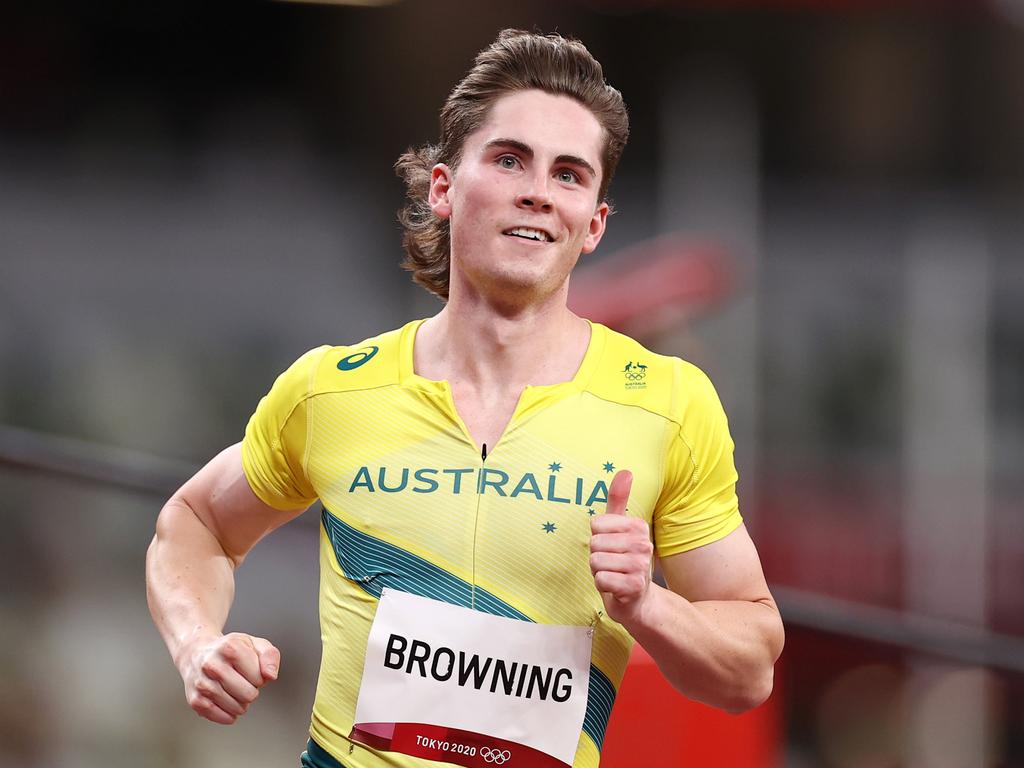 Browning announced himself on the world stage in Tokyo. Picture: Cameron Spencer/Getty Images
The impression in Tokyo was that we witnessed a swift young fellow taking one step forward … and then another one back.
"The Olympics made me realise I wasn't that far off the best guys in the world," he says. "I wasn't quite there yet but I wasn't too far off. It was a bridgeable gap. It's not insurmountable. It's something that can be achieve with time and patience. You do everything right and have faith in the process. You can't go in half-baked in this sport. You won't be competitive. I was totally shocked by the response to what I did in Tokyo and to be honest, it was a totally bizarre experience."
Why? "Because I wanted to be in the final. I really didn't give much currency to winning the heat, even though it was a nice moment. The way it was received at home was lovely, but it just felt totally disproportionate to what I thought the achievement was.
"I wanted to be in the final. I ended up finishing 13th and not being in the final. You've got to make the final to give it a real crack. Otherwise, you're just another person watching from the bleachers.
"I left Tokyo disappointed by that. Winning a heat is just a means to an end, to make the final. And it didn't end how I wanted it to."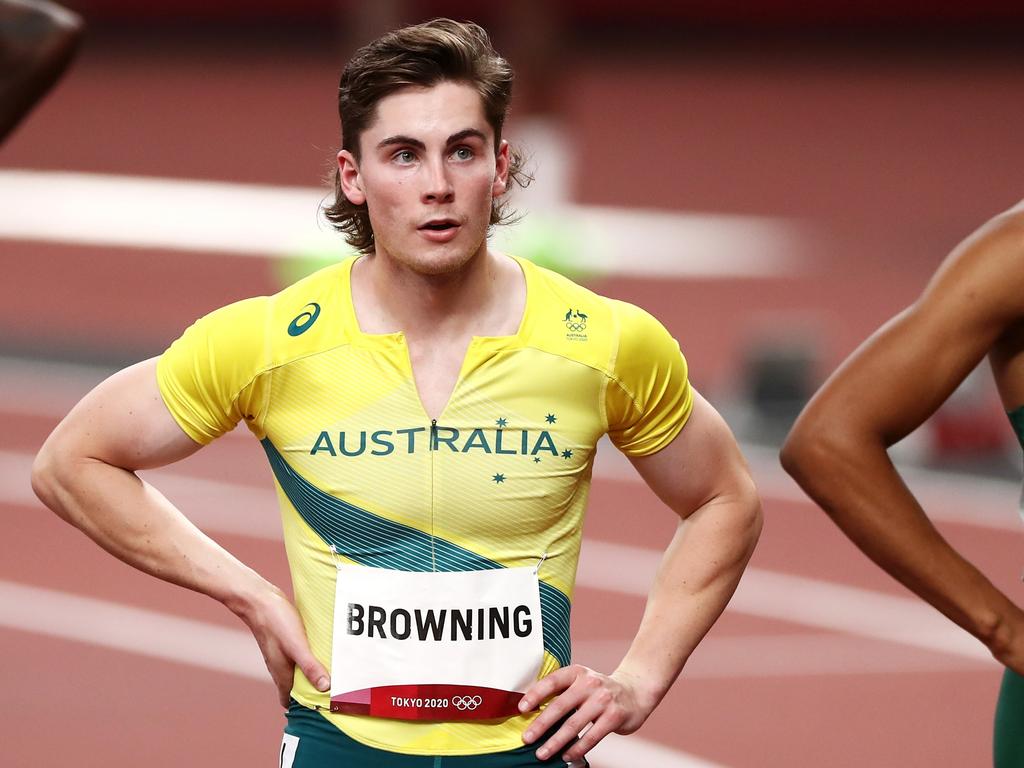 Browning knows the Olympics were only the beginning. Picture: Ryan Pierse/Getty Images
*****
Another year has burst from the blocks. It's a cracker for a 24-year-old on the rise. The World Athletics Championships start at Oregon's Hayward Field on July 15. The Birmingham Commonwealth Games begin on July 28.
He's searching for the two-hundredths of a second he needs to break the magical 10-second barrier.
Actually, that's not entirely true. Browning is hunting the nine-hundredths of a second he needs to break Patrick Johnson's Australian record. If he gets below Johnson's 9.93sec, he's playing with the big boys.
Those two-hundredths and nine-hundredths of a second could be anywhere. On his dinner plate. In his coffee cup. In the sleep he has. Hiding in the pot plants for all he knows. Hence the fascination with his sport. Where do you find hundredths of seconds?
"That's such a great question and it will probably take me forever to respond," he says. "To keep it publishable for you, that 0.02 to go sub-10, that doesn't necessarily come from getting stronger or hitting a higher top speed. It comes from perfecting technique. Being more efficient.
"I feel like I still have a lot of room to develop as an athlete. You get a bit older and you mature when it comes to your emotions and growing into your own body. Those areas of strength are important and to an extent they develop naturally at my age. Going sub-10 and beyond that is going to come down to honing my efficiency."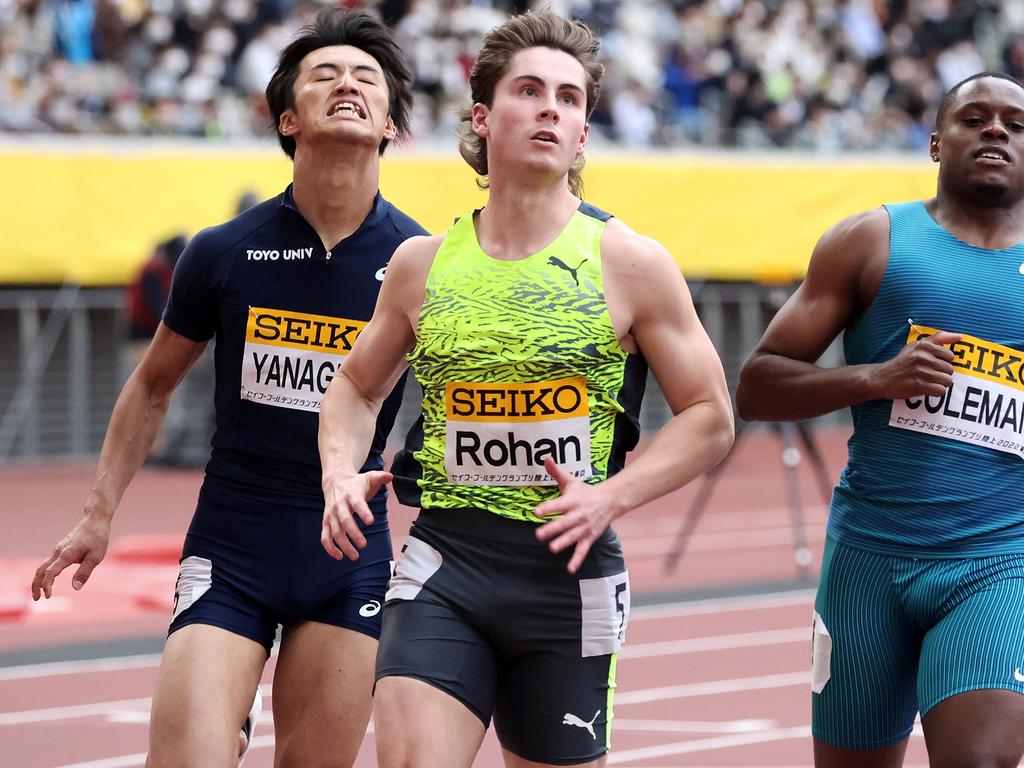 Browning made the podium in his first international event of the year in Tokyo. Picture: Kiyoshi Ota/Getty Images
Meaning, what? "The first 10 metres is where there's a huge gap between me and the best guys in the world," he says.
"My top end speed is pretty good. It could be better and my deceleration has room for improvement but really, my first 10 metres has been making or breaking my races.
"The difference between a good run and a bad run was probably up to chance and an execution that wasn't consistent. I need to make that more efficient. It almost sounds too obvious but what I'm really trying to do is get that first contact with the ground a little bit quicker and sharper."
One small step for Browning might be a giant leap on to podiums. "We're trying to shorten my first stride so I can build the race more progressively. I've always kind of naturally taken a big first stride before chopping the next two or three.
"You want to build your race progressively so you're not applying braking forces into the ground. You're hitting the ground with your hips coming through — the science of it says I need to change my stride length.
"The art is, how do you do that in an effective way when you're doing this maximal physical exertion?
"In the simplest terms, shortening that first stride by just a few centimetres could take away those hundredths of seconds we're talking about. And then there's the mental side of it."
I cannot think of another sport in which you cannot put a foot out of place without the consequences being dire. Golfers hit a bad shot but there's 18 holes to go. A tennis player double faults but it's only love-15. A boxer gets knocked to the canvas, but he can get back up. A footballer misses a tackle but has 80 minutes to square the ledger.
Browning would have made the Olympic final if he clocked a 10-second flat semi-final. That was tantalising achievable. But it was frustratingly elusive … because he put a foot wrong.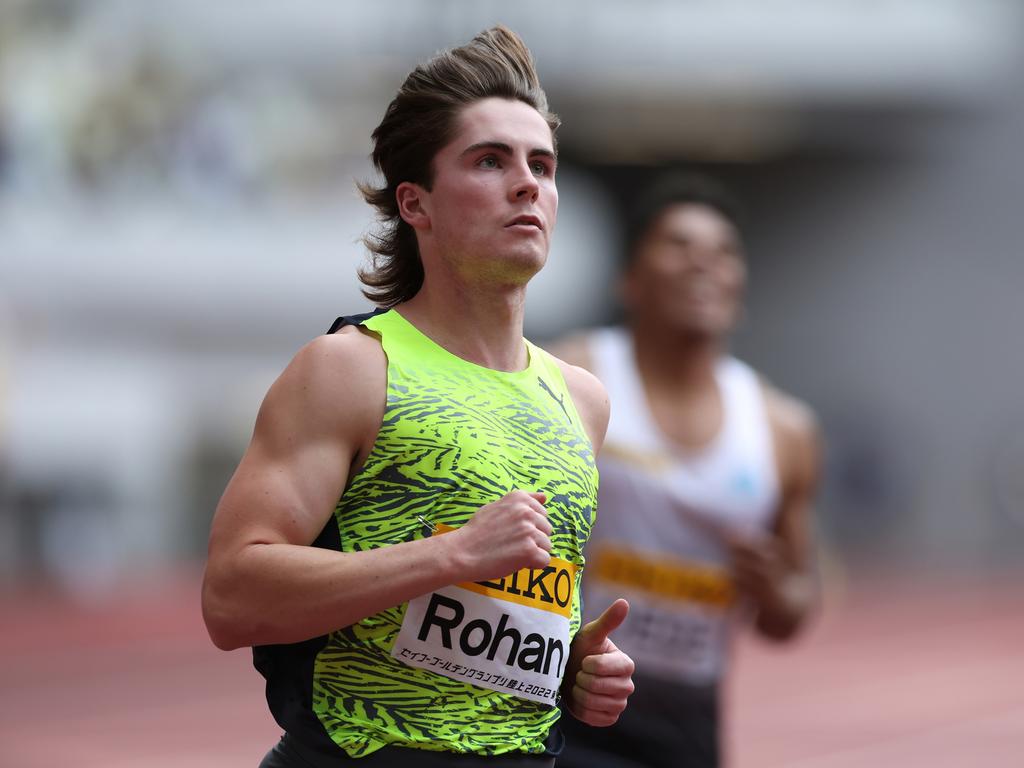 2022 is all about the simple improvements for Browning. Picture: Kiyoshi Ota/Getty Images
"You need to have the blinkers on," he says. "That was the difference between my Olympic heat and semi-final. In my heat, I just ran my own race.
"But in the semi, I didn't get out quite how I wanted from the blocks — those first 10 metres I was talking about — and then you feel the pressure of the guys who've got the jump on you. That affected me all throughout the race. It's about being able to stick to your race plan no matter what the others are doing."
Asked about the ideal mental state for a 100m once the jazz music has faded, Browning says: "You have to be resilient. You have to be robust. In my event, there's no opportunity to redeem yourself if you stuff it up. If you make a mistake, if you put the foot wrong, if you take a mis-stride, there's no way to make amends.
"Very small margins and errors are the difference between a great time and a good placing or a really disappointing time and very disappointing place. Then you have to not take those disappointments to heart. We're talking about very minute things that are irredeemable if you do it wrong.
"It's brutal. It's very unforgiving. It's cutthroat. You can win or lose by 0.01 and you have to accept that's what you've signed up for."
*****
World Champs. Comm Games. The 100m is the most prestigious event inside these two prestigious events.
"The thing with this sport is that 0.01 is so significant and you find or lose it very easily," he says. "It doesn't take much. It could be the wind. It could be the humidity. It could be the temperature. The altitude. The sleep you got in the week leading up to it. The training volume and load you've done in the lead-up.
"We're not robots. Some days you're going to feel sharper and fresher than others. How do you try to make sure those days are race days? These are all the factors that go into trying to peak at a major championship.
"The beauty of this sport is that a 100m is 100m. You're reacting to the gun. It's always the same thing. Gun goes off, you run as fast as you can. You try to win the race. What could be more beautifully simple than that?"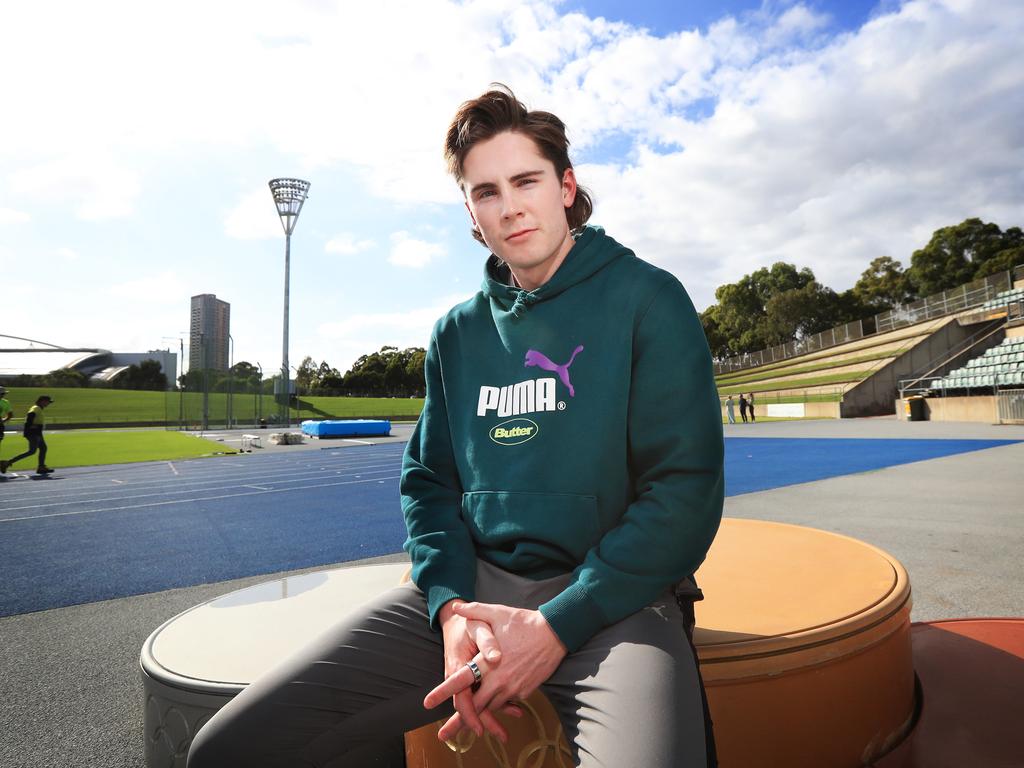 Browning is confident he can break the sub-10 second barrier this year. Picture: John Feder/The Australian
Browning captured an audience at the Olympics. He pulled a whopping 3.1 million Australian TV viewers for his semi-final — the most by any Australian athlete at the Games.
His box office appeal was partly because of his event. There's none better. And partly because of his persona. He's a bright and likeable young spark with the glorious gift of being able to run like the wind.
He's studying law at Sydney University but joining the legal eagles can wait.
Tokyo has stoked his fire for the art and science of the 100m. Crouched and waiting for the starters' guns in Oregon and Birmingham, the thinking man's sprinter will be doing his damnedest to think about nothing at all.
"I'm not the sort of person who feels the adrenaline in an overwhelming way before races," he says.
"I'm not a particularly nervous sort of person. Of course I get nerves and the classic butterflies from the anticipation for the gun. I hold my breath so I can exhale on the gun but apart from that, there's not a lot of time to think.
"When you're really in the zone and focused, you're not thinking at all. You want it to come naturally and you want to move fluidly. You want to be relaxed and you can't really be that if you're thinking."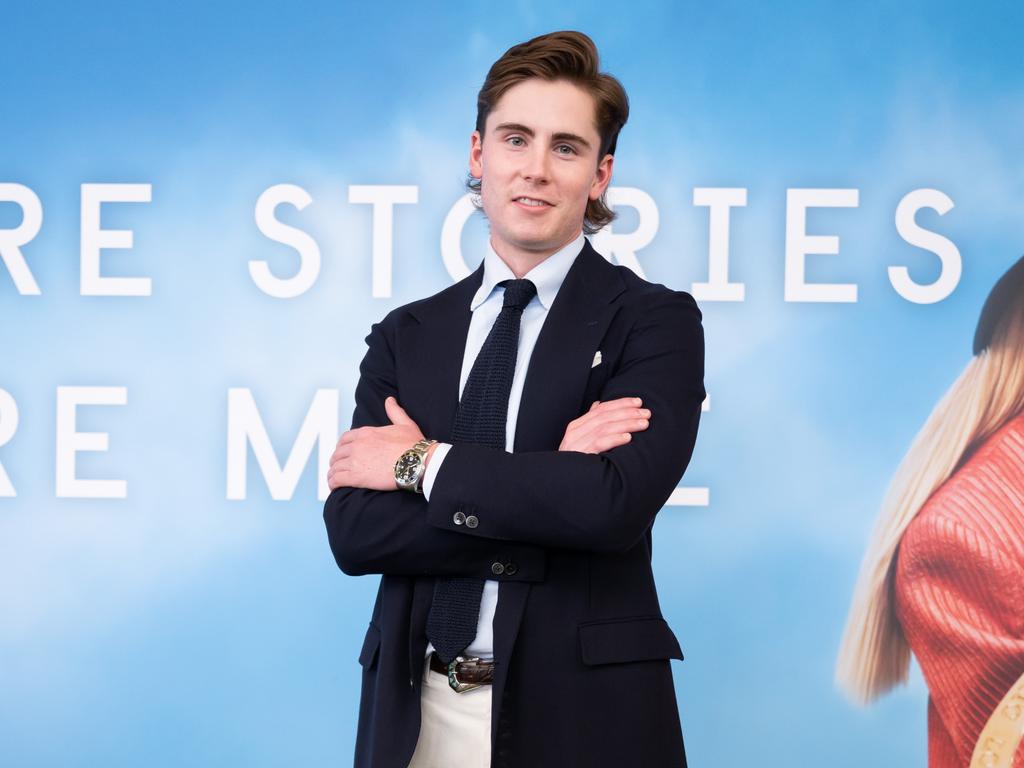 While his popularity has risen, Browning's main focus remains running fast. Picture: Wendell Teodoro/Getty Images for ATC
The dream? "I want to win races," he says. "I want to win them on the grandest stages in sport. I know that to be competitive with the best guys, I need to break the Australian record of 9.93. That's the benchmark for me.
"It's not about doing it with a two-metre tailwind at altitude on the day of all days. It's about being able to do that sort of time consistently. This won't sound very glamorous but it's about bringing my average performance down. Improving my average.
"The world championships are coming up and a Commonwealth Games. Four years between Olympics can feel like an eternity but to have two major events back-to-back, it's an unprecedented opportunity for athletes this year.
"You keep trying to get as close to perfection as you can … while realising perfection is a totally elusive thing."
– The Weekend Australian