Swimmer Mollie O'Callaghan is Greater Springfield's second-best sportswoman after Ash Barty
Greater Springfield, Brisbane, counts Ash Barty as its ambassador. It's also the home of 18-year-old swimming sensation Mollie O'Callaghan, who is on-track to become a household name, writes LINDA PEARCE.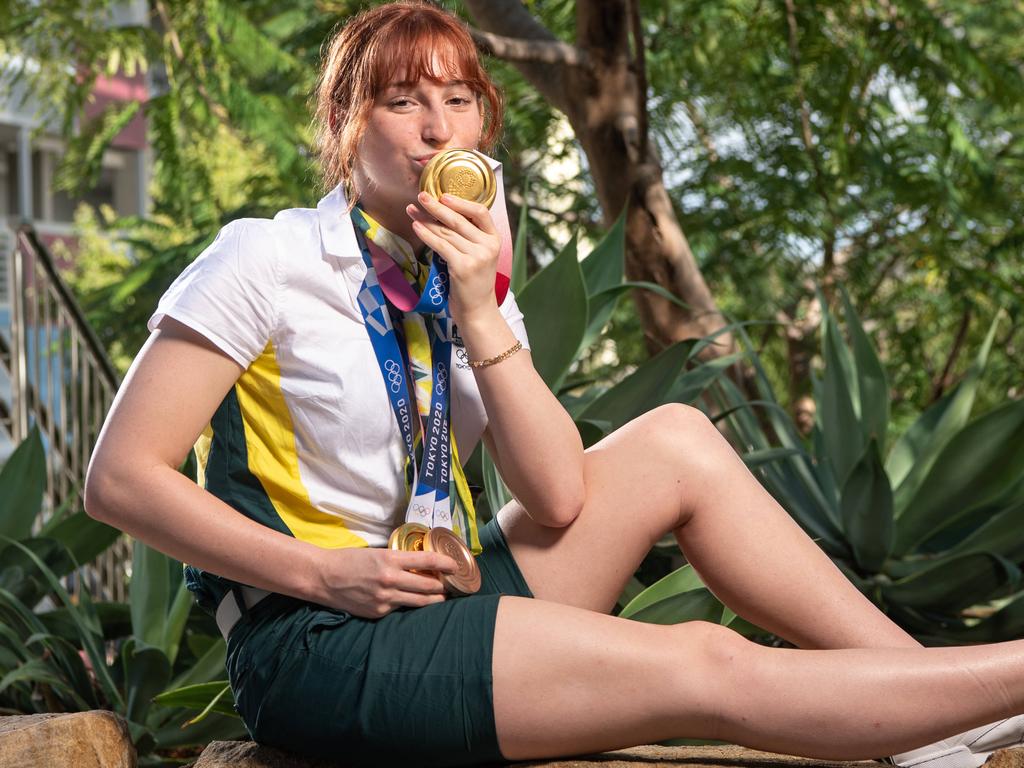 Already an Olympic gold medallist, Mollie O'Callaghan has her sights set on adding to a growing collection. Picture: Brad Fleet
Mollie O'Callaghan is unsure if she is the second-best sportswoman in Greater Springfield, west of Brisbane.
"But definitely Ash Barty is No.1,'' insists the triple Olympic medallist. "Mum's seen her around the shops and stuff, so it's pretty cool.''
O'Callaghan is happy to own the title of Australia's least-known dual gold medal winner from Tokyo, but the freestyle prodigy is still unsure how she feels about her haul from her debut Games.
The schoolgirl superstar was 17, Australia's youngest team member across all sports, when her heat swims in the 4 x 100m freestyle and medley relays contributed to two of the Dolphins' record nine collective golds.
Having broken the world junior record in a team-best lead-off leg of the 4 x 200m freestyle, the Queenslander also missed a finals swim in that event, while Emma McKeon, Ariarne Titmus, Leah Neale and Madi Wilson claimed bronze.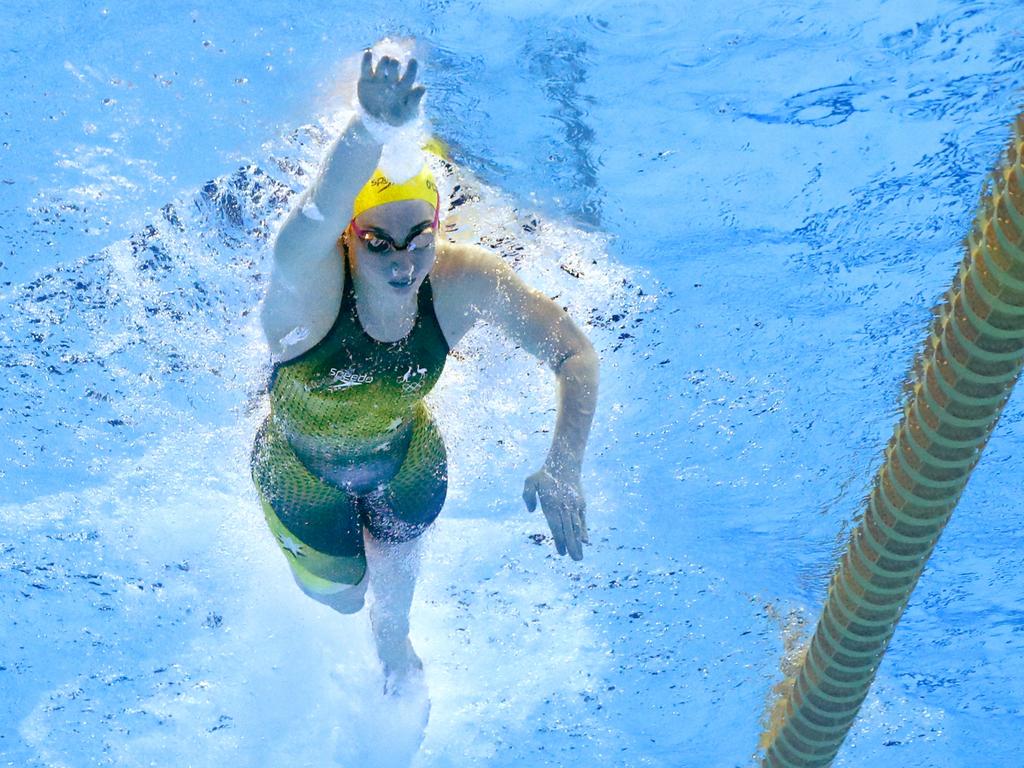 O'Callaghan was a controversial omission from Australia's relay team for the final after setting a record time in the heats. Picture: Tom Pennington/Getty Images
"This sounds bad, but at first I felt like I didn't deserve the medals because I didn't swim in the final,'' O'Callaghan says. "As I've gone on I'm like, 'Oh, I actually do deserve it, because I did swim the heats, and I did the best that I could in the heats'.
"But at first I found it really hard. Like, I'm really happy I got the medals but at the same time they don't really feel like my medals.''
Even now?
"Yes and no. Like, sometimes I feel a bit awkward saying I've got two gold medals and a bronze … even though I swam exceptionally well for my first international meet. But I think as I've gone on I've been more like, 'Yeah, they're mine'.''
Based on results from the Australian titles in Adelaide last month, which doubled as the Budapest world championship and Birmingham Commonwealth Games selection trials, there should be no such conundrum over the coming months.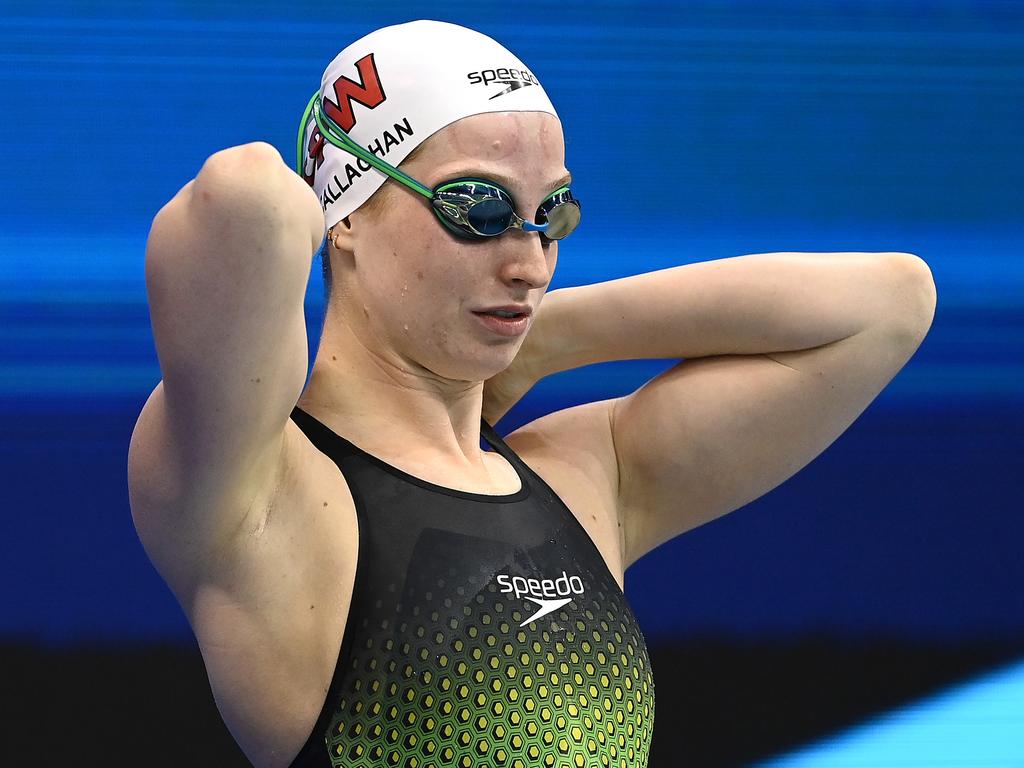 O'Callaghan became a national champion at the 2022 Australian titles in Adelaide. Picture: Quinn Rooney/Getty Images
With McKeon and Titmus bypassing the worlds, and the Campbell sisters Cate and Bronte yet to return to competition after Tokyo, new national champion O'Callaghan boasts the world's fastest 100 metre freestyle time (52.49 seconds) in 2022, and, in Titmus' absence, may also be the quickest in the field for the 200m.
Those two individual swims, given that she will skip the three backstroke events in which she also qualified for Budapest, will be augmented by the relay swims.
"I was so nervous for the 100 free on day one. I'm not gonna lie. I was absolutely shitting myself,'' the refreshingly-candid O'Callaghan says of her most satisfying performance at the trials.
"How I executed the race (was what) I was the most proudest of, and it was such a surprise to do that big of a drop off my PB. It kind of came as a shock, and I think I was the happiest with my back-end and my turn and underwater and stuff.
"It's definitely, I would say, a statement — not so much about (what happened at) the Olympics, just for myself mainly, in a way to show that I can perform well and I can continue to improve. That I've trained hard and this is what I can do.''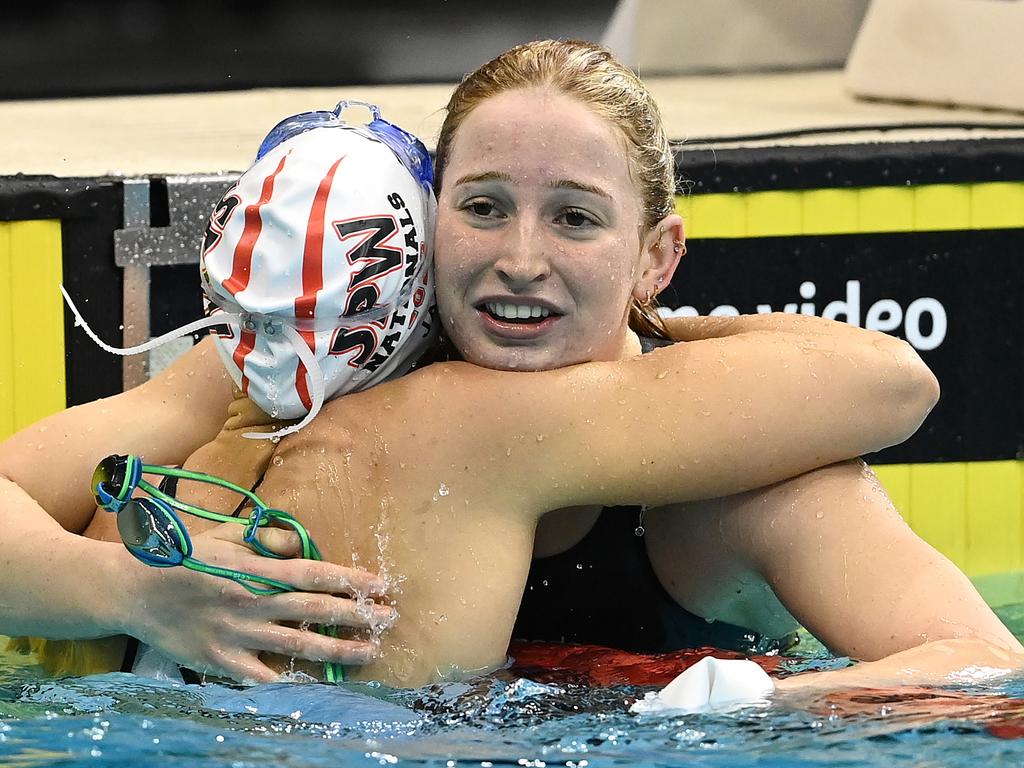 O'Callaghan believes she's ready to lead the Australian team in the marquee freestyle events at the World Championships in Budapest. Picture: Quinn Rooney/Getty Images
*****
O'Callaghan recalls Tokyo as a whirlwind of emotions but looks back with pride, with her previous experience limited to the 2019 world juniors.
Her biggest disappointment was in the 4 x 100m freestyle and, along with Madi Wilson, being tipped out of the final four in favour of McKeon and Cate Campbell despite a PB of 53.08 seconds in the heat. Bronte Campbell and Meg Harris were retained.
"I was actually really upset about that, not making it, because I think I made maybe one of the top times at that meet but because of my inexperience I wasn't taken to the final,'' O'Callaghan says.
"I didn't want to be just a heat swimmer, in a way, and I was just really devastated because I knew that I trained so hard and just to not be picked because of my inexperience and other factors was a bit disappointing for me.
"But at the end of the day I was extremely happy seeing the girls win. It was really cool to watch.''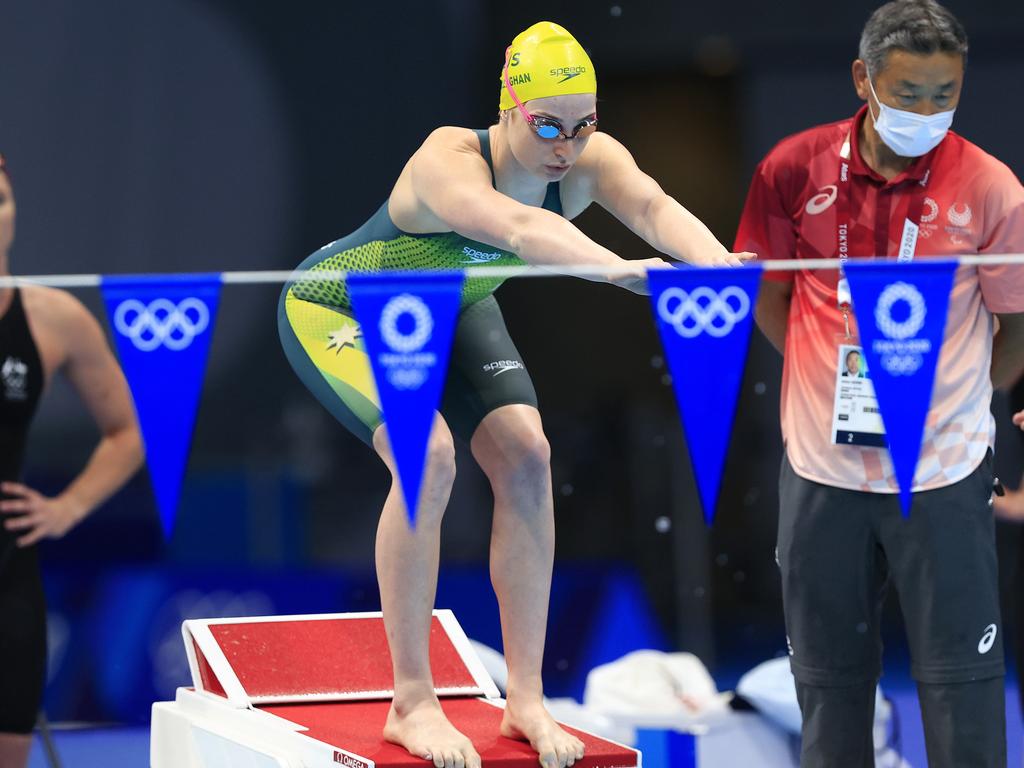 Being able to stand on the blocks at Tokyo and compete at the heats was a massive learning experience for O'Callaghan. Picture: Adam Head
The 4 x 200m, while more controversial, was not so devastating, because all four heat swimmers were replaced by McKeon, Titmus, Wilson and Leah Neale.
It helped that the 200m was also a distance, she laughs, that "personally I wasn't too keen on''. Really? Despite having just set a world junior record? And admitting that having swum it so well has made her even more hungry and driven now?
"I think it's taken me a while to like the 200. I definitely love doing sprints … but as I've been training (it) I've kinda learnt to love it a little bit more and learnt how to race it, because I feel like 200m is such a difficult race to get your head around.
"I'm still learning how to swim it. I've got to fix a lot of things, but definitely at the moment I would say it's one of my top two races, with the 100 free.''
Her return to competition was at the Queensland state championships in November, where, at coach Dean Boxall's instigation, O'Callaghan completed 24 races across junior and open levels, individually and in relays, across seven relentless days.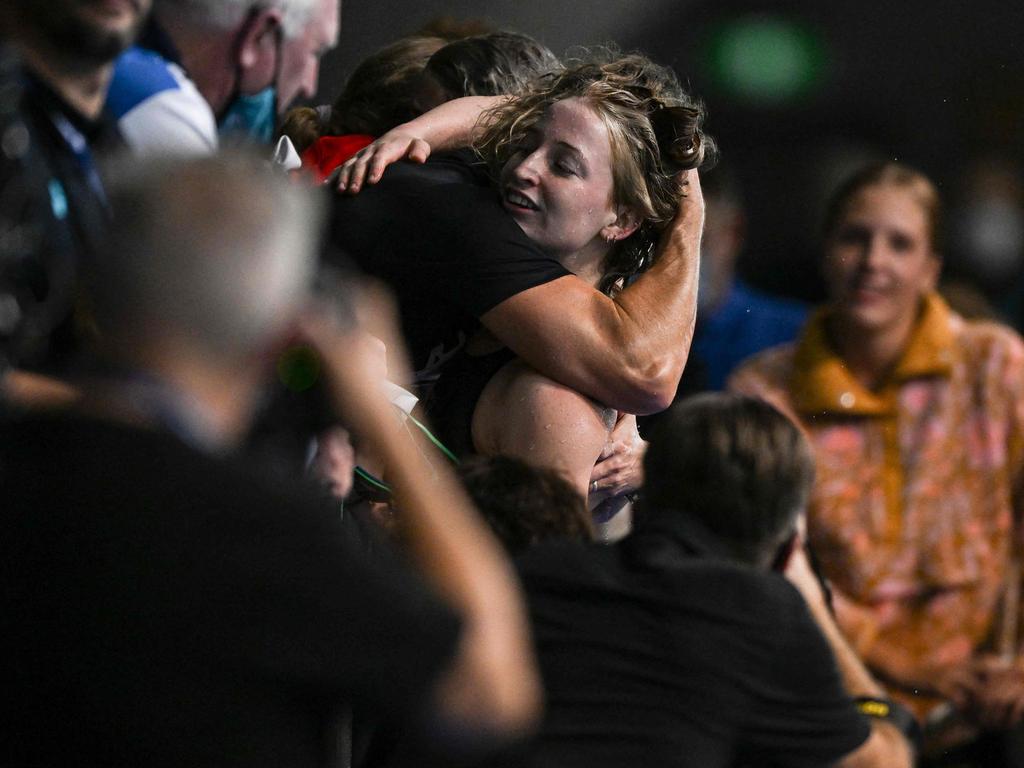 O'Callaghan embraces coach Dean Boxall during the 2022 Australian Championships. Picture: Brenton Edwards / AFP
"At first I was looking at it and I was like, 'I don't know how I'm gonna survive this meet!''' she laughs.
"It was kind of different because there was no expectation to perform that well or get near my times or anything, so it was just more fun, and learning, and the thought behind it from Dean was definitely just learning how to back up and deal with a heavy program."
'Mollie O', as she's known, is even starting to enjoy the 200 freestyle, despite being lukewarm about her 1:54:94 swim for silver behind Titmus in Adelaide.
The 100 free is still her favourite, and her time at trials the fastest ever by a teenager. Her best? We shall see. O'Callaghan has only just turned 18, after all.
Phenomenal, really.
O'Callaghan (R) is no stranger to having to fight for her place, with teammates at her St Peters Western club including Ariarne Titmus (2L). Picture: Mark Brake/Getty Images
*****
Young Mollie started swimming aged four. Began racing, which she loved, at around seven. She was never the biggest kid. Compared with the likes of Cate Campbell, McKeon and Shayna Jack, she still isn't.
"I definitely look up to them. I think I'm 5'8'' (173cm), maybe. Like, I stand next to the other girls and it's like, 'Oh, my God, I'm actually really short','' she laments, while explaining that what she may gain on the starts and turns by being slightly more compact she has to "work twice as hard" to compensate for elsewhere.
O'Callaghan moved clubs to St Peters Western in 2019, which is when things really started to happen.
It was also her first serious introduction to freestyle competition, after being selected for not just the 50-100m backstroke double at the world juniors, but the 100 freestyle, for which she had barely trained.
Then Covid-19 arrived to scuttle 2020, and push back the Olympics by 12 months.
O'Callaghan was a prodigious talent, pictured here at 13 after success at the QLD state championships. Picture: David Nielsen
"I kind of just jumped onto the senior team in 2021, which is absolutely crazy to think that in the span of a year or so that I made that much ground.''
O'Callaghan says she would not have been too distressed to miss out on Tokyo, given that time was on her side, while also claiming to be glad she went as a relay swimmer only.
"It felt like it's perfect for your first team, especially to try and get used to international racing, and get the feel of it, because I haven't had as much experience as the other girls. In a way it was just more practice and learning which was really cool, and to see how I perform on an international stage.''
She was also studying the first half of Grade 12. Well, kind of studying, if her enthusiasm for this, the second half, is any guide.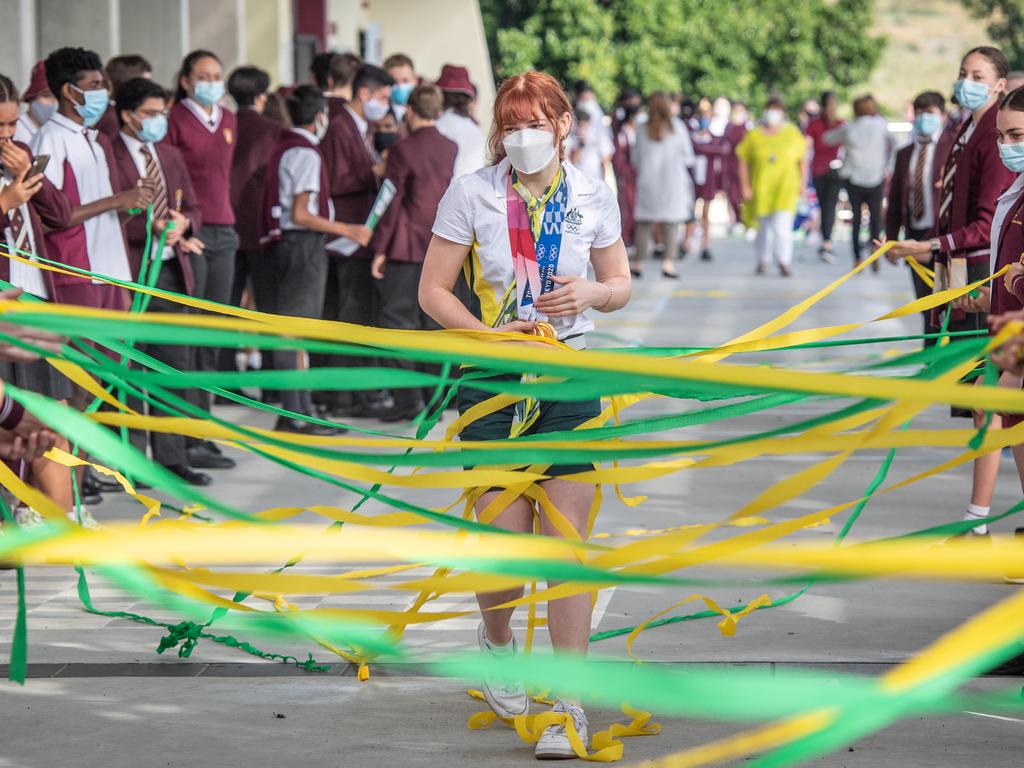 O'Callaghan returned to St Peters Lutheran with Olympic medals in hand and a hero's welcome. Picture: Brad Fleet
"I'm meant to study here and there for school, but when we're on main training I normally just go for a sleep (afterwards),'' admits O'Callaghan, who is unsure whether she wants to do tertiary study, but certain she will be relieved when high school is over.
Away from the pool, she enjoys arts (painting) and crafts (knitting), solo time lying around (and napping) as well as hanging out with friends. Partying is restricted to breaks from the pool, like the couple of months she took off after returning from Tokyo.
"I guess I've just got to stay disciplined until I get to my break, and then I can have a bit of fun and be a normal 18-year-old,'' she says.
"(It's) more the fact of having freedom and not having to be so organised all the time, and being on a little bit of a time limit — like, I've got to go to bed at this time, I've got to wake up at this time. In breaks it's kinda great, because I get to relax and I get to be a little bit more spontaneous in a way and decide to go somewhere without thinking of the consequences of swimming.''
At mum Toni's insistence, O'Callaghan got her driver's licence as soon as she turned 17, to be able to drive herself to training, in particular. The reluctant schoolgirl's share of the government's payouts for Olympic medals went to paying off her car and, for this very keen sleeper, buying a new bed.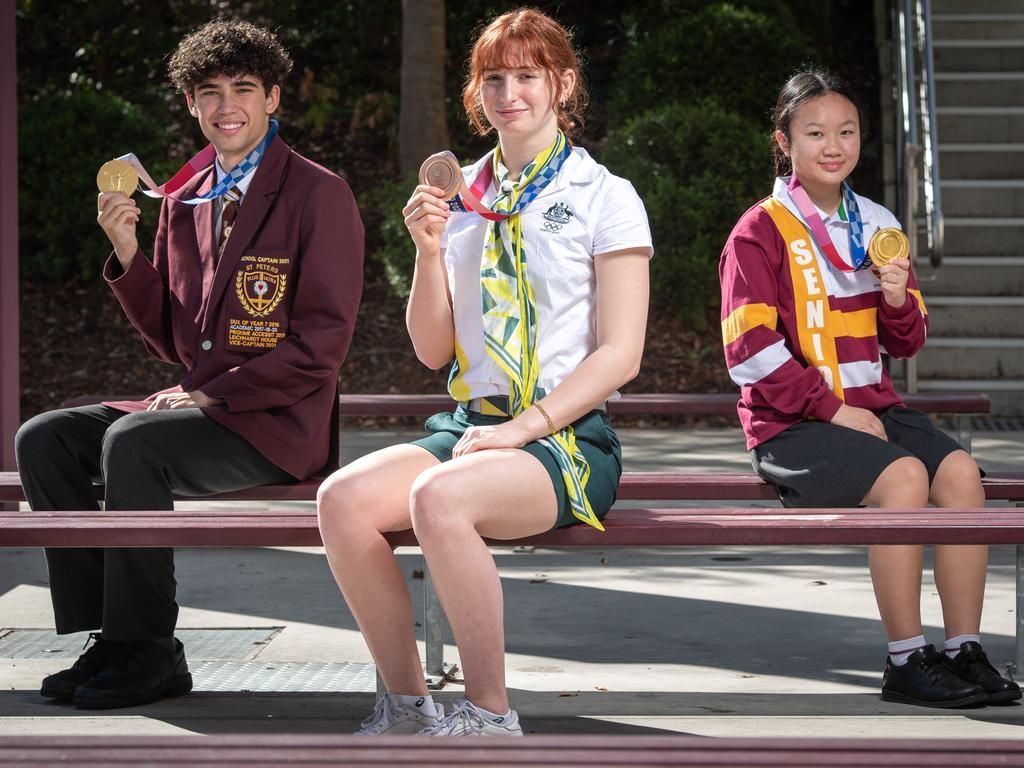 The 18-year-old is still juggling her school commitments and professional swimming. Picture: Brad Fleet
*****
O'Callaghan was just 13 when McKeon and Titmus, who will be among her fellow Dolphins in Birmingham, were collecting 10 medals between them on the Gold Coast four years ago.
She describes herself and Titmus, who is also part of Boxall's squad, "more swim acquaintances" than close friends. "Typically in training, Arnie and I do different sets, so Arnie will be over in distance and I'll be in middle distance and from time to time we'll train together.
"But I guess in racing we all kind of stick to ourselves in a way. I don't think she would be too keen sharing any of her secrets with her fellow competitors!''
Ironwoman McKeon, a seven-time Tokyo medallist, is an inspiration, she enthuses.
"Just how she performed at the Olympics and just continued to step up and do her best, and especially how humble she is, and her attitude towards swimming and out of swimming, I think that's definitely why I look up to her.''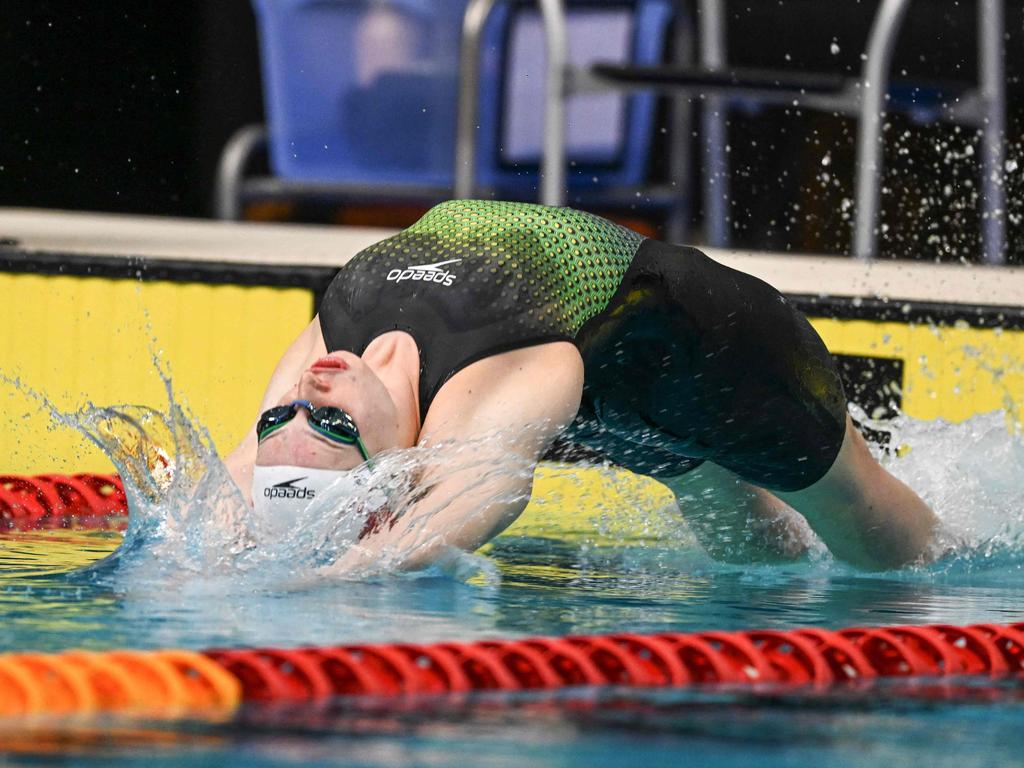 O'Callaghan is preparing for an extensive program that includes backstroke events. Picture: Brenton Edwards / AFP
O'Callaghan admits the thought of even a semi-McKeon-sized program makes her nervous.
"But in a way I guess I've just got to believe that I can do it. I've trained for it, and I've kind of simulated it in other meets. So I can do it, but it's more of the thought that kinda gets me!''
She believes the appealing 100m freestyle ("it's nice and quick — two laps and then you're done''), is her best chance of individual success this year.
"Probably for both (meets), but definitely Comm Games there will be Emma, so that's very scary, because she's such a fantastic racer. But in a way, all the attention will be on her for the Comm Games so it will be kinda nice to be in the background again.''
The Queenslander is yet to confirm her program for Birmingham, but will see how she goes and how she feels after Budapest. Further away, but not too far, is Paris in 2024.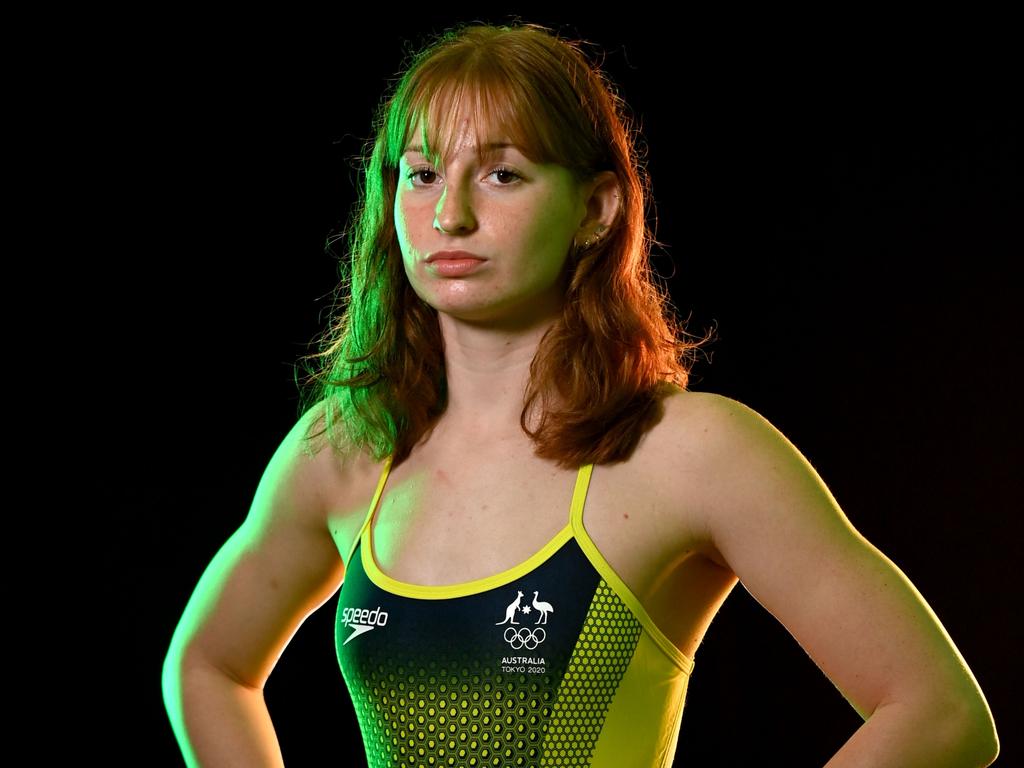 O'Callaghan already has her sights set on her second Olympic Games, Paris. Picture: Delly Carr/Swimming Australia via Getty Images
Her goals for the rest of this year are to improve her PBs in both freestyle races, but especially the 200m, as she gains more experience, and to get onto the podium for, well, something at the world championships, "individual, or relay, whatever''.
Which would add at least one more medal to the Olympic haul her mum has put away for safekeeping, and which O'Callaghan might get around to displaying and feeling proud of at last.
"Yeah, I've started to…'' she says, a little hesitantly, before repeating. "Yeah.''