Swimming 2022: Aussie Elijah Winnington claims World Championships gold medal
From the depths of despair to champion of the world in less than a year, Elijah Winnington's transformation has been as fast as his swimming.
From the depths of despair to champion of the world in less than a year, Elijah Winnington's transformation has been as fast as his swimming.
He almost quit the sport after flopping at last year's Tokyo Olympics but gave it another shot and now he's the world champion in 400 metres freestyle after a masterful rope-a-dope performance in Hungary.
The doubters who questioned Winnington's guts after Tokyo have been silenced forever because this was an unforgettable win full of courage and tactical genius.
Stream Over 50 Sports Live & On-Demand with Kayo. New to Kayo? Try 14-Days Free Now >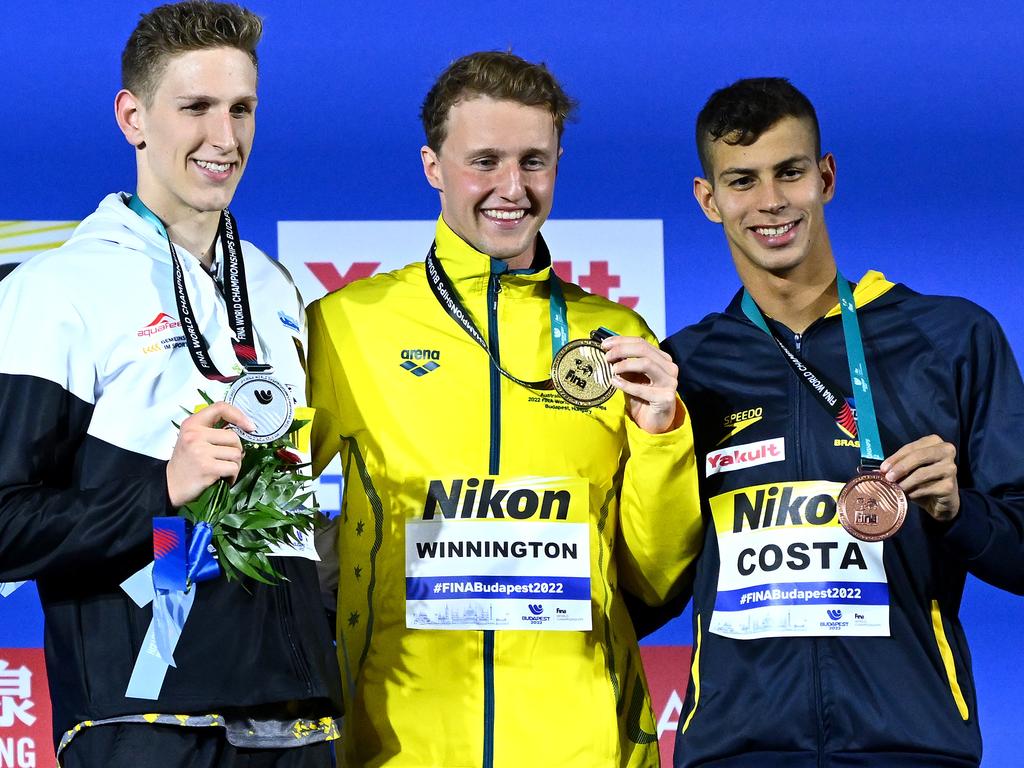 Aussie gold medallist Elijah Winnington on victory dais with the minor placegetters. Picture: Getty Images
After gassing his rivals by setting off at an electrifying pace – reaching the halfway mark under world record pace – he then surrendered his lead before rising again and surging past exhausted German whiz kid Lukas Martens on the final lap.
Because his stroke is so deceptively smooth, Winnington made it look easy as he pulled away to win by a body length, but it was a performance built on heart as he joined Kieren Perkins, Ian Thorpe and Grant Hackett as the only Aussie men to win the world 400m title.
"With 75 metres to go, I don't want to sound cocky or anything, but I kind of knew in my mind I was going to be world champion." Winnington told News Corp.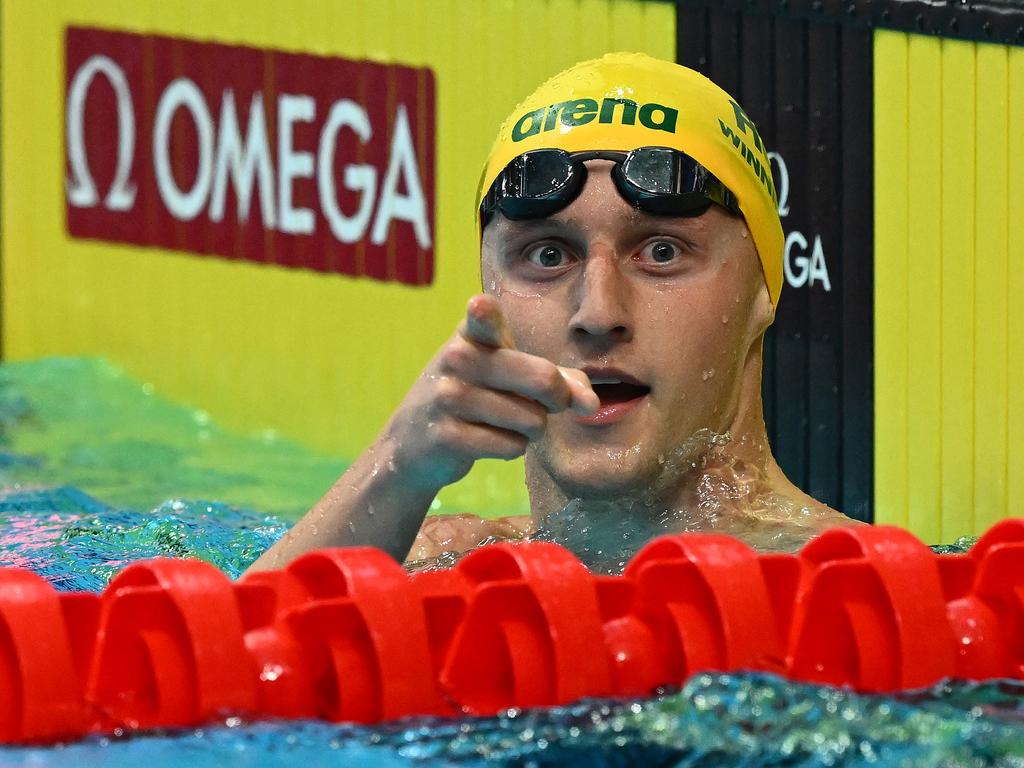 After a disappointing Olympics, Elijah Winnington has sent a message at the worlds. Picture: Getty Images
"I knew I had it, I just didn't really know what time we were going. It's just one of those things that enjoyment brings confidence.
"Like I say with my mind coach, fun is fast and that's kind of what was brought out."
The only thing that was as impressive as the manner of Winnington's breathtaking win was the numbers next to his name on the scoreboard inside the Duna Arena.
His winning time of 3:41.22 was the fastest by anyone in the world for a decade and moved him to fifth in the all-time rankings, leapfrogging Mack Horton as the second fastest Australian ever.
How good's this? Winnington after his victory. Picture: Getty Images
"I kind of have to pinch myself that the only person better than me in my country's history is the great Ian Thorpe," Winnington said.
"We have a great history in that event. And not only that, my coach Dean Boxall has a great history in coaching 400m champions.
"Ariarne Titmus just broke the world record about a month ago, so all credit goes to him, clearly he's doing something right in that program."
A natural prodigy who won a junior world title, Winnington has always had the tools to be a world champion at the senior level but he's had to work hard on his mental game, especially after the disappointment of Tokyo when he went in ranked No. 1 in the world but finished seventh.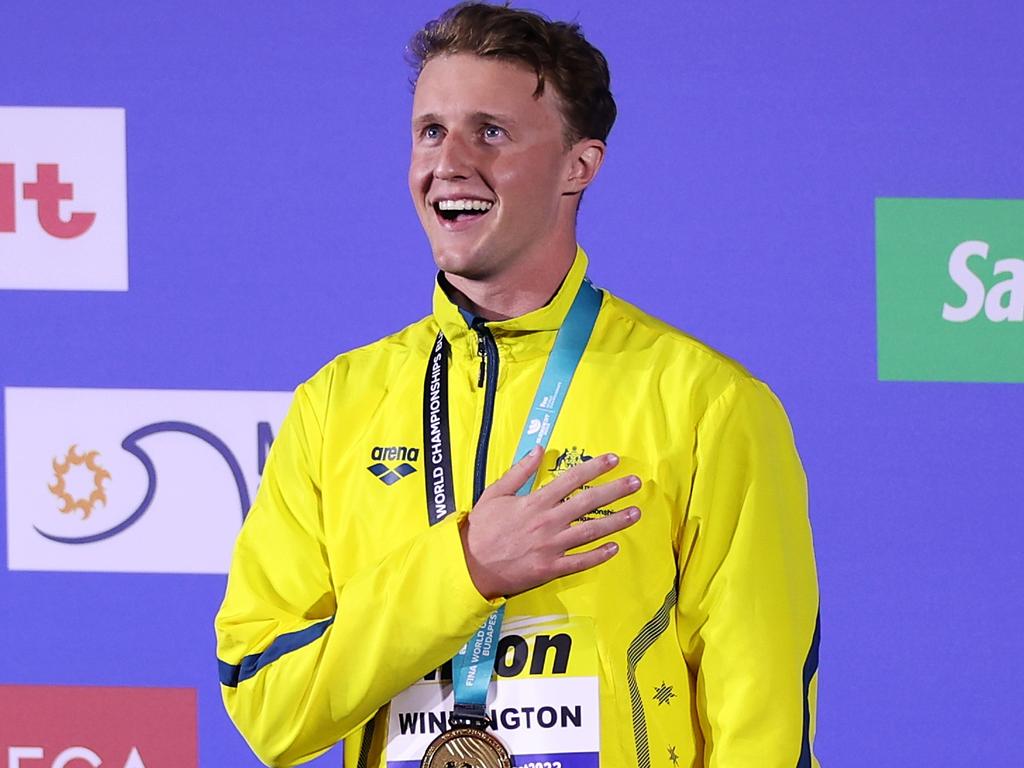 Hand on heart, Winnington shows his pride. Picture: Getty Images
"This time last year, I never thought this day would happen. I thought I was going to be done hanging up the goggles because I wasn't enjoying it," Winnington said.
"To bounce back, it's kind of like 11 months, it's not even a full year, it's really cool.
"I've worked really hard to get to where I am mentally, not just physically.
"I was probably in this shape, if not better, last year so it's really just the mental game now.
"Everybody at this international stage, they put in work, they're all talented so it's who's tougher in the mind.
Winnington isn't finished in Budapest yet. He still has the 200m and 800m to come plus the 4x200m relay and it would not be a surprise if he medalled again after he rediscovered his mojo.
"Self-belief is everything. Like I've said 100 times, it's about enjoyment. It's about having fun out there because if you're not having fun, why the hell are you swimming anyway?" he said.
"It's not about the goal, it's about enjoying it. So that's the way I live by."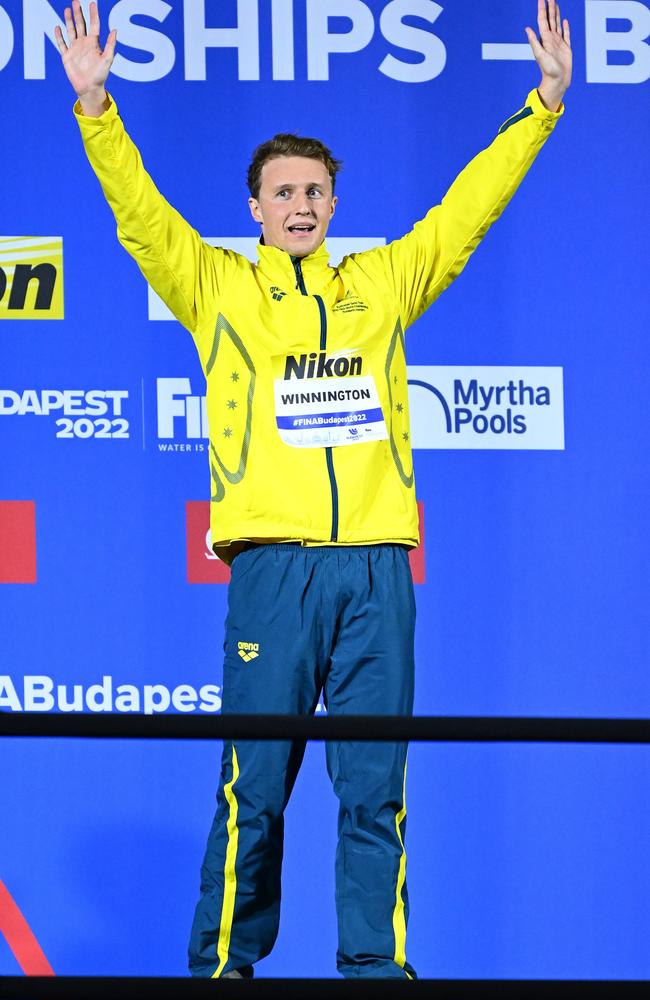 Gold medallist Elijah Winnington of Team Australia
What happened after Tokyo?
It wasn't just records that Australia's swimmers broke at last year's Tokyo Olympics.
A few hearts were shattered too, though no one really paid much attention to those.
The Dolphins won so many gold medals in Tokyo — nine in total — that the entire country just went nuts, so no one wanted to spoil all the fun after the grim experience of being locked indoors.
Australians couldn't have been any more in love with the swim team if someone had slipped gallons of Prozac into the national water supply, but that hid an uncomfortable truth, that not everyone was celebrating.
Stream Over 50 Sports Live & On-Demand with Kayo. New to Kayo? Try 14-Days Free Now >
All the Aussie swimmers whose Olympic dreams didn't quite pan out the way they planned just bit their lips and stayed quiet as they returned home from Japan to two weeks of needless isolation.
One of Australia's big hopes going into the Games, Elijah Winnington was one of those swimmers who suffered in silence.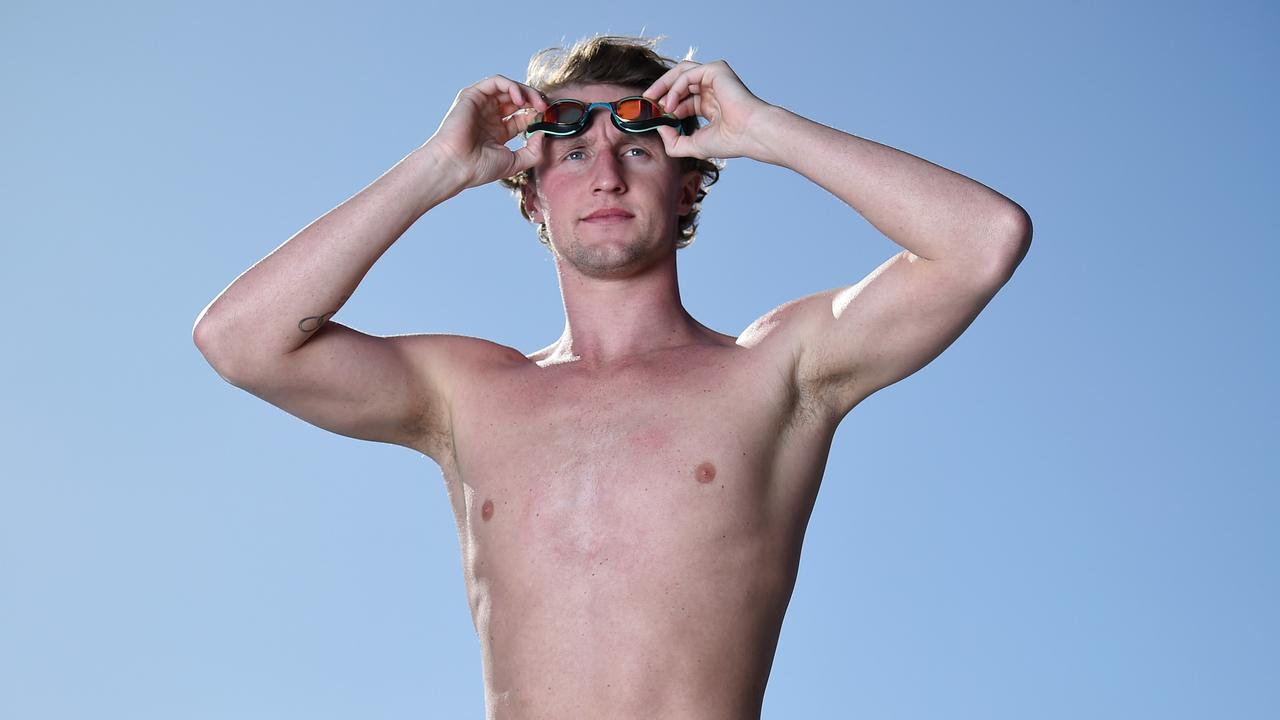 Elijah Winnington admits he was a wreck after the Tokyo Olympics.
He won a bronze medal in the relay but finished seventh in the 400m freestyle final after going into the Olympics ranked No.1 in the world.
The time he swam at the Australian trials, held a month before the Olympics, would have won him the gold medal in Tokyo, but he couldn't replicate it when it mattered.
A prodigious talent, he took his performances so badly that he almost quit the sport forever, spiralling into near-depression.
"I thought I was a failure," he told News Corp. "I thought that I not only let myself down, but also my family and everyone in the country."
He hadn't, but his mind was playing tricks on him, and taking him to dark places.
That's often the case with elite athletes. Like Formula One cars, they go a lot faster than everyone else when everything's humming, but when the wheels fall off, there's an awful mess left to clean up.
By his own admission, Winnington was a total wreck after Tokyo. A natural optimist and devout Christian, he wears his heart on his sleeve, but his heart was no longer in swimming though that was the least of his worries.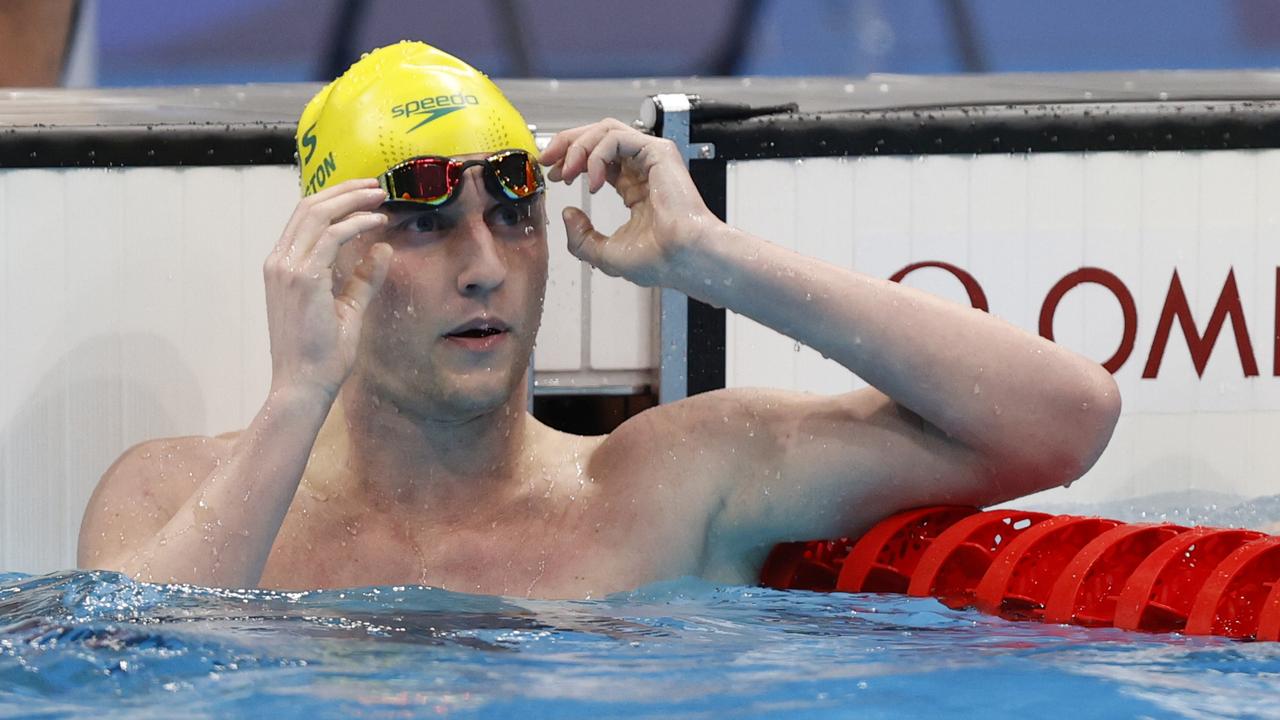 Elijah Winnington took his defeat in the 400m freestyle at the Tokyo Olympics hard. Picture: Alex Coppel.
He needed help.
His coach Dean Boxall knew something was wrong.
Renowned as a hard taskmaster, Boxall became a cult figure during the Tokyo Olympics because of his spontaneous celebrations when Ariarne Titmus won the women's 400m gold.
But those who know Boxall best, say he's a big softie, who treats his swimmers like his own kids so when Winnington was in pain, he was too.
"Dean is very passionate, but what people don't say is that he's not really our coach, he's like a father to us," Winnington said.
"When I got back into training, I was really struggling, I just wasn't enjoying it, but he just called me up one night — I was literally in my pyjamas — and said, 'come on over, let's just have a chat'.
"But it wasn't a conversation about swimming. He really wanted to check on how I was, and whether I was happy and how my life was going.
"People don't know that about Dean. Obviously they know he coaches Ariarne (Titmus) and she swam unbelievably in Tokyo (winning two gold medals) and he's coached her since she was a little girl so he celebrated her success.
Swim coach Dean Boxall gave Elijah Winnington strong support. Picture: David Kelly
"But he loves all his swimmers the same and not everyone had that experience but he shares all those emotions too.
"It takes a toll on him but it's good to know that you have someone that cares about you so much and the month after that conversation was probably the best training week of my life."
Winnington also sought professional help, hiring a mental coach to help him get his head right. There's no question Winnington has all the tools to be the best in the world but he has self doubts, like everyone else.
He makes swimming look almost effortless but it's really an optical illusion.
Like Ian Thorpe, who he is often compared to because they swim the same events, his stroke is so smooth and calm because he generates his speed from his powerful legs.
Comparisons with Thorpe don't do anyone much good though because a lot of boom teenage swimmers burn out once they get to the senior ranks.
A junior world champion and world record-holder, Winnington, now 22, has carried the burden of being labelled the next big thing in Australian swimming for as long as he can remember.
It's weighed him down but he's still battled his way through it. And still does. In private.
After winning a relay gold in the relay at the 2018 Commonwealth Games on the Gold Coast he missed selection for the 2019 World Championships.
It ate away at his self-belief but he convinced himself it was a one off. Then his disappointment in Tokyo brought all those doubts back.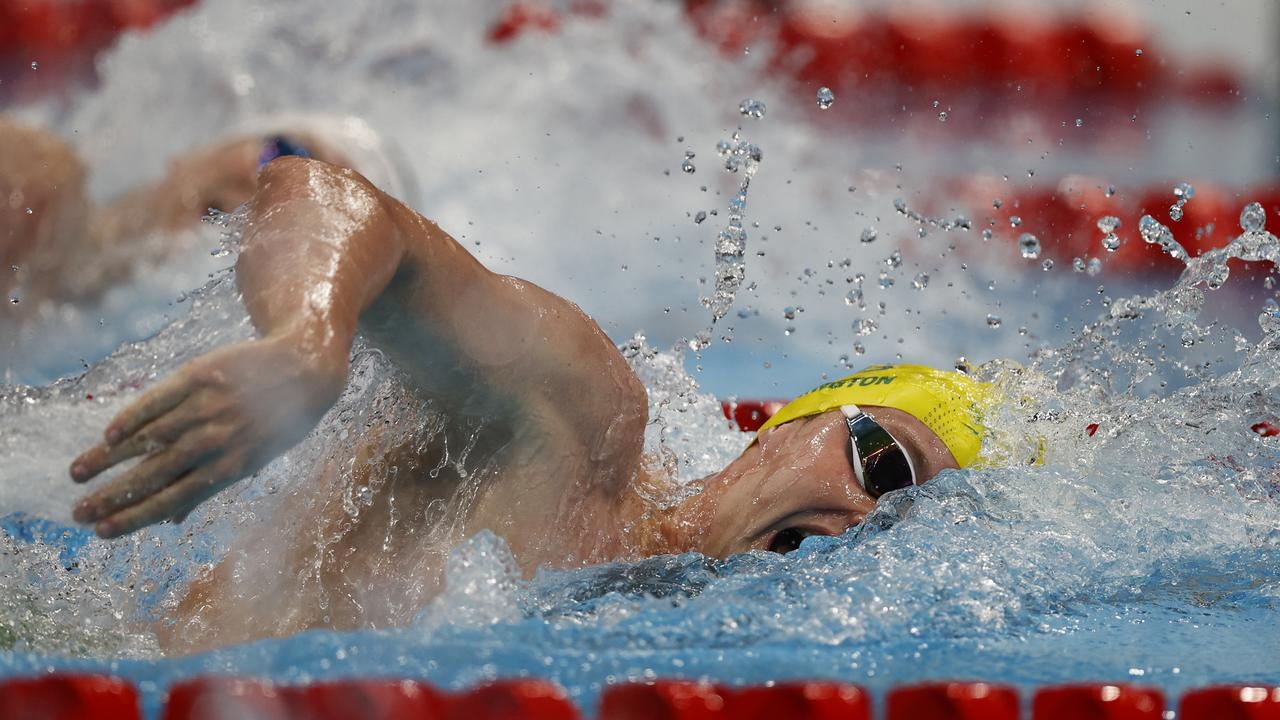 Elijah Winnington was one of Australia's top medal hopes in Tokyo.
"I'm still very proud to be an Olympian and do what I achieved, but as an elite athlete, particularly one that's trying to achieve the top of a sport, we're always very critical of ourselves," he said.
"It was an eye-opening competition for me because I got to see some flaws, not only in my physical game, but my mental game, and I guess that's where the disappointment comes from because I knew that I wasn't fully prepared.
"I know I can do it but I had a two month break where I wasn't sure if I ever wanted to get back into it even after that, I didn't have the motivation.
"I was in one of the toughest programs in the world but I didn't want to put all this work into it again to come away with what I believe is to be a subpar result. So that's when I sort of just had to shift my mindset away from achieving medals or magical times.
"I'm just trying to be the best I can and just enjoy myself but I really had to look into myself and talk to some people around me.
"That's when I came across this mental coach and really found the love and the passion again.
"My mental coach has a saying that fun is fast so if I'm not having fun, I can't swim fast so that's how I'm approaching it and it's working. I've found my speed again."
The early signs are good. Winnington successfully defended his 400m title at the Australian trials in June with the second fastest time in the world this year — which only one swimmer in the world has beaten in the last four years.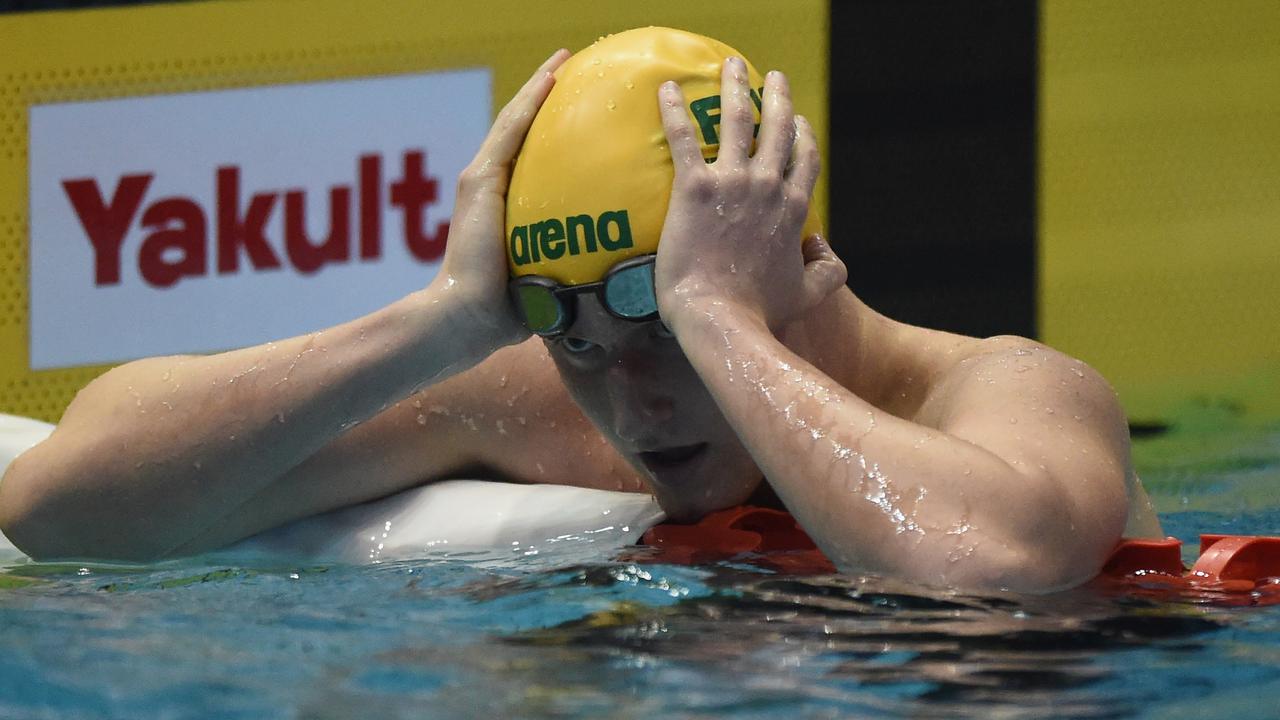 Elijah Winnington considered quitting swimming after Tokyo. Picture: AAP Image/Matt Roberts
If he repeats that performance, he should go close to winning a medal in Sunday's 400m final at the World Championships in Budapest because things are falling his way.
China's Sun Yang, the champion at the last world titles, is missing because he's serving a doping ban. Ahmed Hafnaoui, the Tunisian who won the gold in Tokyo in one of the biggest upsets in Olympic swimming history, hasn't shown up in Hungary.
Neither has Jack McLoughlin, the Aussie who won silver in Tokyo, because he is taking a year off to finish his university studies.
Winnington's biggest dangers are Mack Horton and rising German star Lukas Martens — and his own mind.
"This is my first world championship. I've been to junior worlds, but it's very different and I'm going to go into this treating it as if it's my first world championships," Winnington said.
"I feel like if you go in there thinking, I've seen it all before or whatever it is, then you can kind of get complacent. And I'm just going to try to enjoy the first experience and learn as much from it as I can.
"I am a racer and I'm someone who can typically get my hand on the wall before others so that's really what it's about, particularly at the top level.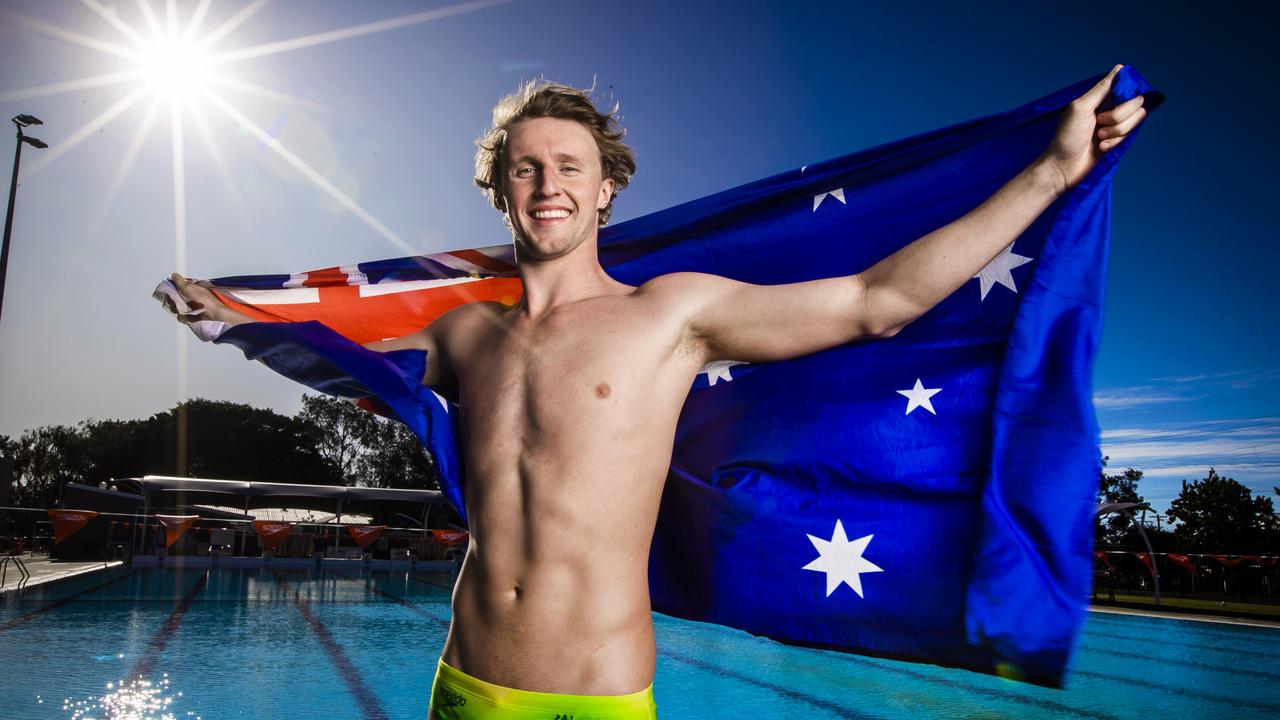 Elijah Winnington is in good form heading into the World Championships in Budapest. Picture: Nigel Hallett
"I'm definitely going there with race strategies in mind and that definitely doesn't go out the window when I dive in. But at the end of the day, on that last lap, it's who can get to the wall faster. So that's when you know it's who wants it more, not who's trained more."
Winnington is also swimming the 200m and 800m plus the 4x200m relay and has strong prospects in them all.
He's ranked ninth in the world this year in 200m and fourth in 800m while the Australian relay is ranked third but thinks the key to his chances lies in his past failings.
"Looking back, I've learnt so much from Tokyo," he said. "I'm just a completely different athlete from then. Regardless of if I swim faster or not, that's not what I view as success.
"It's almost my happiness in the sport and how much I enjoy it. That's where I think without last year's experiences have helped.
"I would definitely not be the swimmer I am today and I'll keep growing and learning throughout my whole career."
Originally published as Swimming 2022: Aussie Elijah Winnington claims World Championships gold medal