Alex Carey's greatest traits were revealed years ago – now we're seeing them in the Test arena
Alex Carey is determined to etch his name alongside the "fantastic glovemen" of Australia's past. Rather than his ability on either side of the stumps it's what he has inside that could take him there.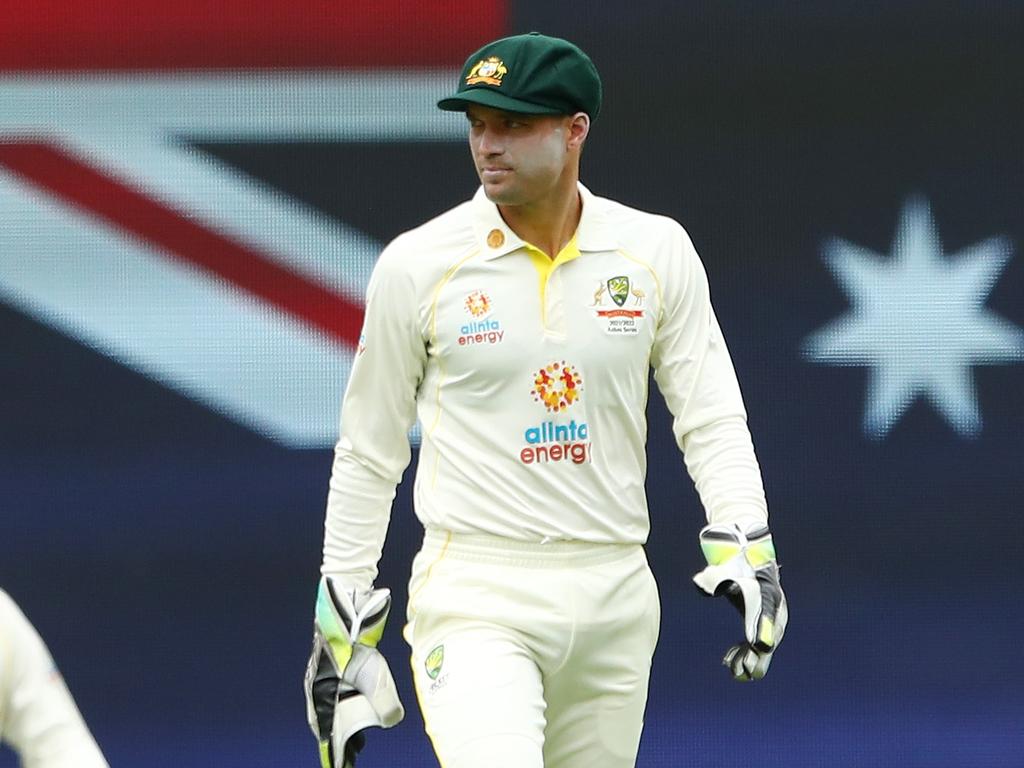 Alex Carey is as calm as they come. Picture: Chris Hyde/Getty Images
Two and a bit years ago, Alex Carey took on a fire-breathing Jofra Archer and had his helmet blown off his head.
With Australia already three down inside the first eight overs of a 2019 World Cup semi-final against the old enemy at Edgbaston, the visitors simply could not afford to have Carey lose himself in that moment.
Carey didn't even lose his helmet.
Not missing a beat, he nonchalantly caught it before it could fall onto his stumps, and then calmly called for medical attention on an already profusely bloody chin.
Heavily bandaged, but unshaken, he went on to make 46 runs that were equal parts grit and class, before having his chin stitched up so he could keep wickets.
It wasn't enough to take Australia to victory, but that day in Birmingham said plenty about Carey the player and Carey the person. Tough, unflappable and an absolute team man. Par for the course in his line of work apparently.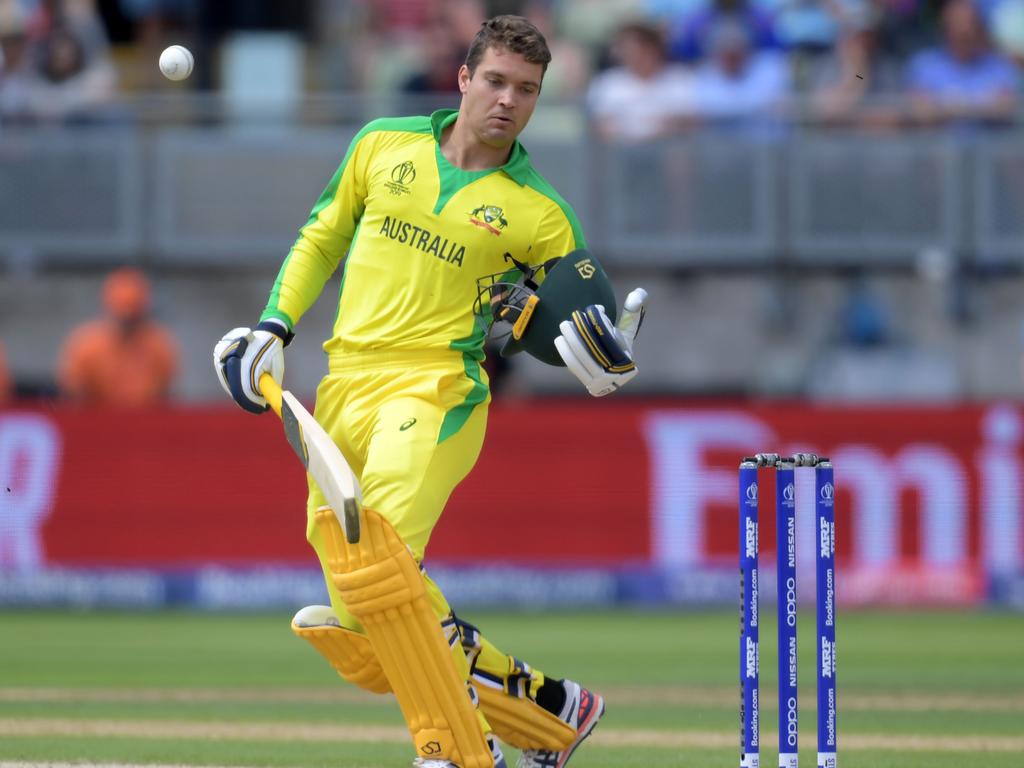 Cool as a cucumber. Picture: Dibyangshu Sarkar/AFP
"We've had some fantastic wicketkeepers in the past for Australia and I want to be the same," Carey tells CodeSports. "I want to be a fantastic gloveman for Australia."
Test debuts are tough enough in normal circumstances, but Carey's came in an Ashes series, replacing the former captain, and already facing competition for his spot from Western Australia's Josh Inglis.
Having waited so long to fulfill a childhood dream, he knows it could be short lived. Not that you'd know it. Few things seem to be cause for concern for Carey, whose focus is on that old cliché: control the controllables.
"When you get older you understand there are people coming up from the bottom and you can't control what they're doing so I just keeping doing the best that I can and do it with a big smile on my face," he says, enjoying a rare stretch of time back home after a hectic few months. "It's a pretty special group to be a part of and to play Test cricket, I still pinch myself.
"I don't think I have to change too much (to stay a fixture in the Test team), just continue to learn. Just continue to work really hard at my game and understand what my best cricket looks like."
Despite his own individual ambitions, he's not threatened by the rise of Inglis, the continued excellence of Jimmy Peirson, or the success of Harry Nielsen at South Australia and Josh Phillipe at Western Australia in his and Inglis' respective domestic absences.
Carey is excited by it.
"He's a fantastic player," he says of Inglis. "He's a good mate of mine as well. It's really exciting for the future of Australian cricket.
"You look around the country, it's exciting and whoever does get the opportunity for Australia, it's a great position for the Test team to be in."
Josh Inglis has risen up the wicketkeeping ranks in the past two years. Picture: Quinn Rooney/Getty Images
Enthused by the country's keeping crop, the eternally unflappable South Australian embraces rather than shies away from the constant surveillance that comes with Test cricket's most scrutinised role.
In team sports, few athletes have as much attention paid to their game as wicketkeepers. Every moment on the field, whether with bat or gloves, is put through the wringer.
Carey started the summer with plenty of credit in the bank after snaring a record eight catches at the Gabba – the most by a men's Test keeper on debut – but found himself under the magnifying glass after two costly dropped catches in Sydney.
Little noise was made of his keeping in Pakistan, and when it comes to his craft, that's usually a good thing.
"Not at all surprised," he says of the scrutiny. "We're playing at the highest level. There's lots of media sources, it's important to understand that they're doing their job and I'm trying to do my best job, so it doesn't really worry me.
"New keeper in the job, only played a handful of Test matches, there's obviously going to be eyes on you. For me it's just worrying about what I can control and playing my best cricket and being in a really good space."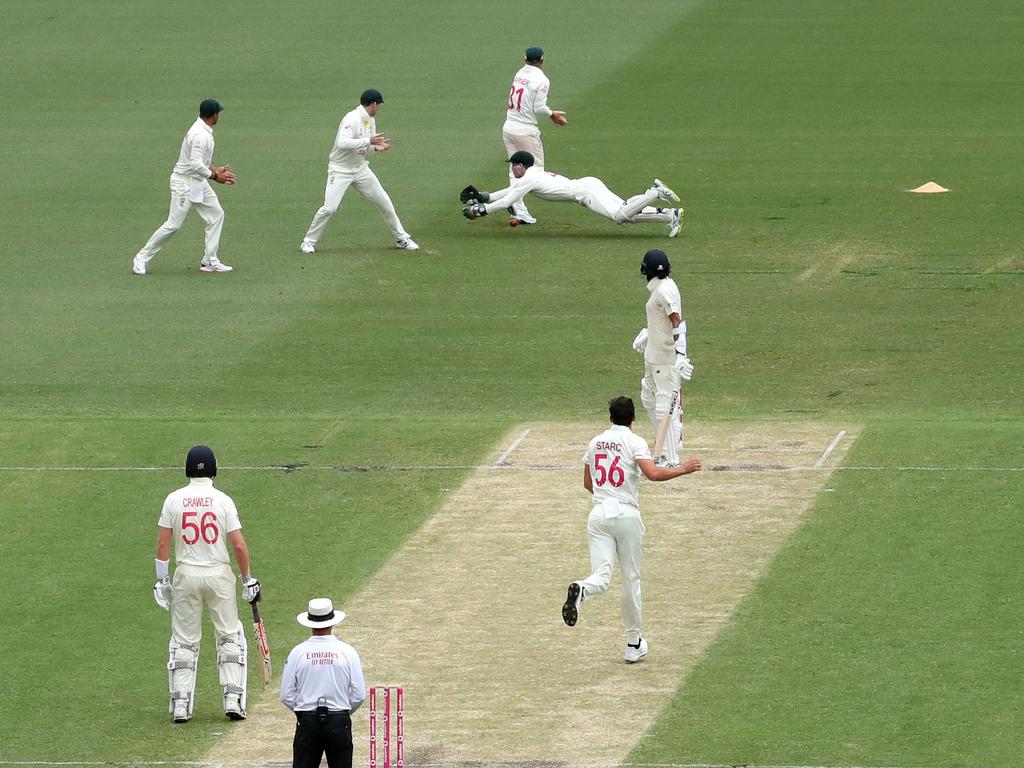 Alex Carey's keeping came under scrutiny during the Ashes. Picture: Cameron Spencer/Getty Images
Alongside a polished performance behind the stumps, Carey excelled in front of them in Pakistan, averaging 58.3 – a marked improvement on the 20.33 he had registered in Australia's 4-0 Ashes win.
"In that little period in between (series) I was able to reflect and understand my game, what the highest level required at times," he says. "With the bat there was a little bit of impatience in the Australian summer, so I was able to adapt a little bit over in Pakistan … it was a bit of a better game plan, just absorbing time out in the middle and not being in any hurry.
"With the gloves (it's) trying to take every opportunity that goes your way and just playing the way that I play. There's obviously lots that can be written about you, but I've got some really good coaches around and people that I reflect with.
"Individually I wouldn't change a thing, I learnt a lot, I had some success and ultimately the team had a lot of success which is always what I want to be a part of."
Plenty of Carey's runs in Pakistan came in the company of Cameron Green, most notably adding 135 for Australia's sixth wicket in the series decider when things threatened to go astray.
Australia will be hoping the pair can build on these promising early signs. It's proved a recipe for success in the past. The sight of a Damien Martyn, Michael Clarke or Mike Hussey at No.6 followed by Adam Gilchrist at No.7 often broke opposing teams through the 90s and 2000s.
"When you've got teams five-six down you hopefully put the foot on the throat and try to bowl them out as quickly as possible. For us (it's) to absorb pressure situations.
"We've got a great relationship. We love batting together. I love working with him.
"The chemistry out there is really strong. We keep it really simple. We understand the situations and we'll keep challenging each other to be the best cricketers we can be. It's exciting."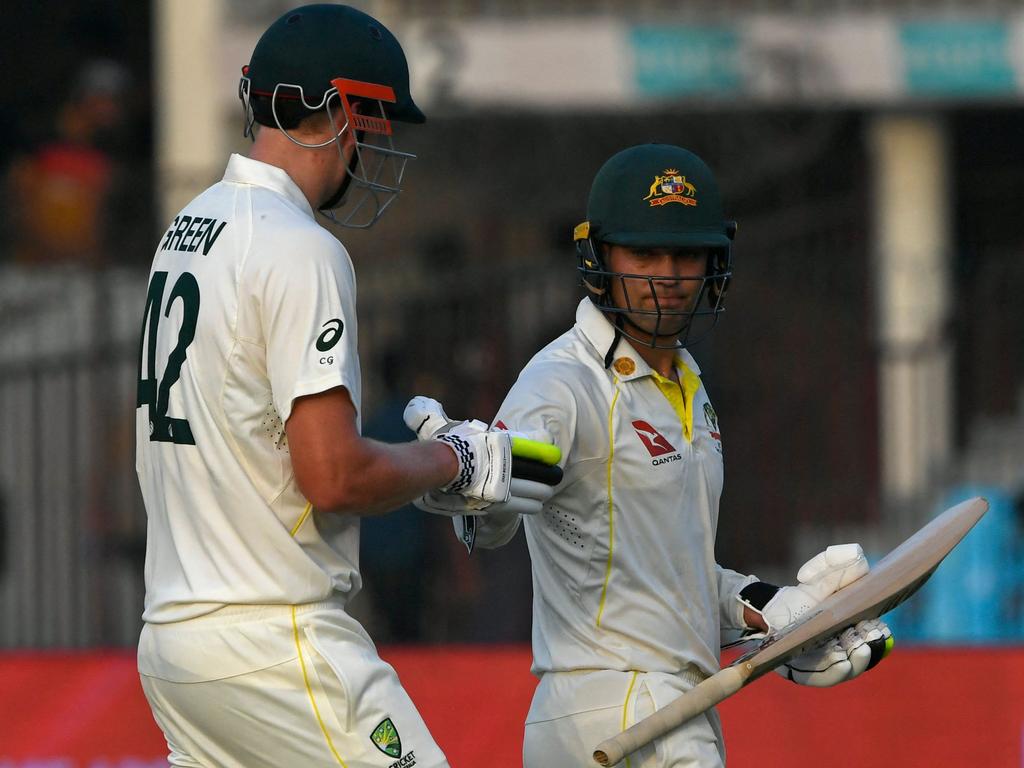 Alex Carey's chemistry with Cameron Green bodes well for Australia. Picture: Aamir Qureshi/AFP
It's a combination that could prove pivotal over the next 12 months as Australia tours Sri Lanka and India, chasing its first series wins in each country since 2011 and 2004 respectively. When Australia last won in India the six and seven were central to success – Clarke averaged 57.14 and Gilchrist's century in the series opener set the tone for what was to come.
So far, Carey has enjoyed the ride and he has plenty to be happy with. Yet at the same time, beneath that easy going exterior, is awareness and ambition in equal measure.
Nevertheless, he knows there remains plenty left to achieve and plenty to work on.
"I don't think you ever feel comfortable out in the middle," Carey says.
"You always feel under pressure at this level. I understand that there will be tougher times too moving forward. It's staying level when you have good days, when you have challenging days, just understanding what works for me, what got me here, and just bouncing ideas off the right people.
"I want to be better and keep improving and enjoying my game just as much as I did when I was a kid.
"It's been a fantastic couple of months but also I've got lots of work to do to improve my game at this level and I'm highly motivated to do that."