Andrew 'Roy' Symonds dead: Matthew Hayden and Warne family's touching tributes
Andrew Symonds was the sort of bloke who would stand up to anyone if he felt the occasion needed it - something England great Kevin Pietersen found out in the heat of battle. Read Matthew Hayden's terrific tribute to his great mate.
It's not often a cut forehead is the highlight of a great sporting career but for Matthew Hayden the memory is sweeter than ever.
Hayden, in India commentating on the Indian Premier League, was woken early on Sunday with news that his great mate Andrew Symonds had been killed in a car crash.
"We were joined at the hip for 20 years,'' Hayden told News Corp, claiming that sharing the crease with Symonds when he made his debut Test century (156) against England at the MCG on Boxing Day 2006 was the highlight of his career.
"When he got his hundred he launched himself into my arms and it crunched my helmet into my head so hard it split my forehead. But there was no happier moment in my career.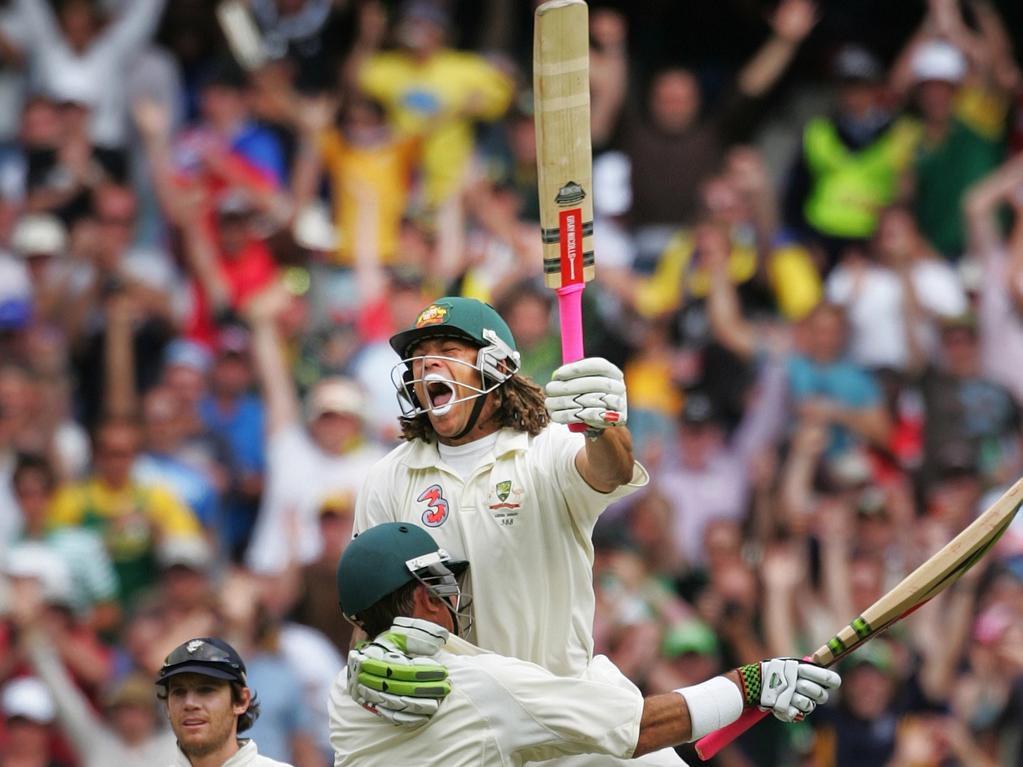 Andrew Symonds celebrates his first Test century with teammate Matthew Hayden.
"What a memory. By that stage we had known each other for 12 or 13 years. We had been through childbirths, (Andrew's first) marriage breakdown, funerals and an abundance of tremendous fishing trips and countless cold Fourex bitters.
"Our families were super close – honestly, that moment was just beautiful. He was a hard man not to love. He had so much charisma and mystery. He had a sharp wit but he would stand up to anyone or anything if he didn't think something was right. He would dress down the PM if he felt it was fair.''
Hayden said the interesting subplot to the Ashes century was Symonds winning a verbal battle with Kevin Pietersen which started with Symonds taunting Pietersen for wearing super tight singlets out at night after Pietersen had called Symonds a specialist fieldsman.
"He stuffed around no end at the start of that innings and he was taking forever to get going and KP just came up to him and said "mate you are just hopeless … seriously.
"Simmo just snapped back with "listen here stupid, just because you have tough stickers on your shoulder doesn't mean you are tough.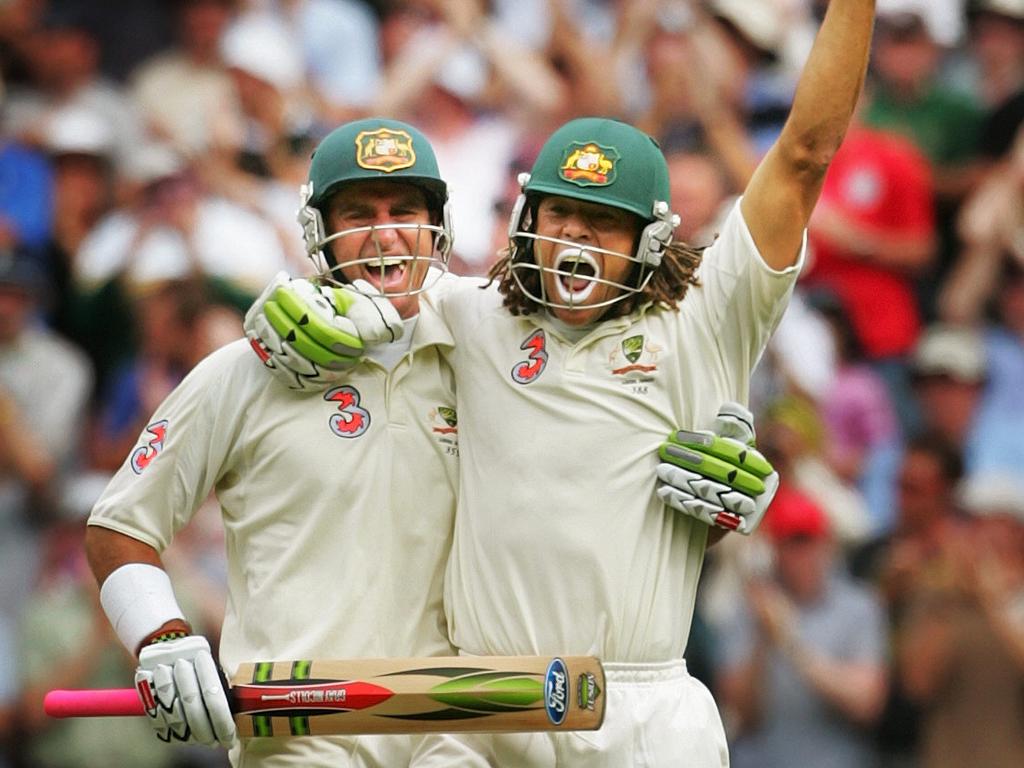 Matthew Hayden (L) says Andrew Symonds' maiden test century is the highlight of his career.
"It got him going. KP just wilted like a little puppy dog. That was the poke the bear needed and he just murdered them from that point. I was just watching him from the other end.
"Simmo represented everything good about sport. He was fiercely loyal and unbelievable warrior. And street wise and that is a dangerous combination.''
Symonds and Hayden were so close that sometimes they would spend a day fishing beside each other and yet when Hayden returned home and was asked by wife Kelli what they were talking about he couldn't remember a conversation.
"Sometimes we would barely talk when we were fishing which in a way is true mateship.''
WARNE FAMILY, GILCHRIST, PONTING LEAD ROY TRIBUTES
A heartbroken Adam Gilchrist has declared Andrew Symonds was more than a mate – "he was the heart and soul of any team I ever played in."
And Shane Warne's three children have all posted heartfelt messages on social media after the tragic news that Symonds had died overnight in a single vehicle car accident outside Townsville, aged 46. The news has rocked the cricket community with many of the generational star's closest mates too "numb" to talk.
Warne, who died of a heart attack in March, played alongside Symonds in Australia's Test team from 2004-07.
Warne's daughter Summer posted a photo of her late father with Symonds and her brother Jackson, with a broken heart emoji.
Her sister Brooke wrote on Instagram that Symonds was "the best date I ever had" under an image of her dad's Test teammate in a suit with her as a young girl, adding: "Rest In Peace Roy. Heaven has gained another Angel."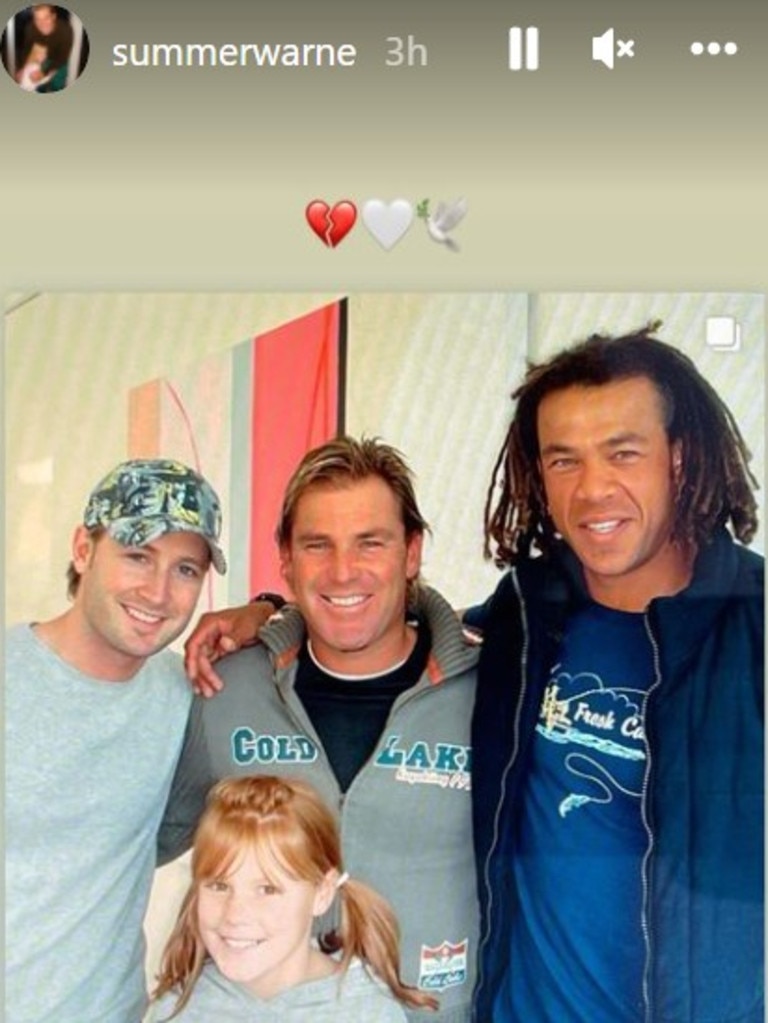 Summer Warne posts on Instagram.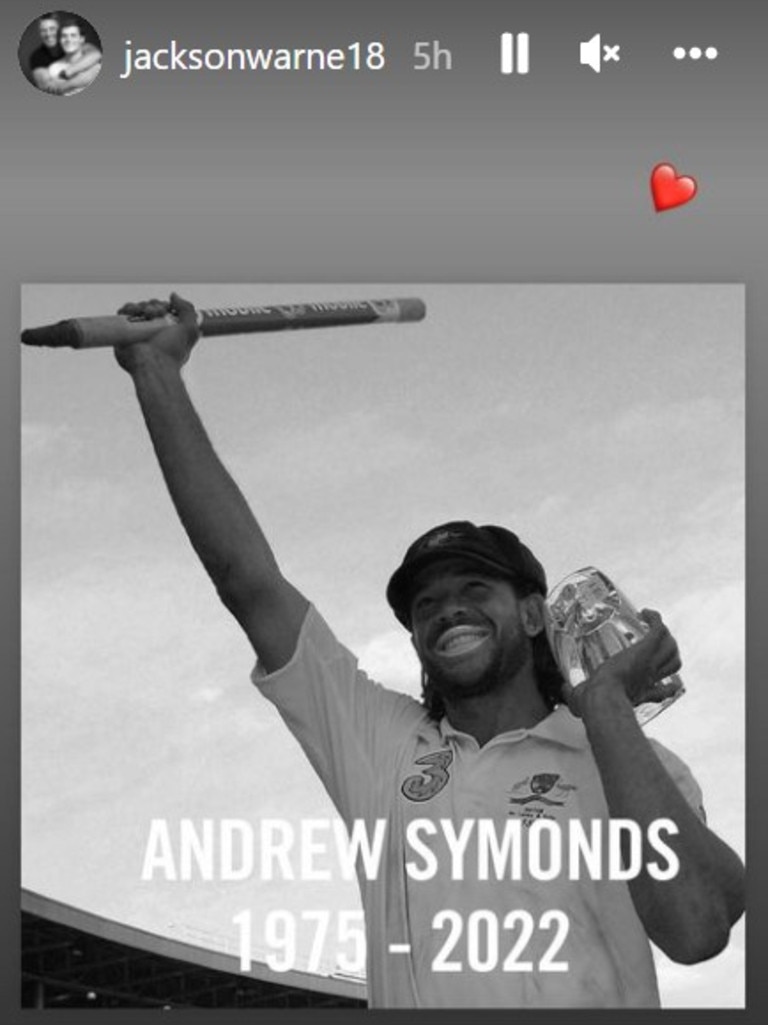 Jackson Warne posted a tribute to Andrew Symonds.
️
Gilchrist was one of Symonds' most loyal mates and spoke bravely on Sunday morning about the rare qualities of a box office cricketer who became a cult hero in the 2000s.
"I just do not know where to start with Roy, I really don't," a distraught Gilchrist told News Corp.
"He's just the most loyal, fun bloke, that would just do anything for you. To use the term you'd go to war with him; you just would.
He was just one of the real good guys.
"Absolute heart and soul of any team I played in with him in it.
"And what a talent. Just box office.
"There aren't many that were bums on seats talent that had a cult following. He was a cult hero but also the heart and soul of the team. He was all of it."
Australia's players Shane Warne, left, and Adam Gilchrist, right, congratulate Andrew Symonds. Picture: AP
Symonds had his controversies off the field but was always highly regarded by his teammates. He had their trust.
"He was the true meaning of work hard, play hard. He was so fun to be around. Just constantly making you laugh," said Gilchrist.
"He was just a pleasure to play alongside. If there was some social activity, Roy was always going to find it or be a part of it.
"To his detriment on occasions. But he also knew that if he made a mistake, all he wanted to do was just try and make it up to you or to the team."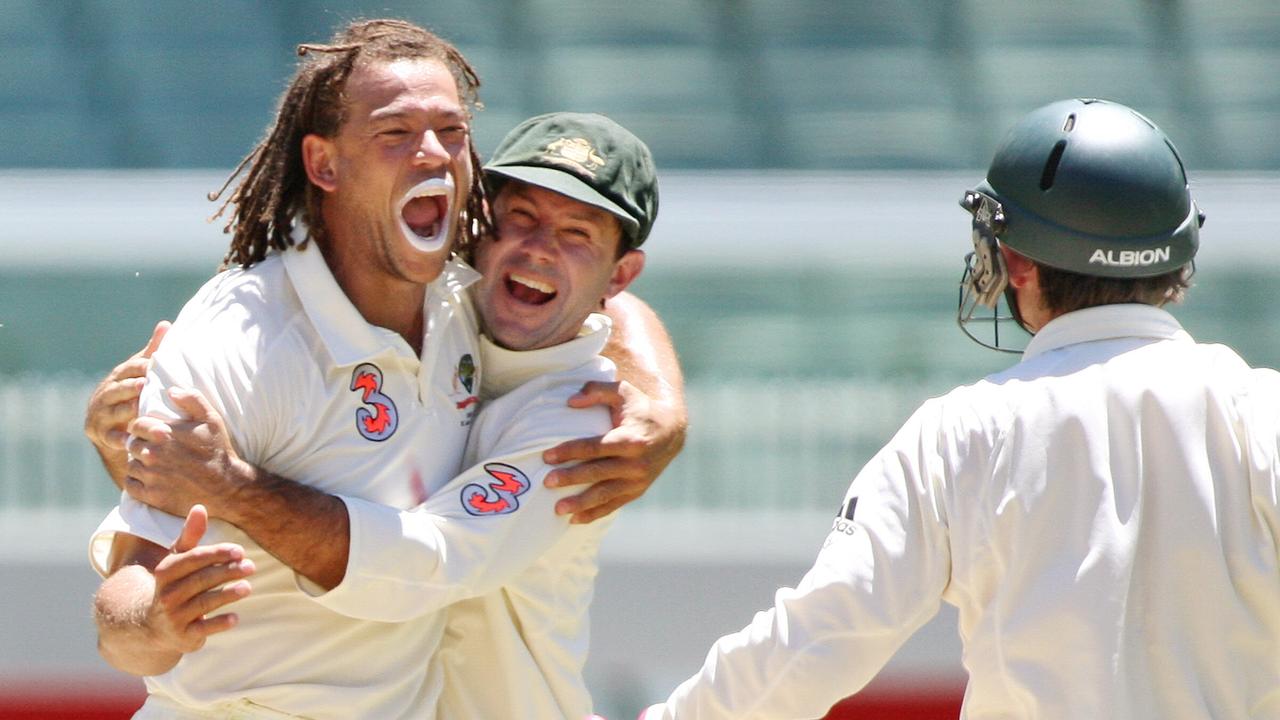 Symonds (L) was one of the great success stories of Ricky Ponting's captaincy. Picture: AFP
Gilchrist said no one backed Symonds like his former captain, Ricky Ponting – who believed in the Queenslander's ability and qualities as a person.
And Symonds repaid their faith.
"We all loved Roy, but Punter backed him and Punter gave him the belief. And he repaid it to us in the first game of the World Cup in 2003," said Gilchrist.
"The whole cricketing world was stunned and in disbelief at the fact Warnie wasn't with us after the positive test. Roy just went out there and saved our arse. As he did on so many occasions.
"That set the tone for us to go on and win that World Cup. It's just so sad."
'THIS DOESN'T FEEL REAL, RIP ROY'
The cricket world is in mourning following the death of popular former Test allrounder Andrew Symonds in a car accident.
Symonds was involved in an accident outside Townsville where he lived in retirement.
Affectionately known as 'Roy' (he believed in tribute to former Brisbane Bullets basketball star Leroy Loggins), Symonds was well loved and respected in the cricket fraternity.
Adam Gilchrist and Ricky Ponting took to social media as the news broke.
"This really hurts," he tweeted.
Former captain Ponting was one of Symonds' most loyal teammates, backing the X-factor all-rounder when others wanted him out of the Test team.
"If Roy shook your hand you had his word, that's the sort of bloke he was and that's why I always wanted him on my team," Ponting tweeted.
"An extraordinary player and even better human being. Can't believe he's gone. Thoughts are with his family at this time."
Former England player Michael Vaughan wrote: "Simmo .. This doesn't feel real."
If Roy shook your hand you had his word, that's the sort of bloke he was and that's why I always wanted him on my team. An extraordinary player and even better human being. Can't believe he's gone. Thoughts are with his family at this time. pic.twitter.com/7r7FiK1CzK

— Ricky Ponting AO (@RickyPonting) May 15, 2022
Simmo .. This doesn't feel real .. #RIP ❤️

— Michael Vaughan (@MichaelVaughan) May 14, 2022
Speaking on Channel 9 as the news broke, former Aussie cricketer Mark Taylor paid tribute to 'Symo'.
"Symo. He was an adventurer," Taylor said.
"I can't quite believe it. Another tragic day for cricket. Bad things do happen in threes – Rod Marsh earlier this year, not long after that obviously Shane Warne and now Simmo. Another terrible day for cricket.
"Loved his fishing, he loved hiking, camping.
"I took Symo out one day fishing here on Sydney Harbour with 'The Cricket Show' many years ago and just watching him flow a fly lure around boats was great to watch. He was entertainer with the bat when it came to cricket, and as you say he was an imposing guy.
Horrendous news to wake up to.
Utterly devastated. We are all gonna miss you mate.☹️ #RIPRoy

— Jason Gillespie 🌱 (@dizzy259) May 14, 2022
Man.
This year has been just heartbreaking 💔 for all, cricket family & fans just in shock. So many gone way too soon.

'Roy' was one of the main reasons I wanted to play cricket, wear zinc & just generally play sport with a smile! 🙏🏽😢 #RIP#ROY

— Trent Copeland (@copes9) May 14, 2022
@FoxCricket hearts broken again…if we were Ted Lasso, he was our Roy Kent…called it straight..didn't do fluff…was true to himself…loyal…quirky…will be missed forever …thoughts with family and friends… R.I.P. Andrew Symonds

— Kerry O'Keeffe (@kokeeffe49) May 15, 2022
"Everyone had him earmarked as a white ball player. He wanted to prove to the world he could play Test cricket and he did that way.
"He was just an entertainer. In an era where professionalism really is a throw away word that we use probably too often. Symo was the older sort of guy.
"He wanted to go out there and have fun and play the game he remembered to play it as a kid. At times he got in trouble for not going to training or maybe having a few too many beers at life but that is the way he lived his life and the way he wanted to play his cricket also."
Cricket Australia also paid tribute to the colourful character, with Cricket Australia Chair Lachlan Henderson lamenting the loss of another star in an awful few months.
"Australian cricket has lost another of its very best. Andrew was a generational talent who was instrumental in Australia's success at World Cups and as part of Queensland's rich cricket history," Henderson said.
"He was a cult figure to many who was treasured by his fans and friends.
"On behalf of Australian cricket our deepest sympathies are with Andrew's family, team-mates, and friends."
Originally published as Andrew 'Roy' Symonds dead: Matthew Hayden and Warne family's touching tributes