Andrew Symonds death: How Wayne Bennett stopped bold cross-code switch to NRL
Andrew Symonds was hellbent on making a stunning code switch to join the Brisbane Broncos – only for Wayne Bennett to put him on the path to cricketing greatness with a candid assessment.
Wayne Bennett has recalled Andrew Symonds' plans to quit cricket to chase an NRL contract with the Broncos and why the super coach urged the superstar not to give up hope of wearing the baggy green.
Breaking his silence on the tragic death of Symonds, Bennett revealed his meeting with the then Australian one-day all-rounder, who told the Brisbane coach he wanted to walk away from cricket to fulfil his dream of playing for the Broncos.
Symonds first took part in some pre-season training sessions with the Broncos in 2002 and his desire to play NRL intensified the following year as he struggled for form with Queensland and Australia in the one-day arena.
Symonds was so serious about a shock defection he formally reached out to Bennett in the lead up to the 2003 World Cup.
Watch every game of NRL Live & Ad-Break Free In Play on Kayo. New to Kayo? Try 14-Days Free Now >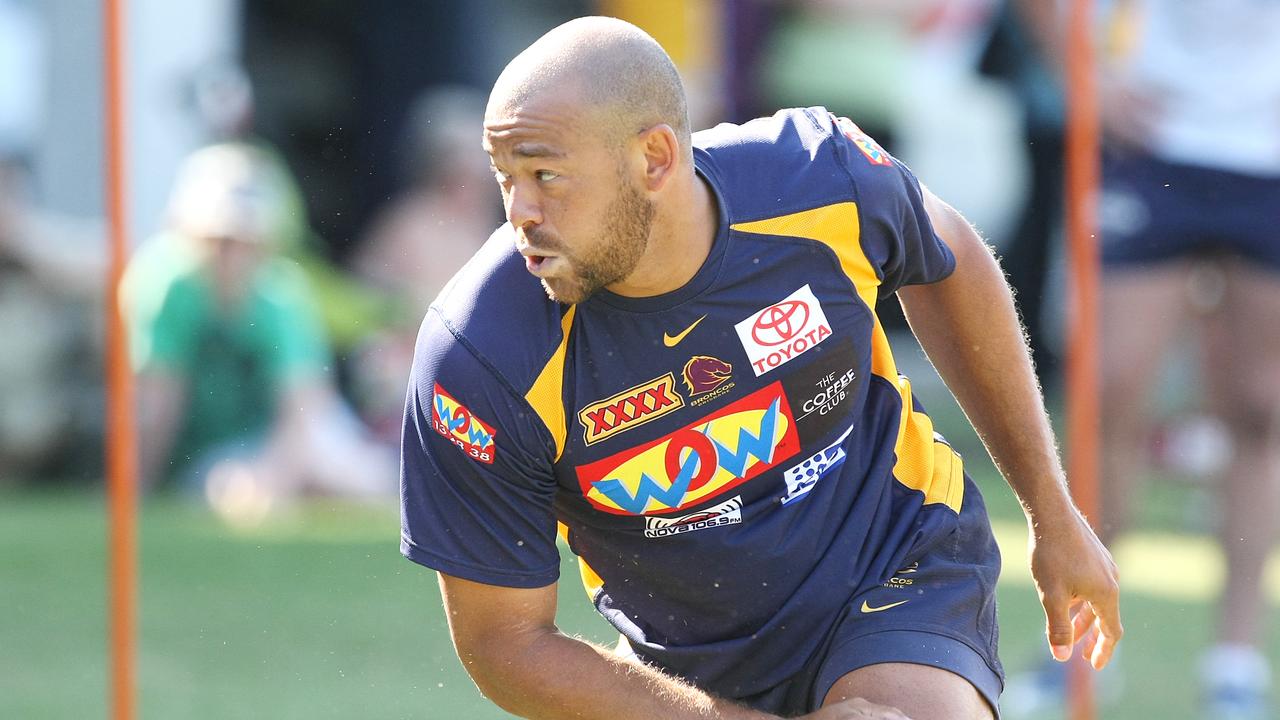 Symonds flirted with the idea of making a shock switch to the Brisbane Broncos. Picture: Andrew Symonds.
The super coach had great admiration for Symonds' sporting ability, but delivered the candid critique that put the then 27-year-old on the path to cricketing greatness.
Within months of Bennett knocking back Symonds, 'Roy' came of age as an international cricketer, helping Australia to 2003 World Cup glory before making his Test debut 12 months later against Sri Lanka.
Bennett is renowned for his brutal honesty with his players. His words helped shape Symonds from budding Bronco to baggy-green dominator.
"Andrew was genuine about playing for the Broncos, he really was," Bennett told News Corp.
"We had a chat. I told Andrew ... 'You can't be so great at one sport for so long and then late in your career, come across and think it will happen for you in another code'.
"He came to see me at the Broncos when he was still playing cricket for Australia. He thought he would see how he would go in rugby league.
"I convinced him that the NRL probably wouldn't be his career."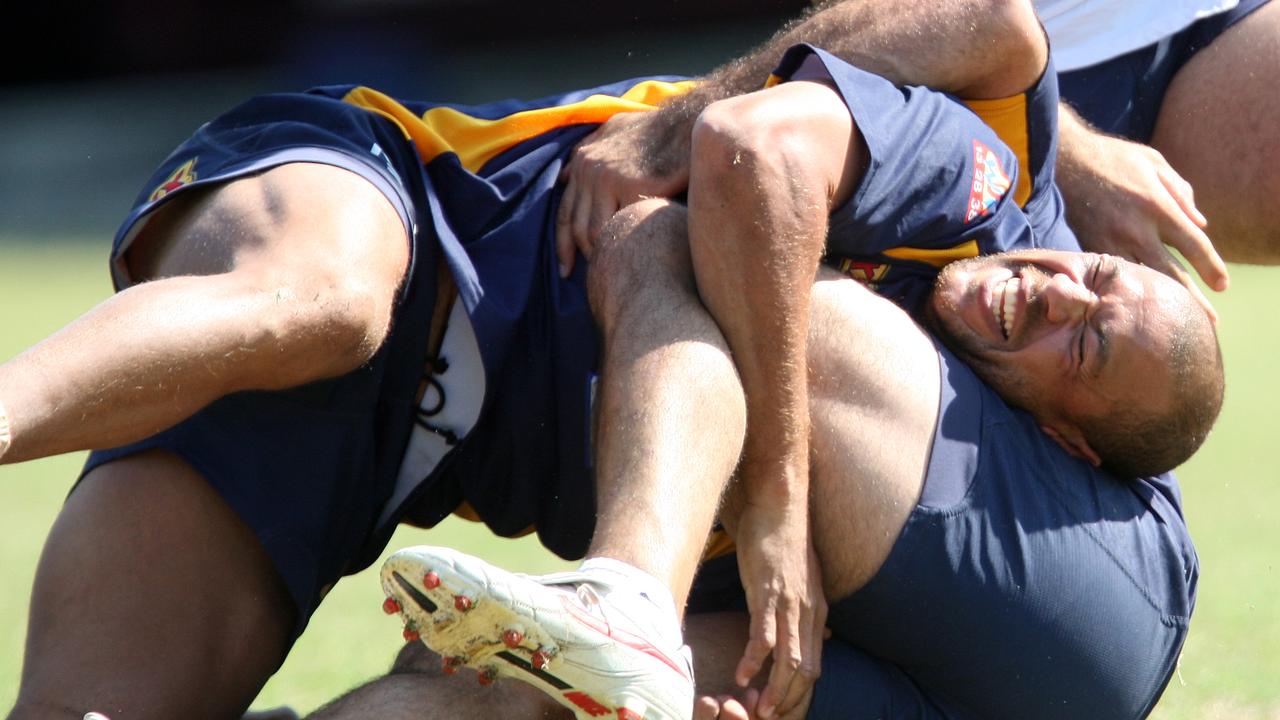 Symonds getting stuck in at Brisbane Broncos training – as he pondered a code switch.
Bennett's voice was tinged with sadness as he reflected on the devastating passing of the 46-year-old Symonds, who died on Saturday night in a car accident at Hervey Range just outside Townsville.
"There is no debate about his popularity and how highly respected he was," Bennett said.
"He was a great guy and a tragic Broncos fan until the Cowboys came along and he had an allegiance with them as well.
"Every time we went to Townsville he would catch up with us and we would get him tickets for Broncos games.
"He would ring us up and say he wanted to come to the game, he was often in the change-room seeing the guys.
"Everybody liked him, he was just likeable.
"It's all very sad, especially for his family."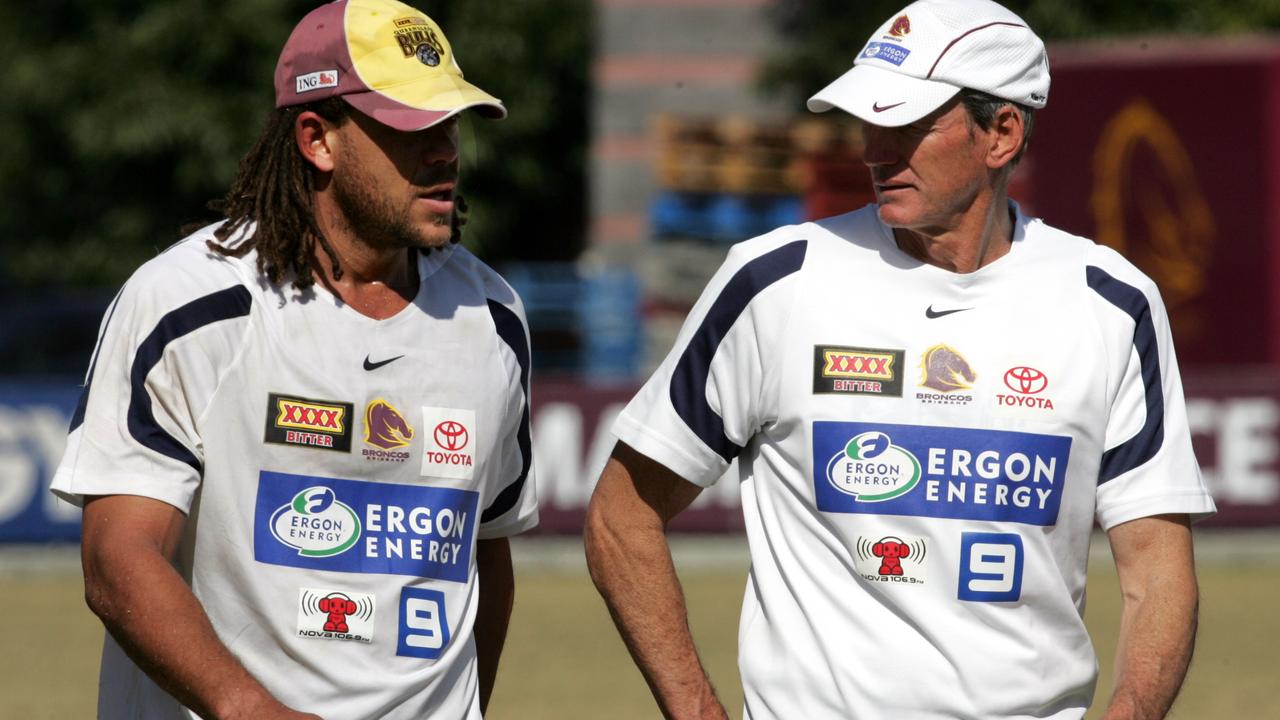 Broncos coach Wayne Bennett was close to Symonds, who died aged 46 over the weekend.
Bennett recalled with his trademark crooked grin the sight of a pumped-up Symonds trying to impress Broncos players with his skills at training.
In 2007, Symonds, then 94kg, met his match when the Australian Test all-rounder turned up for a cameo at Broncos training.
Bennett paired him with young gun Dave Taylor, a 19-year-old forward monster who tipped the scales at 123kg and broke the club's bench-press record, once lifting 175kg without raising a sweat.
Symonds tried to wrestle Taylor as if attacking a Townsville crocodile. The hulking Taylor – nicknamed Coal Train – threw Symonds to the ground in a flash and sat on him, confirming Bennett's view Roy belonged in the baggy green.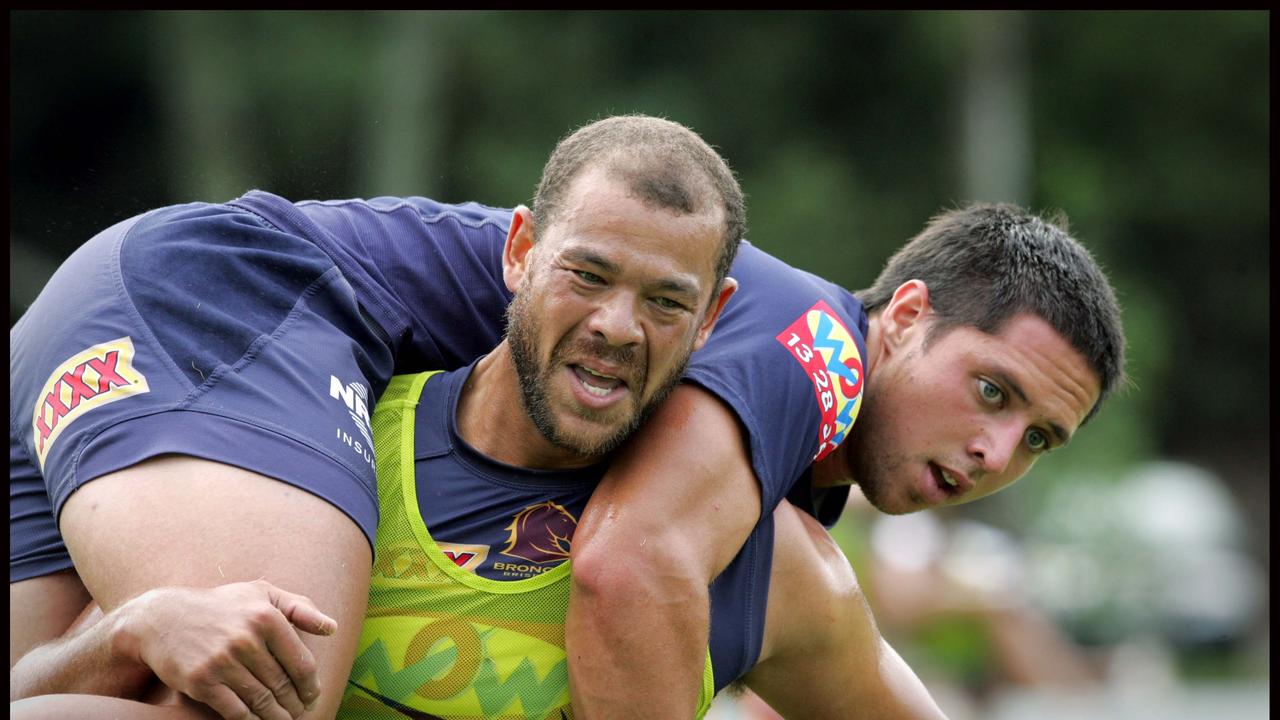 Symonds was determined to impress the Broncos during his stints at the club's training.
Still, Symonds was a passionate league man. In 2011, he donned his beloved Queensland jumper in a State of Origin legends match and almost came to blows with NSW villain Benny Elias.
Pre-game, Maroons legend Mal Meninga whipped Symonds into a frenzy about their shared 'hatred' for Balmain Benny.
Bennett recounted Symonds' eyes lighting up as he ran alongside Broncos legends Darren Lockyer, Shane Webcke and Petero Civoniceva at Red Hill.
"He could play, there was no doubt about that," Bennett said.
"Andrew trained with us for two or three sessions.
"But there is another level he had to reach to play NRL and that was his challenge at 28 or 29 years of age.
"We all respected him enormously and he thought he had something to offer. He made a request to come and train with us and because I respected him as the great cricketer he was, I was happy for him to come over.
"I love that he loved rugby league."
Originally published as Andrew Symonds death: How Wayne Bennett stopped bold cross-code switch to NRL