Andrew Symonds set to be honoured by Queensland Bulls
As the cricket world remains shocked by Andrew Symonds' tragic death, moves are underway to ensure his spirit lives on.
The push is on for Andrew Symonds to be honoured as cricket's ultimate team man.
Queensland Cricket board member Ian Healy said he would support the push for the Queensland Bulls have an award for best team player named after Symonds who died in a car crash outside Townsville on Saturday night.
"That's what he was all about – the team,'' said keeping great Healy, a Queensland Cricket board member.
"Stats paint a good picture about how good he was as a player but he was always much more than his stats.
"He lived the Bulls way. The team side of things was everything to him. He was a hard worker at training. And he would help out other players in the nets.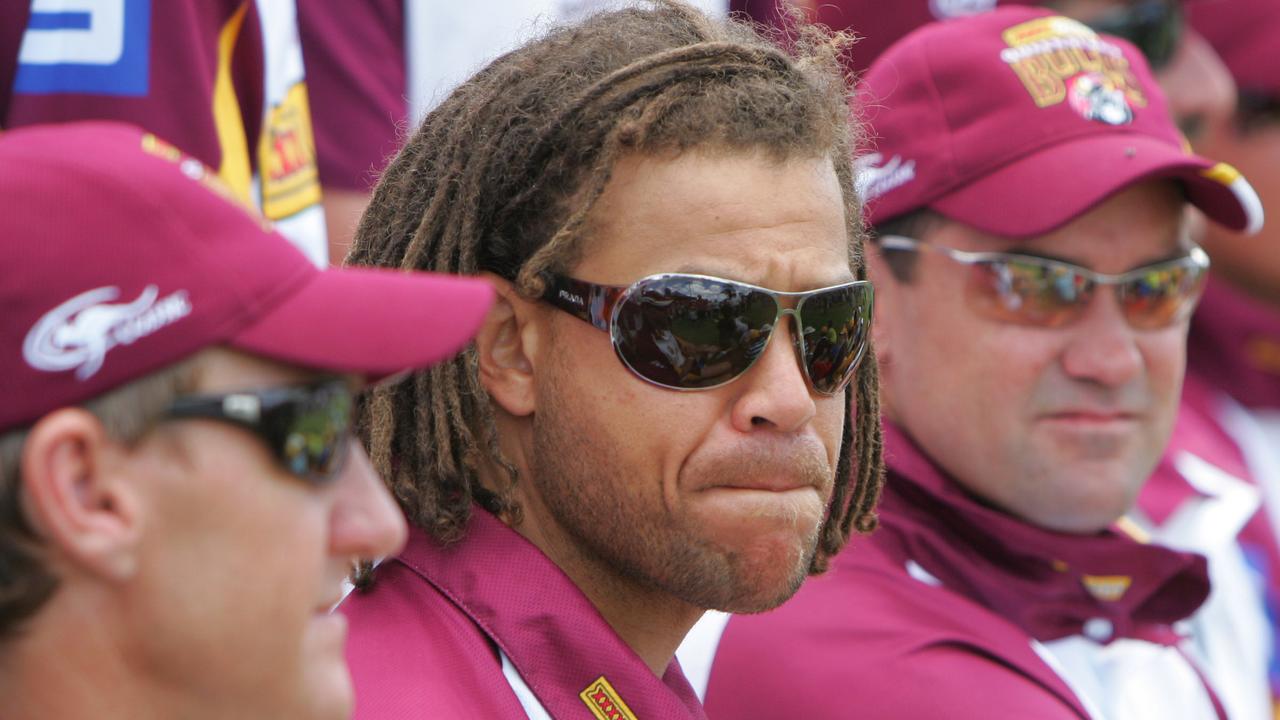 Andrew Symonds (C) was a beloved team member.
"It seems appropriate to name an award for best team player after him.''
More than 20 former Bulls players met at Brisbane's Story Brisbane Hotel on Sunday night to celebrate Symonds life and amid the endless story telling there were emotional moments as former Bulls skipper Stuart Law phoned in from England and was put on loud speaker.
Tributes continued to flow for Symonds from around the country with Darren Lehmann and Justin Langer joining Adam Gilchrist to reminisce on SEN radio in Perth.
"The great thing about him was he was the great bullshit barometer,'' Langer said.
"That's why I loved him so much. He would pull anyone and everyone just straight into line. Sometimes he would just look at you and that was enough.
"He was a great stabiliser in any team because he was so real. Like Rod Marsh.
"He looked after everyone else – he was the bodyguard – but we just wanted to look after him as well.''
Gilchrist said when he first played with Symonds in the Indian Premier League it was like "having a security blanket'' in the team.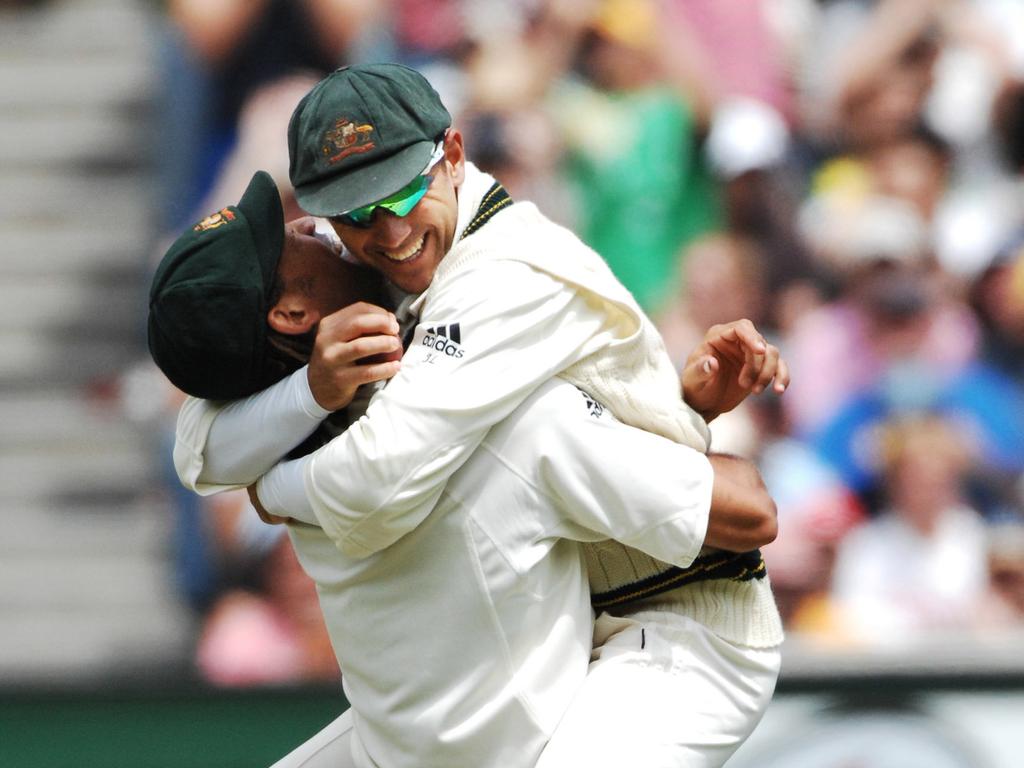 Justin Langer (R) said Andrew Symonds (L) had the greatest bullshit barometer. Picture: AAP/Dean Lewins
Lehmann said while Symonds may have had the occasional punctuality problem sleeping in or going fishing "he was one of the most talented guys I played with or against or coached.''
Earlier, Matthew Hayden said from India that no matter how well you knew Symonds he was always capable of surprising you.
"I remember in one training camp we had to do one round against a UFC fighter and I told Simmo the key was to be patient when you stepped in against him,'' Hayden said.
"Simmo totally agreed yet when he walked in his planted one straight on the guy's chin and he ended up sitting Simmon on his arse. It was quite funny. Sometime you just don't poke the bear.''
Hayden was one of Symonds closest mates and left him with many sayings he will never forget.
"He always said if something could not be said in three words it was not worth listening to.''
SISTER'S HEARTBREAKING ROADSIDE TRIBUTE TO SYMONDS
- Emily Benammar
The sister of Andrew Symonds has penned a heartbreaking note and left it at the road side where he lost his life.
Symonds, 46, died on Saturday night after his car veered off the road and rolled just outside of Townsville.
A day after the tragedy, his sister Louise visited the site and left her handwritten note among other floral tributes.
"Gone far too soon!" she wrote. "Rest in peace Andrew.
"I wish we had one more day, one more phone call.
"My heart is broken. I will always love you my brother."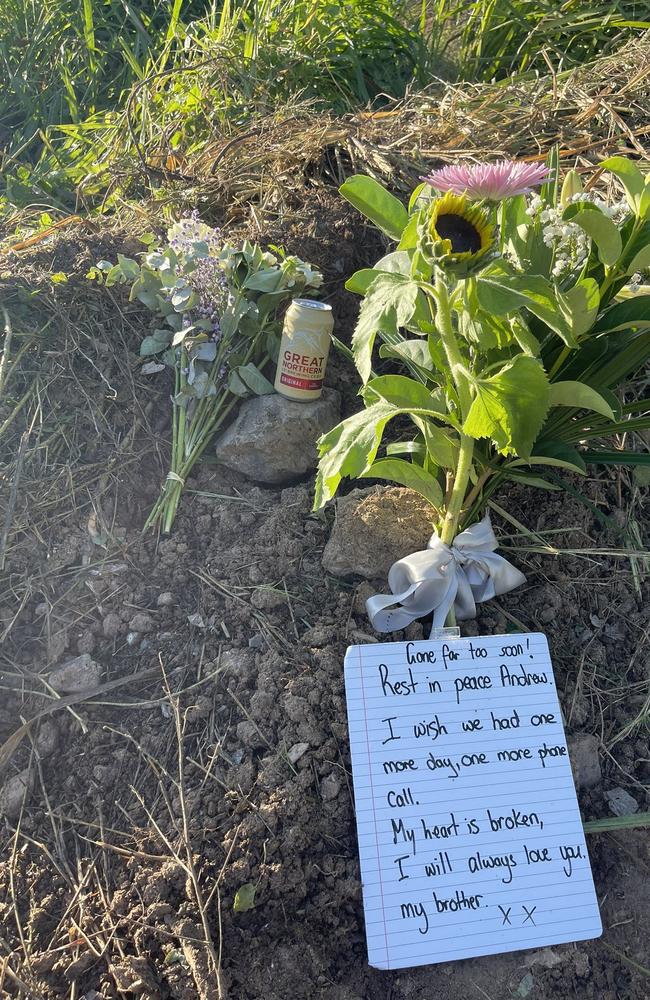 The roadside tribute. Picture: Mia Glover/Twitter
The flamboyant all-rounder was one of cricket's most popular characters during the peak of his career, before forging a successful career as a media identity on Fox Sports.
Tributes poured in for the loveable rogue on Sunday, with Fox colleagues Adam Gilchrist, Michael Vaughan and Isa Guha leading the charge.
On Sunday, Symonds' wife Laura has paid a touching tribute to her late husband and revealed her family's devastation at his sudden death.
"We are still in shock – I'm just thinking of the two kids,'' a tearful Laura told News Corp on Sunday morning.
"He was such a big person and there is just so much of him in his kids.''
Laura and children Chloe and Billy flew from Sydney to Townsville on Sunday morning after being informed of Andrew's death in a car accident.
Symonds retired to Townsville soon after his playing days finished and relished the far north lifestyle with regular fishing trips where he would chase barramundi and set crab pots.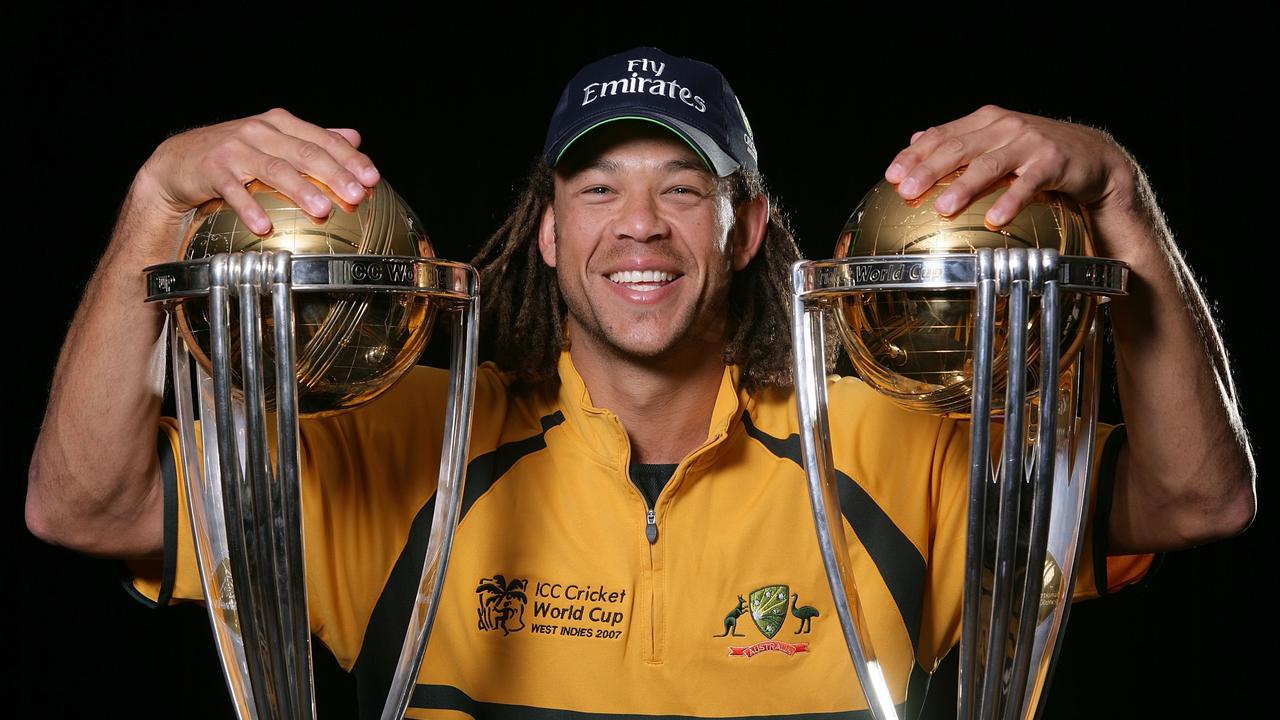 Andrew Symonds was one of cricket's most popular characters. Picture: Mark Nolan/Getty Images
"He was the most laid back person. Nothing stressed him out. He was an extremely chilled operator. So practical," Laura added.
"He was never good with his phone but he always had time for everyone.''
Queensland police released a statement to say the single-car crash occurred on late on Saturday night at Hervey Range, where it is believed Symonds was driving up Hervey Range Road, near Alice River Bridge, when the car left the road and rolled.
Paramedics attempted to revive him but he later died at the scene as a result of his injuries.
Inspector Gavin Oates said the former cricket star was removed from the wreckage and was being treated next to the vehicle.
"Again, as per normal procedure that will be looked at and part of the final report to the coroner," Insp Oates said.
He said driving at night could have played a part in the accident.
"Driving at night time also comes with inherent risk," Insp Oates said.
"And we always advise people to be cautious when driving late at night, especially on country roads where there are always other obstacles or risks associated with driving in those areas."
Originally published as Andrew Symonds set to be honoured by Queensland Bulls