Andrew Symonds memorial service and funeral: Brian Lara's journey to farewell Roy
Brian Lara made a surprise 10,000km journey to farewell his friend Andrew Symonds, paying tribute to a man who lived a life beyond that customary of a retired cricketer.
Brian Lara completed a 10,000km odyssey from India to Riverway Stadium, Townsville, because Andrew Symonds meant more to him than anyone knew.
Adam Gilchrist sent a message to West Indian Test great Lara on Friday morning saying that he wasn't sure where Lara was in the world but he just wanted to say the private funeral service for Symonds was just about to start and he was there in spirit.
Soon after, just as proceedings were starting, Lara's famous gliding gait – still cricket's coolest strut – came into view as the master batsman quietly sauntered across the outfield to the centre wicket block where the ceremony was taking place and took a seat at the back of the group.
"This rocked me a lot because I felt I was building something beyond cricket with Andrew,'' Lara told News Corp.
"It really saddens me that it did not manifest itself in this way. It had a long way to go.
"Sometimes you lose relationships with players when you retire. But ours grew. And it was not because he forced it or I forced it. It just happened naturally. We were awesome together.
"He was living a life beyond the customary retired Australian cricketer – he was different. I liked that."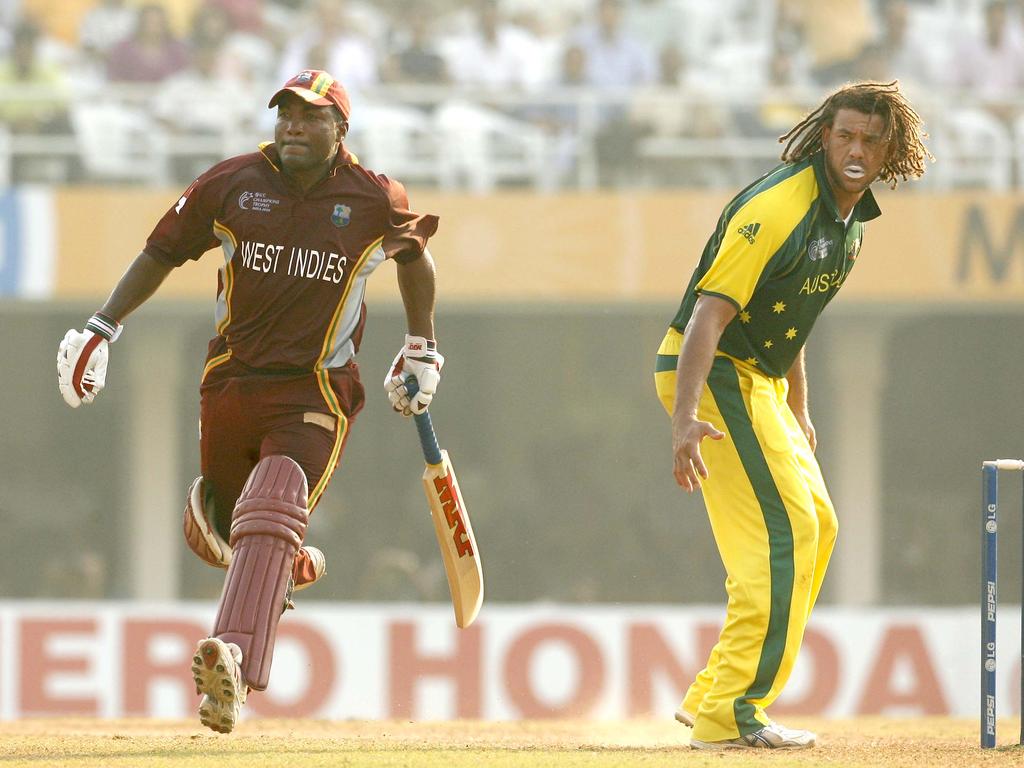 (L-R) Brian Lara and Andrew Symonds were competitors who became friends. Picture: David Kapernick
Symonds once asked Lara to sign a playing shift for him and he did so with the cheeky message "Hey Roy … I enjoyed Cardiff too'' in a dig at Symonds infamous night out there in 2005 when he turned up drunk before a match against Bangladesh.
"My friendship with Ricky Ponting and Adam Gilchrist is established but it was different with Andrew. It was developing. I am disappointed and sad it has come to an abrupt end but it does not change the fact that we still have memories that will last a lifetime.
"When you were not in Andrew's environment or a part of his team you don't understand or appreciate him. But when you come out of cricket you can appreciate all those same jokes he had, He was very loyal and someone you could depend on.
"In a legends tournament in America put on by Sachin Tendulkar and Shane Warne I played with him and we became really close.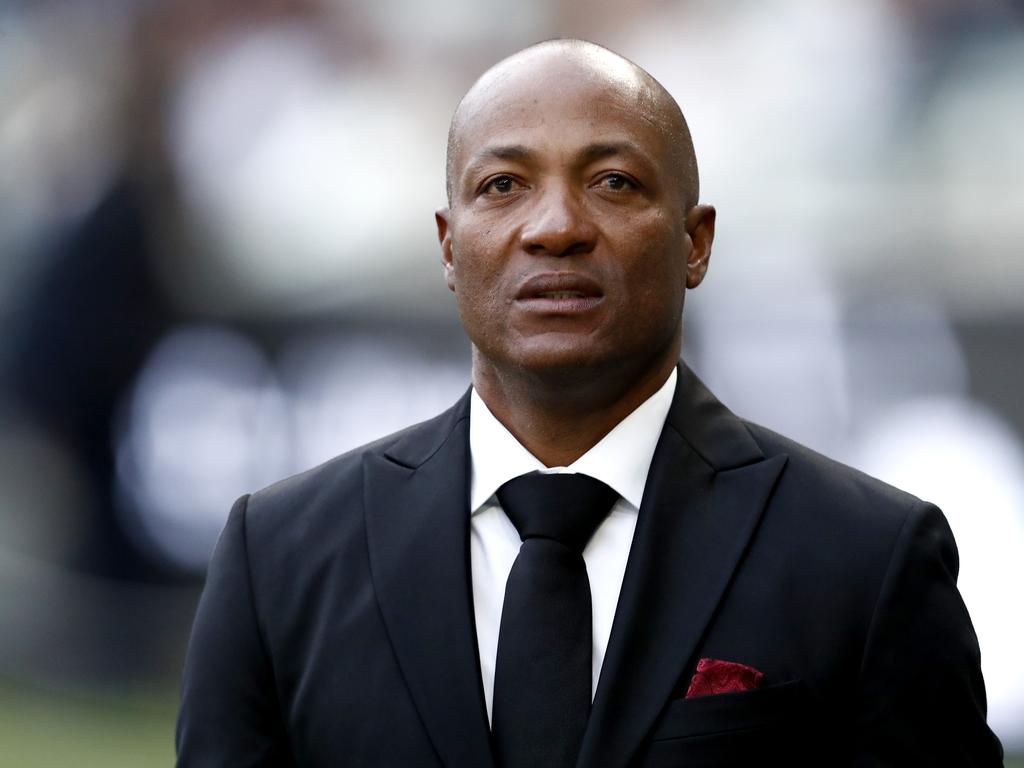 Brian Lara last spent time with Andrew Symonds when in Australia for the state memorial service for Shane Warne. Picture: Darrian Traynor/Getty Images
"When Shane died and we were together at the Crown Hotel early the next morning after his service and I spent a lot of time with Andrew that morning.
"I can't believe it was the last time I would ever see him. If I had known that ….''
The last words Symonds spoke to Lara face-to-face was a typical Symonds quip when Lara was going to bed at 3am.
"What? Are you not enjoying the night?'' Symonds asked.
Lara said Jim Maher's eulogy to Symonds was the highpoint of his day "because everything we felt about Andrew was encapsulated in that speech.''
Lara mixed easily with scores of players and family members in a function which spanned most of the day. The love in the room was noticeable as players like Allan Border, Ryan Harris, Ian Healy, Darren Lehmann, Glenn McGrath, Brett Lee and Shane Watson exchanged old yarns,
It was not a day for machoism and there were plenty of hugs and vulnerability.
Lara clearly appreciated the warmth, especially since he came from a tough era in the West Indies when the team was struggling to live in the shadow of the great West Indian teams who preceded them and the bonds between the players were often tenuous.
ROY'S VOICE A REAL GUT BUSTER FOR EMOTIONAL PONTING
An ailing Ricky Ponting was lying on his back in the grandstand at Townsville on Friday when he swore he heard a voice from above.
"I just had these words ringing in my ear from Roy up there ... "get up, get up, come on get out there, what, you've got a sore belly have you?''
Ponting, who had been suffering from a bout of gastro, always liked Andrew Symonds' "get up and go'' approach to cricket, and how he called it as he saw it whether he was talking to his captain or the baggage handler.
So rise Ponting did to join Adam Gilchrist and Darren Lehmann on a panel paying tribute to Symonds who lost his life in a car accident outside Townsville a fortnight ago.
The quip among his old teammates was that Symonds would have been happy to skip his own funeral on the centre wicket block at Riverway Stadium had he still been with us because near perfect weather conditions meant there was every chance the fish were biting upstream.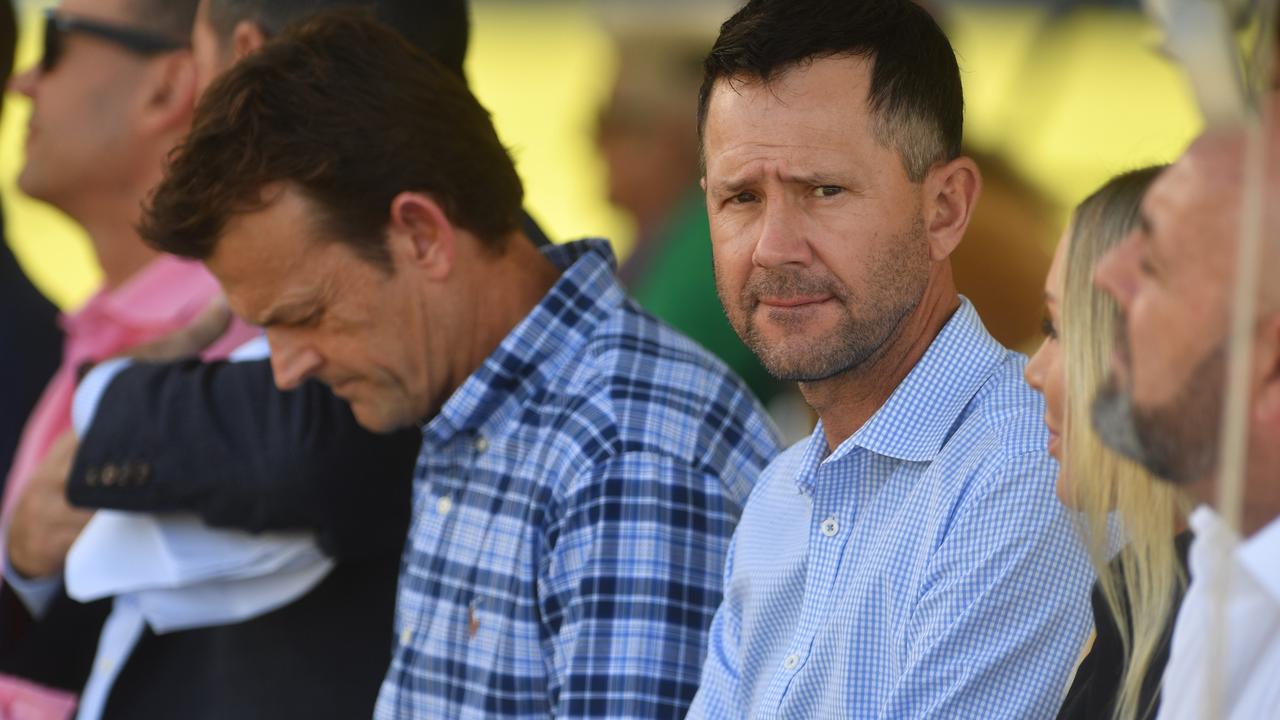 An ailing Ricky Ponting says he heard Andrew Symonds' voice before fighting off sickness. Picture: Evan Morgan
Australian coach John Buchanan said Symonds had a great ability to bring people together and dotted through the crowd of 700, as well as all of Symonds local mates, were the likes of Brian Lara, Michael Clarke, Stuart MacGill, Jason Gillespie and Brad Hogg who was seen chatting to Broncos great Gorden Tallis.
No matter what sport you play the day was a shining testimony to the fact that mateship can still be such a powerful feature of sport.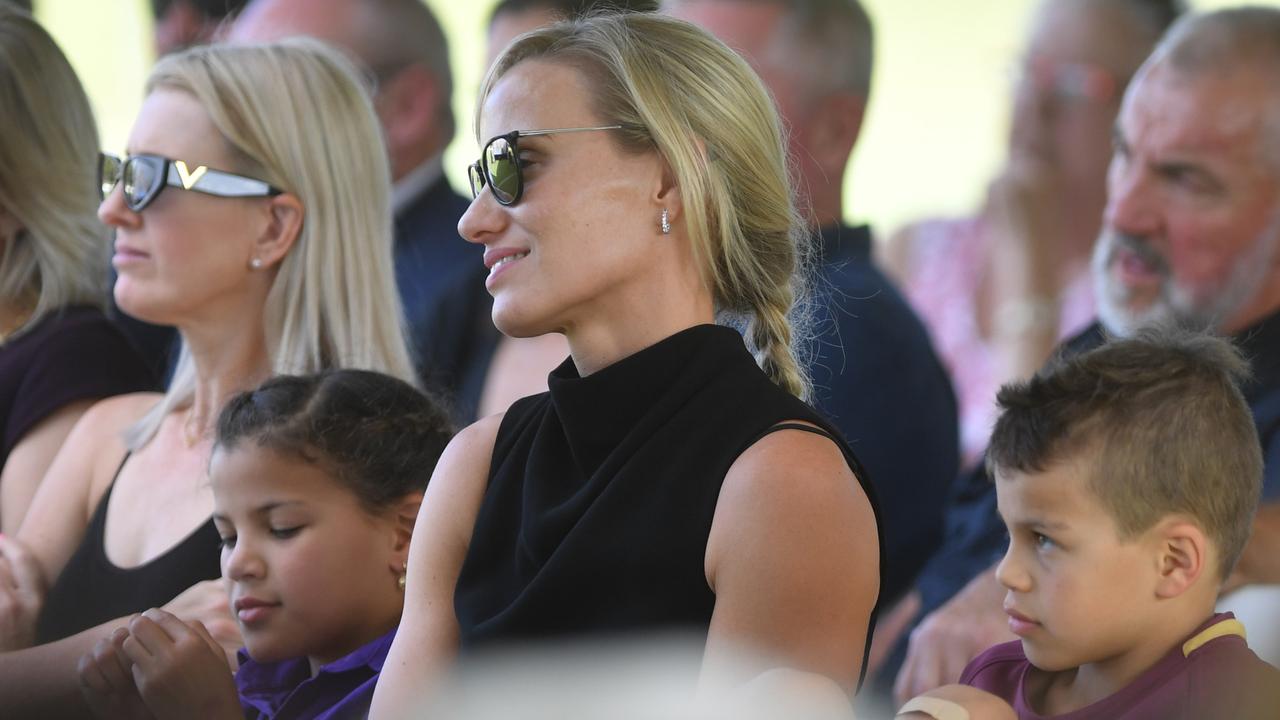 Laura Symonds with Chloe and Will. Picture: Evan Morgan
There were countless quotes which deftly caught key pockets of Symonds personality but the catch-all one which best nailed the whole enigmatic package came from Jimmy Maher when he said Symonds could be "fiercely loyal, suspicious, creative, charming, abrupt, uncomplicated yet complex, high and low maintenance all at once.''
That got him nicely, a man whose character was a fusion of conflicting forces but his basic loyalty to the team's cause underpinned everything.
Maher, who delivered a memorable eulogy at the private funeral, was approached by a man who quipped he owed him a tank of petrol because Symonds was so concerned about Maher's mental state after Rod Marsh died that he asked to drive him 35km into an area where he could get phone reception to ring Maher to check on his welfare.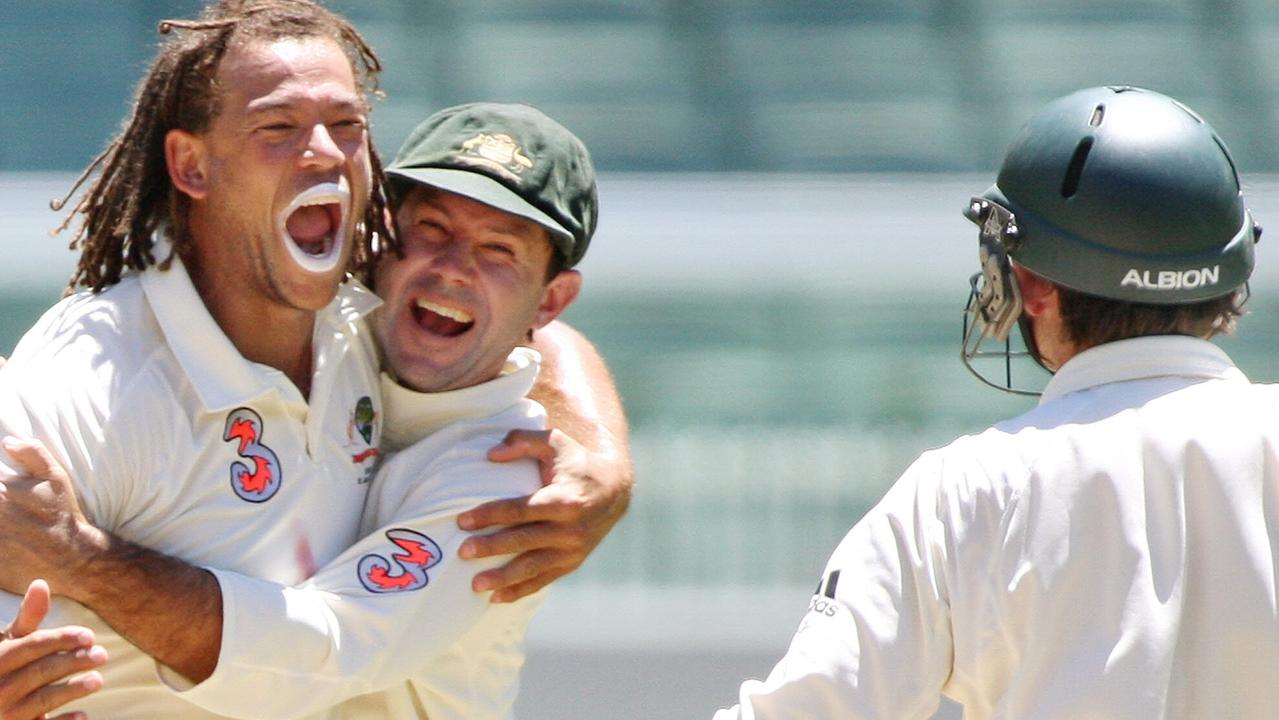 Great mates: Andrew Symonds, Ricky Ponting and Adam Gilchrist celebrate a wicket in the Boxing Day Test in 2007. Picture: AFP
There were iconic "Symmo'' stories that would apply to no other cricketer such as the time Maher, on holidays in the United States, sent a photo of himself standing with a wax statue of American music star Alan Jackson to country and western fan Symonds who responded with "wow ... what's he like?''
When Maher responded with "doesn't say much'' (most statues don't), Symonds texted back "right ... you can tell he's a bit like that from his records.''
There were tales of Symonds very individual take on the English language and use of Aussie lingo.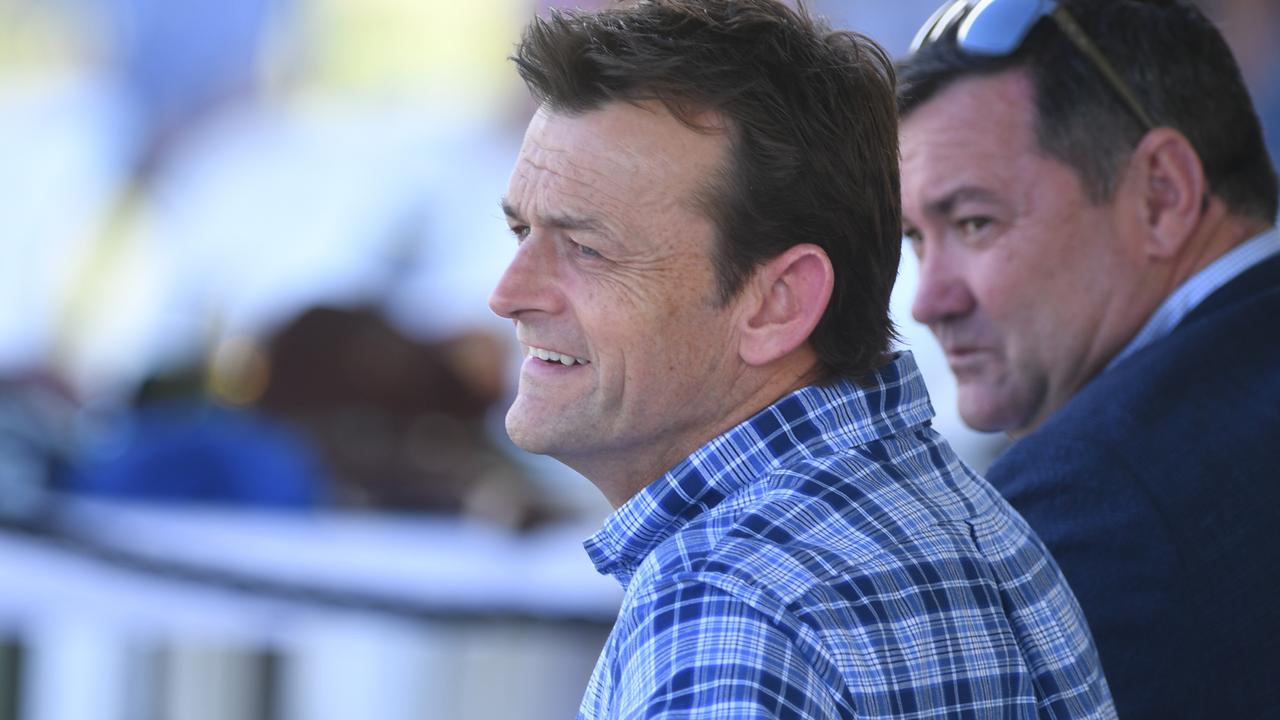 Adam Gilchrist at the memorial service for Andrew Symonds. Picture: Evan Morgan
Adam Gilchrist revealed when Symonds tried to wrestle a few more contract dollars out of Fox Sports he told his bosses "can we give that lemon one last squeeze?''
Darren Lehmann said Symonds was the best player he ever coached because he put the team first.
Ponting said: "If I am picking a team tomorrow in a Test, one-dayer or T20 he is in my team every day of the week because you just knew if you gave him pretty simple directions he would leave no stone unturned.''
You ripper Roy: Symonds' mother leads emotional tributes
Andrew Symonds' mother has melted the hearts of some of Australia's toughest cricketers with her reflections on the life of a son and a cricketer like no other.
Barbara Symonds drew smiles and tears in equal measure with a magnificently composed tribute watched by friend and former team-mates including Ian Healy, Allan Border, Brad Hogg, Mark Waugh, Adam Gilchrist, Ricky Ponting, Michael Kasprowicz, Jason Gillespie and many others at Symonds' private funeral service in Townsville on Friday.
Barbara and her late husband Ken adopted Symonds at three months of age in England before migrating to Australia.
"I remember Ken saying we would like the birth parents to be physically active, hoping that the child would be the same. Well, look what we got," she said.
"On meeting Andrew for the first time, we were asked to take him out for the day and see how we got on a sort of trial run. I was very nervous. Well, I think he cried the whole time. We went back to the agency and said, yes, we've fallen in love with him. So the next day we are able to bring Andrew home.
"We actually thought it was meant to be because Andrew, believe it or not, was born in Birmingham, at the same maternity hospital as my brother and I.
"When he was a toddler, we would go and watch his dad Ken play cricket and so the love affair of the game began.
"There are so many stories. He was a bit of an anomaly. He loved having friends around and telling stories but he also loved sitting around a campfire on his own with his thoughts.
"He hated the spotlight. The family and I were so proud of him, not only for what he achieved but also as a generous, loving person.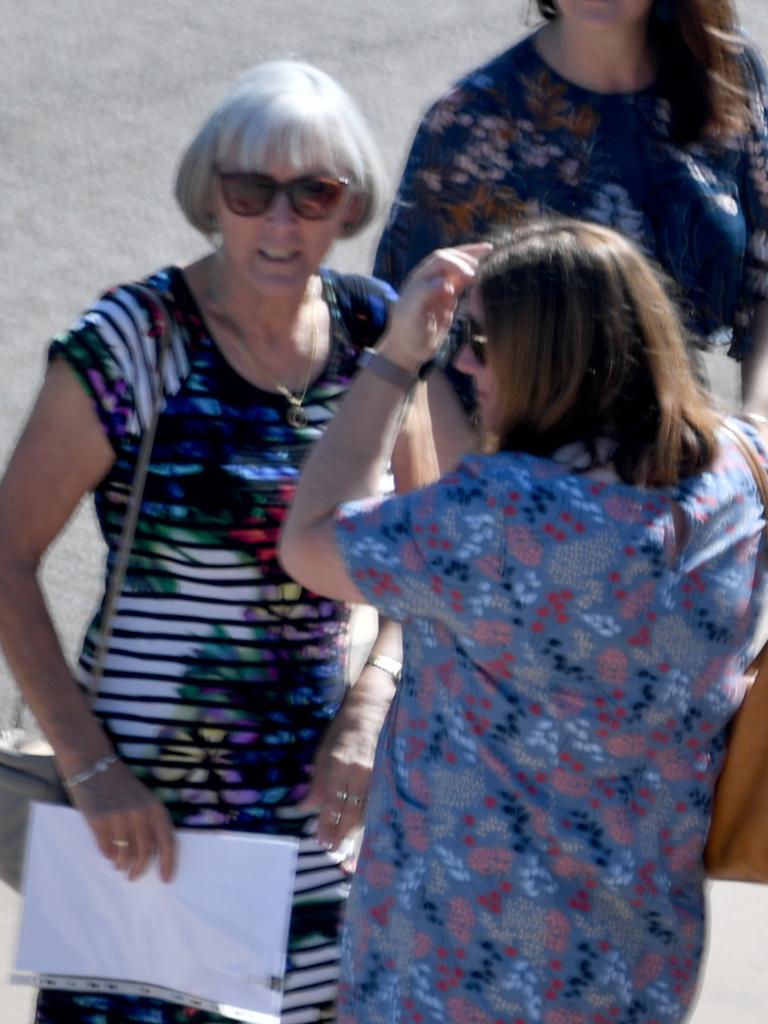 Andrew Symonds' mother Barbara Symonds arrives at the memorial. Picture: Evan Morgan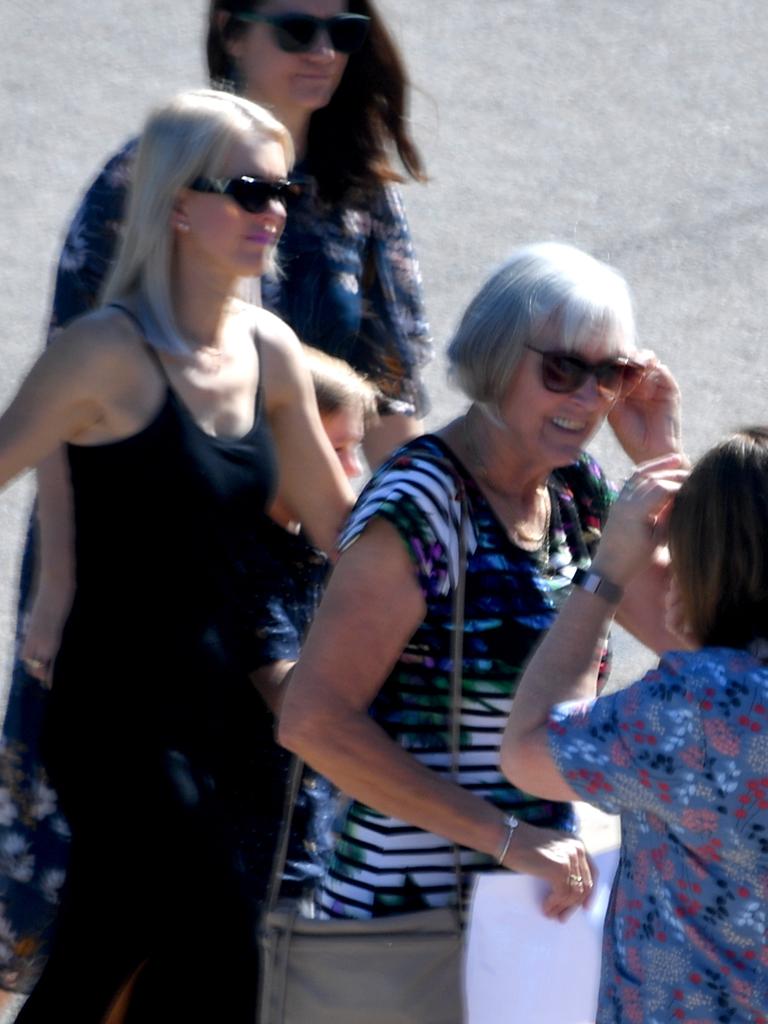 Barbara Symonds paid a moving tribute to her son. Picture: Evan Morgan
"This past week I've been amazed by the outpouring of support there has been for my boy. I will miss him deeply and love him always.''
Barbara told many stories that had a twist or a late curl that proved Symonds life was full of surprises and anything but routine.
Barbara revealed her son wasn't musical but learnt to play the clarinet and once won a French speaking competition and could always recite the poem which secured first prize.
This surprised his old Bulls team-mates who remember how Andrew had his own home spun take on the English language, a fact recounted by Maher in his eulogy when he said how Symonds would 'RSPCA'' for functions, and talk about having a beer with the "republican."
Maher started his pitch-perfect tribute, which finished with touching messages Symonds children Will and Chloe, by quipping when he was asked to deliver Symonds eulogy he thought "I would have liked to see him have a go at spelling eulogy – I bet there would not be an "e'' anywhere near it.''
"He was not the most studious of boys,'' Barbara said."To encourage him to read we bought fishing and sports magazines.''
For all of Andrew's renowned fishing expertise Barbara revealed he sometimes caught things other than fish and once hooked his brother Nick through the eyelid and got stranded on a sandbank with his mum and asked her to get out and push.
Symonds loved his mother's lemon meringue pie but there were times when there was the occasional culinary clash in the Symonds household.
"Andrew loved his food, except brussels sprouts. Being English Ken and I love brussels sprouts. We tried to encourage him to try everything for her grandkids.''
Barbara revealed Andrew's penchant for six hitting started early. She recalled him being frustrated by a rule that said batsmen had to retire on 30 so he would always try and finish with a six and once cleared the boundary and shattered a class room window on the Gold Coast.
"Andrew was a true sportsman excelling in many areas at school including athletics, swimming, hockey, and football as well as cricket.''
Some Test cricketers who have played more than 100 matches for their countries were seen brushing tears away as Symonds' children spoke about their father.
Fittingly, his children have shone in cross country trials since Andrew's death a fortnight ago and remain engaged in a large number of sports.
Dad would not have wanted it any other way.
GILCHRIST'S EMOTION TRIBUTE TO GREAT MATE
Holding back tears, Adam Gilchrist reflected on memories with his "mischievous" mate Andrew Symonds after a private service he described as "simply beautiful".
Symonds, 46, was farewelled in a private service Riverway Stadium in Townsville on Friday, where about 250 friends, family and sporting legends paid their respects.
Former Australian wicketkeeper Adam Gilchrist spoke to media after the touching service, saying he'd never seen a group of people so moved in his life.
"The service was just simply beautiful. In its entirety, it was full of sadness, but just such wonderful beautiful memories of a guy that just gave so much of himself to so many people unconditionally," Gilchrist said.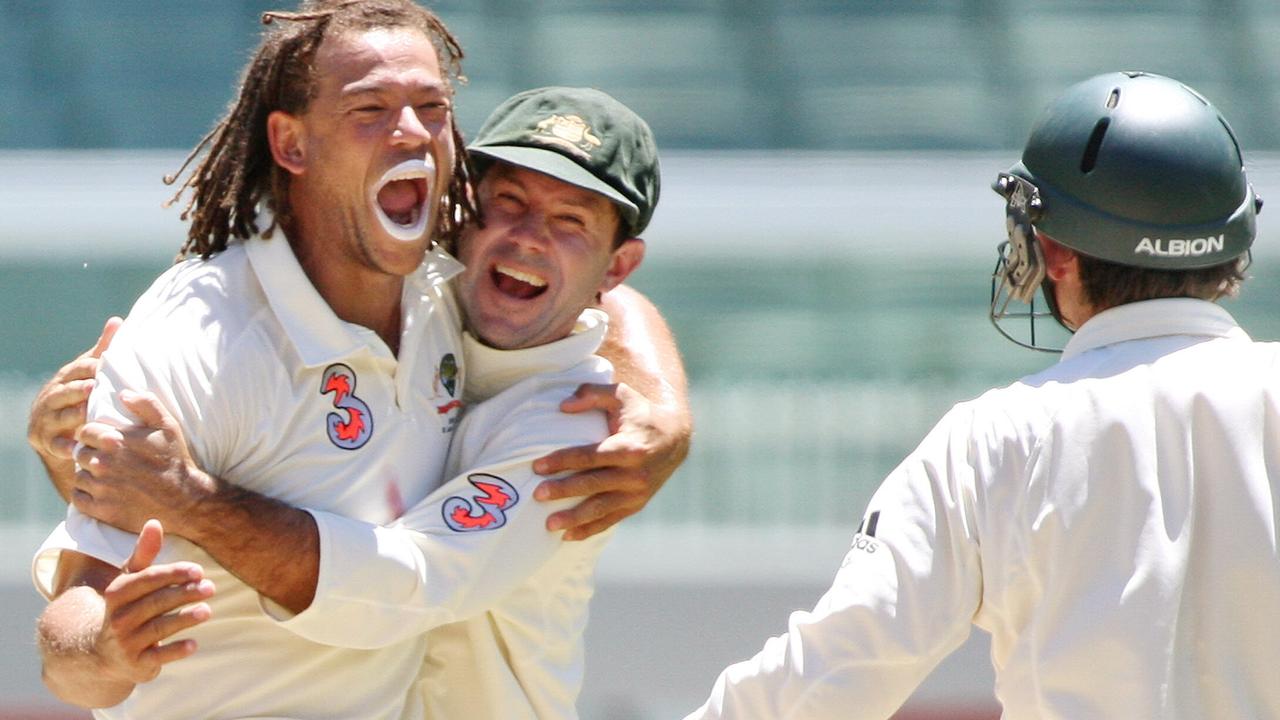 Ricky Ponting, Andrew Symonds and Adam Gilchrist celebrate a wicket.
The service featured speeches from Symonds''s mother, Barbara, sister Louise, and children, Chloe and Will.
Gilchrist said the cricket community had wrapped their arms around his two children, now left without a father.
He spoke of "one of the most beautiful" eulogies he'd ever heard, delivered by Jimmy Maher, who gave a message directly to Symonds' son and daughter.
Gilchrist said despite the immense sadness, there was one moment with Will which cheered him up.
"I just bumped into Will and he said to me 'I'm a wicketkeeper now'. Sorry Roy," he laughed, looking to the sky.
Symonds was known as an entertainer who played with fairness and passion, but Gilchrist said there was more to him than cricket.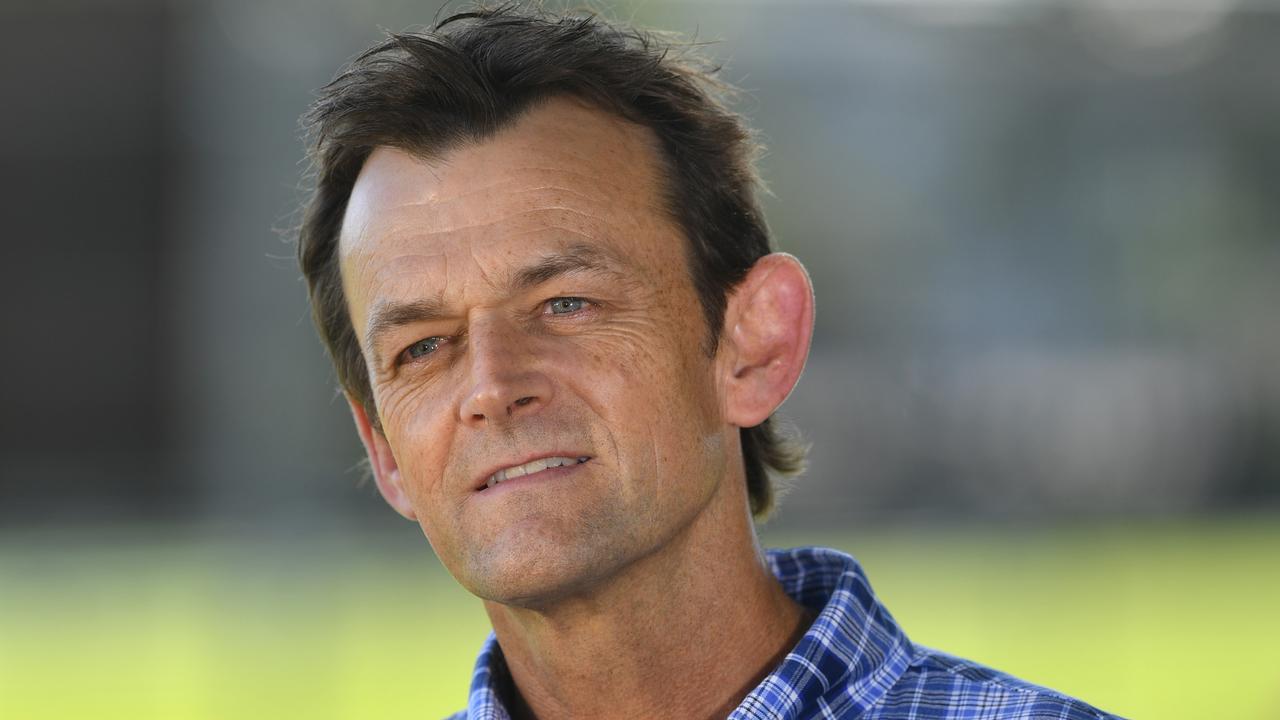 Adam Gilchrist says Andrew Symonds was known to his mates for much more than his cricket exploits.
"We've all spoken so much about Roy, shared so many stories, and there's been barely a mention of the cricketing exploits.
"He was just a pure heart, found his way into trouble as well as anyone… (and) loyal beyond belief."
Good friend and cricket coach Matthew Mott said the day they'd been dreading was an "outstanding tribute to a great human being".
Mott's mind also went to Symonds'' two children, saying he was devastated his friend would never get to see them grow up.
"He loved them so much and they meant so much to him," Mott said.
Looking back on their friendship, he wished he'd agreed to more fishing trips.
"The thing I take out of this is the amount of fishing trips that were knocked back because we all got too busy and stuff like that… (I'd) love that opportunity to go back out there and do that again."
"It's a sad moment, but I think it was a great service and celebrated what was a life well lived.
"You know, it's a shame that he's been cut so short, and he had so much more to give to a lot of people. But you know, those kids grew up with a loving father and they know he'll be overlooking them for many years to come."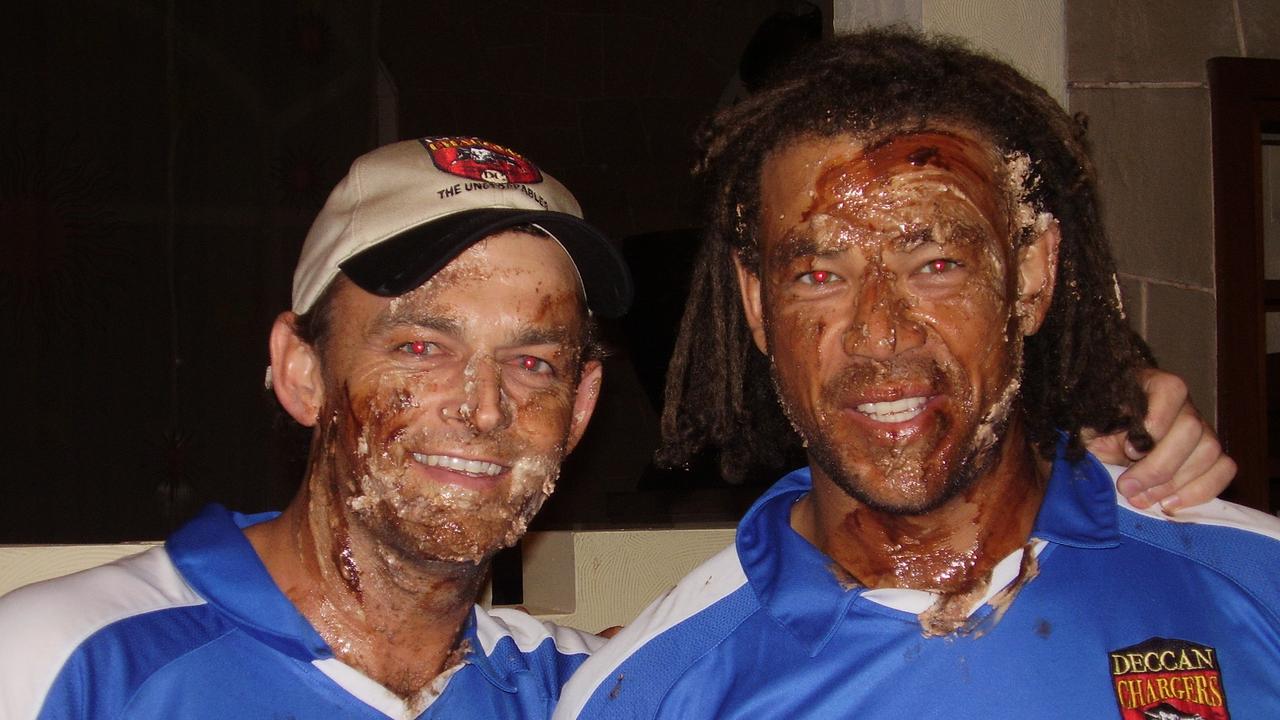 Andrew Symonds and Adam Gilchrist with chocolate cake on their faces, celebrating an IPL win.
SPORTING ROYALTY GATHERS TO FAREWELL SYMONDS
Friends and family have gathered to farewell Andrew Symonds.
A private funeral was held this morning for the Australian cricket great, with attendees told it was a strictly no jacket or tie affair.
Ricky Ponting, Adam Gilchrist and Jimmy Maher were among those to arrive early.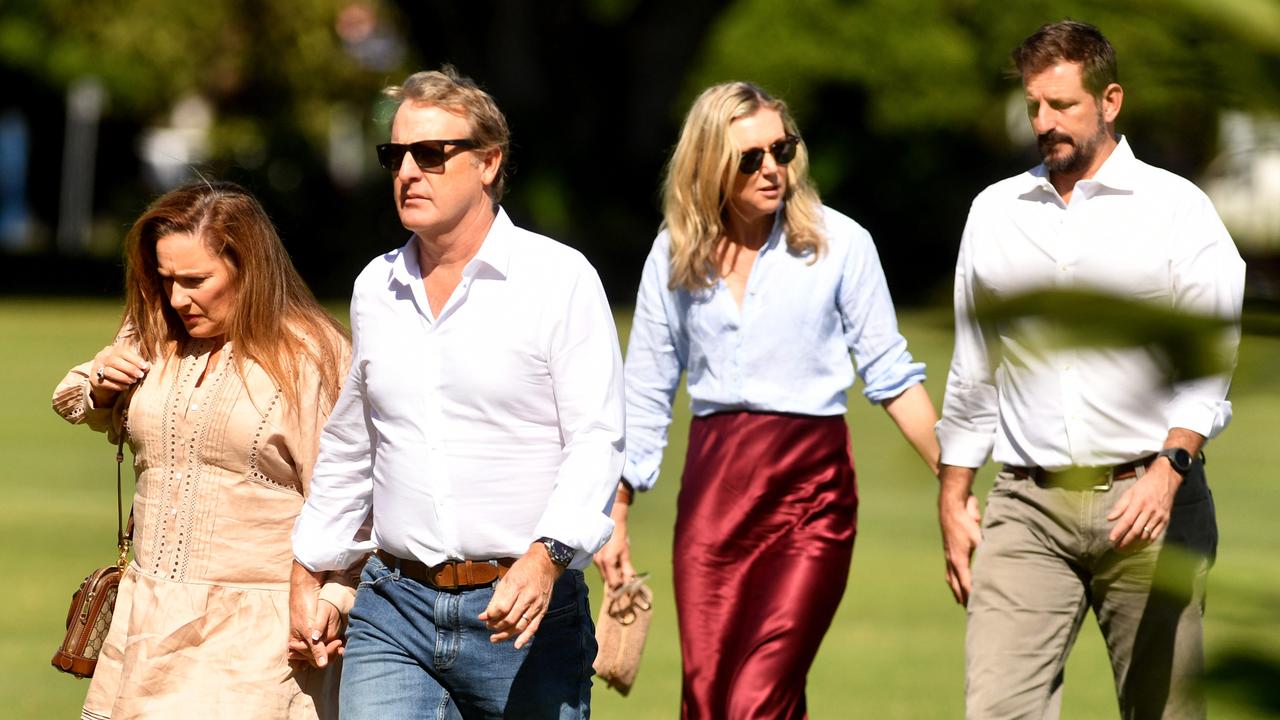 Wade Secombe and Michael Kasprowicz arrive. Picture: Evan Morgan
Mitchell Johnson and Queensland rugby league icons Darren Lockyer, Gorden Tallis were also among those attending Friday morning's private service.
Symonds will be honoured in a public memorial service at Townsville's Riverway Stadium at 2.30pm AEST, which will be broadcast live on Fox Cricket and streaming platform Kayo.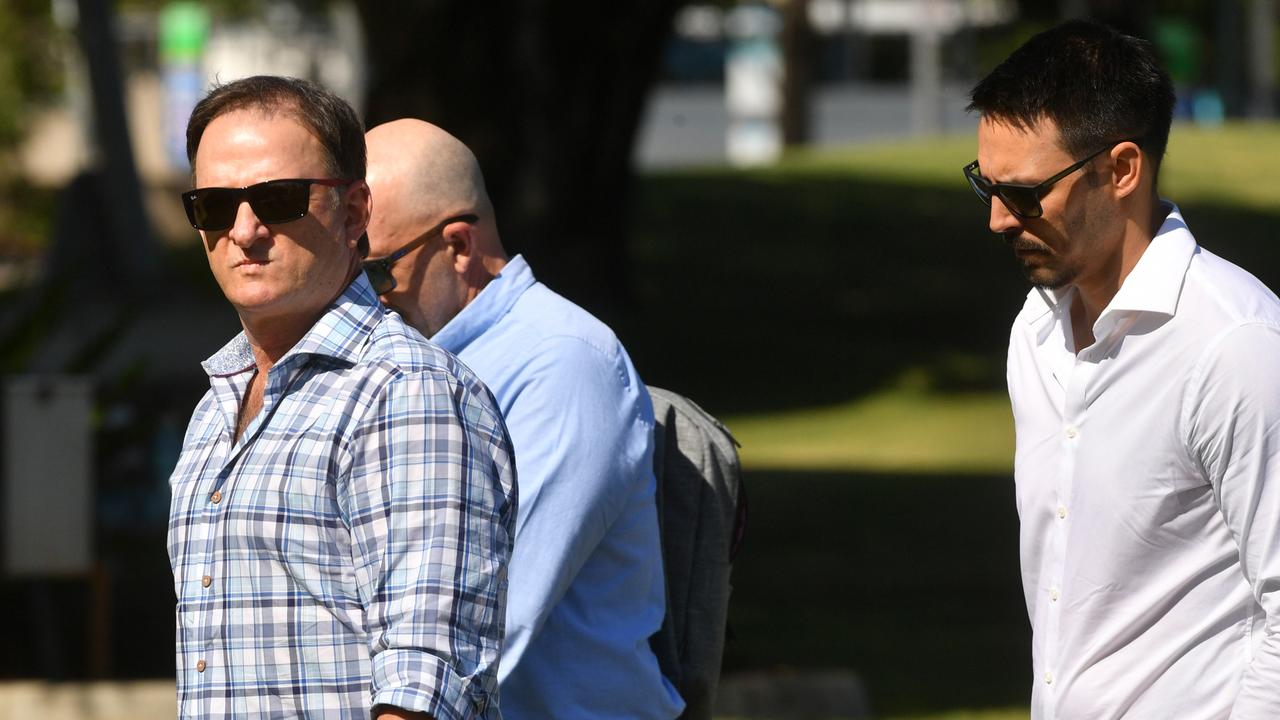 Mark Waugh and Mitch Johnson. Picture: Evan Morgan
"This is a way we can say thank you and goodbye," Townsville Major Jenny Hill said.
"An event like this provides many people closure around Andrew's life and what happened.
"It's an absolute tragedy that it happened, and we've lost a true ambassador for the North and a true larrikin."
Ian Healy will MC the event, while former teammates Darren Lehmann, Matthew Mott and Jimmy Maher will speak.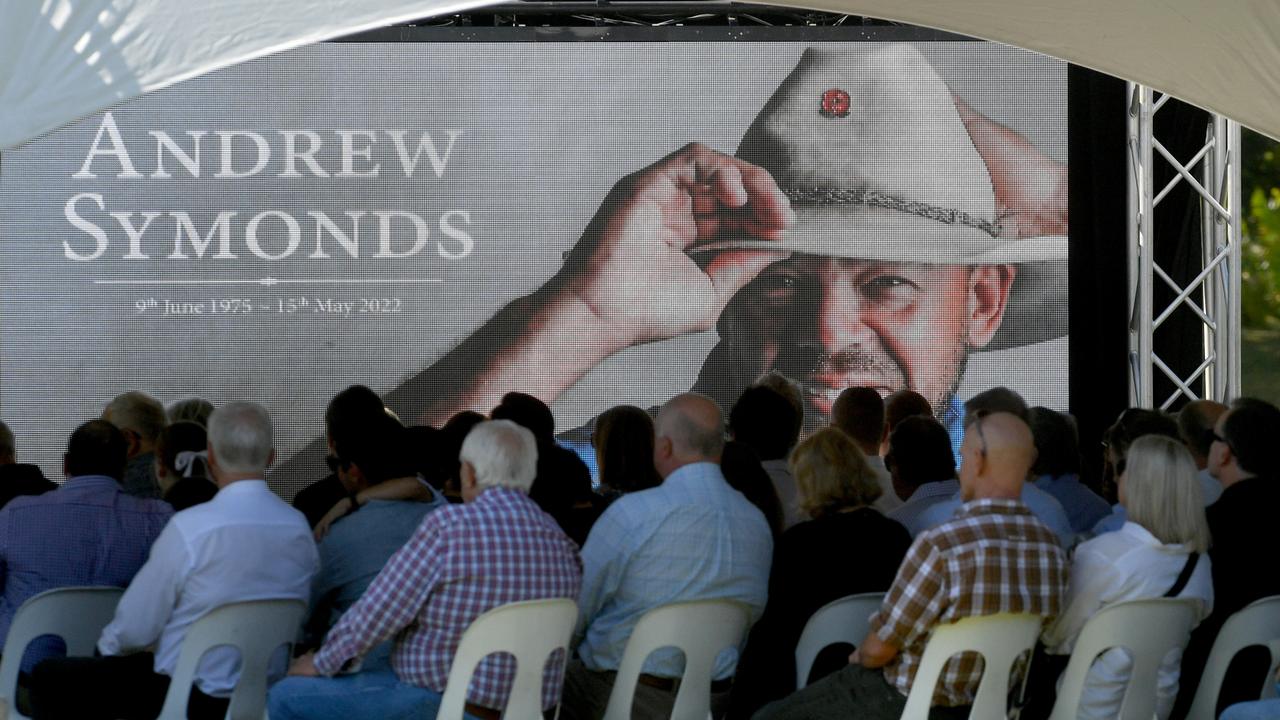 Great friend and former Queensland Bulls captain Jimmy Maher arrives to deliver the eulogy at the service. Picture: Evan Morgan
Shane Watson. Picture: Evan Morgan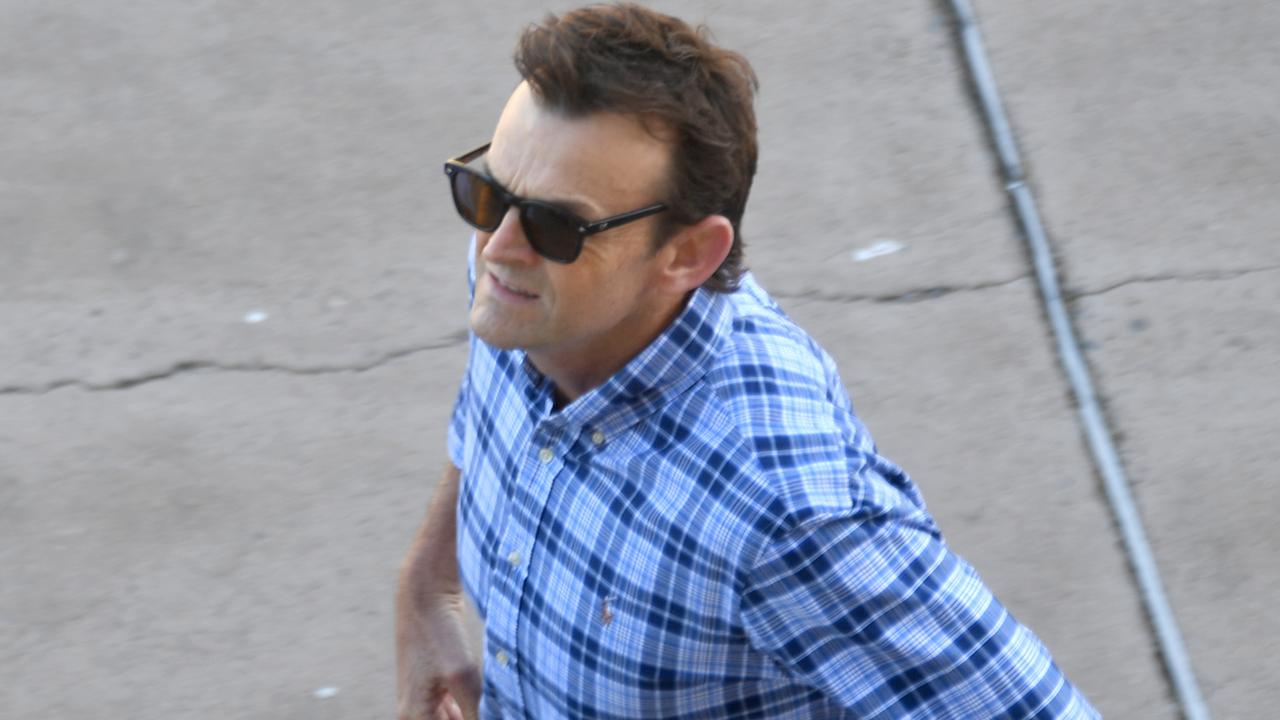 Adam Gilchrist arrives. Picture: Evan Morgan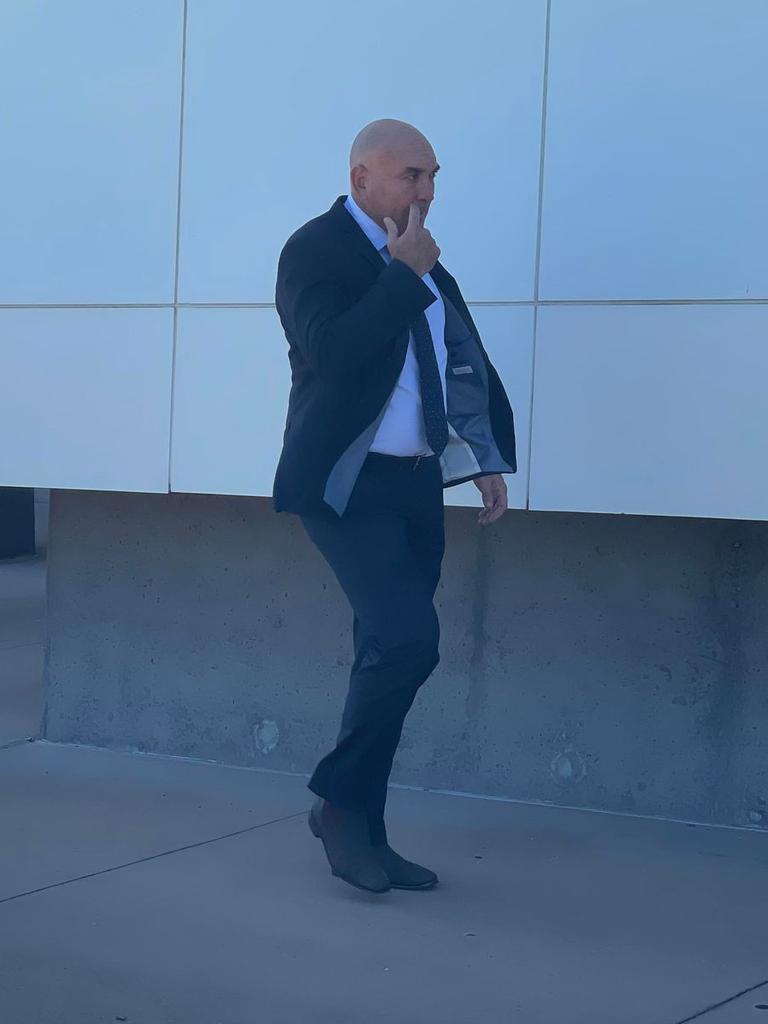 Gorden Tallis.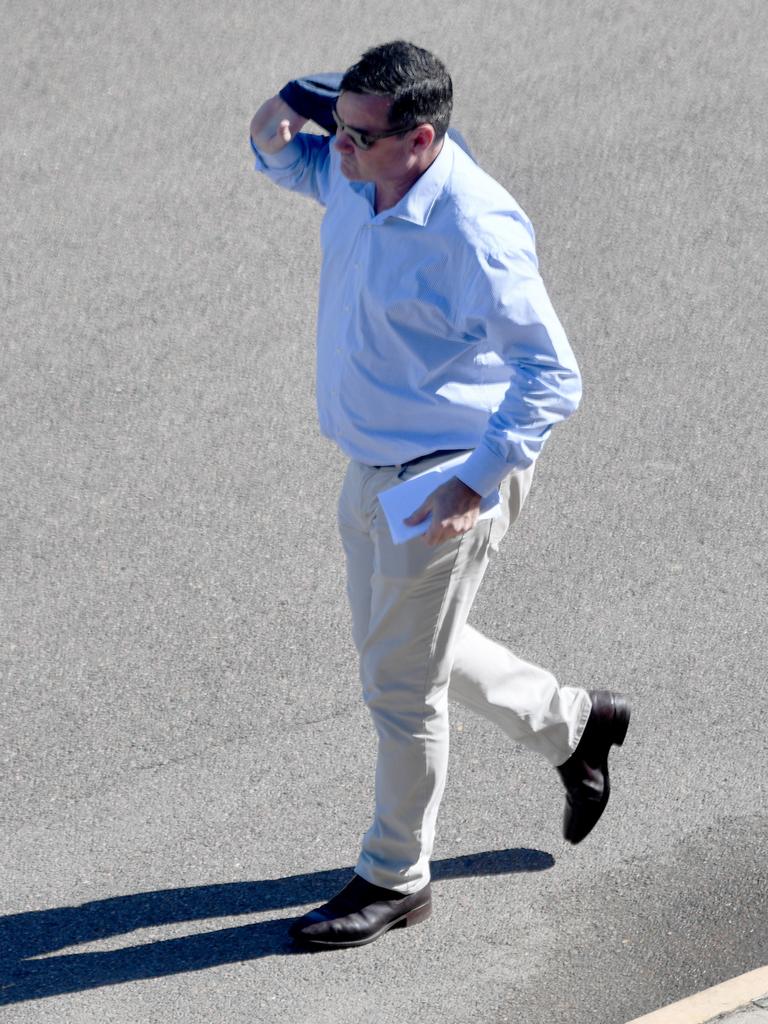 Jimmy Maher.
HOW THE DAY WILL PLAY OUT
A touching poem which Andrew Symonds first heard on voicemail in a dressing room will be recited at his funeral which will be attended by his former skipper Ricky Ponting.
Ponting's Delhi Capitals failed to make the Indian Premier League semi-finals and the early exit has allowed him to travel to Townsville for Symonds' funeral and memorial services on Friday.
He will join Adam Gilchrist and Darren Lehmann on a three man panel at the memorial service at Riverway Stadium for Symonds, who died in a car crash outside Townsville.
Ian Healy will be master of ceremonies and Symonds' boyhood mates and teammates, Jimmy Maher and Matthew Mott, will also speak.
Ponting's decision to fly north is significant for it was his faith in Symonds that helped the all-rounder blossom.
"If Roy shook your hand you had his word, that's the sort of bloke he was and that's why I always wanted him on my team," Ponting tweeted after his former teammate's death.
"An extraordinary player and even better human being. Can't believe he's gone. Thoughts are with his family at this time."
The service will conclude with Symonds' favourite poet Rupert McCall reciting the poem You Ripper Roy which he penned after Symonds produced a breakthrough Test innings against South Africa at the MCG in 2005 with his 72 runs coming off just 54 balls featuring five fours and six sixes.
"He loved his poetry Roy and would often talk to me in rhyme,'' McCall said.
"He would go fishing up north and get back and ring me around 11pm and put the phone on speaker and get me to recite a couple of poems while he and his mates sat around the fire.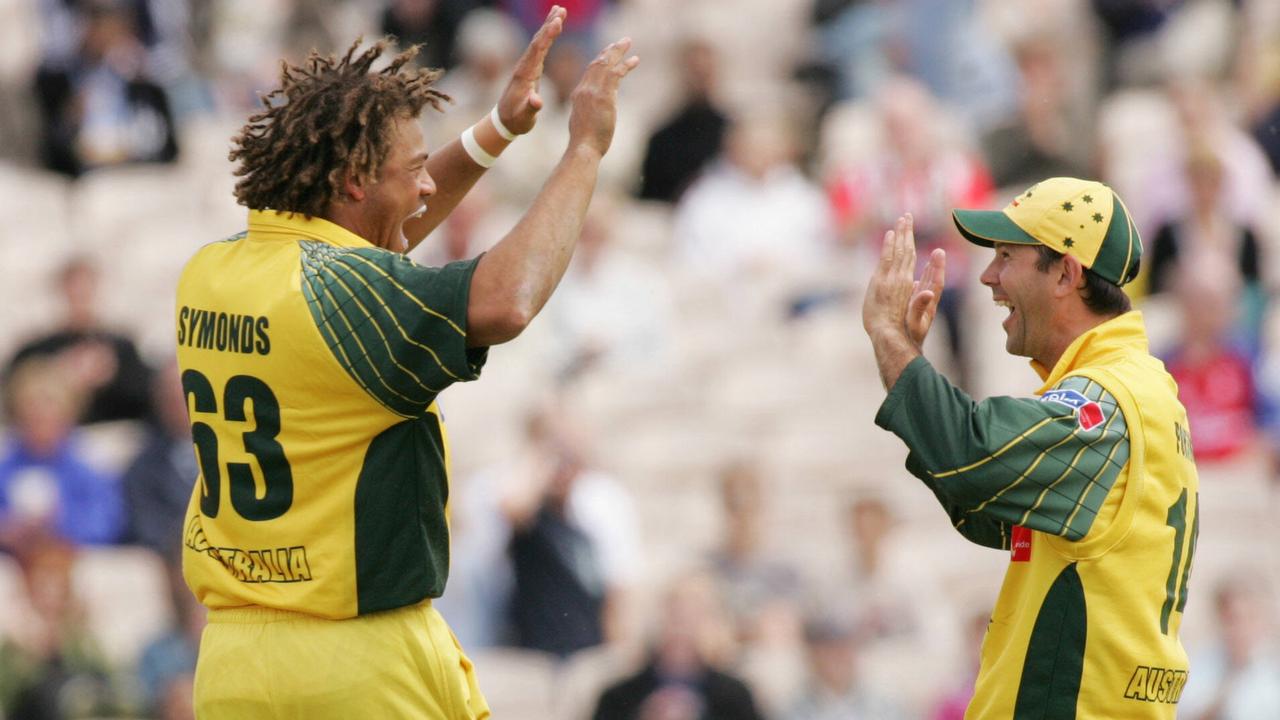 Cricket greats will gather to farewell Andrew Symonds on Friday.
"It was one of his favourite tricks. It happened around midnight a few times and I would sneak out of the bedroom to recite this poetry. I think my wife thought I was having an affair.
"The poem I wrote for Roy came at a time when he needed some runs and it was almost written out of relief. I rang his phone to read it to him but I knew he would be in the field and would not answer it so I left it on voicemail.
"He got back to the sheds and listened to it and rang me. He said he loved it. He was sitting next to Phil Jaques and, in typical Roy style he was always thinking about other people and asked me if I could write one for Phil as well.
"We stayed in touch. I think there was so many people who really felt they knew him.''
Originally published as Andrew Symonds memorial service and funeral: Brian Lara's journey to farewell Roy