Andrew Symonds death: The deep-thinking side to Australian cricket's great larrikin
Most fans know Andrew Symonds as one of cricket's great larrikins. But there was another side to 'Roy' which helped him become of Australia's great all-rounders.
Andrew Symonds used to talk down his own intelligence yet he was a key participant in a ground-breaking plan which shook up Australian cricket.
Queensland Bulls coach John Buchanan and performance psychologist Phil Jauncey brought a layer of authenticity to the painful cliché "mind games'' in the 1990s when they shaped game plans around the personalities of the Bulls and their rivals.
And champion allrounder Symonds, who died last Saturday night in a car accident outside Townsville, was in his element.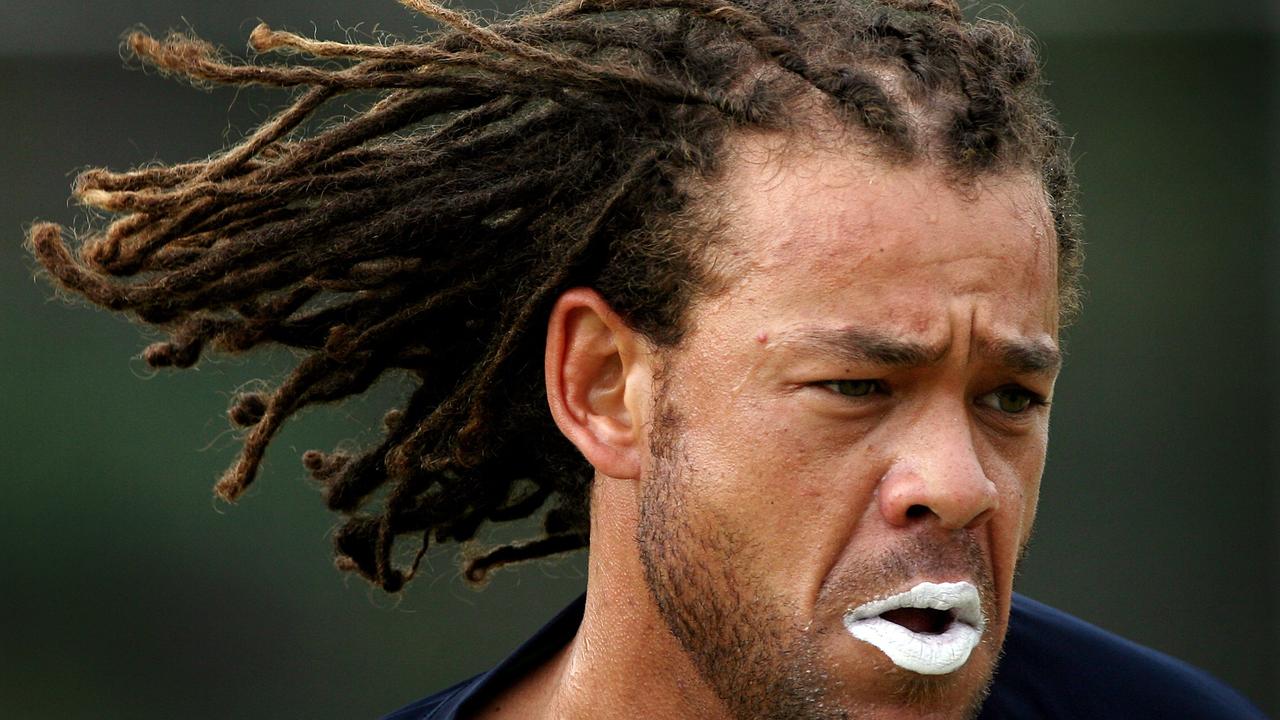 ICC World Cup Cricket in the West Indies - Australian cricketer Andrew Symonds with his hair at training
Jauncey and the Bulls put players in four categories — feelers (who were sensitive), enforcers (dominators), thinkers (who pondered the reason why) and mozzies, the category Symonds belonged in for it included those who played on instinct and would buzz around like mosquitoes.
Team-mates made sure they kept chatting to Symonds before he batted – silence was bad for mossies – but it was in the field Symonds impact was just as pronounced.
He was sent out to verbally challenge "thinker-feeler'' Mike Hussey and would count down Hussey's dot balls and remind him of how defensively he was playing.
He would be part of game plan to "chirp' Justin Langer in the hope he would lose control of his emotions.
He would challenge 'enforcer'' Darren Lehmann with lines like "even you couldn't hit one through there'' when the Bulls set a field to block Lehmann's pet cut shot.
Sometimes the plans would be exposed. When Symonds boyhood mate Matt Mott, now England's white ball coach, was batting for Victoria and the Bulls gave him the silent treatment Mott would say "I know what you're doing.''
Symonds missed Australia's first Sheffield Shield win in 1995 but played a key role in Queensland becoming the dominant state over the next decade and Jauncey remembers him fondly.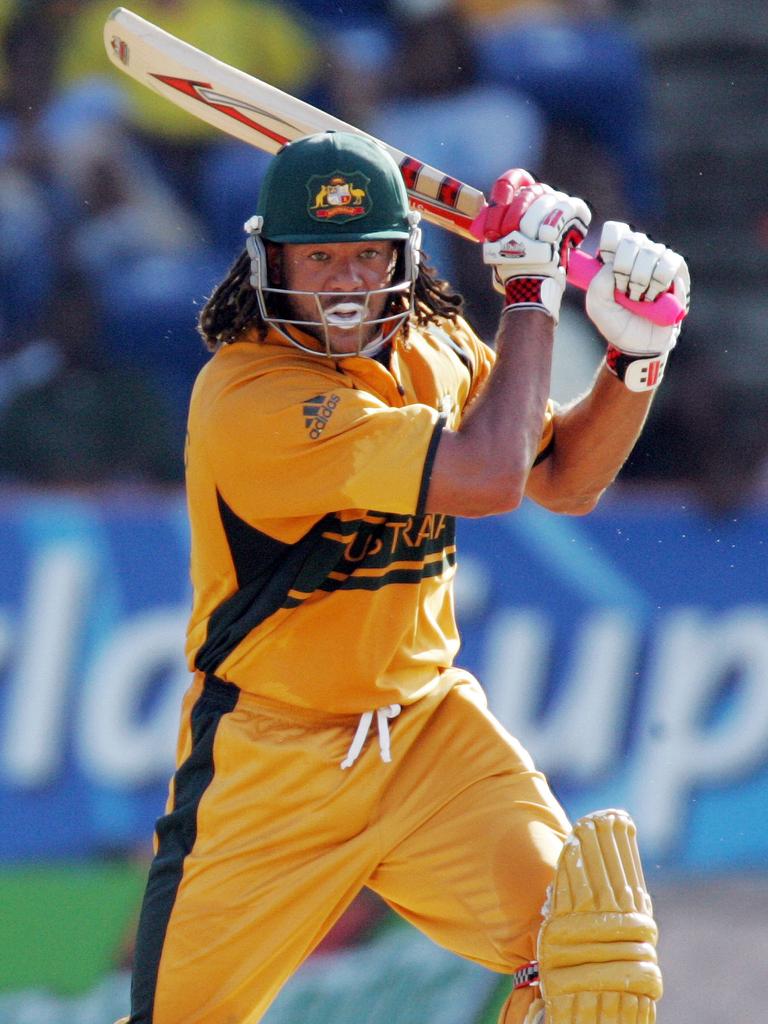 Andrew Symonds in action at the World Cup.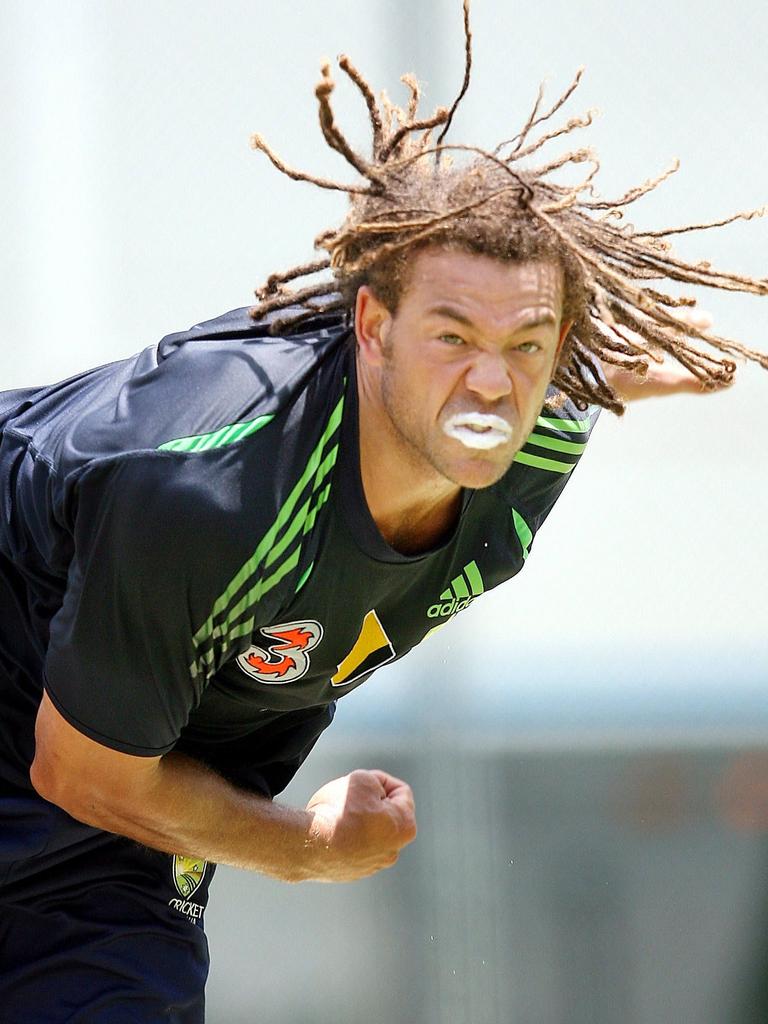 Symonds was known as a larrikin but was an intelligent thinker.
"He (Symonds) did buy into those plans because although he was never an intellectual he had really good life intelligence and he understood the game and people,'' Jauncey said.
"I have never found a person more honest than Roy. I have never known him to tell a lie. He would accept the consequences for what he had done, put his hand up and never find an excuse.
"What you saw was what you got, There was no pretence. If he disagreed with the coach he would tell him in a non-belligerent way.
"He never went half way. He went full throttle all the time on and off the field and in training. He wasn't interested in second gear.
"As tragic as his death was I feel he fitted more in his 46 years than some people fit in 100. As John Buchanan said he was so saint. He had his flaws but was not a flawed person. Life was there to be enjoyed. If you are in life enjoy it.''
Symonds and other players took part in a novel plan for the great Steve Waugh – a thinker – where they would randomly change bowling from over to around the wicket for no apparent reason to try and muddle his thoughts.
Waugh was intrigued and impressed enough by their thinking to recommend Buchanan for the Australian coaching role which he landed after Waugh backed his cause.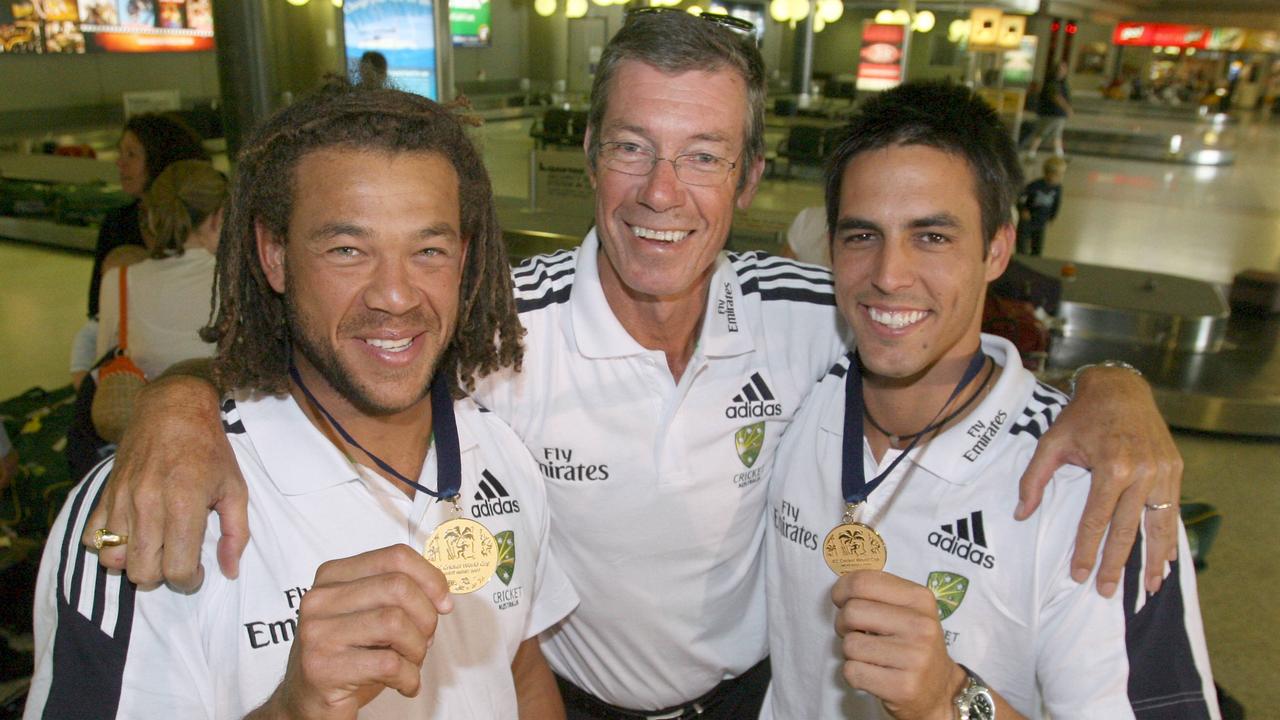 Sport BCM 3.5.07 Andrew Symonds. Andrew Symonds, Mitchell Johnson and coach John Buchanan arrive back in Brisbane. Pic Peter Wallis
MARNUS' MUM PAYS TRIBUTE TO SYMONDS
Andrew Symonds will be given a private funeral but the general public will still have the chance to celebrate his life in a memorial service in Townsville next week.
Symonds' family will invite those close to former Test star to a private service in Townsville on Friday before a memorial service entitled "Celebrating Roy'' will be held at the city's Riverway Stadium from 2.30pm that day.
The popular allrounder was killed in a car crash outside Townsville last Saturday night.
Many of Symonds Queensland Bulls team-mates and his former Test mates from around Australia are expected to head north to say their final goodbye to a man who was cherished by those who played with him.
Tributes continue to flow for Symonds with Indigenous women's star Ash Gardner, to whom Symonds was an early idol, saying the days after his death were "pretty devastating.''
A private and public service will be held for Andrew Symonds.
Gardner had been connected with Symonds through his close mate, Australian women's coach, Matt Mott.
"Being able to talk to your idol is something you probably never dream of, or having their phone number in your phone,'' Gardner said.
"He sent me texts over the Ashes and around the World Cup and when I won the Belinda Clark Medal he sent me a congratulations message.''
The mother of Test batsman Marnus Labuschagne has also paid tribute to Andrew Symonds for the touching moment he gave a personal apology to her family.
Meanwhile Alta Labuschagne and Gardner shared their heartfelt reflections on a man who'd had gone out of his way with them in recent times.
Symonds and Shane Warne were busted making unsavoury comments about Labuschagne on a hot mic two summers ago.
The regrettable moment weighed heavily on Symonds in particular, but it was his contrition and willingness to face the music which the Labuschagnes say showed his true character as a person.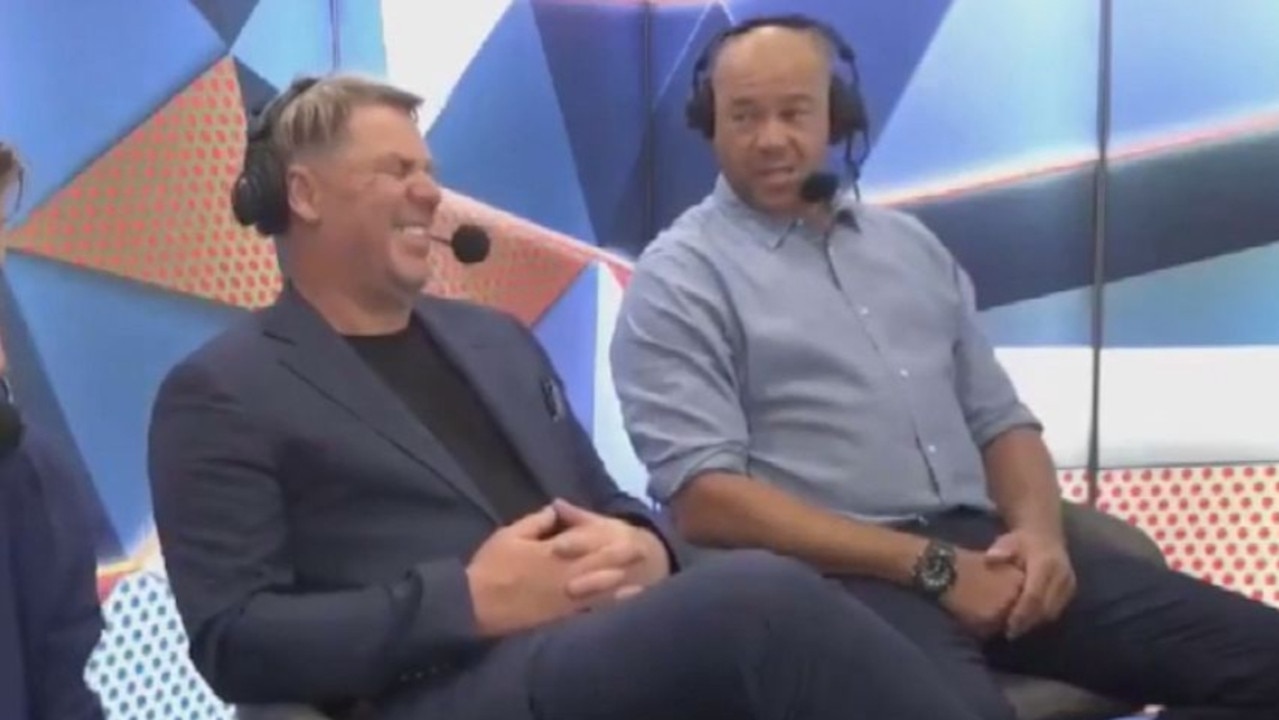 Shane Warne and Andrew Symonds were caught on a hot mic talking about Marnus Labuschagne.
Symonds spotted Labuschagne's parents entering the room at Brisbane's Allan Border Field after Queensland's Sheffield Shield victory last year and walked straight over, anxious about how he might be received.
His humble apology was met with a forgiving hug from Alta Labuschagne and immediately lifted a burden from his shoulders.
It was a poignant moment for the Labuschagnes as well, and has taken on even greater significance since Symond's tragic death.
"It was actually a beautiful experience. Especially now, it actually means more," Alta Labuschagne told News Corp.
"When someone says they're sorry, forgiveness is such a good thing.
"The first thing he said was 'I'm so, so sorry for what I said – that was so uncalled for.'
"And I said, 'no, it's no worries mate.'
"He couldn't stop apologising, he said he was way out of line and he's really sorry for what he did.
"And I just gave him a hug.
"Sometimes people can say the wrong thing at the wrong time but just to be big enough to come and say sorry – sometimes I think people have to know that.
"It was a really big moment and it changed everything for me.
"I think that shows a person's character. Their real character."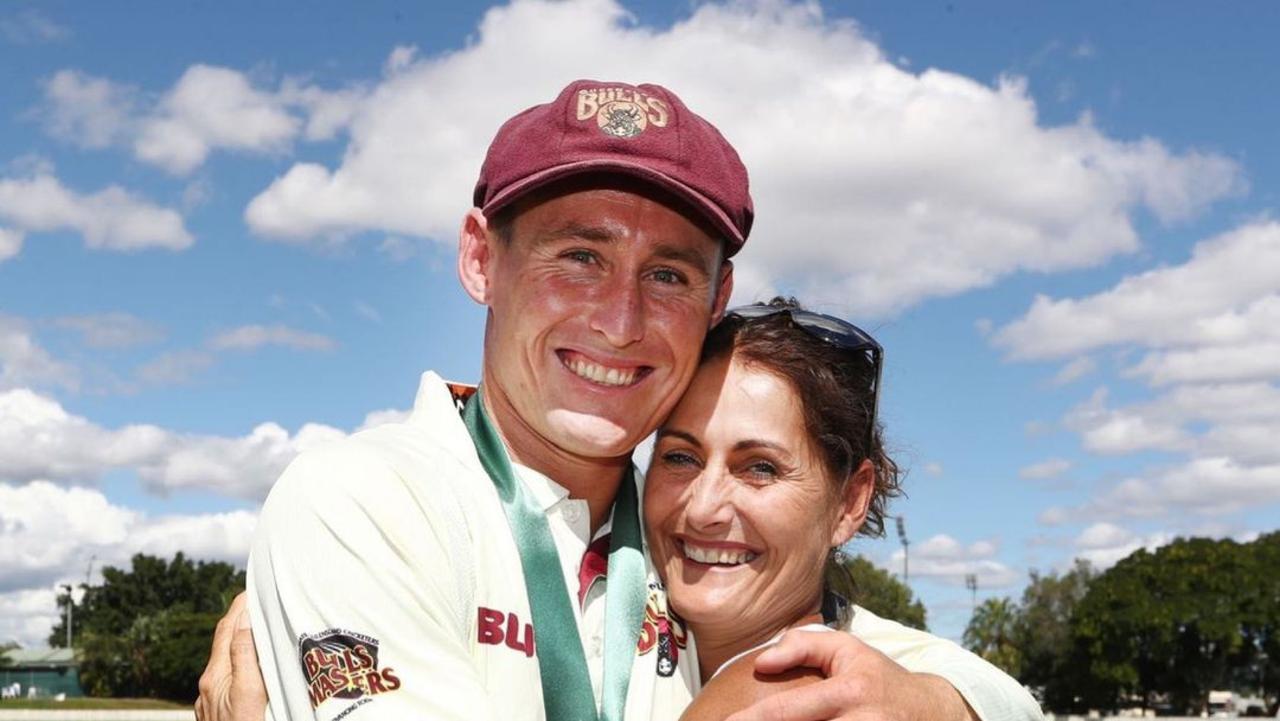 Alta Labuschagne has paid tribute to Andrew Symonds for the touching moment when he gave a personal apology to her family. Picture: Instagram @marnus3
Australian women's superstar and reigning Belinda Clark medalist Ash Gardner has also opened up about the pain of losing the man who was her cricketing idol.
Symonds was the reason Gardner started bowling off-spin as a youngster, and it was his fearless approach on the field which has moulded her attacking approach to the game.
They shared a link through women's coach Matthew Mott, who was one of Symonds' closest mates – and Gardner has revealed how Symonds was a regular sounding board for her.
"Being able to talk to your idol is something you never really even dream of, let alone having their phone number in your phone," said Gardner.
"He sent me texts over the Ashes, around the World Cup and once I won the Belinda Clark medal he sent me a congratulations message.
"To receive that from someone you've looked up to pretty much all of your junior playing career was certainly something pretty cool and the past week has been devastating.
"Watching him bat and watching him field, he just took the game on. And that's something I've tried to do … it's about taking the game on and just showing that fearless side to you."
After the hot mic incident, Marnus Labuschagne and Symonds also bonded over a beer in Townsville last year and the former Test cricketer was a huge believer in Labuschagne and felt he had the cricket world at his feet.
The Labuschagnes have expressed their deep sadness about Symonds' passing and for his grieving children and family.
"It's so sad. He had so much more to give to the game, and not just to the game, to life," said Alta.
"It's a life too short.
"My heart breaks for those little ones. They're still so young."
Symonds told News Corp during the summer how much it meant to him to apologise to the Labuschagnes.
"His mother gave me a hug and everything and I felt so much better," Symonds said at the time.
"What we did was crude and it was wrong and it's good to alleviate that angst I suppose when you haven't physically seen someone and shook their hand and apologised.
"They were very accepting. I didn't know what I was going to get. They would have been quite within their rights to tear into me, but no, they were fantastic about it."
Originally published as Andrew Symonds death: The deep-thinking side to Australian cricket's great larrikin