Ashes 2021-22: James Anderson, 39, produced a display at the MCG seldom seen in the history of Test cricket
James Anderson is older than Australia's chairman of selectors and remains among the best in the world at his craft, writes Daniel Cherny.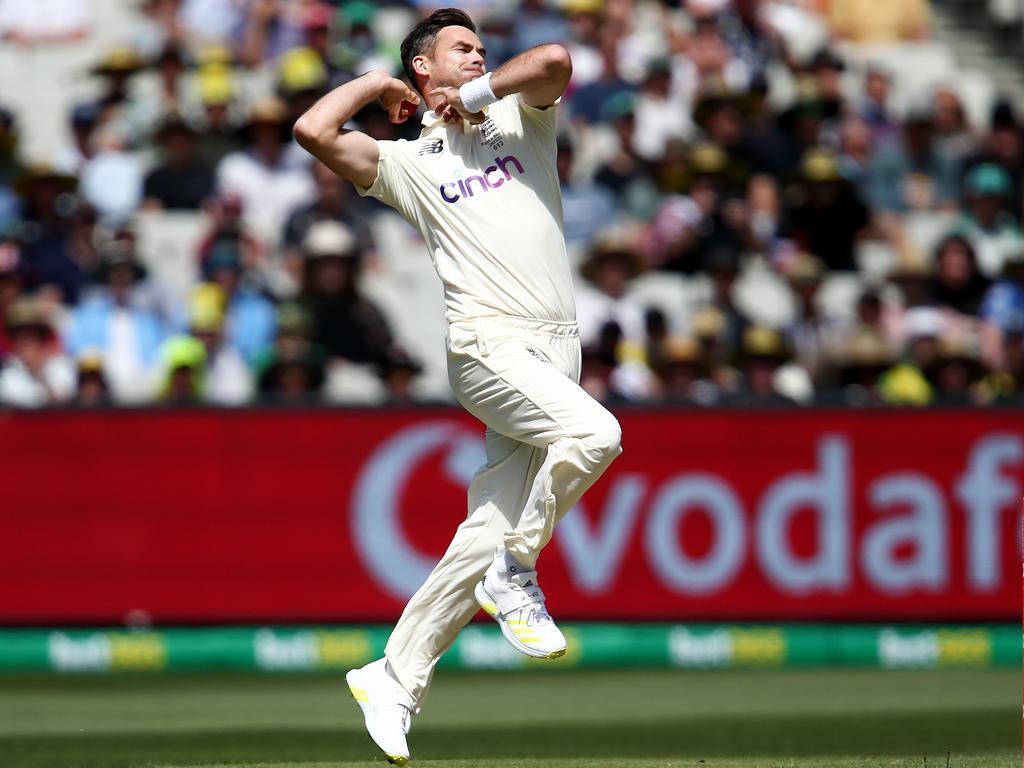 James Anderson is still going strong, 19 years after his Test debut. Picture: Dave Hewison/Speed Media/Icon Sportswire/Getty Images
Jimmy Anderson is older than you.
OK maybe he isn't, but odds are he is.
According to the Australian Bureau of Statistics, the median age in Australia is 37. Anderson is 39.
Even if you are older than him, you've never seen anything like him before.
According to ESPN Cricinfo's StatsGuru, only four men have taken more than 20 Test wickets bowling pace at the age of 39 or older.
Two of these guys: Basil D'Oliveira and Geoffrey Chubb, bowled nothing quicker than medium-fast. The third, Sydney Barnes, played his last Test before the start of World War I.
And Barnes bowled what is described as "quick spin" in an era pretty much incomparable to 21st century Test cricket.
The other is Anderson, in his 168th Test match, who first played international cricket more than 19 years ago. He is still consistently hitting speeds in themid-130 kilometres per hour.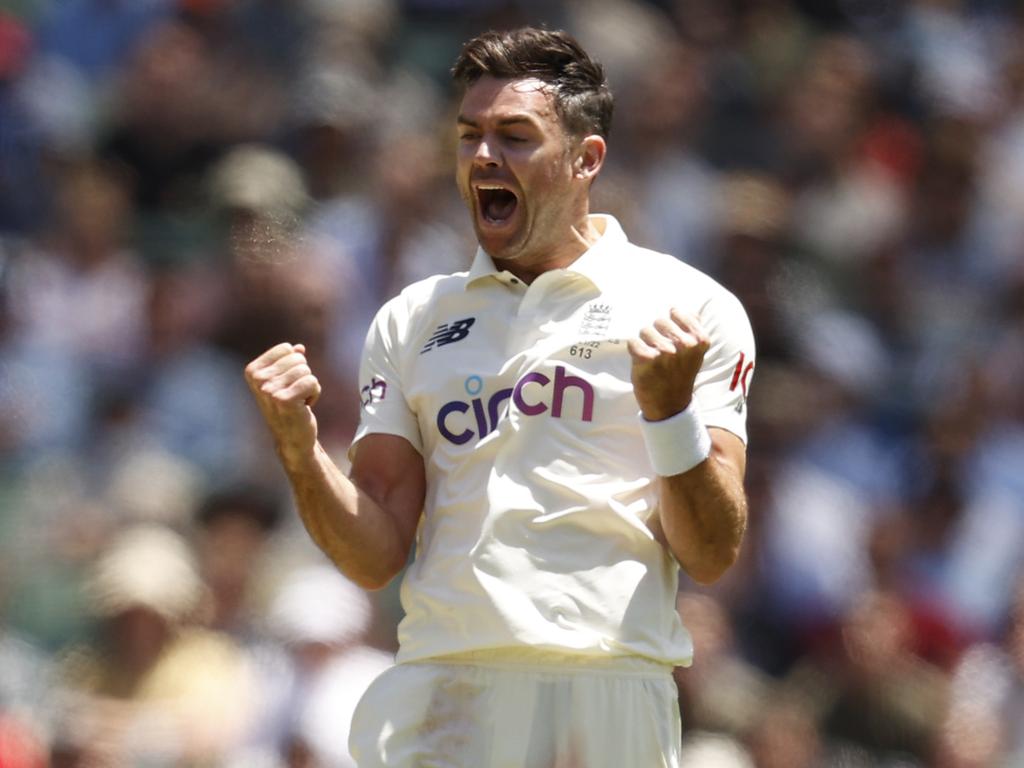 James Anderson is still going at 39. Picture: Darrian Traynor/CA/Getty Images
He is, clearly, about so much more than pace.
On Monday at the MCG, he delivered the umpteenth masterclass of his career. Having already removed David Warner - the leading runscorer in the series - late on Sunday, he upped the ante on day two.
Across an 11 over stretch, Anderson took 2-3.
One of those runs came from an inside edge off Steve Smith's bat when Smith was on five. It created a very tough chance for Jos Buttler, one to which the England wicketkeeper got a glove but couldn't snaffle. Smith looked uncharacteristically shaky for much of his innings. Soon enough, Anderson got his man. Again an inside edge; this time a decisive deflection onto the stumps.
Remember, Anderson barely played in the 2019 Ashes. Smith arguably won two Tests that series off his own bat. Who knows how different a proposition it may have been had Anderson played even one more match.
But back to the present day. It was over after over of unerring accuracy at solid pace and belatedly, from an England perspective, on a good length. A day of Test cricket which had started with doubts as to whether the tourists would even turn up, turned it on. And Anderson was at the forefront. Marcus Harris was within view of a breakthrough Test ton, but Anderson's consistency was standing in the way.
An edge to Joe Root at first slip, and off the opener trotted.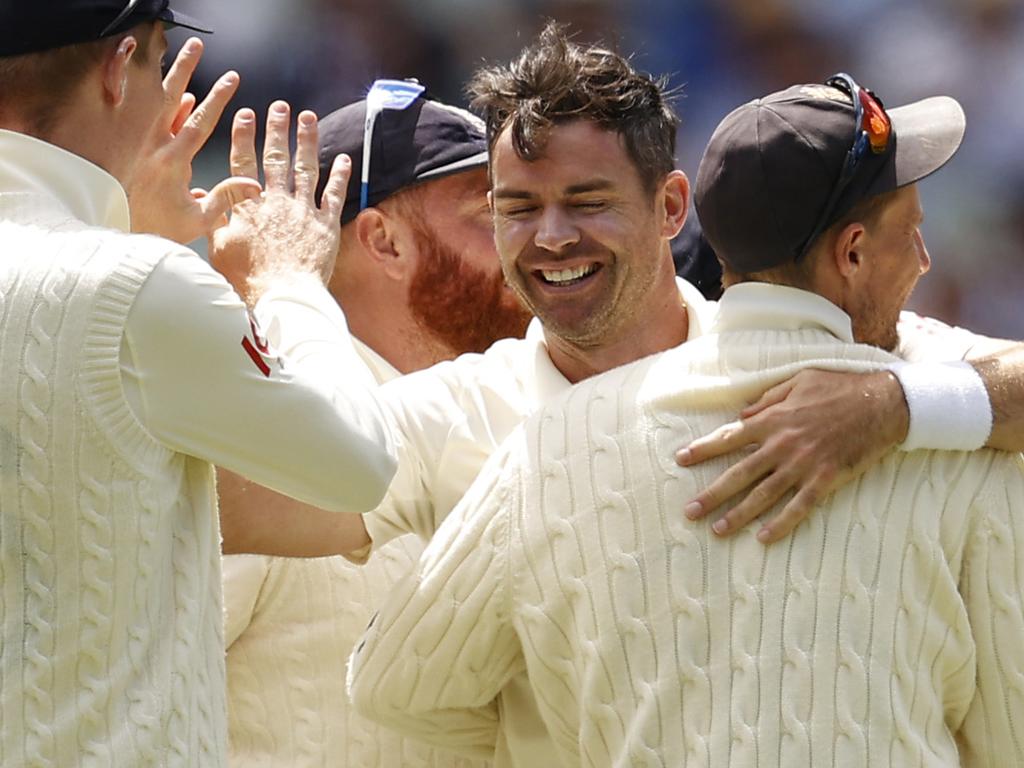 Anderson celebrates the wicket of Marcus Harris. Picture: Darrian Traynor/CA/Getty Images
When England last claimed the Ashes on Australian soil 11 years ago, Anderson was already close to the most senior member of the attack. Among the other quicks in that English flotilla were Steven Finn, seven years Anderson's junior. Finn long ago played his last international. He is out in Australia this time around. Commentating.
Anderson really is stupidly old to still be bowling as a fast-medium, let alone in a Test match, let alone well. Glenn McGrath was never express and bowled pace much longer than most. And even he retired from Test cricket just shy of his 37th birthday. Courtney Walsh was still getting it done at 38, and Richard Hadlee took eight wickets in the sole Test he played after turning 39.
Hell, Anderson even dived for an acrobatic one-handed catch late in the Australian innings, by which point he'd already bowled 15 overs for the day.
There has long been a slightly snooty undertone to Australian commentary about Anderson.There's always been an asterisk. That he only gets it done in England. But if you leave aside his first away Ashes series - the whitewash of 2006-07 in which Anderson took just five wickets in three Tests - he is averaging 29 with the ball across 17 Tests in Australia.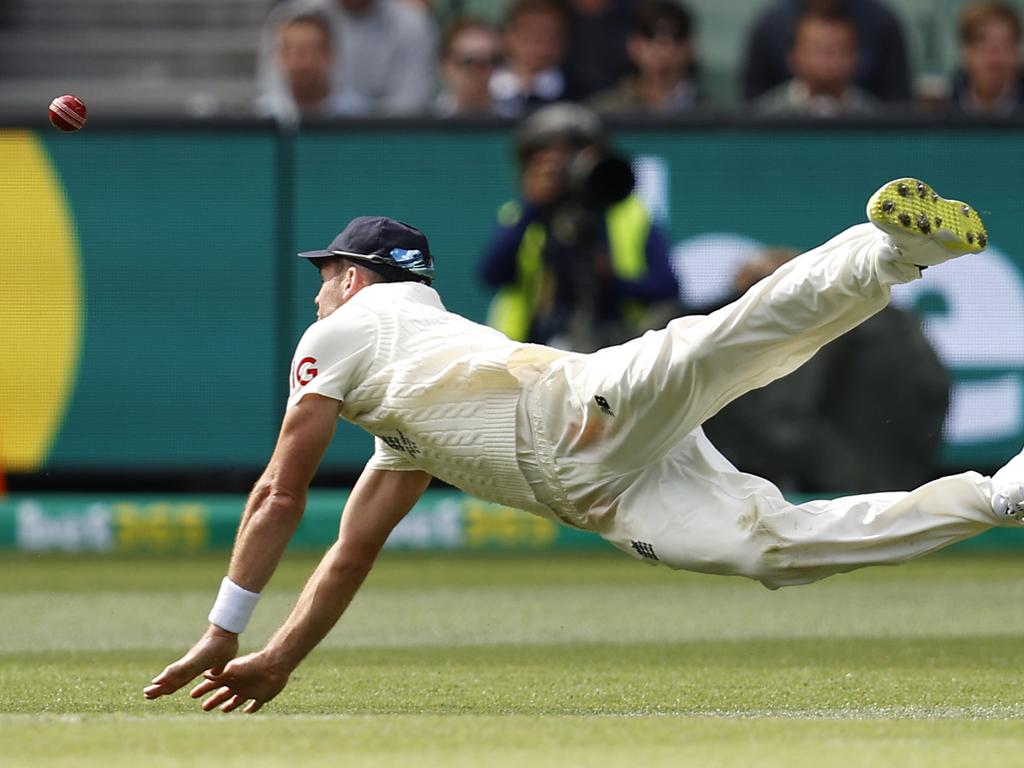 Anderson gets acrobatic in the field. Picture: Darrian Traynor/CA/Getty Images
Anderson doesn't ignite the senses like someone with the raw speed of Dale Steyn, Jasprit Bumrah or Curtly Ambrose. He can be a bit snarky but lacks the pantomime villain qualities of his longtime sidekick Stuart Broad. But make no mistake: he is as special as they come. And when it comes to performances from 39-year-olds at the MCG, Anderson's first innings figures of 4-33 from 23 overs might be shaded only - at least in the colour television era - by Kerryn McCann.
Will young fans who were there at the 'G on Monday one day tell their grandkids that they saw a ridiculously old Jimmy Anderson wear down Australia, in the same tones they might talk of an innings from Viv Richards, Garry Sobers or Sachin Tendulkar? They should. Because this was an extraordinary showing: one which breathed life into what had been a largely horrendous series for England. It was the type of effort that makes you desperately hope there are no more major pandemic dramas to interrupt the summer because it's finally giving us some competition.
Perhaps the only time Anderson has been at the centre of a major storm on these shores came when he was the subject of Michael Clarke's "broken f**** arm" threat at the Gabba in 2013. The man Clarke was supposedly defending on that occasion was George Bailey, now Australia's selection chair.
He is younger than Anderson.
Yes, Anderson is older than Australia's chairman of selectors.
He is pretty bloody old.