Ashes 2021-22: Mitchell Starc's day-night Test dominance as career crossroads looms
Mitchell Starc dominates a day-night Test like no other bowler, but there's more than just swing to the speedster's phenomenal numbers with a pink ball in hand, writes BEN JONES.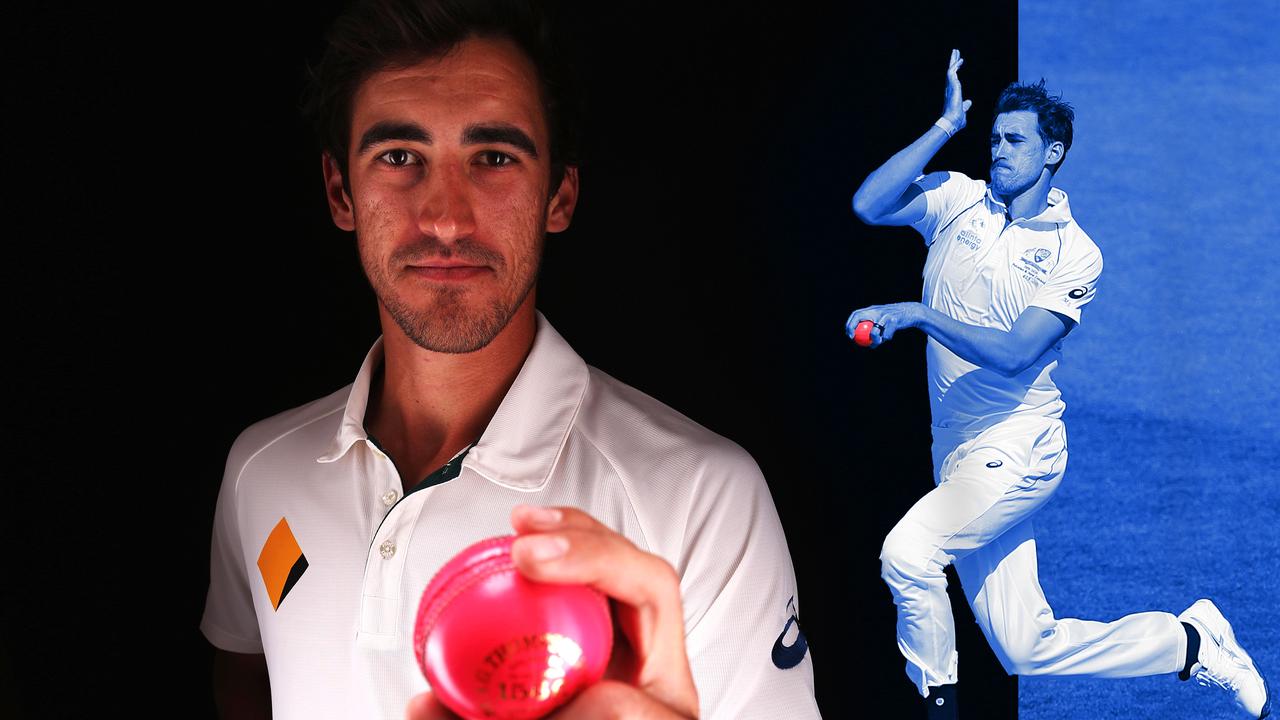 Mitchell Starc is at an interesting juncture in his career.
We are early enough in the life of day-night Test cricket for individuals to stand above the rest and define the 'format'.
Just over six years since the first-ever pink ball Test, they haven't caught on to quite the degree that many anticipated. Just 16 day-night Tests have been played, globally, and half of those have been in Australia. A version of the game which was intended to enliven interest in Test cricket, and perhaps increase its appeal in less well-established markets, has largely flourished in one of the most established cricket markets in the world. Day-night cricket has become an Australian delicacy.
It's no surprise then, that as it stands, the defining pink ball Test cricketer is an Aussie. When the floodlights come on, Mitchell Starc comes to life.
Starc is the leading wicket-taker in the brief history of pink ball Test cricket, taking 46 wickets at an average of just 19. He's clearly had more opportunity to grow that haul – nobody has played more pink ball Tests than him – but those wickets don't come with your cap. With a pink ball in hand, Starc has been dominant.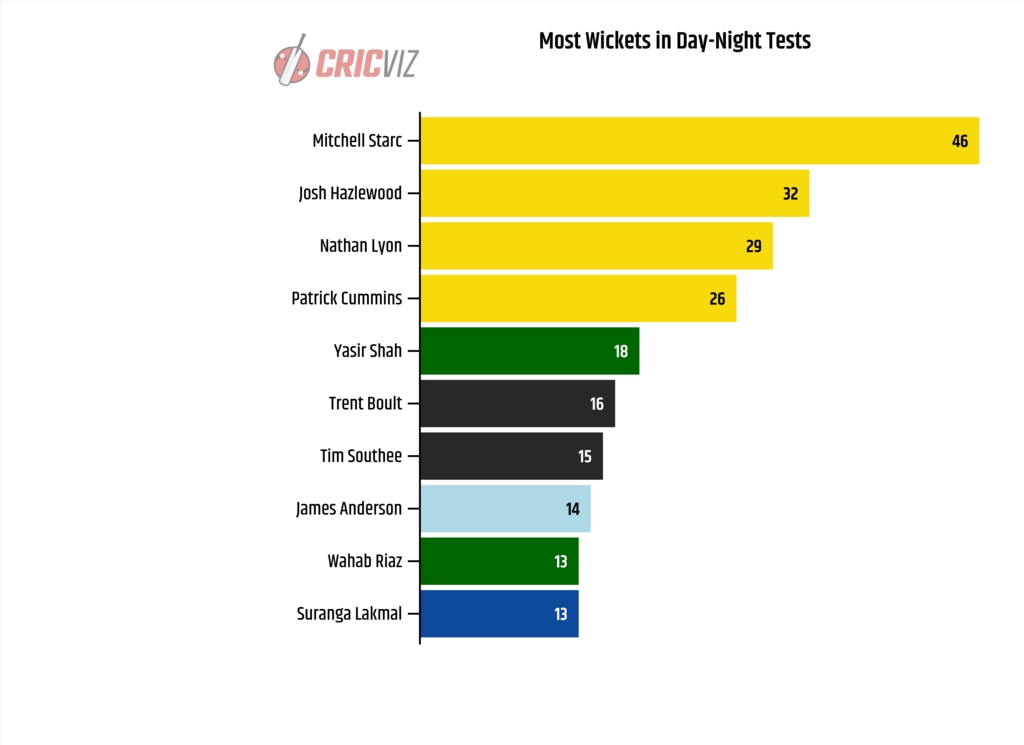 Mitchell Starc easily tops the tally for most wickets in day-night Tests. Picture: CricViz
So why is the left-armer so devastating in these matches? There is the obvious advantage of the increased lateral movement on offer. The difference between the red and pink Kookaburra is often exaggerated – the pink swings more early on, but then goes straight after about 20 overs – but it does appear to seam more, and more consistently. Starc himself finds about 20% more seam movement in his opening spell with the pink ball, than with the red – and that obviously adds to his attacking threat. While his opening spells see the same degree of swing regardless of the ball he's using, that increased seam movement when you bowl as full as Starc does is deadly.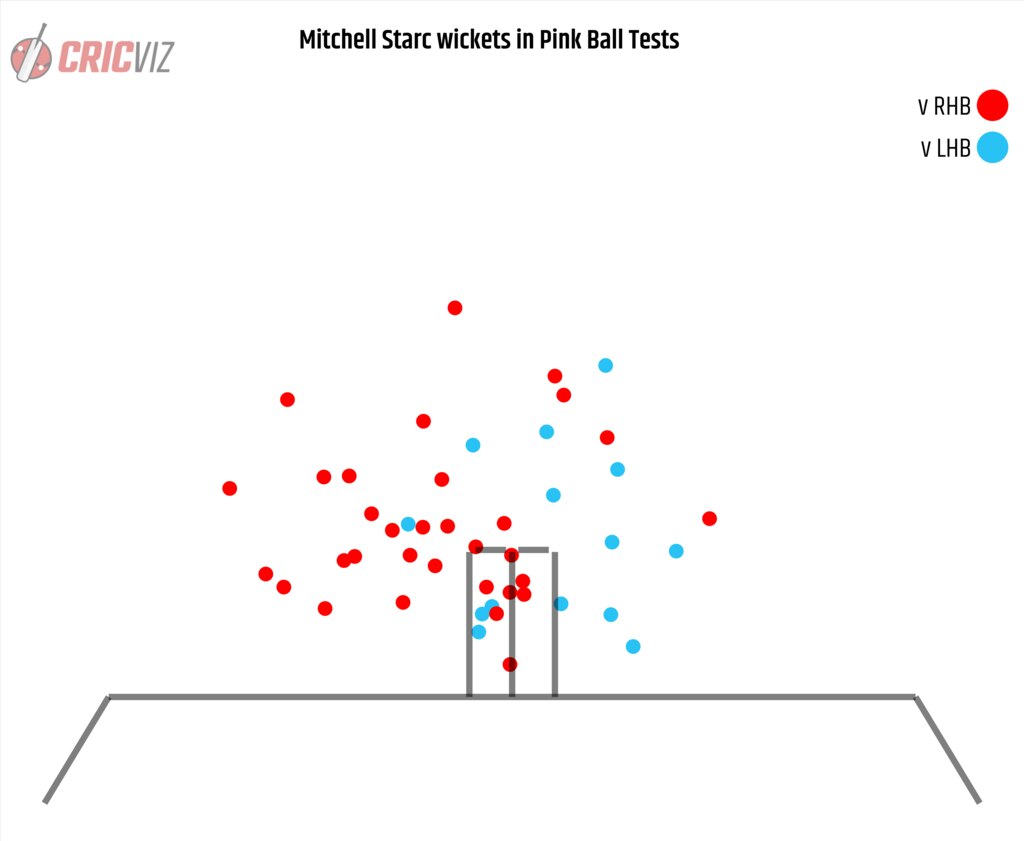 Starc's scatter graph for wickets. He has 20% more seam movement with the pink ball. Picture: CricViz
That full length does seem to be key. Starc's average with pitched up deliveries in 'normal' home Tests is 31, but in pink ball Tests that falls to just 18. At his worst, Starc can at times be floaty on this length, particularly when he drops below his top pace and that shape through the air isn't coming easily. Yet when the ball is just doing that little bit more off the pitch, those deliveries stay threatening even at a slower pace, and without swing. That bit of nip off the surface, which stays throughout the vast majority of the innings, is a key element of why the pink ball suits Starc so well.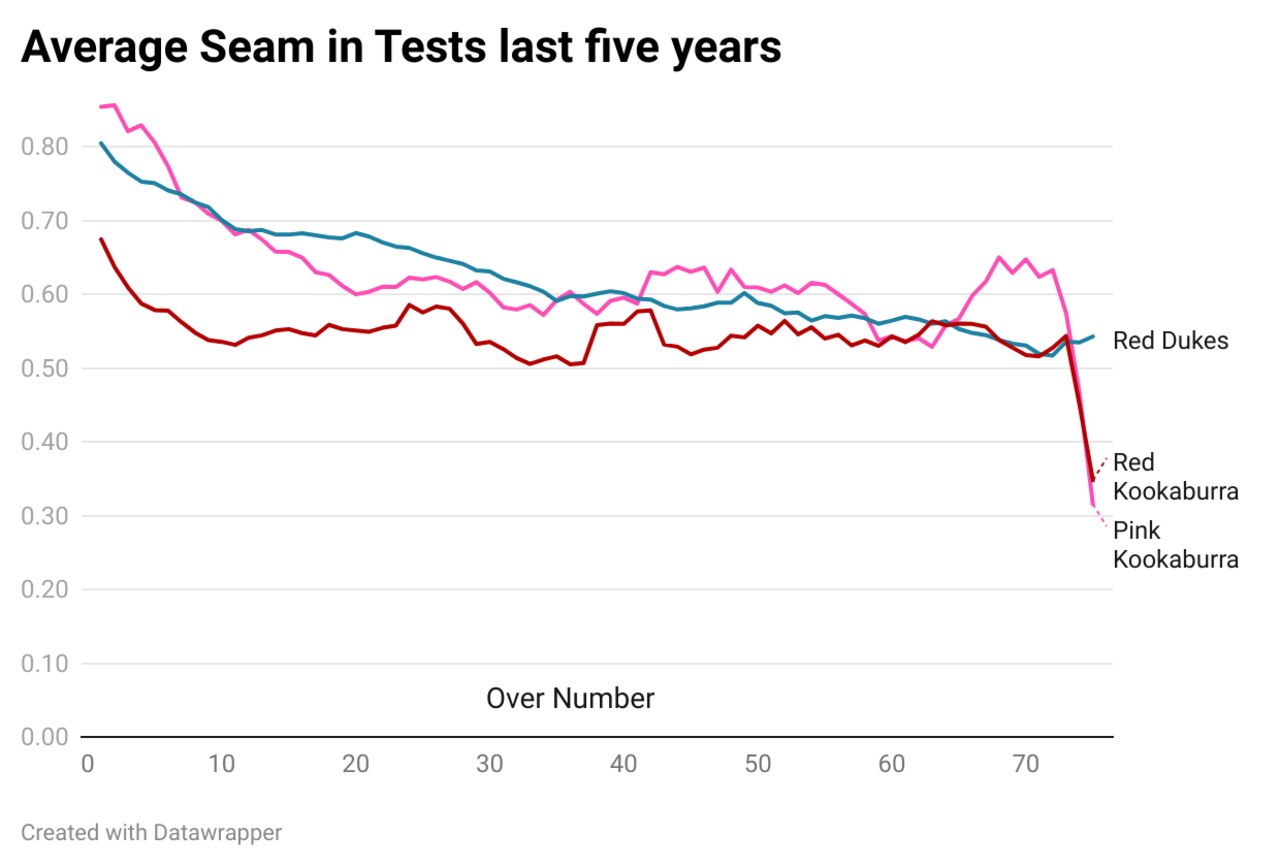 Full-length seems to be the key for Starc. Picture: CricViz
For Starc, there doesn't seem to be a strong relationship between the time of day and his effectiveness. The idea that batting under lights – particularly when they haven't fully taken over from the sun – is trickier than batting in the day has been much discussed, but for Starc, his bowling average remains pretty constant throughout the match.
However, if you dig a little deeper, and look at some more detailed figures, there's a bit more meat on the bones. Bowling to top order batsmen (No.1-7) only, Starc averages 25 in the afternoon session, then 19 and 18 in the evening and night respectively. The pattern doesn't hold for all bowlers, but for Starc the later sessions bring increased rewards. We saw in 2016 the early signs of a new tactical dimension to day-night cricket, with Faf du Plessis declaring nine down in order to get Australia in under the lights, and while that has not followed as a pattern for all teams – or all players – England will rightly be keen to avoid facing Starc after sundown.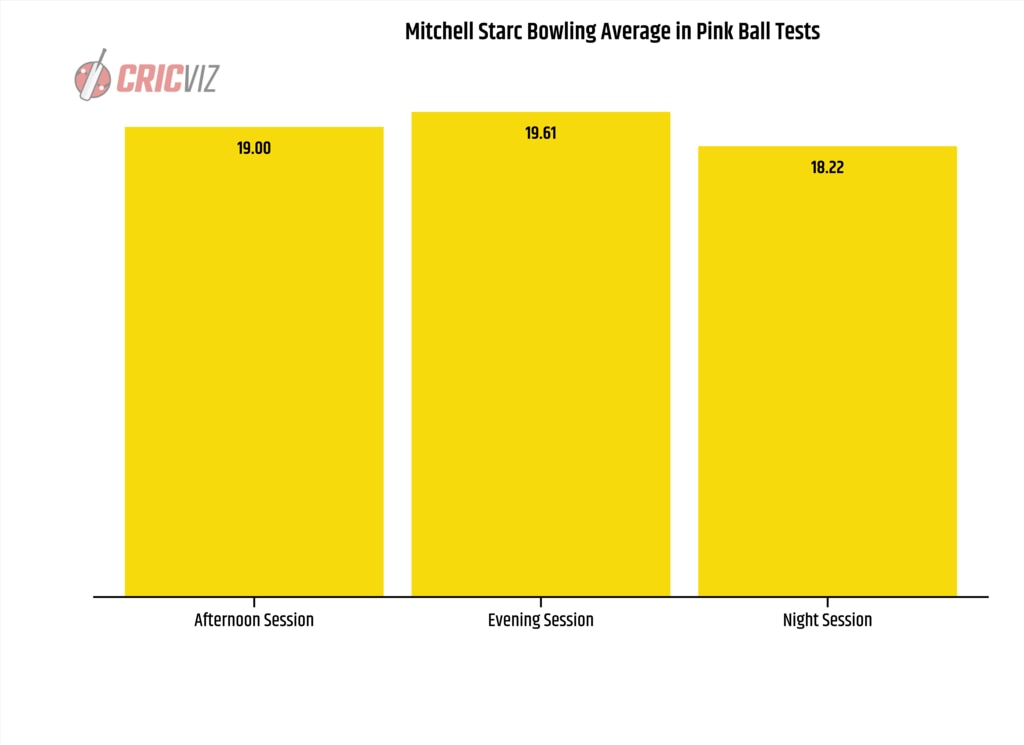 Starc's best strike rate comes in the evening session. Picture: CricViz
Away from the battles to come in Adelaide this week, Starc is at an interesting juncture in his career. He is 31 years-old, and while he has a good record with injuries – unlike James Pattinson, who recently retired from Test cricket at the same age – much of his threat is built around his physical attributes. He is among the very fastest bowlers in the world, a crown that very few men wear for a huge stretch of time.
The arrival of Cameron Green into the Test XI could extend his career by allowing his workload to be managed more delicately, or it could see him shunted aside for an extra spinner in all but the most 'Australian' conditions. His Test form last summer was a concern, and his white ball form has fallen off a cliff, with 2021 an unequivocal career low in T20 cricket. This was a man who bowled rockets and swung it from coast to coast – of late, it's simply not been the case. At the risk of spilling over into the sort of vibe-based analysis we try to steer clear of, Starc has lost his aura.
And so, this Test comes at the perfect time. Dominate another Adelaide night under the lights, send Australia into an all but unassailable 2-0 lead, and Starc can ride the summer out on his own terms. In the shadow of a victory and a good personal performance, Starc getting a rest becomes an unquestioned move. In the shadow of a defeat, or another profligate old ball effort, and it becomes a "rest", an innuendo.
For Starc, this week is a huge opportunity to get back to his best, to step out of the darkness – and into the floodlights.