Ashes 2021-22: Analysis from Day 2 of the Boxing Day Test at the MCG
Mitchell Starc and Scott Boland have each taken two wickets in an over to leave England reeling at the end of Day 2 . LACHLAN McKIRDY analyses all the key storylines and statistics from the third Test.
STUMPS: England 185 and 4-31 (Root 12*, Hameed 7, Boland 2-1, Starc 2-11) after 12 overs trail Australia 267 (Harris 76, Anderson 4-33) by 51 runs
*****
Historic England low: It is the second time this series that England have been four down for not many after they were 4-29 in the first innings at the Gabba. But more concerningly, it highlights just how poor England have batted as a group this series and you have to go back to the 19th century to find a touring England team that has performed as poorly.
England's average runs per wicket this series is now 20.14 after their MCG collapse. The 1887-88 England side is the last team to perform that badly in Australia. England's 20.14 average is the fifth-lowest for an English touring side in Australia but this year's team has faced two more innings than any of the others in the Top 5.
1. England 1887/88 - Average 12.50 runs per wicket (Two innings)
2. England 1886/87 - Average 13.35 runs per wicket (Four innings)
3. England 1878/79 - Average 13.65 runs per wicket (Two innings)
4. England 1876/77 - Average 19.08 runs per wicket (Four innings)
5. England 2021/22 - Average 20.14 runs per wicket (Six innings)
*****
Boland's brilliance: Scott Boland has followed Mitchell Starc's lead by taking two wickets in his first over of the second innings to leave England on the ropes late on Day 2. England finished the day at 4-31 while Boland finished with figures of 2-1 for the day.
Boland slashed his Test bowling average from 48 after the first innings 16.33 thanks to his brutal over and was given a standing ovation by the Bay 13 crowd.
*****
Starc on fire: Mitchell Starc has ripped through England's top order after taking the wickets of Zak Crawley and Dawid Malan in consecutive deliveries. Starc obviously loves bowling in Australia but beyond the pink ball, some of his best results have come in the second innings in Melbourne.
Starc averages 18.85 in either the third or fourth innings at the MCG, those numbers helped considerably by the 4-36 he took against Pakistan in 2016.
For England, the disappointing records keep stacking up. Malan becomes the 20th Englishman to score a duck in Test cricket in 2021 after he was dismissed first ball. That takes England's tally of ducks for the year to 51, just three behind the record they set in 1998.
While England's average opening partnership for the series now sits at 7.5 with there being only one occasion they have put on more than seven runs.
*****
What lies ahead: There's no doubt that recent history shows batting last at the MCG can be fraught with danger which is why Australia will be keen to restrict England to as low a total as possible before the fourth innings.
Since 2000, only five teams have scored over 200 in the fourth innings at the MCG - only one of them went on to win (Australia 2-231 v England in 2013). When a team has required more than 110 runs to win in the fourth innings in that time, only on three occasions have they gone on to victory (out of 12 attempts).
The highest successful chase in the fourth innings at the MCG was back in 1928 when England posted 7-332. The average successful fourth innings chase at the MCG is only 143.
*****
England's danger hour: After bowling Australia out for 267, England face 16 overs on the afternoon of Day 2 against a fired up Australian attack. With a lead of 82 runs, the hosts are certainly in the box seat in the Test match and results in the last two matches suggests England will have a lot of work to do to get a result in this match.
In the first 16 overs of each of England's innings this series, they have lost a combined ten wickets including four in the first innings at the Gabba.
England's top order suffered another early collapse at the hands of Mitchell Starc late on Day 2. Picture: Quinn Rooney/Getty Images
*****
Australia's tail wags again: In a trend that has unfolded across the series, Australia has been able to rely on their tail to get more runs than England's bowlers so far this series.
Across the first two Tests, Australia's tail (positions 8-11) averaged 23.4 with the bat as opposed to England's 12.45. However, thanks to England's last stand in the final innings in Adelaide, England's tail had faced almost double the amount of balls heading into Melbourne than their Aussie counterparts (377 to 211).
Since the start of 2019, Mitchell Starc has shown a lot of grit and determination with the bat. He averages 34.18 with the bat and has been not out eight times in 19 innings. In the same period, Pat Cummins only averages 11.33. It could be time for a re-think to Australia's batting order if Starc continues this form.
*****
Leach finally strikes: Jack Leach has taken a crucial breakthrough after getting Cameron Green out LBW just before the second new ball. It exposes Australia's tail with England hoping to limit the hosts' lead.
It is the first time Green has been dismissed by a left-handed bowler in Test cricket. It is also just Leach's second wicket this Ashes series after he went at 7.84 runs an over at the Gabba.
*****
TEA: Australia 6-200 (Harris 75, Warner 38, Anderson 3-24) after 71 overs lead England by 15 runs
Relentless Anderson: Jimmy Anderson has bowled brilliantly on Day 2 and has single-handedly kept England in the Test match with the wickets of Steve Smith and Marcus Harris. Anderson has stuck to his line and length all day and has troubled Australia's batters consistently with his ability to get the slightest bit of movement.
In an 11 over stretch on Day 2, Anderson had figures of 2-3 including 63 dot balls out of a possible 66.
In away Tests in 2021, Anderson currently holds a bowling average of 13.10 after taking 20 wickets across six matches. He also has a brilliant record at the MCG, averaging 21.21 at the venue since 2010. He prefers bowling early in Melbourne, averaging 13.92 in the opposition's first innings at the MCG as opposed to 70+ in the second.
*****
Head's early struggles: After getting another start, Travis Head has fallen for 27 after being caught in the cordon by Joe Root. It's been a promising series for Head but his dismissal at the MCG highlights a problem that has been associated with his batting for some time.
In his 35 Test innings, it is the 18th time that Head has been out between 10 and 40 (51.4 per cent). In comparison, Marnus Labuschagne, who debuted in the same Test as Head, has only been dismissed eight times in 36 innings between 10 and 40 (22.2 per cent).
It's likely Head is set to finally be given an extended run in the Australian team and converting these starts into big scores will be the next big step in his Test career.
*****
Harris at home: Marcus Harris has brought up his first Test half-century since January 2019 in a wonderful, patient knock in the Boxing Day Test. Harris' struggles have been well-documented, especially against England, but his temperament at the MCG has been impressive.
It is just Harris' third half-century in Test cricket after hitting 70 and 79 in his first series against India in 2018-19. His career average sat at 22.19 going into Boxing Day and will receive a timely boost after his innings against England.
After moving to Victoria from Western Australia, the MCG has become Harris' home ground and his record at the venue suggests as much. Of Test match venues in Australia, Harris' best first-class average is 41.42 at the MCG with Bellerive Oval (36.40) the only other ground where he averages 35+ in first-class cricket.
*****
LUNCH: Australia 4-129 (Harris 48*, Warner 38, Anderson 2-22) after 42 overs trail England by 54 runs
*****
Scratchy Smith fails to capitalise: Steve Smith never quite looked comfortable at the crease during his 31-ball stay before he chopped on to his own stumps off Jimmy Anderson.
Traditionally, the MCG has been a batting paradise for Smith. He has scored more runs in Melbourne (932) than any other ground in Test cricket and it's also the only venue where he has four Test centuries. With an average of nearly 85, his 16 on Day 2 is well below par.
Since the 2019 Ashes, Smith has either made a score of 80+ or been out for less than 16 in first innings efforts against England, there is no in-between and he fell on the wrong side of that pendulum on Monday.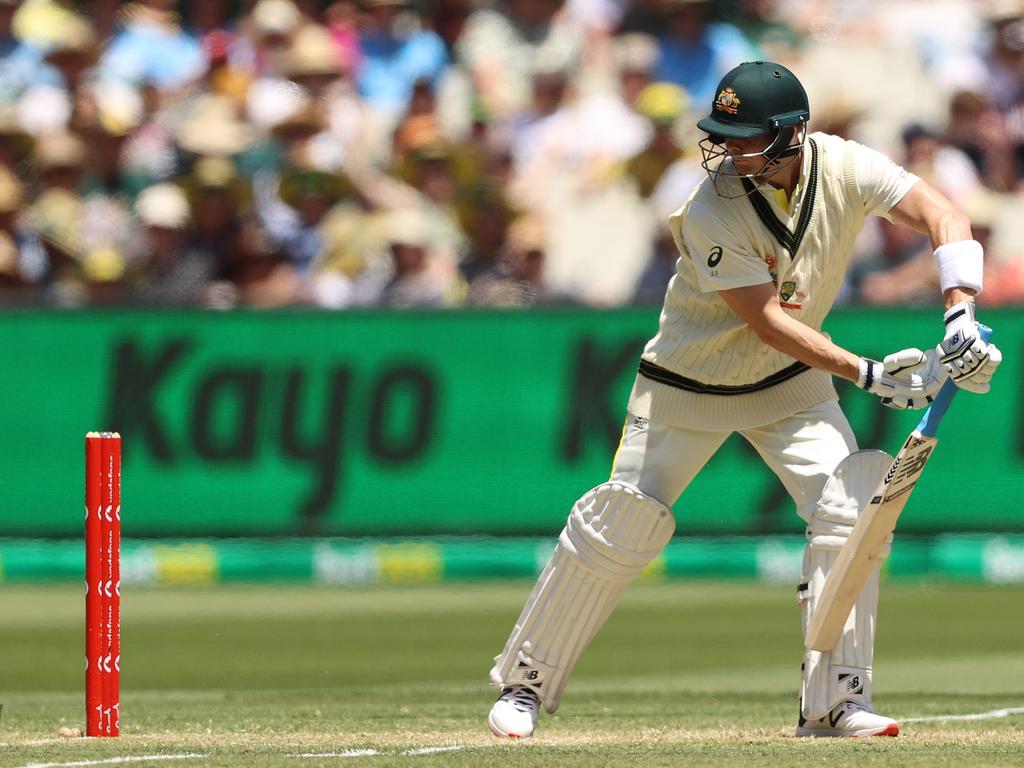 Smith never got going on Day 2 of the Boxing Day Test. Picture: Robert Cianflone/Getty Images
*****
Wood dominates away from home: England quick Mark Wood has continued to look the most dangerous of the tourists' bowlers on Day 2 at the MCG as he troubled the Australian batters with his pace and took the big wicket of Marnus Labuschagne for just 1.
Wood has a phenomenal record away from home in his limited Test career. In eight matches away from England, Wood has now taken 27 wickets at an average of 23.55. His average in Australia sits at 28 after four wickets this series. Ollie Robinson has a similar positive record in Australia through the first three Tests with eight wickets at 26.12.
For context, their averages are quite an improvement on experienced veterans Jimmy Anderson (34.59) and Stuart Broad (37.88).
*****
Tough at the top: Marnus Labuschagne's first innings as the world's No. 1 ranked Test batter was brought to an early end by Mark Wood. The extra pace and bounce from Wood drew a rare false shot from Labuschagne, who was caught in the slips by Joe Root for 1.
In his last seven completed Test innings, Labuschagne has reached 50 on six occasions. He has scored 74, 103 and 51 in three completed innings against England in this Ashes series, and boasts a 2021 Test record of 525 runs at 75 from four Tests, including two centuries and four 50s.
Labuschagne's record was even more phenomenal in the first innings of Test matches where he averaged 83 heading into Boxing Day. Since the 2019 Ashes in England, Labuschagne's previous lowest score in Australia's first innings was 47 and it's only the fifth time he has been out for a score less than 10.
*****
Lyon's record run: After an exciting start to the morning, Nathan Lyon's dismissal has continued his run in Test cricket of never making 50. Australia's nightwatchman fell for 10 after edging one behind to Jos Buttler off Ollie Robinson.
The Australian spinner holds the record for the most runs in Test cricket without a half-century. After this innings, Lyon extended his total to 1,126 runs in his career without passing 50. Behind him on that list are Kemar Roach (1,042) and Waqar Younis (1,010).
*****
STUMPS: Australia 1-61 (Warner 38, Harris 20*, Anderson 1-14) after 16 overs trail England 185 (Root 50, Cummins 3-36) by 124 runs
*****
Root or bust: Talk is rife that Joe Root's captaincy is on the line, but England appear to have far greater issues to deal with. Consider the batting unit he has to play with. Root's 1680 runs at 62.22 in 2021 is triple that of England's next best contributor, the recently dropped Rory Burns with 530 at 27.89. Indeed, of all England's recognised batters, only Dawid Malan (308 at 38.50) has managed a Test batting average above 30 this year.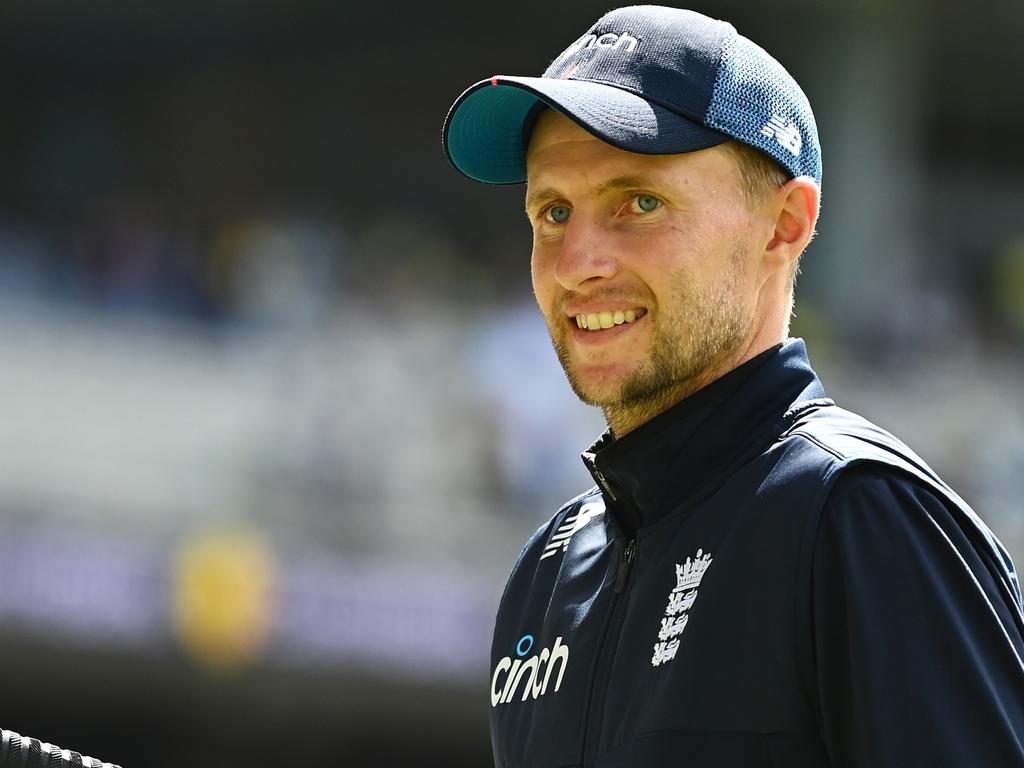 Joe Root's performances with the bat have been one the saving grace for England in a long year. Picture: Quinn Rooney/Getty Images
*****
England's Covid dramas: For England, 2021 is ending as it began – entangled in the complex matter of a positive Covid-19 case while abroad. It was in the first week of January that Moeen Ali tested positive, and Chris Woakes was deemed a close contact, upon England's arrival in Sri Lanka. Coronavirus-related issues continued throughout the year for England and reached a nadir in September when India withdrew from the fifth and final Test at Old Trafford after an outbreak within the touring party. Play on Day 2 of the Boxing Day Test was delayed until 11am after a family member of the England squad tested positive, forcing the touring party to undergo rapid antigen tests before being permitted to leave for the MCG.