CricViz: Australia's Ashes quicks have produced performance unprecedented in ball-tracking era
The pace and accuracy of Australia's Ashes attack is unlike anything analysts have ever seen, writes CricViz's BEN JONES. Here are the extraordinary numbers.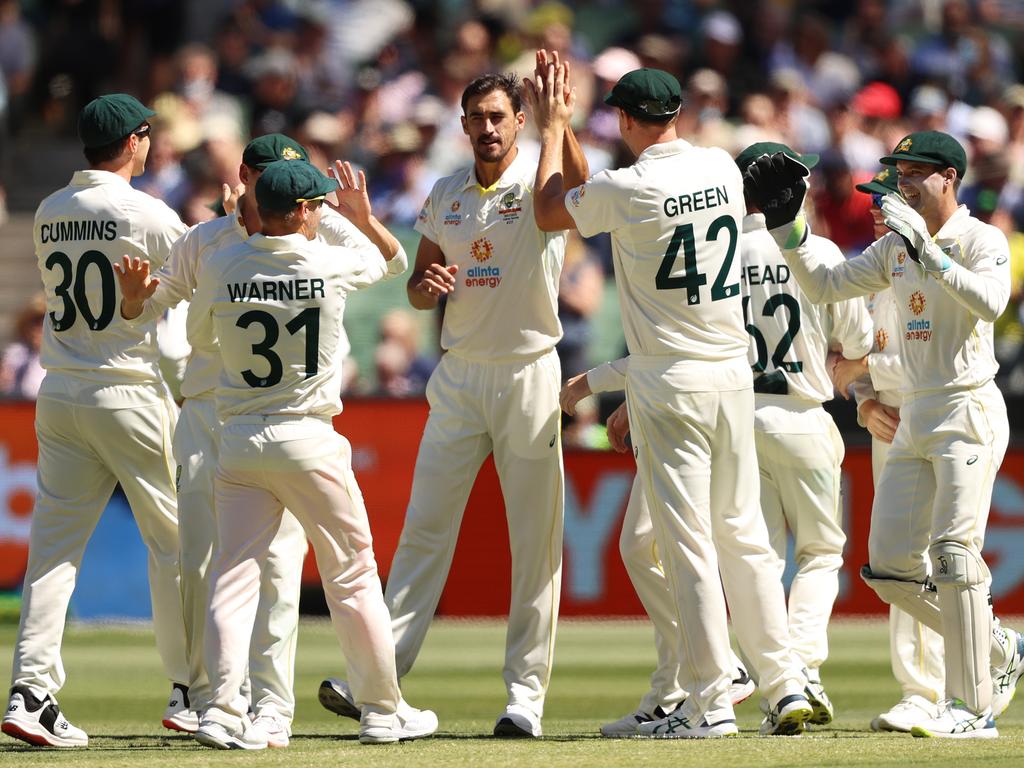 Mitchell Starc celebrates with Cameron Green and his Australian teammates after taking the wicket of Ben Stokes at the MCG. Picture: Robert Cianflone/Getty Images
They say that good things come to those who wait. Well, Pat Cummins might disagree.
Less than a month after inheriting the Australian Test captaincy from Tim Paine, Cummins has retained the Ashes, following three emphatic victories over a hapless England side. The destination of the urn took just 11 days (plus a rather lively 80 minutes on Tuesday) to be decided, among the shortest periods of active play in the history of this storied rivalry.
The batsmen have had plenty to do with that charge to the finish line. While Steve Smith has had a quiet series, Marnus Labuschagne, David Warner, and Travis Head have all averaged north of 50. Indeed, Head's rapid century at Brisbane took a Test that was almost in the balance well into Australian control, and Cummins' side have barely looked back since.
However, it's not been the batting that's caught the eye for the hosts: Australia's bowling in the three Tests so far has been outstanding. A blend of high pace quicks, accurate seamers, as well as Nathan Lyon back to somewhere near his best has ensured that the pressure has been on England's faltering batting order quite literally from the first ball of the series.
While Lyon has undoubtedly improved from last year's woes against India, it's been the much-vaunted 'pace cartel' that has dominated across the summer. Of the seven seamers used so far - Cummins, Mitchell Starc, Josh Hazlewood, Scott Boland, Jhye Richardson, Cameron Green and Michael Neser - only the latter has averaged over 30 with the ball, and each has offered a clear, often unique skill to the attack. Little sums it up better than the exaggerated style of Starc producing huge swing and speed but very little accuracy, matched with the consistency of Cummins who, despite not swinging the ball, is just very strong at everything.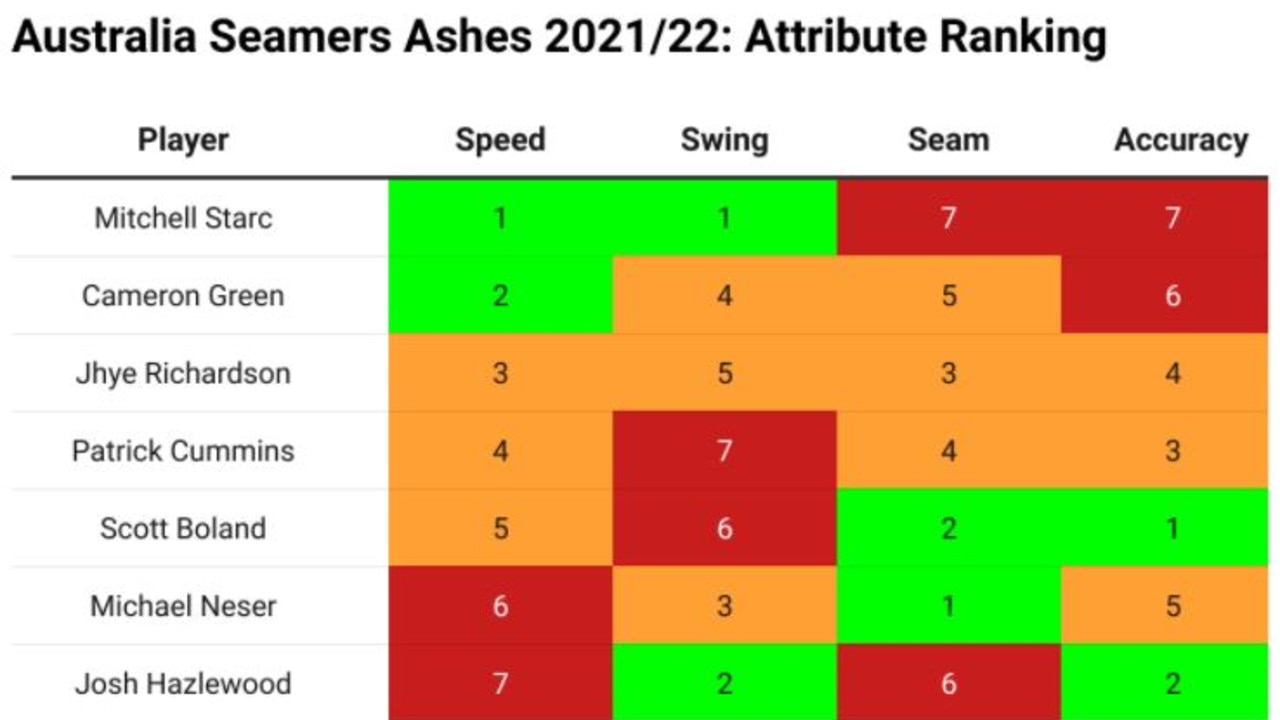 Australian Seamers Ashes 2021/22: Attribute Ranking
The overall effect of this is that the Australians have managed to combine two of the most fundamental elements for threatening bowling in Test cricket - speed and accuracy - to a degree unprecedented in the current era. Since ball-tracking records began in 2006, no pace attack in Test cricket has managed to match the combination of speed and accuracy that Australia have managed in this series.
Pace attacks in Test series since 2006 (min 3 matches)
Unsurprisingly, bowling of that pace matched with that level of relentlessly hitting a good line and length, has produced an exceptionally high level of threat. By CricViz's Expected Averages measure, the deliveries Australia have bowled this series would (had they been bowled to a typical Test batsman) have averaged 23.5 - that's the lowest Expected Average for any team in a Test series (of three matches or more) since 2006, when records began.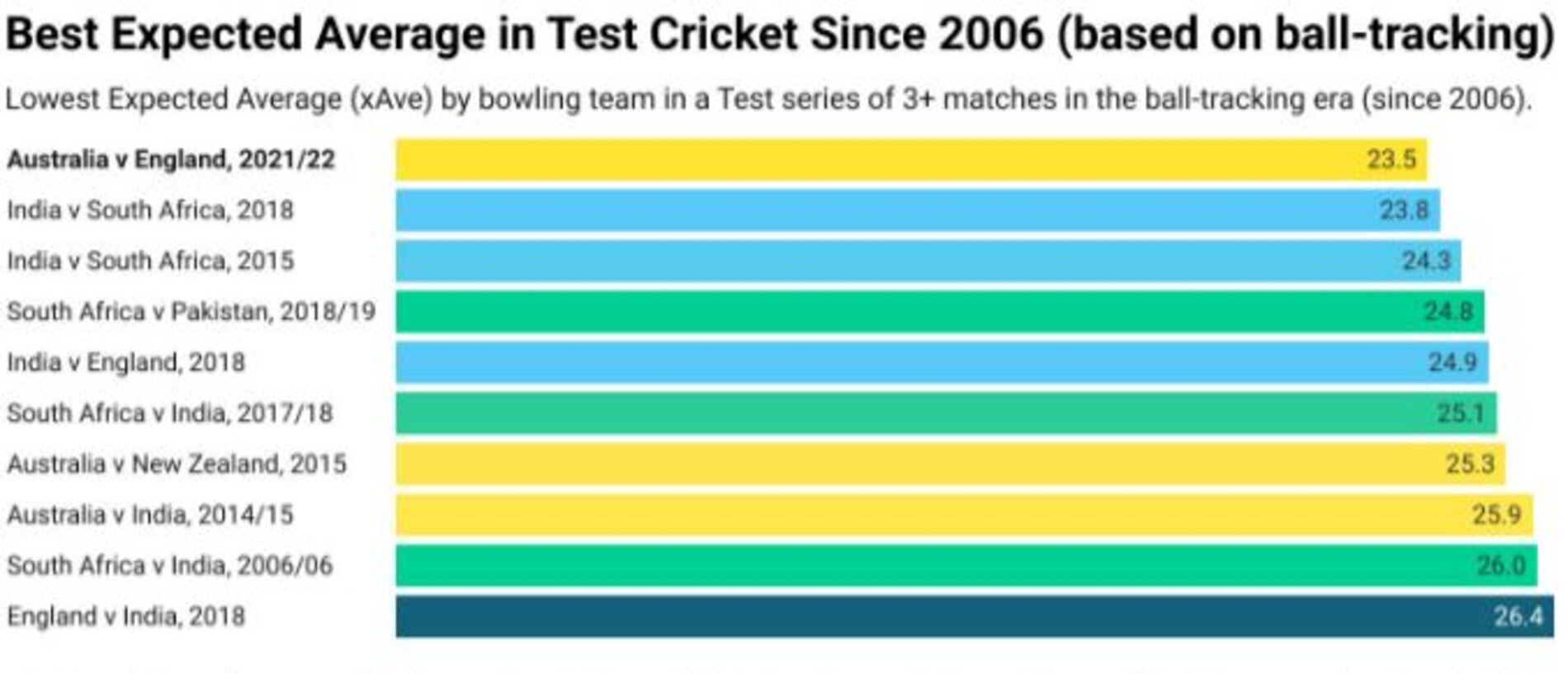 Best expected average in Test cricket since 2006
The model is built on historical ball-tracking data, going back to 2006, assessing a huge range of features on every delivery, including the simple facts of line, length, and speed, to more granular details like swing and seam movement, dip, bounce, release point and plenty more. What the model aims to do is to divorce the quality of the batting, from the bowling; for coaches and pundits, being able to distinguish between a 'good' 2-60 and a 'bad' 3-40 is valuable.
Last summer, much was made of Australia's refusal to rotate their seamers, particularly given their devotion to the strategy during their previous most high profile series, the 2019 Ashes. Instead of the ever-changing combination of quicks that took Australia to an urn-retaining draw, India were met with the first choice attack in every match, but one which wearied badly across the summer, and which became ever less threatening as the final day drew closer. This summer, it's been the opposite, with Starc the only specialist seamer to play all three of the Tests, ably supported by Green. Cummins' absence from Adelaide may not have been planned, but the effect was much the same as the blend of planned rotation and 'horses for courses' selections - everyone has been fresh when they've played.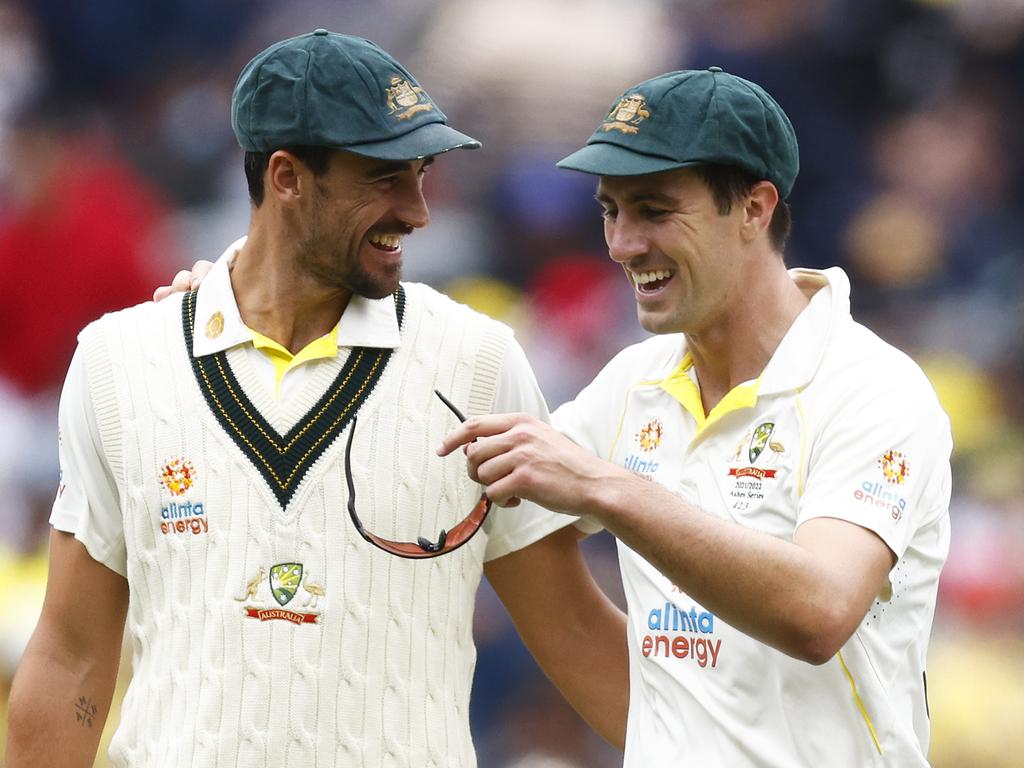 Pat Cummins and Mitchell Starc have been consistent through the Ashes series so far, leaving the touring batsmen little room for error. Picture: Daniel Pockett - CA/Getty Images
Of course, it's important not to stray too far from the more sobering context available in the opposition's ranks; England's ineptitude with the bat on this tour does affect Australia's ability to keep their Expected Average nice and low, in a number of ways. For one, England have rarely batted long enough to force the seamers deeper into third, fourth, fifth spells, has meant that the deliveries bowled have been bowled by fresher, livelier seamers - and while that doesn't guarantee that the quality is going to be higher, it sure helps.
Similarly, the relative lack of quality in England's batting order has meant Australia have rarely been hit off their length, or out of rhythm. The tourists' attacking shot percentage this series, 17%, is the lowest they have recorded in a Test series since Andrew Strauss' side were beaten in the UAE in early 2012, and the lowest for a visiting team in Australia since records began in 2006. Only one touring team (Pakistan in 2016/17) has seen a lower proportion of their dismissals come with attacking shots - England are not getting out to 'loose shots', because they aren't playing with attacking intent. Similarly, there's a long-term trend that England struggle to get forward to Australia's seamers. The average interception points of England's dismissals on the last two Ashes tours are later, deeper in the crease than any other visitors to Australia since records began; in and of itself not necessarily a bad thing, as playing late can be good, but it adds to the image of England as extremely passive.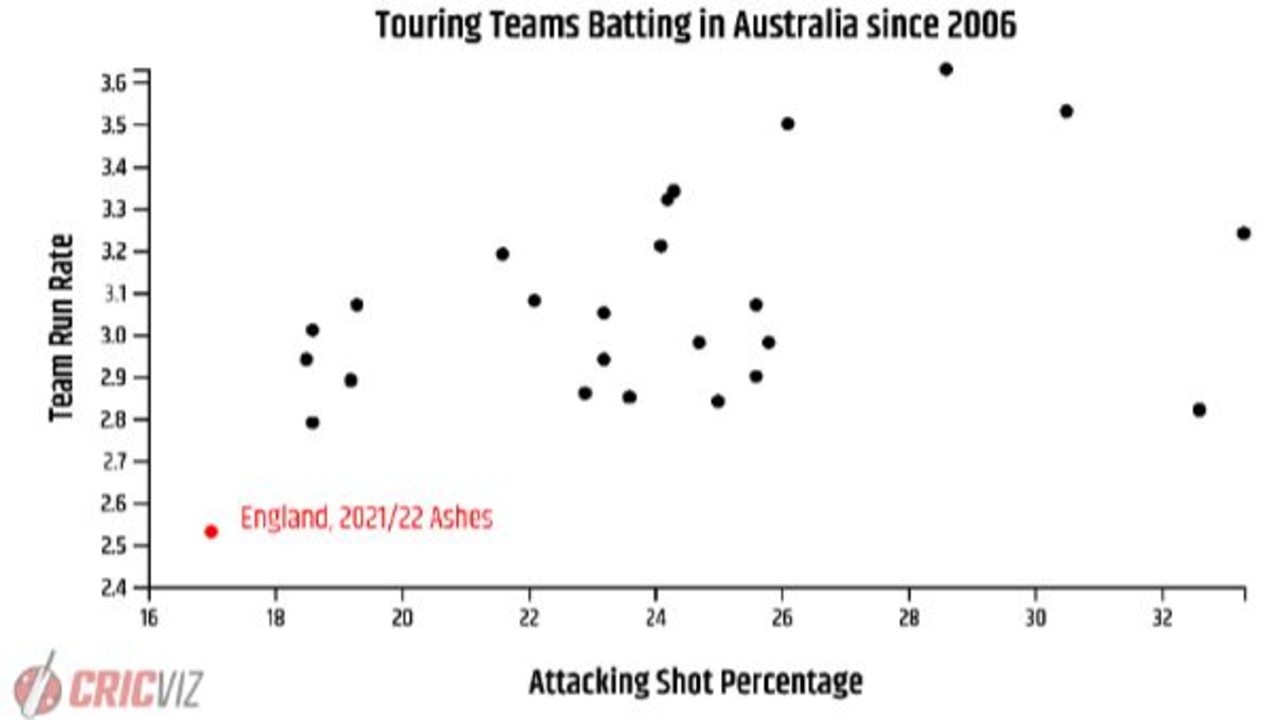 Touring teams batting in Australian since 2006
Had they been more aggressive, more assertive in their strokeplay, you wouldn't necessarily assume England would make larger totals, but it's reasonable to suggest Australia might have bowled slightly less consistently, varying their plans a touch more. As it was, England sat and waited, for one of the best attacks in the world to gun them down.
But let's not focus on the negatives, for this has been a truly outstanding few weeks for Australian fast bowling. The No. 1 bowler in the world, supported by a varied and talented group - it's a lethal combination. Australia's 2022 will be defined by their performances in Asia, where their seamers may find slightly less natural assistance than in their hard and fast homeland.
Yet right now, the way they're going, you'd say they're ready for the challenge ahead of them.