Why Pat Cummins' gesture to Usman Khawaja was a big moment for Australian cricket
Usman Khawaja has spoken about the touching moment he was invited back into pride of place in the Ashes team photo by Pat Cummins.
Usman Khawaja has sent a text message of thanks to Pat Cummins for respecting his personal beliefs during a touching moment in Australia's Ashes celebrations.
As teammates started popping champagne bottles on the victory dais, Australia's first Muslim Test cricketer Usman Khawaja leapt from the stage to avoid being doused with alcohol, in keeping with his strong religious beliefs.
Cummins realised immediately what had happened and quickly prompted teammates to put down their bottles, then motioned Khawaja back to his side in the huddle to be part of the signature photograph moment with the Waterford crystal urn.
Khawaja told News Corp that while he has no problems at all with his teammates celebrating with alcohol, his actions were part of his long-standing belief not to personally promote alcohol in public.
"I sent Pat a text saying it was a very nice touch,'' Khawaja told News Corp.
"It wasn't just Pat it was all of the boys – Marnus and Davey were saying, 'Come in, Uzzie'. They were great.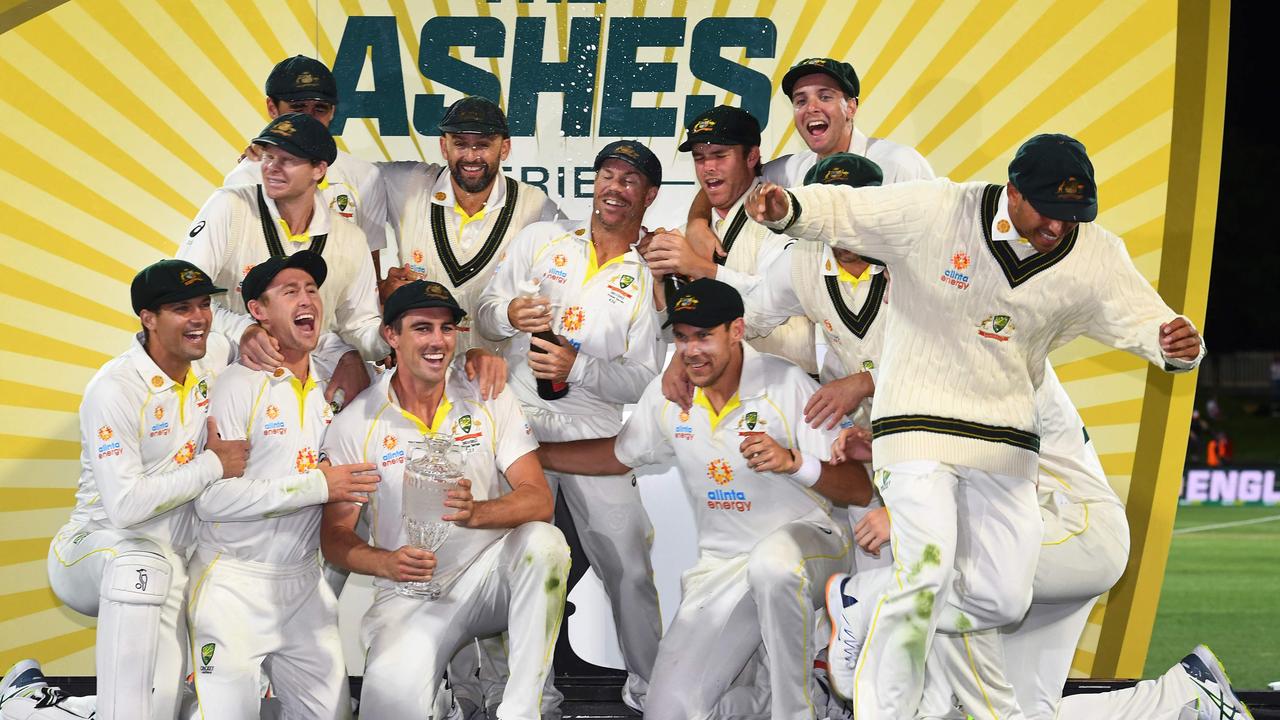 Usman Khawaja jumps off stage as the champagne bottles are popped after the fifth Test victory. Picture: William WEST/AFP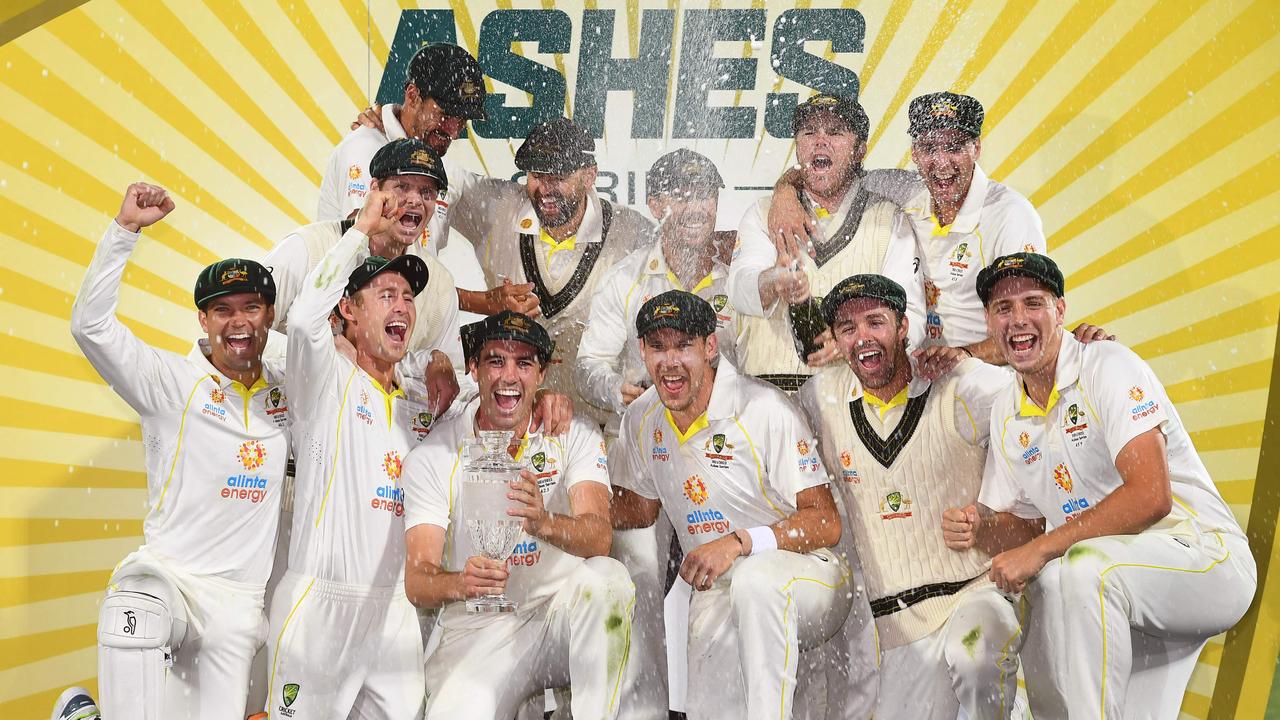 And the first team photos are taken without him. Picture: William WEST/AFP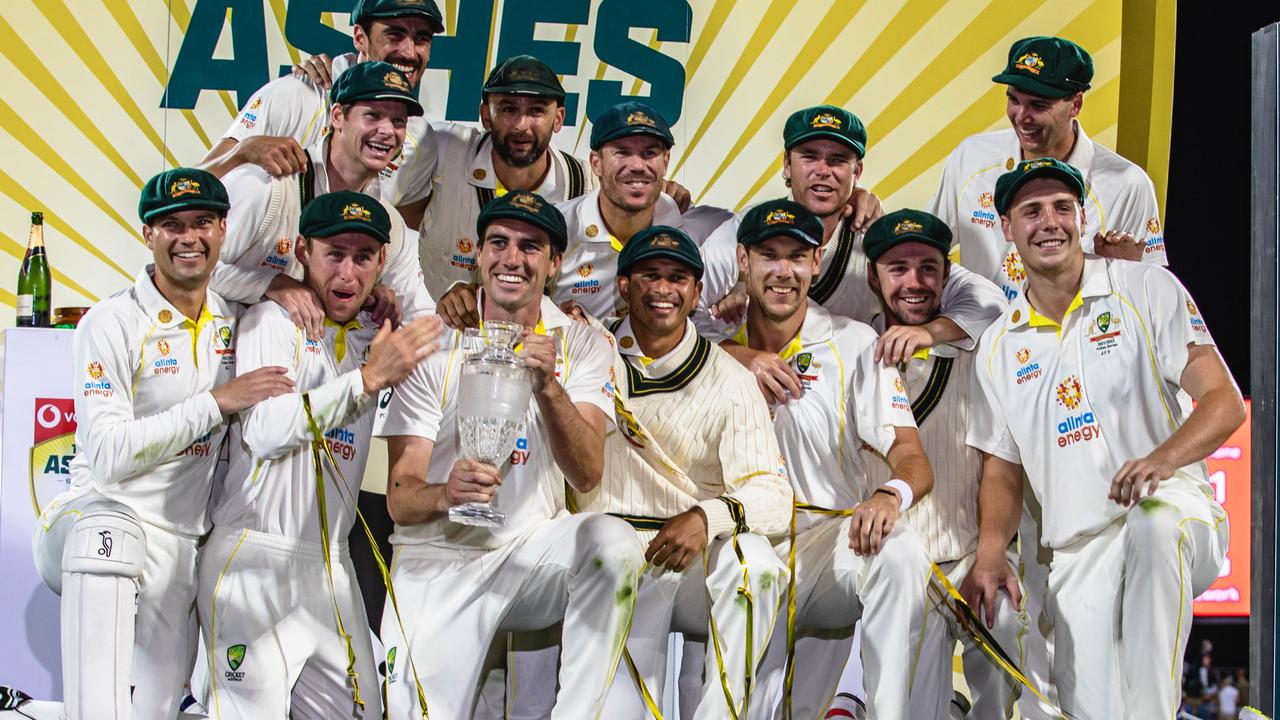 But it didn't take Pat Cummins long to change things. Picture: Linda Higginson
"I honestly have no issues with anyone celebrating with alcohol. It's fine. It's their right. It's done in the changerooms and I am all about people celebrating in their own way. It's just my private beliefs.
"I don't impose my belief on anyone and I know the boys would not impose theirs on me.
"But I don't believe in promoting alcohol as it doesn't line up with my values and beliefs. And I feel celebrating in public with alcohol is what that does.
"I have been sprayed (with champagne) many times in private. It doesn't worry me. It's not as if it burns my skin. It's just that in public I don't like supporting the promotion of alcohol.
"That's why I wasn't in a lot of the photos of the (celebrations on the) 2019 Ashes tour.''
"So for Pat and the other guys to put it aside and actually let me participate when they didn't have to meant a lot.''
Cummins explained after play why it was important to include Khawaja in the powerful Ashes moment.
"Usman's obviously Muslim so doesn't like the champagne being thrown," he said.
"We've got a really diverse bunch of people and you want to celebrate that and make sure everyone feels comfortable being themselves.
"That was just one moment and the boys are fantastic in that space. They're always looking after each other. It's a really tight knit group and I think one of the reasons is there is a lot of respect and love for each other. We had to make sure our teammate was in the photo with us."
WATCH THE MOMENT IN THE PLAYER ABOVE
For Cummins it was obvious what needed to be done, but for Australia's Muslim community, the leadership shown by the captain was being lauded as a poignant moment for cricket in this country.
"Every Muslim notices that stuff," said Rana Hussain, Cricket Australia's Diversity and Inclusion manager.
"At the end of big games you watch the Muslim players, 'what are they going to do, how do they feel,' and you relate so hard.
"I did clock Usman running off and thought, 'Oh, God, OK."
"And then I saw that they put the bottles away and Pat called him over and was quite incessant about it.
"I actually had a big smile on my face because I thought, 'OK, this is perfect.'
"There's a time when the sentiment would have been, 'all right, well you don't want to, you've got to miss out.'
"And Pat clocked it – that in itself was amazing, and then to take action on it then and go, 'no, no, no, you're part of the team, you're going to be part of this moment,' is all you really want to see.
"As a Muslim myself, it made me smile."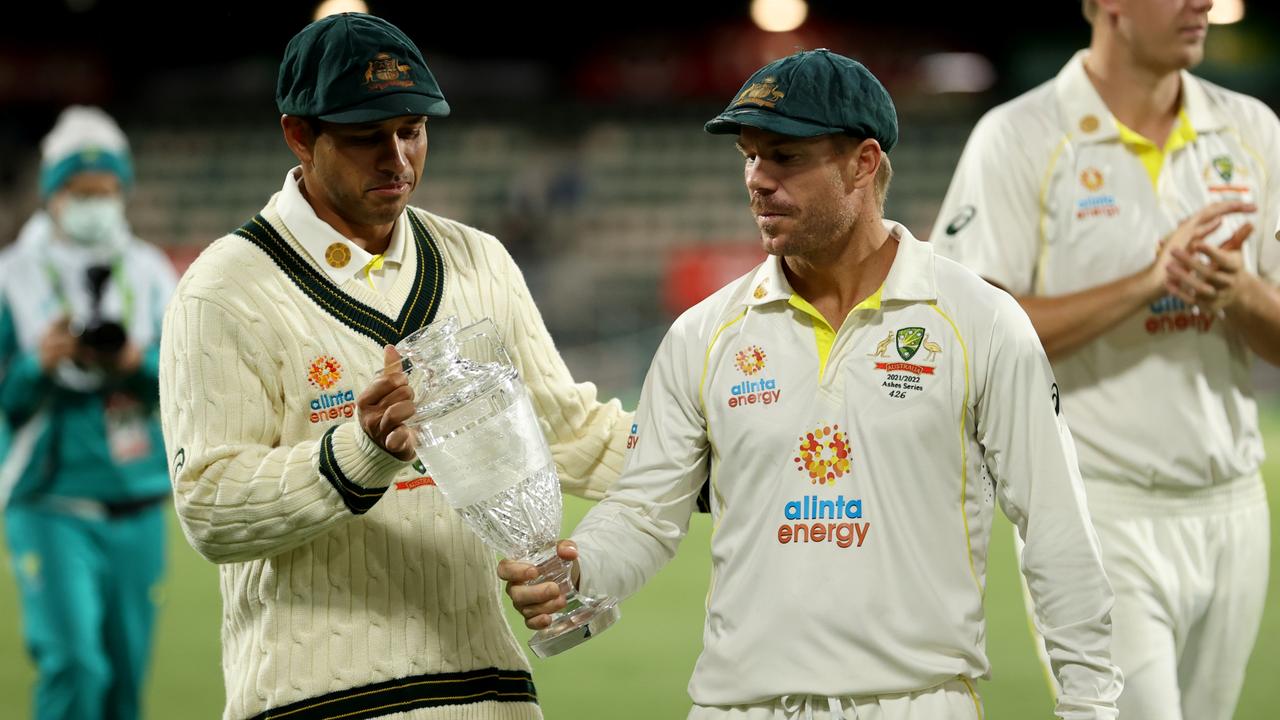 Khawaja and David Warner take in the moment on Sunday night. Picture: Robert Cianflone/Getty Images
Fox Cricket expert, and England's first ever Asian cricketer, Isa Guha praised Cummins, while leading journalist Bharat Sundaresan also gave credit to Khawaja for his selflessness in letting teammates celebrate in the manner they wanted to.
Khawaja has spoken extensively in the past about how he struggled as a young Muslim cricketer trying to fit in with the beer drinking culture of Australian cricket dressing rooms.
To the point where as a junior cricketer, Khawaja has admitted to lying to teammates about his Pakistani heritage in a bid to fit in.
The 35-year-old is a role model for young subcontinental cricketers and is actively involved with Cricket Australia and the Australian Cricketers' Association in pushing for the game to become more inclusive and diverse.
Hussain said the warmth shown towards Cummins and Khawaja on social media in response to the viral video has been heartwarming.
"The way it's been picked up in such a positive way is also testament to progress and that the world is changing," she said.
"Growing up, you would hide that part of yourself. You'd feel uncomfortable to say, 'actually I don't drink. I'm not going to do the pub after a game.'
"To have that happen on the world stage and to be picked up and then the nation has a conversation about it – and it's a positive conversation – that's everything."
Ashes honour announces Head as Test cricket's next big thing
Travis Head has announced himself as Test cricket's newest superstar after collecting man-of-the-match and man-of-the-series Ashes honours in Hobart.
In a batting shootout with Usman Khawaja right up until the first Test after being axed from the Australian side last summer, Head made the most of his recall to produce the defining performance of his career.
Head smashed incredible Ashes centuries in Brisbane and Hobart – either side of contracting Covid-19 and missing the Sydney Test – to signal he is the next big thing in international batting.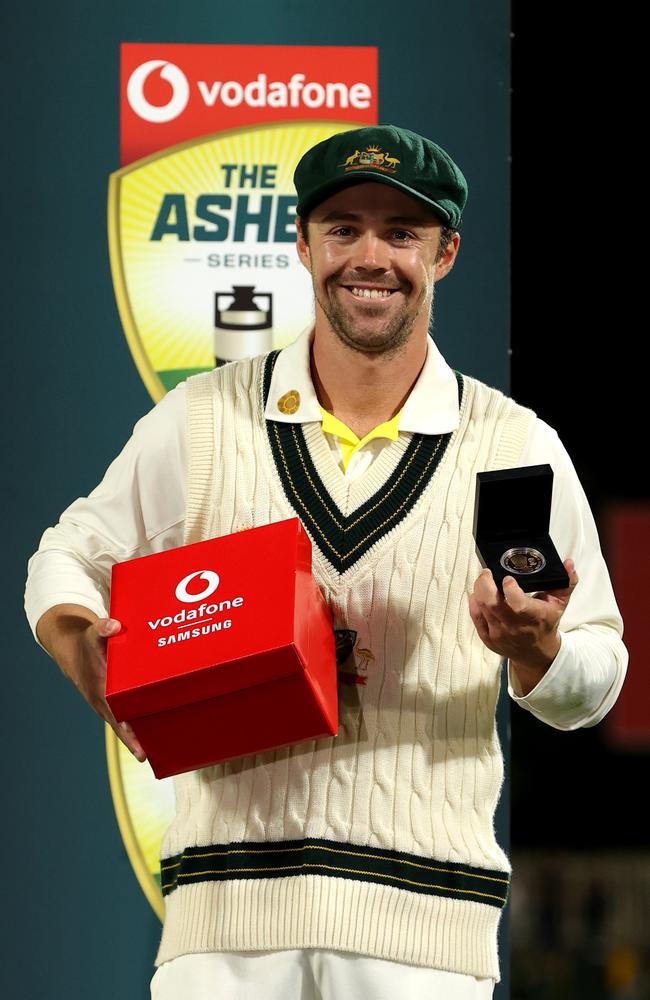 Travis Head with his Man of the Series spoils. Picture: Getty Images
The South Australian left-hander declared his 101 in Hobart as the best of the two hundreds – made in just 112 balls after coming to the crease with Australia in crisis at 3-12 on a raging green seamer.
"It was great to have an impact. I look at this one as probably better. The conditions, the situation we were in," said Head.
"To play a role in the win and the Test match was pretty special.
"I've worked on a lot of things the last couple of years and I didn't quite take the opportunities early in my career.
"After 19 Test matches I knew what the expectations were and I was so eager to get back and have another opportunity."
Travis Head dug the Aussies out of a hole in Hobart. Picture: AFP
The coin showed HEADS but it could have easily shown tailenders.
The coin-shaped Compton-Miller Medal land for man of the series was an even-money bet between a host of Australian stars.
Buzz boy Scott Boland, skipper Pat Cummins and long-time sidekick Mitchell Starc have all produced super summers.
Host broadcaster Fox Cricket votes Brownlow Medal-style 3-2-1 on every Test, with Head, Marnus Labuschagne, Boland and Usman Khawaja surely pocketing maximum votes in the first four Tests.
Mind you, Starc should get the two in Adelaide and Melbourne … and can count himself unlucky to be pipped by a plucky Marnus – who received multiple lives en route to a maiden Ashes ton – in that day-night Test.
Cummins (Covid close contact) missed that match at Adelaide Oval, and Starc made sure the Aussies didn't miss a beat. The left-armed stepped up with a display of leadership that was greatly appreciated by Test babies Jhye Richardson and Michael Neser.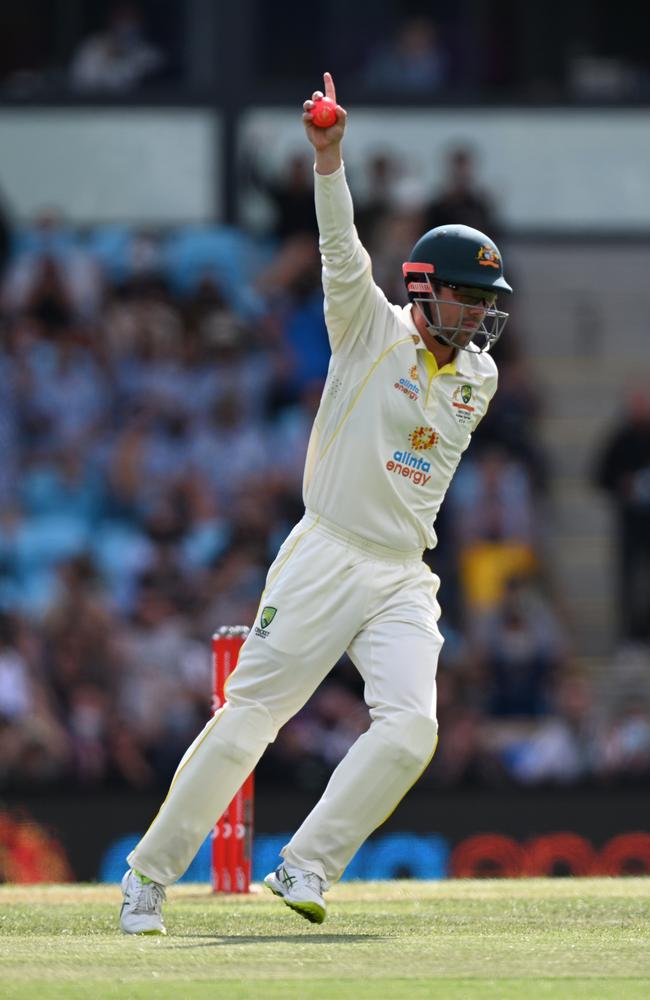 Head's faultless work under the lid was a feature of the Ashes. Picture: Getty Images
The votes could easily be; Brisbane – 3) Head, 2) Cummins, 1) David Warner. Adelaide – 3) Labuschagne, 2) Starc, 1) Warner. Melbourne – 3) Boland, 2) Starc, 1) Cummins.
Sydney – 3) Khawaja, 2) Boland, 1) Jonny Bairstow. And Hobart might sit at; 3) Head, 2) Cameron Green and 1) Mark Wood.
Starc started the summer under fire but stormed through as the only fast bowler to play all five Tests. Ten others rotated in and out without backing up time and time again across both countries.
Remarkably, Starc has leapfrogged Stokes at No.5 on the ICC list of Test all-rounders.
He averaged 38.8 runs – more than top-order anchors such as Joe Root, David Warner, Dawid Malan and Marcus Harris and Steve Smith.
Starc's unbeaten knocks of 34 (SCG), 24 (MCG) and 39 (Adelaide Oval) were all precious runs, with the Boxing Day Test innings steadying a ship that was suddenly being rocked by old man Jimmy Anderson.
Starc lost his run-up coming out of quarantine before the T20 World Cup, sweating through some hot days with senior assistant coach Andrew McDonald in a bid to recover it for the Ashes.
That he did.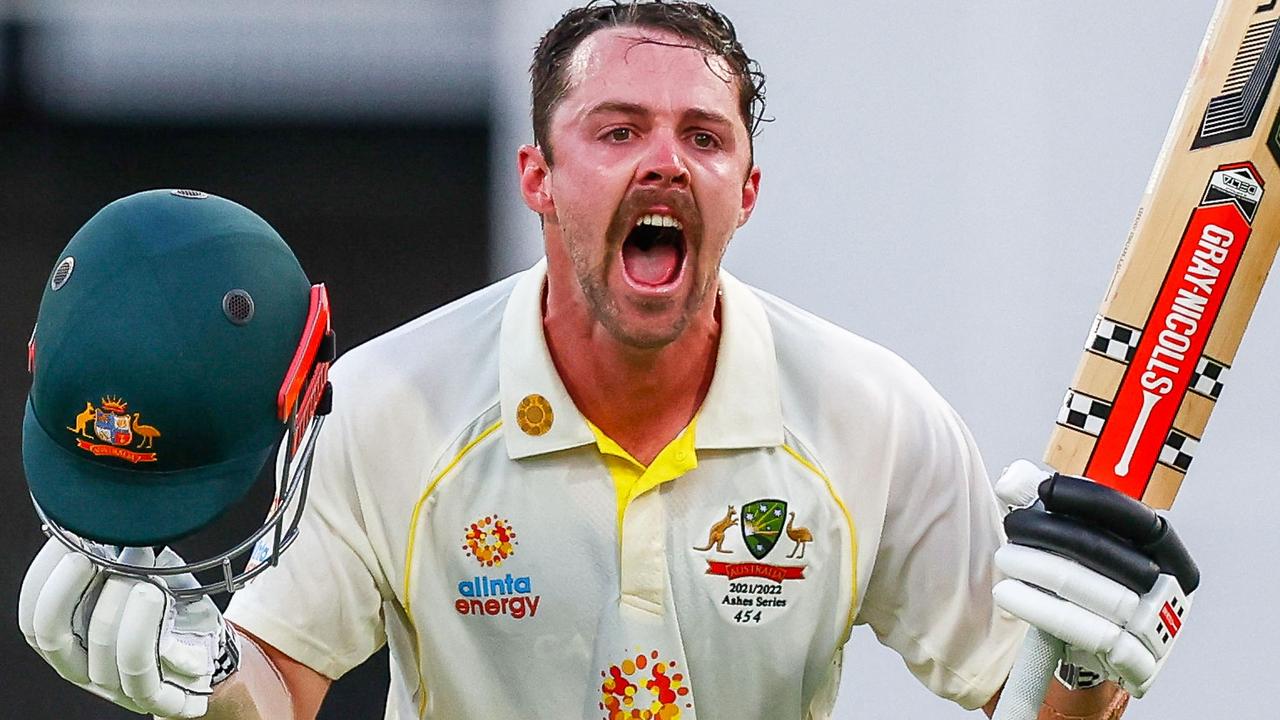 Travis Head celebrates his ton in the first Test. Picture: AFP
Then again, Shane Warne reckons it could have been Boland who could have paired the Johnny Mullagh Medal he won on debut as man of the match at the MCG with the Compton-Miller award in what would be a fairytale finish to a Cinderella summer, where he slipped into Josh Hazlewood's shoes with an unassuming calmness.
Boland banished England captain Joe Root from another failed tour of Australia without a century. It's quite simple; the Victorian who became Australia's oldest fast bowling debutant in 71 years can simply do no wrong.
Boland bowled England out so quickly at the MCG that his dad missed the action and he has since proved that his 6-7 was no fluke.
"For me he's just about the player of the series," Warne told Fox Cricket.
"He's been unplayable. He could be the leading wicket-taker bar a couple of catches going down, and to average six, seven, eight with the ball … geez, fantastic.
"It's happening three or four times an over he's beating the bat — and when they do nick it they're dropping it. I mean it's just unbelievable."
"I can't remember any bowler bowling like this, just continually beating the bat for three Test matches in a row."
But Head proved too tough to beat.
The coronavirus comeback king bookended his second Ashes series with sizzling centuries – a career-defining ton inside a session at the Gabba and a similarly destructive dash on a green Hobart pitch that, quite literally, batters were falling over on.
Head's double dose of fun matched Khawaja's twin tons at the SCG, with a lucky Labuschagne and a brave Bairstow the only other players to post three figures.
Head's knock at the Gabba set the tone for the series. In a single session the No.5 whizzed from nought to 100, celebrating the second century of his career off just 85 balls before the South Australian skipper was reinstalled as Test vice-captain for his home match.
The bold and brazen innings in Brisbane included a crushing take-down mission on England spinner Jack Leach as Head played with an aggressive freedom that immediately validated the lineball call from selectors to recall him after last summer's axing.
However it was the Hobart century – scored just two weeks after Head was locked in his room in a lonely seven days of quarantine – on a grassy pitch that prevented Australia from being unexpectedly blown away in the series finale.
Entering at 3-12, Head counterpunched England's seamers magnificently and departed with Australia's score beyond 200 runs on its way to a par score of 303.
Ricky Ponting and Steve Smith (twice) have also won the award with two centuries, albeit with far greater run tallies.
Ponting posted 576 runs at 82.3 while Smith averaged a ridiculous 137.4 and 110.6 in his dominant summers both at home and in England.