Ashes 2021-22: Ben Stokes to undergo fitness tests after another horror day for England
It bordered on comical some of the events out in the middle, but the most damning aspect for England already is the fitness cloud surrounding all-rounder Ben Stokes.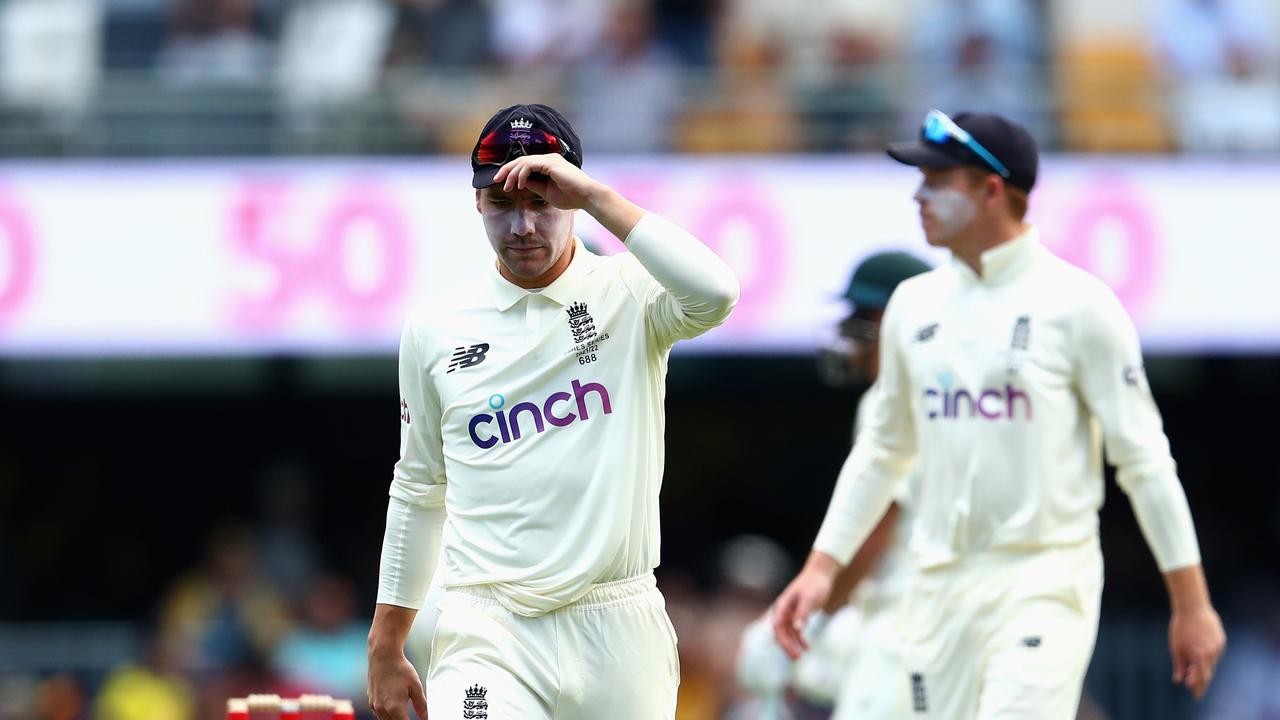 Rory Burns of England looks dejected after dropping a catch to dismiss David Warner, one of several escapes Warner made on day 2. Picture: Chris Hyde/Getty Images
England's Ashes team is in crisis with their most precious asset — match winning all-rounder Ben Stokes — to have urgent medical tests to determine his future in the series.
Injury was added to insult for the Poms with their officials conceding Stokes had hurt himself on a day where he was often hobbling and was helpless at the bowling crease as he took 0-50 and bowled a barrage of (mainly uncalled) no-balls.
"Obviously Ben hurt himself on the field today, he didn't bowl at full pace at the back end of the day," said fast bowling coach Jon Lewis, who gave no guarantees as to what role, if any, Stokes would play during the remainder of the Gabba Test.
"Our medical guys will assess him overnight and see how he is."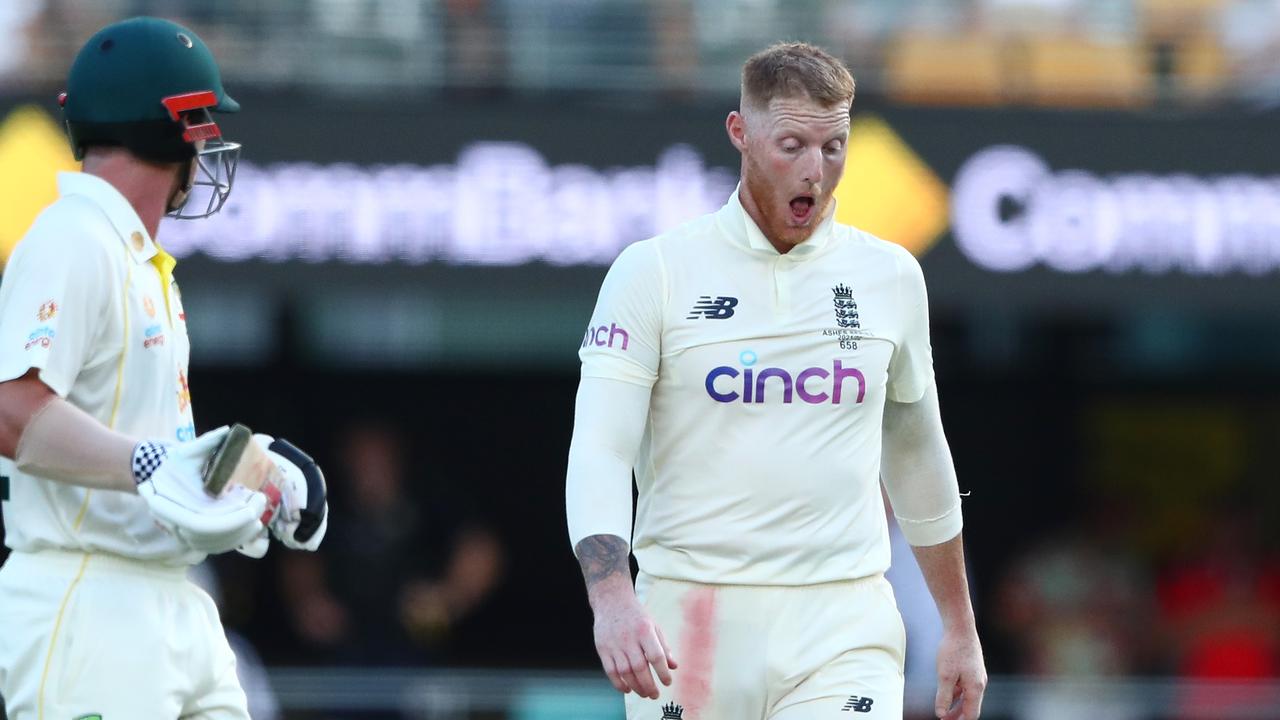 Ben Stokes will be assessed after his injury. Picture: Chris Hyde/Getty Images
The news, with Stokes battling with a leg injury in his return to Test cricket, compounded a woeful day for the Poms with fast bowler Ollie Robinson clutching his hamstring, although officials denied there was an issue.
It was a day when Benny Hill music could have been the soundtrack blaring from the Gabba loudspeakers because the England side was so comically flawed.
From simple dropped catches, to sending down a barrage of no balls, to a spinner who was a free hit, the Poms were often a basket case and are now squarely in line for an Ashes series hammering.
Even when Dave Warner dropped his bat and was prone out of his crease after clipping a ball straight to short leg, Haseeb Hameed produced a poor throw at the stumps from a matter of metres.
Santa Claus also arrived early for the Aussies in the shape of mild-mannered English spinner Jack Leach, who was flogged all over the Gabba in a deliberate take-down mission.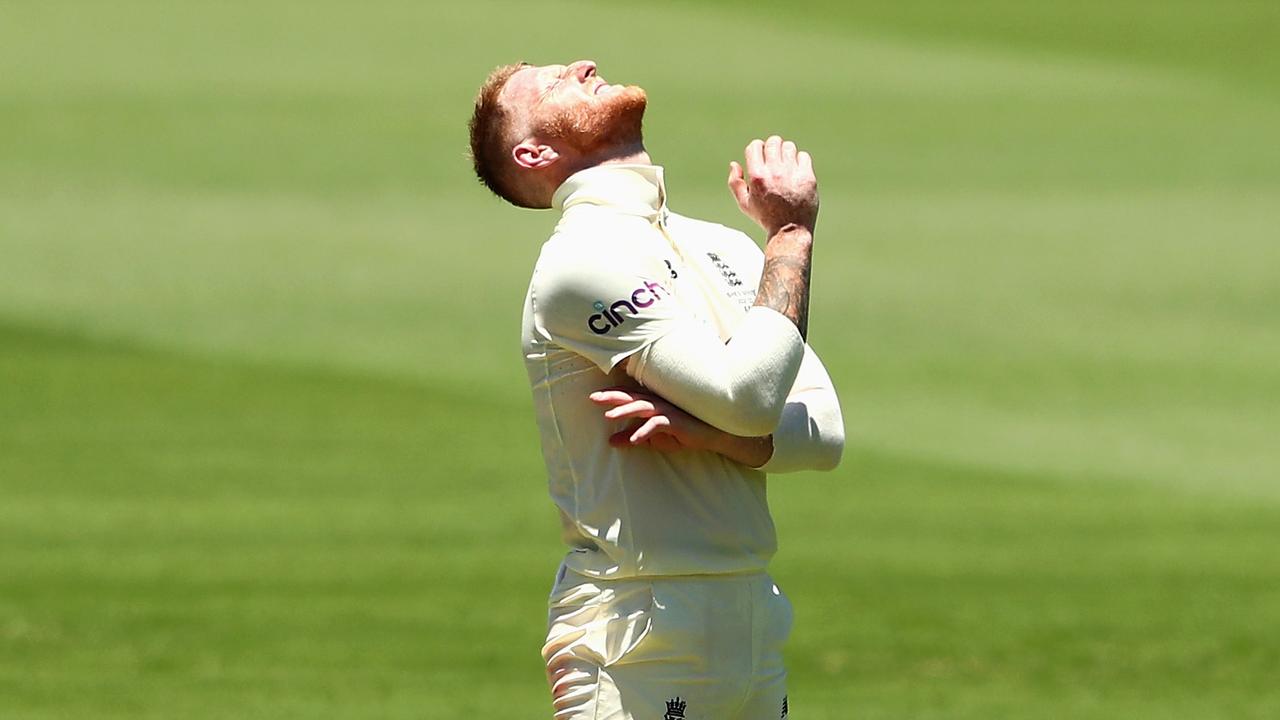 Ben Stokes had a day he would rather forget, but England has even bigger concerns with the fitness of their star all-rounder. Picture: Chris Hyde/Getty Images
Amid the comedy capers for England, their tall timber quick Robinson unleashed a devastating two-ball spree to dismiss Warner and Cameron Green which momentarily gave them hope before a rollicking Travis Head century took it away.
The only way England could seem to floor the Aussies was when fast man Mark Wood sent down a beamer to Head late in the day.
Stokes had a terrible day as he made an unprofessional return to Test cricket, where he sent down four consecutive no-balls which would have made a modest club bowler hang their head in embarrassment.
The first three were missed by a baffling flaw in technology but the fourth caused the dramatic recall of Warner who had his stumps shattered only to walk back to his crease as Stokes was jeered by the Gabba crowd.
These were farcical scenes reminiscent of Stokes having his maiden Test wicket recalled in 2013 when Brad Haddin edged behind in Adelaide only to be called back because Stokes had overstepped.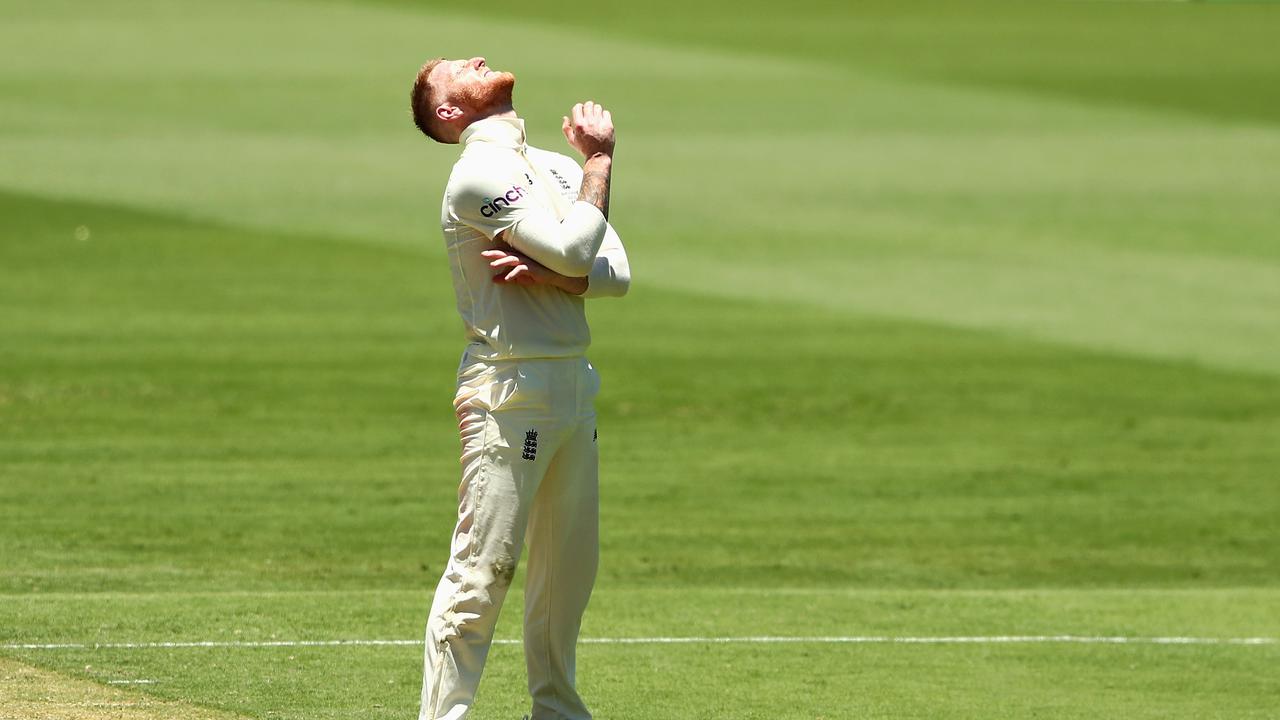 Stokes had a terrible day. Picture: Chris Hyde/Getty Images
There was a case to be made that Stokes overstepping was partially a result of preparation limited mainly to nets, or even the fact the umpires had not called three no-balls in a row so the England all-rounder did not adjust.
But Stokes has a simple and straightforward job when he is bowling – to take wickets and to keep his front foot behind the big white line.
That was despite the claim from Lewis who appeared to blame the umpires when he said: "He (Stokes) will need some feedback from the umpires to know where his feet are – it would have been nice for the first ball to be called a no-ball and then he would have been behind the line because he would have known where his feet were."
The no-ball catastrophe from Stokes, as Hawkeye apparently picked him up bowling 14 no-balls during the first session on day two, was bad enough.
But there were more red faces with Rory Burns making a strong case for the worst Test performance of all-time.
Not only were Burns' stumps skittled on the first ball of the Ashes, but he spilt an elementary slips catch off Warner just before the opener had made 50.
Commentators very fairly suggested that Burns hadn't even started the Ashes two days in.