Ashes 2021/22: Counterattacking Marnus Labuschagne shows class even if ending was comical
Get them before they get you. The clock is ticking. That was the Marnus Labuschagne mantra on a treacherous deck in Hobart as he launched a lively counterattack before a comical exit.
Can a man prepare for a major Test match challenge by shopping at Bunnings?
It's possible ... and Marnus Labuschagne proved it on a deadly wicked wicket at Hobart with a hay-making 44 against England.
For a while it was like we were watching one of those wild western movies where the masked gunman appeared from nowhere to shoot up the town as bullets flew everywhere.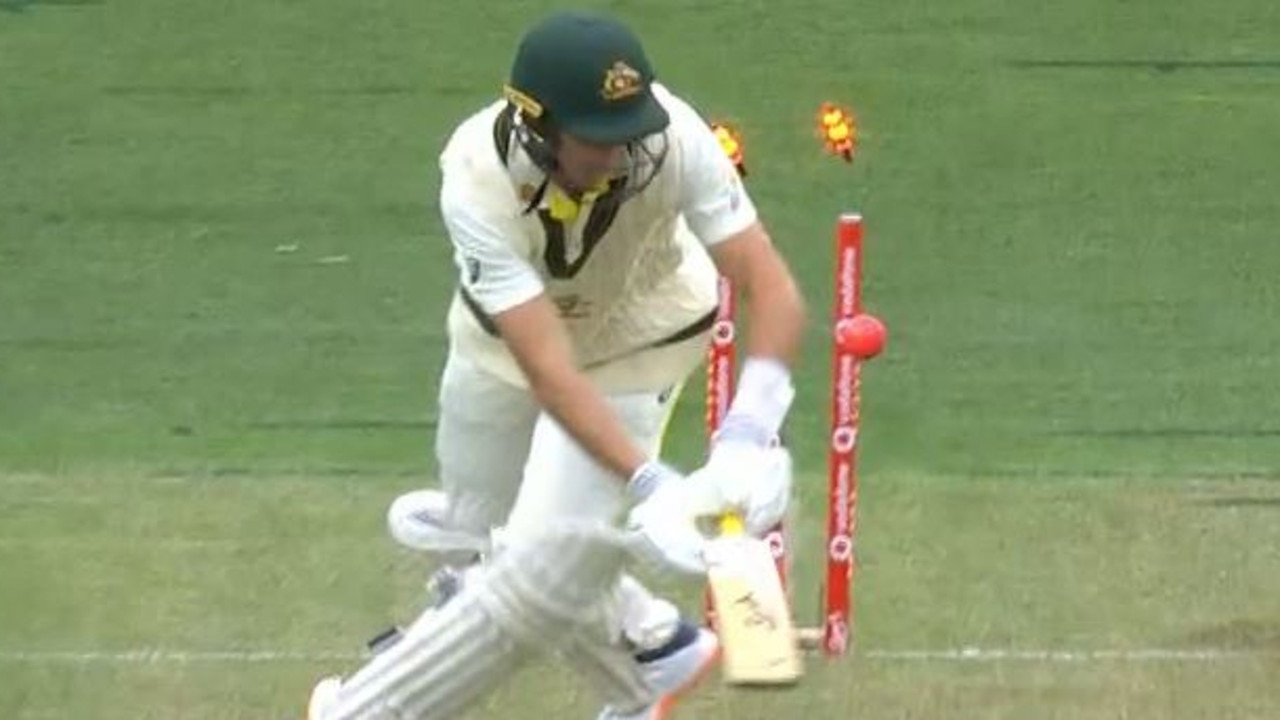 Marnus Labuschagne falls over and loses all his stumps in Hobart. Picture: Supplied
When he fell at the crease in one of cricket's most bizarre dismissals, it was the sheriff had somehow taken him down from behind.
The sort of conditions on display in Hobart were treacherous by Test standards, but not as demanding as Labuschagne occasionally plays on in his garage where batsmen are systematically tortured.
He's been known to go to Bunnings to buy artificial turf or other strips which are watered to ensure batting is a nightmare.
That is the way he wants it, once saying "if a team makes 20 in backyard cricket then the wicket is too flat ... it has to be a desperate struggle.''
That "c'mon, let's slug it out,'' garage cricket mindset was Labuschagne's greatest ally as he launched a lively and unexpected counter attacking innings against England.
Get them before they get you. The clock is ticking.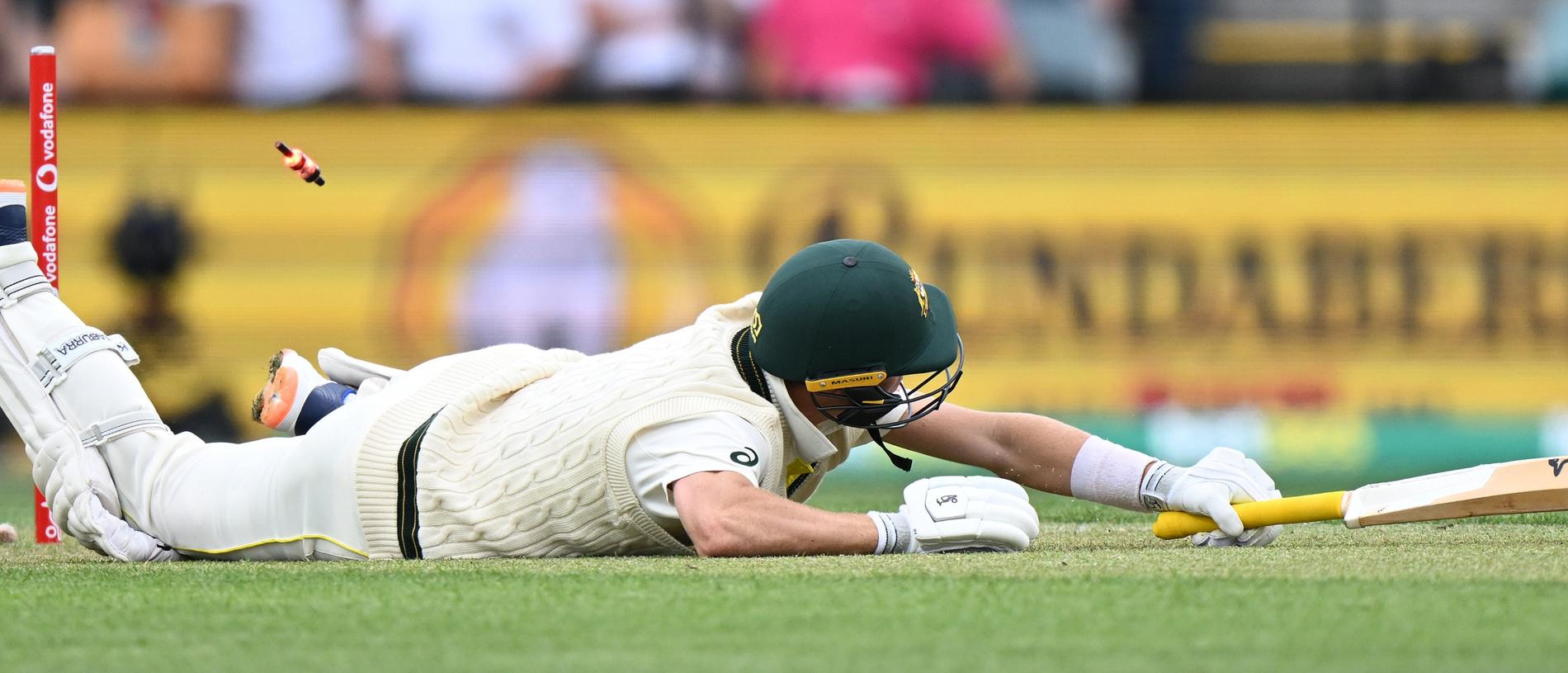 Marnus Labuschagne lost everything, including his dignity, when knocked over. Picture: Steve Bell/Getty Images
That's why he flicked balls from outside off stump to leg and even came down the wicket to the seamers. Eventually, as Fox Cricket's Mike Hussey pointed out, batsmen know there is a ball coming with their name on it.
Balls flew everywhere and it temporarily muddled England's mindset because every part of their instincts would have told their attack that, with three early wickets, they were the kings of the session and must be treated accordingly.
Finally Labuschagne fell, bowled to Stuart Broad after falling flat on his face over-balancing.As strange as it was, it was also fitting that he should fall on his sword in such a dramatic way.
The cricket world laughed at the dismissal – you couldn't not – but Labuschagne's cameo again underlined his ability to read the conditions and be the batsman the day required even if he fell short of a major contribution.
Even before dinner on the first day it was apparent that this is another wonderful Test deck and it has reinforced the theme that the season's underrated stars have been the five Test match curators.
With so much T20 cricket on display these days, audiences are used to batsmen controlling games in Australia, but the five Test decks have all helped the bowlers and produced gripping entertainment.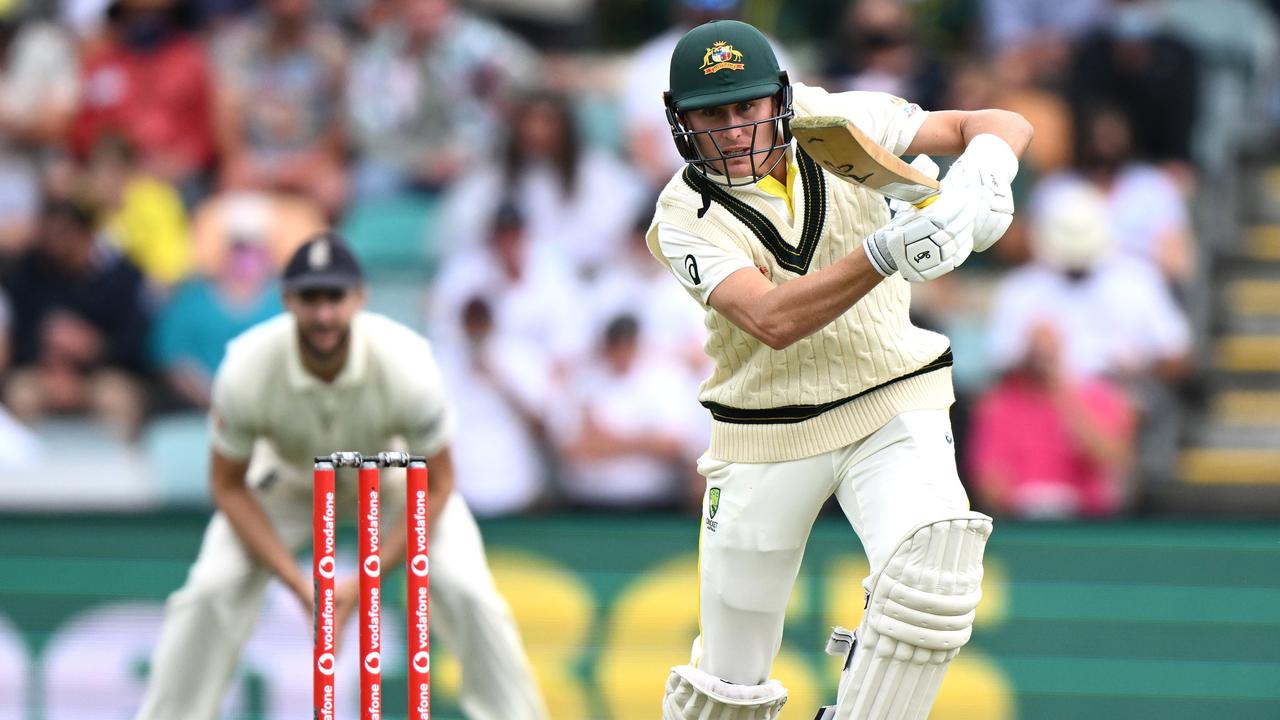 Marnus looked in great touch before his unfortunate demise. Picture: Steve Bell/Getty Images
This should be a very short but very sweet game. Action aplenty. You know a Test deck is doing its job when you dare not leave your seat for fear of missing a wicket.
All of the wickets have seamed. As well as England went in the first session of play when they took four wickets, their progress would only have heightened their regret at not bowling first in the first Test of the summer at the Gabba.
Conditions at the Gabba were not quite as seam friendly as Hobart but they were in the ball park.
These are the only conditions under which this England team can excel and they bowled well.
Originally published as Ashes 2021/22: Counterattacking Marnus Labuschagne shows class even if ending was comical