Ashes 2021-22: CricViz data proves Travis Head's Gabba century even better than it looked
England's bowlers went from energised to demoralised in the space of one thunderous session, writes BEN JONES.
When Travis Head walked out on Thursday, Australia's lead was a slender 40 runs. Within a few overs, they had been reduced to 5-195, and England's bowlers smelt blood. A kid, a debutant, a bunch of bowlers and Travis Head, stood between them and a shot at this Test match.
When Head walked back to the dressing room at stumps, 114* (95) and with more to come tomorrow, he had almost single-handedly raised that lead to 196, making Australia's position impregnable in the process. It wasn't his first century in this form of the game, but – like his New Year's Day ton for Adelaide five years ago – it was an announcement, a genuine arrival.
It was a staggering innings. Across the course of three very different hours of Test cricket, Head survived a collapse which threatened to undo all of Australia's good work in the opening four sessions of this match, managed the recovery, then unleashed an almost cruelly efficient counter-attack to finish England off. Had you said before the series that a left-handed No.5 would smash the third fastest Ashes century on record, you wouldn't have had too many takers for that man being the South Australian.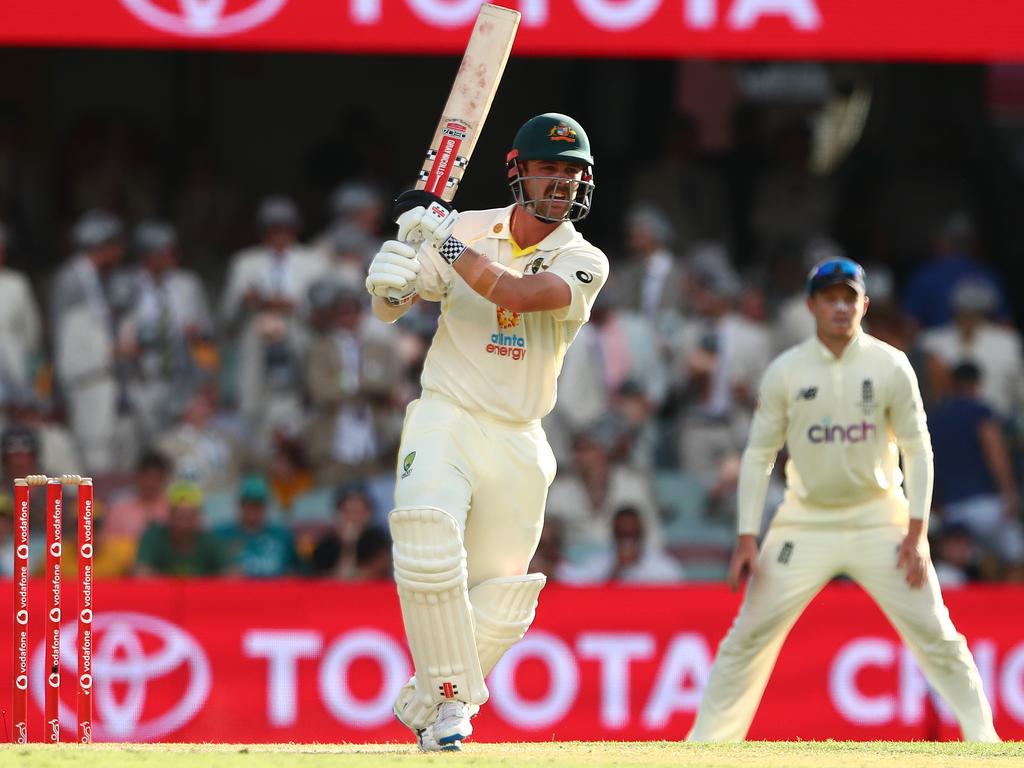 Travis Head bats during his stunning day two Ashes century against England in the first Test at The Gabba. Picture: Chris Hyde/Getty Images
When he arrived at the crease, he was circumspect. In the first 30 balls he faced, Head defended 11 times, way more than the global average. Pressure was only in the air fleetingly, but he soaked it up, letting the crisis dissipate. Alongside Alex Carey, he took the sting out of the collapse, growing the lead toward 100 before truly unleashing.
Yet that sense of crisis management was still there in how Head made the runs, or more specifically, against which deliveries. Even in an innings of this blistering chaos, among the most destructive in the history of this contest, there was a respect for the good deliveries. Good lengths saw Head tick over, rumbling along at less than three runs per over; everything else, less threatening, was decimated.

Travis Head vs England seamers during his first Test century at The Gabba.
Equally, that was possible because Head absolutely marmalised the English spinners. Jack Leach and Joe Root went for 50 runs in 29 balls, a scoring rate of 10.3 rpo that would be lively in the BBL, let alone Day 2 at the Gabba. David Warner and Marnus Labuschagne had started the assault on Leach earlier in the day, hitting out of the attack twice, forcing Root to return to his seamers. Head clearly benefited from the fatigue in the English pace attack, but against the spinners, he was simply continuing the good work of the top order. As it stands, it's hard to see how Leach fits into England's plans for the next Test, or the rest of the series.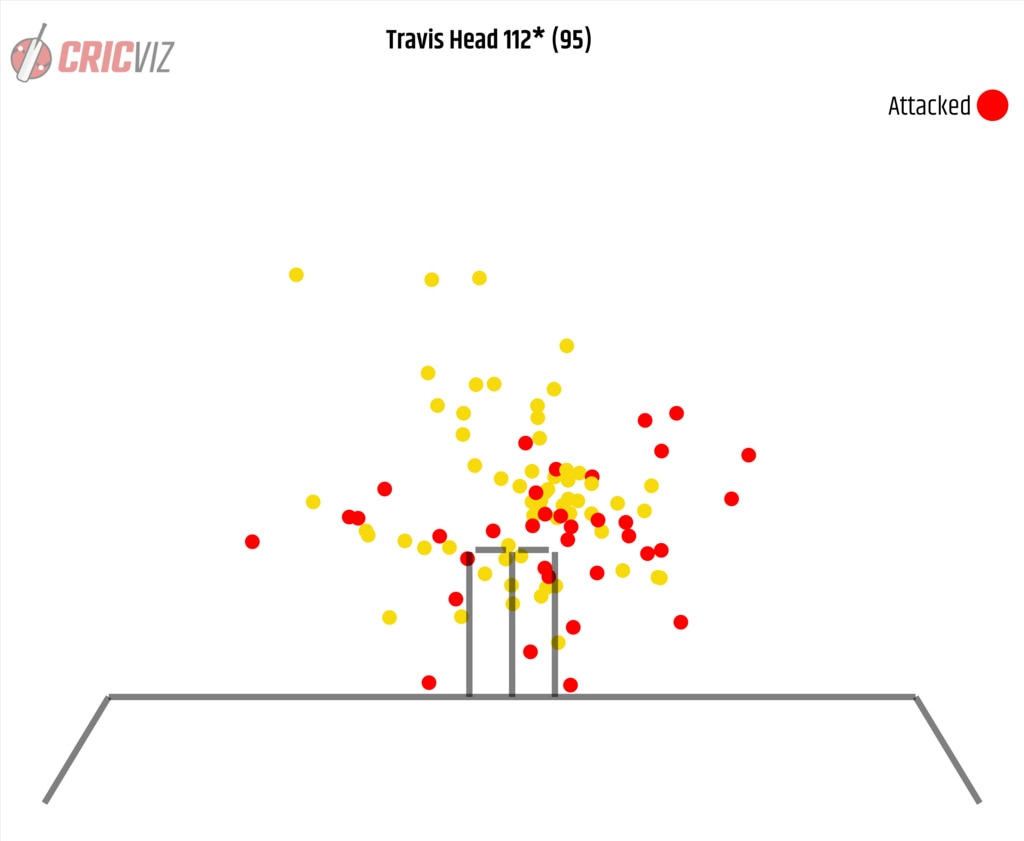 Travis Head's scoring shots during his Gabba century.
Aside from the quality and cajones in being so aggressive at such a pivotal moment, the sheer volume of attacking shots was remarkable. Across his 95 balls today, Head attacked 38, 40% of those sent down to him. The last time an Aussie attacked more in an Ashes ton was David Warner in 2013; before that, Adam Gilchrist at Perth. Despite the former's exploits earlier in the afternoon, the latter felt like the obvious reference point for an Australian taking the game away from the opposition just as hope began to swell, as soon as a route back into the contest revealed itself. It was apt that Gilchrist was calling the innings on Fox Sports, a spiritually appropriate piece of broadcasting.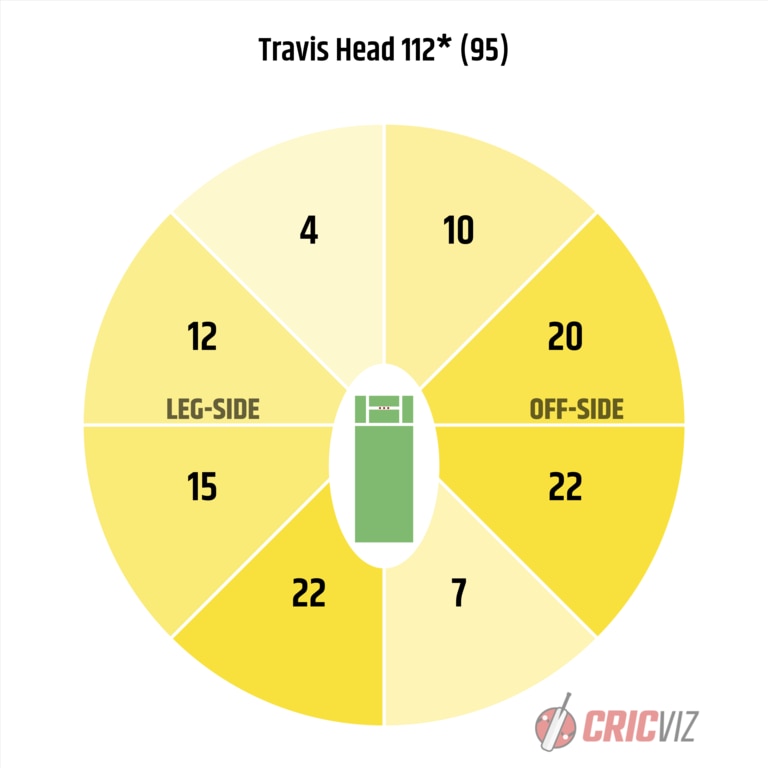 Travis Head's wagon wheel from his Gabba century.
Earlier in the day, the foundations had been laid for Head's assault. Marnus Labuschagne, quietly, put together a masterpiece of control and poise in the face of a far fresher English contingent. At the start of his knock, England bowled exceptionally full. Half of the deliveries they sent down to him in his first hour at the crease were pitched up, full of a good length. This was the much-promised opportunity to expose Labuschagne to the new ball, and they weren't going to waste it.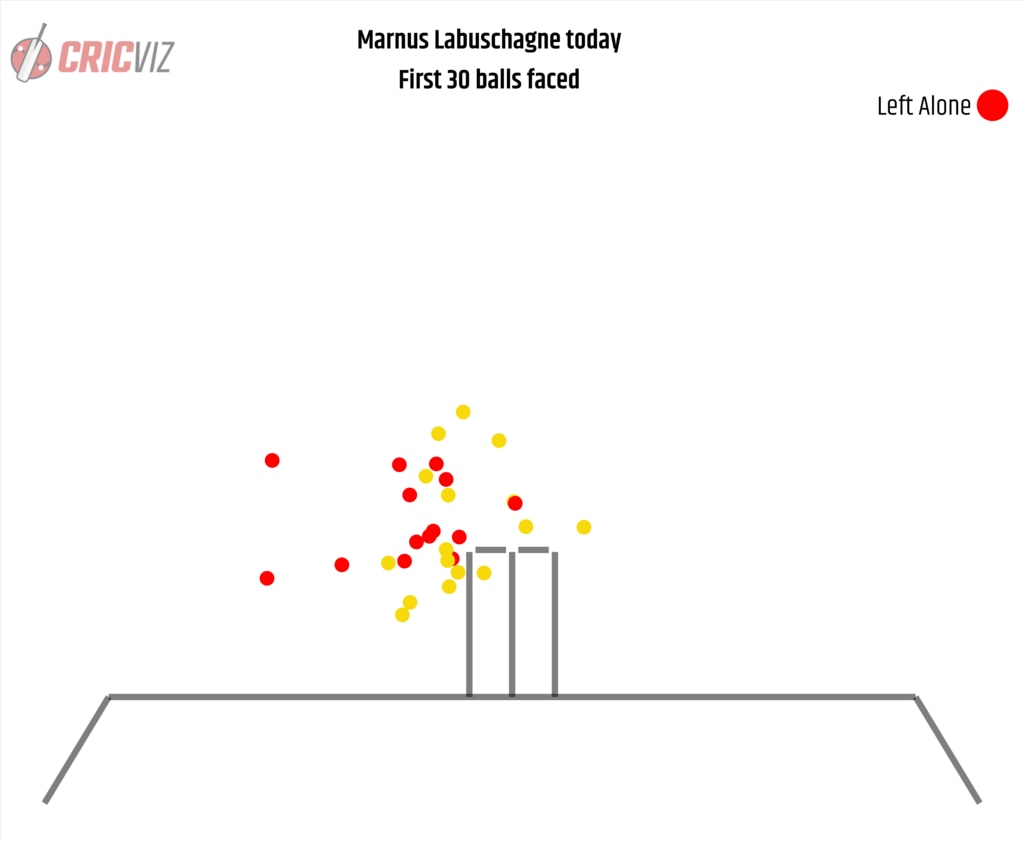 Marnus Labuschagne's first 30 balls faced in the first innings.
After that initial burst, England flipped things around. For the next 60 balls, half of their deliveries to Labuschagne were short, going to a mixture of general back of length consistency and bouncers. As the movement seeped away, so did their willingness to attack. Labuschagne still stuck, reluctant to climb into all but the most hittable deliveries, the plumpest half-volleys.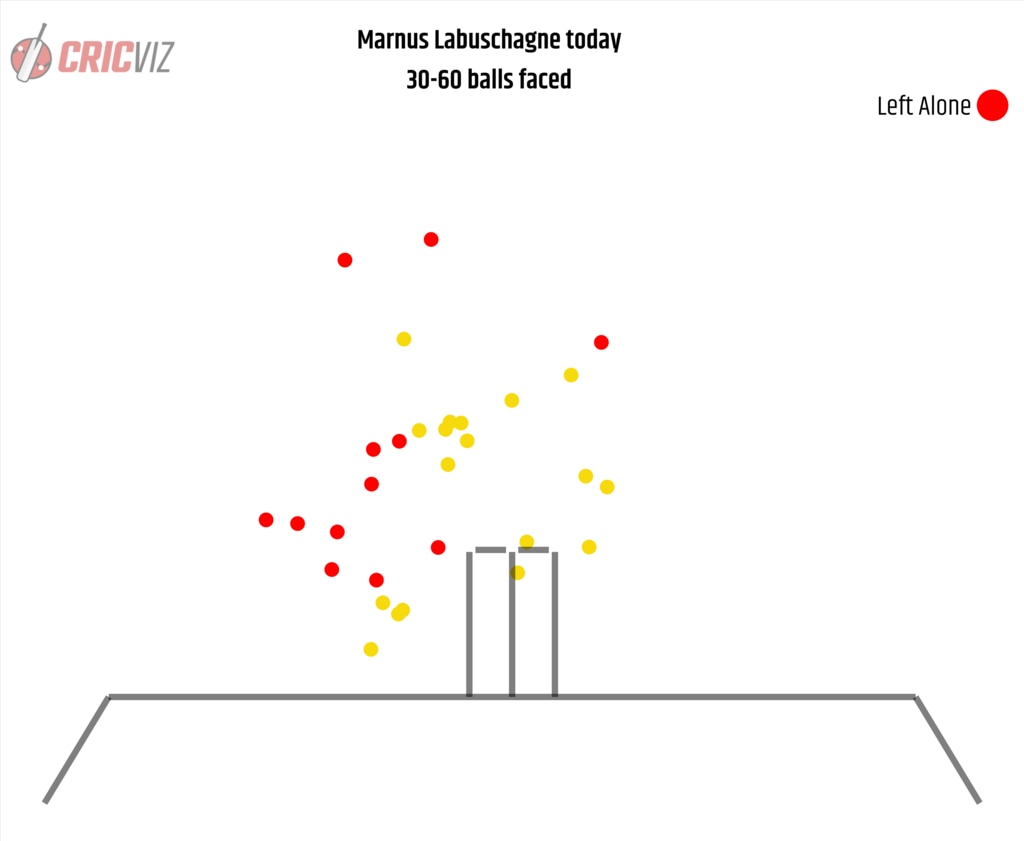 Marnus Labuschagne's balls 30-60 in the first innings.
More broadly, he helped Australia ride through a period of considerable good fortune. Across the first session on Day 1, England's floundering batsmen played 18% false shots; this morning on Day 2, Australia surpassed that figure, playing a false shot once every five deliveries. The scorecard read rather differently, but Australia – and more specifically, Warner – were in strife.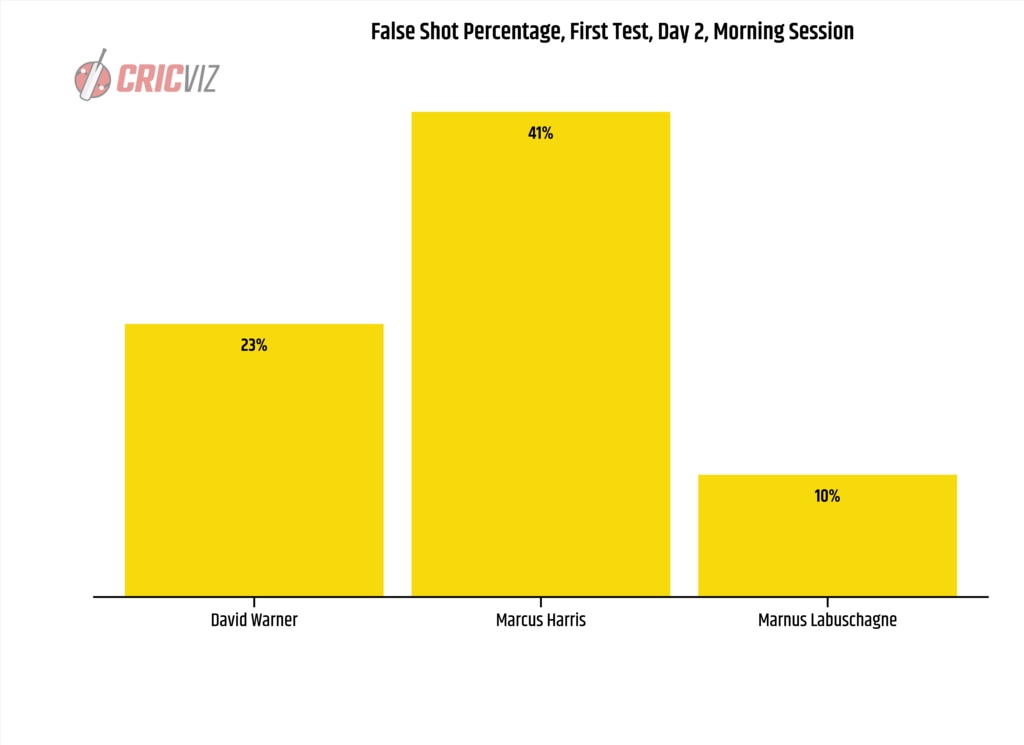 Australia's false shot percentage during Day 2's morning session.
By no means a flawless comparison, but it does rather point to the fine margins on which top level sport can be decided, and the luck – that dirty word – that Australia received. Most notably, Ben Stokes 'bowled' Warner off a no-ball, but that was not an isolated incident. Labuschagne's arrival at the crease was quickly followed by a genuine nick that fell inches short of an ill-positioned Joe Root, surprisingly deep at first slip. Shortly after the lunch break, Warner edged a full Robinson delivery to the slips, which Rory Burns promptly put down. Haseeb Hameed, under the lid at short leg, missed the opportunity to run out a stumbling Warner who was short of his ground, sprawled on the turf after a Mark Wood yorker. Labuschagne was the glue binding the partnership, gliding through with almost zero risk while Warner ducked and dived.
Across that stay, Labuschagne played just 7.6% false shots, the lowest figure he's ever recorded in a 50+ score. It's a testament to his ruthlessness when given the opportunity to attack, that he matched this control with a run rate just under four rpo. This wasn't a blockathon, or even an innings of orthodox speed, but rather a display of superb shot selection and execution.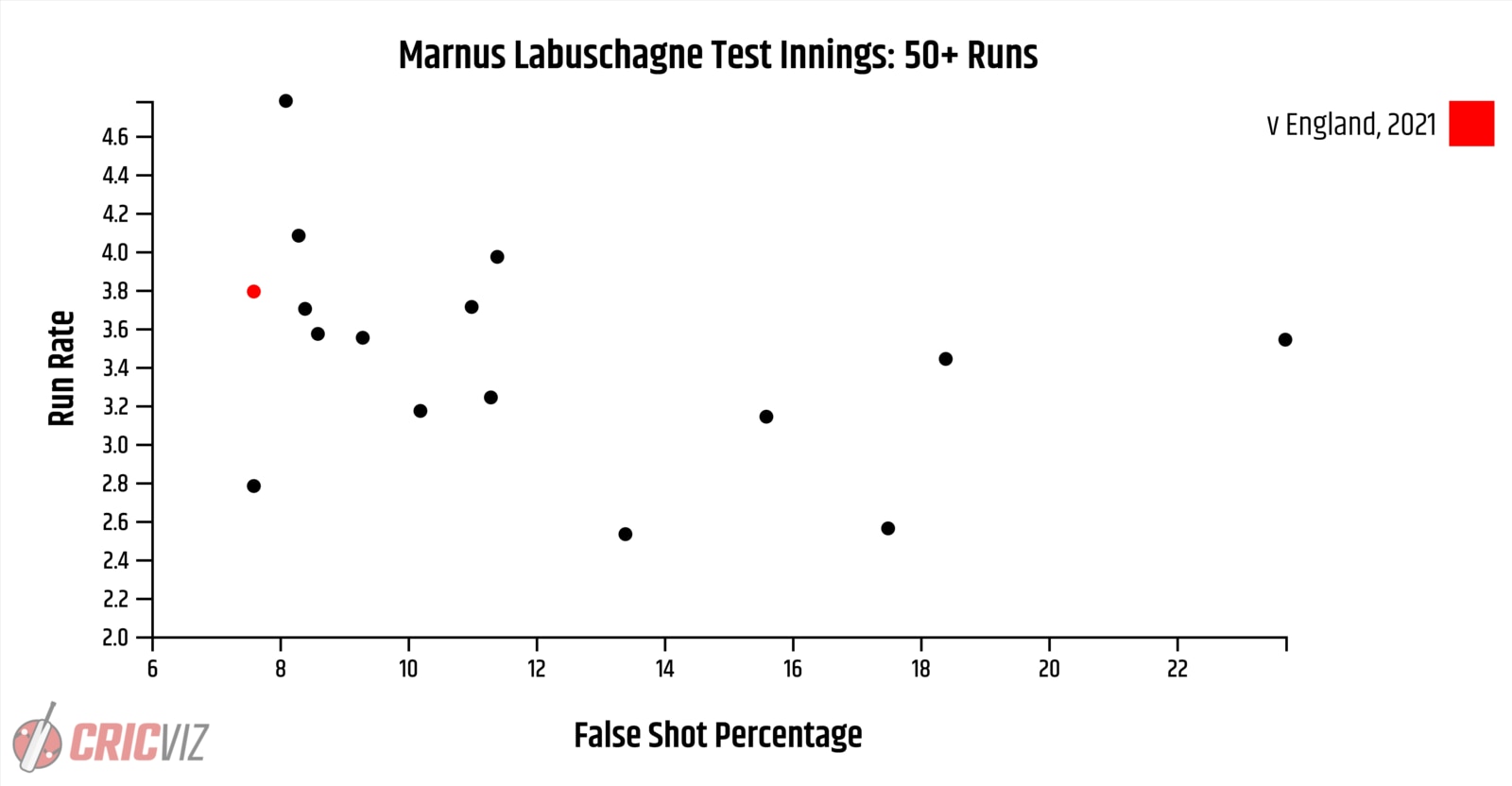 Marnus Labuschagne's Test innings of 50+ runs.
It was a day – or rather, the pattern of a day – that Australia saw plenty of times last summer. The No.3 soaking up deliveries, taking the best of the opposition with physical or metaphorical blows, before unleashing the impish, dynamic middle order hitters on a weary attack. Cheteshwar Pujara and Rishabh Pant may have their differences from their opposite numbers in Pat Cummins' side, but the interplay between them was much the same, of deferred gratification, of displaced glamour. Let them have the first hour, because you'll take the last two. It's classic Test cricket, and few places in the world reward orthodoxy as much as Australia.
Australia has been having a lot of conversations around leadership in the last month or so, about what constitutes and doesn't constitute a captain. These two men are, probably, the main candidates to be the next captains of Australia, to succeed Cummins in the top job. Between Labuschagne and Head, you have two very different players, with very different trajectories and, frankly, two very different skill levels. Yet today demonstrated that, when others are stumbling, they will stand up and see Australia through.