Ashes 2021-22: CricViz data shows how reserved David Warner capitalised on England's bowling tactics on Day 1 in Adelaide
England waited for swing to arrive in Adelaide, focusing on patient line and length with the pink ball. In the meantime, David Warner capitalised to produce a brilliant, yet reserved, innings, writes CricViz's BEN JONES.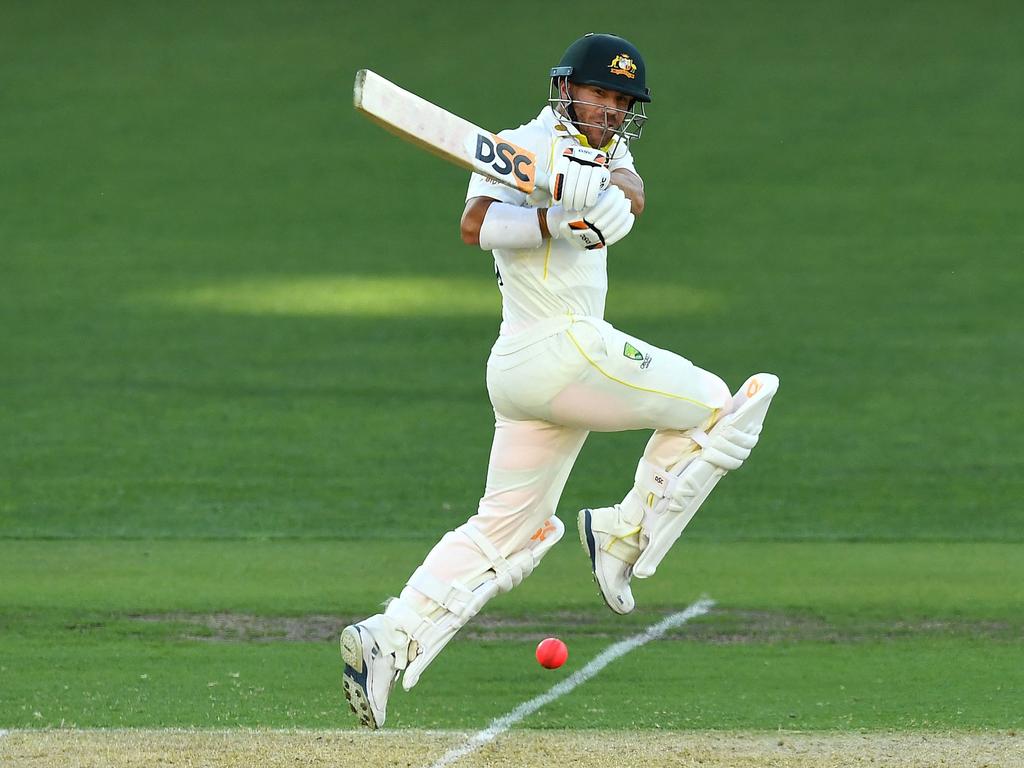 David Warner played through the pain barrier to bring up a wonderful 95 against a persistent England bowling attack on Day 1 in Adelaide. Picture: William West/AFP
The pink ball is perhaps one of the great modern myths. The impact of those early experiments – that inaugural match between Australia and New Zealand where nobody batted to the second new ball – has been wide-reaching.
We have now seen numerous Tests with the pink ball that have been flat, high scoring affairs, and yet the caricature of the nippy wicket-fest has stayed the course. Teams, players, media and fans all anticipate a kind of cricket which, while certainly possible in these conditions, is not particularly likely.
The confluence of factors you need to get that cricket (new ball under lights with vulnerable batters at the crease) doesn't feel any more or less likely than the random elements in play during a normal, red ball Test.
With the first new ball, England bowled 'well'. They hit their lines and bowled a straightforward classical good length consistently. Stuart Broad bowled fuller, but the rest of England's cabal of seamers were religiously hitting the 7m mark. Just under half of their deliveries were on a good line and length, a figure which most attacks worldwide would pat themselves on the back for.
Unfortunately, the much-promised movement did not arrive. If England had arrived at Adelaide Oval expecting the ball to move like a Dukes, they would have been sorely disappointed. An average of just 0.3 degrees swing in the opening 10 overs was the lowest they have managed with a new ball spell in any Test since 2014. That classical good length allows for swing, but it does not demand it.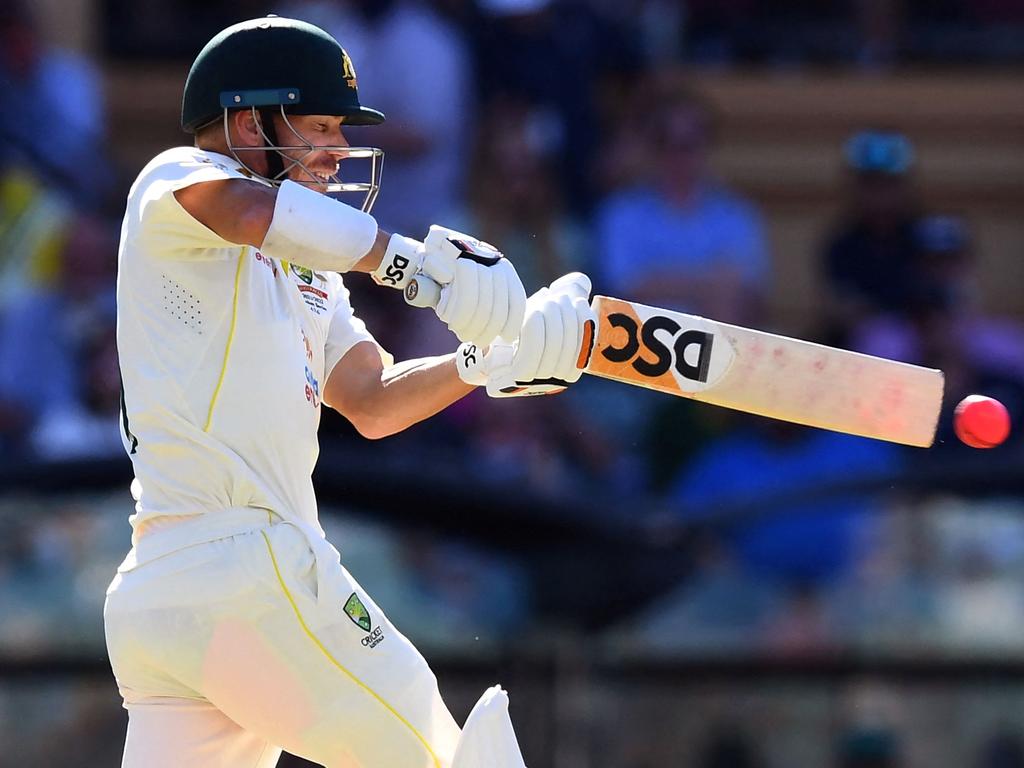 Despite England's persistence, David Warner and Marnus Labuschagne were able to make the most of batting friendly conditions on Day 1 in Adelaide. Picture: William West/AFP
Australia chose to play the accuracy, not the lack of movement. In that opening session, they were on go-slow mode. Their total after 10 overs (11 runs) was their lowest at that stage of a Test innings since Boxing Day 1997, as David Warner opted to sit, and soak up the pressure, sustaining himself through his own slowest start to a Test innings. After 20 overs Australia were 30-1, also the lowest score at that stage since the mid-1990s. While England were hitting their spot, Warner and Marnus Labuschagne were happy to wait out the pressure, and play some old-fashioned waiting game.
Warner in particular was notably reserved for much of the day. After 100 balls he'd amassed only 36 runs – as someone with three Test centuries at quicker than a run a ball, it's no surprise that it stands out as an anomaly. Only twice in his Test career has he reached the 100 ball landmark with fewer runs to his name, and while his approach eased across the day – his attacking shot percentage rising from 24% to 35% after the Tea interval – it was an innings defined by caution and control.
David Warner's wagon wheel from Day 1 in Adelaide. Picture: CricViz
Despite recording a similar score by the close of play, Marnus Labuschagne had a rather more qualified success. Twice dropped by Jos Buttler, early on in the afternoon session, and again just before stumps, Labuschagne was similarly circumspect but lacked the control of Warner, as shown by his false shot percentage being up at 18% – very high for an innings which lasted 250+ balls.
However, one element of his play rather summed up the day in Adelaide as a whole. Across the course of his innings, England bowled 108 deliveries on a good length to Labuschagne, from which he scored just six runs – a rate of 0.3rpo. This was the length England were happy with for much of the day, settled on that 7m mark which, statistically over a vast sample size, is the best place to bowl. Yet Labuschagne and, to a similar extent Warner (who scored at 0.7rpo against that length) were not going to reward England for their patience. Those good length balls may well be objectively good – the "correct" zone to target – but with high-class players at the crease, those balls became interludes to picking off the others. Facing full balls, Labuschagne scored at 3.9rpo, and Warner at 4.9.
At times, England tried variously funky tactics. Stokes went short at Labuschagne (inducing one of the drops), and Root tried bowling round the wicket, finding appreciable turn which, rather ironically, made the exclusion of Jack Leach feel less straightforward than it may have previously. But with a group of very similar, very same-y right-arm seamers, there was little room for tactical variety. And so, with the older ball which notoriously doesn't move, line and length made sense.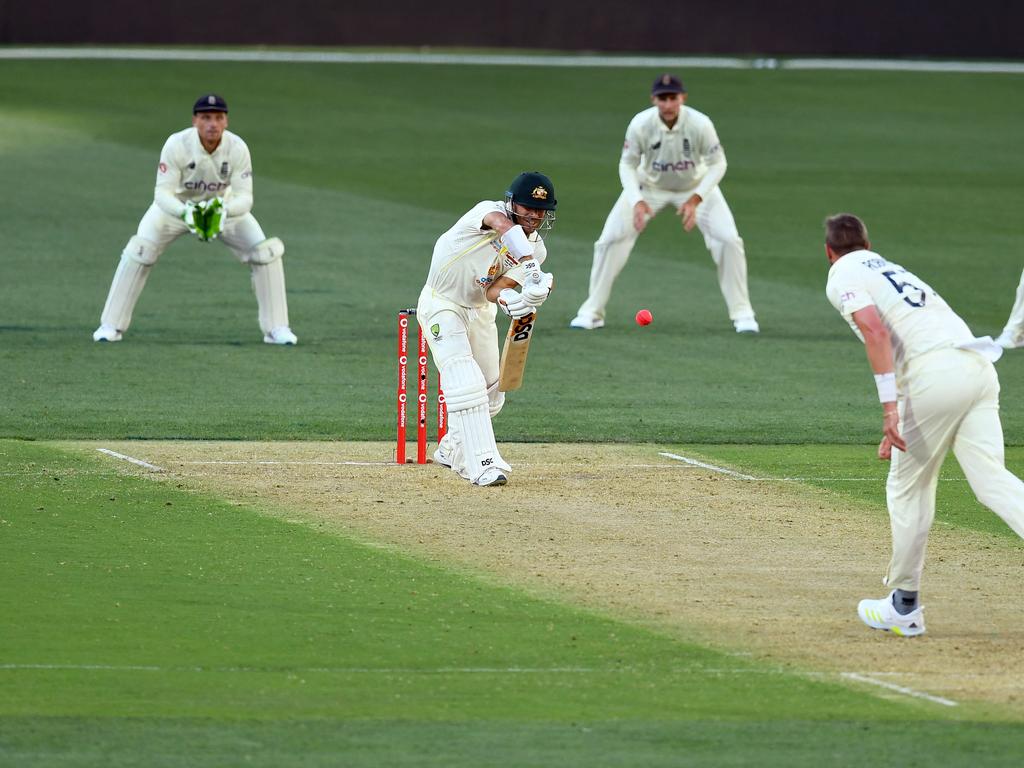 Whereas his innings in Brisbane was full of chances, David Warner looked more composed in Adelaide with his dismissal coming from one of the first loose shots in his innings. Picture: William West/AFP
But the time for aggression was early on, with that new ball. Typically in Test cricket in England, there is no need to pitch up with the new ball, the inherent risk is unnecessary given the ball moves all day. In Australia, with the red Kookaburra, there is a greater need to bowl full with the new ball in order to maximise that movement while it's about; in day-night Tests in Australia, with the pink Kookaburra, that pattern is exaggerated yet again.
And yet, even then it's not clear. When England did pitch fuller with the new ball at the start of the day, it wasn't swinging – even in the hands of perhaps the greatest swing bowler the Test game has seen in James Anderson. The last time Australian Test cricket saw a ball swing less across the day was more than five years ago. And so faced with a ball which isn't swinging even when given the chance, it's understandable that you pull your lengths back, retreat from both that fuller length and the hypothetical idealised Test you're playing in your own mind, and you hit a good length. You build pressure, and you hope the keeper takes his chances.
Had Buttler been able to hang onto the two regulation chances that came his way, Australia's relatively slow run rate may have seen them in a slightly sticky situation at the close of play. England's caution with the ball, and perhaps their selection, may have been lauded as admirable pragmatism in the face of very tricky bowling conditions. There is room in pink-ball cricket for conservative, "bowl dry" tactics, but basics-first cricket … well, it demands you do the basics well. England didn't.