Ashes 2021/22: David Warner facing multiple injections to see out remainder of series with injury
Battling a painful rib injury, courageous opener David Warner will be subjected to a summer of needles if he to manage a nasty rib injury.
David Warner will require multiple injections to grimace his way through what shapes as a summer of Ashes agony with the brave opener's nasty rib injury unlikely to heal until the series has finished.
It can be revealed that Warner has sustained significant damage to the cartilage joining the rib bones together, causing him pain with every breath that he takes.
The 35-year-old was administered a long-lasting local anaesthetic injection in the nerve before batting at Adelaide Oval on Thursday and wore a padded guard protecting the spot where he was struck by a Ben Stokes delivery in Brisbane.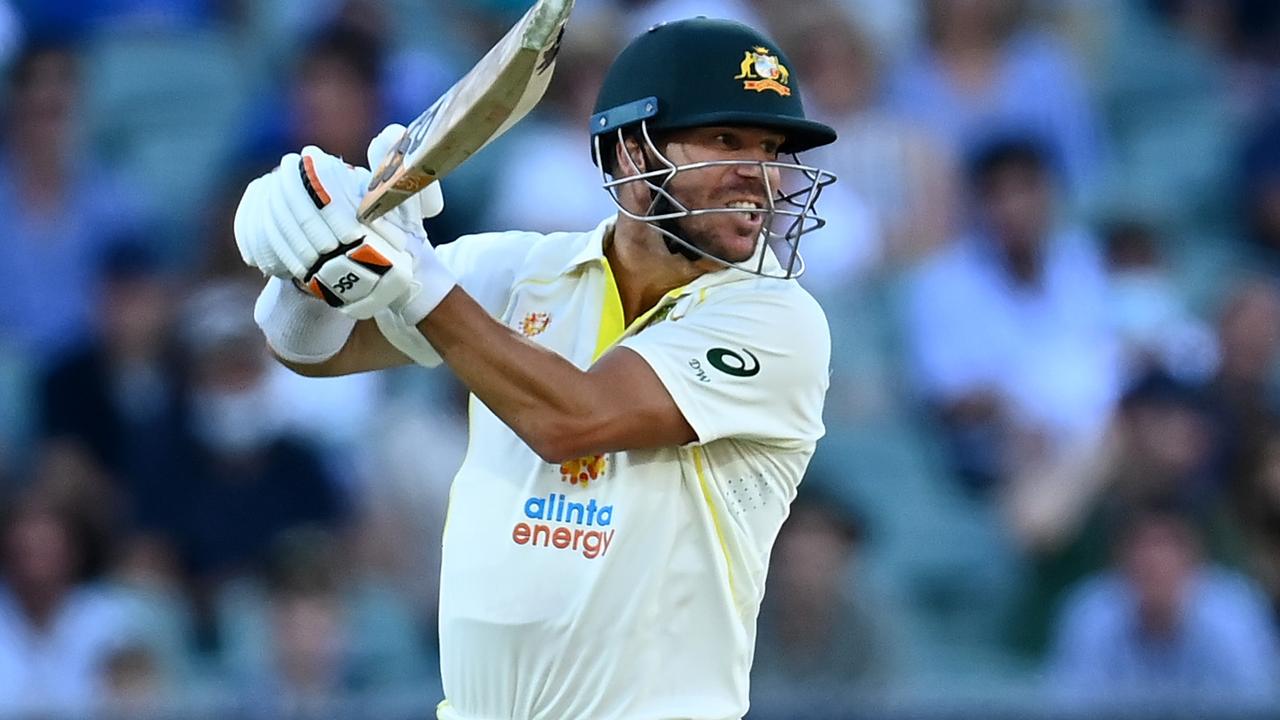 David Warner will be forced to play through pain for the remainder of the Ashes series. Picture: Quinn Rooney/Getty Images
It is understood that Warner will require jabs to box on at the MCG next week and could be prescribed chemical treatment before every innings for the rest of the five-Test series.
While X-rays cleared Warner of broken ribs at the Gabba, a CT scan would've been required to diagnose the cartilage injury.
It takes 8-10 weeks to recover from cracked cartilage, while bruising is in the range of 4-8 weeks.
Injections come with the slight risk of puncturing a lung, which happened to St Kilda footballer Jake Carlisle before a training session in 2018.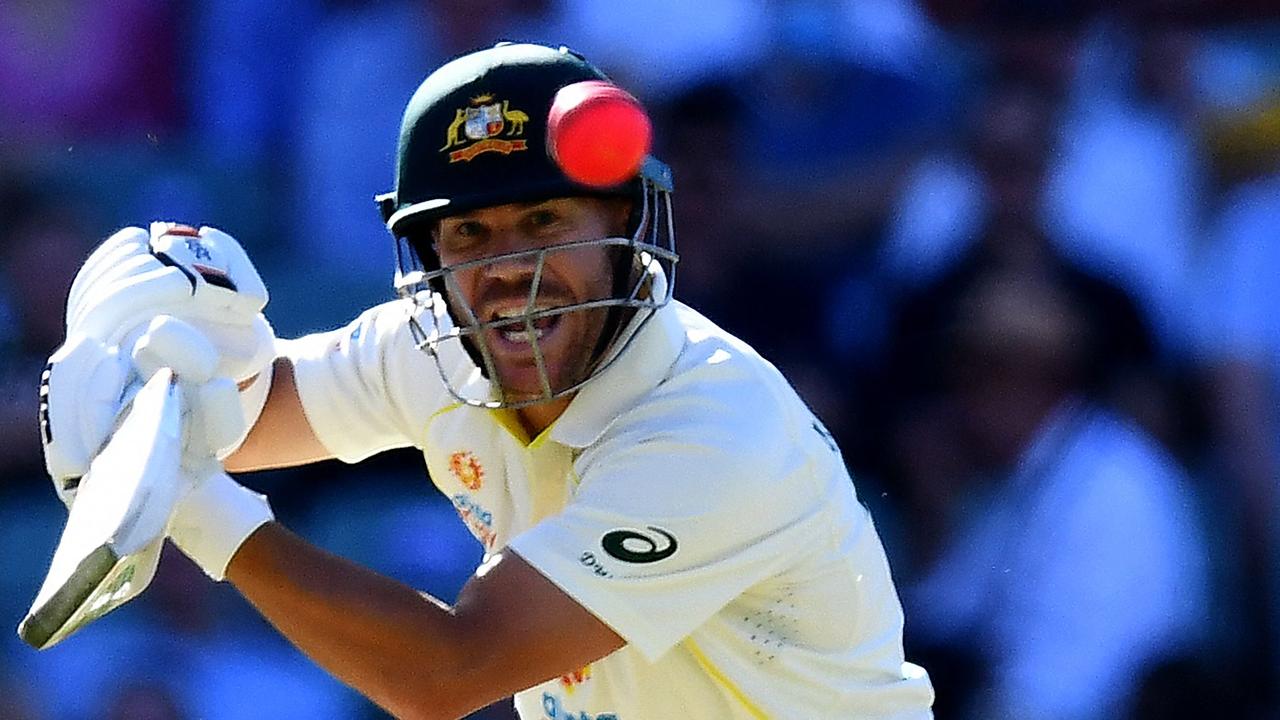 Warner followed up his first Test knock of 94 runs with another brilliant innings of 95 in Adelaide. Picture: William West/AFP
The severity of the injury only adds to Warner's warrior-like reputation, with his gutsy knock of 95 now coated in even more courage.
Incredibly, Warner said on Friday that the rib injury helped steel his concentration as he absorbed England's negative tactics to post the third-slowest half-century of his career.
They were very sore. I won't lie about that," he said.
"Having that patience, I think it sort of helped me having that sort of injury."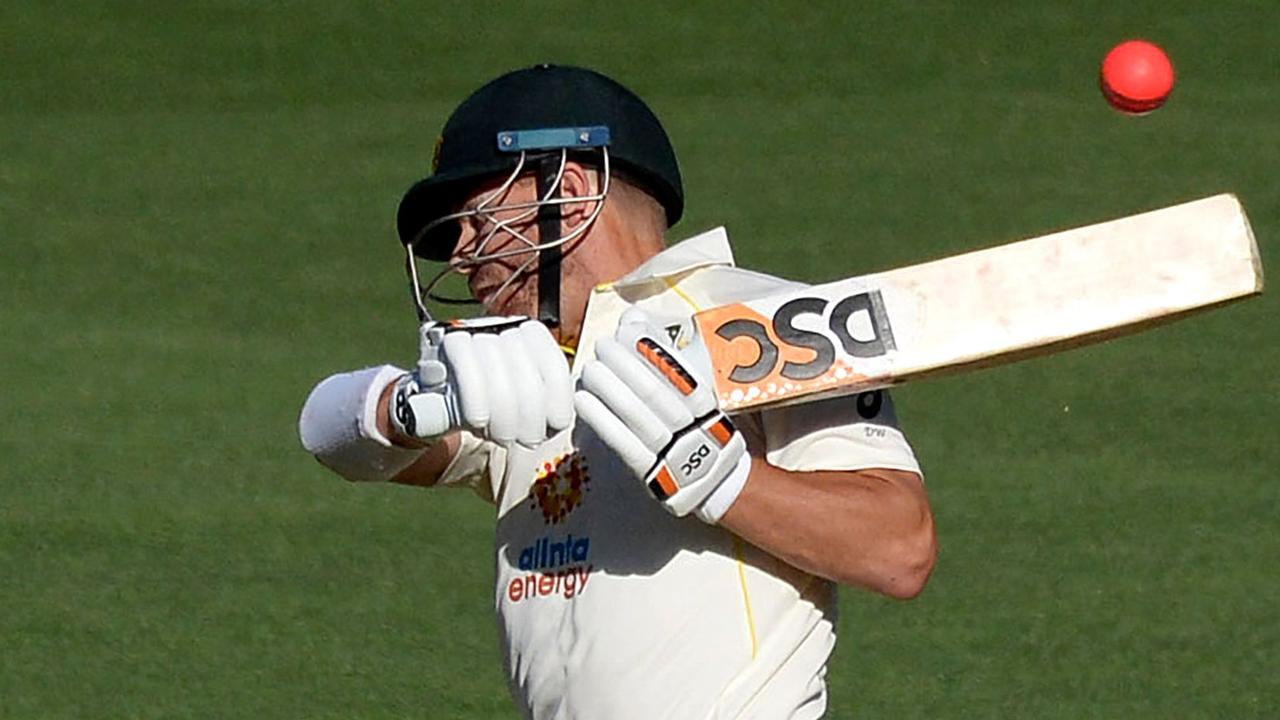 Warner sways away from a bouncer on the day one of the second cricket Test. Picture: Brenton Edwards/AFP
Warner scored just one run from his first 35 days and was devastated that he smoked a loose ball straight to Stuart Broad just short of what would've been the grittiest of centuries.
Warner would've been in extreme pain when the injection wore off on Thursday night and likely required strong painkillers and sleeping tablets to get to sleep.
The sharp athlete stands at slip and every dive, stretch and bend will trigger discomfort as his rib cartilage stretches.
Warner could even require a jab to get through long days in the field, where his catching is regarded as a crucial weapon for Australia's attack.
Warner was in such intense pain last week he couldn't even pick up his children but he was simply determined not to sit out a Test match for his country.
"I have just been icing and doing as much as I can," Warner said.
"It doesn't feel great, but at the end of the day I had a Test match to play and there is a series on the line and I wanted to commit to that."
Warner's gutsy effort would've resonated with coach Justin Langer, who loves having street fighters in his team.
The tough performance follows Matthew Wade wicketkeeping in the Twenty20 World Cup final with a grade two side strain.
Shock Warner admission after Adelaide heroics
David Warner proved Australia's Covid crusader as he overcame physical agony and team chaos – to fall just short of a century which would have stood out as one of his best.
But it nearly never happened. Warner revealed he had a painkilling injection before he went out to bat that didn't really take and admits he almost didn't play.
"Obviously I was pretty close, but unless I've got no leg I'm not going to not walk out on the field," said Warner.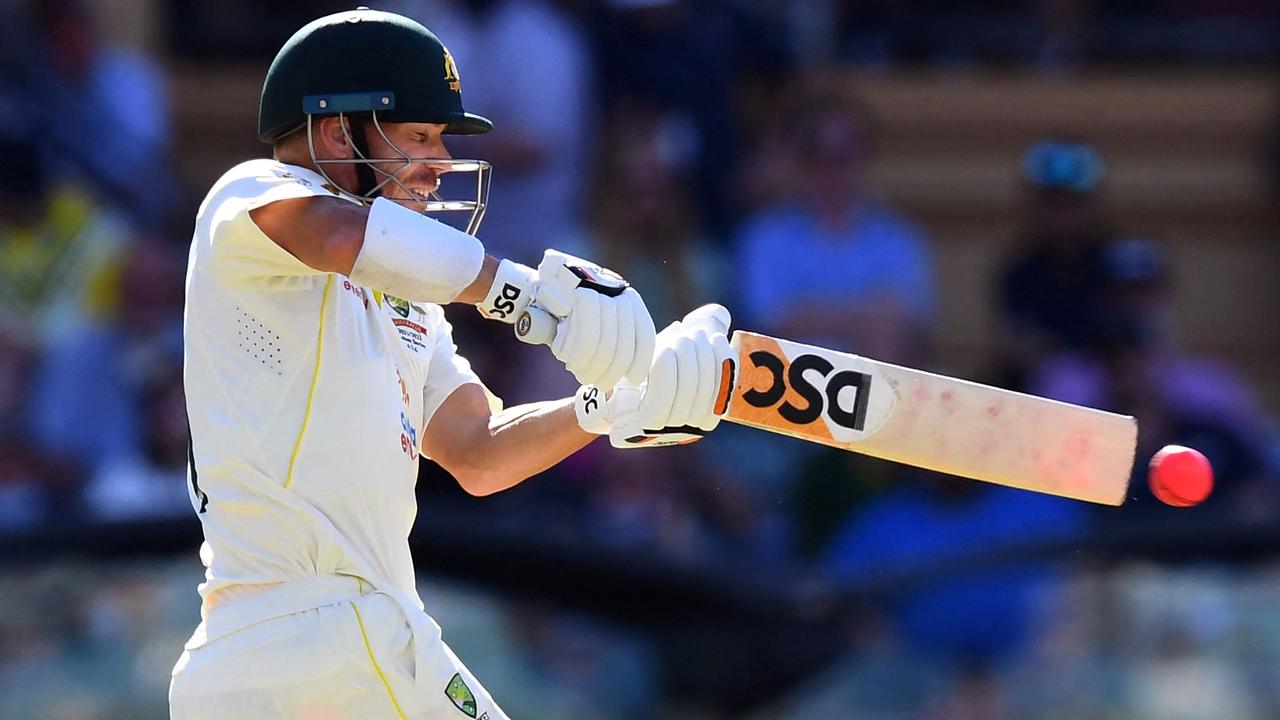 David Warner was in superb touch in Adelaide after a slow start. Picture: William West/AFP
"I probably showed that last year. Same thing, you don't want to miss a Test match for your country and I'll do everything I can to get out on the park.
"The last couple of days was clearing my mind and getting back with the family. Obviously I was in a bit of pain, a bit of agony, not being able to pick up the kids, which is a bit tough.
But from that perspective I've been icing, doing as much as I can to get ready. It doesn't feel great but we had a Test match to play and a series on the line."
With Pat Cummins watching on from his hotel room, Warner smoothed the waters of potential panic in the dressing room and made the task awaiting debutant Michael Neser and fellow rookie Jhye Richardson instantly less daunting than it might have been.
There were shades of Glenn McGrath stepping on a cricket ball at Edgbaston in 2005 about the momentum-shifting potential of Cummins' stunning withdrawal, that was until cricket's greatest street fighter stepped into the ring.
Warner was in such debilitating pain following the bruised ribs he suffered in Brisbane he was struggling to laugh or move, with his breathing also affected.
Written off by many at the start of last month's World Cup, Warner now has scores of 95 and 94 to take the Ashes by the scruff of the neck, and if not for two mystifying dismissals – the latest from Ben Stokes' worst ball – he would have started the series with back-to-back centuries.
Warner fell agonisingly short of another Test century. Picture: Daniel Kalisz/Getty Images
It's only the third time in his 161 Test innings that Warner has fallen in the 90s – making it all the more incredible lightning has struck twice in the past two Tests.
Ian Botham said champagne bottles were being popped in the England dressing room upon finding out that Cummins had been sensationally ripped out of the Test, but Warner's brilliant knock characterised by his trademark bloody-minded determination turned the party into a funeral for the visiting teams' Ashes hopes.
England spearhead Broad was so desperate to continue his domination of Warner from the 2019 Ashes, he used up two DRS referrals on lbw shouts as he hunted his wicket like a man on a mission.
Out seven times to Broad two and a half years ago in the UK, Warner showed exceptional patience to score just one run in the first hour of play as he made his way to the third slowest 50 of his otherwise high-octane career.
But the experience and skill of Warner to work the gears was contrasted by the battles of his opening partner Marcus Harris, who is quickly running out of chances to survive in Test cricket.
Harris scuffed a leg-side bouncer from Broad to diving wicketkeeper Jos Buttler, with former selector Mark Waugh on Fox Cricket declaring Harris "needs a score desperately" to keep the wolves from the door.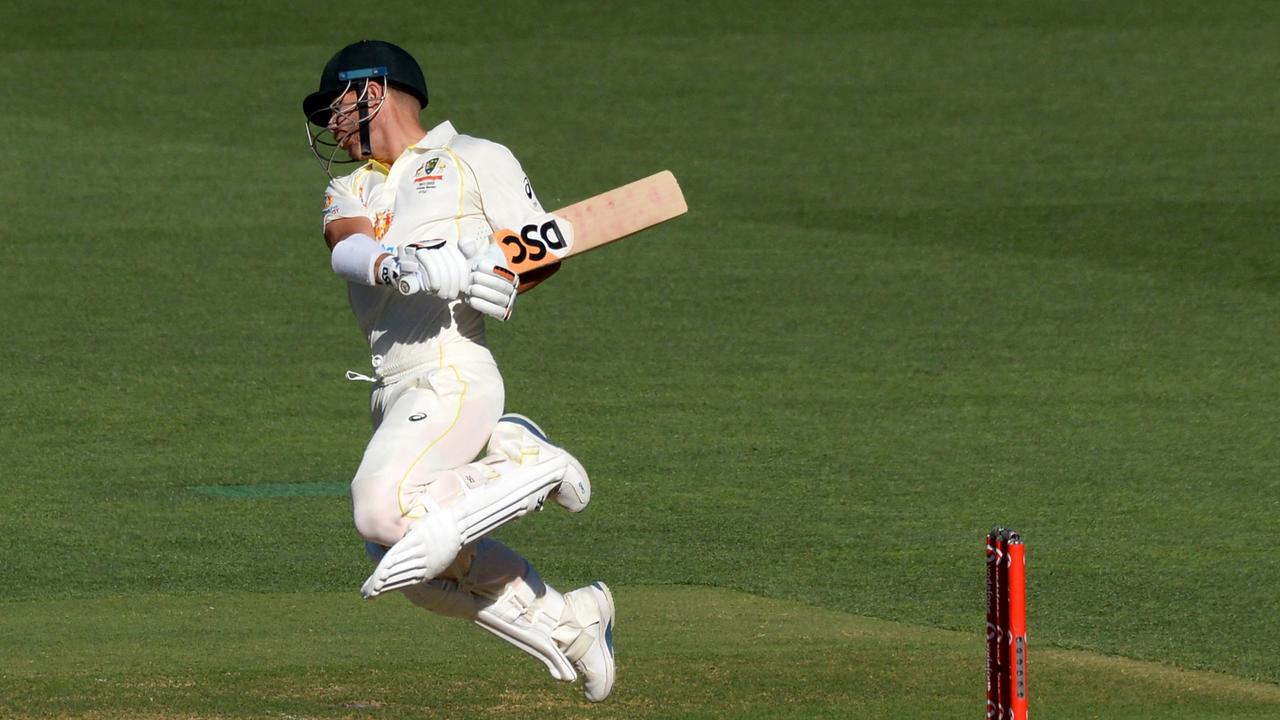 Warner was tested with a lot of short stuff. Picture: Brenton Edwards/AFP
The Victorian has now made five single-digit scores this summer and has an average of 22.15 from 12 Tests, which by many calculations is one of the worst records in the history of the game by an opening bat.
Another rampant Australian victory would take the heat off Harris though, and he will have his left-hand buddy up the other end to thank.
Warner set Australia another invaluable platform and by stumps England's Ashes hopes this summer appeared on the verge of being completely broken.
It's the second 150-run plus partnership Warner and Marnus Labuschagne have shared in as many Tests as they turn Australia's top order into a wall against England's hapless attack.
Commentators were stunned England didn't target his bruised ribs with more short-pitch bowling, especially when the ball was swinging so little.
It was really only Stokes before the main break, with four men out on the square leg fence that Warner had his body peppered.
The quality of the innings didn't change the disbelief etched all over Warner's face when he inexplicably picked out a fieldsman to a half track delivery from Stokes, in which the Englishman almost fell over in his run-up.
Originally published as Ashes 2021/22: David Warner facing multiple injections to see out remainder of series with injury