Ashes 2021-22: Joe Root makes horror start to his defining tour as captain
A series that shaped as the defining moment of Joe Root's England captaincy has started with horror and already there are questions over his leadership, writes ELIZABETH AMMON.
It may only be day one of a possible 25 but already there are questions over England's decision-making in a series that some have said will define Joe Root's captaincy.
Leading an England team in an away Ashes series is, arguably, the toughest job in cricket. Never more so than for this series, which comes in the midst of a pandemic and with England having had nothing more than two days of a beer match for preparation.
Even before a ball was bowled, there were raised eyebrows. England decided not to play either James Anderson or Stuart Broad, omitting 1,156 Test wickets from their side.
Pat Cummins admitted that he was "surprised" by England's decision to leave out their two most experienced bowlers.
"I thought at least one of them would play in every game, if not both of them," the Australia captain said. "We were surprised, but they've got plenty of other bowlers to step in and pose us a challenge."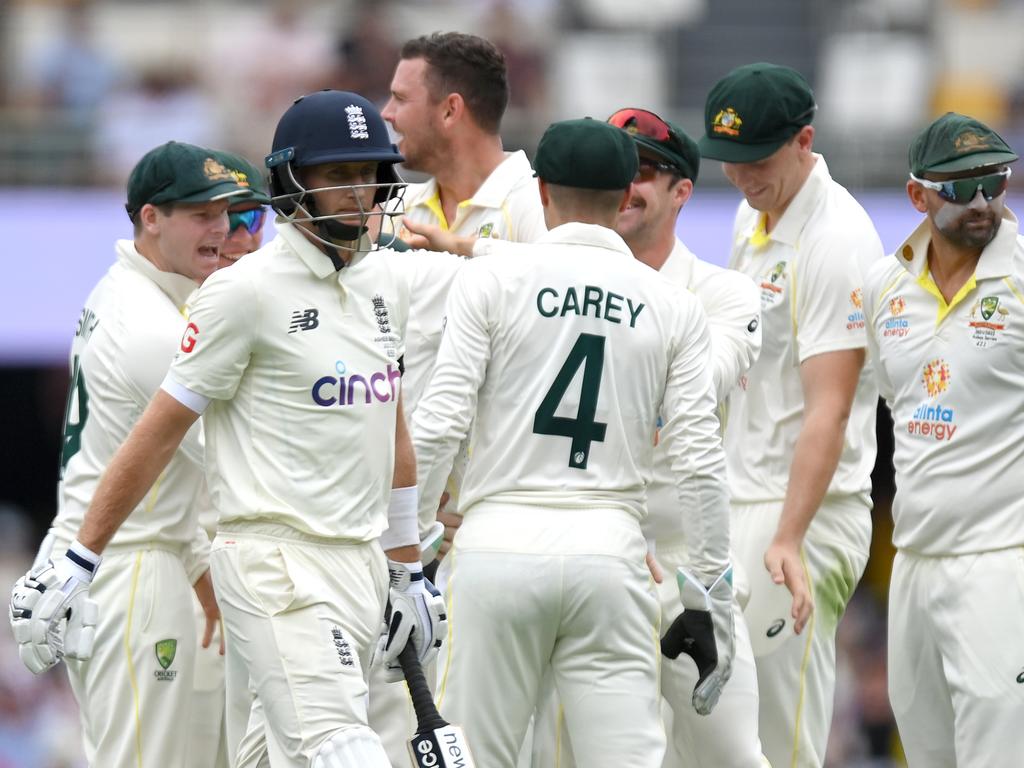 England captain Joe Root trudges off after recording a nine-ball duck in the opening innings of the first Ashes Test, having chosen to bat. Picture: Bradley Kanaris/Getty Images
Cummins wasn't the only one caught out by the selection. While it had been expected that Broad, 35, and Anderson, 39, would miss some Tests, and may not play any together, the idea that neither would feature in the opening match, when England want to lay down a marker for the rest of the series, had not been considered.
Anderson, England's all-time leading wicket-taker, brings with him a fear factor. Irrespective of statistics, he has more experience than anyone else in the squad of a Brisbane Test and the intensity of an Ashes battle. Perhaps there is more to the decision to leave him out. England say it's because they want to hold him back for the second Test in Adelaide, which starts next Thursday, but it's possible he has some sort of niggle that made playing him a risky option. The omission of Broad as well, though, was distinctly odd.
Chris Woakes and Ollie Robinson are similar bowlers, so Broad would have brought a little more variety. This may be a claggier Gabba pitch than we are used to but there is still some of the traditional extra bounce that a tall bowler like Broad may have been able to exploit. Moreover, he has the rub over David Warner, who must have been the happiest man at the Gabba when England's team was announced. There's an old adage to do what your opposition least want you to and, in this instance, the reputations of Anderson and Broad would have put some element of trepidation into the Australian batsmen. Their absence gave the home team the upper hand even before they had even stepped on to the pitch.
David Warner celebrates after taking a slips catch to dismiss England captain Joe Root for a duck on day one of the first Shes Test. Picture: Matt Roberts – CA/Cricket Australia via Getty Images
The second decision under question was Root's choice to bat first. No doubt the call was a difficult one — with a greenish pitch and clouds in the sky — and Cummins admitted he was pretty glad to have lost the toss, saying it was a "50-50 call" but that he, too, would probably have batted.
Nasser Hussain's infamous decision to bowl first in Brisbane in 2002 would have been swirling round Root's mind. No one wants to be the skipper who makes a decision so palpably bad that it goes down in cricketing folklore and is still being talked about almost 20 years later. Even so, Phil Tufnell, speaking on the BBC's Test Match Special, was surprised at Root's call.
"The one thing that England will have wanted is to come to an Australian ground and see the pitch covered in green grass and massive clouds overhead, but they decided to bat," the former England spinner said.
"I can't quite understand it. Australia were enabled, I'm afraid, by England deciding to have a bat. I couldn't quite believe that, I'm sorry."
If there is one thing we have learnt about the England Test team in the past couple of years, it is that the batting is fragile. Of the top seven, over the past three years only Root and Ben Stokes average more than 34. Even in home conditions in the summer, they managed to reach 300 in the first innings only twice.
There is strength in the bowling unit, even without Anderson and Broad. But it may have been a kinder, more confidence-boosting option to let the three seamers and the newly returned Stokes see what they could have done on that pitch in those conditions. Exposing an inexperienced and fragile top order to the Australia fast-bowling trio of Mitchell Starc, Cummins and Josh Hazlewood was a gamble. It is, of course, perilous to draw too many conclusions from only 50 overs of play, and there will still be plenty in the pitch when England get to bowl, but it's a long, long way back from 147 all out.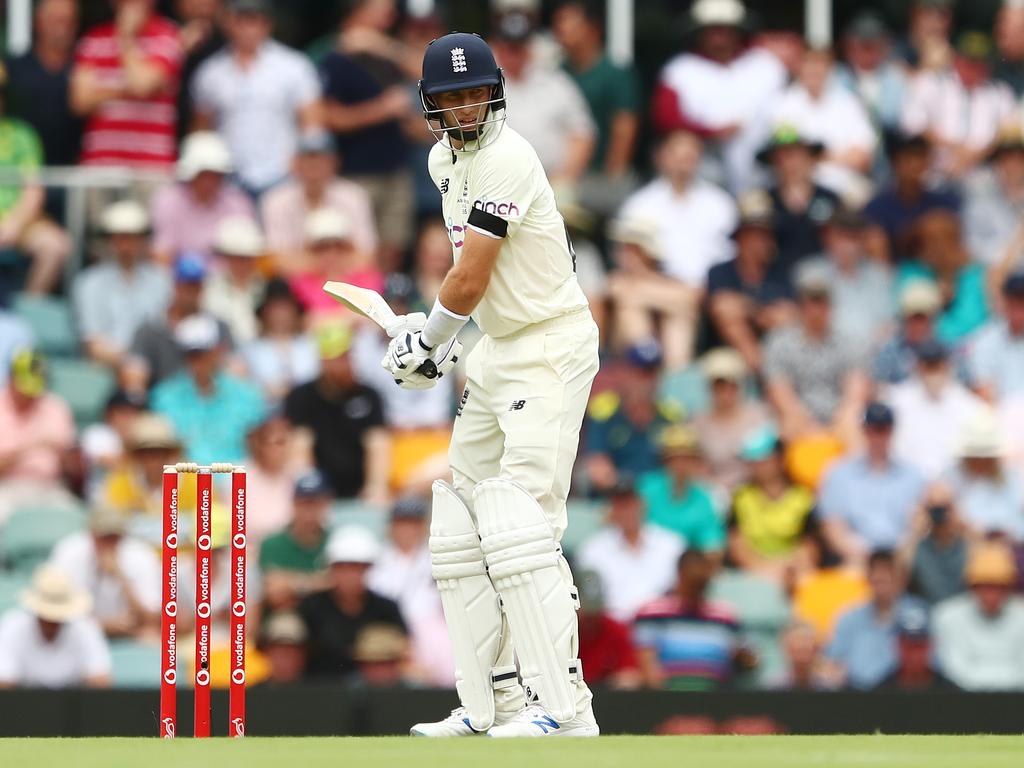 England captain Joe Root brought incredible form to the Ashes but didn't trouble the scorers in his first innings in Australia. Picture: Chris Hyde/Getty Images
Ollie Pope, who made an encouraging 35 after being chosen over Jonny Bairstow to bat at No.6, dutifully defended Root's decision to bat first, putting some of the blame back on to the batsmen for not seeing off the new ball.
"We've got to see both sides on this wicket, we don't know how it's going to react tomorrow," Pope said. "That [the toss decision] is above my pay grade.
"Looking at the wicket it was always going to nip around early doors but if we'd managed to get through those two hours then maybe we could have made the most with the softer ball. I wouldn't look too much at the toss, we've got to execute better in that first two hours of the game."
Whether to bat or bowl in these circumstances wasn't a decision any of us would be envious of making, and it's true that England's terrible first day was as much caused by skilful bowling as it was poor batting, but Root and his men are now well and truly on the back foot. It could be a long seven weeks ahead.
- The Times